Looking for a delicious and healthy main dish that's sure to impress? Look no further than this mouth-watering vegan pozole rojo recipe! Packed with flavor and easy to make, this dish is perfect for lunch, dinner, or even a crowd. Whether you're a seasoned vegan or just looking to add some variety to your diet, this recipe is for you. So why wait? Give it a try today and taste the difference for yourself!
What is Pozole?
Pozole is a traditional soup or stew from Mexican cuisine. It's a hearty and robust dish that has its roots in pre-Columbian times and is made primarily with hominy (nixtamalized corn), meat (typically pork, but also chicken or other meats), and can be seasoned with a variety of chiles and other spices.
There are several regional variations of pozole in Mexico, which include:
Pozole Blanco (White Pozole): This version is the simplest, often served with various toppings like shredded cabbage, radish, onion, lime, oregano, and chili sauce on the side.
Pozole Rojo (Red Pozole): This is a red version that gets its color from the use of red chiles such as guajillo, piquin, or ancho chiles. It tends to be a bit spicier and more robust in flavor than the white version.
Pozole Verde (Green Pozole): This version uses green ingredients for its distinctive color, like tomatillos, green chiles, and sometimes pumpkin seeds.
Pozole is traditionally served on special occasions, including Mexican Independence Day and Christmas, and it's also a popular dish to enjoy on weekends or family gatherings. It's typically garnished with fresh toppings, as mentioned, which adds a fresh contrast to the rich and flavorful soup.
Here is how to pronounce pozole: poh-sOH-lay.
Vegan Pozole
I make a vegan version of pozole, which is traditionally made with pork or chicken. Since I follow a plant-based diet, I use oyster mushrooms to prepare it, and it tastes even better than the original one. This hearty dish provides a sense of nourishment to both body and soul, leaving you feeling satisfied.
By replacing the animal-based broth with a combination of oyster mushrooms and water, the Soup's flavor profile is heightened while still maintaining its rich and delicious taste. This swap not only adds a unique earthy flavor but also provides a healthier and more sustainable alternative.
I could eat Mexican food every day, not just because I am Mexican, but because it is delicious. Mexican food is flavorful and full of textures, colors, chiles, and ingredients.
Ingredients for Vegan Pozole Rojo
Chiles. The broth's chile puree is made with ancho, guajillo, and pasilla chiles, each with distinct flavor notes. I couldn't choose just one; they're all delicious.
Onion. I like to use white onion when cooking food from Mexico, especially this vegan pozole recipe. But yellow onions work perfectly well in the recipe.
Liquid. For this recipe, water or vegetable broth (affiliate link) can be used as a liquid instead of chicken or meat broth. The soup's flavors come mainly from the chiles and the hominy, so you don't need to use meat broth. If you prefer, you can use a combination of vegetable broth (affiliate link) and water.
Vegetable oil. It's best to use a neutral-tasting oil like avocado, safflower, or canola instead of olive oil, which can alter the flavor.
Hominy corn. Hominy corn is typically found in the Latino food aisle of most supermarkets and is easily accessible in canned form.
Oyster mushrooms. I like using shredded oyster mushrooms for this recipe due to their texture, which mimics that of shredded pork when cooked.
---

The base for my vegan pozole rojo broth is made with a three-chili puree that turns out so flavorful that it infuses the hominy and the meat you add—making each spoonful lightly spicy and heartwarming at the same time. Below is some information about different types of dried chiles:
What is a chile ancho? It is a dried poblano pepper with a deep and rich flavor with a hint of fruitiness.
What is a chile guajillo? It is a very mild chile that is not spicy but has a lot of flavor.
What is a chile pasilla? It is a great ingredient to use in finishing soups or making sauces. These chiles have a mild spiciness, an earthy flavor, and a touch of sweetness.


vegan or just looking to add some variety to your diet, this recipe is sure to satisfy. So why wait? Give it a try today and taste the difference for yourself!" />


How to make vegan pozole rojo
Soak the stemmed chiles in hot water in a pot until soft and pliable. Blend them with the soaking liquid and the onion.
Add the oil to a Dutch oven over medium heat, add the chile puree, and let it cook for two to three minutes.
Add your liquid. You can use water or vegetable broth. Rinse your blender with it, and then add it to the pot.
Then add the hominy and the shredded oyster mushrooms, cover, and let it simmer for 10 to 15 minutes. Stir from time to time and check it is not scorching.
How to serve pozole
You usually serve this in a big bowl and top it with shredded lettuce, sliced radishes, fresh chopped white onion, dried oregano, a good squeeze of lime juice, and tostadas on the side.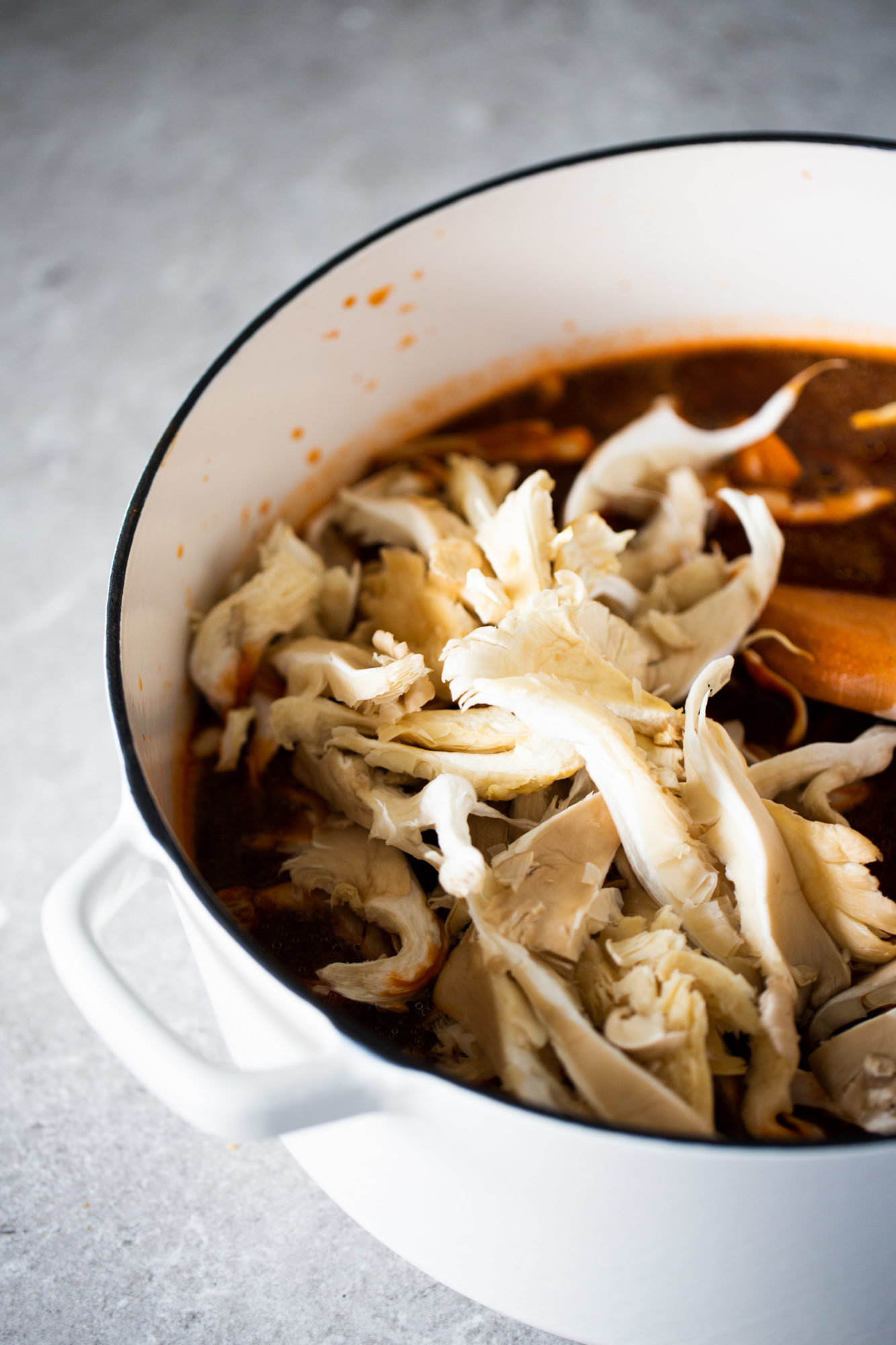 Some tips to make this recipe easier
Hominy. I use canned hominy to make my pozole. You can find it online or in most Latin grocery stores. It is cooked and flavorful.
Chiles. When choosing your dried chiles, choose chiles of a similar size; this will give a balanced flavor to the red chile sauce. If you have difficulty finding one of the chili peppers, use one tablespoon of chile powder instead or substitute with the other.
Straining. I have to confess that I never strain things. I have a Vitamix (affiliate link) blender, and that gets all the work done. If you don't have a high-speed blender, strain the puree. This way, your soups will be smooth and tasty.
Where to buy chiles? Check your local supermarket; I'm sure you'll find some there. On Amazon, you can find Mexican dried chiles: Ole Mission is a good choice, as well as The Spice House. Both have a good selection of chiles.
Substitute. If you can't find oyster mushrooms, substitute them with jackfruit, chickpeas, or pinto beans. But be aware that the pinto beans may change the authentic flavor of the pozole a bit. I have seen other recipes that add carrots and potatoes instead of meat to make it vegan or vegetarian. Some even add cilantro. This would be a no for me as they will completely change the authentic pozole flavor.
How to store or freeze pozole
Allow the pozole to cool to room temperature after cooking. If possible, store the broth separately from the hominy and the meat. This can help maintain the best texture of the hominy, as it can continue to swell and absorb liquid if left in the broth.
Airtight Containers: Transfer the pozole into airtight containers. This helps to prevent the absorption of other flavors from your refrigerator and also maintains the moisture in the pozole.
Refrigerate: Once in airtight containers, place the pozole in the refrigerator. Properly stored, it can last 3 to 5 days.
Freezing: Place the pozole in the coldest part of the freezer. Properly stored, pozole can be frozen for up to 4-6 months.
Can it be made ahead of time? Yes, leftovers taste amazing, and sometimes it tastes better the next day. If you want to meal prep, you can make the chile puree and store it in the fridge or the freezer. It will last in the refrigerator for 3 to 5 days and in the freezer for up to 3 months.
When is pozole served?
Pozole is a party dish or a party in a dish, as I love to call it. We Mexicans typically serve pozole at special celebrations or during the holiday season on Christmas or New Year's Eve. It is also a ubiquitous dish at the end of a wedding before the guests return home.
Other vegan Mexican recipes that you may like
Made and loved this recipe? Give it a ⭐️⭐️⭐️⭐️⭐️ rating below. Let me know if you have questions about this recipe in the comment section or DM me on Instagram. Follow on Facebook and Pinterest to stay in touch, and don't forget to subscribe to my newsletter.

Vegan Pozole Rojo
This recipe for pozole rojo is a true Mexican classic that's easy to make and packed with nutrition. This vegan version of pozole is perfect for any chilly or rainy day, and it's a great dish to serve during the holiday season or at a party, whether it's the main course or a satisfying finish to the meal.
Equipment
High-speed blender

Dutch oven or large soup pot
Ingredients
½

medium onion

2

tablespoons

vegetable oil

1

teaspoon

sea salt

2

lb

hominy corn, cooked

2 1-lb cans

10.5

oz

of oyster mushrooms
To serve
Sliced ​​lettuce

Sliced ​​radishes

Dried oregano

Chopped onion

Lime juice

Corn toastadas
Instructions
Clean the peppers with a dried kitchen cloth and remove the stem and seeds.

Soak them in hot water for 10-15 min. Just add enough water to cover the peppers. Soak them until soft and pliable.

Meanwhile, shred the oyster mushrooms.

Add the peppers and the soaking-chile liquid in the blender with the onion and blend well. Strain if needed.

In a large soup pot, add the oil over medium heat and pour the chili paste. Leave for about three minutes or until it begins to change color, and the peppers release their aroma.

Add to the blender container about 4 cups of water and get all the chili puree stuck in there. Pour this water into the soup pot.

Add the salt, hominy corn, and oyster mushrooms. Cover and leave simmering for 15 minutes or until it starts to release a boil.

Taste and adjust the seasoning if necessary, add more water if the chili flavor is too strong.

Serve in large bowls and top with sliced ​​lettuce, chopped onion, radishes, oregano, and lime juice. Eat with corn tostadas.
Nutrition
Serving:
1
serving
Calories:
52
kcal
Carbohydrates:
11
g
Protein:
3
g
Fat:
1
g
Saturated Fat:
0.1
g
Polyunsaturated Fat:
0.3
g
Monounsaturated Fat:
0.1
g
Sodium:
308
mg
Potassium:
385
mg
Fiber:
4
g
Sugar:
5
g
Vitamin A:
3193
IU
Vitamin C:
4
mg
Calcium:
9
mg
Iron:
1
mg
information
Nutritional information of this recipe is only an estimate, the accuracy for any recipe on this site is not guaranteed.

Latest posts by Alejandra Graf
(see all)