This recipe for salsa verde is an authentic Mexican recipe, delicious, and much better than any store-bought salsa. This recipe is the perfect combination between roasted tomatillos and roasted garlic. This salsa is incredibly delicious with tacos (salsa taquera), quesadillas, or corn tortilla chips (affiliate link).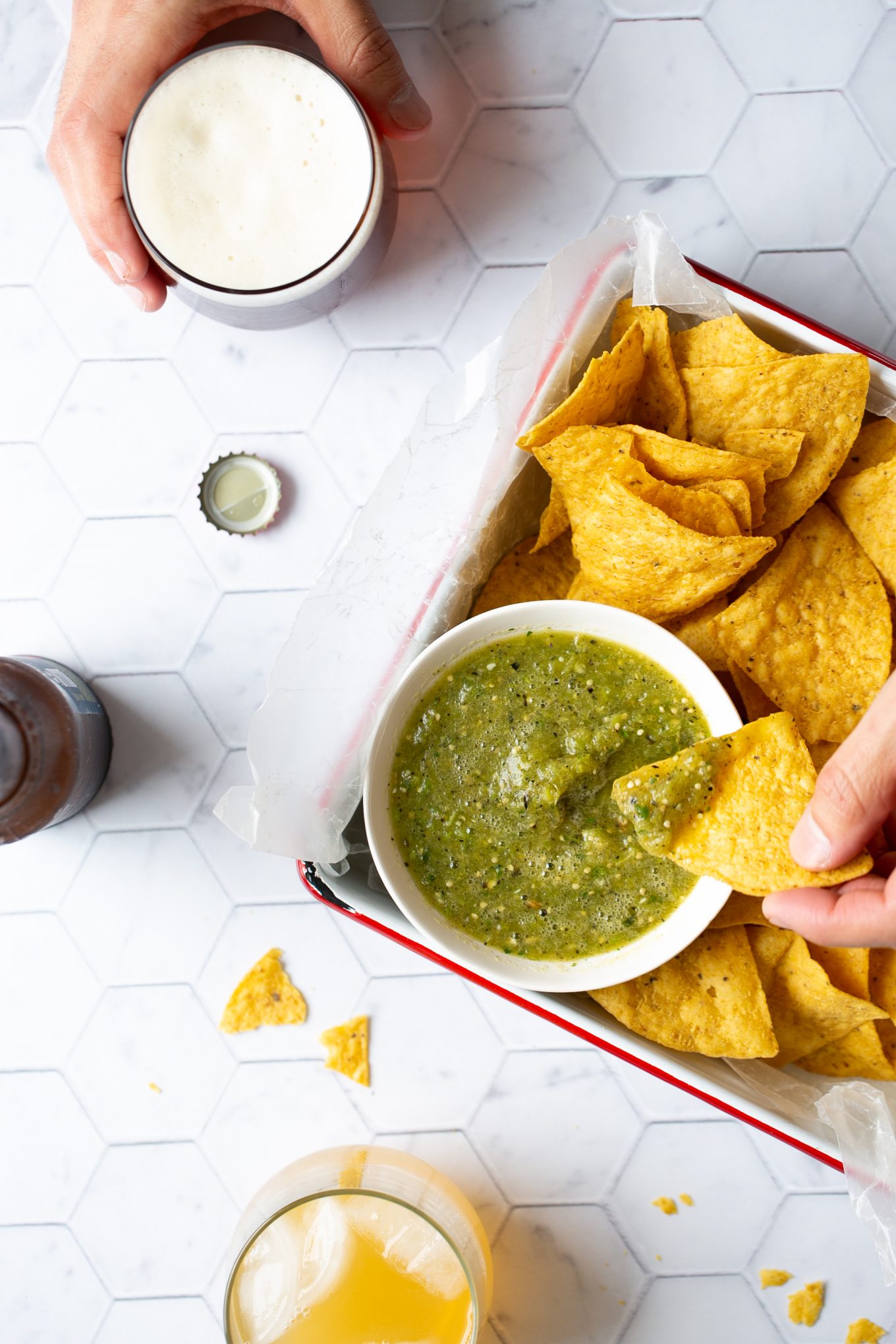 Authentic Mexican salsa makes everything better
There are a "million" salsa recipes in Mexico, and the beauty of all is that there is no wrong way to prepare them. For example, a Mexican salsa verde can be made with raw ingredients, roasted tomatillos, steamed, baked, or boiled ones.
You can cook the cilantro or use fresh cilantro. There is no wrong way to make it; it will always taste good. Everyone will be happy as long as it is a salsa with that extra little touch of spicy magic.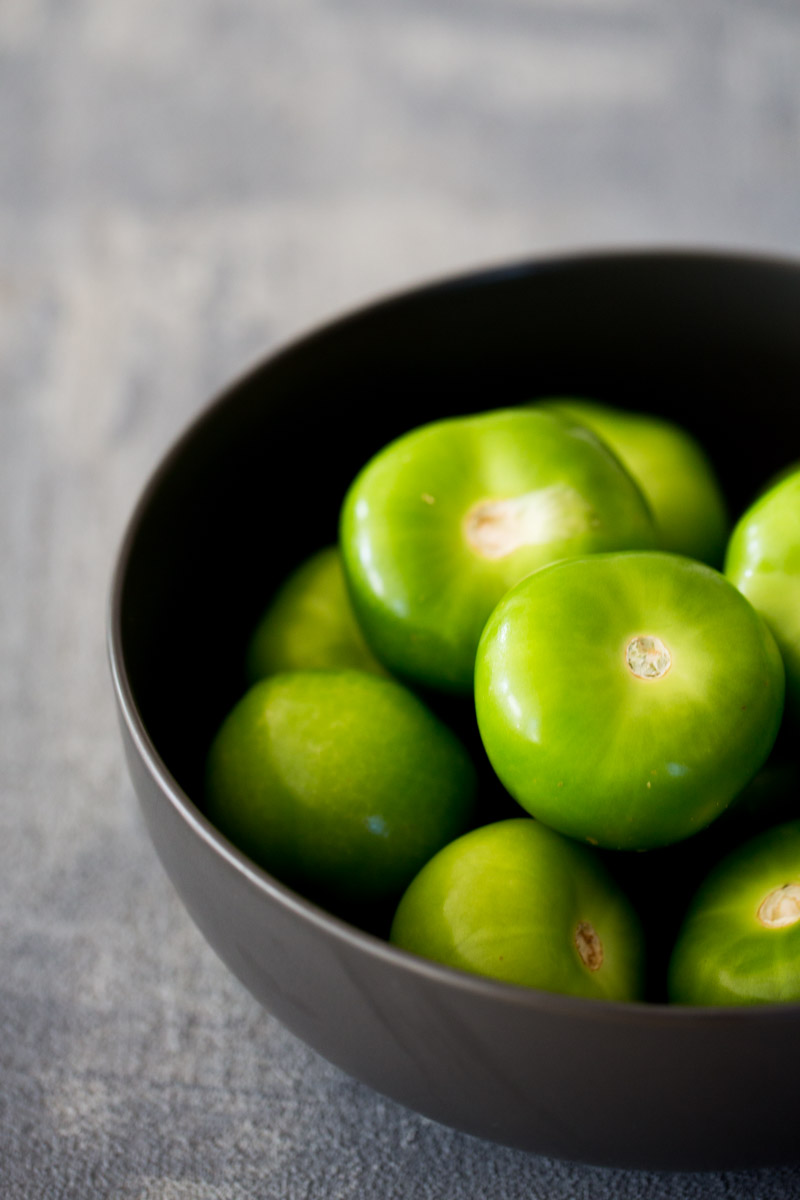 Authentic tomatillo salsa verde ingredients
Tomatillos. To prepare them, you need to remove the husk, wash them and pat them dry. Use 4 to 6 large tomatillos if they are on the smaller side.
Garlic cloves. Do not peel them until they are roasted; the skin protects them from burning.
Serrano chili peppers, if you want it less spicy, use jalapeños seeded. If you can't find fresh chiles, use Chipotle peppers in adobo sauce.
Cilantro. Use fresh cilantro with bright green leaves and sprigs.
Pinch of salt.
How to make homemade salsa verde?
First step, prep your ingredients. Peel and wash the tomatillos, rinse and roughly chop the cilantro, and prep your garlic cloves and chiles.
Roast the tomatillos, chiles, and garlic cloves. You can roast them over the stovetop on a grill or place tomatillos and the rest of the ingredients on a baking sheet and roast them in the oven with the broiler setting. If you don't want to roast the ingredients, you can boil them in a saucepan until soft.
Use your blender or a food processor (affiliate link). Pulse or blend depending on your desired consistency that you like with the fresh cilantro and a good pinch of salt. Also, if you roast in the oven, the tomatillos add their juices to the blender or food processor (affiliate link) container; there is a lot of magic there.
How to use salsa verde?
This tomatillo salsa verde recipe (Mexican green sauce) is easy to prepare and has many different uses. You could use it as a base for a green posole (pozole Verde), green Mexican enchiladas, a simple guacamole taco, and a big spoonful, or serve it with chips as an appetizer or snack.
benefits of making homemade Mexican salsa verde
One of the benefits of making your batch of this Mexican salsa at home is that we eat tons of antioxidants, vitamins, and good stuff for our body without even noticing. YES! This roasted tomatillo salsa verde is also very nutritious for you! Another reason to enjoy it.
✎ Ingredients Note

•You can add a bit of lime juice to it if you feel it needs a bit of brightness.

•Important note: tomatillos are not green tomatoes.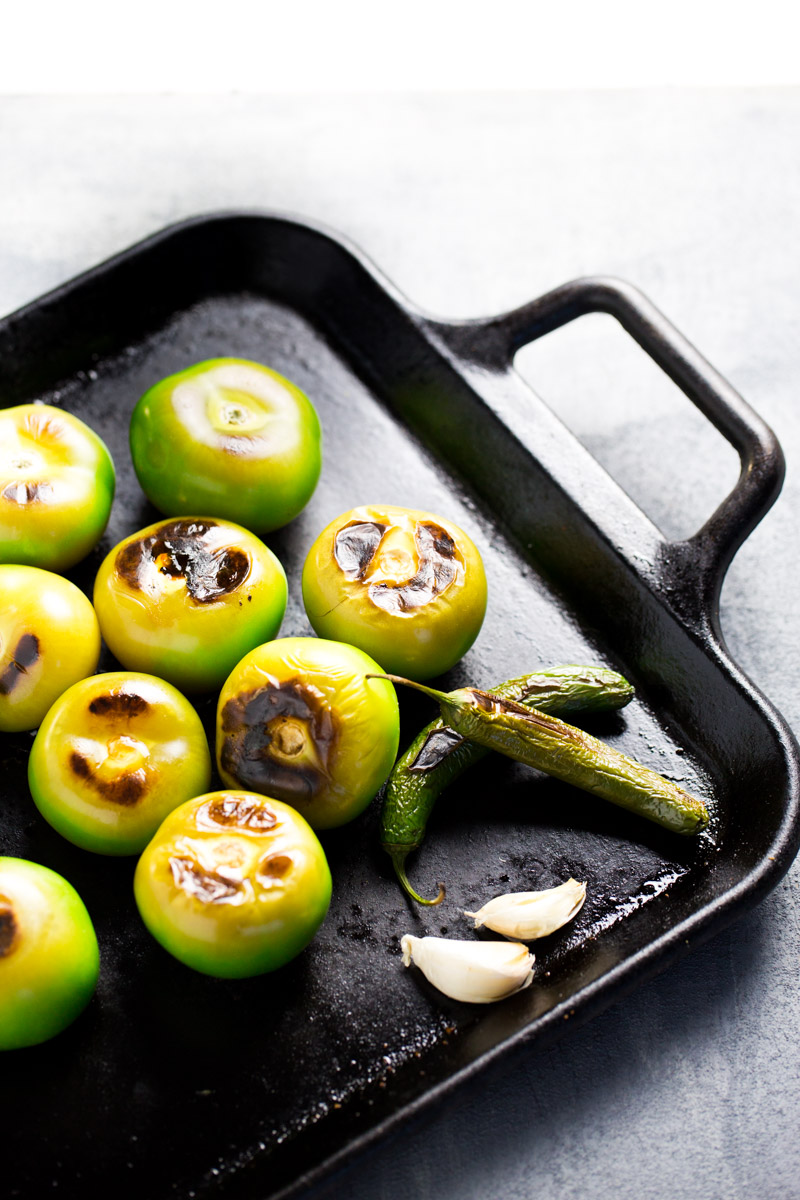 Frequently asked questions
DON'T FOLLOW MY EXACT RECIPE. Use my recipe as a guide. Taste while making it and make adjustments until it tastes good to you. Make this recipe your own.
How to roast the tomatillos? Roast the tomatillos until they change color. When they char, they turn into a lighter green. They also turn soft to the touch.
How to roast the garlic? Leave the peel ( the paper-like peel around the clove) on the garlic cloves. This will protect them from getting burned. Garlic, when roasted, turns bitter, and we don't want that.
How much cilantro should I use? Use the whole bunch of cilantro, leaves, and stems. In the stems is where all of the flavor and magic are. Just remove the roots.
How to store salsa verde? Store in the fridge in a jar tightly closed; it will last up to a week. You can freeze the salsa, but you must adjust the seasoning before serving.
Can you double the recipe? YES! Double this recipe and use it for Soup (a green posole will be great), enchiladas, season refried beans, or any other Mexican food you have in mind.
Give it a twist, add white onion or add diced avocado to it and serve with organic corn chips. This becomes the perfect after-school snack.
Mexican recipes to finish with this salsa. These dishes will be GREAT with a spoonful of salsa verde :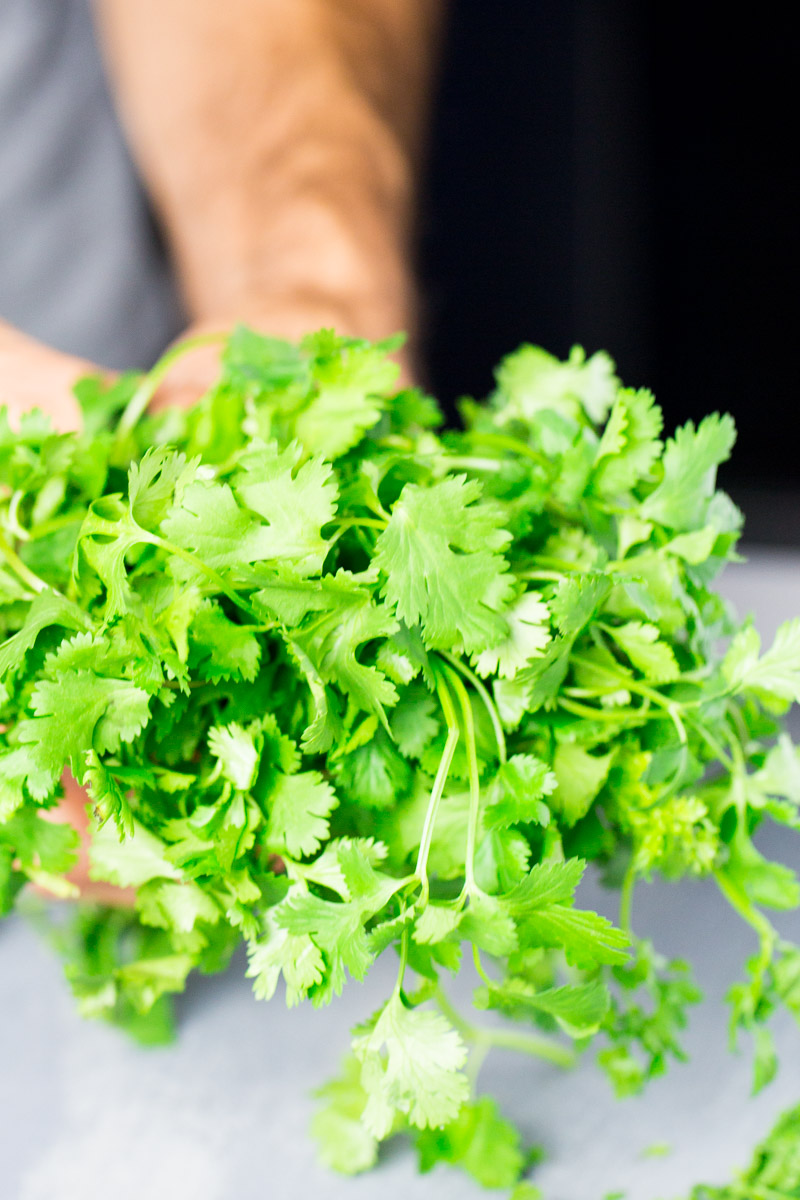 Other recipes that you may like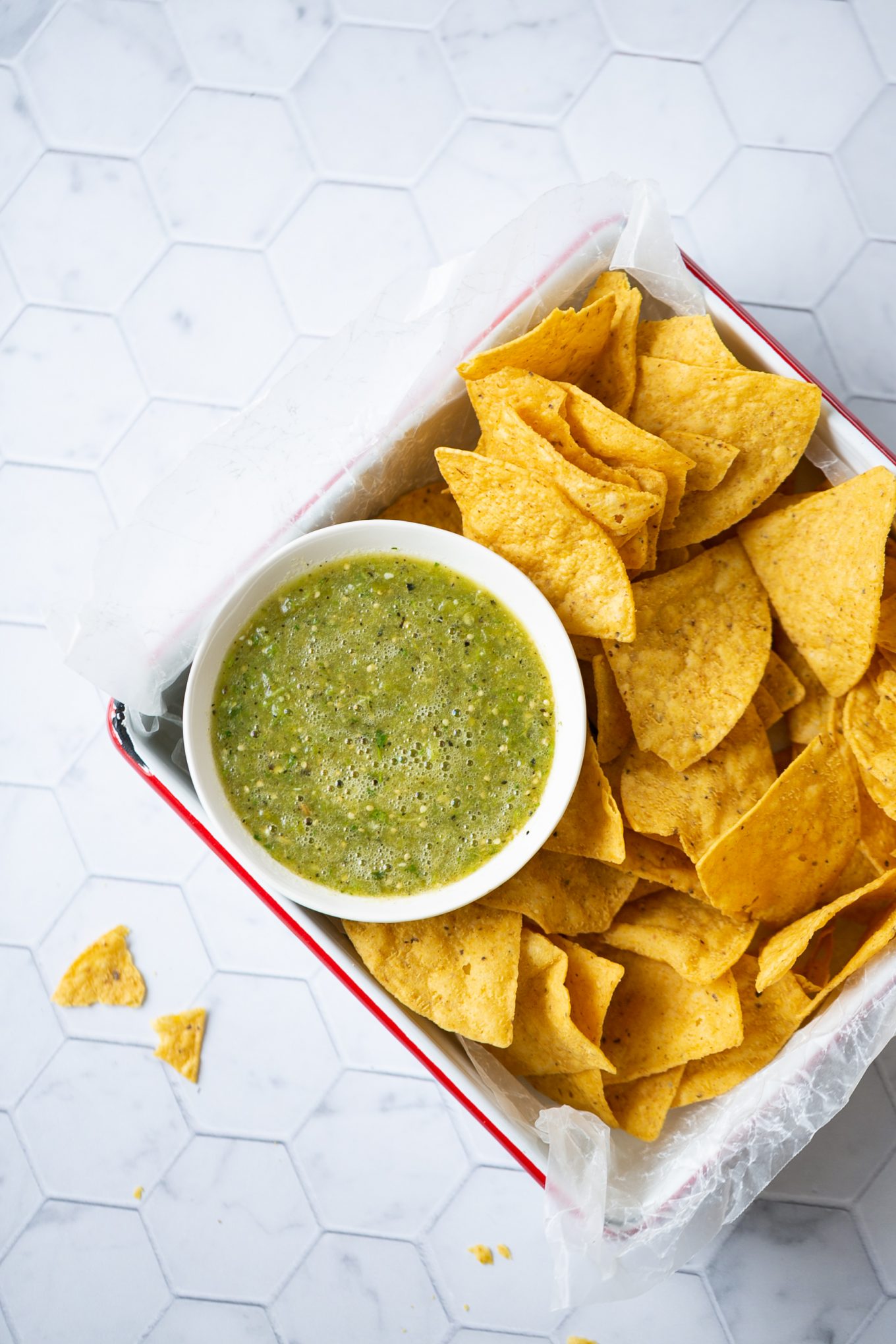 So here is the recipe for this AMAZING and HEALTHY authentic Mexican salsa verde, and I hope you like it as much as I do. Do you follow me on Pinterest? If you do, please share the blog and upload a picture of your salsa on Instagram so we can all see it. I would love to see you over there as well.
It would be incredible to rate this recipe with five stars and leave your comments, questions, suggestions, or requests in the comment section. I love hearing from you 😉.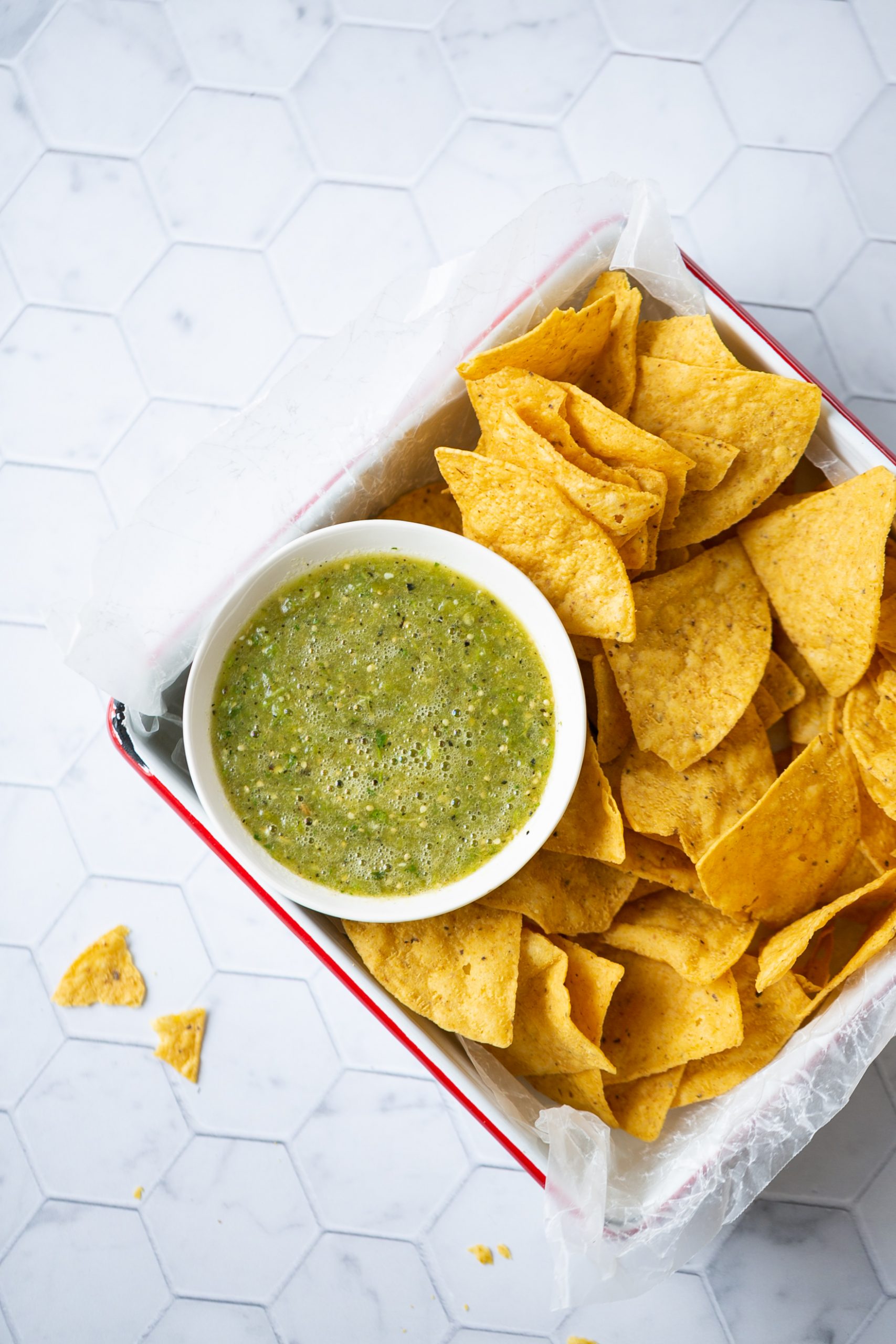 Authentic Mexican salsa verde
This recipe for Mexican salsa verde is authentic, super easy to make and tastes great with everything. The combination of fresh ingredients and roasted ingredients makes it different from other classic recipes and delicious.
Ingredients
4-5

tomatillos

2

garlic cloves

2-3

serrano chili peppers

a bunch of cilantro

pinch of salt
Instructions
To make it in the oven.
Roast the tomatillos, garlic cloves, and serrano peppers in the oven at 350ºF until golden brown.

Then put them in the blender with a big pinch of salt and cilantro. Taste for seasoning, adjust if necessary.
To prepare on the stove.
Roast the tomatillos, the serrano chile peppers and garlic on a pan or skillet.

Blend the cooked tomatillos, serrano pepper, garlic cloves with the fresh cilantro and the salt. Taste for seasoning and adjust if necessary.
Notes
Remember to leave the skin on garlic while it roasts; this protects it from burning on the inside.
Nutrition
Calories:
9
kcal
Carbohydrates:
2
g
Protein:
1
g
Fat:
1
g
Saturated Fat:
1
g
Sodium:
1
mg
Potassium:
67
mg
Fiber:
1
g
Sugar:
1
g
Vitamin A:
45
IU
Vitamin C:
4
mg
Calcium:
2
mg
Iron:
1
mg
information
Nutritional information of this recipe is only an estimate, the accuracy for any recipe on this site is not guaranteed.

Latest posts by Alejandra Graf
(see all)