Sopes are a classic Mexican dish made with masa. They are thick, smaller tortillas pressed around the edges to form a border. Making homemade sopes is easy, and they can be served as an appetizer, breakfast, lunch, or dinner.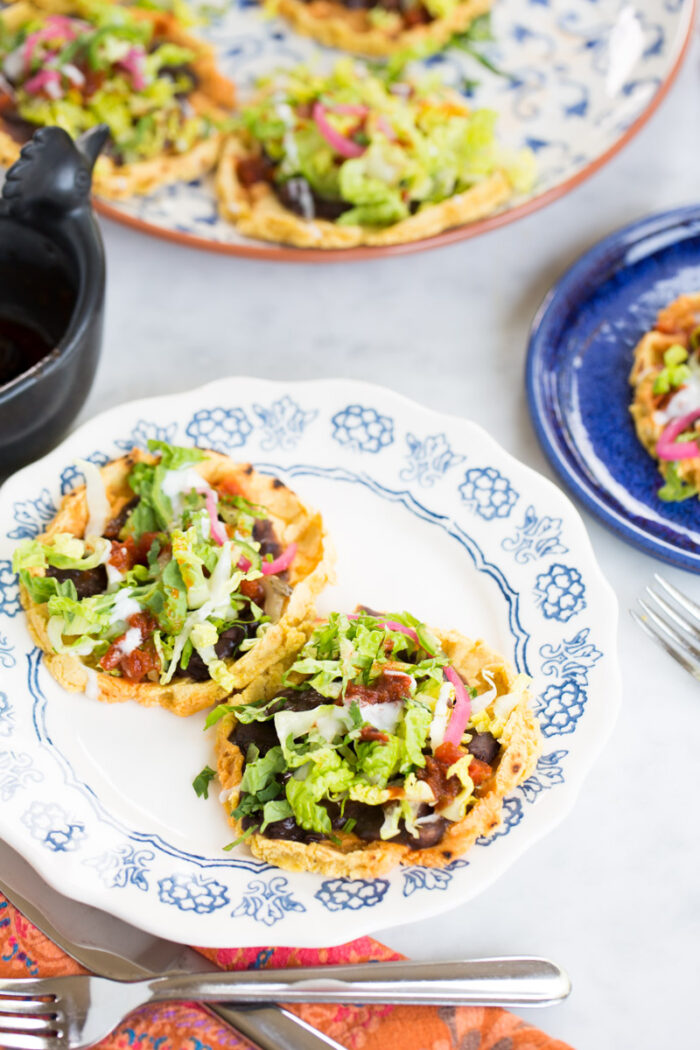 What are sopes?
A sope is a thick corn tortilla made with masa harina with a border around the edges. This border helps to keep all the fillings inside. Sopes are deep-fried or cooked on a comal (affiliate link) (Mexican stovetop griddle (affiliate link)).
Sopes are typical throughout Mexico, but the fillings vary depending on the region. My recipe is vegan and healthier than the traditional one.
Ingredients you need
How to make Mexican homemade Sopes?
Make the masa (affiliate link) para sopes. To begin, combine masa harina (affiliate link) (corn flour) with warm water and mix until a soft dough is formed. This foundational step is essential to producing delicious sopes.
Make the sope. Form small masa (affiliate link) balls and press them into thick tortillas.
Cook. You should cook the thick tortilla on a cast iron skillet (affiliate link) or griddle (affiliate link) over medium heat until it looks dry and the top cracks. Then, flip it and cook for an additional 30 seconds.
Pinch the edges. After removing from heat, wait 30 seconds and cautiously pinch edges with a kitchen towel to avoid burns.
If you wish to fry them, heat a frying pan with vegetable oil and fry the sope until golden and crispy on both sides.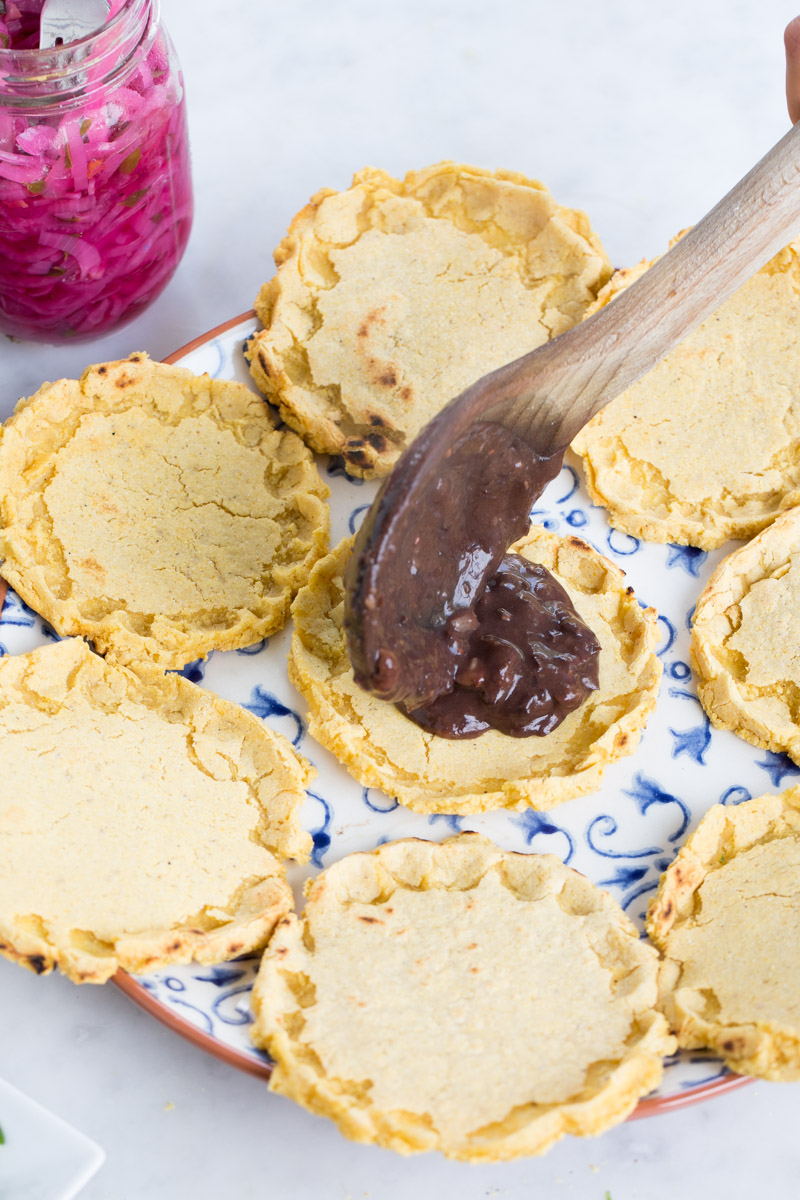 How to finish sopes?
Once you've completed those four simple steps, you're now ready to prepare them according to your preference. You can add any toppings you would put on a taco to your homemade sopes. Consider sopes as an exposed taco shell that goes well with anything you put on top of it.
Prepare them with refried beans, chorizo, mushrooms, or just salsa. You can store them in the fridge or freezer and reheat before using.
Frequently asked questions
Do I need a tortilla presser? No. Press the dough balls with any dish with a flat bottom or a small cutting board.
How to store them? Fridge: Let them cool and then wrap them in a clean kitchen towel and store them in a tightly sealed container or plastic bag (I use recyclable ones). They will last up to a week.
Freezer: Let the sopes cool and ultimately store them in a tightly sealed container or plastic bag. They last up to a month in the freezer.
How to reheat the sopes? You can reheat them on the stove over a griddle or in the oven at 350ºF for 15 minutes.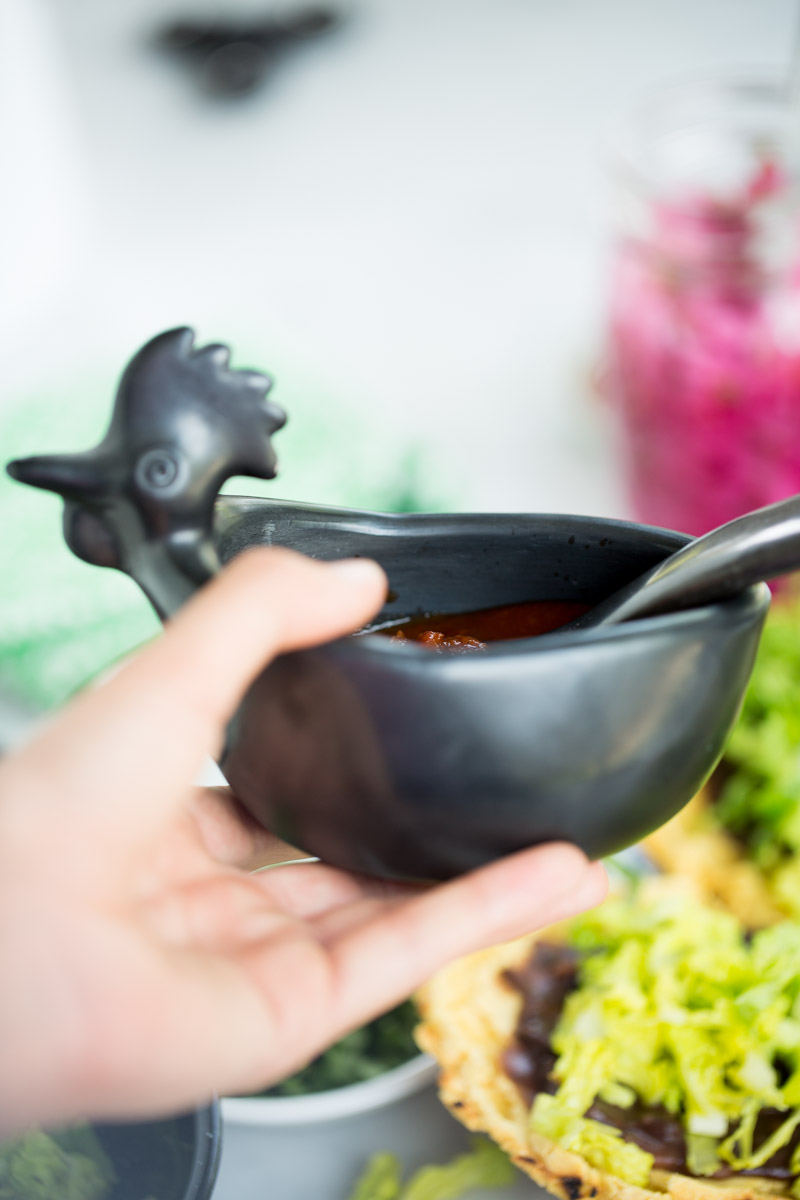 Popular Toppings for Sopes
This Mexican sopes recipe can be used for breakfast, lunch, or dinner. In Mexico, we eat them all the time.
Serve them with picadillo made with faux ground meat or lentil picadillo
I prepared these with refried beans, shredded romaine lettuce, vegan Mexican cream, and salsa.
I love them with red salsa or salsa verde. Here are three recipes for salsa verde: Authentic Mexican salsa verde and Mexican salsa verde two ways.
Homemade sopes taste delicious with the potato-chorizo.
But any way you prepare them, always finish them with Mexican pickled red onions for extra yumminess and crunch.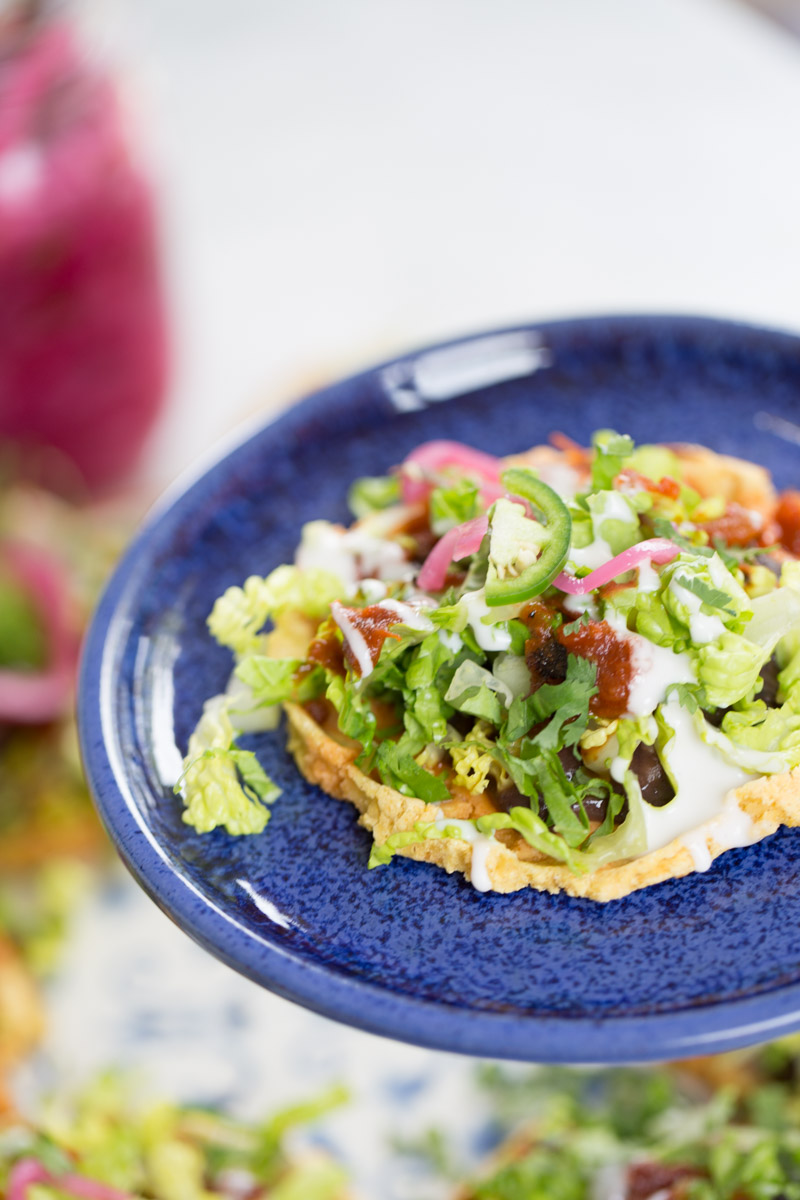 Tips and Tricks for Perfect Sopes
Use fresh masa: If possible, try to use fresh masa instead of masa harina (affiliate link). Fresh masa will give your sopes a richer flavor and better texture. You can usually find fresh masa at Mexican grocery stores or specialty food markets.
Rest the dough: After mixing the masa harina (affiliate link) with water, let the dough rest for about 10-15 minutes. This resting time allows the masa to hydrate fully and become easier to work with.
Properly shape the sopes: When shaping the sopes, make sure to press the masa balls evenly and firmly to create a consistent thickness. Use your hands or a flat-bottomed dish to press and shape the masa into a small tortilla with a raised border.
Cook on a hot griddle: Preheat a cast iron skillet (affiliate link) or griddle over medium heat before cooking the sopes. This will help them cook evenly and develop a nice golden color. Avoid overcrowding the cooking surface to ensure proper heat distribution.
Flip at the right time: Wait until the bottom side of the sope looks dry and has some cracks before flipping it. This usually takes about 2-3 minutes. Flipping too early may cause the sope to stick or lose its shape.
Pinch the edges: After removing the cooked sope from the heat, wait for about 30 seconds and then pinch the edges gently with a kitchen towel or tongs. This step helps seal the raised border and prevent filling from spilling out.
Fry for extra crispiness: If you prefer extra crispy sopes, you can fry them after cooking them on the griddle. Heat some vegetable oil in a frying pan and fry the sopes for a minute or two on each side until they turn golden and crispy.
Experiment with fillings: Sopes are versatile and can be filled with a variety of ingredients. Explore different fillings such as refried beans, shredded meats, vegetables, cheese, and salsas to create unique flavor combinations.
Top it off: Once your sopes are cooked and filled, don't forget to add your favorite toppings. Consider options like shredded lettuce, chopped tomatoes, avocado, crumbled cheese, cilantro, sour cream, and hot sauce for added flavor and freshness.
Serve immediately: Sopes are best enjoyed fresh and warm. Serve them immediately after filling and topping them. This will ensure that they stay crispy and the flavors are at their peak.
Other Mexican salsa recipes to serve the sopes
Salsa verde, an authentic recipe
Salsa verde, two ways
Enchilada sauce, the best sauce
Salsa molcajeteada
2-ingredient Mexican Salsa
Creamy avocado salsa verde
Made and loved this recipe? Give it a ⭐️⭐️⭐️⭐️⭐️ rating below. Let me know if you have questions about this recipe in the comment section or DM me on Instagram. Follow on Facebook and Pinterest to stay in touch, and don't forget to subscribe to my newsletter.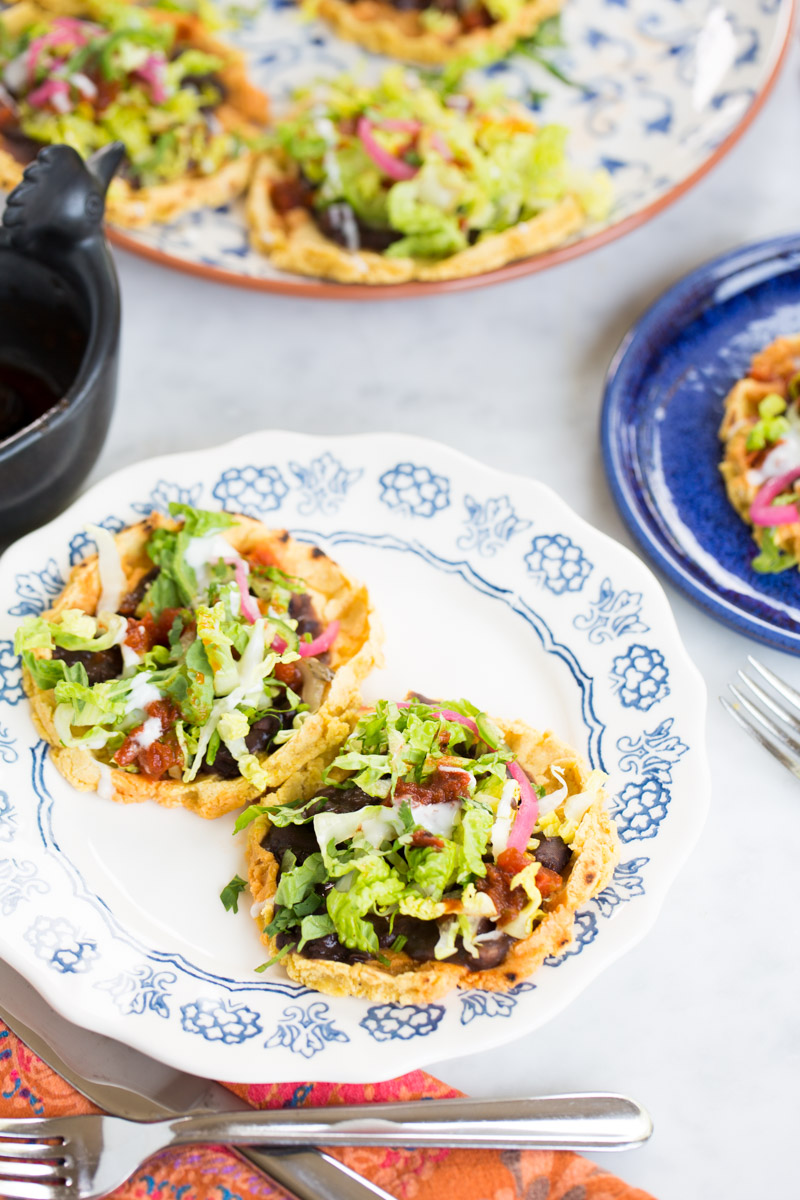 Homemade sopes
In this post, you will learn how to make homemade sopes, a traditional Mexican dish but made vegan in a much healthier way.
Ingredients
2

cups

masa harina

2

tablespoons

neutral tasting oil

1

teaspoon

salt

1

cup

water
To serve:
1½

cup

refried beans

2-3

cups

sliced romaine ​​lettuce

vegan sour cream

or Mexican crema
Instructions
You must mix the masa harina and salt together and add water slowly until the dough reaches a soft consistency. Do not hesitate to add more water, but only in small increments. The goal is a perfectly soft dough.

Heat a pan or skillet on medium-high heat to cook the sopes.

To make a tortilla, heat up a pan or skillet. Take some masa harina dough and form it into a ball. Place the ball between two pieces of plastic and use a plate with a flat bottom to apply pressure until you have a flat and even disk. This will result in a thick tortilla.

The thickness of the masa disk for sopes is typically around 1/4 inch or 0.6 cm. This allows the sope to be sturdy enough to hold the toppings without breaking or falling apart.

To cook the masa disks, place them on a pan and wait until the top dries out. Then, flip them over and allow them to cook completely. Once they are cooked, use your fingers to pinch the edges right after removing them from the griddle. However, be cautious as they will be extremely hot.

Once the sopes are ready, add refried beans, lettuce, Mexican salsa, and cream. You can also add red onion or pickled onion and some sliced chiles.
Notes
To store sopes, you should first let them cool to room temperature. Once they have cooled down, you can place them in an airtight container or wrap them tightly in plastic wrap. Sopes can be stored in the refrigerator for up to three days, or in the freezer for up to three months. When you are ready to eat them, simply reheat them in the oven or on the stovetop until they are heated through and crispy again.
Nutrition
Serving:
1
g
Calories:
167
kcal
Carbohydrates:
27
g
Protein:
5
g
Fat:
5
g
Saturated Fat:
1
g
Sodium:
553
mg
Potassium:
104
mg
Fiber:
4
g
Sugar:
1
g
Vitamin A:
1122
IU
Vitamin C:
1
mg
Calcium:
57
mg
Iron:
3
mg
information
Nutritional information of this recipe is only an estimate, the accuracy for any recipe on this site is not guaranteed.
A Couple Cooks' adoption story inspires this post.
Exploring the Versatility of Sopes
Conclusion: A Taste of Mexico in Every Bite

Latest posts by Alejandra Graf
(see all)