In search of a mouthwatering vegan refried beans recipe? Simply follow these effortless step-by-step instructions to savor the perfect Mexican taste, with no sacrifices necessary. It's a wholesome, vegan, and gluten-free option -20 min. or less if you use canned beans.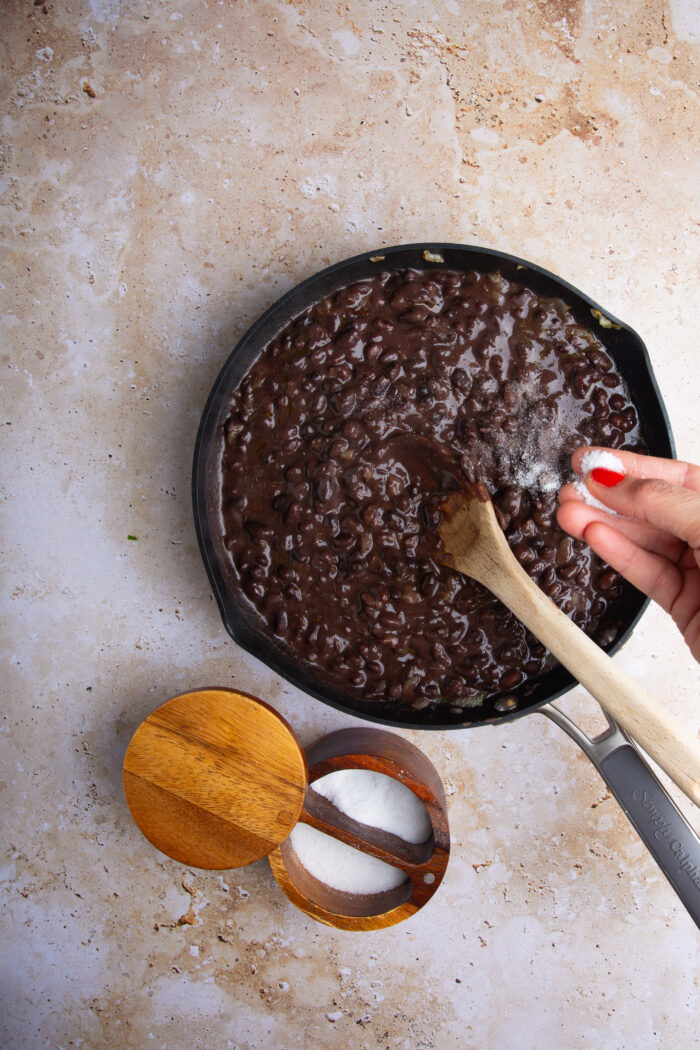 About refried beans
Refried beans are a must-have in Mexican cuisine, not only for their delicious taste but also for their versatility in enhancing various dishes. They can be utilized in numerous ways to add flavor and texture to your favorite meals.
These are superfoods that are simple to prepare and always taste amazing.
What does refried beans mean?
The term "refried beans" is a translation from Spanish and is an integral part of Mexican cuisine. Although you might get the impression that the beans are fried twice because of the word "refried", this is not the case.
The name comes from the Spanish verb "refreír", which means to fry something intensely or for a prolonged period of time. In the preparation of refried beans, the beans are first cooked until soft.
They are then mashed and "refríen", that is, they are slowly fried in fat (usually lard or oil) along with other ingredients such as onion and garlic. Therefore, "refried beans" are basically "frijoles bien fritos" well cooked beans or "frijoles machacados y fritos" mashed and fried beans.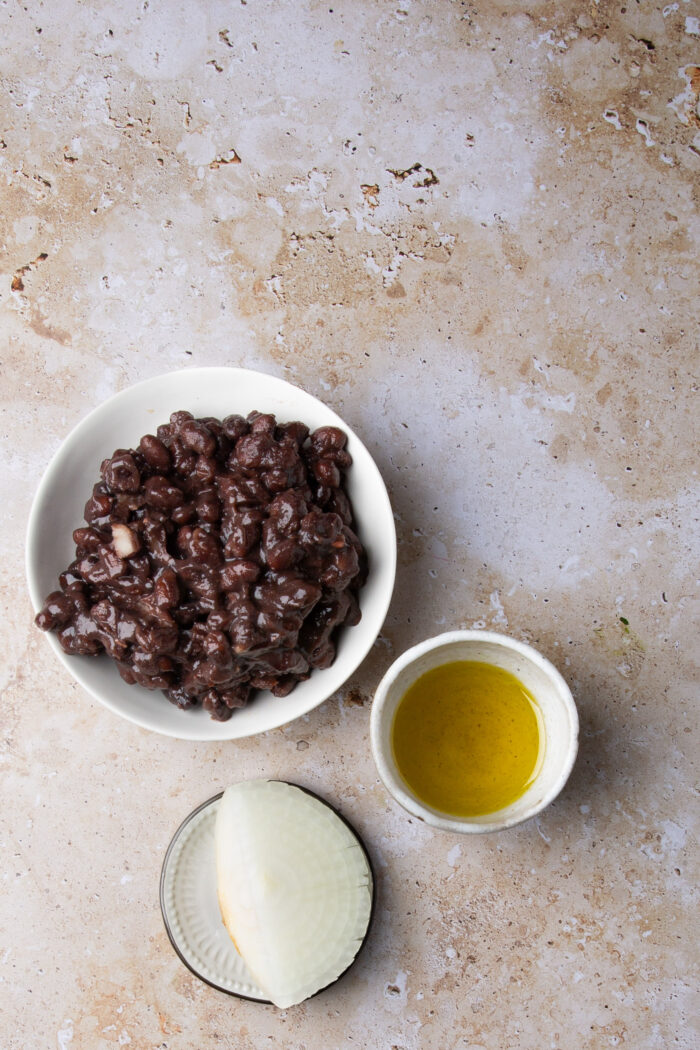 Nutritional benefits of refried beans
Not only do refried beans make for a tasty addition to numerous Mexican dishes, but they also provide a wealth of protein, fiber, vitamins, and minerals. Beans are considered a crucial component of a balanced and nutritious diet.
Refried beans can sometimes be made with unhealthy ingredients like vegetable shortening or lard, but using olive oil or other vegetable oils can make them healthier.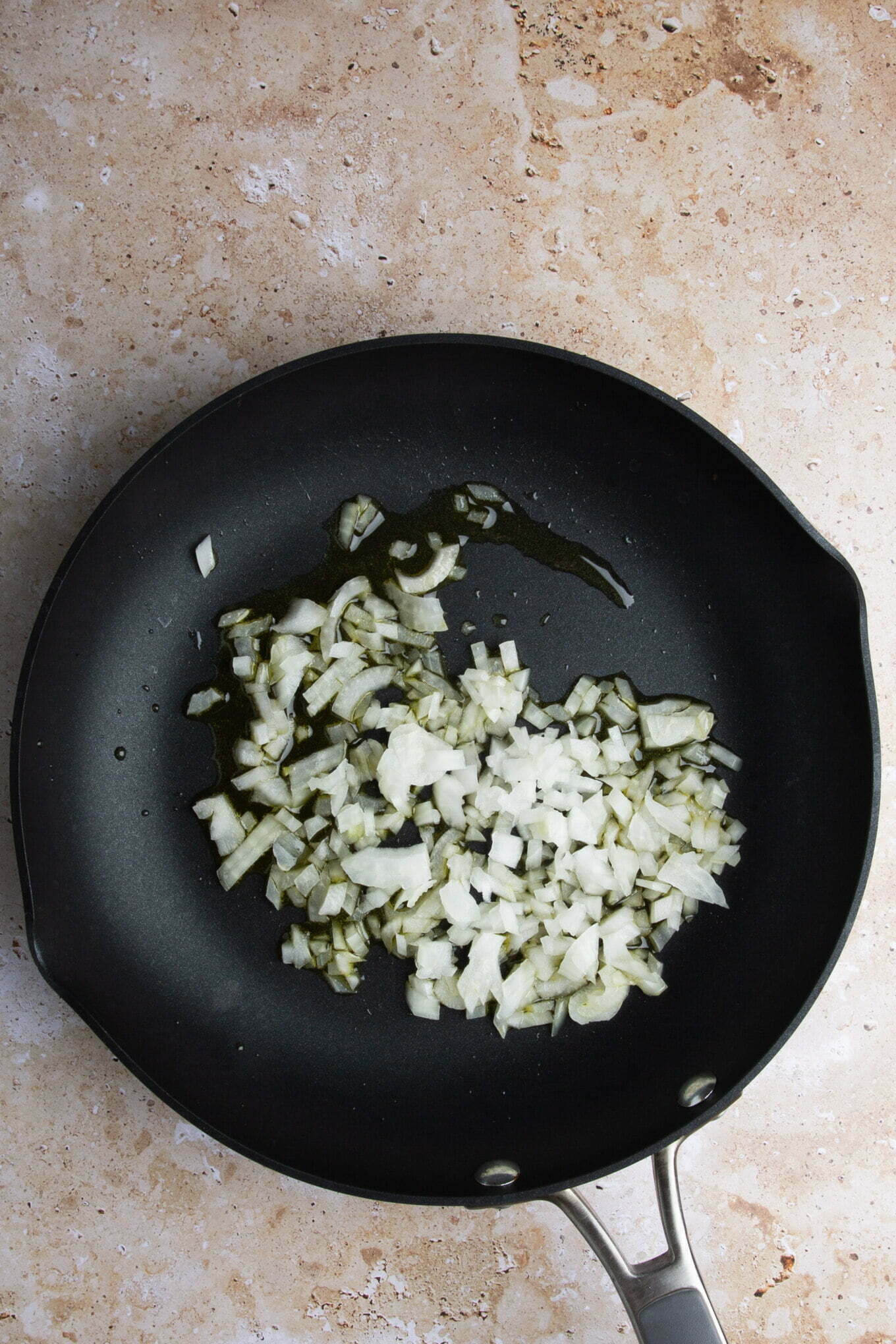 Ingredients for making refried beans
Beans You can use black beans, pinto beans, or whatever you have at home. You can also use canned beans.
Olive oil or vegetable oil, I prepare them with both types of oil, but I like them better with olive oil.
---

Tips for buying canned beans
Check the ingredients: Read the label to find exactly what's in the beans. Opt for cans containing as few ingredients as possible. It is best if they only have salt.
Low sodium: Many canned beans contain high levels of sodium. Look for low-sodium options to keep your salt intake under control.
BPA-free: Look for brands that specify that their cans are BPA-free.
Compare prices and brands: Don't be afraid to try different brands and find the one that offers the best value for money.
Organic beans: I think it is worth it for the environmental and health benefits.
How to make refried beans step by step
Cook the beans: In a large pot, add the beans and enough water to cover them. Cook over low heat until soft.
Sauté the onion: In a large frying pan, add the oil and the onion. Fry until golden brown.
Mix the ingredients: Add the cooked beans to the pan, salt, and mash them with a bean masher (affiliate link) until you get the desired texture. You can add a little water or vegetable broth (affiliate link) if they dry out. Remember that when the beans cool, they dry out a little.
Adjust the flavor: Taste the beans and add salt to taste.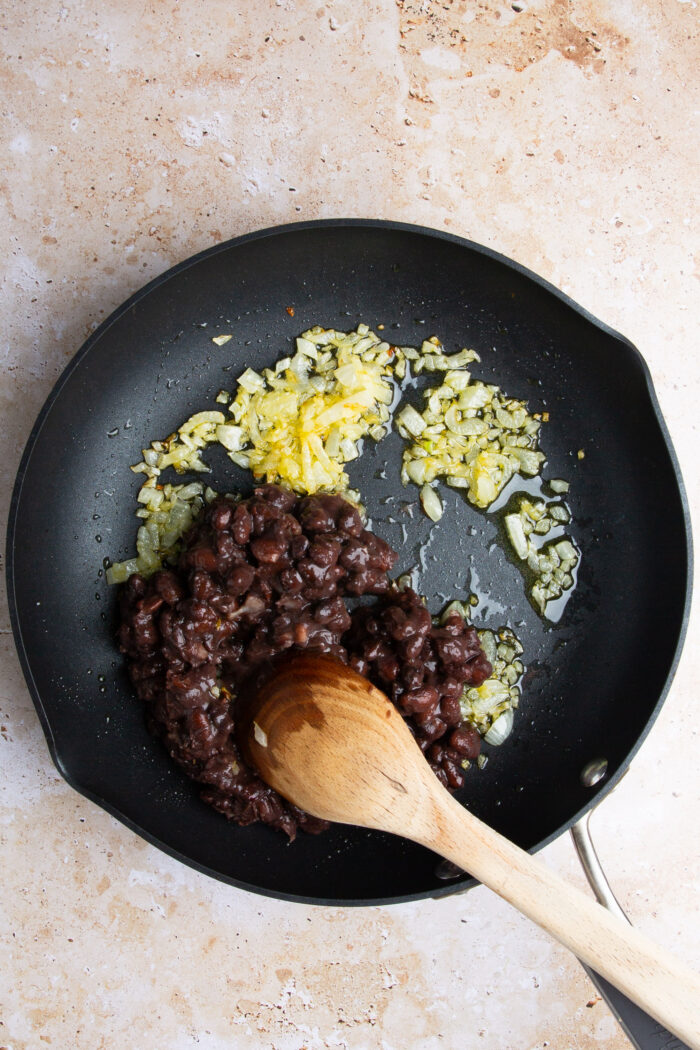 Varieties of refried beans
Although the most common recipe for refried beans is made with pinto or black beans, you can also use other types of beans, such as red beans or even white beans.
How to serve and enjoy refried beans
Refried beans are incredibly versatile and can be enjoyed in many ways. They are the perfect accompaniment to tacos dorados, enchiladas, scrambled tofu, and other typical Mexican dishes. They are also excellent as a filling for burritos and quesadillas.
4 Reasons to make refried beans at home
Control over ingredients: you can opt for high-quality, organic, or specialty ingredients according to your dietary preferences, such as olive oil instead of lard for a healthier or vegan version.
Authentic flavor: Although canned refried beans are convenient, they often do not have the same authentic taste as homemade refried beans. When making them at home, you can adjust the flavors according to your preferences, adding the spices and seasonings you like best.
Cost: Making refried beans at home can be more economical than buying them already prepared. Dried beans are generally cheaper and more yielding, and the other ingredients required are also quite affordable.
Texture. You can give them the perfect texture. In my house we like our refried beans looser, we don't like them dry.
Extra ingredients
Spices: Cumin, cayenne pepper, chili powder, and oregano taste good with beans.
Chiles: Fresh or canned chiles can add a spicy kick to your beans. Try pickled jalapeños, serrano or chipotle peppers. You can also stew them with green sauce.
Tomatoes: Fresh or canned tomatoes can add a touch of acidity and freshness. Be sure to chop them well before adding them or stew, or serve them with red sauce.
Cheese: If you are not making a vegan version, add shredded cheese to your refried beans.
Sour cream: A touch of sour cream on your refried beans can add a rich creaminess. If you are making a vegan version, plant-based sour creams are available.
Frequently asked questions about refried beans
Other bean recipes you'll love:
Made and loved this recipe? Give it a ⭐️⭐️⭐️⭐️⭐️ rating below. Let me know if you have questions about this recipe in the comment section or DM me on Instagram. Follow on Facebook and Pinterest to stay in touch, and don't forget to subscribe to my newsletter.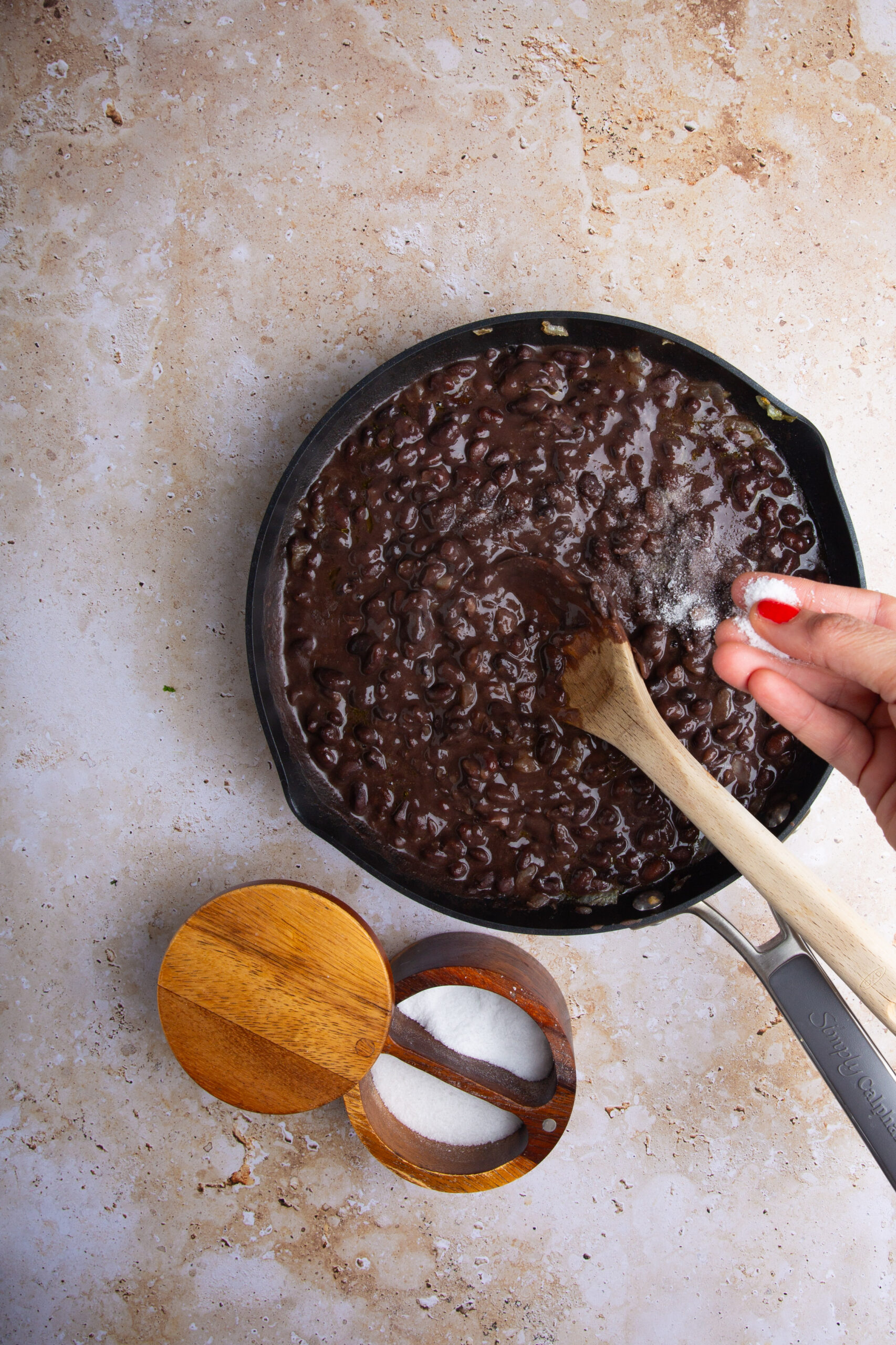 Refried beans, healthy and vegan recipe
Learn how to make authentic vegan refried beans with our recipe. This Mexican classic can be cooked in a healthy and vegan way.
Equipment
non-stick frying pan

Masher or wooden spoon
Ingredients
3

cups

cooked pinto or black beans

Or 2 cans of beans without liquid

3

tablespoons

olive oil

1

medium onion

chopped

Salt to taste
Instructions
Sauté the onion: In a large skillet, heat the olive oil over medium heat. Add the onion and sauté until soft and golden brown.

Add the beans: Add the cooked beans to the pan with a pinch of salt. If the beans are too dry, you can add a little of the cooking water.

Mash the beans: With a bean masher or the back of a wooden spoon, start mashing the beans to the desired consistency. If you prefer softer beans, you can add a little more water.

Adjust the flavor: Taste the beans and add salt to taste. Continue to simmer for a few more minutes to allow the flavors to blend.
Notes
Storing the refried beans
Before storing the beans, check that they are well chilled.
Refried beans should be stored in an airtight container to prevent them from drying out.
Store in the fridge. Refried beans can be refrigerated for up to 5 days.
If you do not plan to eat them, you can freeze them. To freeze refried beans, place them in a freezer-safe container, leaving a little space at the top to expand. Frozen beans will keep well for up to 6 months. Thaw in the refrigerator overnight before reheating.
Reheat the refried beans
On the stove: Place the refried beans in a skillet over medium heat to reheat the refried beans. Add a little water or broth to prevent them from drying out, and stir frequently until they are completely hot.
In the microwave: You can also reheat the beans.
Place them in a microwave-safe container, cover it with a microwave-safe lid or plate, and heat for 1-2 minutes.
Stir halfway through cooking to ensure even heating.
Nutrition
Serving:
1
serving
Calories:
183
kcal
Carbohydrates:
22
g
Protein:
8
g
Fat:
7
g
Saturated Fat:
1
g
Polyunsaturated Fat:
1
g
Monounsaturated Fat:
5
g
Sodium:
2
mg
Potassium:
332
mg
Fiber:
8
g
Sugar:
1
g
Vitamin A:
6
IU
Vitamin C:
1
mg
Calcium:
28
mg
Iron:
2
mg
information
Nutritional information of this recipe is only an estimate, the accuracy for any recipe on this site is not guaranteed.

Latest posts by Alejandra Graf
(see all)