Here's an effortless recipe to prepare vegan, creamy, and delicious Mexican instant pot refried beans. In no time at all, you'll be savoring refried beans!
About this recipe
Seeing my children's excitement when they discover refried beans in the refrigerator is always a joy. They enjoy having taquitos, sopes, or tostadas for breakfast, lunch, or dinner.
I must admit that I used to get a little lazy and didn't make refried beans as often before discovering this new, quick, and contemporary method. 🙈
This new way of making vegan, authentic, and super healthy refried beans is my favorite way to use the Instant Pot. I am obsessed with how easy, mess-free I make my refried beans now.
Ingredients
Vegetable or olive oil. I use both, avocado is my favorite when making Mexican dishes.
Onion, you can use red onion, white or yeloow onion. An if you are relly in hurry even dried onion works well here.
Pinto beans or black beans. Before cooking your beans, it's important to sort them and remove any pebbles or half beans that may be present. It is also important to check that they are all the same kind, all pinto beans, or all black beans.
Water, if your beans are too thick, you could always add more. You could also use vegetable broth. If you are unsure how old your beans are, you could always add a cup or more of water to ensure they cook well. Before mashing your beans you could remove any extra liquid.
How to make refried beans fast?
To follow this recipe, you will need an Instant Pot. If you do not have one, you can still make refried beans using the traditional method.
Step 1. Begin by turning on the sauté function in the pot. Once the pot is hot, add the oil, and finely chopped onion, and sauté for about five minutes until the onion begins to brown.
Step 2. Add the beans and water to the Instantpot (affiliate link), cover it, move the valve to the sealing position, and select the beans function. Set the timer for 20 minutes. Once the cycle is complete, release the steam.
Step 3. Allow the pressure to release naturally. Uncover the pot and add a pinch of salt. Use an immersion blender (affiliate link) to achieve the desired consistency of the beans.

best way to sort beans
Spread Out the Beans: Pour the beans onto a large, light-colored tray or baking sheet. The light color will help you spot any impurities more easily. Make sure to spread them out into a single layer so you can see each bean.
Look for Impurities: Carefully look over the beans. You're looking for small stones, pieces of dirt or other debris, and any broken, shriveled, or discolored beans.
Remove Impurities: When you spot an impurity or a bad bean, pick it up and discard it.
Rinse the Beans: After you've sorted the beans, transfer them to a colander or sieve and rinse them under cold running water to remove any remaining dust or dirt.
Tips for the best Instant Pot Refried Beans
Beans and legumes. If you're interested in learning about cooking various legumes, I've written a post with detailed information, including cooking times and a helpful table.
However, a general rule for all legumes is to use high-quality beans, seek out stores that sell fresh beans, and consider heirloom varieties. Stores that sell beans in bulk usually have fresher beans. For this post, I used pinto beans, but it works with any bean.
To soak or not to soak beans. Sometimes I skip soaking the beans, but I believe it's preferable to soak them. If you intend to use this approach for preparing quick refried beans, simply follow the steps. Soaking the beans results in a creamier consistency.
Reheating refried beans. When reheating refried beans, they may become a bit dry. To make them looser, add a small amount of water. If they end up too watery, don't worry. Simply cook them a bit longer to dry them out.
Flavor Add-Ons.
Here are some delicious add-ons that you can incorporate into your Instant Pot refried beans recipe to enhance the flavor and make it even more nutritious:
Cheese: Sprinkle some shredded cheddar or Monterey Jack cheese on top of the beans. The heat will melt the cheese, adding a creamy texture and rich flavor.
Avocado: Slices of fresh avocado or a dollop of guacamole can add a creamy, healthy fat to your dish.
Sour Cream: A dollop of sour cream can add a tangy flavor and creamy texture.
Fresh Herbs: Chopped fresh cilantro can add a burst of new flavor and a pop of color.
Salsa or Pico de Gallo: A spoonful of salsa or pico de gallo can add a spicy kick and a bit of freshness.
Lime Wedges: Serve with lime wedges on the side. A squeeze of lime juice just before eating can brighten up the flavors.
Grilled Vegetables: Grilled corn, bell peppers, or zucchini can add a smoky flavor and extra nutrients.
Protein: If you want to make the dish more substantial, you can add in some tofu (affiliate link), tempeh.
Spices: Sprinkle on some extra spices like cumin, chili powder, or smoked paprika for added flavor.
Hot Sauce: For those who like it spicy, a dash of hot sauce can add a nice kick.
Remember, the best part about cooking at home is that you can customize the dish to your liking. So feel free to experiment with these add-ons and find your favorite combination!
BEst way to use refired beans
For a scrumptious meal, these Mexican refried beans can be served as a side dish with hibiscus tacos, crispy potato tacos, vegan pambazos, or sopes. You can also enjoy them by heating a corn or flour tortilla, adding some beans, and a generous tablespoon of salsa verde. The taste is simply amazing!
Other recipes to cook in the INSTANT pot
If you have an Instant Pot at home, you probably know how incredible they can be. Personally, I use my Instant Pot to make pea soup as well as to cook chickpeas for hamburgers, taquitos, sandwiches, patties, and healthy bean soup. I find myself using it quite frequently.
Made and loved this recipe? Give it a ⭐️⭐️⭐️⭐️⭐️ rating below. Let me know if you have questions about this recipe in the comment section or DM me on Instagram. Follow on Facebook and Pinterest to stay in touch, and don't forget to subscribe to my newsletter.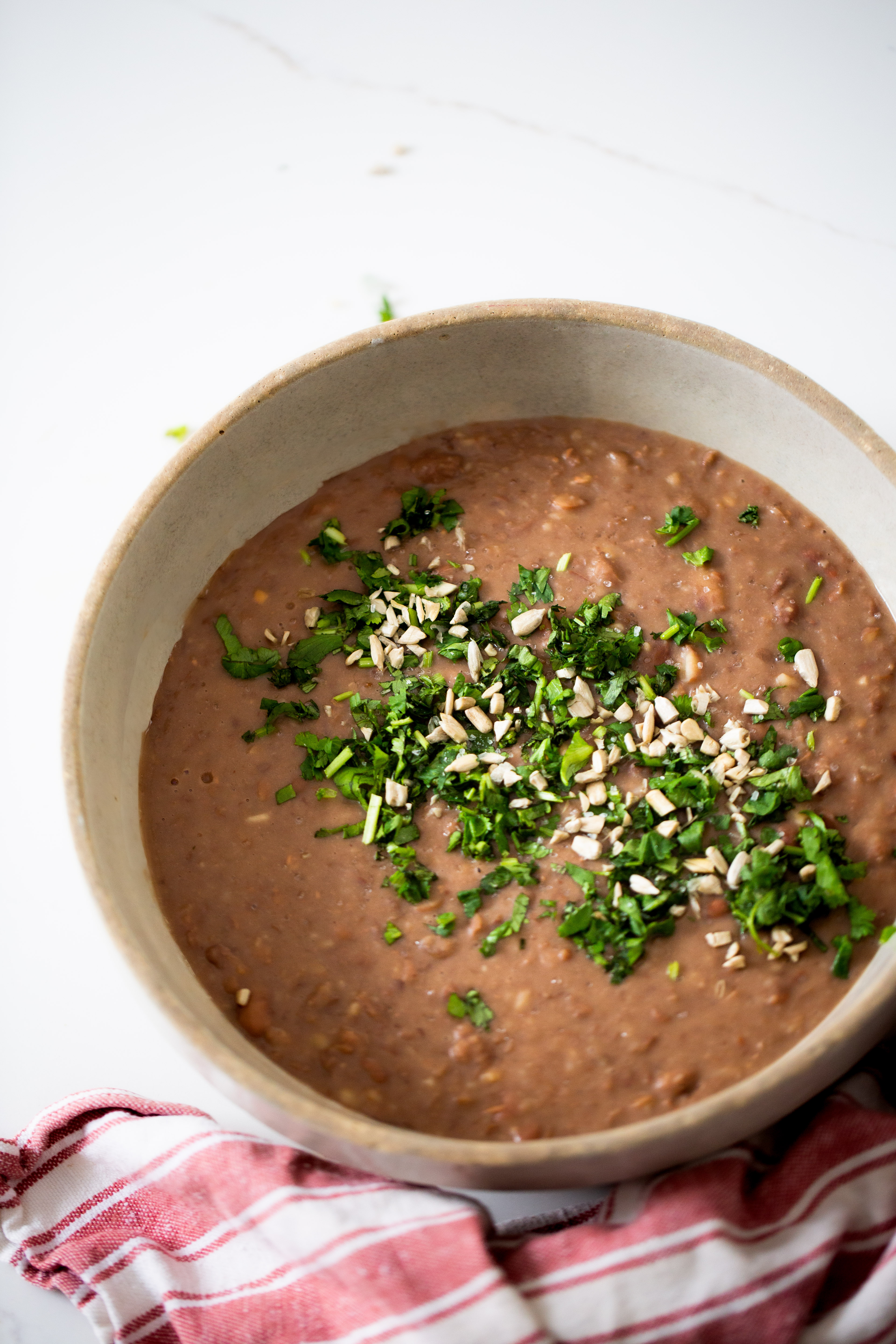 Refried beans
This recipe for refried beans is one of the easiest and most authentic recipes you will find. Use these refried beans to make tquitos, to make soups or other Mexican dishes.
Ingredients
3

tablespoons

vegetable or olive oil

3/4

cup

chopped onion

2

cups

pinto beans or black beans

4

cups

water

pinch

of salt
Instructions
Set the Instant Pot in the sauté function. Add the oil and onion. Sauté for 5 minutes or until the onion begins to brown.

Add beans, water, and cover. Close the valve to the sealing set and program the Instant pot to the beans function, set the time for 20 minutes in the normal setting.

When the pot beeps turn it off. Open the valve to release steam, and when the safety button is down, open it.

Add a good pinch of salt and with an immersion blender blend the beans until you achieve the consistency you like.
Notes
If you like your beans to be more loose and an extra cup of water to the cooking process.
Nutrition
Calories:
76
kcal
Carbohydrates:
8
g
Protein:
3
g
Fat:
4
g
Saturated Fat:
1
g
Sodium:
5
mg
Potassium:
139
mg
Fiber:
3
g
Sugar:
1
g
Vitamin C:
1
mg
Calcium:
18
mg
Iron:
1
mg
information
Nutritional information of this recipe is only an estimate, the accuracy for any recipe on this site is not guaranteed.

Latest posts by Alejandra Graf
(see all)