Flautas, also known as taquitos, are rolled corn tortillas stuffed with various fillings. This classic Mexican dish is usually deep-fried and served with lettuce, crema, and salsa. Here's a recipe for vegan potato flautas.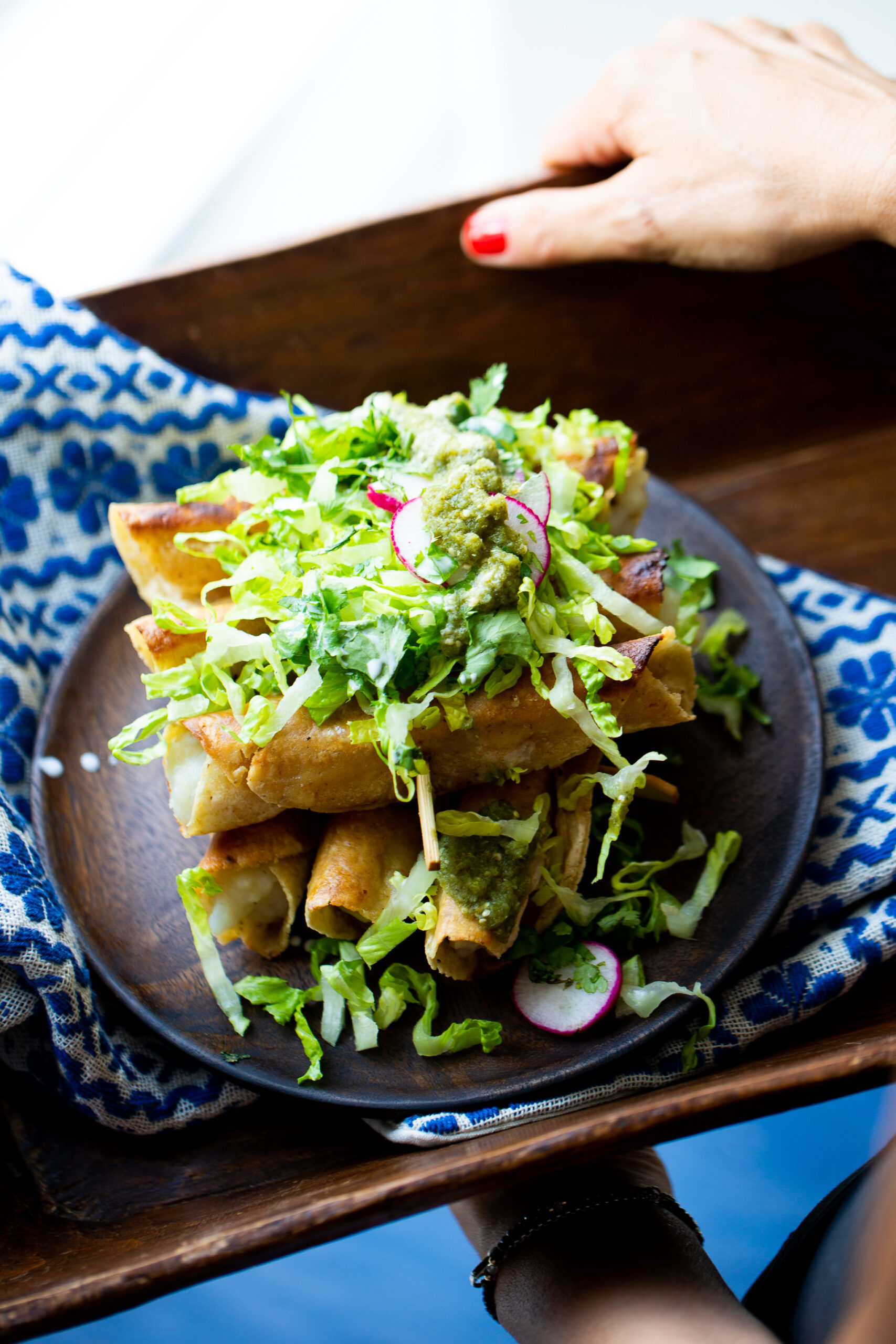 About this recipe
These crunchy potato tacos, also known as flautas in Mexico, are a favorite dish among my children and myself. The corn tortilla is filled with a delicious filling, then fried and topped with salsa, cream, and lettuce, creating a dreamy and satisfying meal. To be honest, I find it difficult to choose between flautas and sopes – both are incredibly delicious.
What are flautas?
Flautas are rolled corn tortillas that contain a filling. This filling can be beef, vegetables, beans, chicken, or cheese. Then, they are fried in oil.
Flautas are topped with salsa, Mexican cream, fresh cheese or cotija cheese, chopped lettuce or green cabbage, and sometimes radishes before being eaten. Normally, everyone prepares them to their liking.
In Mexico, tacos dorados or flautas are the epitome of party food and street eats. When we used to live in Monterrey, Mexico, and celebrated my kids' birthdays, I always served flautas.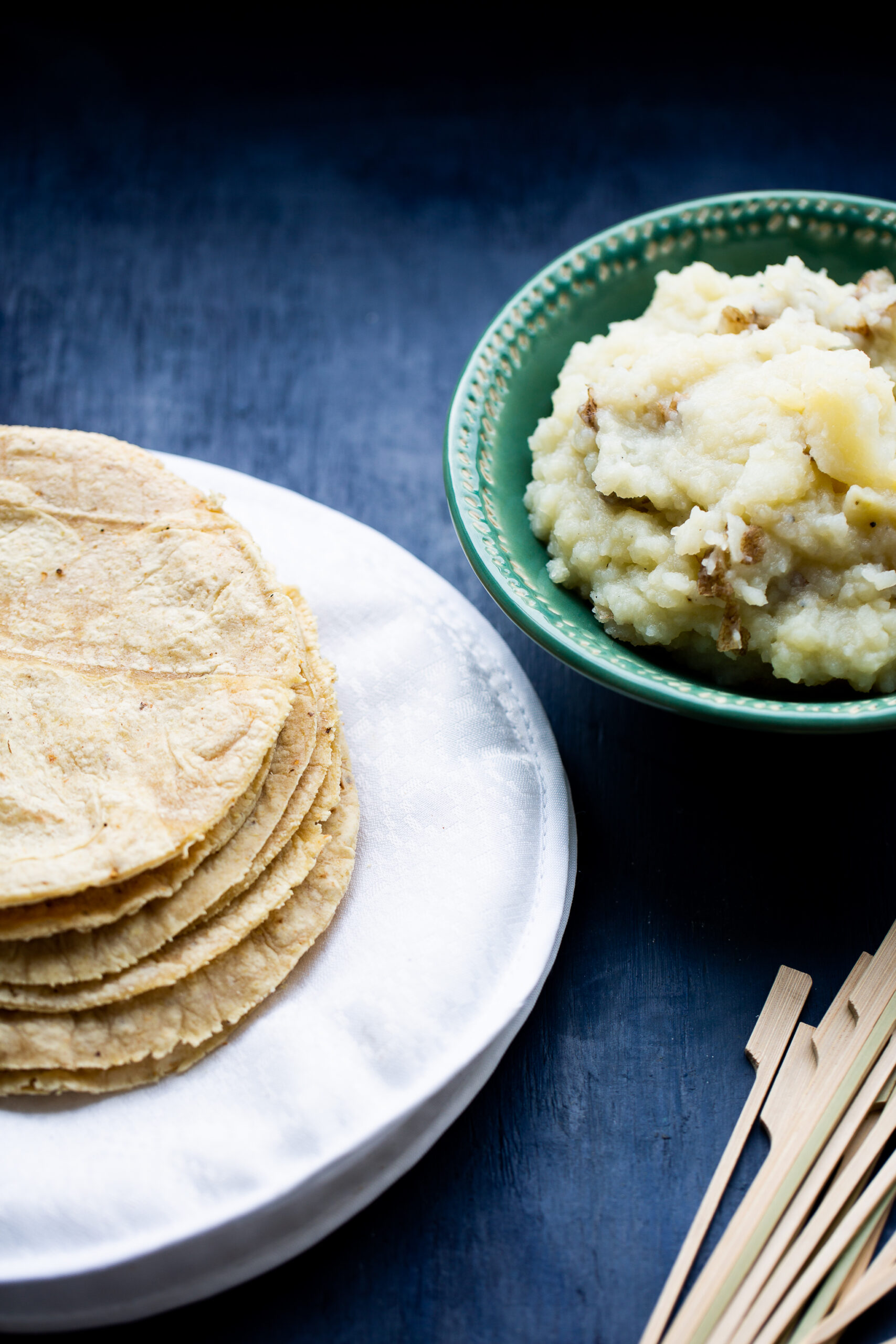 Flautas ingredientes
The filling. I made these vegan potato taquitos (or flautas) using mashed potatoes I had already prepared and stored in the refrigerator. If you prefer, you can make the filling from scratch by boiling potatoes in salted water until they're soft. Drain and mash the potatoes, then season with salt and add vegan butter, fresh herbs, Mexican cream, or any other desired ingredients.
The tortilla. To make corn tortillas more pliable, you can heat them in the microwave for 30 seconds while wrapped in a kitchen towel. After heating, fill each tortilla with one or two tablespoons of the potato mixture, roll them up, and use toothpicks to secure them. If you prefer not to use toothpicks, you can use bamboo skewers to hold a group of three or four flautas together.
Frying Oil. Use a good vegetable oil with a high smoke point. I prefer using safflower or avocado vegetable oil.
---

Flautas and the Tortilla Confusion
The word "flauta" translates to "flute" in English, which gives a hint about its shape. Flautas are essentially rolled tortillas filled with meat, cheese, or beans, then fried until crispy. They resemble a flute in shape, thus the name.
The misconception: Many believe flautas are made with flour tortillas. And it's easy to see why. The crispy, golden-brown exterior of a flauta looks a lot like what you'd get if you fried a flour tortilla. Plus, in some regions and restaurants, flour tortillas are used.
The reality: Traditionally, flautas are made with corn tortillas. Corn tortillas have been a staple in Mexican cuisine for thousands of years, long before flour tortillas came onto the scene. The corn tortilla gives the flauta its characteristic flavor and texture when fried.
That said, the lines have blurred over the years, especially outside of Mexico. It's not uncommon to find flautas made with flour tortillas in certain places, particularly in the U.S., where the term "flautas" and "taquitos" might be used interchangeably. Taquitos, another rolled and fried delight, can be made with either corn or flour tortillas, further adding to the confusion.
Why does it matter?
Both corn and flour tortillas have distinct flavors and textures. Corn tortillas have a more pronounced, earthy taste, while flour tortillas are softer with a slightly chewy texture. The choice of tortilla can influence the final taste and texture of the dish.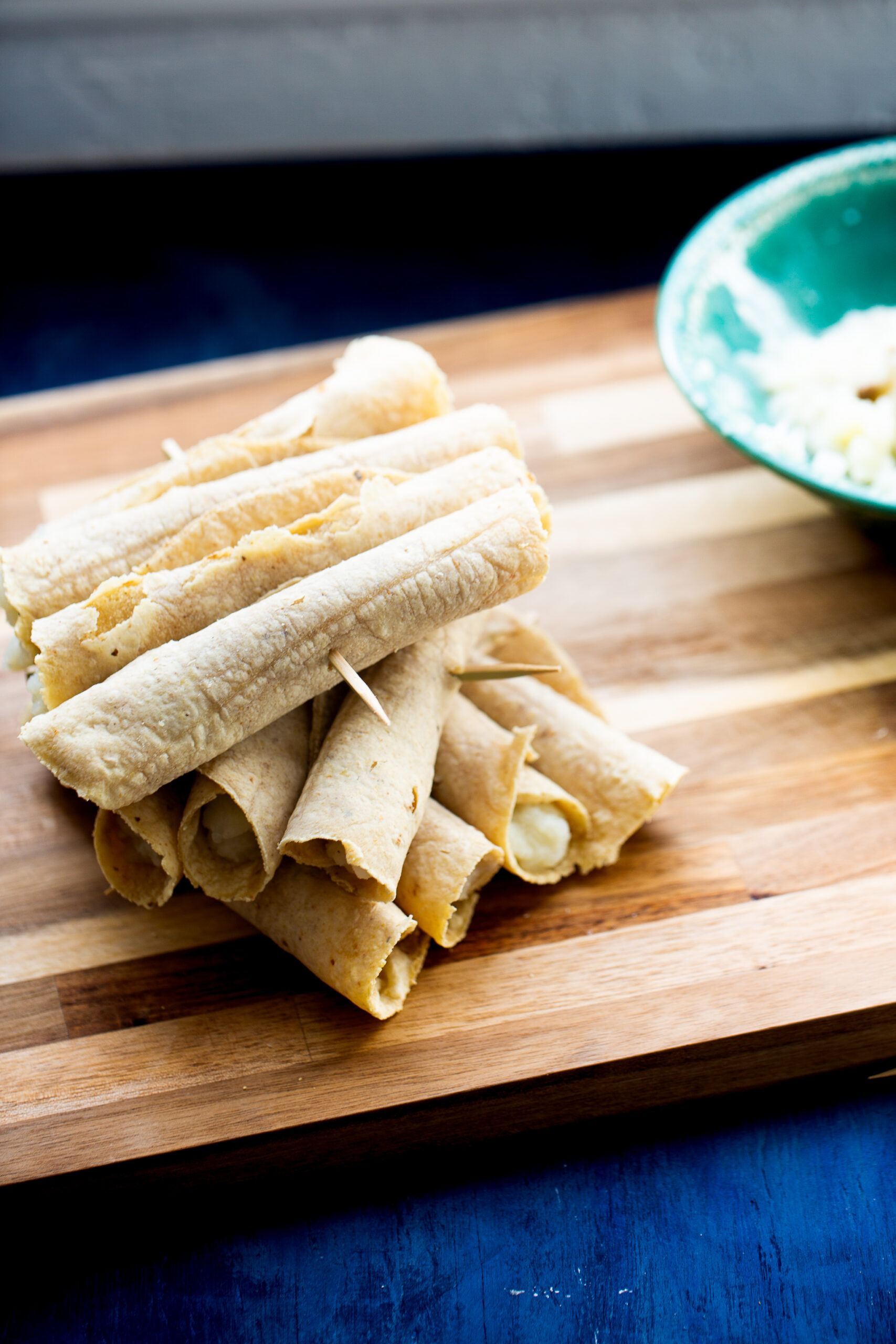 How to make them
To make the tortilla flexible, heat it on a griddle (affiliate link) or in the microwave wrapped in a kitchen towel for 10 to 30 seconds. Once it's flexible, place the filling in the center of the tortilla and roll it tightly. Repeat this process until you've rolled all the tortillas. Secure each tortilla with a toothpick or make 3-4 flauta groups.
Heat a 12-inch cast iron or stainless steel skillet with 1/4 cup of vegetable oil. Fry the flautas until golden and crispy on all sides. Serve topped with your favorites.
filling ideas
Corn tortillas can be filled with a variety of ingredients that will result in a delicious meal. Tacos can be made with sweet potato mash, cauliflower mash, vegan cheese, mushrooms, black beans, lentils, zucchini, carrots, and the list of options is endless.
TIPS AND TRICKS
Technically I don't deep-fry my Mexican flautas, because they are only half covered in oil when you put them in the frying pan. You could definitely deep fry them.
You can also make them without frying, spray them with oil, and place them in your air fryer or oven at 400ºF for 3-5 minutes or until crispy.
You can prepare them and then freeze them. Thaw and fry, but don't store them once they're already fried, they're better when freshly made.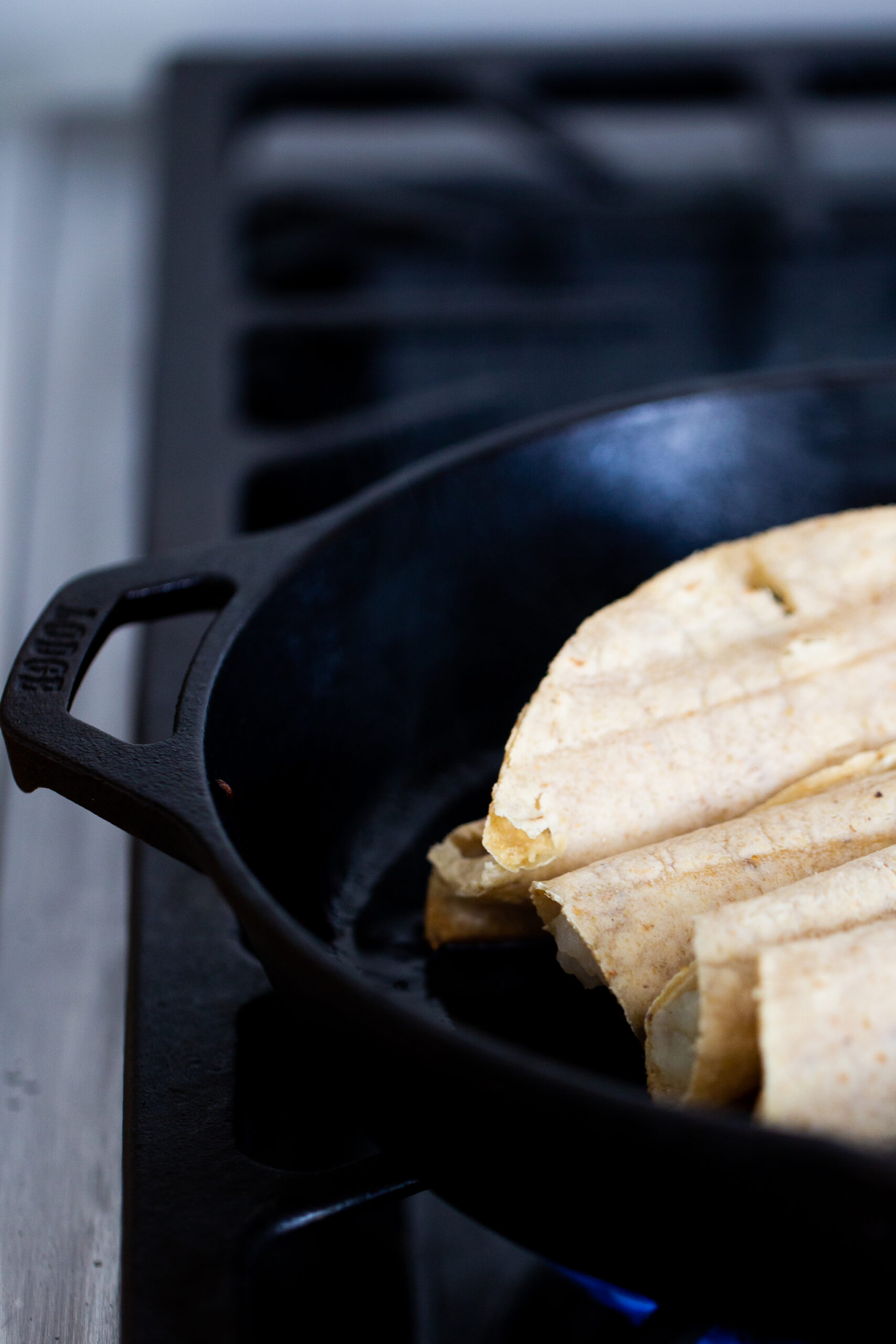 The perfect dreamy Mexican vegan menu of my dreams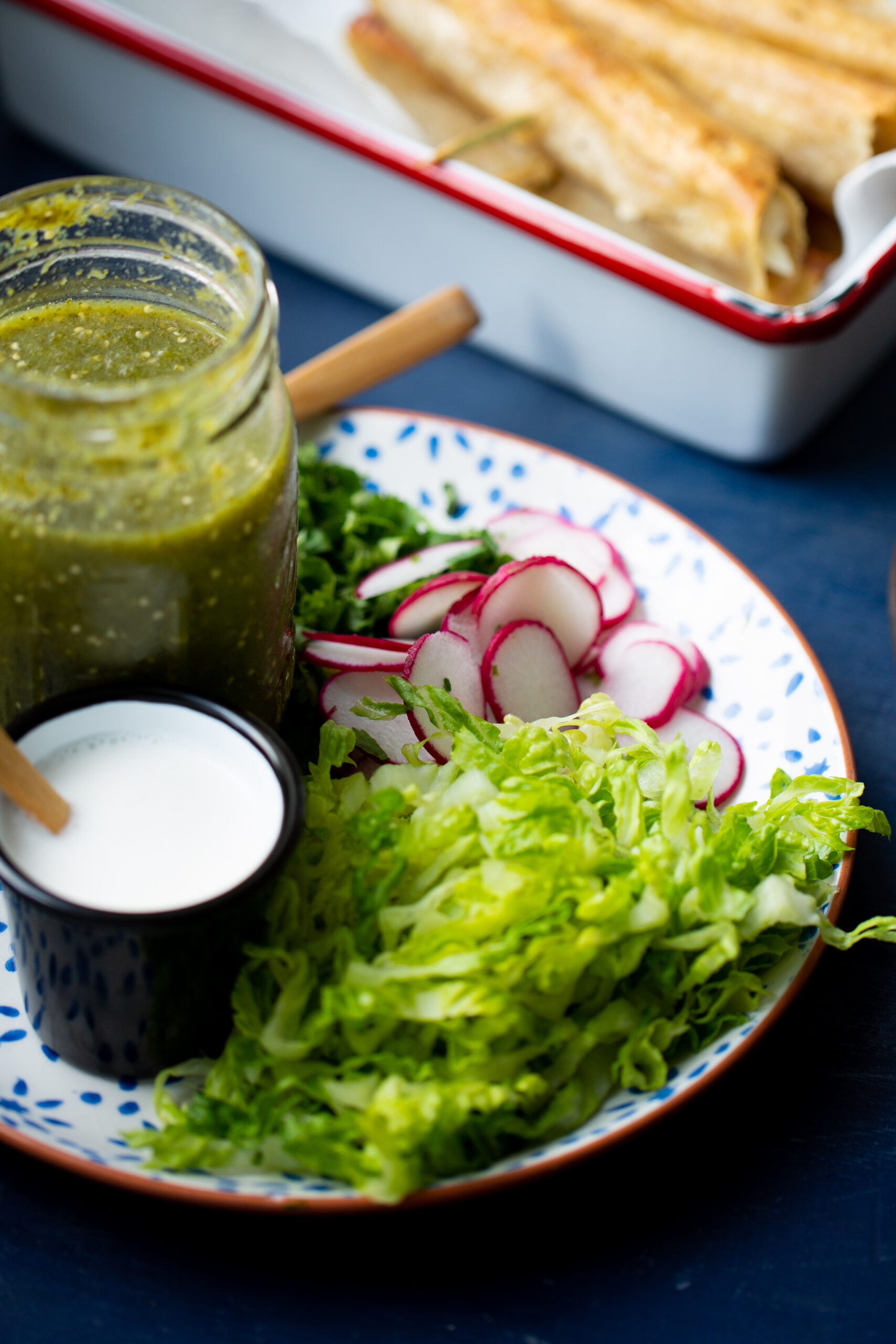 How to serve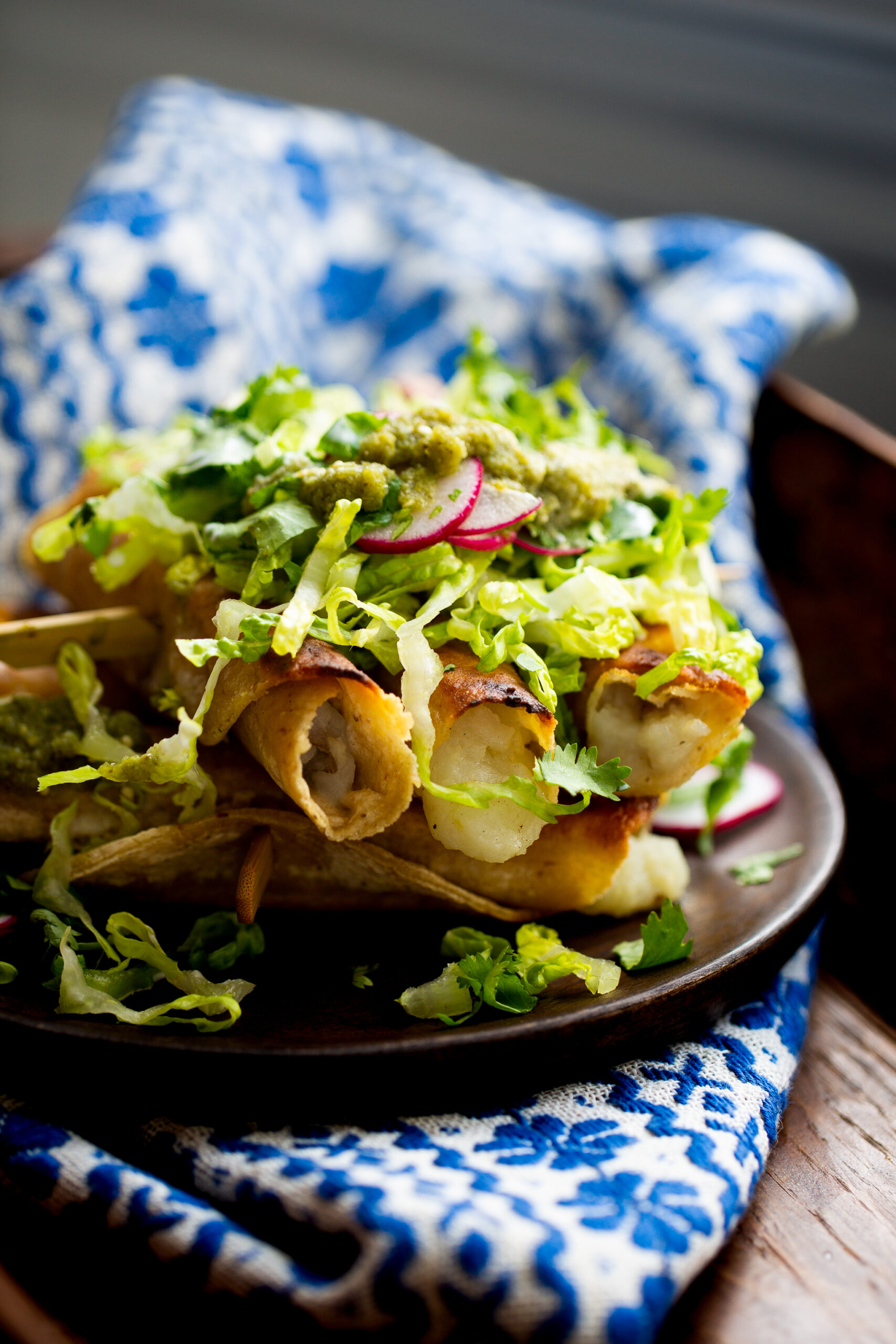 Best mexican recipes
¿Hiciste esta receta y te encantó? ¡Dale ⭐️⭐️⭐️⭐️⭐️! Déjame saber si tienes preguntas sobre esta receta en la sección de comentarios o envíame un mensaje privado en Instagram. Síguenos en Facebook y Pinterest para seguir en contacto, y no se te olvide suscribirte a mi boletín.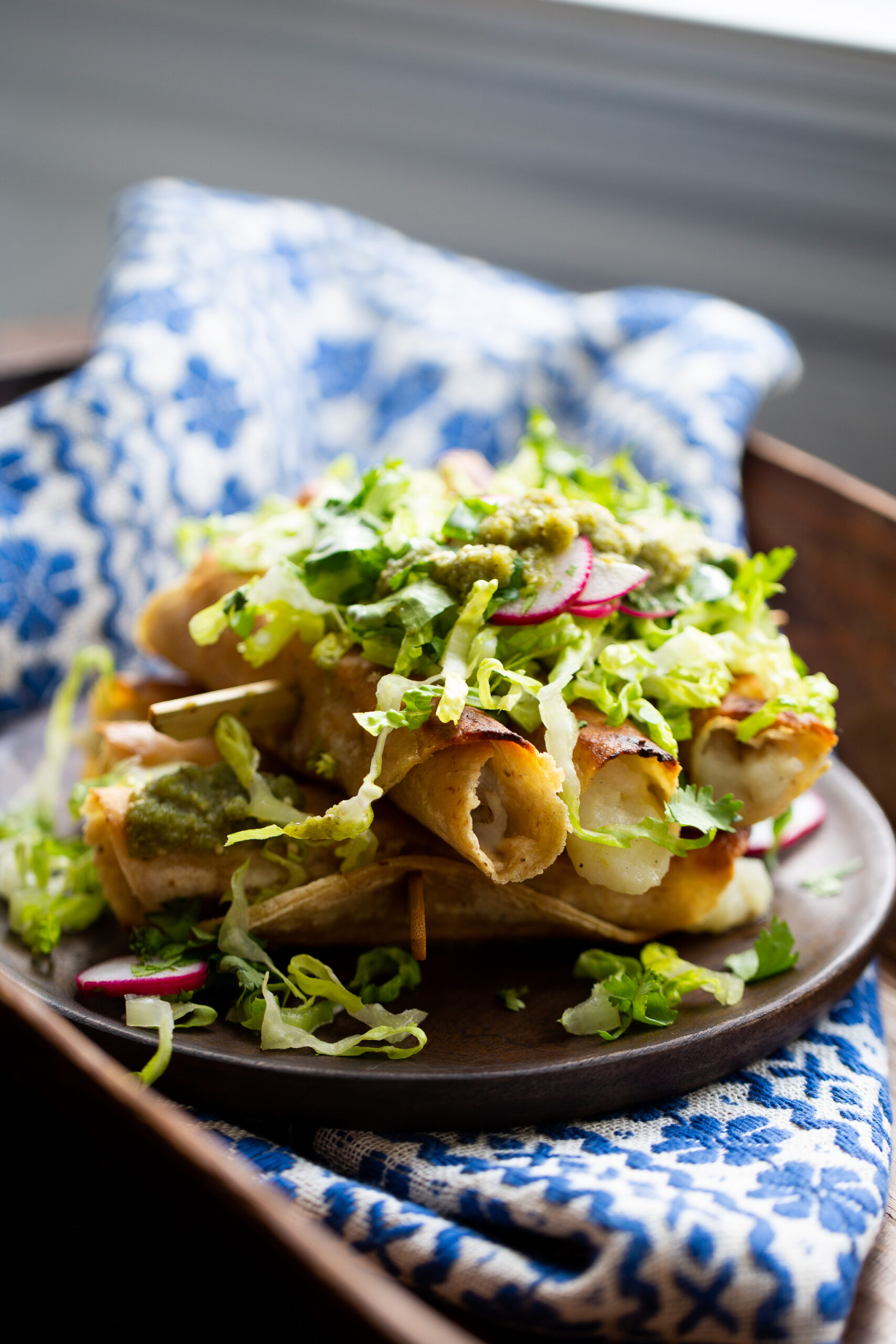 Flautas: The Crispy, Flavorful Mexican Delight
Experience the authentic flavors of Mexico with this simple yet delicious vegan flautas recipe. You only need three ingredients to create these scrumptious delights.
Ingredients
12

corn tortillas

1

cup

mashed potatoes

1/4

cup

vegetable oil

4

long wooden skewers ot toothpicks
To serve
thinly sliced romaine lettuce or green cabbage

radishes

thinly sliced

cilantro
Instructions
Heat tortillas on a skillet for 10-15 seconds to make them pliable.

To make the flautas, scoop a spoonful of mashed potatoes onto the center of each tortilla. Spread the potatoes evenly across the tortilla. Then, roll up the tortilla and place it onto a long skewer. Continue this process until you have three or four tacos on each skewer.

You could also make them individually.

Repeat with all the tortillas.

In a frying pan over high heat, add a tablespoon of oil. Then, place three or four tacos and let them cook until golden brown for about three to five minutes. Flip the tacos and brown them on the other side.

Remove the tacos from the pan and place them on a plate lined with paper towels to soak up the excess oil.

Repeat until all the tacos are done.

To serve, place the crispy potato tacos on a plate and add desired toppings. Enjoy immediately.
Notes
How to make mashed potatoes
Ingredients:
– 2 pounds of potatoes
– 1/2 cup plant-based milk
– 1/4 cup unsalted vegan butter
– Salt and pepper to taste
Instructions:
1. Peel the potatoes and cut them into 1-inch pieces.
2. Place the potatoes in a large pot and cover them with cold water.
3. Bring the water to a boil and then reduce the heat to medium-low. Simmer the potatoes until they are tender, about 15-20 minutes.
4. Drain the potatoes and then return them to the pot.
5. Add the milk and butter to the pot and mash the potatoes with a potato masher or fork until they are smooth.
6. Season the mashed potatoes with salt and pepper to taste.
7. Serve the mashed potatoes hot and enjoy!
How to store flautas?
To store flautas, allow them to cool down to room temperature. Then, place them in an airtight container or a plastic ziplock bag. You can keep them in the fridge for up to 3-4 days. If you want to store them for a longer period, you can freeze them for up to 2-3 months. To reheat, you can bake them in the oven at 350°F for 10-15 minutes or until they are heated through and crispy. Alternatively, you can reheat them in the microwave for 1-2 minutes, but they may not be as crispy as when baked in the oven.
Nutrition
Serving:
4
piezas
Calories:
223
kcal
Carbohydrates:
47
g
Protein:
6
g
Fat:
2
g
Saturated Fat:
1
g
Polyunsaturated Fat:
1
g
Monounsaturated Fat:
1
g
Sodium:
51
mg
Potassium:
310
mg
Fiber:
6
g
Sugar:
1
g
Vitamin A:
3
IU
Vitamin C:
12
mg
Calcium:
67
mg
Iron:
1
mg
information
Nutritional information of this recipe is only an estimate, the accuracy for any recipe on this site is not guaranteed.

Latest posts by Alejandra Graf
(see all)