Looking for a satisfying vegan-friendly meal with the perfect crunch? Prepare this delicious Crispy Tofu (affiliate link) that you can serve with white rice, fried rice, and other tasty sides.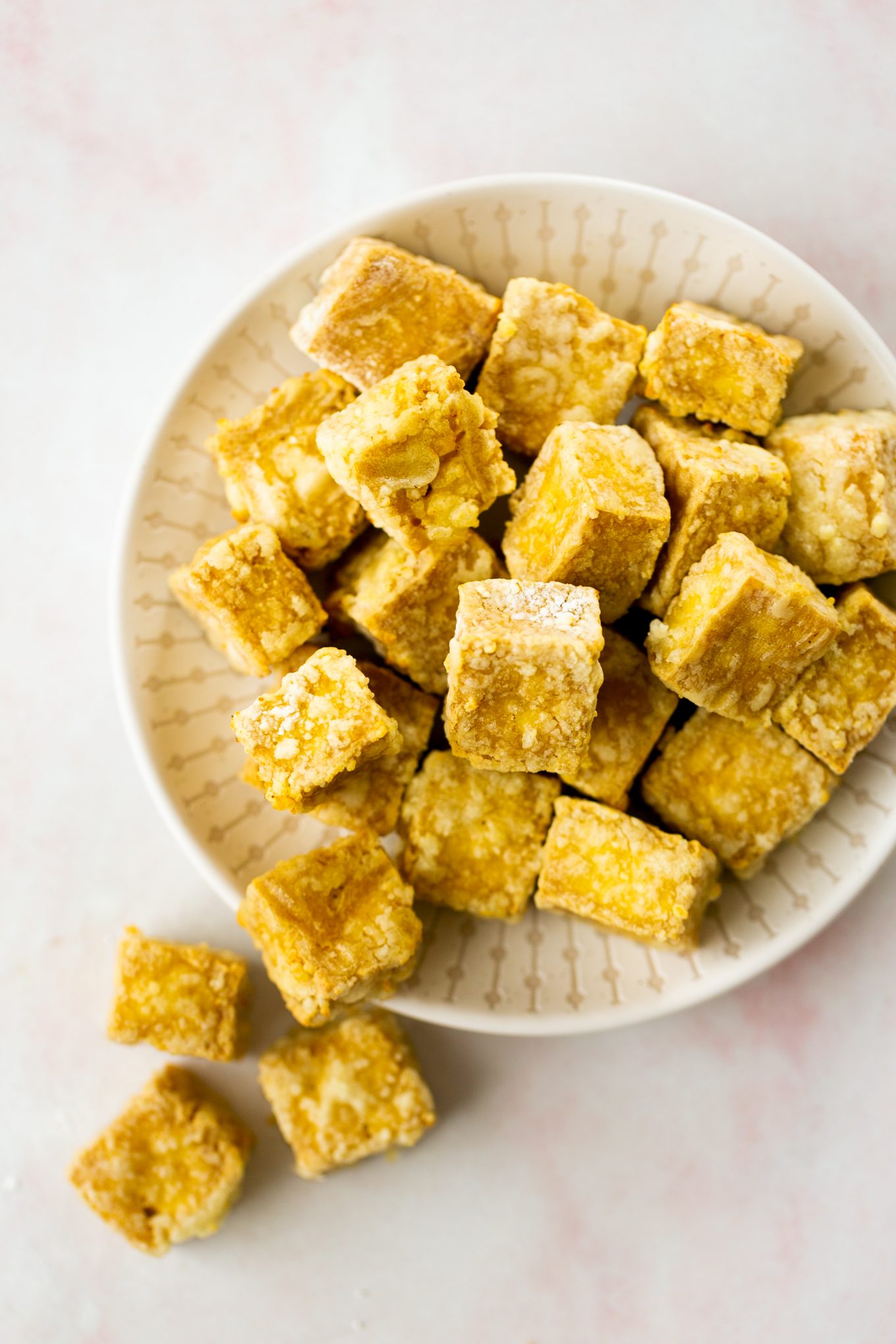 What Is Tofu and What Does It Taste Like?
Tofu is a vegan-friendly ingredient composed primarily of condensed soy milk. It is available in different textures. It is commonly used in different recipes to replace traditional meat for vegetarians and vegans who do not want to consume meat. The taste of tofu (affiliate link) varies tremendously and will depend primarily on the way it gets seasoned and prepared. It quickly absorbs flavors added to it, making it a great ingredient to use for a wide variety of dishes.
Why Is It Good to Eat Tofu?
It is good to eat tofu because it is an excellent source of protein. It can replace chicken and other meats in recipes for those who want to avoid eating meat. Besides providing you with the protein needed to feel energized, it is also an excellent source of minerals and vitamins that can keep you healthy.
What Do You Need to Make Crispy Tofu?
If you would like to prepare the Crispy Tofu, you will need specific ingredients to give it a naturally great taste, such as:
Tofu. The first and most important ingredient needed is tofu. Be sure to squeeze it properly to get rid of excess moisture before you prepare it.
Cornstarch. Add cornstarch to your tofu to give it a breading that will become crispy when fried. If you do not have cornstarch, you can use tapioca flour.
Seasonings. Choose the seasonings that you like most, such as garlic powder and pepper. You can sprinkle these seasoning into your cornstarch or directly on your pieces of tofu.
Can I Prepare the Crispy Tofu in the Air Fryer?
If you want to reduce the greasiness of the dish, you absolutely can prepare the Crispy Tofu in your air fryer instead of using a skillet with oil or deep fryer. Be sure to open the air fryer (affiliate link) every few minutes and give it a good shake to ensure the tofu becomes crispy on all sides. The tofu may cook even faster when you prepare it in the air fryer (affiliate link).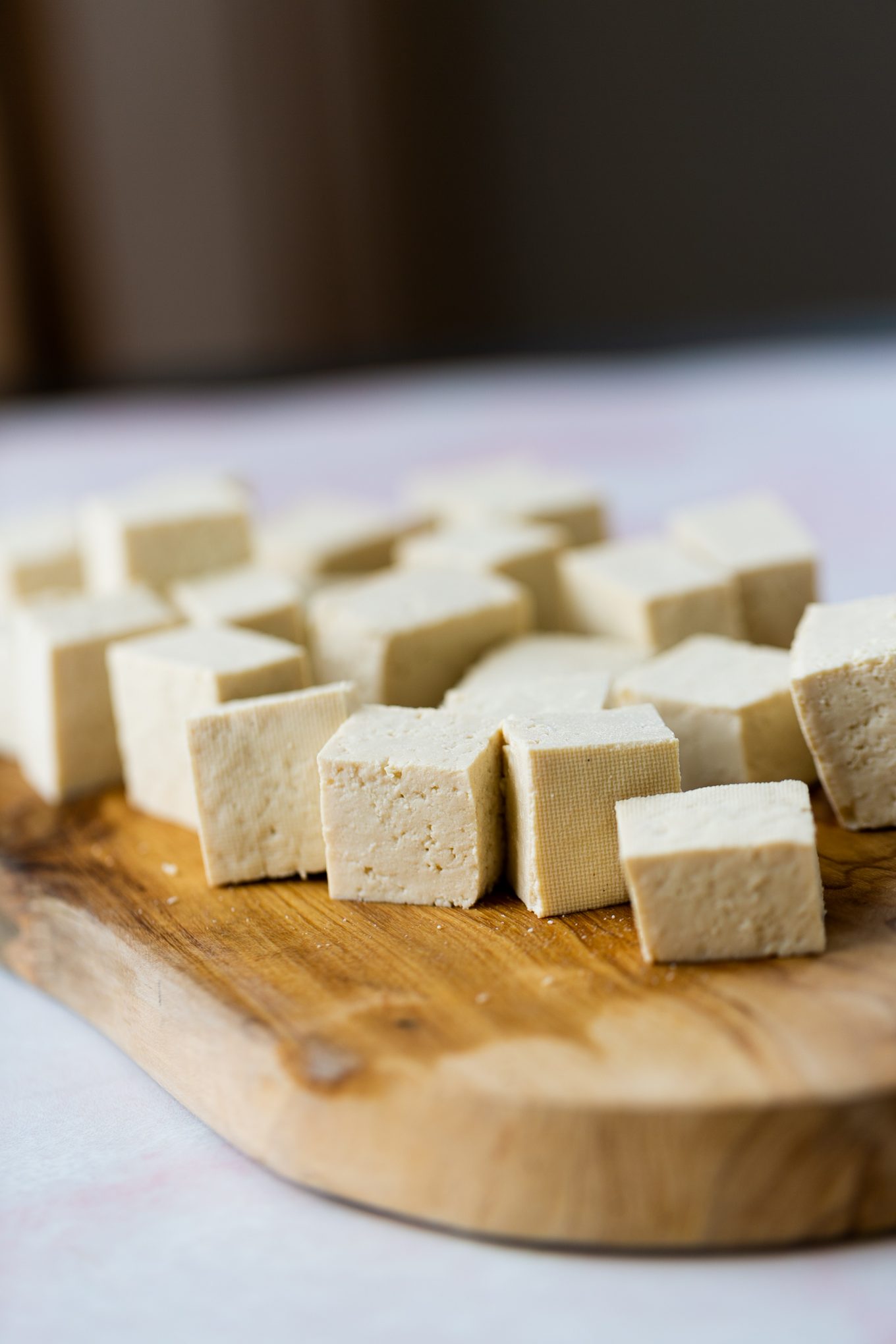 In the oven
Pre-heat the oven to 400ºF
To prepare crispy tofu in the oven you have to squeeze all the liquid out
Cover it in corn starch
Place all the pieces on a baking sheet and spray with olive oil o other vegetable oil
Bake for 15 minutes, rotate and bake for 10 more minutes or until crispy and golden.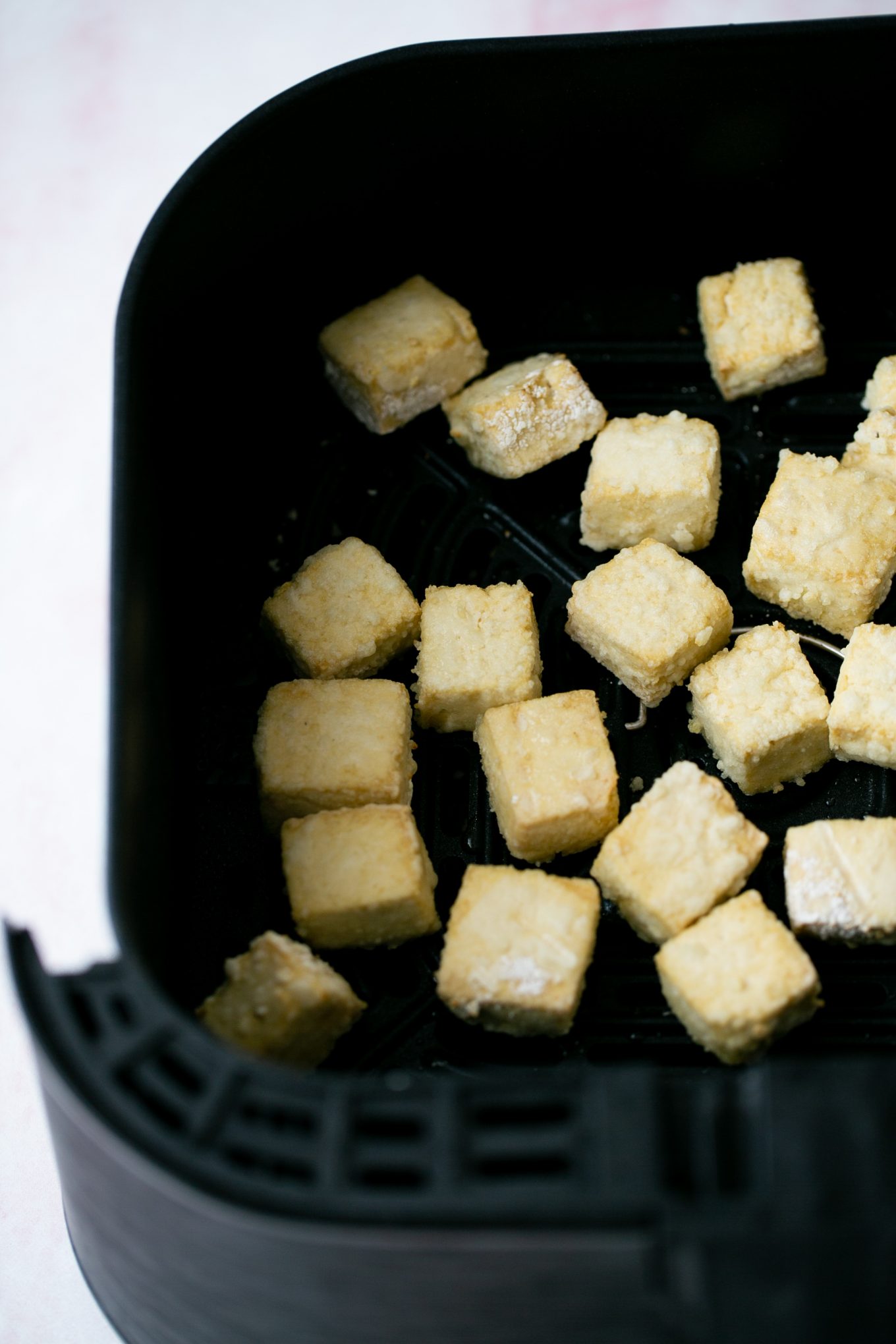 What to Serve With Crispy Tofu
Crispy Tofu tastes great with many sides. If you want to prepare a meal with it, serve it with a side of steamed brown rice and broccoli. You might even want to cover it in orange spicy sauce and toss some sesame seeds over the rice and broccoli for added flavor and crunch. If you do not eat rice, you can always prepare cauliflower rice, zucchini slices, roasted carrots, or seasoned cabbage to eat with your tofu.
Tips & tricks
Make sure that you really squeeze the tofu block
If you want a sturdier consistency for the tofu, freeze it. Then thaw and follow the same process
If you are frying in a skillet, you will need oil. You can use vegetable oil, olive oil, or coconut oil for frying the tofu.
Add some seasoning to the corn starch so you can make it really flavorful
How to Reheat the Crispy Tofu
If you store the Crispy Tofu leftovers in the fridge, you can reheat the leftovers in the air fryer to get your tofu to have that crispy texture again. It is possible to reheat in the microwave, but the tofu may not taste as crispy when you use it.
Other recipes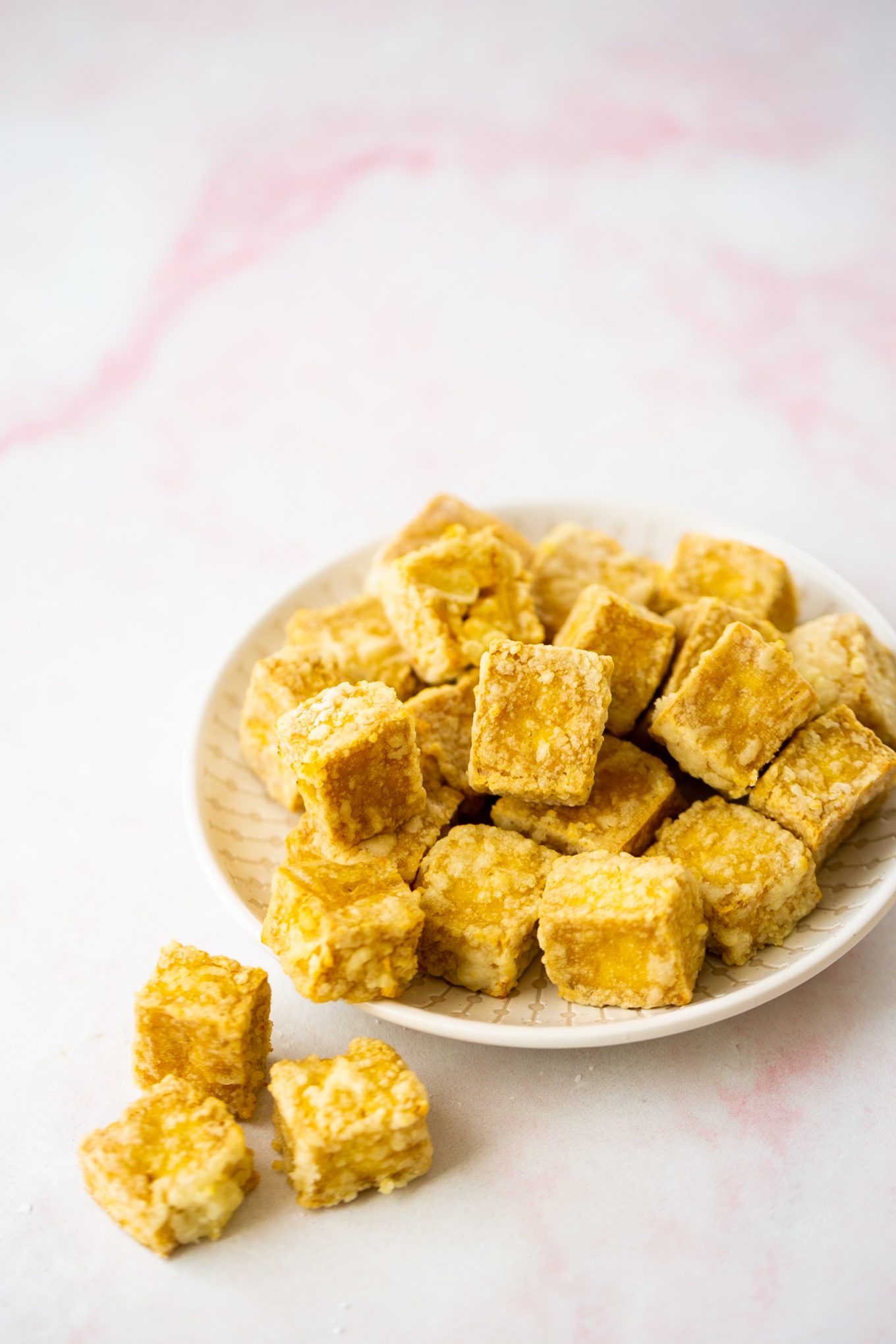 So here is the recipe for crispy tofu and please let me know how it goes when you make it or take a picture and post it on Instagram or Fb so we can all see it. If you're making this later save it on Pinterest.
It would also be fantastic and super helpful if you leave a comment and/or rating of this recipe in the comment section. Please feel free to write suggestions, ideas, or how it went when you made the recipe.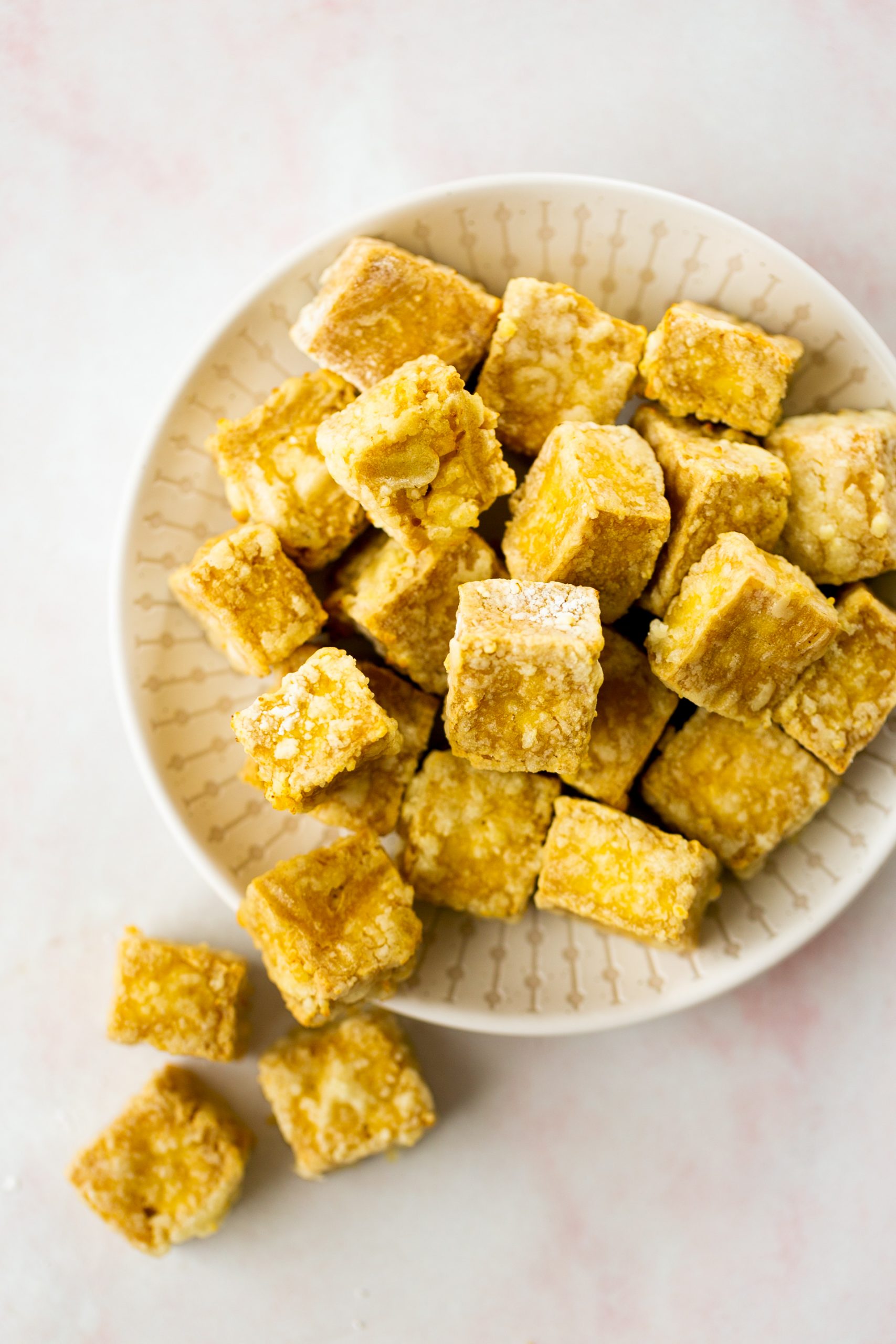 Crispy tofu
Looking for a satisfying vegan-friendly meal with the perfect crunch? Prepare this delicious Crispy Tofu that you can serve with white rice, fried rice, and other tasty sides. It is very easy to prepare and it always comes out delicious.
Ingredients
1

block of 14 oz firm or extra firm tofu

3

tablespoons

starch

1

teaspoon

salt

vegetable oil spray as needed
Instructions
Remove the tofu from the package, drain the liquid, and place it on top of paper towels folded in half or four. Put another paper towel on top, the same, folded in two or four and something heavy on top. Leave it for 10-15 minutes.

When it is almost dry, you split it across the width and then into squares of the same size.

Put these tofu pieces in a bowl and cover with cornstarch or tapioca flour. In this step you season them as you like best.

Put the tofu cut into pieces on the air fryer tray or on a baking sheet and spray them with cooking spray. Leave until crispy and delicious.

Enjoy as you like best.
Nutrition
Serving:
1
serving
Calories:
42
kcal
Carbohydrates:
3
g
Protein:
5
g
Fat:
1
g
Saturated Fat:
1
g
Sodium:
430
mg
Potassium:
133
mg
Fiber:
1
g
Sugar:
1
g
Vitamin A:
1
IU
Vitamin C:
1
mg
Calcium:
22
mg
Iron:
1
mg
information
Nutritional information of this recipe is only an estimate, the accuracy for any recipe on this site is not guaranteed.

Latest posts by Alejandra Graf
(see all)