This recipe for salsa de molcajete (affiliate link) is a guide for you to use and make the salsa of your dreams. There is nothing more Mexican than an excellent red salsa molcajeteada.
This salsa has many textures and flavors, and my recipe is not very spicy. It is perfect for eating with chips or for finishing Mexican dishes. But as I said, adapt to your liking.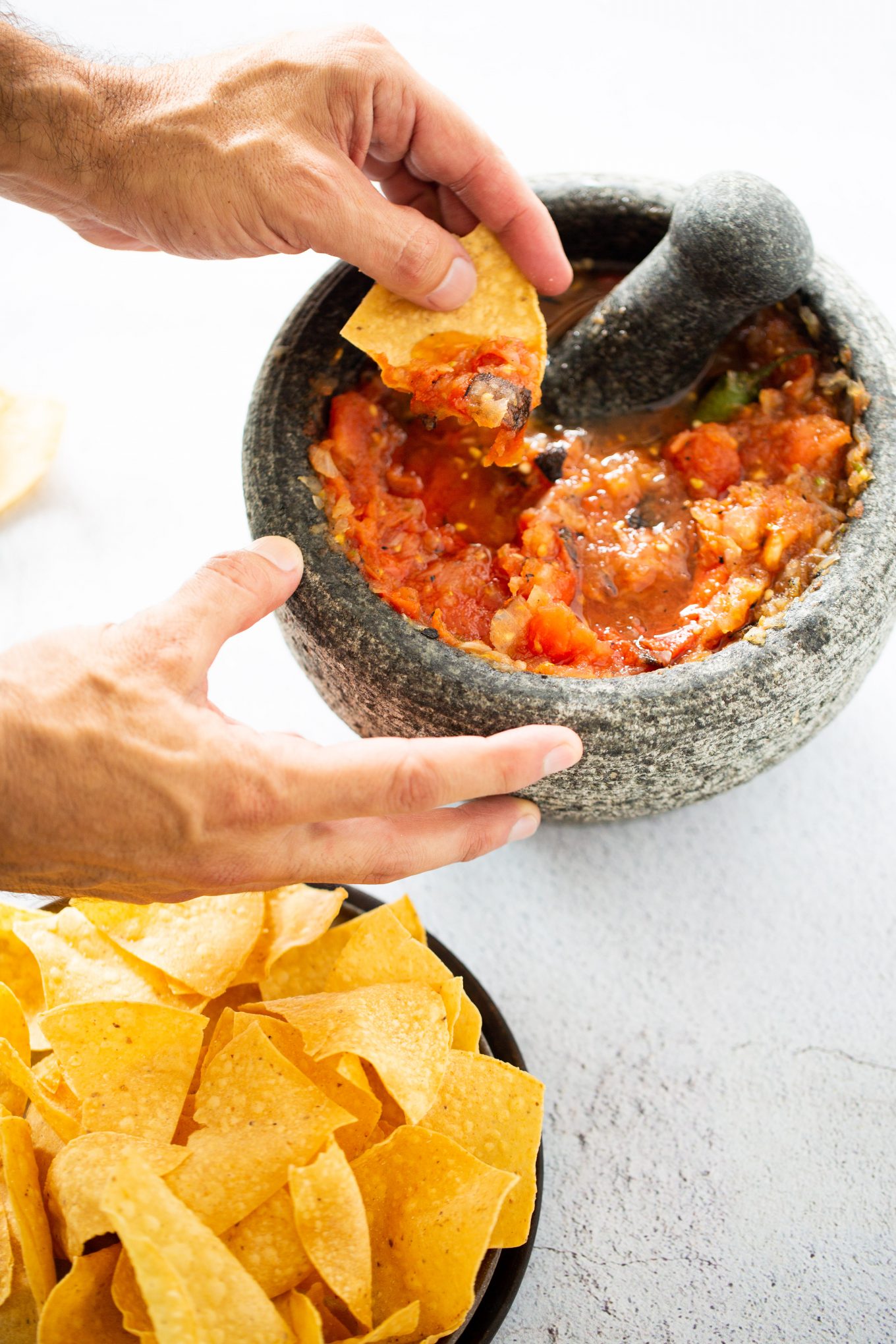 WHAT IS salsa de molcajete?
A salsa molcajeteada is simply a sauce made in a molcajete (affiliate link). You can make this type of salsa with only roasted chiles, garlic and chili serrano or jalapeño, tomatillos, or tomato and onion like this one.
You can use raw, roasted, or cooked for the salsas in a molcajete. It can also be a combination of both: cooked and raw.
✨NOTE✨

Salsas in Mexico do not have an exact recipe. The way I see them is a combinations of ingredients and they are all delicious.

Normally each family, each person has their own "recipe" or way of making their favorite salsa. And that is the beauty salsas and some other recipes of the Mexican cuisine.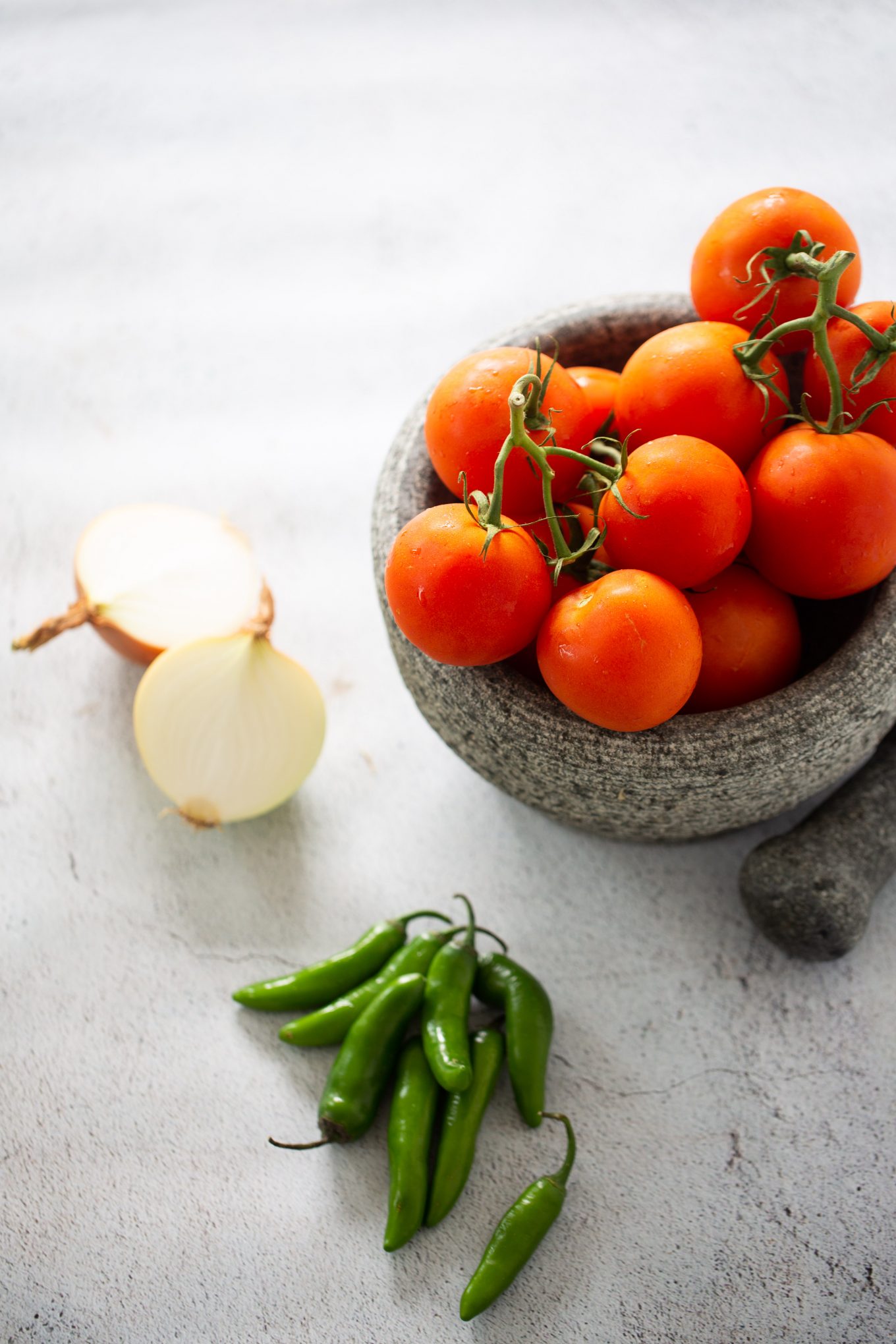 WHAT IS A MOLCAJETE?
A molcajete is the mortar and pestle of Mexico. Since the time of our ancestors, it has been used to grind, cook, or even serve food.
The authentic molcajetes are made of one piece of volcanic stone (volcanic rock); they usually are round and have three legs to make them stand.
You have to "cure" it when you have a new molcajete. The way to do it is with dry white rice. Add the rice to the basin/molcajete; use the tejolote (pestle) and press it against the molcajete walls until powdered. The idea is to cover the porousness of the stone.
💡💡What is molcajetear?

Molcajetear (in Mexico we made it a verb) is the action of grinding ingredients in the molcajete with the tejolote.

The ingredients are pressed against the walls of the molcajete with the tejolote to grind them.

This action brings out the natural flavors and oils of the ingredients and gives another level of flavor to everything we prepare in an authentic molcajete.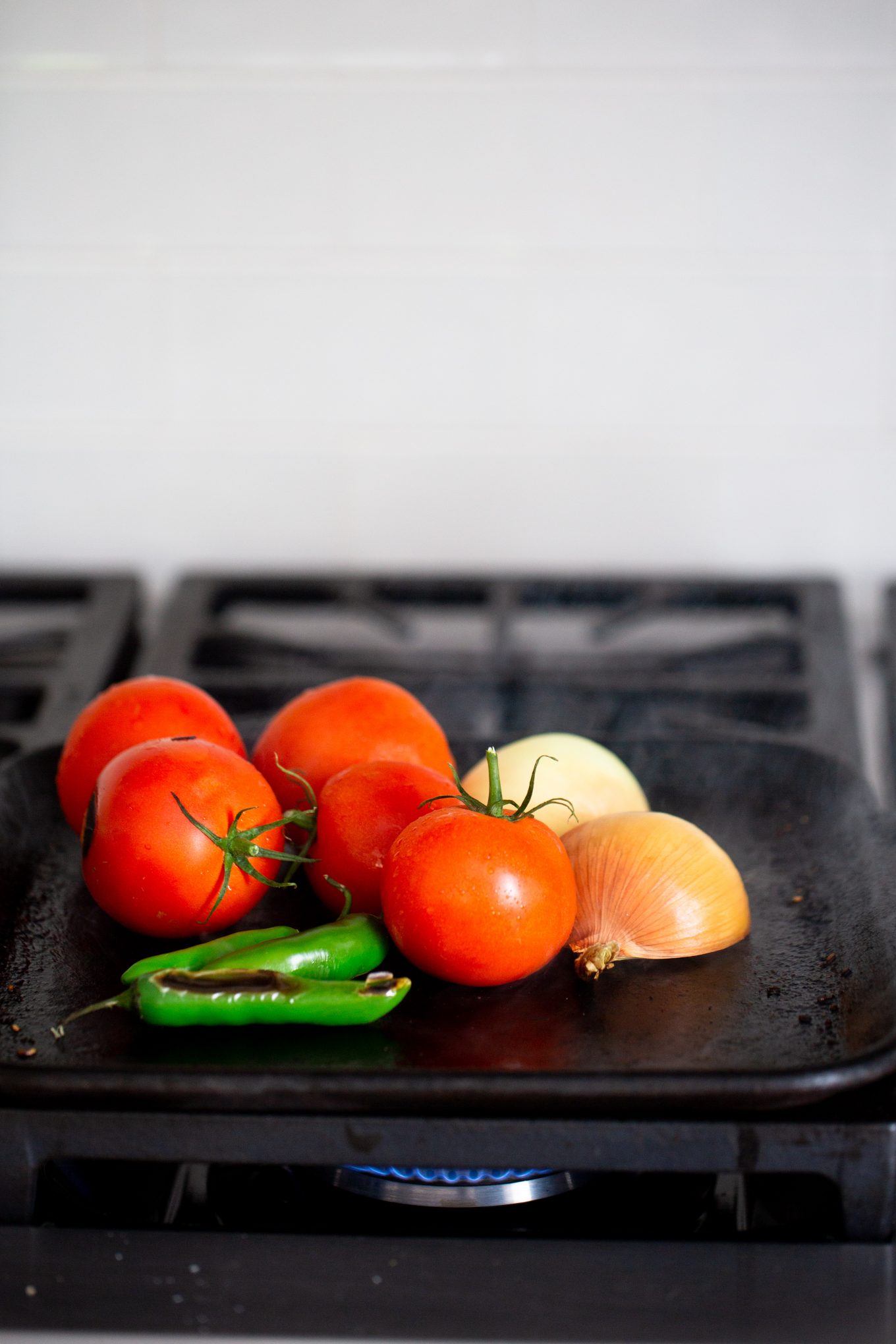 INGREDIENTS for RED Salsa de MOLCAJETEADA
Tomato. Look for ripe tomatoes with lots of flavors. I find it easier to use small tomatoes or Roma tomatoes to make this red molcajete salsa. It is easier to grind or molcajetear them if they are small.
Onion. The onion is the most difficult to grind. It must be well roasted so that it falls apart easier. You can also chop it just before you add it to the molcajete.
Chile serrano. You can substitute for jalapeño peppers, and it will still be delicious. Don't be afraid to roast the serrano peppers thoroughly. Charing them gives them a unique smokey flavor.
Salt. Use sea salt or kosher salt.
Other ingredients. You could also add another type of chiles, garlic cloves, cilantro, or tomatillos. The combination of ingredients is endless.
STEPS to "molcajetear" THE salsa
First, roast your vegetables. Use a cast-iron skillet, a comal, or a griddle (affiliate link), and burn them on a hot grill or a baking sheet in your oven with the broiler function.
Start with the chilies, and grind them until the base of the molcajete is covered.
Then put the onion and grind it until it has the size you want. You can put a pinch of salt in it since it helps soften the fibers in the onion a little more. If you cut it into pieces after roasting it, it will be easier to molcajetear.
Finally, add the tomato and "molcajetea" and grind them until they look perfect to you. Watch out for the tomato juice; it can splatter all over.
Taste for seasoning, adjust if necessary, and enjoy.
How to make salsa de molcajete without a molcajete?
Roast the salsa ingredients on a grill or a cast-iron skillet, place them in a blender or food processor (affiliate link) container, and pulse until you have the desired consistency.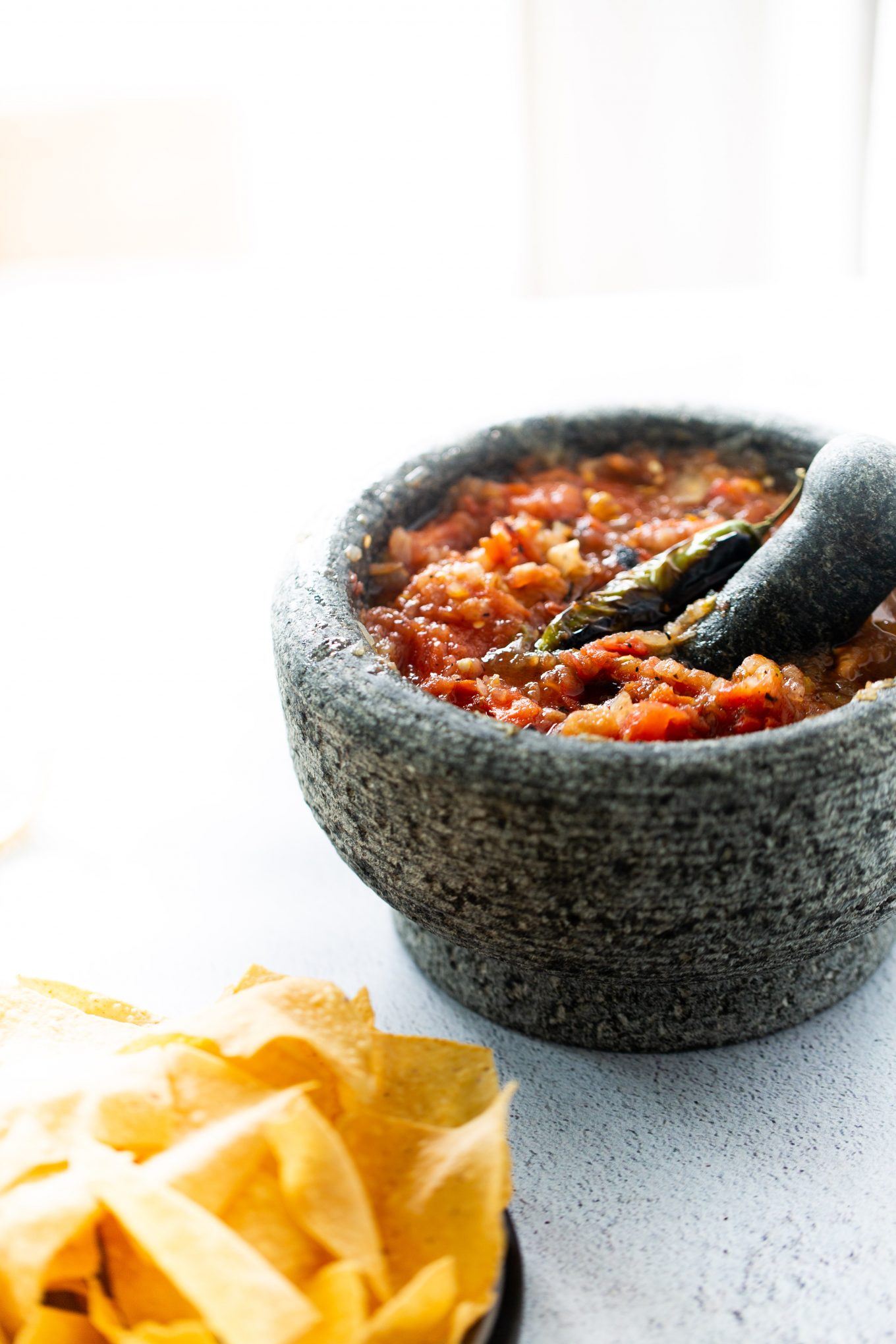 Other recipes that you may like:
HOW TO EAT MOLCAJETE SAlsa?
To finish your favorite Mexican dishes. This molcajete red sauce can be eaten with whatever you like the most or a dish that lacks flavor or needs a boost. In my house, we use this sauce for quesadillas, for tacos, to make scrambled tofu (affiliate link), and to top crispy potato tacos, sopes, or tostadas.
Snack. Also, this salsa molcajete is perfect to serve as a snack with tortilla chips. I leave it in the molcajete and put aside corn chips and guacamole.
If you serve it as a snack, have a drink like :
So here is the recipe; I hope you like it as much as we do. Please take a photo of it and share it on FB or Instagram when you make it. If you want to prepare this salsa later, save it on Pinterest, and don't forget to give it five stars, so more people can find it on the internet.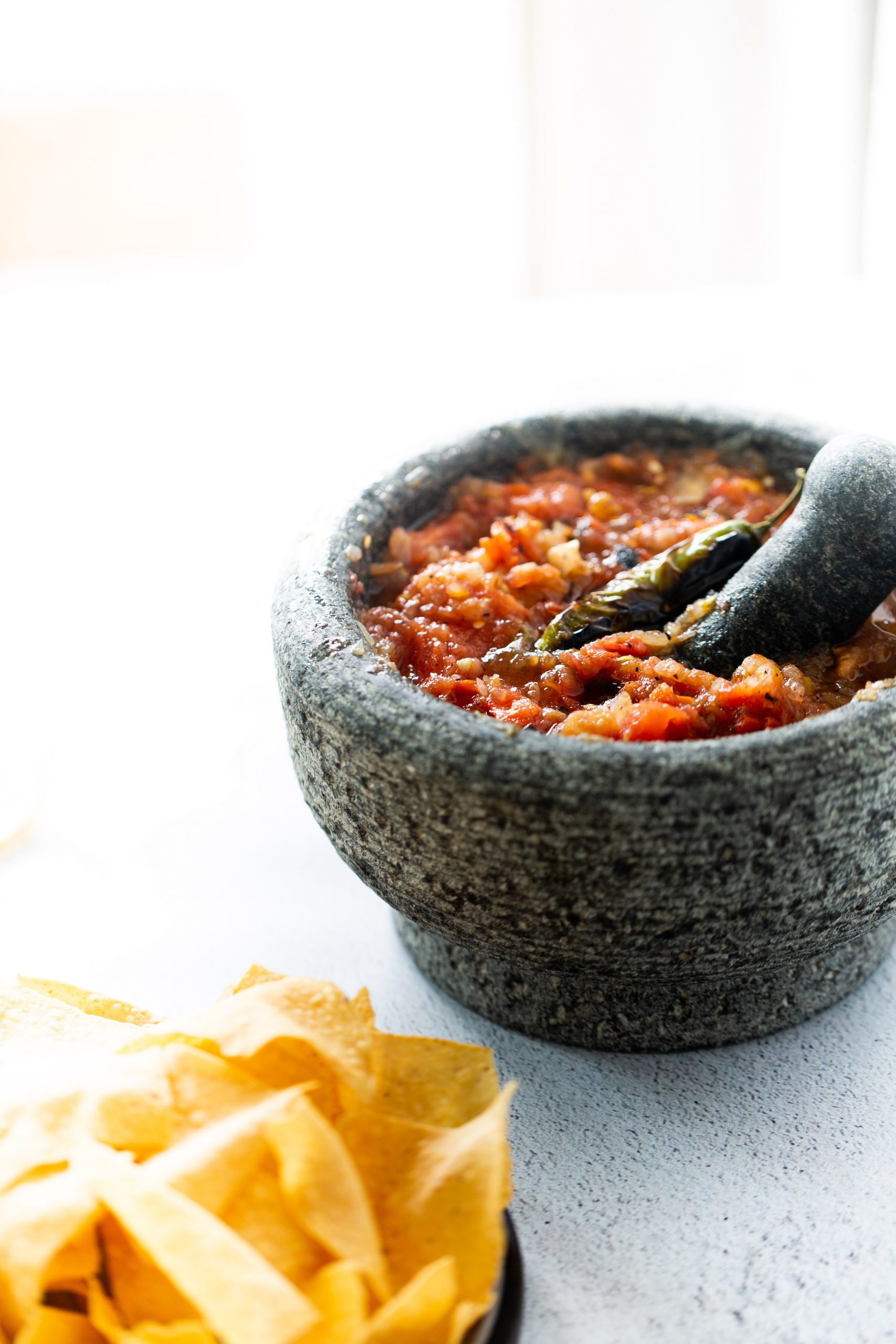 Red salsa molcajeteada
This red salsa molcajeteada is one of the most delicious salsas ever to finish tacos, molletes or any other mexican dish.
Ingredients
5

tomatoes

small or roma

1

onion

small

1-3

serrano chiles

or jalapeño

pinch of salt
Instructions
Char all the ingredients on a griddle on all sides.

If using a molcajete, start by grinding the chiles, then add the onions and lastly the tomatoes. Add a pinch of salt and adjust the seasoning if necessary.

If using a blender, add all the ingredients and blend in medium speed until all the ingredients are chuncky and well blended.
Nutrition
Calories:
78
kcal
Carbohydrates:
17
g
Protein:
3
g
Fat:
1
g
Saturated Fat:
1
g
Sodium:
18
mg
Potassium:
809
mg
Fiber:
5
g
Sugar:
11
g
Vitamin A:
2590
IU
Vitamin C:
48
mg
Calcium:
43
mg
Iron:
1
mg
information
Nutritional information of this recipe is only an estimate, the accuracy for any recipe on this site is not guaranteed.

Latest posts by Alejandra Graf
(see all)