This recipe for salsa de molcajete (affiliate link) is a guide for you to use and make the salsa of your dreams. There is nothing more Mexican than an excellent red salsa molcajeteada.
This salsa is perfect for adding texture and flavor to chips or Mexican dishes. The recipe is mild, but can be adjusted to your liking.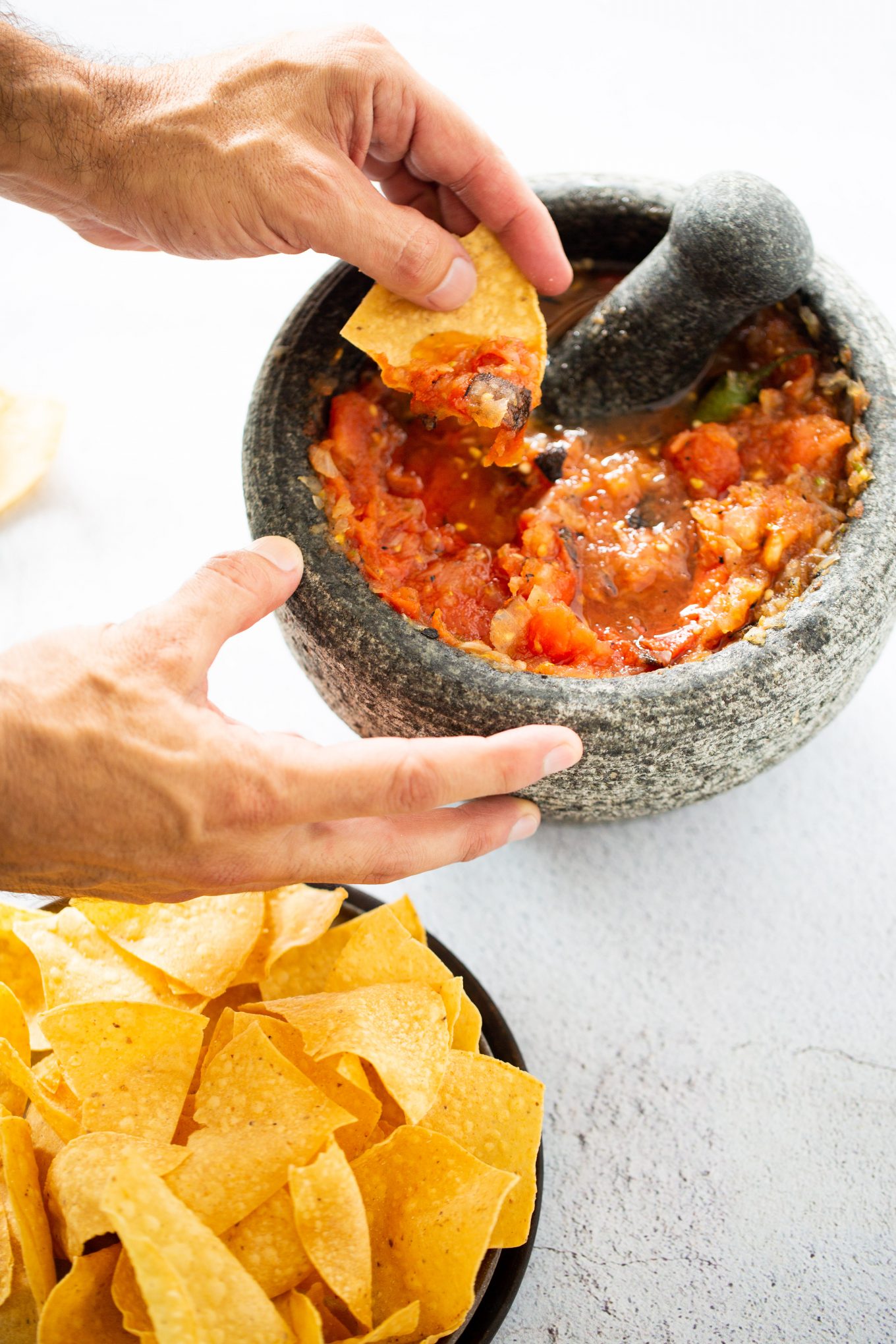 WHAT IS salsa de molcajete?
Salsa molcajeteada is a type of sauce with a unique flavor and texture, which is made by grinding ingredients in a traditional molcajete (affiliate link). This delicious salsa can be prepared using a variety of ingredients, such as roasted chiles, garlic, serrano or jalapeño chili peppers, tomatillos, or tomato and onion.
The process of grinding the ingredients in a molcajete gives the salsa a rustic and authentic taste, making it a popular choice among those who appreciate traditional Mexican cuisine.
You can use a combination of raw, roasted, or cooked ingredients for salsas in a molcajete.

In Mexico, salsas are not made using an exact recipe. They are usually a combination of various ingredients, and each one is delicious in its own way. 

Typically, every family and individual has their unique way of preparing their favorite salsa, making each one special and distinct. This is what makes salsas and other traditional Mexican dishes so beautiful and diverse.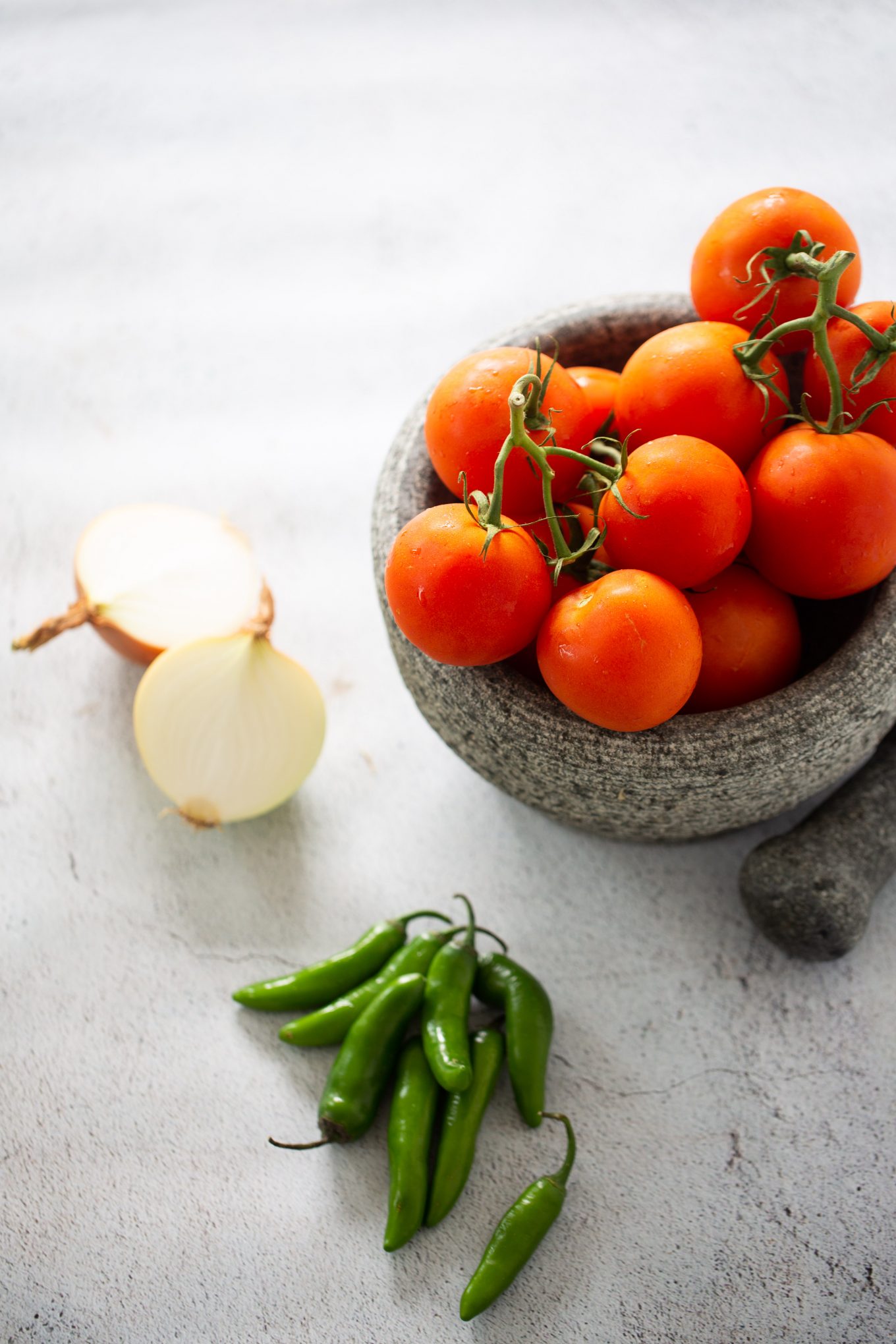 WHAT IS A MOLCAJETE?
For generations, the molcajete has been an integral part of Mexican cuisine. This unique tool is made of volcanic rock and has a rough texture that makes it perfect for grinding spices and herbs, as well as crushing nuts and seeds. Its sturdy construction also allows it to be heated, making it ideal for cooking and serving hot dishes. The molcajete is not only a functional kitchen tool, but also a symbol of Mexican culture and tradition.
The authentic ones are made from a single piece of volcanic stone, which is known for its ability to retain heat. The volcanic rock is carved into a round shape and has three legs for stability.
These features ensure that the molcajete can withstand the high temperatures used in traditional Mexican cooking, making it perfect for grinding spices, making salsa, and preparing guacamole.
Additionally, the rough surface of the volcanic stone creates a texture that helps to break down the ingredients and release their flavors, resulting in a more authentic and flavorful dish.
You have to "cure" it when you have a new molcajete. The way to do it is with dry white rice. Add the rice to the basin/molcajete; use the tejolote (pestle) and press it against the molcajete walls until powdered. The idea is to cover the porousness of the stone.
What is molcajetear?

Molcajetear is a Mexican cooking technique where ingredients are ground in a molcajete with the help of a tejolote. 

The process involves pressing the ingredients against the walls of the molcajete to grind them, which helps to bring out their natural flavors and oils. 

This technique adds an extra layer of flavor to any dish prepared in an authentic molcajete.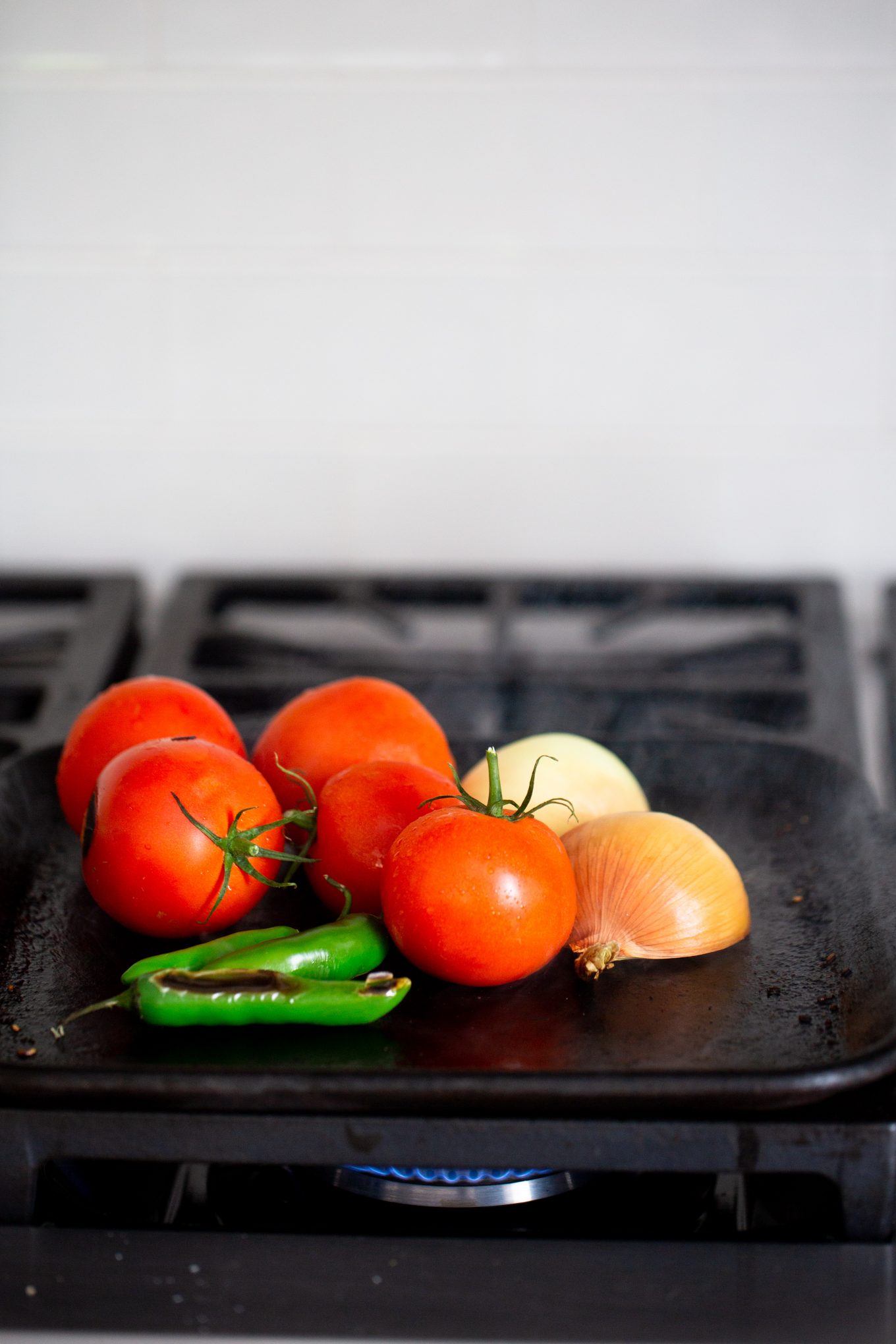 INGREDIENTS for RED Salsa de MOLCAJETEADA
Tomato. Look for small or Roma tomatoes that are ripe and bursting with flavor when making red molcajete salsa, as they are easier to grind.
Onion. The onion is the most difficult to grind. It must be well roasted so that it falls apart more easily. You can also chop it just before you add it to the molcajete. I like to use white onion, but any onion works well here.
Chile serrano. You can substitute for jalapeño peppers, and it will still be delicious. Don't be afraid to roast the serrano peppers thoroughly. Charing them gives them a unique smokey flavor.
Salt. Use sea salt or kosher salt.
Other ingredients. You could also add another type of chiles, roasted garlic cloves, cilantro, or tomatillos. The combination of ingredients is endless.
STEPS to "molcajetear" THE salsa
Charr your veggies on a dry skillet. First, char your vegetables on a hot surface without oil, such as a cast-iron skillet, griddle (affiliate link), or baking sheet in the oven under the broiler function.
Grind them. Start with the chilies and grind (molcajetea) them until the base of the molcajete is covered.
Then, chop the onion into small pieces (not authentic but easier) and grind it until it reaches the desired size. Adding a pinch of salt to the mixture can help soften the fibers in the onion. Be sure to char your onion really well before chopping, as this will make it easier to grind using a mortar and pestle.
Finally, add the tomato and "molcajetea" and grind them until they look perfect to you. Watch out for the tomato juice; it can splatter all over.
Taste for seasoning, adjust if necessary, and enjoy.
How to make salsa de molcajete without a molcajete?
Roast the salsa ingredients on a grill or a cast-iron skillet, place them in a blender or food processor (affiliate link) container, and pulse until you have the desired consistency.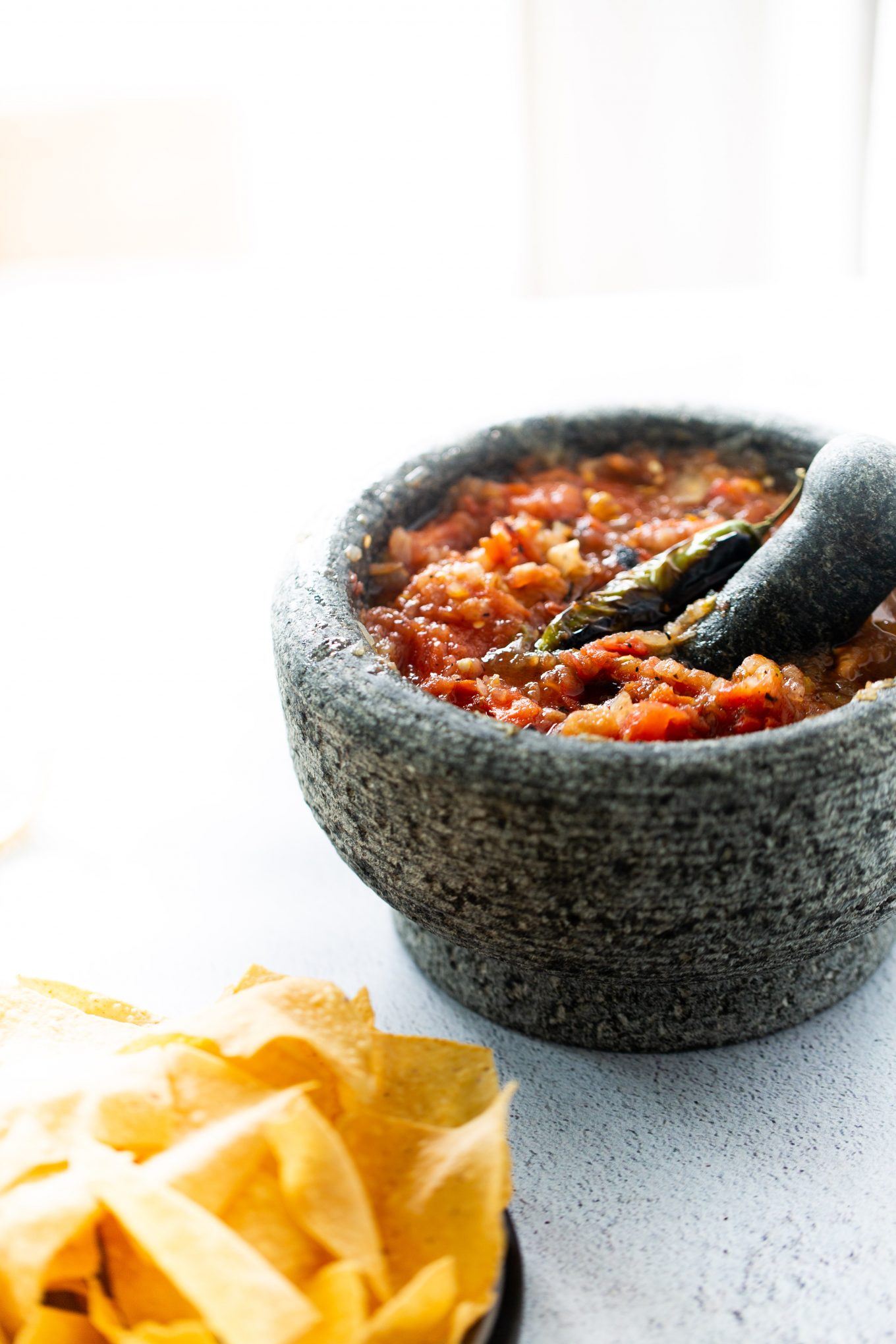 Other recipes that you may like:
HOW TO EAT MOLCAJETE SAlsa?
To finish your favorite Mexican dishes. This molcajete red sauce can be eaten with whatever you like the most or a dish that lacks flavor or needs a boost. In my house, we use this sauce for quesadillas, for tacos, to make scrambled tofu (affiliate link), and to top crispy potato tacos, sopes, or tostadas.
Snack. Also, this salsa molcajete is perfect to serve as a snack with tortilla chips. I leave it in the molcajete and put aside corn chips and guacamole.
If you serve it as a snack, have a drink like :
Made and loved this recipe? Give it a ⭐️⭐️⭐️⭐️⭐️ rating below. Let me know if you have questions about this recipe in the comment section or DM me on Instagram. Follow me on Facebook and Pinterest to stay in touch, and don't forget to subscribe to my newsletter.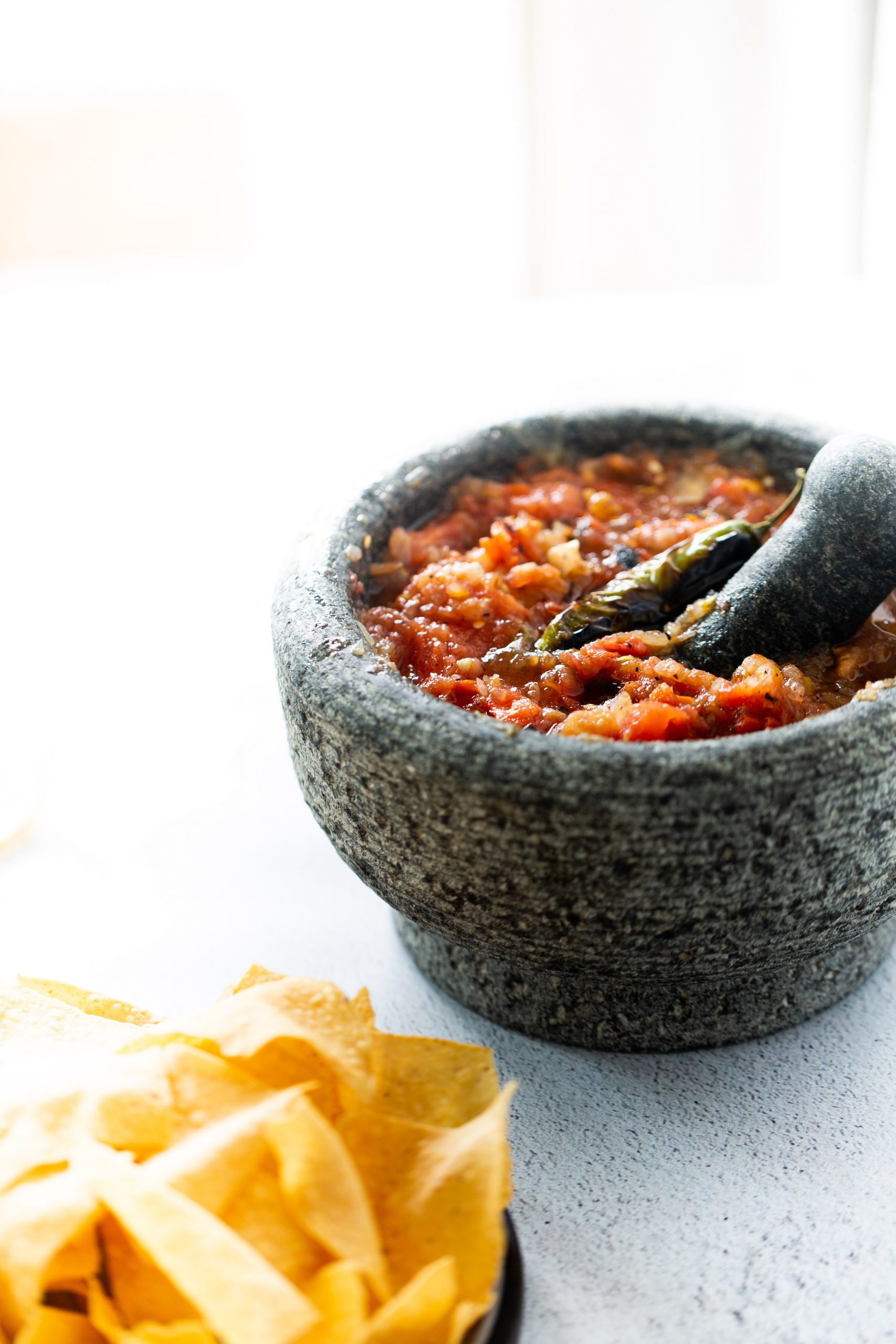 Red salsa molcajeteada
This red salsa molcajeteada is one of the most delicious salsas ever to finish tacos, molletes or any other mexican dish.
Ingredients
5

tomatoes

small or roma

1

onion

small

1-3

serrano chiles

or jalapeño

pinch of salt
Instructions
Char all the ingredients on a griddle on all sides.

If using a molcajete, start by grinding the chiles, then add the onions and lastly the tomatoes. Add a pinch of salt and adjust the seasoning if necessary.

If using a blender, add all the ingredients and blend in medium speed until all the ingredients are chuncky and well blended.
Nutrition
Calories:
78
kcal
Carbohydrates:
17
g
Protein:
3
g
Fat:
1
g
Saturated Fat:
1
g
Sodium:
18
mg
Potassium:
809
mg
Fiber:
5
g
Sugar:
11
g
Vitamin A:
2590
IU
Vitamin C:
48
mg
Calcium:
43
mg
Iron:
1
mg
information
Nutritional information of this recipe is only an estimate, the accuracy for any recipe on this site is not guaranteed.

Latest posts by Alejandra Graf
(see all)