Whenever I taste Mexican chiles en vinagre, pickled jalapeños, I'm always amazed by how they can instantly elevate the flavor profile of any dish they're added to. With just a few slices of these tangy peppers, you can add a punch of heat and acidity that perfectly complements the other ingredients. It's truly a remarkable ingredient that can turn an ordinary meal into an extraordinary culinary experience.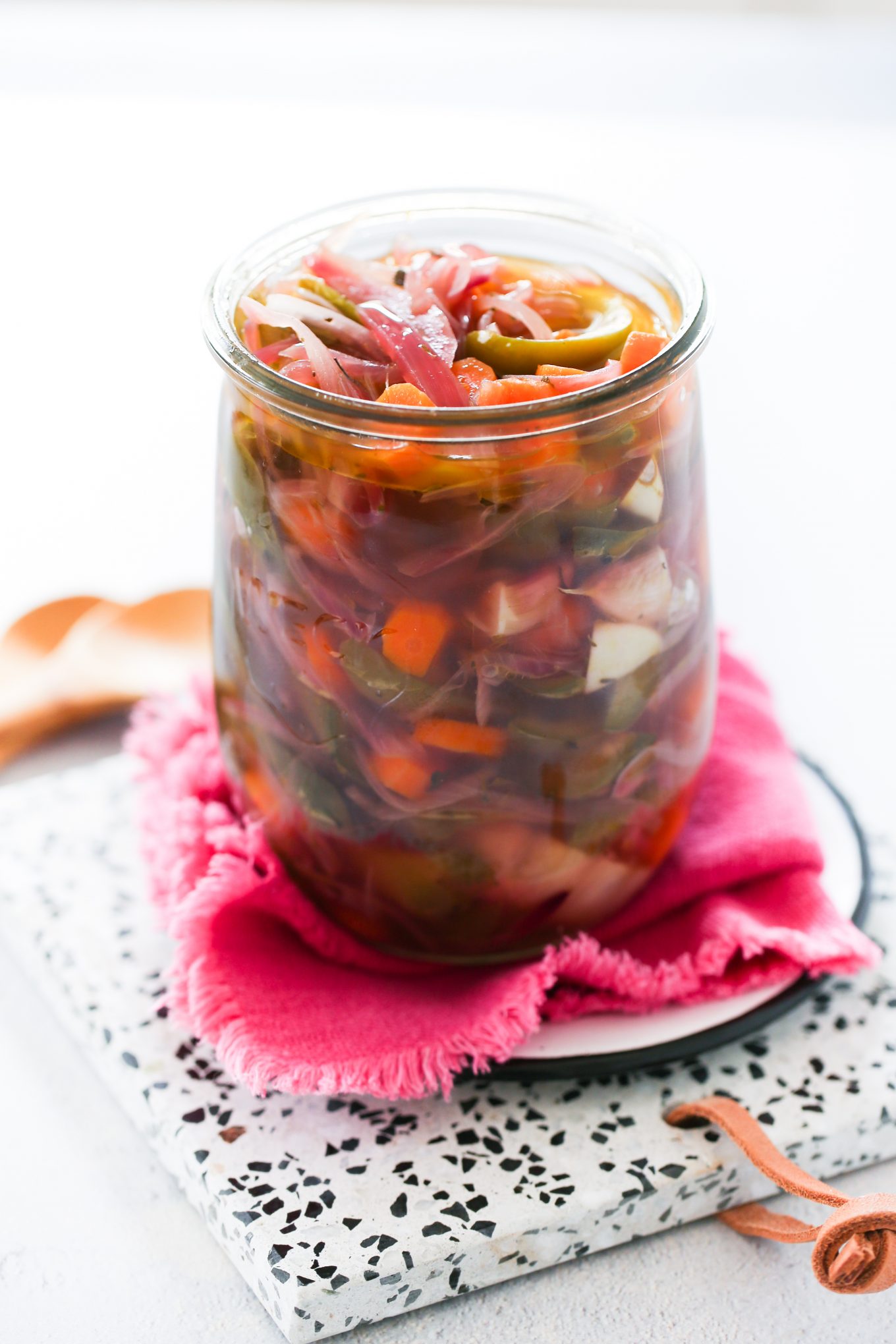 About this jalapeño recipe
There's a certain sense of achievement and motivation that comes from cooking something from scratch. If you're looking for something simple to try, I highly recommend these pickled jalapenos from Mexico. They've been a household favorite for as long as I can remember, and are easy to prepare while enhancing the flavor of any dish.
What are pickled jalapenos?
Mexican pickled jalapeño peppers are a delicious condiment that is typically made by pickling sliced jalapeño peppers, onions, carrots, and garlic cloves in spiced vinegar. This pickling process gives the peppers a tangy, slightly sweet, and spicy flavor that is commonly used to add some heat and acidity to a variety of dishes.
To make this condiment, you simply slice the vegetables and combine them with vinegar, sugar, salt, and spices. Then, let the mixture sit for a few hours or days to allow the flavors to meld together. Once the pickling process is complete, you can enjoy the flavorful pickled jalapeño peppers as a topping for tacos, sandwiches, burgers, and more!
In Mexico, families often add cauliflower, cooked potatoes, nopales, or green beans to their pickling recipes. Regardless of the specific ingredients used, the key to achieving the perfect Mexican pickles is to find a recipe that your family loves. Experiment with different combinations until you create a delicious and unique recipe that your family will enjoy.
---

In Mexico they are also called chiles en escabeche, chiles encurtidos, chiles curtidos, jalapeno escabeche, rajas or simply jalapeños en vinagre.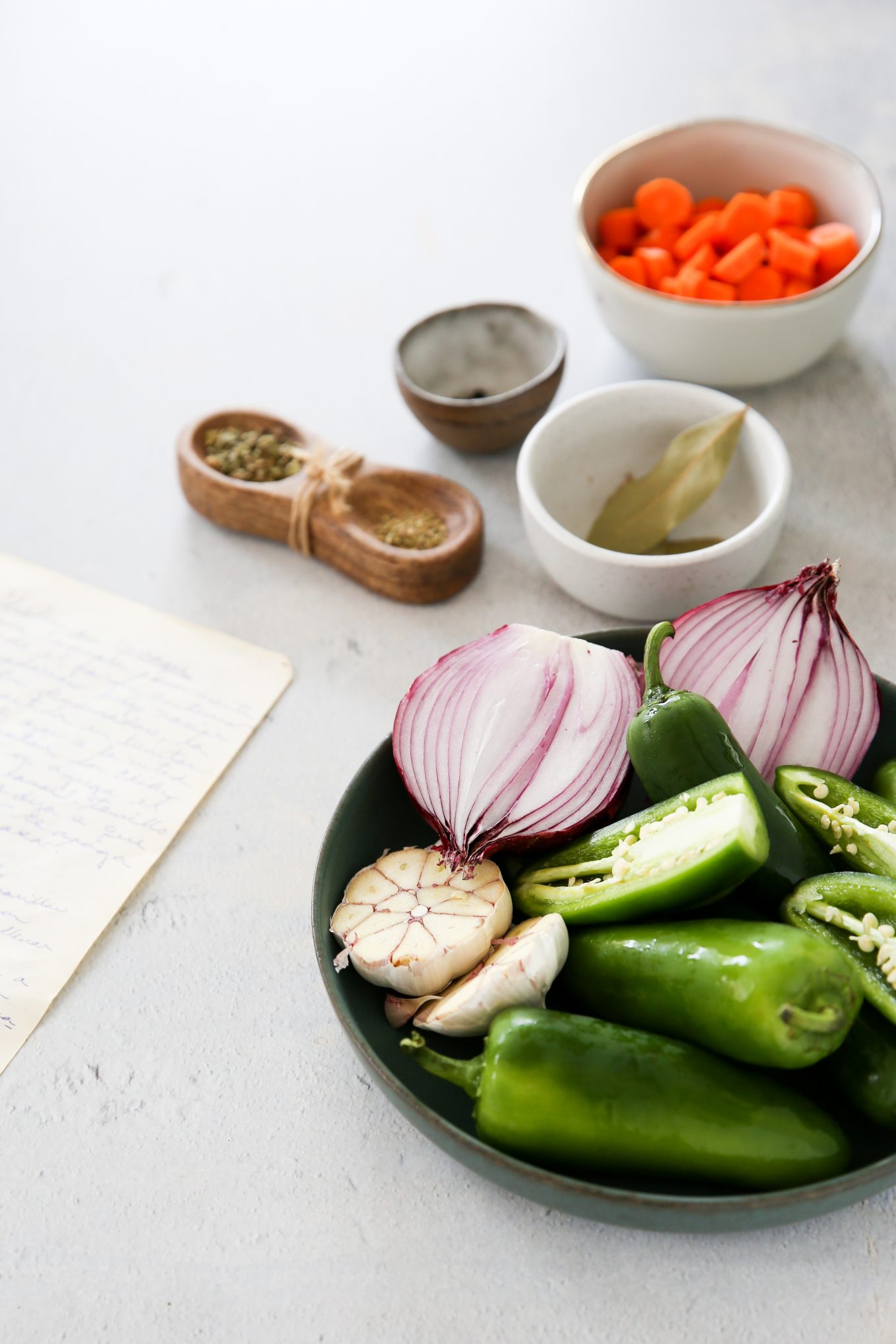 Ingredients
Jalapenos. Cut the jalapeño peppers in half lengthwise, remove the seeds and veins, and discard the stem. Leaving the seeds and veins will make the peppers spicier. If you prefer, you could also use sliced jalapeños.
Carrots. The carrot can be sliced into rounds, julienned, or cut into sticks. Different colored carrots, such as purple or yellow, can add variety to pickled jalapenos.
Onions. Thinly slice white, yellow, or red onions to use in your dish.
Garlic. Cut a garlic bulb in half, leaving the skin on, and add both halves.
Oil. You can use either vegetable or olive oil; both work well.
Spices. Bay leaf, thyme, marjoram, oregano, salt, and pepper.
White Vinegar. For this recipe, it is recommended to use distilled white vinegar which is easily available and affordable at supermarkets. There's no need to use wine or apple cider vinegar (affiliate link). If you want your pickled peppers to have the traditional taste, go for white vinegar.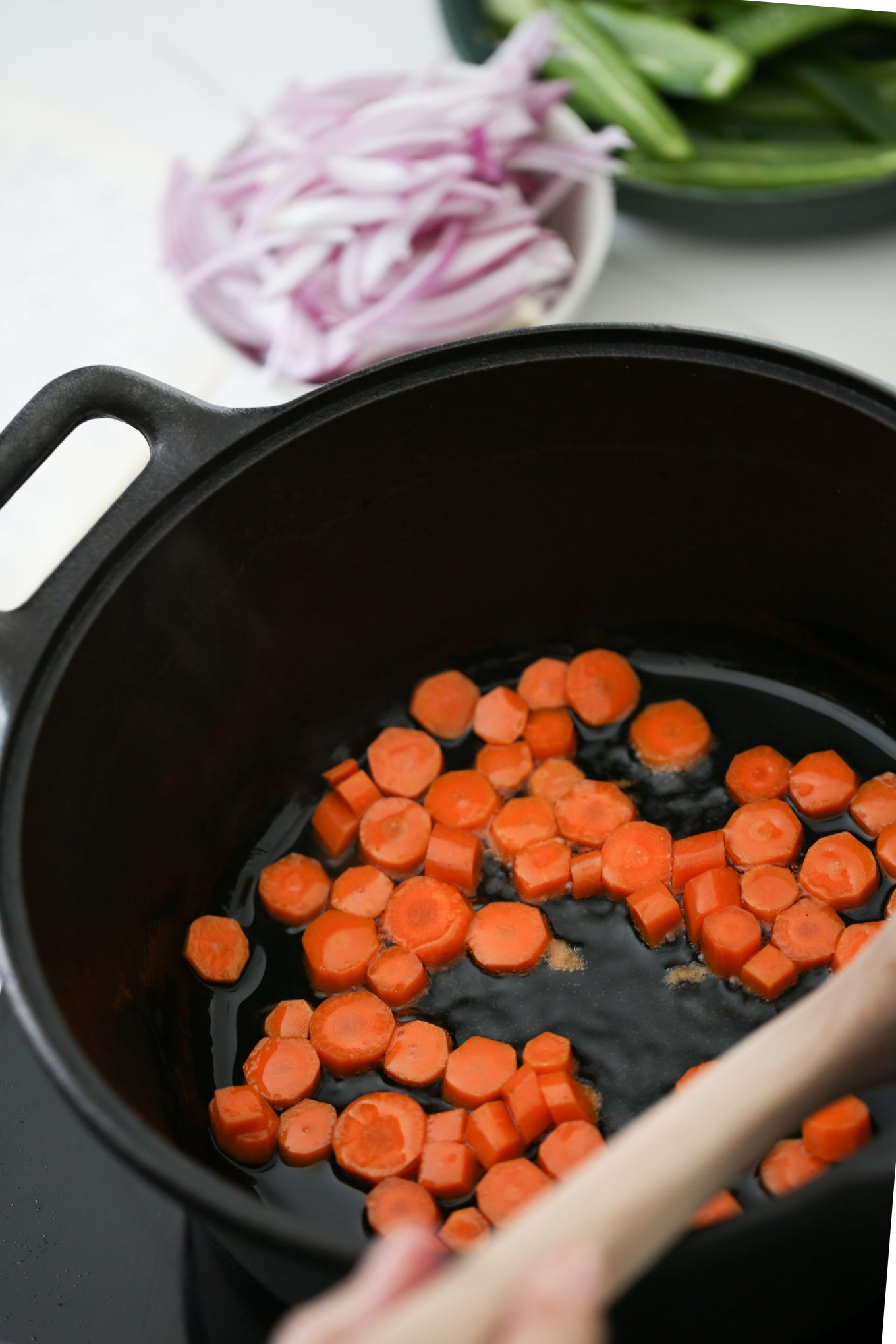 How to make Mexican pickled jalapenos?
To make these easy pickled jalapenos, you have first to prepare the vegetables. Peel, slice, and prepare the chilies, carrots, onion, and garlic and set aside.
The next step is to put the oil in a glass, stainless steel, or cast iron pot over high heat. When it starts to heat up, add the carrots and sauté for a few minutes, then add the onion, garlic, and jalapeno peppers. The vegetables mustn't be browned; the only thing we are looking for is to warm them up a bit so they release their flavors a little.
To prepare the vegetables, start by pouring vinegar over them and adding the herbs and salt. You don't need to prepare the brine in a separate pot. Then, reduce the heat and wait until the mixture comes to a boil. Keep an eye on the chili peppers and stir from time to time and wait until their bright green color fades and they turn dark green, which indicates that they are ready.
After turning off the heat, allow the mixture to cool before transferring it to glass jars with lids. Be sure to allow enough space for the liquid. Tongs are the best tool to use when adding them into a jar.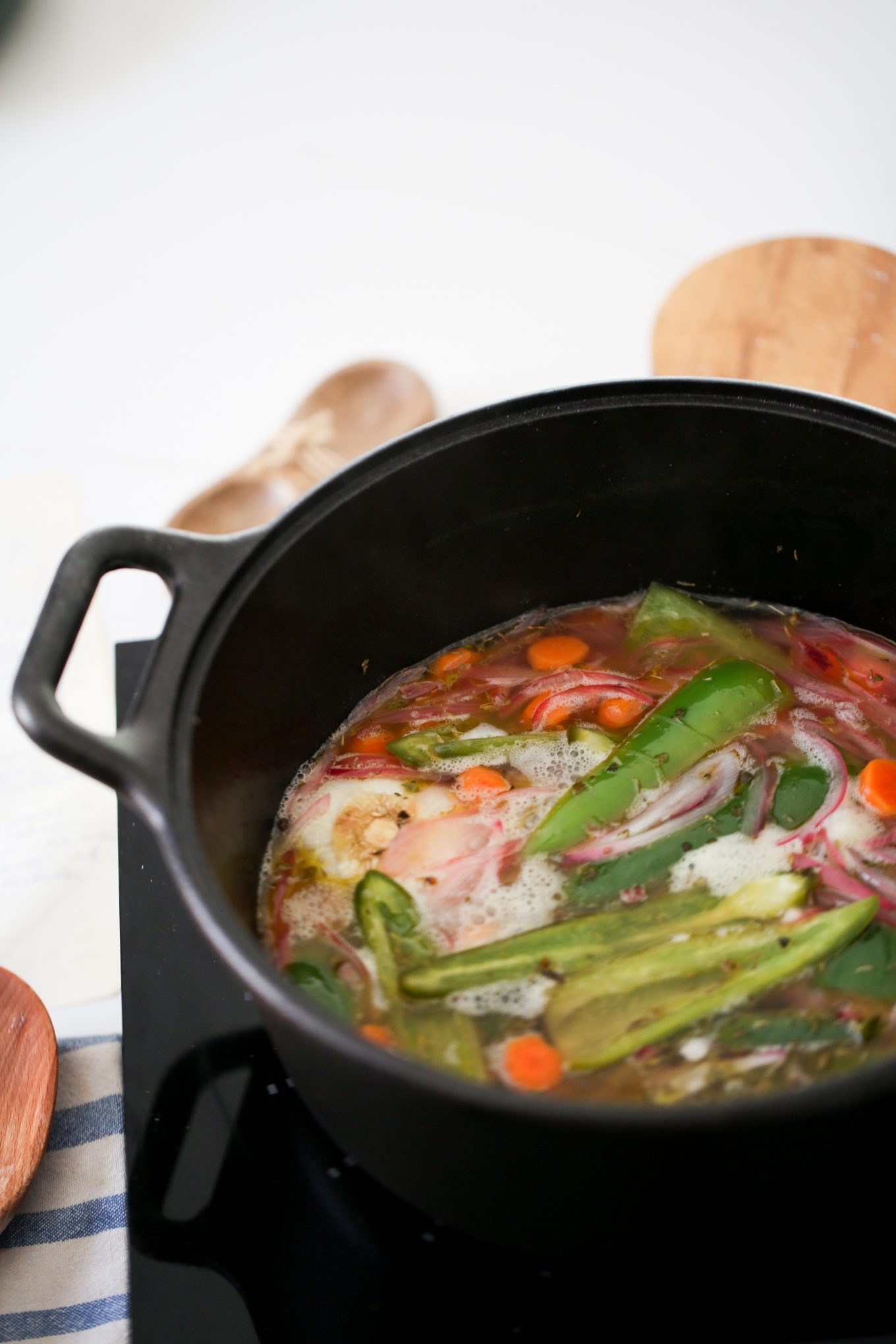 FREQUENTLY ASKED QUESTIONS ABOUT PICKLED jalapenos
How can I make the jalapenos spicier? Naturally, pickled jalapenos are less spicy than fresh jalapenos, but leaving the seeds and veins can make them spicier. Alternatively, you can use serrano, apple, or even habanero peppers.
What container is best to store them in? It is better to keep the food in glass containers (affiliate link) whenever we make recipes with many acidities, in this case, vinegar.
It is recommended to avoid using pots that may release toxic materials such as aluminum or Teflon when preparing food, as these materials can contaminate the food with toxic elements.
Can I put other vegetables in the pickled peppers? Sure! In Mexico, it is common to find cauliflower, potatoes, and nopales in pickled peppers.
Does the recipe require a lot of precision? Not at all. When you see how easy it is to make it, you will find your own quantities and the perfect way to make your peppers in vinegar.
As I told you before, you can make them spicier; you can put more vegetables than chili peppers or add other vegetables. Really, let your imagination fly; they are sure to be delicious.
How long do pickled jalapenos last? These jalapenos last for a long time, up to three months, and you can store them in the refrigerator or pantry if you live in a mild climate.
How to pickle whole jalapeños? The exact same way you pickle the sliced ones.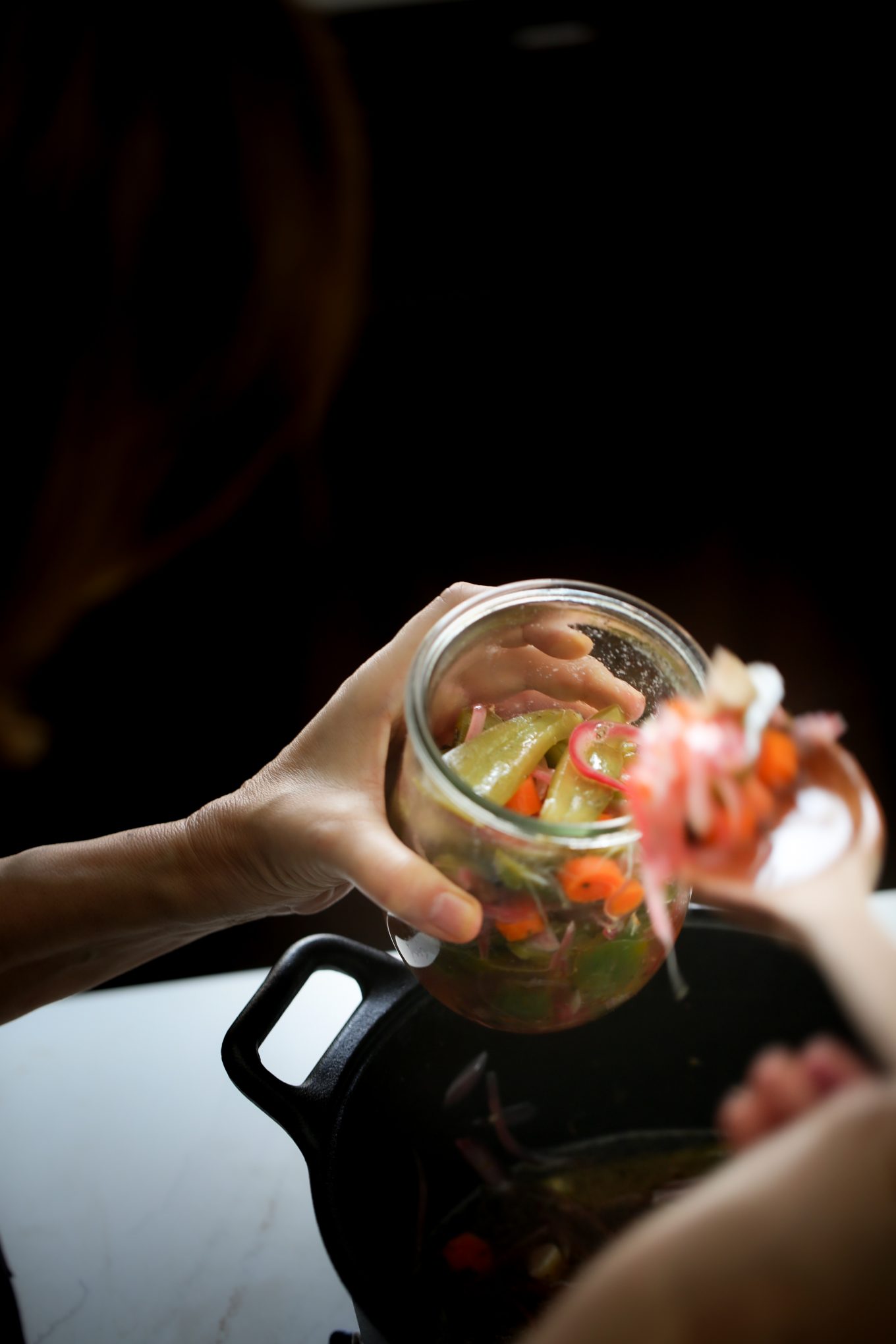 Ideas to use your pickled jalapenos
They go perfectly with vegan queso nachos.
You can use them for sandwiches, like mushroom and onion sandwiches.
You can also use them in quesadillas, sopes, tacos, and dorados.
They are perfect in sloppy joes' and vegan sandwiches with mushrooms with bbq.
With popcorn or other snacks.
In Mexico, they put them in the center of many restaurants as a snack before bringing the main dishes. And it is super common to eat them with pizzas or for pizzerias to give you a container or plastic bag (staples at the top) with pickled chili peppers for your pizza.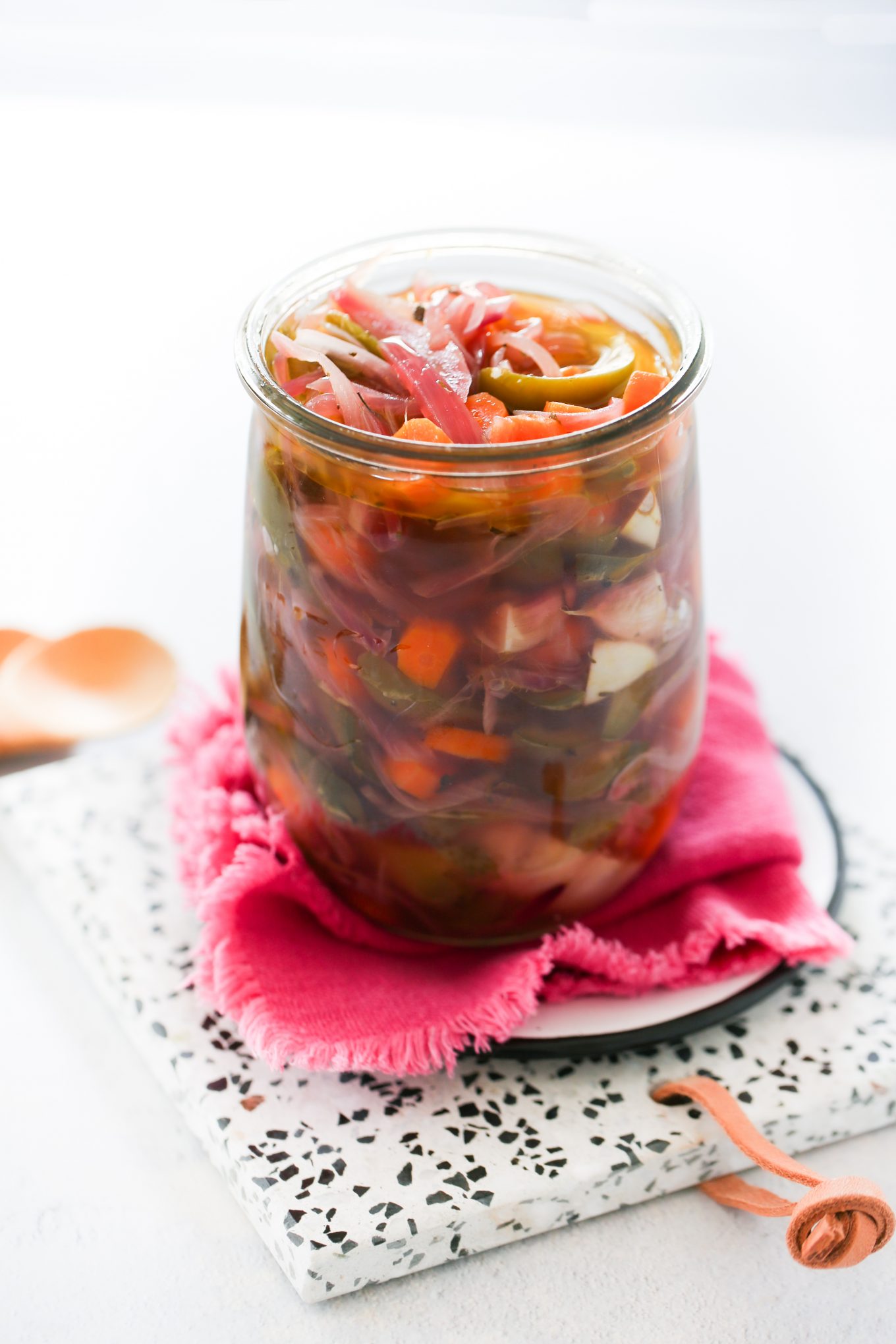 Other Mexican dishes and recipes that you may like:
Made and loved this recipe? Give it a ⭐️⭐️⭐️⭐️⭐️ rating below. Let me know if you have questions about this recipe in the comment section or DM me on Instagram. Follow me on Facebook and Pinterest to stay in touch, and don't forget to subscribe to my newsletter.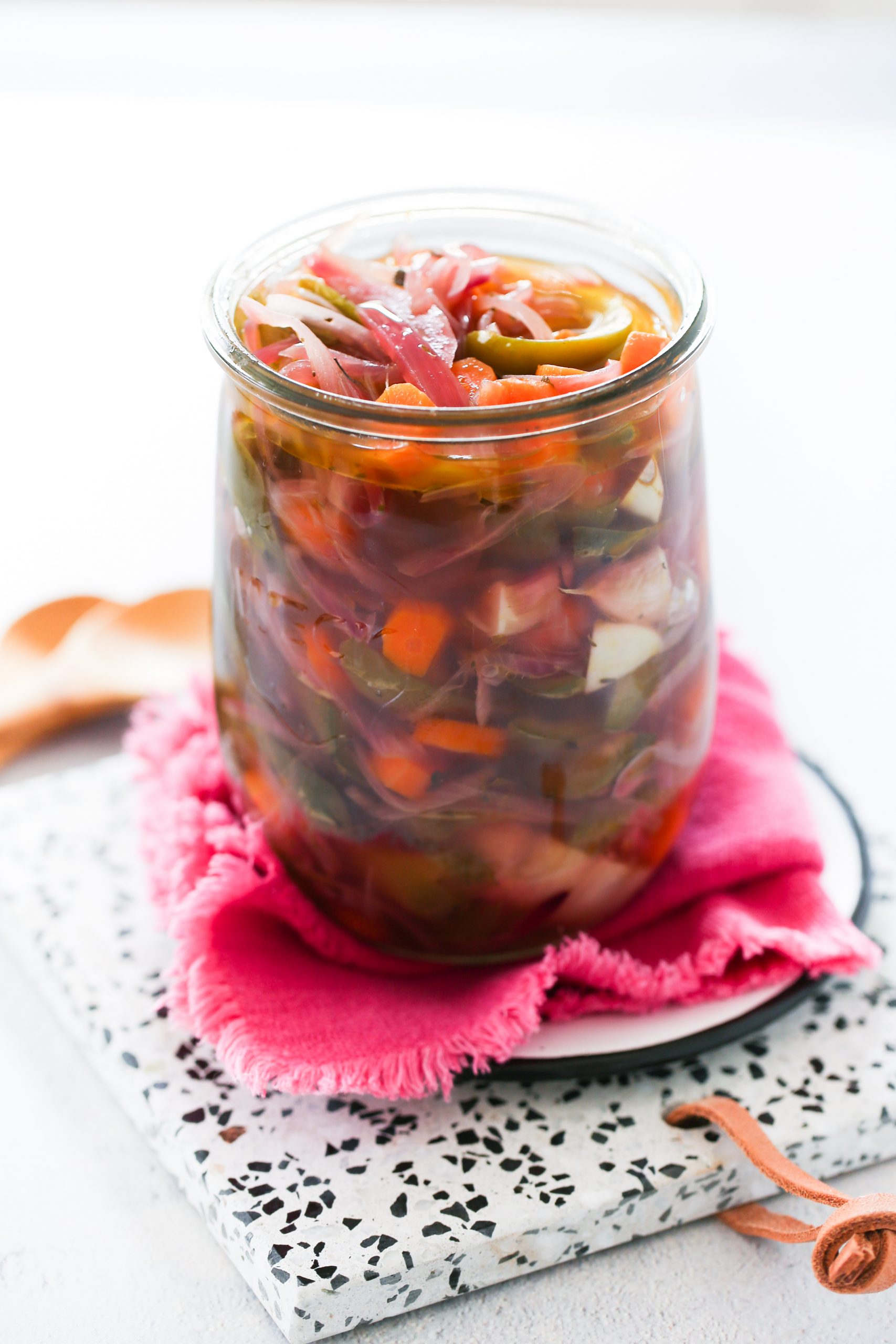 Mexican Pickled Jalapenos
To prepare the vegetables, start by pouring vinegar over them and adding the herbs and salt. You don't need to prepare the brine in a separate pot. Then, reduce the heat and wait until the mixture comes to a boil. Keep an eye on the chili peppers and wait until their bright green color fades and they turn dry, which indicates that they are ready. After that, turn off the heat and let the mixture cool down before packing it into glass jars with lids.
Ingredients
3

tablespoons

vegetable or olive oil

2

cups

peeled and sliced carrots

1

large onion, sliced

1

pound

chiles jalapeños

1

garlic head

1

bay leave

3-4

cups

white vinegar

1

teaspoon

thyme, dried

1

teaspoon

oregano,dried

mexican oregano is best

1

teaspoon

marjoram

*optional

1/4

teaspoon

pepercorns

1

teaspoon

salt
Instructions
To make pickled peppers, prepare chilies, carrots, onion, and garlic by peeling and slicing them.

To start, pour oil into a pot, ensuring it covers the bottom. Once the oil is heated, add the carrots and sauté them for a few minutes. Afterward, introduce the onion, garlic, and jalapeño peppers. Keep in mind, that we don't want the vegetables to brown, they just need to be lightly sauteed.

Cover the vegetables with vinegar and add herbs and salt. Lower the heat and bring them to a simmer for 5 to 10minutes. You are looking for a change in color in the chiles, they should be dark green. Then, turn off the heat and let them rest. Once they have cooled, pack them into glass jars with lids.
Notes
Chiles en vinagre can last for several weeks to several months in the refrigerator, depending on how they are prepared and stored.
To ensure maximum freshness and flavor, store them in an airtight container in the refrigerator and consume them within a few weeks of opening.
Nutrition
Serving:
20
g
Calories:
57
kcal
Carbohydrates:
11
g
Protein:
2
g
Fat:
1
g
Saturated Fat:
1
g
Polyunsaturated Fat:
1
g
Monounsaturated Fat:
1
g
Trans Fat:
1
g
Sodium:
103
mg
Potassium:
364
mg
Fiber:
4
g
Sugar:
6
g
Vitamin A:
1470
IU
Vitamin C:
151
mg
Calcium:
33
mg
Iron:
1
mg
information
Nutritional information of this recipe is only an estimate, the accuracy for any recipe on this site is not guaranteed.

Latest posts by Alejandra Graf
(see all)