This recipe for vegan enchiladas with lentils, sweet potatoes, and a delicious chile ancho and tomato sauce are the perfect recipe for the days when you have to eat super fast or have a craving for Mexican healthy food.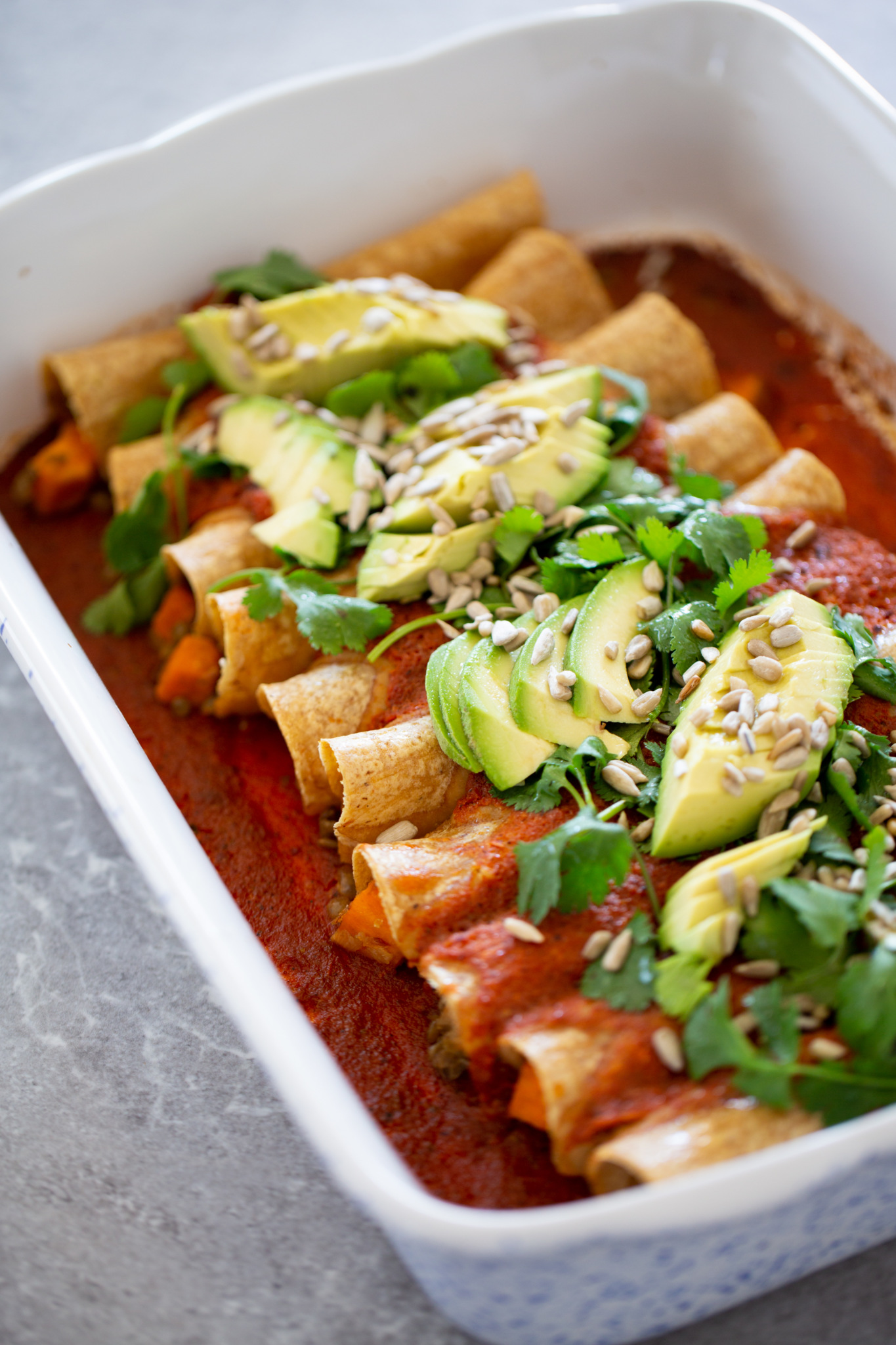 My love for enchiladas grew since we moved to Austin; before that, we lived in Monterrey, México. I know it's weird to appreciate Mexican food outside of Mexico, but it definitely happened to me.
Austin has great Mexican and Tex-Mex food, and it was in Austin where I started to taste all the different types of enchiladas. When I was growing up (before aI followed a vegan diet), we always had the traditional ones; we always had the chicken, cheese, or bean enchiladas. My favorite was always the bean enchilada with green sauce.
So, when I became vegan, I prepared traditional Mexican dishes, but it was in Austin where I saw so many creative and delicious options for Mexican vegan food. It was like stepping out of my comfort zone and entering a new delicious, and creative world. So, if you love Austin, Mexican Food, and Tex-Mex… for sure, you are going to love these vegan enchiladas with lentils.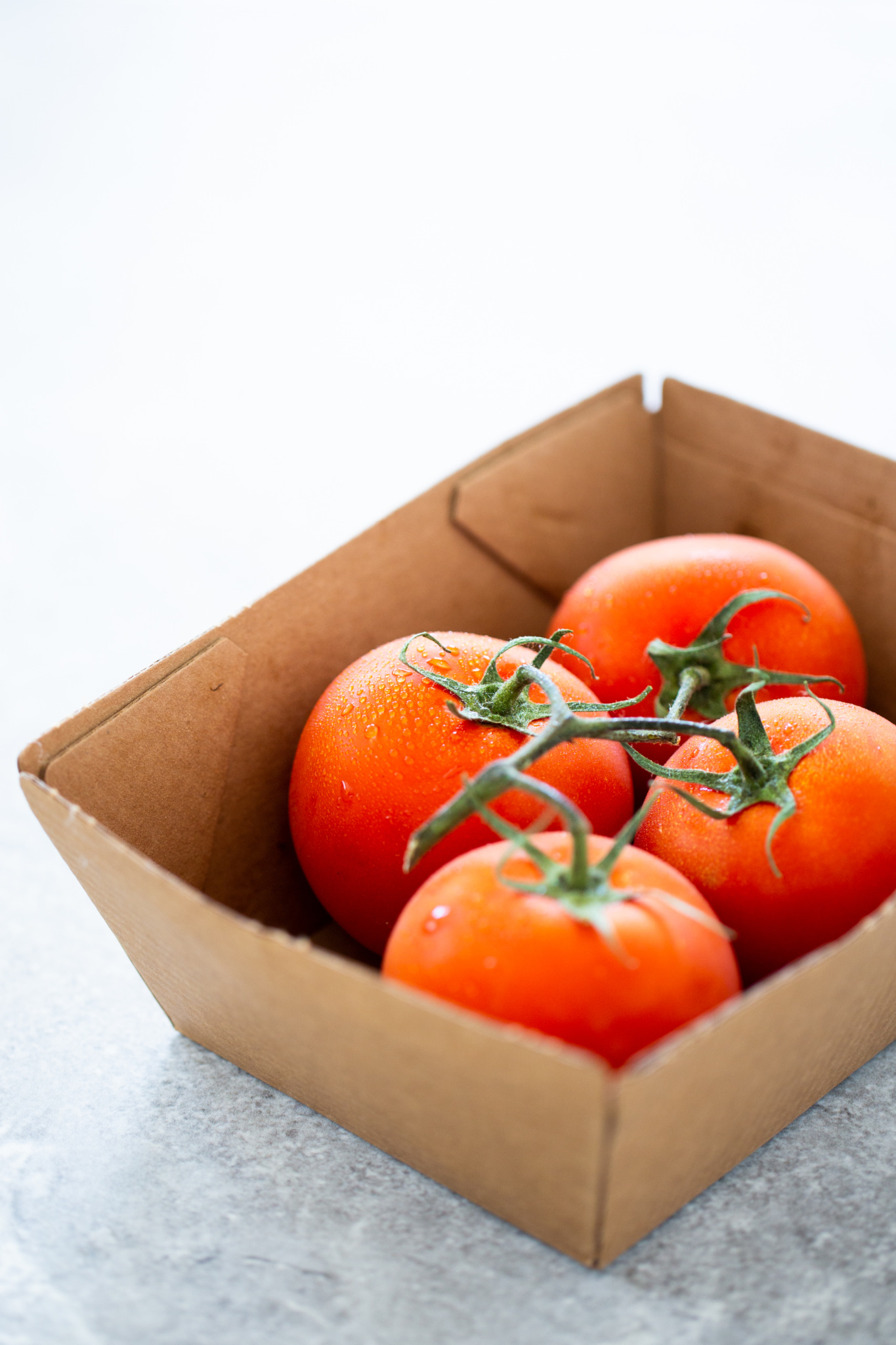 WHY ARE YOU GOING TO LIKE THESE VEGAN ENCHILADAS?
Super easy to make. I'm sure you are going to love these vegan enchiladas and they will become one of your favorite recipes at home. These Mexican enchiladas are very quick to make, you can make them with homemade enchilada sauce, store-bought, or make the one from the recipe card.
They are nutritious. These enchiladas are made with lentils and sweet potatoes. Lentils are an important source of vitamins and minerals, and in a vegan diet, an important source of protein.
Everybody likes them. These enchiladas are the type of recipes that you could serve omniverse and vegans at the same time. Both will love them. These enchiladas are perfect for a party and will cover all the different diets of your family and guests.
They are gluten-free. This enchilada recipe is made with corn tortillas, which are naturally gluten-free.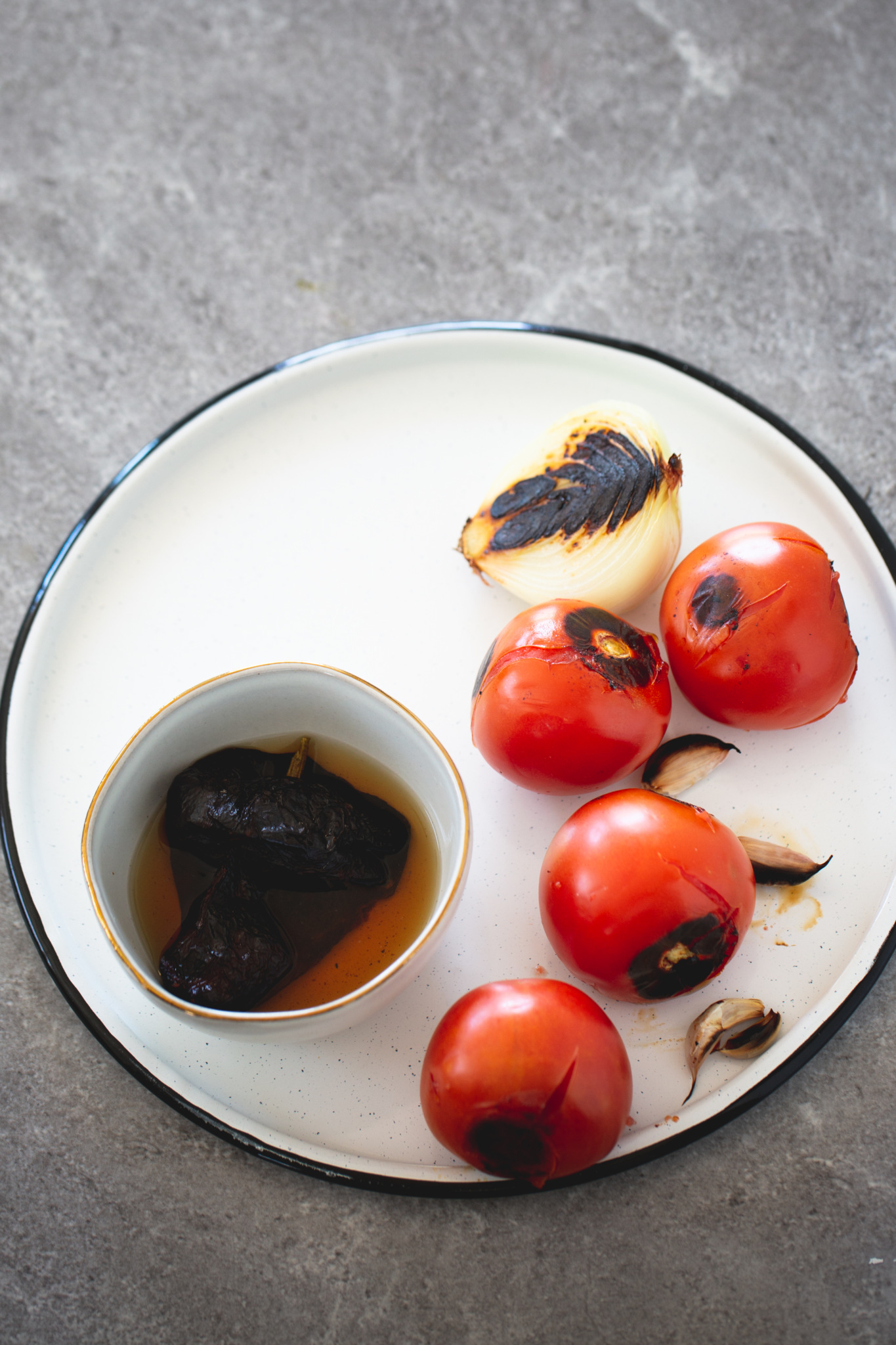 INGREDIENTS TO MAKE ENCHILADAS
Enchilada Sauce

Tomatoes, look for the best tomatoes you can find, the most ripe and perfect, you can substitute canned tomatoes.
Onion and garlic, any type of onion works well, yellow, white, etc.
Chile ancho (affiliate link), if you do not have it, substitute with chipotle, jalapeño or serrano peppers.

Lentil enchilada filling

Vegetable oil, if you want to avoid oil use a tablespoon of water, when it is hot add the onion and garlic to
Sweet potatoes, diced, you can substitute for potatoes without problem.
Onion and garlic, in this step you can use garlic and dehydrated onion to make the filling of the enchiladas faster.
Cooked lentil, use jarred lentils, hmoe cooked, or swap for navy beans or navy beans.

Corn tortillas
Avocado
Cilantro
Sunflower or pumpkin seeds
StEp by step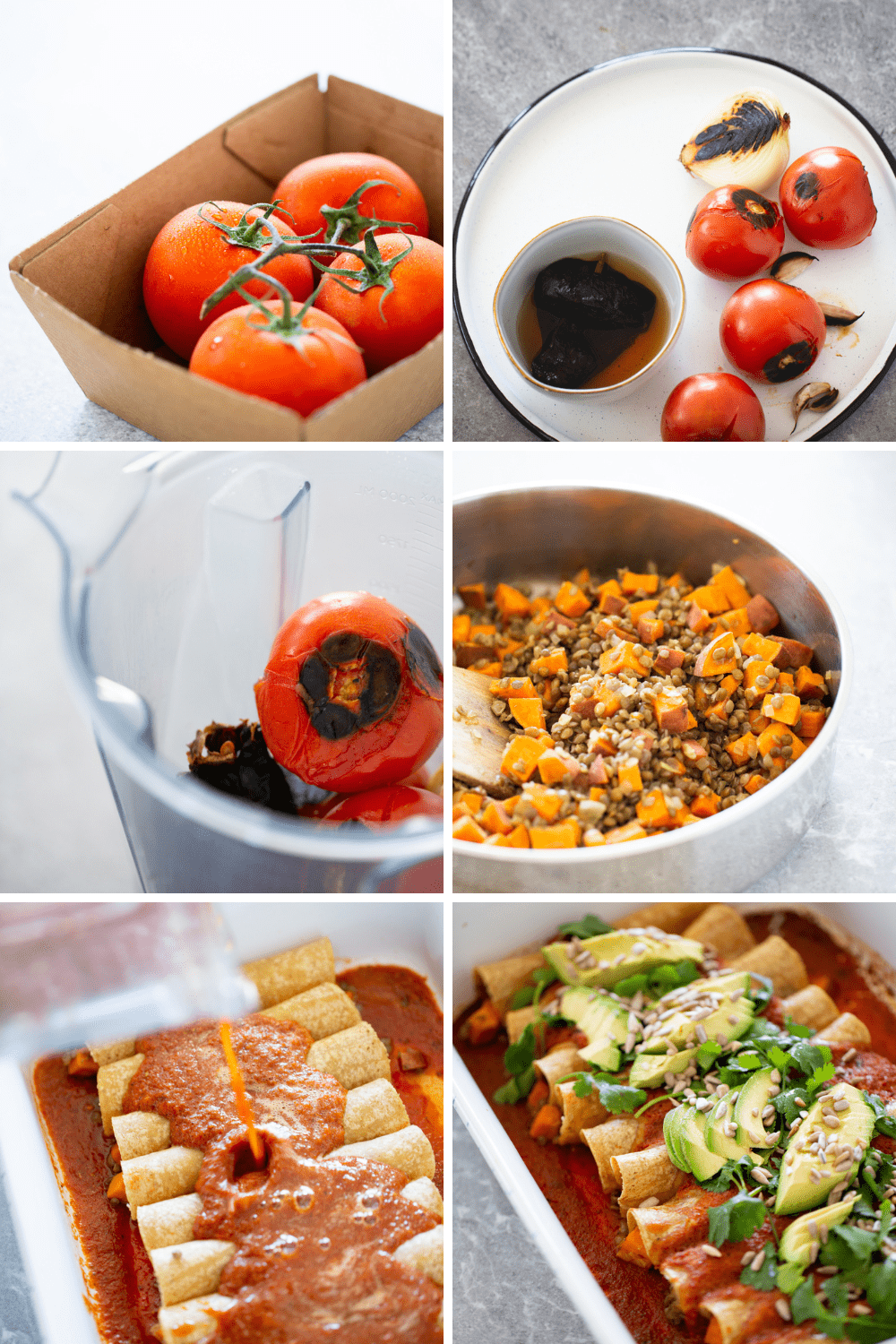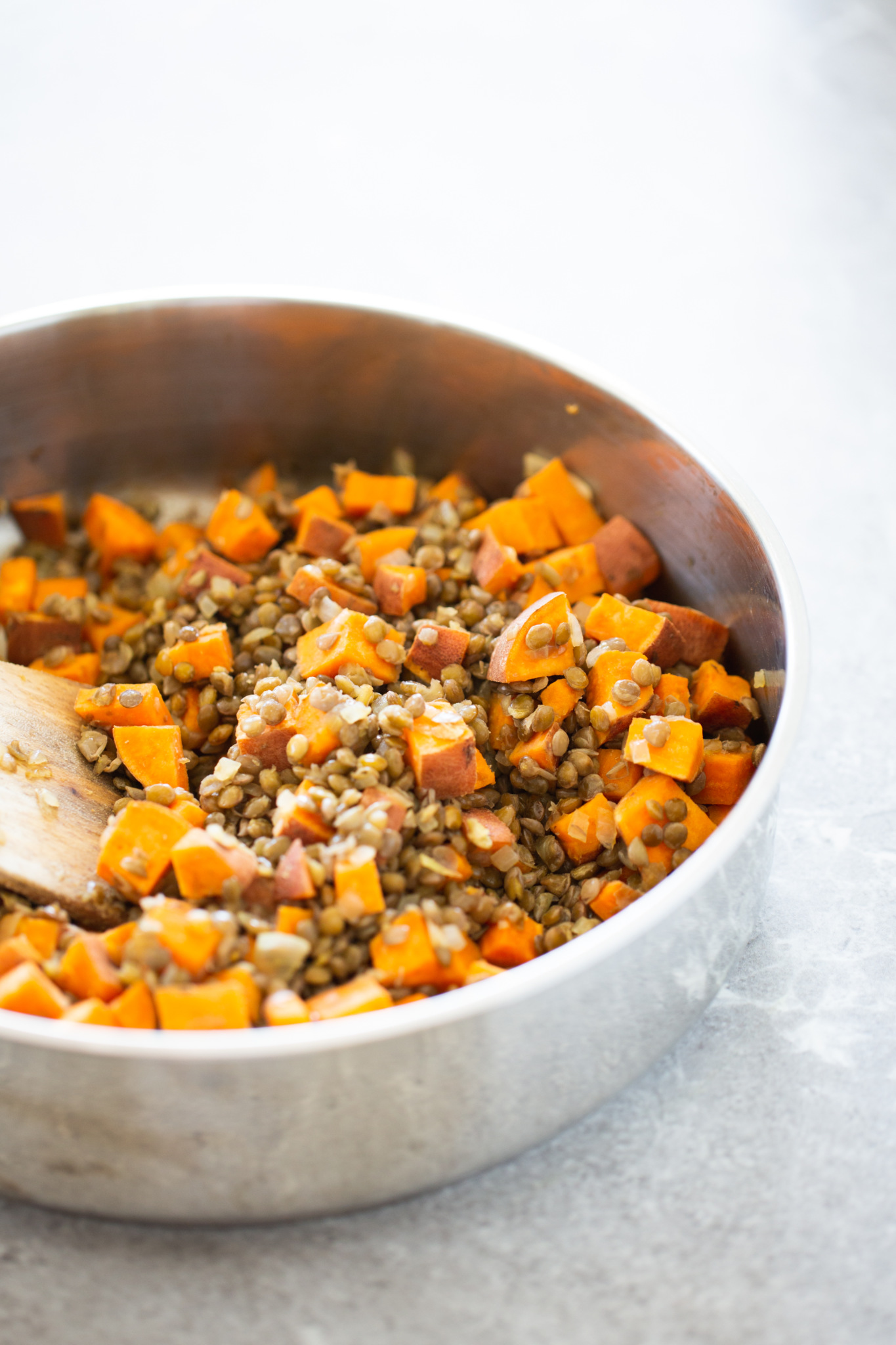 How to make vegan enchiladas?
It all starts by developing delicious flavors for the sauce by roasting its ingredients. I love to roast them until charred and slightly burned. That gives color and richness to the enchilada sauce. And yes, it only has FOUR ingredients, isn't it great?
To make the filling, you have to start by bringing out all the flavors from the lentils and sweet potatoes by sauteeing them with onion and garlic, then season them with salt. Yes, I know it sounds pretty simple but wait until you taste them; they are good and a crowd-pleaser.
Then you roll the tortillas with the filling and smother them in the sauce. The last step is to bake them. Another fact about this dish is that they are super healthy because they are baked and not fried. So these could easily be the best and healthiest vegan enchiladas with lentils ever.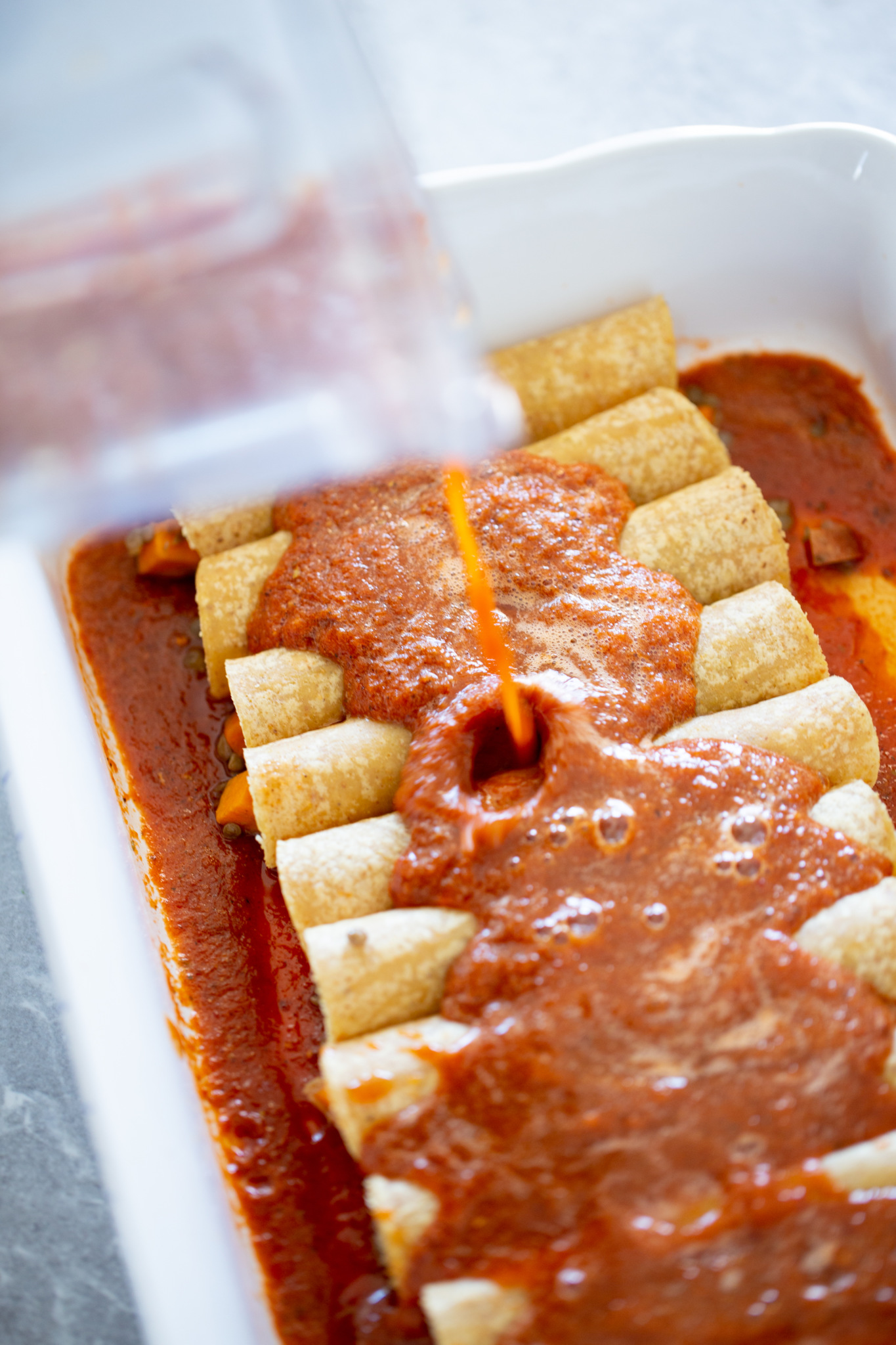 Here are some tips and tricks that can come in handy when preparing them:
Use the best tomatoes that you can find.
When roasting the tomatoes move around so they get chary spots everywhere. Same with the onion and do NOT peel the garlic. The garlic peel protects the garlic clove from burning.
Buy thick corn tortillas and warm them in the microwave wrapped in a kitchen towel for a minute or so to make them pliable. If they are really thin and cold they'll break and won't hold the sauce properly.
Finish the enchiladas with sliced avocado, seeds, and/or microgreens and cilantro.
Use green or black lentils if you can find them, they will hold their shape better.
Other recipes that you may like: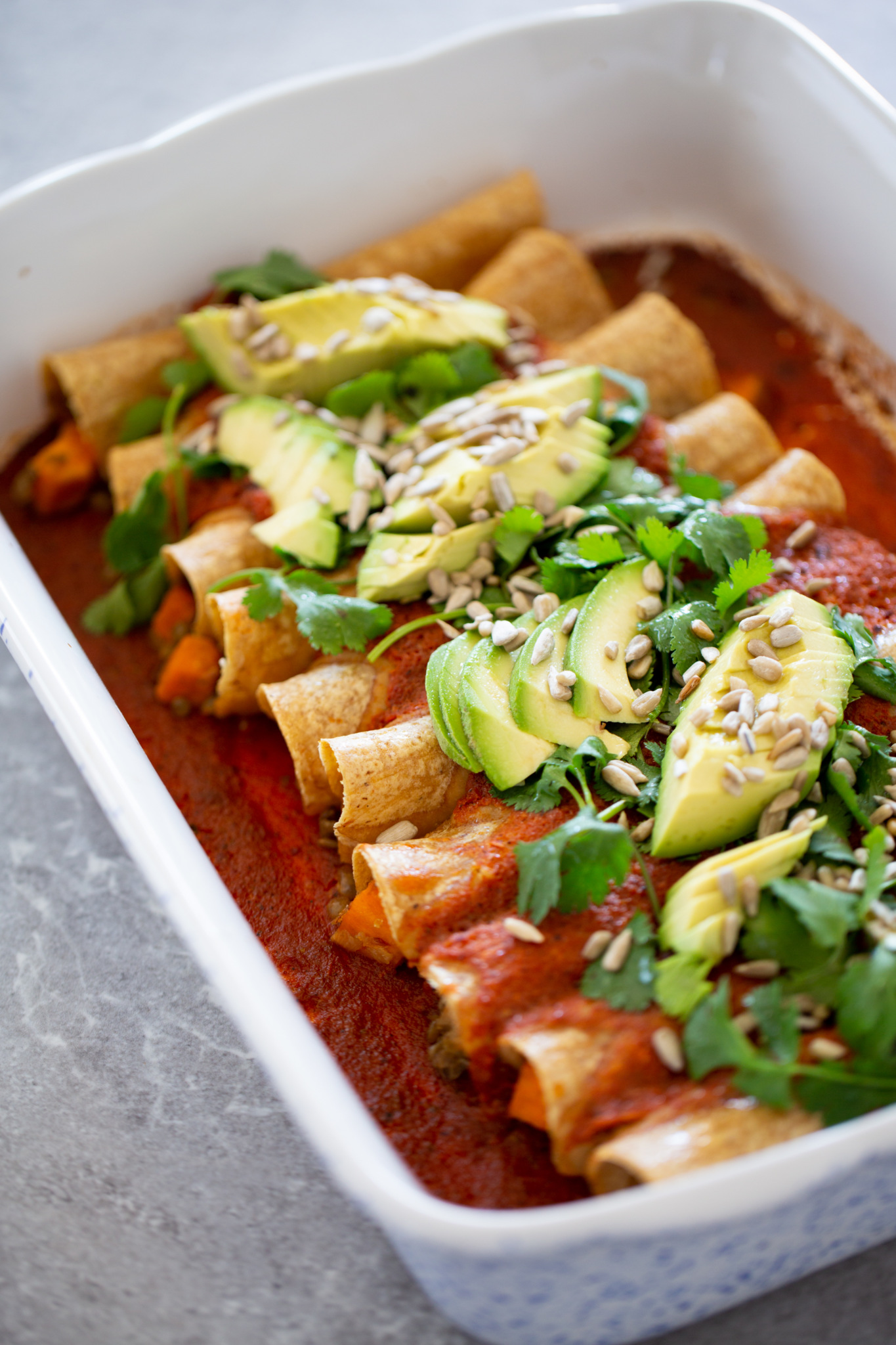 Here is the recipe for the best vegan enchiladas with lentils, sweet potatoes, and red sauce. If you make it, please share it on Instagram or FB So I can see your wonderful creations. If you are not ready to make it, save it for later on Pinterest.
It would also be fantastic and super helpful if you leave a comment and/or a rating of this recipe in the comment section. Please feel free to write suggestions, ideas, or how it went when you made the recipe.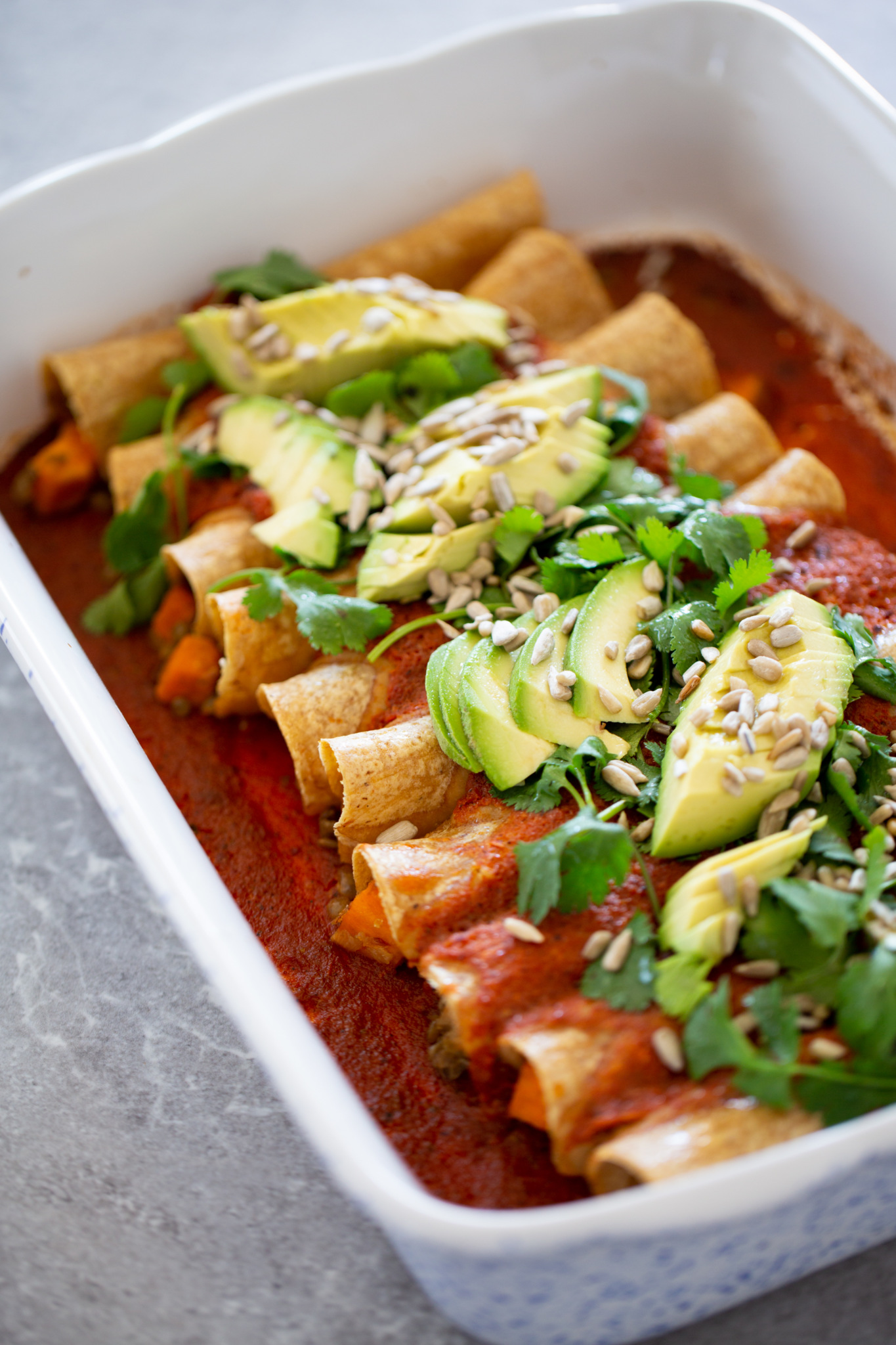 Vegan sweet potato enchiladas
These Mexican enchiladas are vegan enchiladas and 100% healthy. They are filled with lentils and sweet potatoes and then smothered in chile ancho tomato sauce.
Ingredients
Sauce
4

tomatoes

½

white onion

3

garlic cloves with peel

1-2

whole chile ancho

½

cup

of boiling water

1

teaspoon

of salt
Filling
1

teaspoon

of vegetable oil

3

3 cups approximately sweet potatoes, diced

½

chopped white onion

2

cloves

garlic

chopped

1

cup

cooked lentil

1

tablespoon

salt
Toppings
Avocado

Cilantro

Sunflower seeds or pips
Instructions
Soak the chile ancho in the boiling water and set it aside. In a pan that does not stick, roast the tomatoes, the onion, and the garlic until charred.

When the chili is soft, add it to the blender with the tomatoes, onion, and garlic, add the salt and blend until everything is well integrated. Save the water where the chili-soaked it soaked, use it if needed.

To make the filling put the tablespoon of oil in a large pan, put the garlic, onion, and sweet potato. Leave for about 10 minutes or until the sweet potato is al dente. Add the lentils, salt, and taste for seasoning.

Preheat the oven to 350ºF.

In a baking pan pour a half cup of sauce on the bottom of a baking dish.

Heat the tortillas to soften; you need them to be pliable, in the center of the tortilla, layer a scoop of the lentils and sweet potato mix.

Roll the tortilla and place it on the baking dish with the seam side down.

Top the enchiladas with the remaining sauce, do not oversauce.

Bake for 20 minutes.

Serve the enchiladas with cilantro, avocado slices, and sunflower seeds.
Nutrition
Serving:
1
serving
Calories:
216.97
kcal
Carbohydrates:
44.29
g
Protein:
8.54
g
Fat:
2.04
g
Saturated Fat:
0.98
g
Sodium:
2397.51
mg
Potassium:
1015.54
mg
Fiber:
11.29
g
Sugar:
13
g
Vitamin A:
17174.62
IU
Vitamin C:
25.88
mg
Calcium:
68
mg
Iron:
3.1
mg
information
Nutritional information of this recipe is only an estimate, the accuracy for any recipe on this site is not guaranteed.

Latest posts by Alejandra Graf
(see all)