Vegans don't eat eggs, but that doesn't mean we have to deprive ourselves of scrambled egg taquitos, scrambled egg burritos, etc. I invite you to try this delicious option of scrambled tofu; it is wonderful.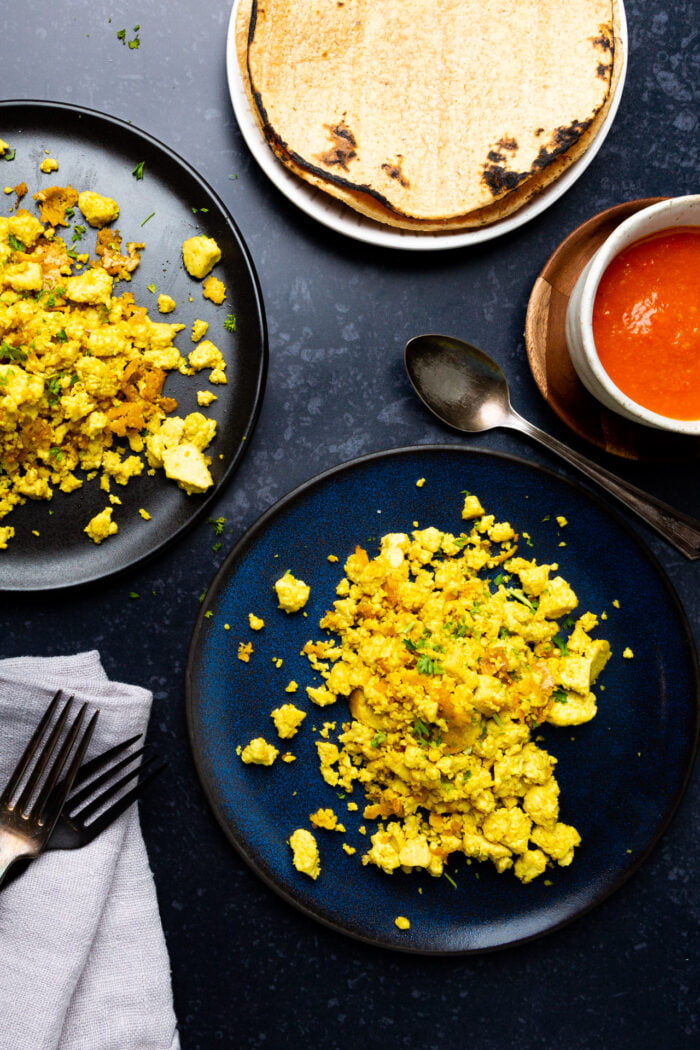 What is tofu and why is it good for you?
Tofu (affiliate link), also known as soy cheese, is a plant-based superfood that has been an integral part of Oriental cuisine for centuries.
Rich in protein and low in fat, it is an excellent substitute for animal foods, making it ideal for vegetarians, vegans, and anyone seeking a healthier lifestyle.
Plus, its neutral flavor makes it incredibly versatile and can be adapted to any recipe, even our famous scrambled tofu (affiliate link)!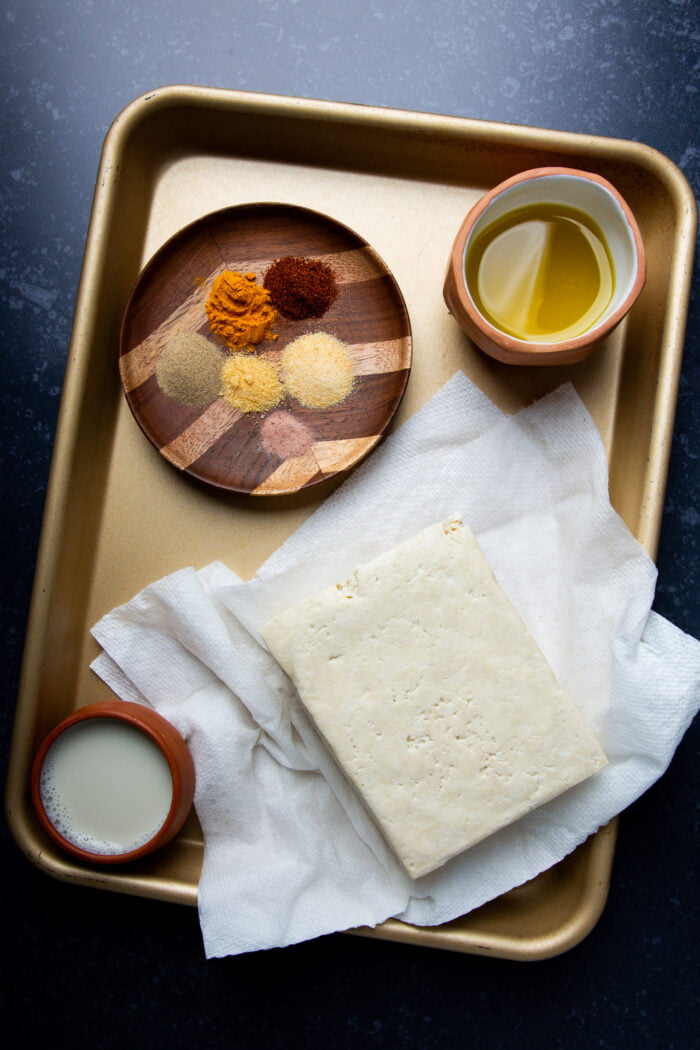 Ingredients you need for scrambled tofu
Firm tofu: The star ingredient uses firm tofu or extra firm tofu. Be sure to drain and press it to remove excess water.
Olive oil: To brown and add flavor.
Spices: Turmeric, salt, pepper, and garlic powder are basic. But you can experiment with your favorite spices.
Milk: Use any whole vegetable milk you like. You can use almond milk or oat milk. I prefer oatmeal, as it has less flavor. You can also use vegan sour cream, tahini, or cream cheese.
Extras: You can add a teaspoon of soy sauce or chipotle chili adobo.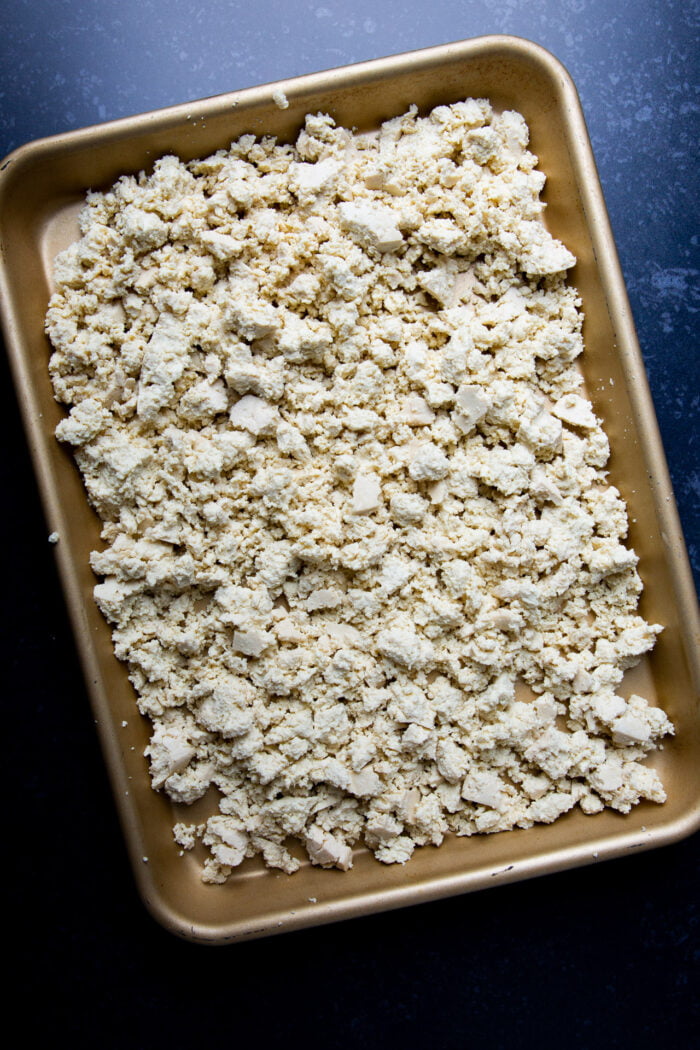 How to make scrambled tofu step by step
1. First, you must drain and press the tofu. Remove excess water to absorb flavors better and crumble.
2. heat the olive oil over medium heat in a large skillet. Add the tofu until it begins to brown.
3. Cook for about 5 minutes, stirring constantly.
4. mix the milk with the spices; mix very well so that everything is perfectly integrated.
5. Pour this mixture into the tofu. Cook for a few more minutes, and voila! You have a delicious scrambled tofu ready to enjoy.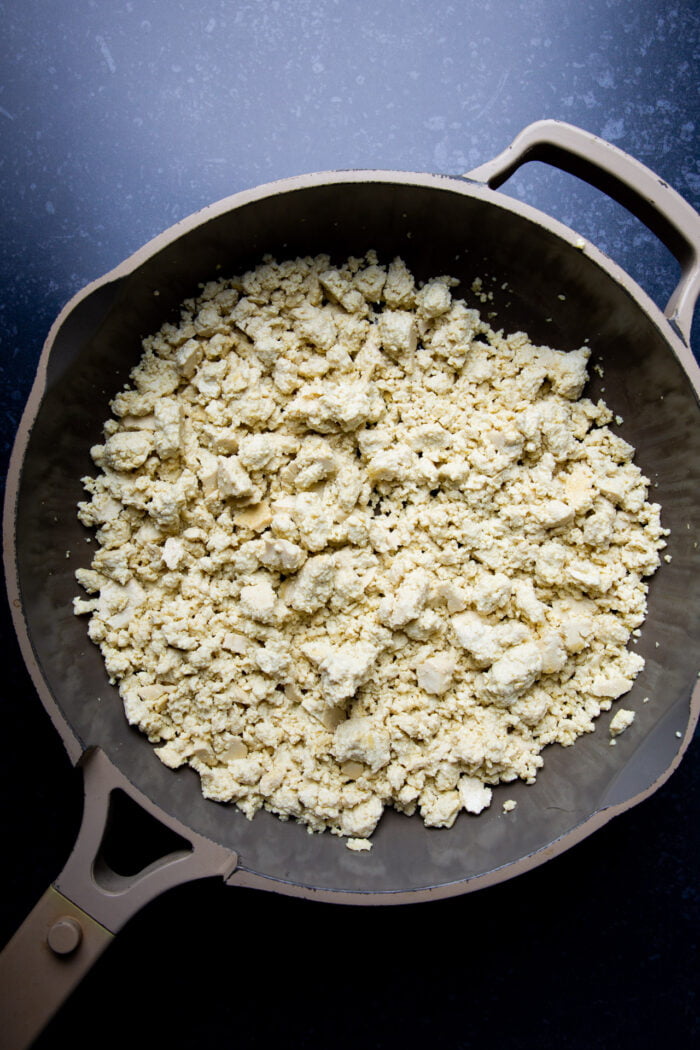 Frequently asked questions about scrambled tofu
Can you freeze scrambled tofu? Yes, you can freeze scrambled tofu. Just ensure it cools completely before freezing and consume it within a month.
What other ingredients can you add to scrambled tofu? The beauty of tofu scrambled eggs is its versatility. You can add mushrooms, spinach, vegan cheese, soy sauce, or some vegan bacon substitute.
Can I use silken tofu for scrambled tofu? It's best to use firm tofu for this recipe as it holds its shape better. Silken tofu might crumble too much and give your dish a less appealing texture.
How long does it keep in the fridge? Tofu scramble can last in the fridge for up to 3-5 days when stored properly. It's best to put it in an airtight container to prevent it from absorbing other flavors from the fridge and to keep it fresh.
How to reheat? When you're ready to eat it, you can reheat it in a pan on the stove over medium heat or in the microwave. If the scramble seems a little dry when reheating, you can add a splash of water or vegetable broth (affiliate link) to moisten it.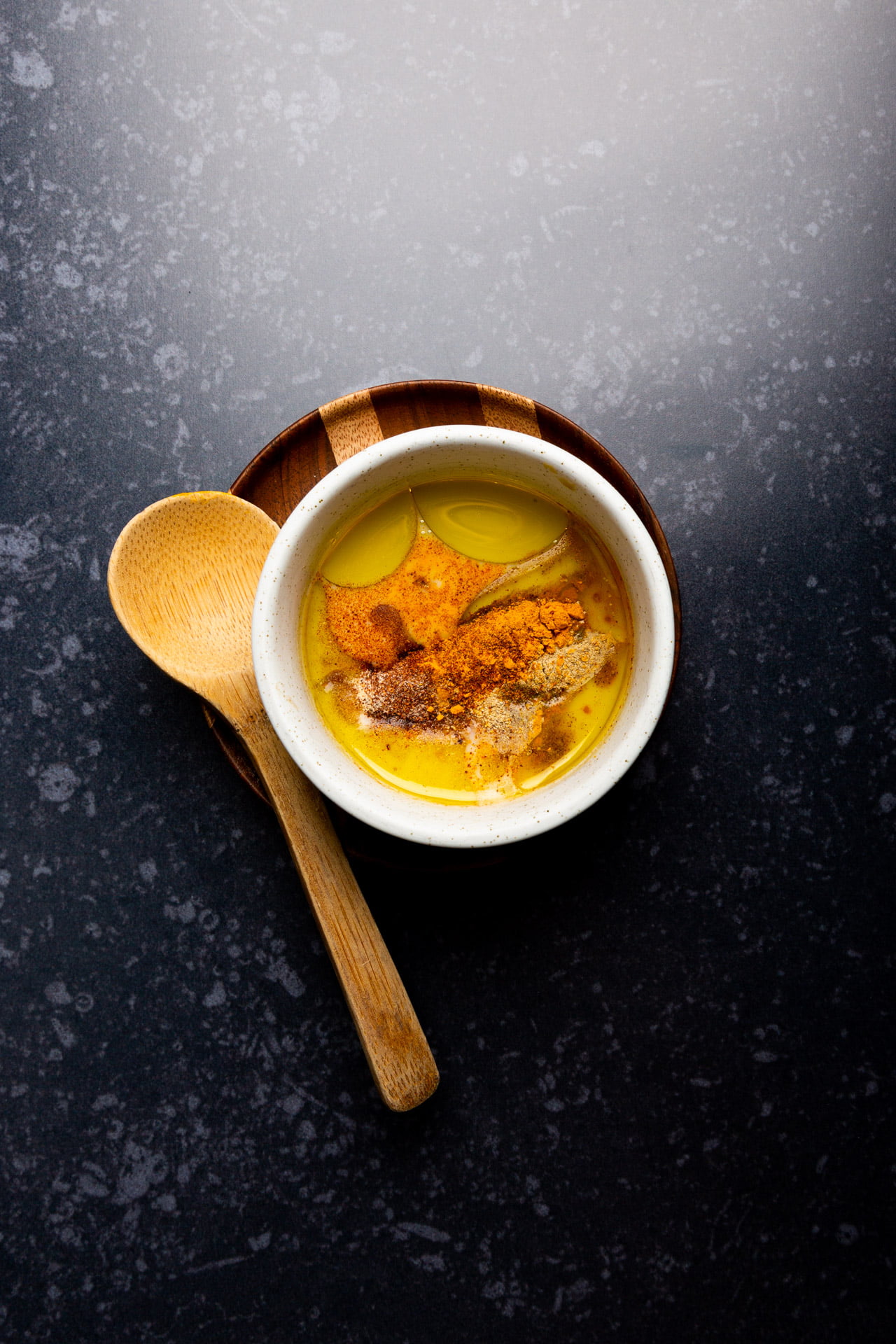 Give it a twist and add other vegetables
Peppers: They add a sweet, slightly tart flavor and vibrant color to your scrambled tofu. Chop into small pieces and sauté until soft.
Onions: Onions provide a great flavor base. Chop them and add them at the beginning of your cooking process to give them time to caramelize and sweeten.
Tomatoes: They offer a touch of acidity. You can chop them and add them later in the cooking process, as they do not need much time to cook.
Spinach: Provides many nutrients without altering the flavor. They wilt quickly, so add them to the cooking process's end.
Mushrooms: They have a meaty texture and a savory flavor. Cut them into slices and add them at the beginning; before the tofu, they always draw a lot of water that needs to evaporate.
Zucchini: Provides a pleasant texture. Dice it and add it to the pan after the onions because it also releases a lot of water.
Kale: Like spinach, it is rich in nutrients and doesn't need much cooking time, so add it towards the end.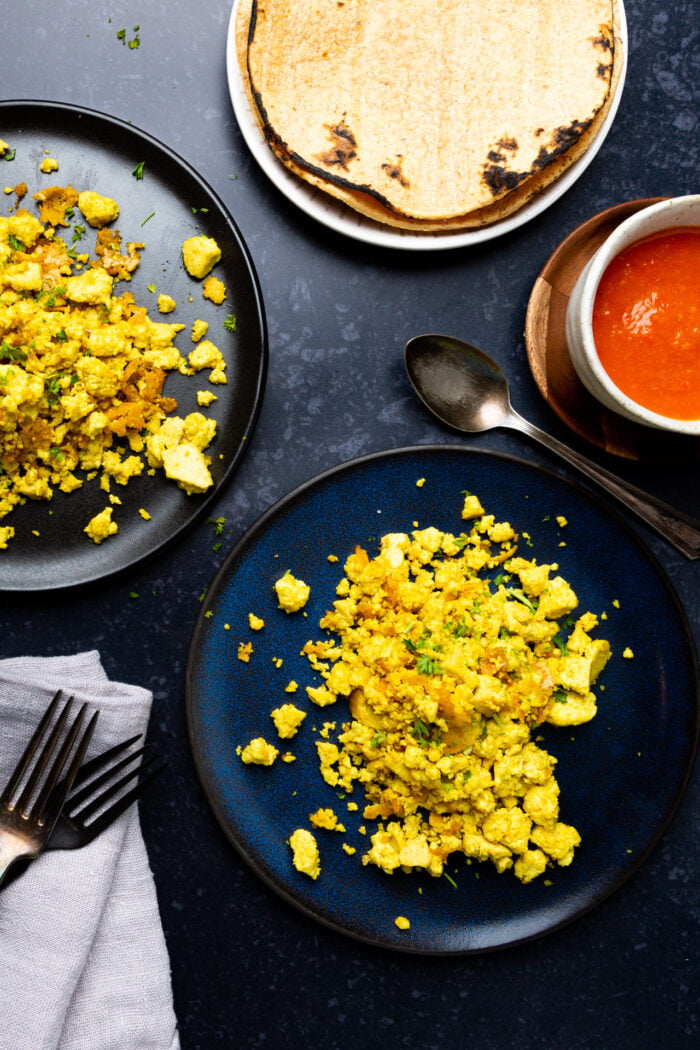 Recipes with tofu that you'll love
Made and loved this recipe? Give it a ⭐️⭐️⭐️⭐️⭐️ rating below. Let me know if you have questions about this recipe in the comment section or DM me on Instagram. Follow me on Facebook and Pinterest to stay in touch, and don't forget to subscribe to my newsletter.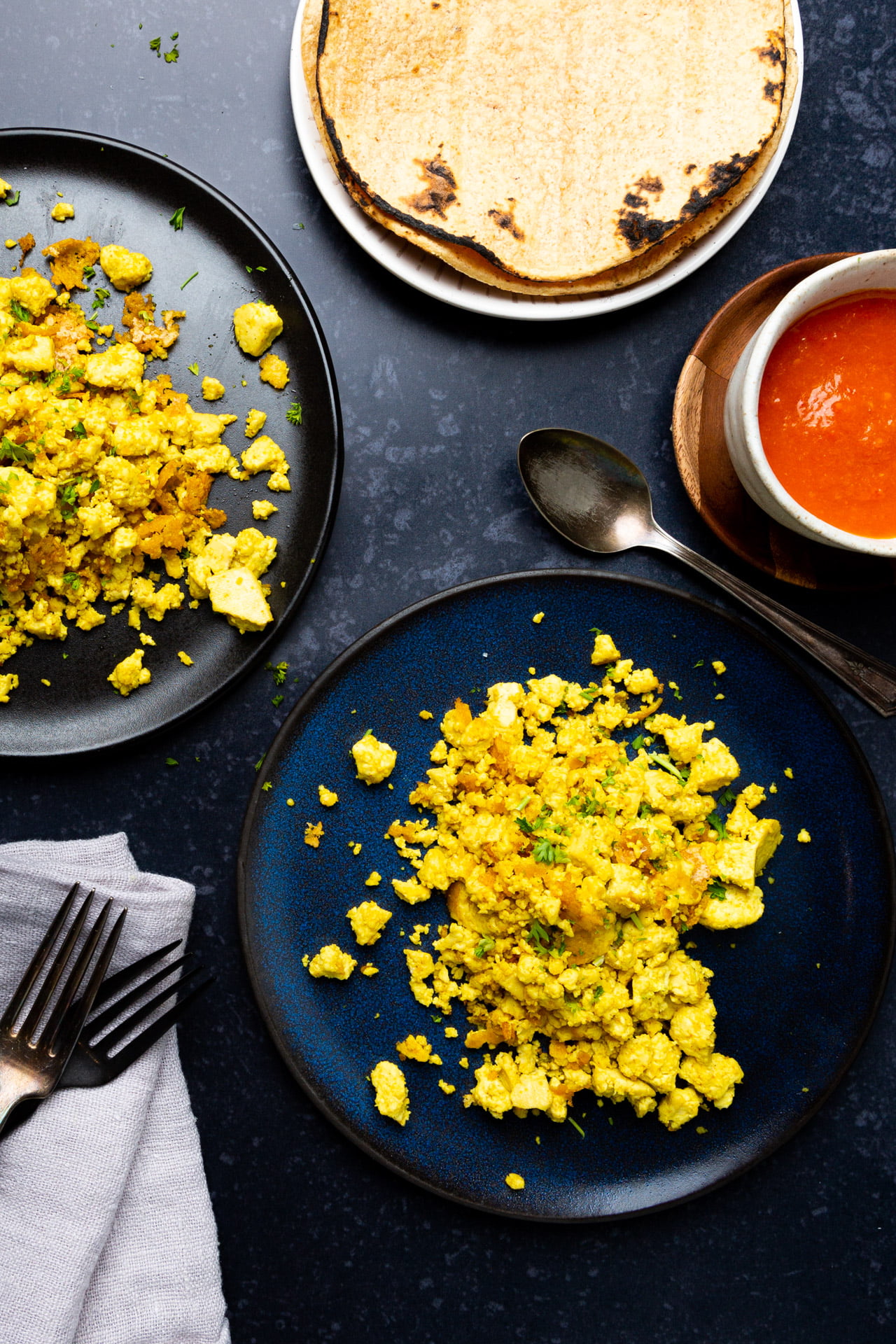 Scrambled tofu
Transform your breakfast with our Tofu Scramble recipe. Not only is it delicious and nutritious, but it is also friendly to the planet. Dare to try something new and enjoy an amazing vegan breakfast!
Ingredients
1 16

oz

Tofu block

4

tablespoons

olive oil

¼

teaspoon

Paprika

½

teaspoon

Salt

¼

teaspoons

Turmeric

turmeric

¼

teaspoons

Garlic powder

¼

teaspoons

Onion powder

2

tablespoons

Oat milk

¼

teaspoon

Kala Namak

Indian Black Salt
Instructions
First, you must drain and press the tofu.

Remove excess water to better absorb flavors and crumble.

In a large skillet, heat 2 tablespoons olive oil over medium heat.

Add the tofu until it begins to brown.

Cook for about 5 minutes, stirring constantly.

In a small bowl, mix the oat milk with the spices and two tablespoons of olive oil.

Pour this mixture into the tofu.

Cook for a few more minutes, taste for seasoning and you're done.
Notes
Use my recipe as a guide, as a suggestion.
Add more or less spices, add nutritional yeast if you want a stronger flavor.
Nutrition
Serving:
1
serving
Calories:
231
kcal
Carbohydrates:
4
g
Protein:
11
g
Fat:
19
g
Saturated Fat:
3
g
Polyunsaturated Fat:
5
g
Monounsaturated Fat:
12
g
Sodium:
300
mg
Potassium:
13
mg
Fiber:
1
g
Sugar:
1
g
Vitamin A:
77
IU
Vitamin C:
0.1
mg
Calcium:
163
mg
Iron:
2
mg
information
Nutritional information of this recipe is only an estimate, the accuracy for any recipe on this site is not guaranteed.

Latest posts by Alejandra Graf
(see all)