Surprising, fresh and healthy! It is not common for a recipe to be able to combine so many qualities, but hummus with mint and lemon breaks all barriers.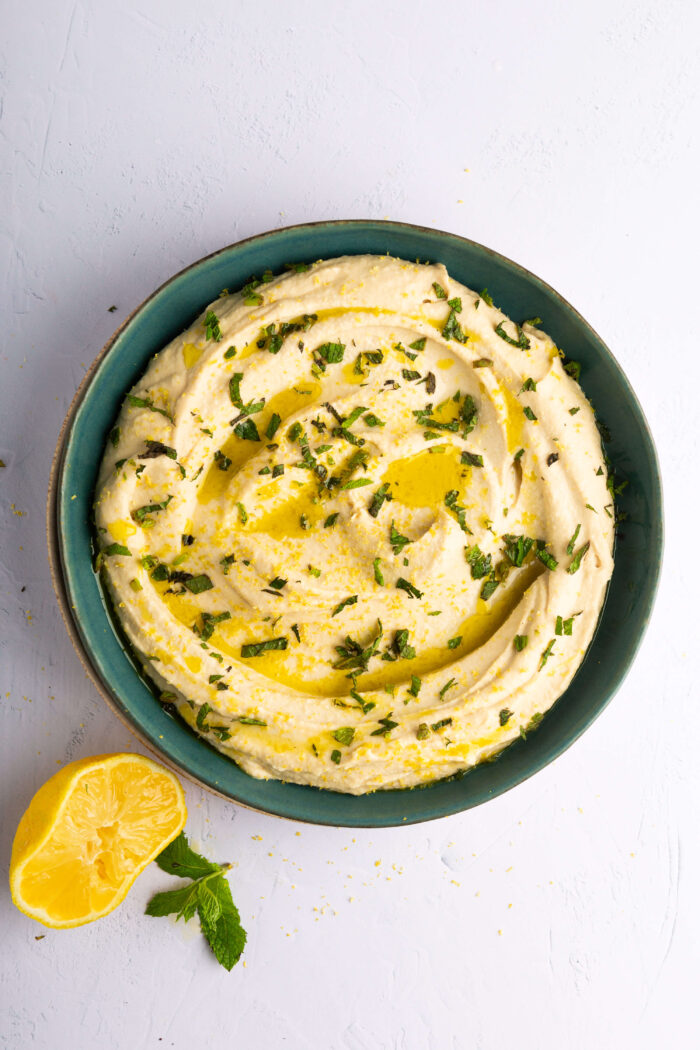 About this recipe
Indulge in this delightful twist on the classic Middle Eastern hummus that promises to take your taste buds on an exciting journey. Experience the perfect blend of creamy hummus, tangy yellow lemons, and refreshing mint that will leave you wanting more.
Imagine, for a moment, the perfect bite of the mild flavor of chickpeas mixed with the richness of tahini and fresh mint and the citrusy zing of lemon. The best. If you have never tried this combination, you miss a unique culinary experience.
In addition, hummus with mint and lemon is a highly nutritious dish. Chickpeas and tahini provide a powerful dose of protein and essential nutrients, while mint and lemon offer vitamin C and digestive properties. Not only will you be eating delicious food, but you will also be taking care of your body.
Ingredients to make hummus with lemon juice
Chickpeas: They are the heart of any hummus recipe, full of fiber and protein. You can use canned chickpeas for a faster process, but you can also cook them yourself if you prefer natural.
Tahini: This is a paste made from toasted sesame seeds. It gives hummus its characteristic flavor and is also a source of calcium and iron.
Olive oil: Prefer a good quality olive oil, as its flavor will be prominent in the hummus. It is also rich in monounsaturated fats, which are beneficial for heart health.
Lemon: The lemon will provide a citric touch that will give freshness to our hummus. It is also an excellent source of vitamin C.
Mint: You will need a good bunch. Mint will add a refreshing and unique touch to this recipe, as well as digestive properties.
Garlic: 2 cloves of garlic will be enough. Garlic will add an extra touch of flavor to our hummus, and is known for its many healthful properties.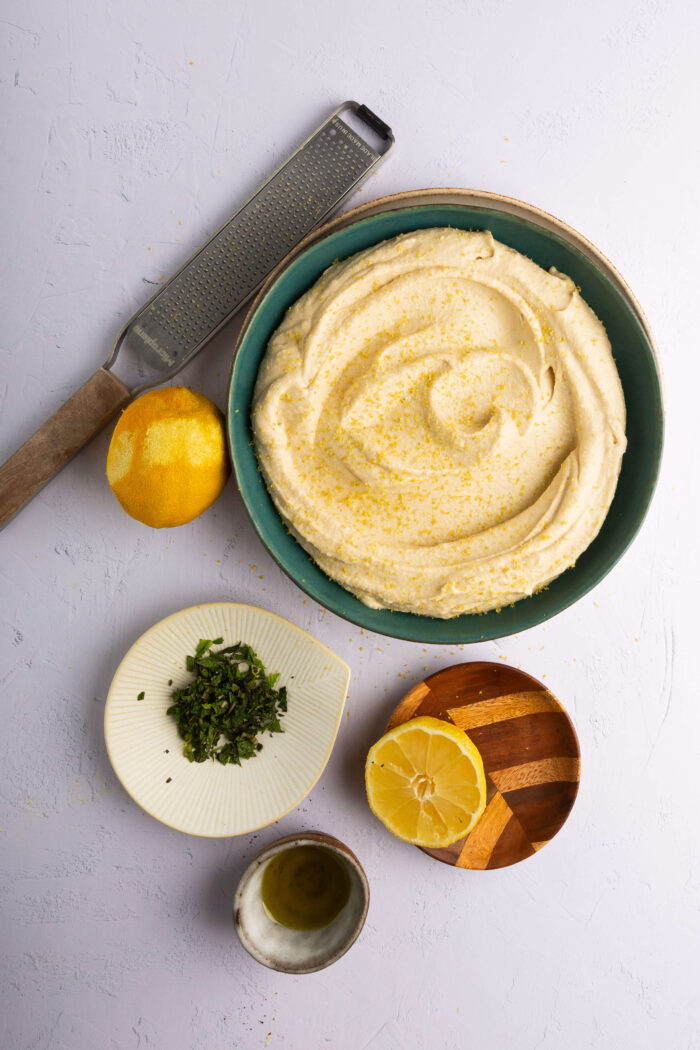 How to make hummus?
First you make a basic hummus recipe, my basic hummus recipe is the ultimate. When it is time to serve it, mix it with lemon juice, fresh mint and lemon zest.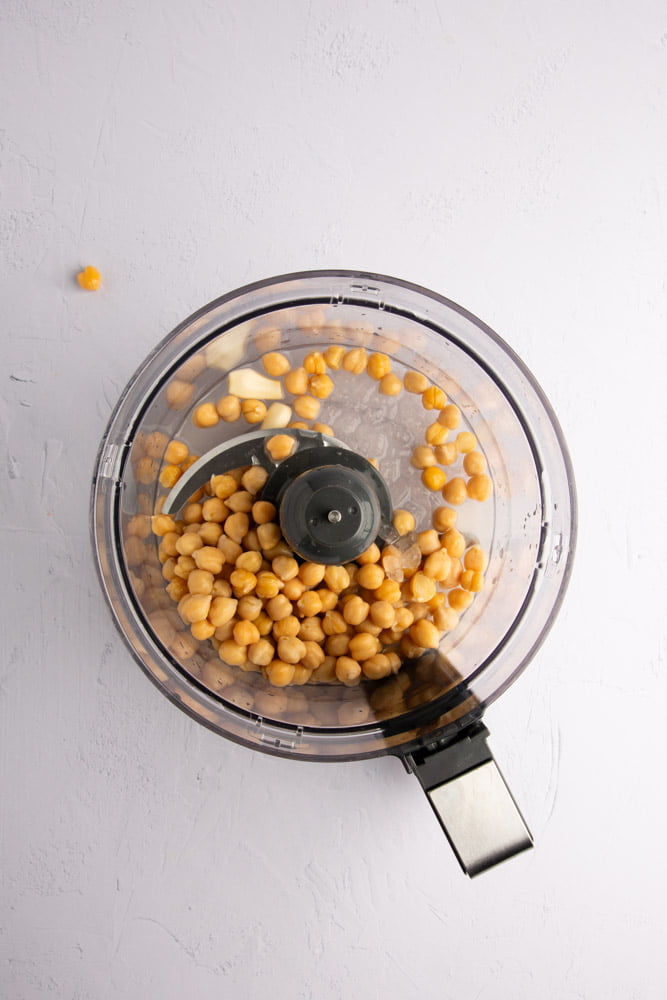 How to cook chickpeas at home?
If you prefer to cook chickpeas at home instead of buying them in cans, here are some tips on how to do it correctly. The first step is to clean the chickpeas to remove any traces of dust, stones, and even small insects that may be present. You can do this by giving them a good rinse.
Once your chickpeas are clean, place them in the pot where you cook them and cover them with water to soak them overnight. This step is crucial to soften the chickpeas and prepare them for cooking.
The following day, discard the soaking water and replace it with fresh water. The amount of water should be sufficient to cover the chickpeas thoroughly. A good rule of thumb is to ensure the water is at least four to five fingers above the level of the chickpeas in the pot.
Place the pot over low heat with the lid on to cook them until they are super soft. If available, I recommend adding a piece of kombu, a type of seaweed. This ingredient and the previous soaking will help eliminate the phytic acid in the chickpeas.
Phytic acid is a substance found in legumes and grains to prevent them from sprouting prematurely. Although not harmful to health, this acid can hinder the absorption of minerals by our body.
By soaking the chickpeas and cooking them with kombu, we neutralize this protective layer, allowing our body to more efficiently absorb the valuable minerals offered by the legumes.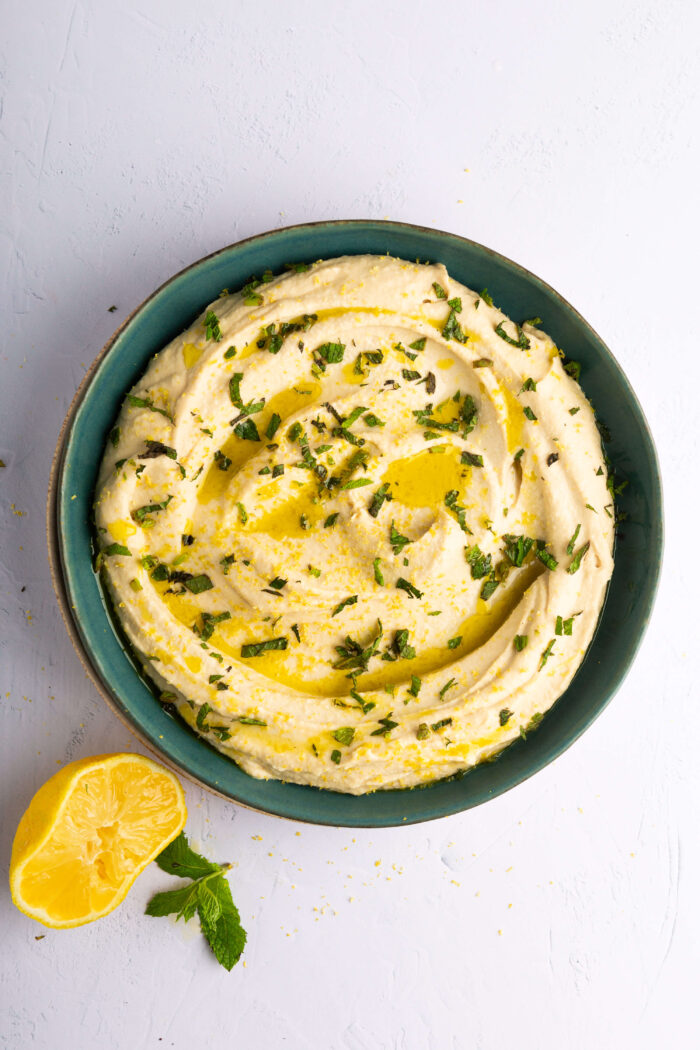 Ideas to accompany hummus
Pita bread: This is the most traditional way to serve hummus. You can heat the bread a little to enhance its flavor.
Raw vegetables: For a healthier snack, serve hummus with carrot sticks, celery, cucumber or any other vegetable you like.
Toast or crackers: Whole-grain toast or whole-grain crackers can be an excellent base for hummus.
As a dressing: Hummus can also be used as a salad dressing, providing protein and making salads more filling.
In wraps or sandwiches: You can spread hummus on bread before adding your favorite ingredients. It will give a very tasty touch to your sandwich.
How to store hummus?
Once prepared, the hummus can be stored in the refrigerator in an airtight container for up to one week. If you notice a change in color, odor, or taste, it is best to discard it. Always be sure to use a clean spoon to serve the hummus to avoid introducing bacteria into it.
Can hummus be frozen?
Hummus can be frozen very well. To freeze it, place it in a freezer-safe container, leaving a little room at the top, as the hummus may expand a bit when frozen. You can keep it frozen for up to 4 months.
To thaw, simply leave it in the refrigerator overnight. You may need to mix it a little after thawing to restore its original consistency.
Other recipes you may like
Made and loved this recipe? Give it a ⭐️⭐️⭐️⭐️⭐️ rating below. Let me know if you have questions about this recipe in the comment section or DM me on Instagram. Follow me on Facebook and Pinterest to stay in touch, and don't forget to subscribe to my newsletter.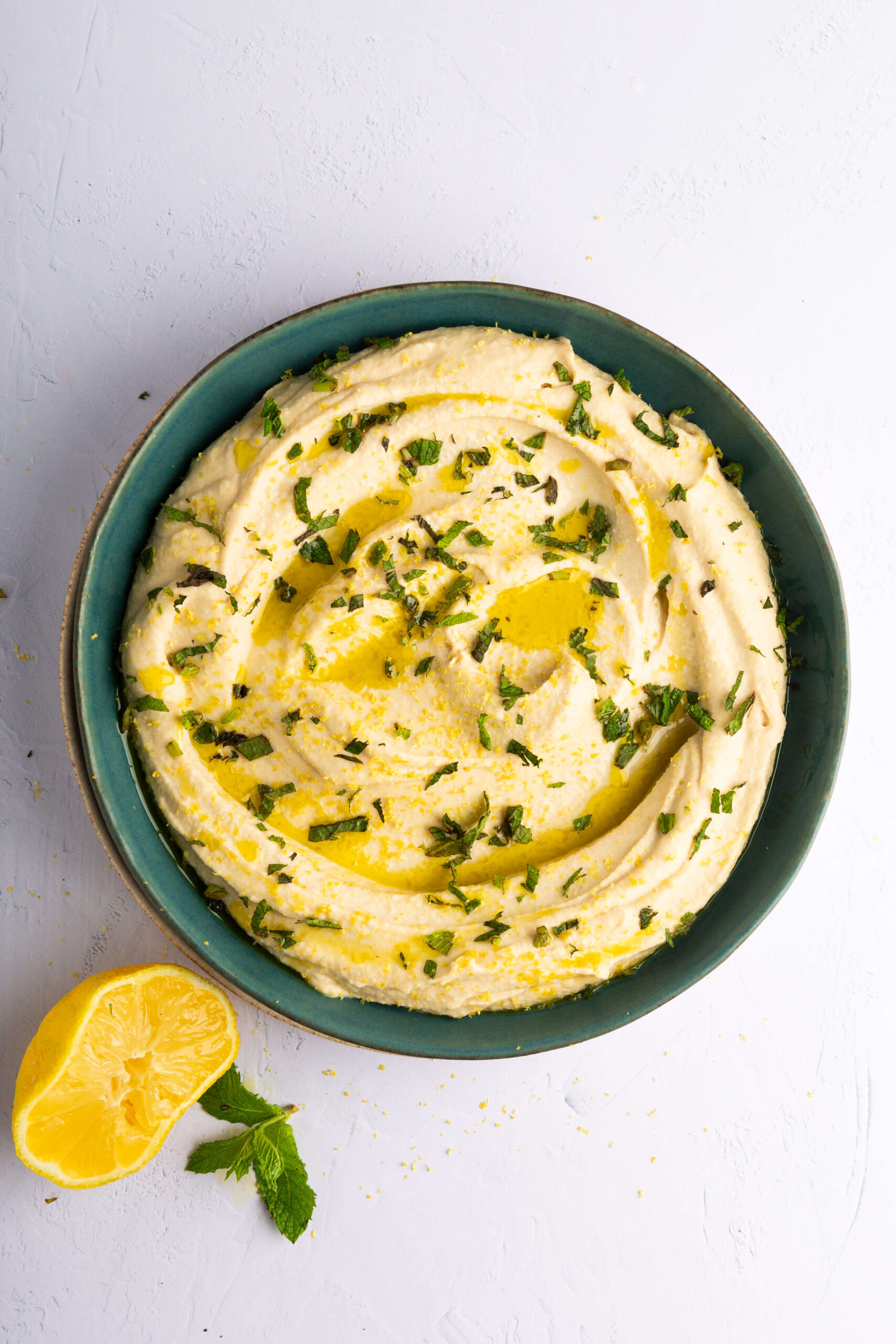 Lemon Hummus with mint
Discover how to prepare a delicious and nutritious hummus with mint and lime. This recipe is a perfect combination of the creaminess of classic hummus with the freshness of mint and the citrus of lemon. Ideal for a healthy snack, side dish or dressing. Surprise yourself with its unique and refreshing taste!
Equipment
Food processor

Grater for lemon zest
Ingredients
lemon peel

chopped mint

a dash of olive oil

Maldon salt
Instructions
Place the hummus on a platter and spread it with the back of a spoon.

Drizzle with a dash of extra virgin olive oil, add the zest of the yellow lemon, chopped mint and Maldon salt.

Serve with vegetables, crackers, pita.
Notes
Basic hummus recipe
1 can of cooked chickpeas
2 large roasted garlic cloves
2 lemons juice
1 teaspoon of sea salt.
¼ cup ice water
4 tablespoons tahini
Open the can of chickpeas and drain well. Peel the chickpeas in a bowl of cold water stirring them with your hands, repeat the process until no shells come out.
Place the chickpeas in the food processor along with the water, lemon juice, garlic and salt.
Run the food processor for 5 minutes.
Everything about how to make a basic hummus is in this post.
Nutrition
Serving:
1
serving
Calories:
2
kcal
Carbohydrates:
0.1
g
Protein:
0.1
g
Fat:
0.1
g
Saturated Fat:
0.01
g
Polyunsaturated Fat:
0.04
g
Monounsaturated Fat:
0.04
g
Sodium:
4
mg
Potassium:
2
mg
Fiber:
0.1
g
Vitamin A:
0.3
IU
Calcium:
0.4
mg
Iron:
0.02
mg
information
Nutritional information of this recipe is only an estimate, the accuracy for any recipe on this site is not guaranteed.

Latest posts by Alejandra Graf
(see all)