This is the best recipe for making hummus at home. Hummus, a classic Middle Eastern delicacy, is becoming a worldwide favorite and is an excellent choice to incorporate into the family diet.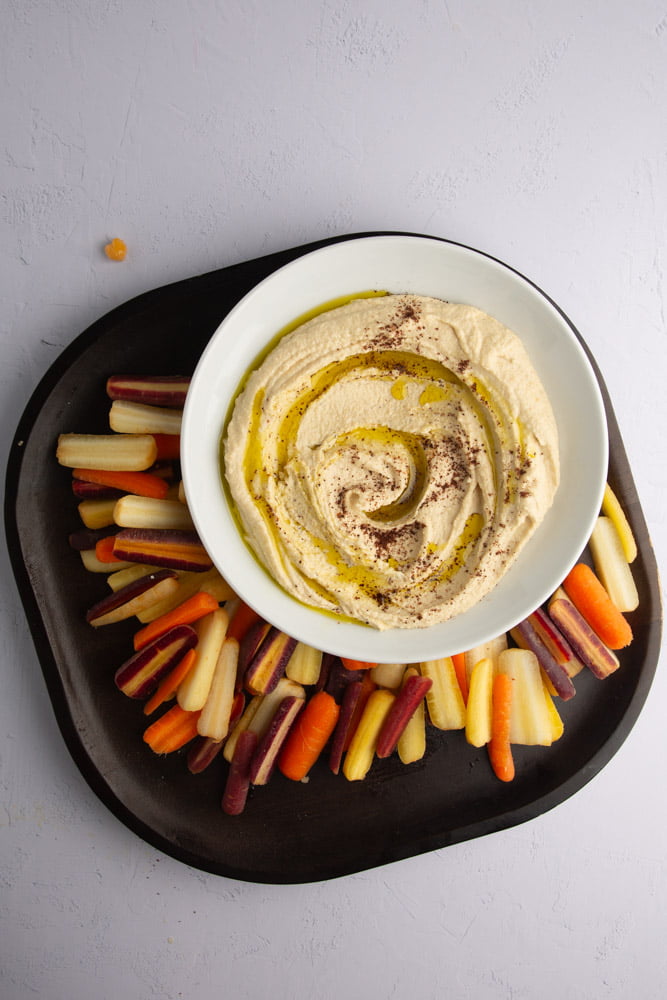 What is hummus?
Hummus is a popular dish made from ground chickpeas that has gained popularity for its delicious taste, adaptability, and nutritional benefits. The word "hummus" originates from Arabic and translates to "chickpea", highlighting the key ingredient in the recipe. It has become a staple in many households due to its versatility and rich flavor.
Hummus has its roots in the Middle East, particularly in the Levant region, which includes countries such as Lebanon, Israel, Palestine, Syria, and Jordan. Although it is not possible to determine precisely in which country it originated, it is clear that it is an ancient dish that has fed generations.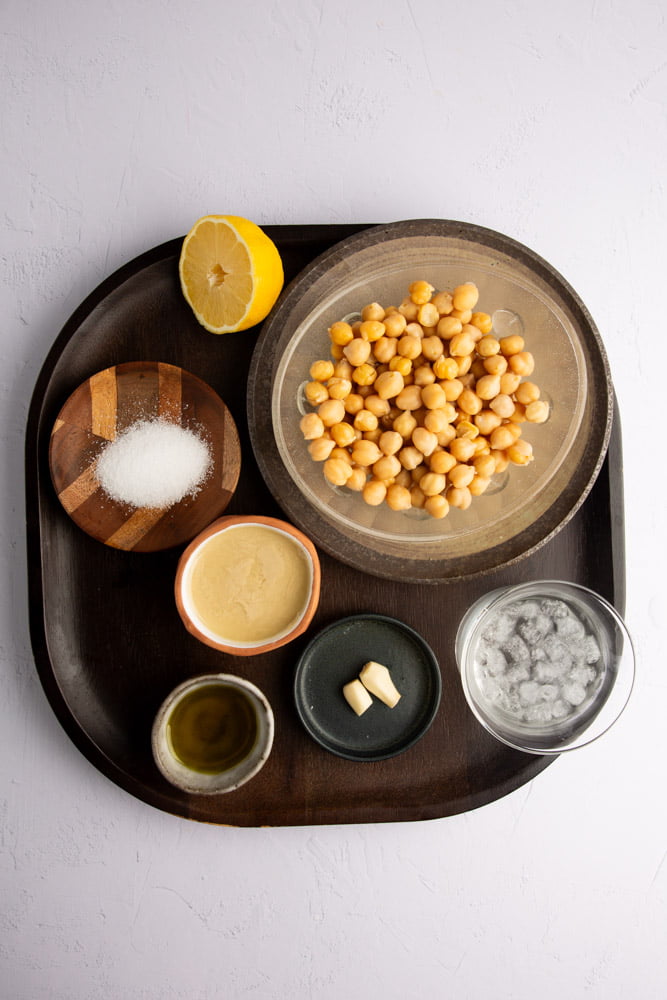 Ingredients for making hummus at home
Chickpeas: They are the main ingredient of hummus. They provide a large amount of protein and fiber. For the hummus, you can use canned chickpeas for convenience or cook them yourself from their dried version.
Tahini: This paste is made from ground sesame seeds, essential in the traditional hummus recipe. It provides a slightly bitter taste and a creamy texture to hummus. Tahini is a good source of healthy fats, fiber, and minerals such as magnesium and phosphorus.
Olive oil: This oil is an essential source of healthy fats and is used both in the hummus mixture and to garnish the hummus before serving. For this recipe, I use it on top.
Lemon juice: The citric acid in lemon juice balances the flavor of the hummus and gives it a touch of freshness. In addition, lemon has vitamin C that favors the absorption of the iron present in chickpeas.
Garlic: Although in small quantities, garlic gives a touch of flavor and depth to hummus. If you don't like the taste of raw garlic, you can use roasted garlic for a milder, sweeter flavor.
Salt: An essential ingredient in any recipe, salt enhances all other flavors. Remember that you can always adjust the amount of salt according to your preference and need. I use kosher salt, which is less salty than sea or table salt.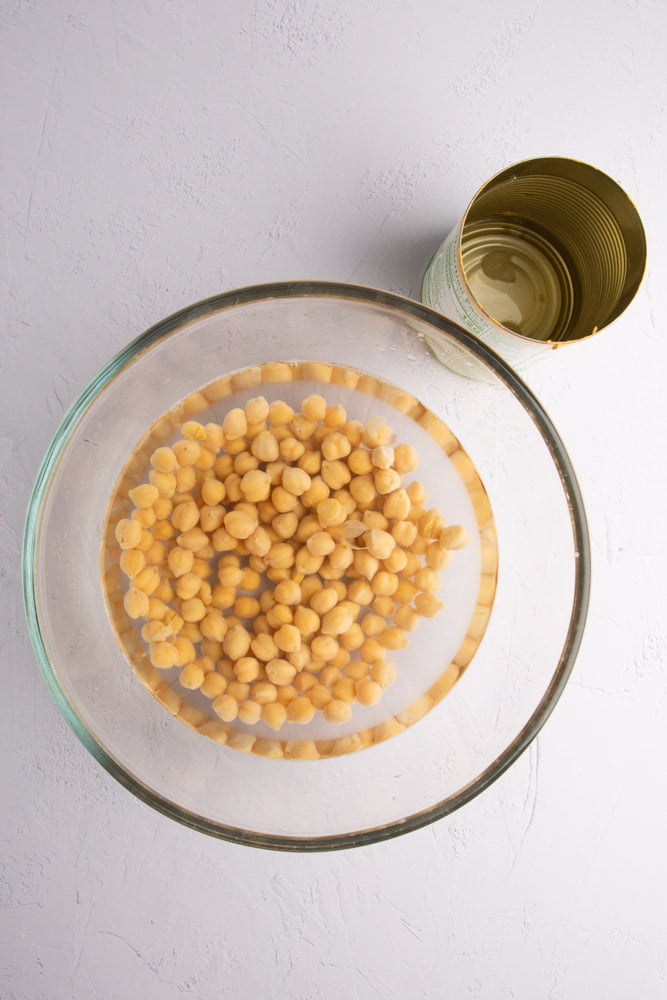 How to make homemade hummus?
Chickpeas: if you use canned chickpeas, drain and rinse them. If you use home-cooked chickpeas, measure one and a half cups. Fill a bowl with cold water and put the chickpeas in it.
With your hands move the chickpeas so that the shells fall off. Remove the skins and repeat the process until most of the chickpeas are peeled.
Process: In a bowl of your food processor (affiliate link), place the chickpeas, garlic, lemon, salt and ice water. Let the processor run for 5 minutes, yes, 5 minutes, no less.
Finish: When the 5 minutes are up, add the tahini little by little. You can do this while the processor is running. Or stop, lower the sides with a spatula and turn the food processor (affiliate link) back on and let it run.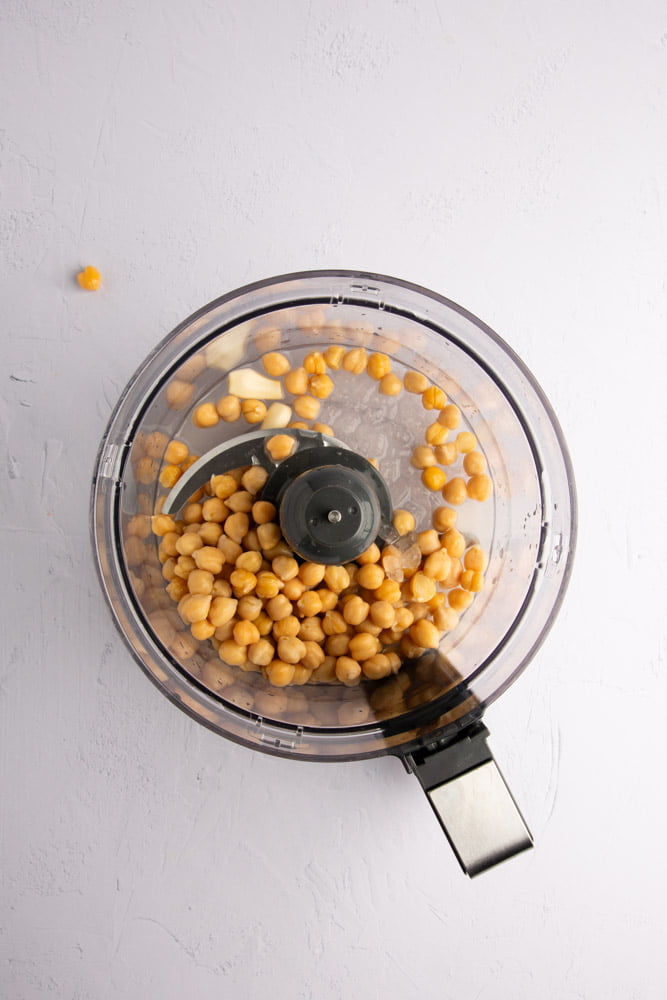 tips for making the best chickpea hummus
Very soft chickpeas: To obtain a creamy hummus, you need the chickpeas to be well cooked and soft. If you use canned chickpeas, they are usually ready to use.
However, if you decide to cook the chickpeas from their dried version, be sure to soak them overnight and cook them until they are very tender.
Quality Tahini: Tahini plays a crucial role in the flavor and texture of hummus. Be sure to use a good quality tahini, preferably one that is smooth and slightly liquid. Avoid tahini that is too pasty or dry.
Process longer: Don't worry about processing too much. The longer you process the ingredients, the smoother and creamier your hummus will be. Try to process the mixture for at least 2-4 minutes.
Adjust to taste: Hummus is very adaptable. Feel free to adjust the amount of tahini, olive oil, lemon juice, garlic and salt to your liking. Some people prefer their hummus with more lemon, more garlic, or more saltiness. The important thing is that you and your family like it.
Chill before serving: Hummus is usually served cold. After making it, leave it in the refrigerator for at least one hour before serving. This allows the flavors to blend and develop properly.
Garnish when serving: At serving time, you can add a drizzle of olive oil on top, sprinkle a little paprika or sumac (affiliate link) and add some whole chickpeas or chopped parsley.
Adding toppings to your hummus not only enhances its visual appeal but also elevates its taste profile.
Ideas for finishing hummus
Olive oil: A classic. A drizzle of good quality olive oil not only enhances the flavor of the hummus, but also gives it a shiny and appetizing appearance.
Paprika: Sweet or smoked paprika sprinkled on hummus gives it a touch of color and a very nice spicy flavor.
Whole chickpeas: A few whole chickpeas in the center of the hummus give it a nice presentation. You can also serve with roasted chickpeas or chickpeas with buffalo sauce.
Sesame seeds: A few sesame seeds sprinkled on top can add a bit of texture and echo the tahini found in hummus.
Dukkah Za'atar or Sumac (affiliate link): These Middle Eastern spices can give your hummus an authentic touch of flavor and a nice presentation.
Olives: Black or green olives can be a delicious and visually appealing garnish for your hummus.
Fresh herbs: Cilantro, dill, mint, or chives can give a nice fresh flavor to your hummus, as well as a nice green color.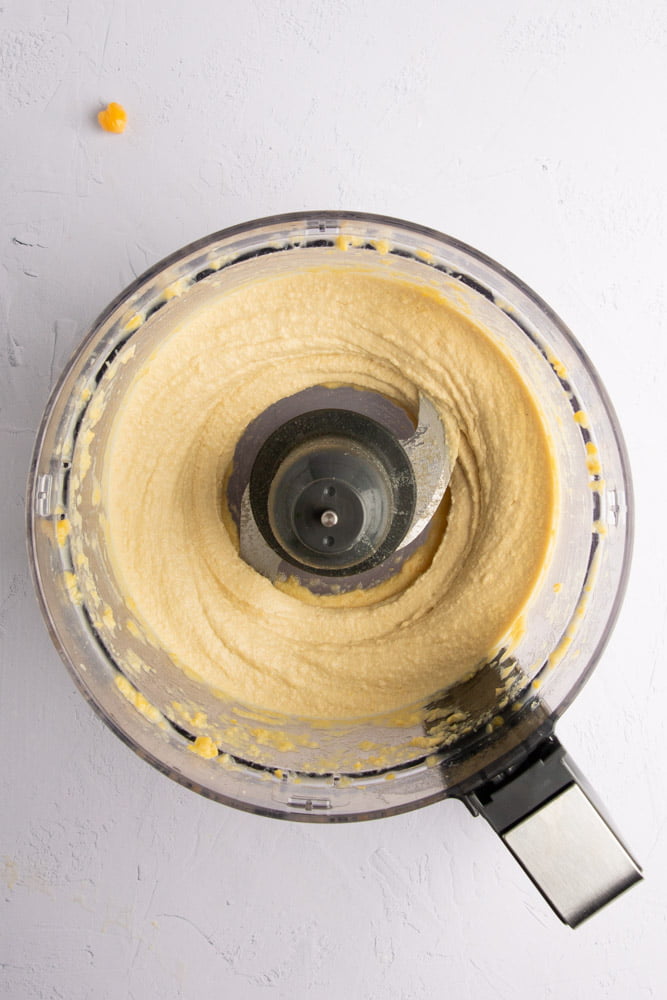 Hummus serving ideas
Vegetable Dip: This is the most popular way to consume hummus. You can cut carrots, cucumbers, celery, peppers, etc. into strips or sticks. It is a healthy and delicious option for a mid-afternoon snack or a pre-dinner appetizer.
Sandwiches and wraps: Use hummus instead of mayonnaise or mustard to spread on your sandwiches or wraps. It will give it a unique flavor and will also increase the nutritional value of your food. It goes great with chicken, turkey, fresh vegetables, cheeses, and much more.
Salad dressing: You can dilute some hummus with lemon juice or vinegar for a nutritious, low-fat salad dressing. It is an excellent alternative to commercial dressings that are usually high in calories.
Frequently Asked Questions
Other Mediterranean recipes that you will like:
Made and loved this recipe? Give it a ⭐️⭐️⭐️⭐️⭐️ rating below. Let me know if you have questions about this recipe in the comment section or DM me on Instagram. Follow me on Facebook and Pinterest to stay in touch, and don't forget to subscribe to my newsletter.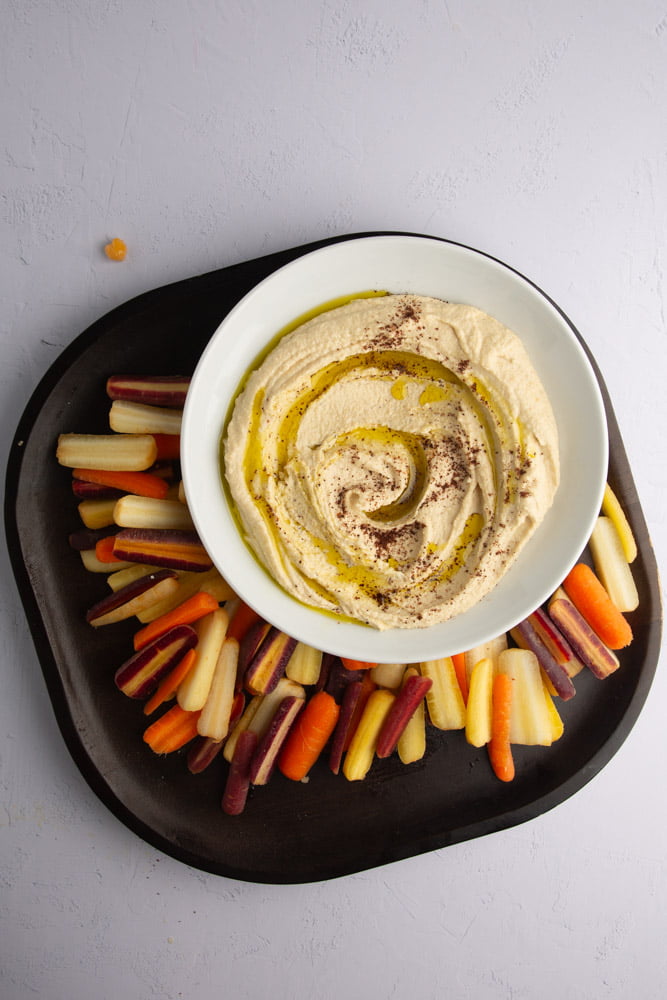 How to make hummus at home?
Hummus is a popular Middle Eastern dip that is enjoyed all around the world. This recipe is easy to make and can be customized to your liking. It starts with chickpeas that are blended with tahini, lemon juice, garlic, and olive oil. The result is a creamy and flavorful dip that can be served with pita bread, vegetables, or used as a spread on sandwiches. Give this recipe a try and impress your friends and family with your homemade hummus!
Ingredients
1

can of cooked chickpeas

2

garlic cloves raw

If you prefer a milder flavor, you can opt for roasted.

2

lemons

juice

1

teaspoon

salt

¼

cup

ice water

4

tablespoons

tahini
Instructions
Open the can of chickpeas and drain well. Peel the chickpeas in a bowl of cold water, stirring them with your hands, and repeat the process until no shells come out.

Place the chickpeas in the food processor, water, lemon juice, garlic and salt.

Run the food processor for 5 minutes.

Add the tahini and let it run until everything is fully integrated.

Serve on a platter and accompanied with vegetables or bread.
Notes
In the fridge: Transfer your hummus to an airtight container once it is made. Either a plastic or glass container with a secure lid will work. The hummus can be stored in the refrigerator for 4-7 days. When serving, it's essential to use clean utensils to avoid introducing bacteria that could spoil the hummus before its time. In the freezer: If you're looking to preserve hummus for an extended period, freezing it is an option. Similar to refrigeration, it's best to store it in an airtight container, leaving some room at the top as it may expand slightly during the freezing process. Hummus can be frozen for up to 4 months and in the fridge overnight before use. Before serving: For optimal flavor and texture, it's best to let your hummus sit at room temperature for approximately 20 minutes before serving, especially if it has been stored in the fridge or freezer.
Nutrition
Serving:
1
serving
Calories:
71
kcal
Carbohydrates:
6
g
Protein:
2
g
Fat:
5
g
Saturated Fat:
1
g
Polyunsaturated Fat:
2
g
Monounsaturated Fat:
2
g
Sodium:
392
mg
Potassium:
100
mg
Fiber:
2
g
Sugar:
1
g
Vitamin A:
15
IU
Vitamin C:
20
mg
Calcium:
26
mg
Iron:
1
mg
information
Nutritional information of this recipe is only an estimate, the accuracy for any recipe on this site is not guaranteed.
This recipe is a republish from May 2013.

Latest posts by Alejandra Graf
(see all)