Roasted garlic has become more and more popular as of late, and rightly so; it's delicious! It can also be used in many different dishes, from appetizers to entrees, to soups and salads. Here's how to make perfect roasted garlic every time!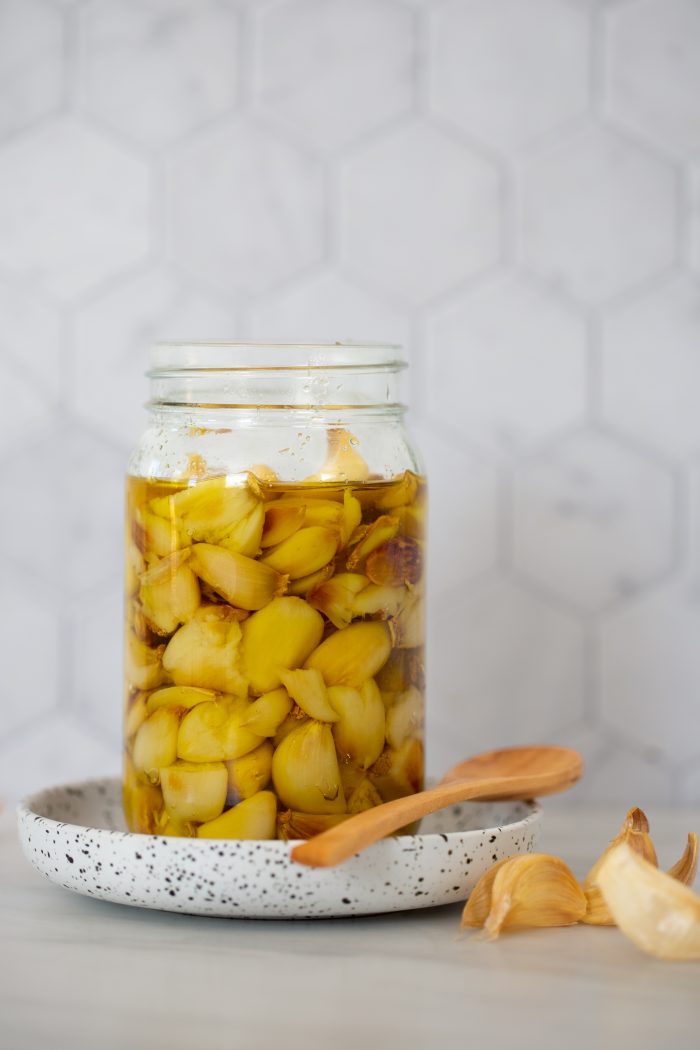 How to choose the perfect head of garlic
Heads of garlic should be plump, firm, and heavy for their size. Avoid complete garlic heads that are shriveled or soft, as these can cause garlic's strong flavor to be very bitter.If it's moldy or has soft spots, you don't want it. It should feel heavy for its size and give slightly when squeezed.
HOW TO ROAST GARLIC
HOW TO ROAST GARLIC
Prep the garlic clovesBreak the garlic bulb into individual garlic cloves. Don't peel your garlic before cooking it, as doing so allows much of its flavor and aroma to escape into your hands or fingers when you do handle it. Also, the thin layer of peel will protect your garlic cloves from burning. But you should remove all the extra layers and just leave the peel close to the garlic clove.
Place all the garlic cloves on a baking sheet.Place the garlic cloves on a baking sheet and then drizzle with olive oil and sprinkle with a huge pinch of salt. Make sure the garlic cloves are placed in one layer and are fully covered with the olive oil. Transfer garlic to oven and roast at 400 degrees F for 30 minutes or until golden brown.


Rotate the baking sheetHalf way through the roasting process, rotate the baking sheet and move the garlic cloves around. This will ensure all garlic cloves roast evenly and do not burn.
Peeling Each CloveWhile they're still hot (but manageable), just use your fingers to peel off each clove. The cloves will come off easily and won't stick to your fingers. That's because during roasting, all of garlic's natural moisture evaporates into steam and then gets baked onto each clove like a little protective layer.
Place all the garlic cloves in a jar.
Cover with olive oil and storeCover the roasted garlic cloves with vegetable oil or olive oil and store in the fridge or pantry.
Tips and tricks for the best roasted garlic
This is a very important step—you want all of your cloves to be in an even layer on your sheet tray so that they bake evenly. Your pan may not be big enough for you to get all of your cloves on there, so just do what you can and then save any remaining cloves for later.
The garlic should be stored in an airtight container and away from direct sunlight. I place mine in the fridge.
If you have a larger amount of garlic, store it in one or more airtight containers with a few tablespoons of vegetable oil on top or completely covered in olive oil as I do. This will prevent air exposure, which causes garlic to dry out and become bitter-tasting.
One large head of garlic yields about 1/4 cup of roasted cloves.
Keep these in your fridge or freezer for up to two months
Wrapping In Aluminum Foil or Not?
When you put garlic in aluminum foil and roast it, you get great flavor, but if you don't wrap it in foil and just let it sit on a baking sheet, moisture stays inside and caramelizes. Either way works fine; both are delicious. It's more of a matter of preference as far as I'm concerned. What do you think? Take your pick! Your garlic will turn out equally tasty either way.
Use Them Up!
Roasted garlic adds a boost of flavor to so many dishes that it is always a great idea to have on hand. Serve whole or mashed alongside any roasted vegetables; use in a salad dressing instead of using raw garlic or garnish soup and stews with a few drops of the roasted garlic oil.
You can make mayonnaise with the oil or butter to spread on warm crusty bread; top mashed potatoes or make cauliflower mash for a boos of flavor, really …anything goes! It is not hard to find a recipe to use them.
Storing in the Fridge, Freezer, or Pantry?
A natural head of garlic can last up to 3 weeks in a sealed plastic bag in your fridge. To maintain freshness, keep it away from fruits and vegetables that give off ethylene gas—the gas emitted when produce ripens (also found in bananas). If you're looking for an alternative storage option, garlic can also be frozen! Simply place peeled cloves (separated if storing whole heads) on a sheet tray, cover with foil or plastic wrap, and freeze for 12 hours.
Is roasted garlic still beneficial?
Roasting, boiling heating, or pickling garlic can reduce its amount of allicin (garlic super power). It will never be as potent as raw garlic but is somehow beneficial.
Other recipes that you may like: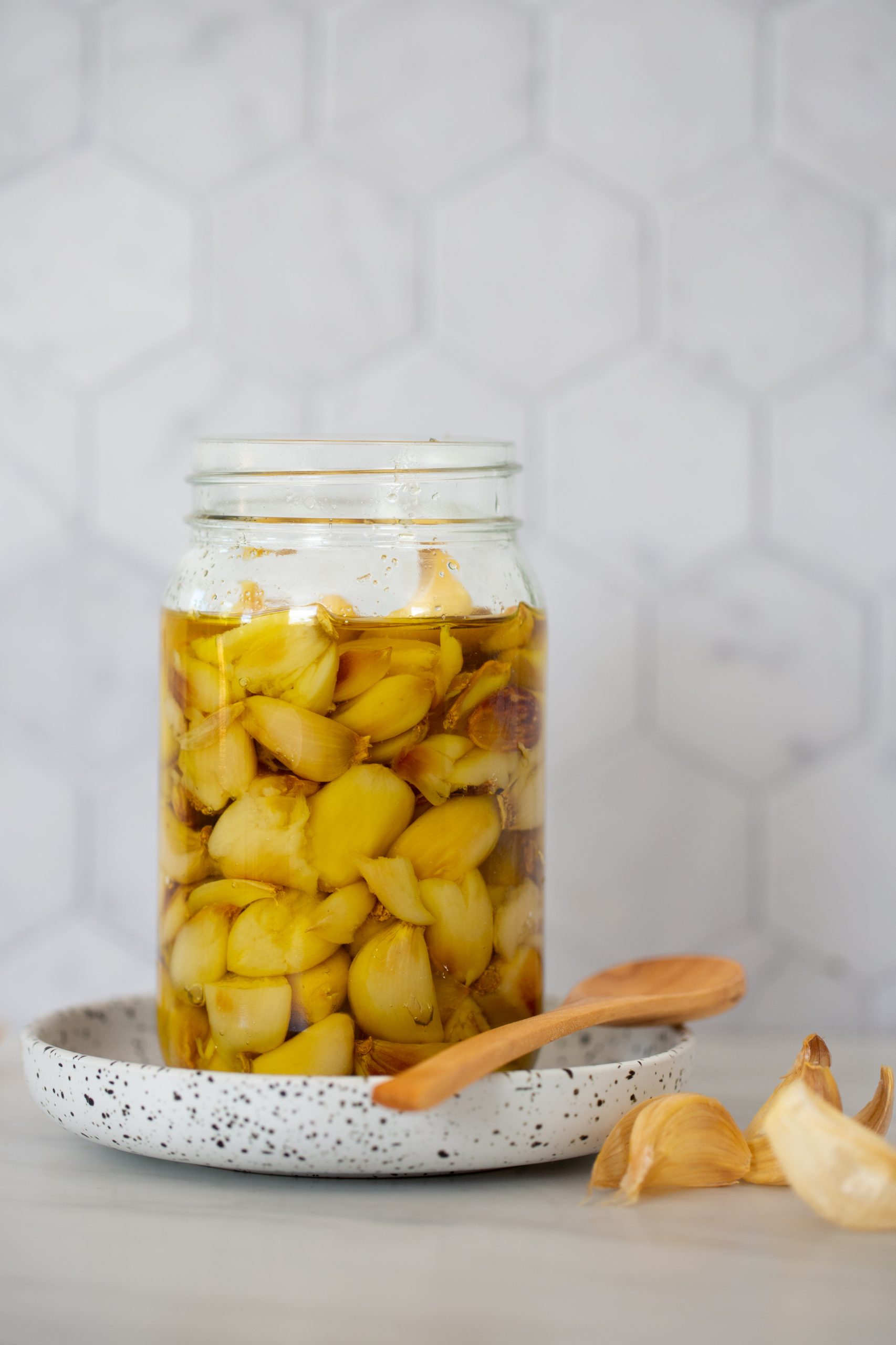 Roasted garlic
This is not an exact recipe. It has no quantities, use this as a guide, make it your own.
Ingredients
garlic

oil

salt

olive oil or vegetable oil
Instructions
Break the garlic head into garlic cloves and remove all the unecessary peel.

Place the garlic cloves on a baking sheet and drizzle with oil–roast for half an hour in a 400ºF oven. Rotate the baking sheet halfway through.

Peel and place all the roasted garlic cloves in a jar. Cover the garlic cloves with olive oil.
information
Nutritional information of this recipe is only an estimate, the accuracy for any recipe on this site is not guaranteed.

Latest posts by Alejandra Graf
(see all)