This beet juice is rich, delicious and one of my favorite recipes. It is the perfect juice to start the day with or as a mid-afternoon treat if you are a bit hungry or need a little lift me up. This juice has beets, carrots, and pears.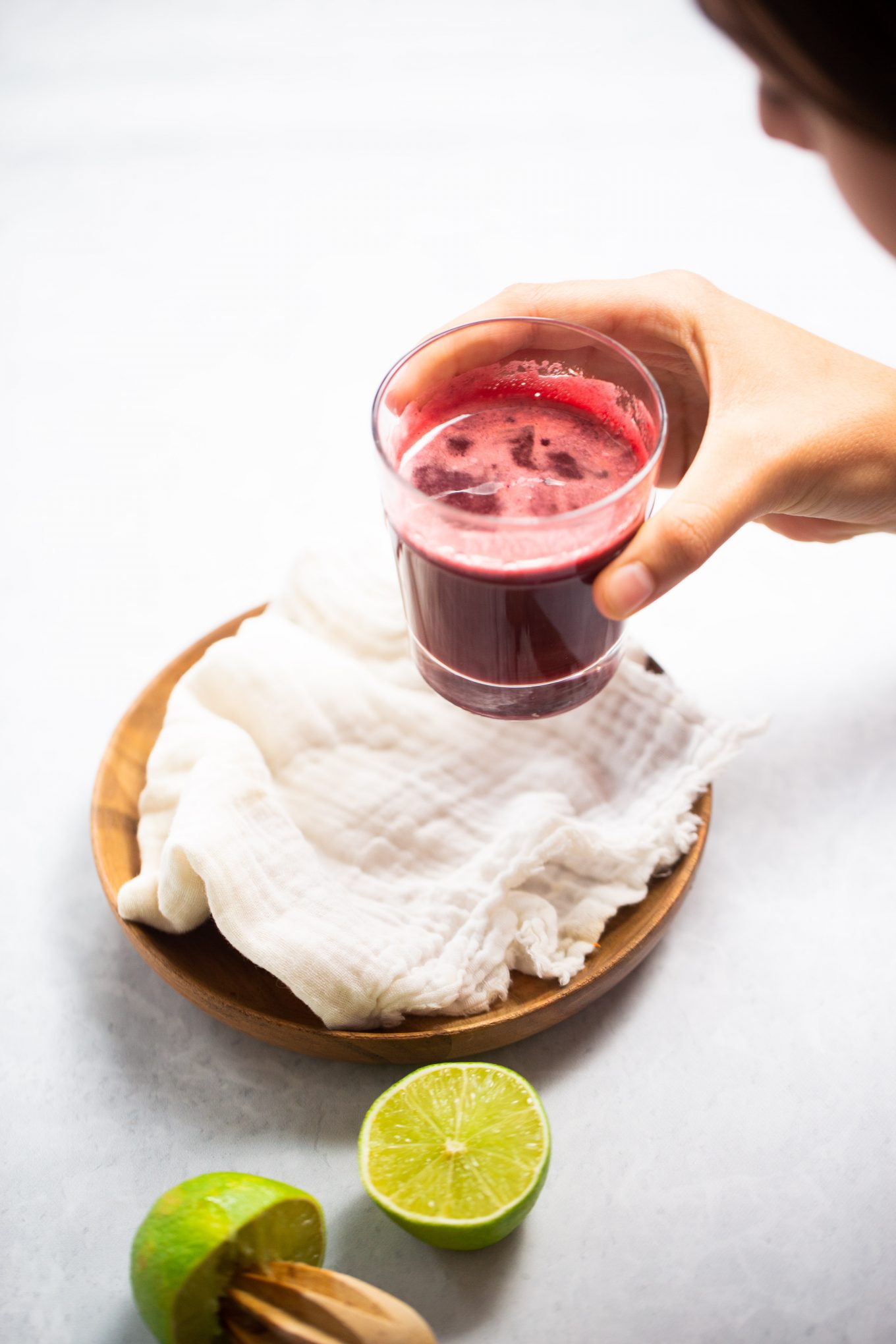 The benefits of each the vegetables in the juice are impressive, and now, imagine if you put them all together… it becomes the perfect combo.
How does it taste? This beet juice has a mild flavor, it has sweet notes, and at the end of each drink, the lemon flavor kicks and makes you want to drink more and more.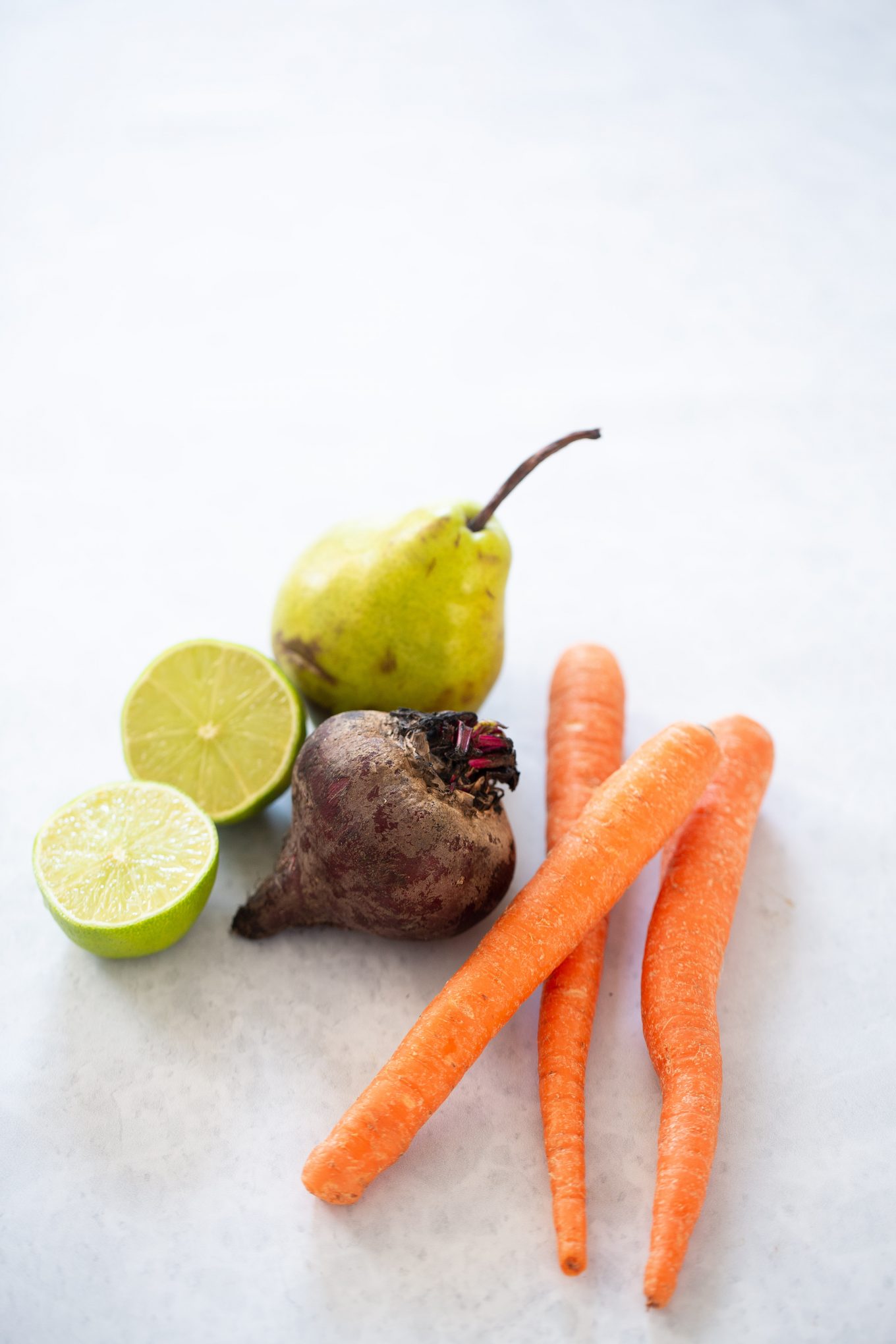 WHAT ARE THE INGREDIENTS OF this beet JUICE?
BEETS. Choose beets that are firm to the touch and look fresh. If you buy beets with the greens on, save them. You can sautee them with a little bit of onion and then top a soup, make tacos, or put them on top of brown rice or quinoa.
CARROTS. Wash them very well, if for some reason you cannot wash them or you see that the skin is dark or looks old, peel them.
PEAR. Use ripe pears; I like Bartlett or D'Anjou pears. You can substitute them with apples. If you want your juice on the less sweet side, you can add celery instead of the pear or not add any fruits at all.
LEMON. Use lime or lemon, you need just the juice. This is totally optional, but it gives it a perfect acidic touch.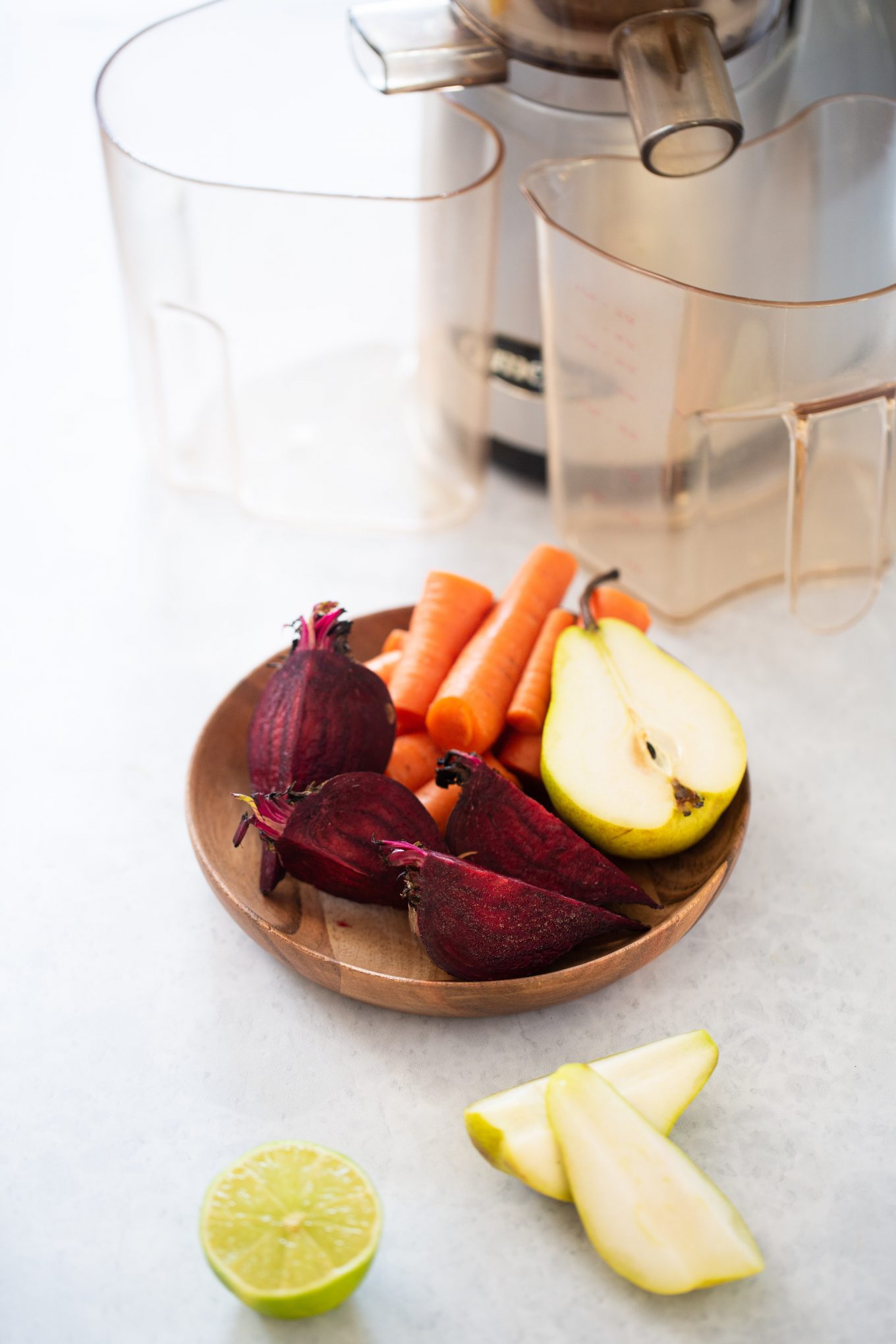 HOW TO MAKE THE BEsT beet JUICE?
Blender. This beet juice can be made in the blender; you would only have to add a little water to make the blender run when everything is completely liquefied strain it with a fine mesh or with an old kitchen cloth placed over a bowl. Look at the recipe for almond milk; you will find a picture showing you this.
Juicer (affiliate link), juice maker. This is the easiest way to make this beet juice. It is fast and you can extract all the juice from the pulp without a problem. There are two types of juicers: centrifuge and cold extraction. I prefer the cold extraction ones because they conserve nutrients better, but use the one you have, it will turn out perfect.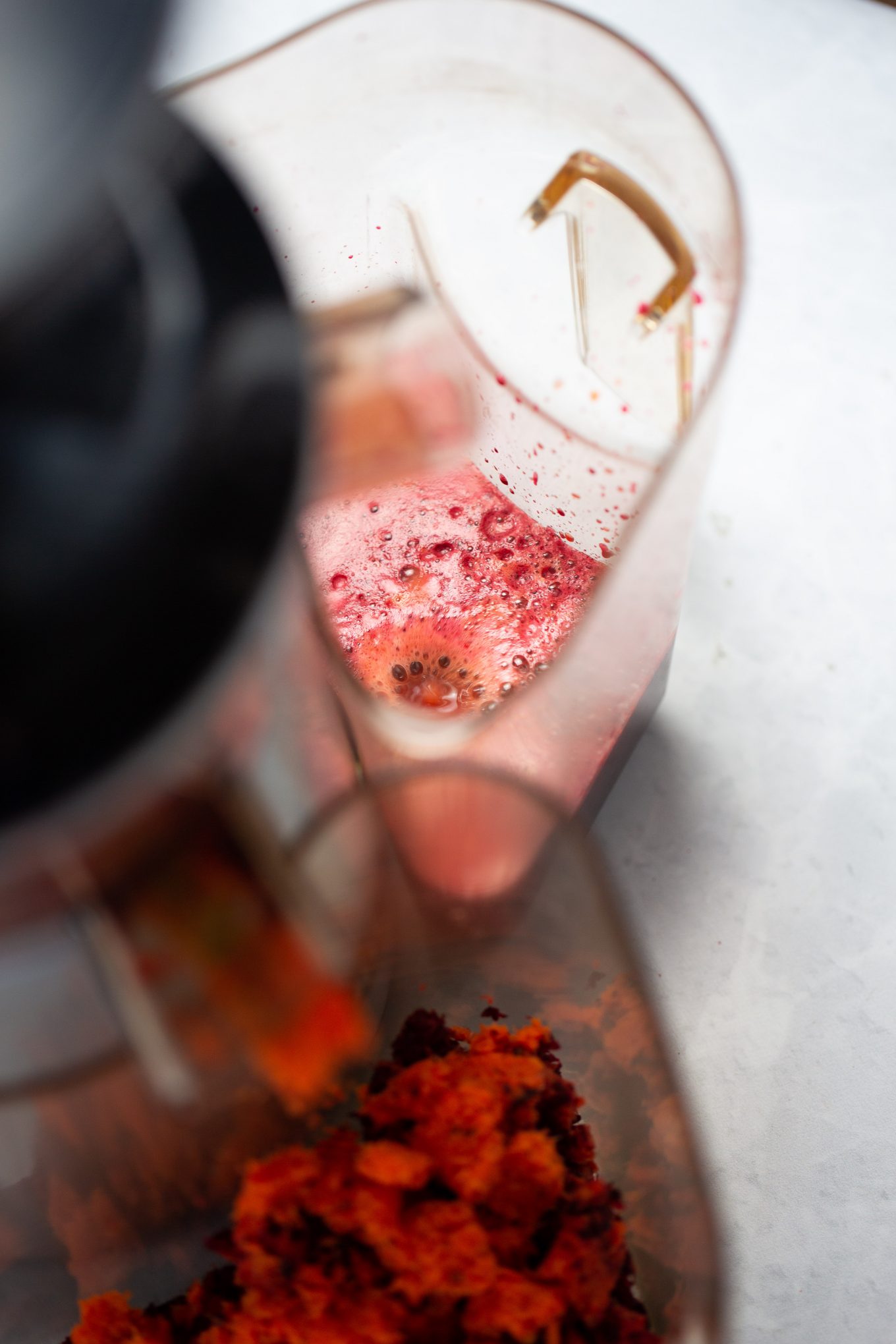 WHAT are the benefits os beet juice?
Beets are full of benefits for us. Beets are packed with antioxidants and vitamins. And like all fruits and vegetables, and all foods that come from the earth, they help us to be strong and beautiful.
They are full of superpowers. Now, some doctors say that they help us to strengthen our immune system; there are theories that say that they are great for muscle recovery after exercise. Other studies tell us that they help us stay hydrated. For whatever health-related reason, I take my beet juice most of all because of its flavor. I love it.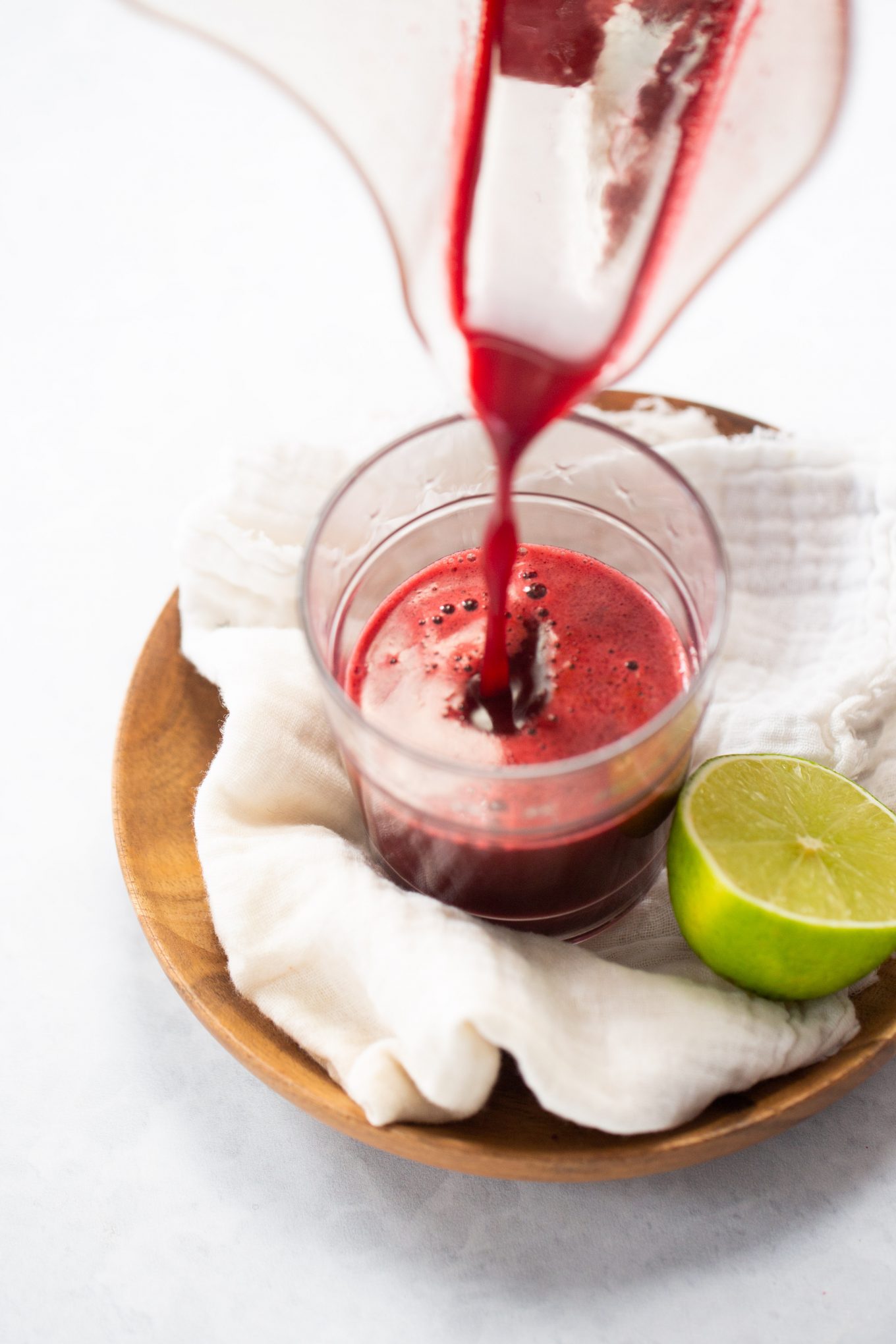 ✎ TIP

How to serve it?

☀️In the morning. Serve it for breakfast to start the day right. Freshly made is perfect with your over night oats, chia pudding or kimchi avocado toast.

🌥In the afternoon. If you get hungry, in the afternoon it is perfect to have as a cold drink with some detox truffles, some chia seed crackers  or a homemade vegan cream cheese.

🌙At night. In the evening you can make it a very easy non-alcoholic cocktail, mocktail. Serve in a large glass with lots of ice and garnish with a lemon wedge. Now, if you want something different and a bit fancier, put lemon and salt on the rim of the glass and add a little sparkling water.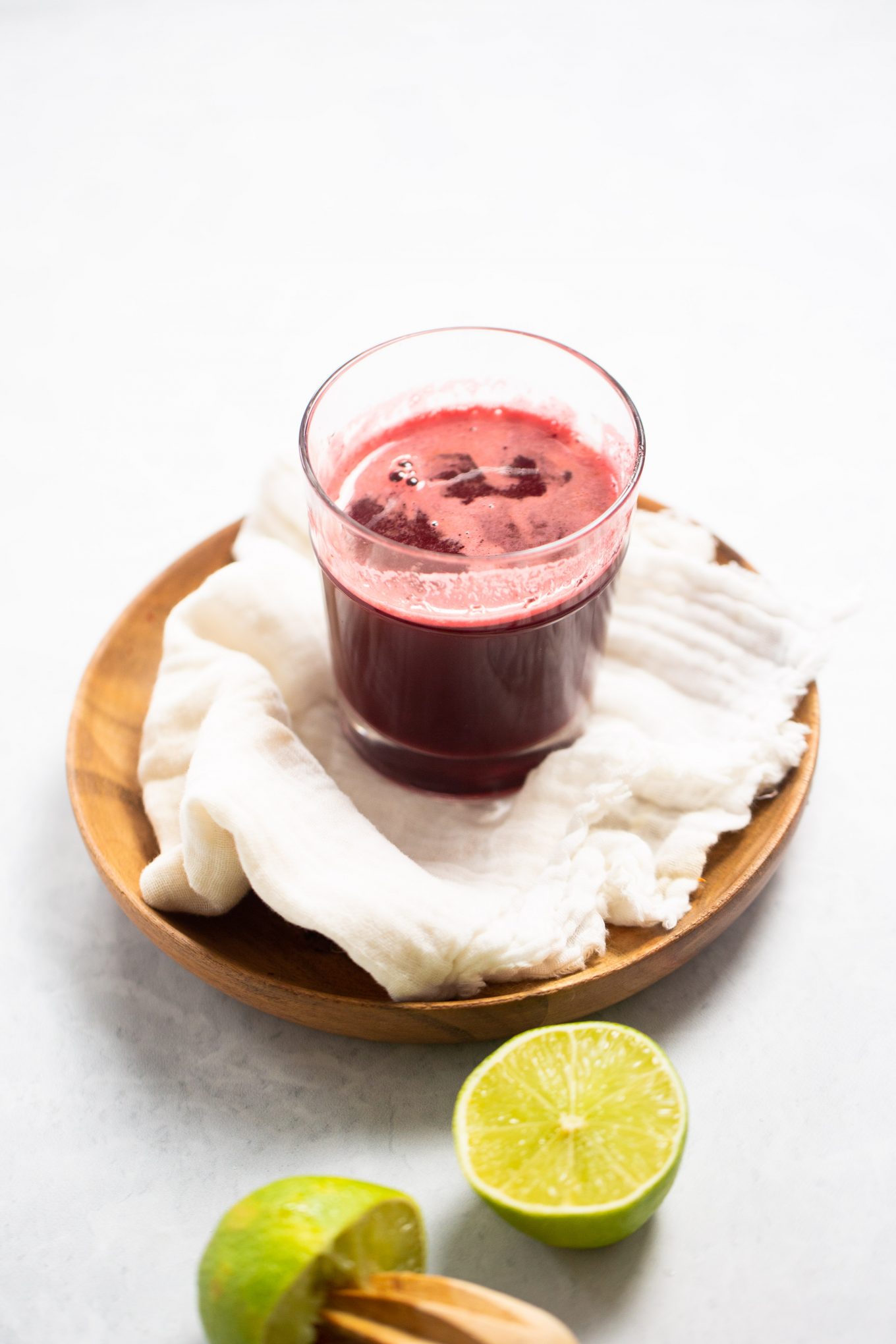 Here is the recipe for one of my favorite juices and I hope you like it very, very much. When you make it, don't forget to take a picture of it and share it on FB, Instagram. Also, would love to learn how or when you had it. In the morning, afternoon, or at night.
If you want to make the recipe later, save it on Pinterest. I hope you like it so much that you share the blog with your friends and family and give this recipe a 5-star rating.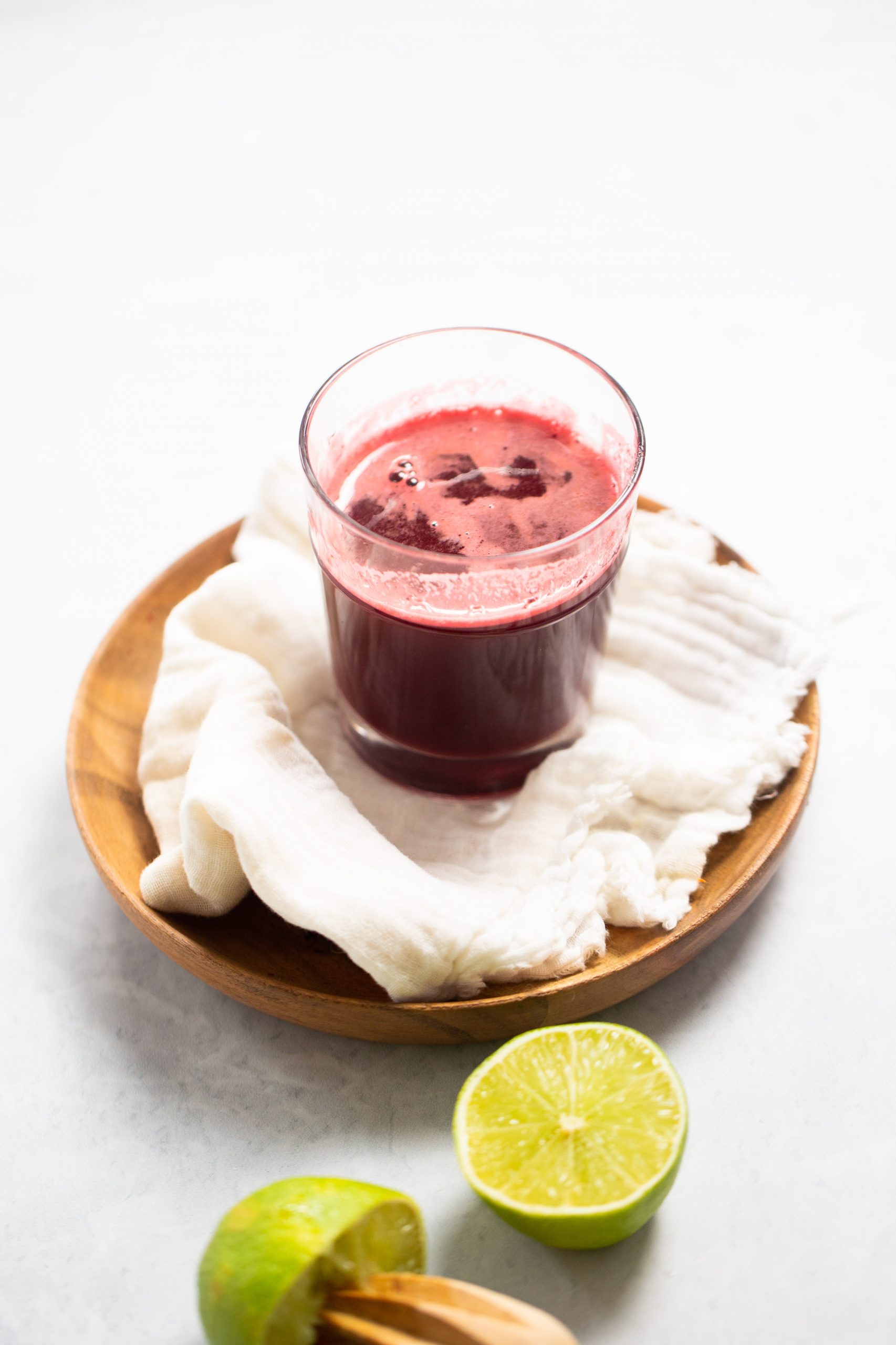 Carrot, beet and pear juice
It is the perfect juice to start the day or as a mid-afternoon treat. This juice has beets, carrots, and pears.
Ingredients
3

carrots

1

small beet

1

small pear

Juice of a lime
Instructions
Wash all the ingredients.

Cut in big chunks and place them in your juicer.

Follow your juicer instructions.

At the end squeeze the juice of the lime in each glass.
Nutrition
Calories:
106
kcal
Carbohydrates:
26
g
Protein:
2
g
Fat:
1
g
Saturated Fat:
1
g
Sodium:
96
mg
Potassium:
529
mg
Fiber:
6
g
Sugar:
16
g
Vitamin A:
15286
IU
Vitamin C:
11
mg
Calcium:
45
mg
Iron:
1
mg
information
Nutritional information of this recipe is only an estimate, the accuracy for any recipe on this site is not guaranteed.
Nutritional information of this recipe is only an estimate, the accuracy for any recipe on this site is not guaranteed.

Latest posts by Alejandra Graf
(see all)