There is something very comforting about the smell of a cake that has just been baked and spread throughout the house, don't you agree? It's like a cozy, delightful embrace that encourages you to take a break, pour a cup of coffee, and enjoy a delicious homemade treat.
It is the perfect combination of soft and moist bread with jammy blueberries and the top, a slightly crunchy lemony topping (streusel).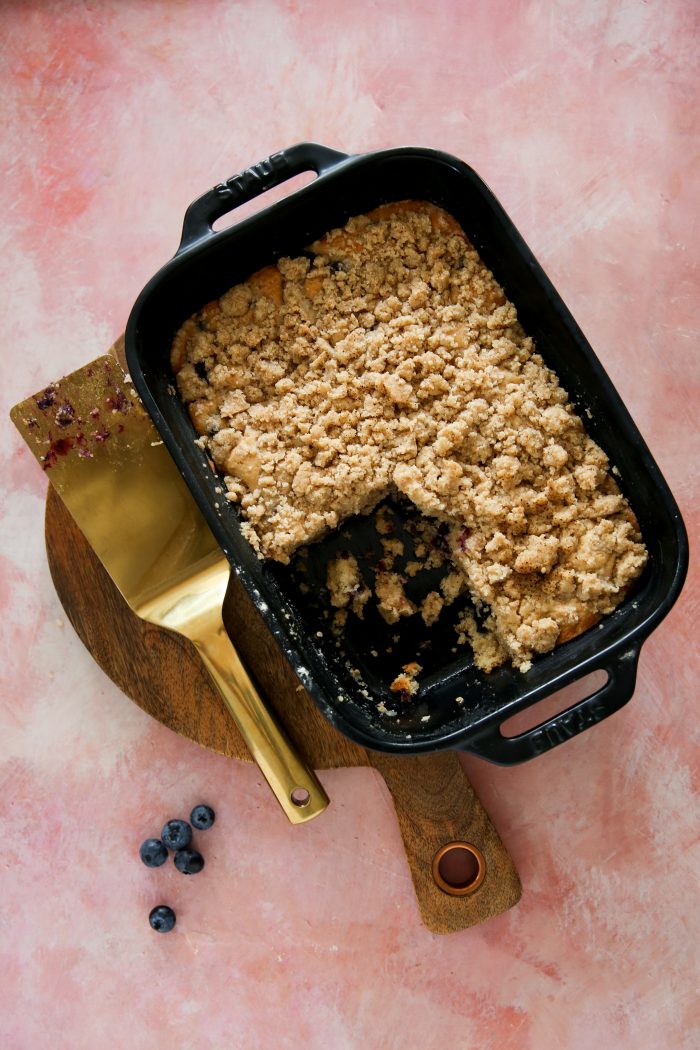 This coffee cake is…
Soft, fluffy, and moist
Very easy to make
Full of blueberries, juicy and perfect blueberries.
It is perfect for making as a family activity; kids love to make it because it is very straightforward and fun to add to the topping.
The topping (streusel) is slightly crunchy, with hints of lemon, and makes the coffee cake taste delicious and perfect.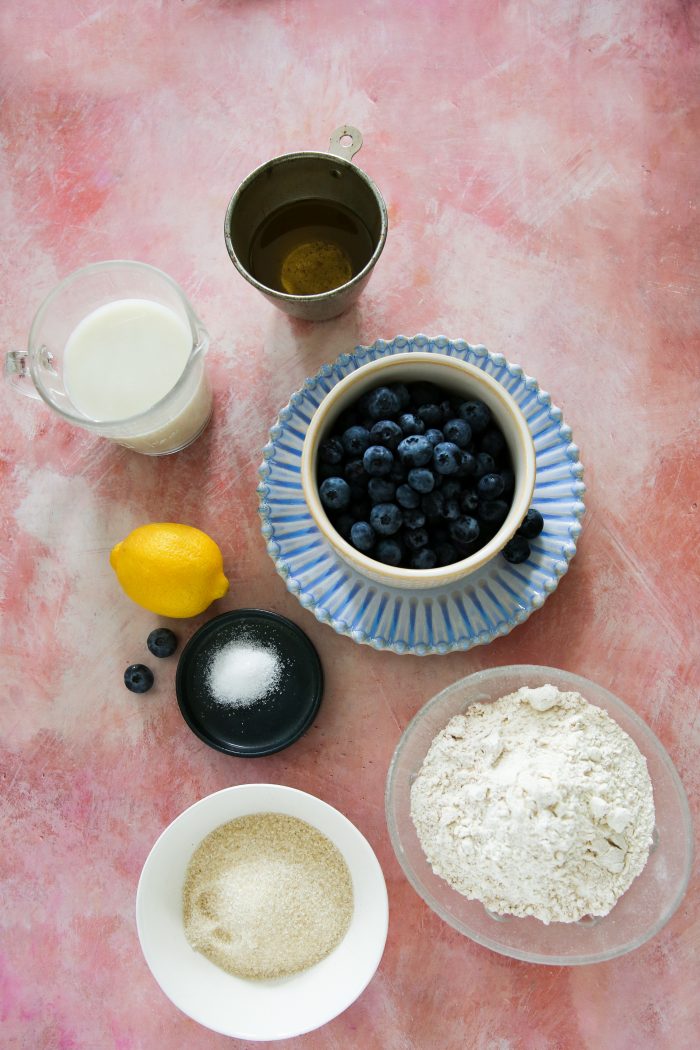 What is a coffee cake?
Here in the US, a coffee cake is a baked good that refers to a "cake" for breakfast. I know it's a bit confusing, but there is no coffee on the ingredient list for the coffee cake. It does not mean that the mixture has coffee in it.
But it is lovely with a cup of coffee, a glass of oat milk, a smoothie, an horchata, or a glass of hazelnut chocolate milk.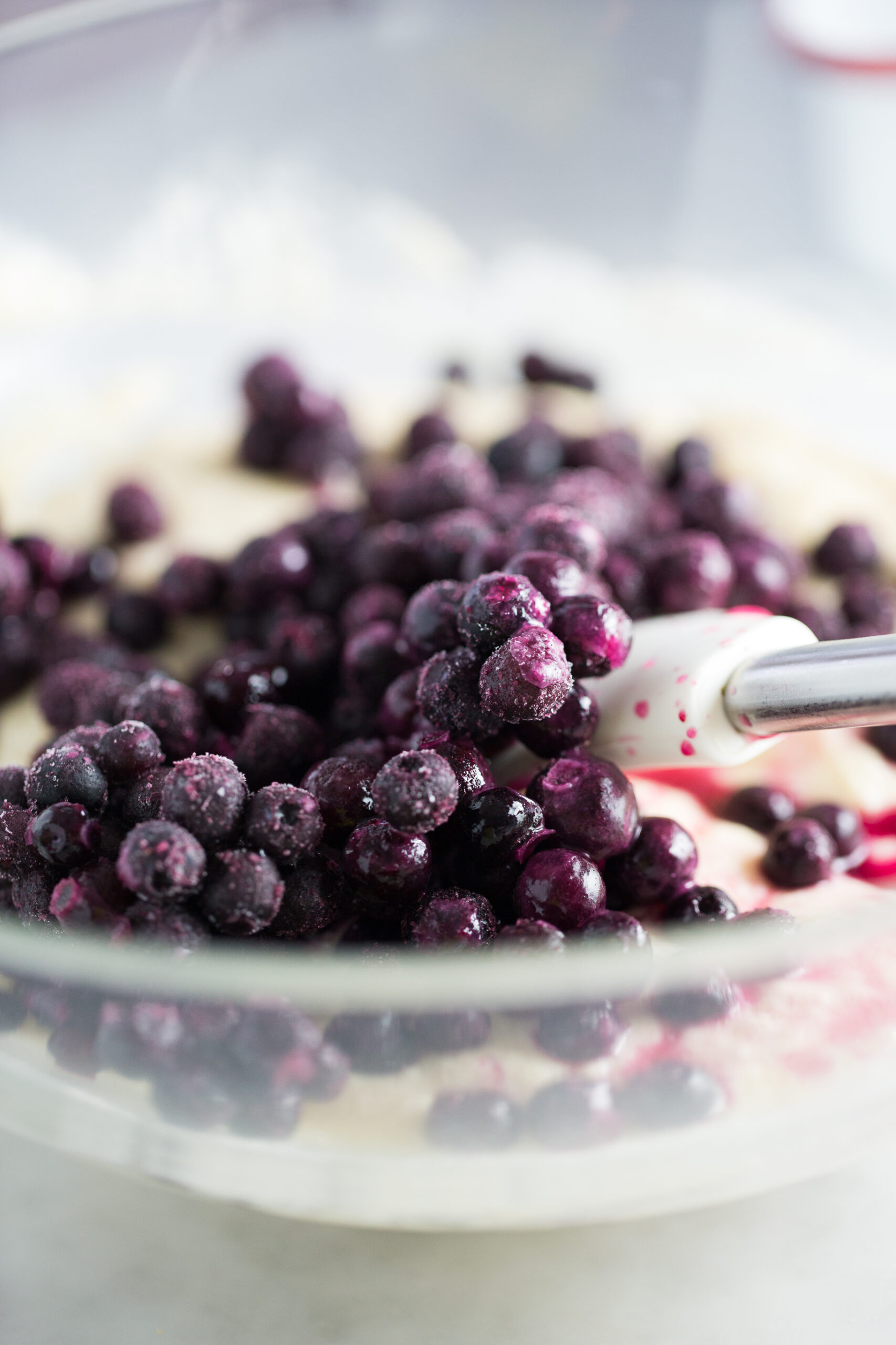 INGREDIENTS for the Streusel (crumb topping)
Flour, all-purpose flour (affiliate link). If you using whole wheat flour, choose a fine ground one.
Brown sugar. It is better to use brown sugar and preferably vegan, but the one you have at home is perfectly fine.
Zest of a lemon: When you use the lemon zest for this or any recipe, it is better to zest the lemon first and then cut it to use the juice.
Oil, vegetable oil. It will always be better to use avocado oil or another that is not a mix of different oils.
vegan blueberry coffee cake
Almond milk or soy milk
Lemon juice.
Flour, all-purpose flour (affiliate link).
Baking powder, if you find baking powder without aluminum better.
Salt, Sugar, Oil
Frozen or fresh blueberries. The blueberry coffee cake is very forgiving. This blueberry coffee cake is perfect when you buy over-ripen mushed or sour blueberries.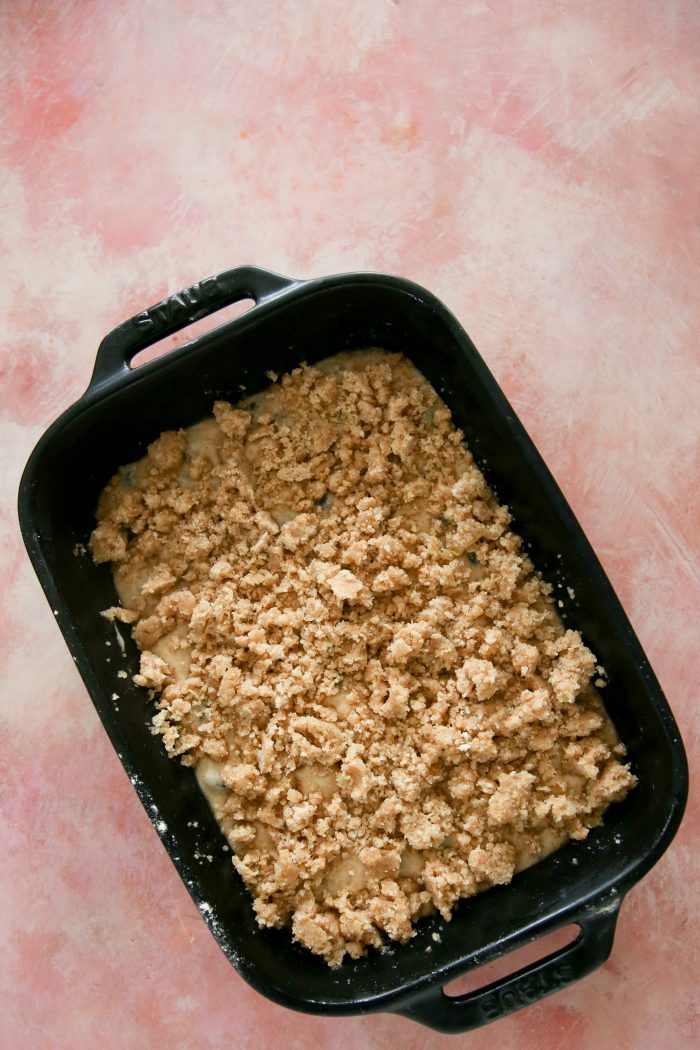 How to make vegan coffee cake
To start, pour some lemon juice into the almond milk. Next, take a medium-large bowl and mix all the dry ingredients. Then, combine the wet and dry ingredients together and carefully stir in the blueberries.
Spread the batter into a prepared baking pan and set aside. The last step is to prepare the topping or streusel. Mix the flour, oil, lemon zest, and sugar in a medium bowl with a fork or your hands. The idea is to form some "crumbs."
Put them on top, sprinkle evenly over the cake, and put them in the oven. The vegan coffee cake will be ready when you put a cake tester, knife, or fork in it, and it comes out clean, and the topping begins to brown.
Why Blueberry Coffee Cake?
You might be wondering, "Why blueberry coffee cake? Why not stick to the classic version?" Well, let me tell you, there's something truly magical about the combination of blueberries and coffee cake that you just have to experience for yourself.
Firstly, blueberries add a burst of freshness to every bite. Their natural sweetness and slight tartness cut through the cake's richness, creating a balance of simply divine flavors. Plus, who can resist the beautiful pop of color they add to each slice?
Secondly, blueberries are a powerhouse of nutrition. They're packed with antioxidants, vitamin C, and fiber, making this cake a slightly healthier indulgence. Yes, you're still eating cake, but at least you're getting some nutrients while you're at it!
Lastly, there's the texture. The juicy blueberries contrast beautifully with the crumbly buttery coffee cake, making every bite a delightful experience. And let's not forget the stunning marbled effect you get when the blueberries burst while baking. It's a feast for the eyes as well as the palate!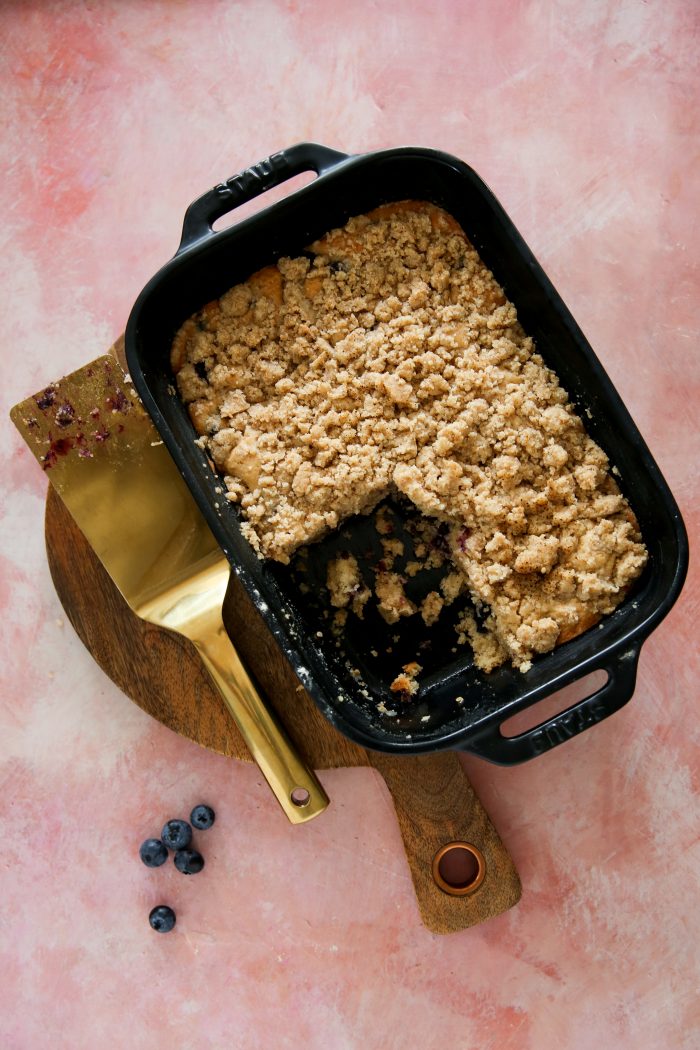 Tips for making the best blueberry coffee cake
Fresh or Frozen Blueberries: You can use either fresh or frozen blueberries for this cake. If using frozen, do not thaw them before adding to the batter to prevent them from bleeding into the cake.
Even Distribution: To ensure the blueberries are evenly distributed throughout the cake, toss them in a little flour before adding them to the batter. This will help prevent them from sinking to the bottom.
Don't Overmix: Be careful not to overmix the batter once you've added the blueberries. Overmixing can result in a dense cake.
Test for Doneness: Use a toothpick to test for doneness. Insert it into the center of the cake; if it comes out clean or with a few crumbs clinging to it, the cake is done.
Cooling: Allow the cake to cool in the pan for about 10 minutes before transferring it to a wire rack to cool completely. This will make it easier to remove the cake from the pan without it falling apart.
serving suggestions
Serve Warm: Blueberry coffee cake is delicious when served warm. You can heat individual slices in the microwave for about 10-15 seconds.
Add a Dollop of Cream: Serve each slice with a dollop of whipped cream or a scoop of vanilla ice cream for an extra treat.
Coffee or Tea: As the name suggests, blueberry coffee cake pairs wonderfully with a cup of coffee. It's also great with tea.
Breakfast or Brunch: This cake makes a great addition to a breakfast or brunch spread.
Dessert: Blueberry coffee cake can also be served as a dessert. Consider adding a dusting of powdered sugar (affiliate link) on top for a sweet finish.
Other recipes that you may like:
Made and loved this recipe? Give it a ⭐️⭐️⭐️⭐️⭐️ rating below. Let me know if you have questions about this recipe in the comment section or DM me on Instagram. Follow on Facebook and Pinterest to stay in touch, and don't forget to subscribe to my newsletter.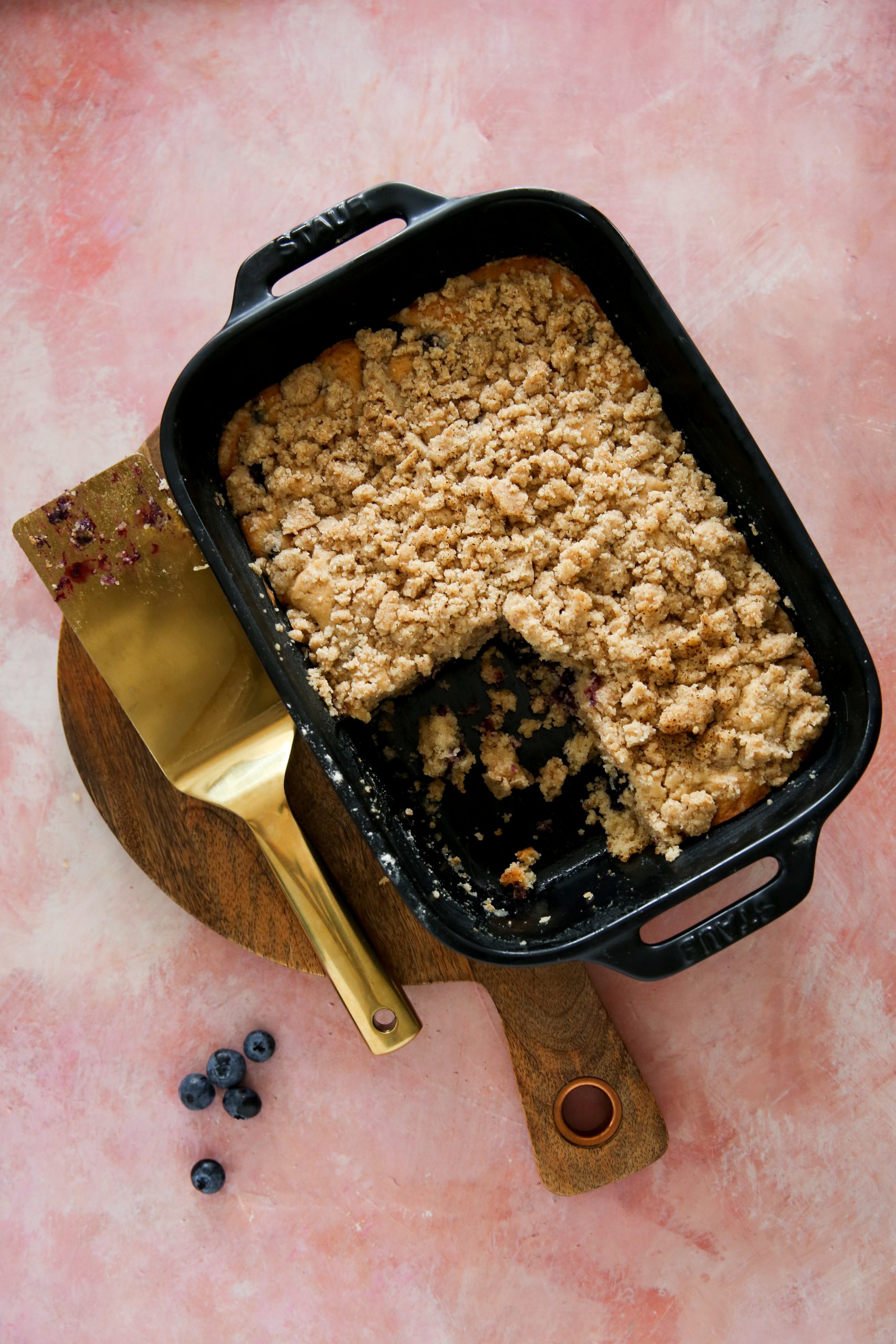 Vegan Blueberry Coffee Cake
This vegan blueberry coffee cake smells delicious while baking, you'll see. But the best comes when you taste it, yum, this treat is perfect for the afternoon or breakfast.
Ingredients
Topping- Streusel
1

cup

flour

1/3

cup

sugar

lemon zest

1/3

cup

oil
Cake
3/4

cup

of almond or soy milk

2

teaspoons

lemon juice

1¼

cup

flour

2

teaspoons

baking powder

1/2

teaspoon

salt

1/3

cup

sugar

1/2

cup

of oil

1

cup

frozen or fresh blueberries
Instructions
Preheat the oven to 350ºF.

Measure out the milk and pour the two tablespoons of lemon juice into it. Set aside.

In a bowl, mix the flour with the baking powder and salt. Add the sugar, oil, and milk with the lemon juice.

Add the blueberries and mix carefully.

Spread the batter into a prepared baking pan or baking dish.

Make the streusel by mixingthe sugar, the lemon zest, and the oil. Sprinkle evenly over the batter.

Bake for 20-25 minutes until a cake tester comes out clean and the top is starting to brown. Let it cool before trying it.
Notes
Make it with strawberries or cherries if you can't find frozen or natural blueberries.
This recipe is adapted from the book "Vegan Brunch" by Isa Moskowitz.
Nutrition
Serving:
1
serving
Calories:
414
kcal
Carbohydrates:
47
g
Protein:
4
g
Fat:
24
g
Saturated Fat:
12
g
Polyunsaturated Fat:
3
g
Monounsaturated Fat:
8
g
Trans Fat:
1
g
Sodium:
158
mg
Potassium:
186
mg
Fiber:
2
g
Sugar:
19
g
Vitamin A:
97
IU
Vitamin C:
4
mg
Calcium:
81
mg
Iron:
2
mg
information
Nutritional information of this recipe is only an estimate, the accuracy for any recipe on this site is not guaranteed.
This post appeared in Ale Cooks for the first time in November 2016.

Latest posts by Alejandra Graf
(see all)