When you need a refreshing, slightly spicy dip for your favorite tortilla chips (affiliate link), try this Creamy Jalapeno Salsa. You can serve it as a side or add it to tacos and other tasty meals. It is like magic in a jar, everything that you put it on turns into something extremely delicious.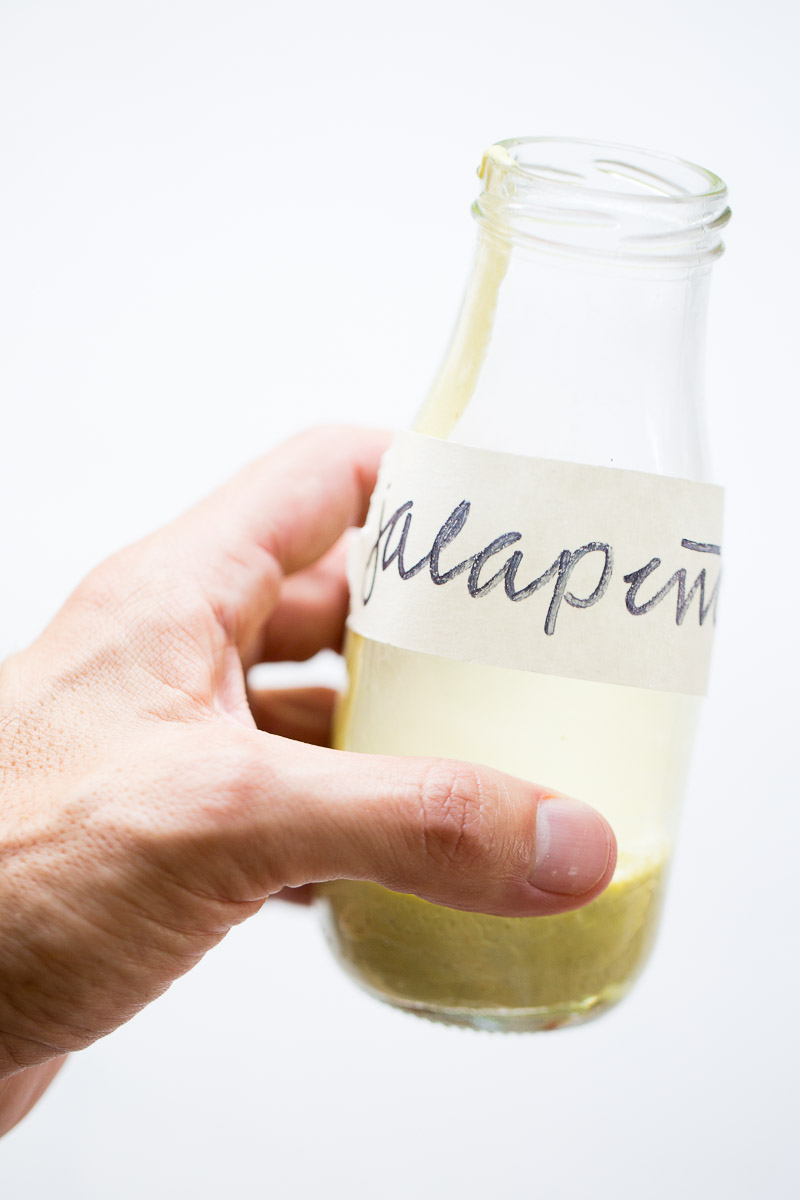 Creamy Jalapeno Salsa
Are you looking for a different type of salsa to try? If you're tired of eating the same kind all the time, you need to prepare this easy and delicious Creamy Jalapeno Salsa. It contains three simple ingredients, but it's loaded with flavor and goes great with just about anything you could possibly want to eat. Because you're using fresh ingredients, this salsa has such an undeniably good taste to it that it is better than any jarred salsa you can find.
Creamy Jalapeno Salsa Ingredients
You won't need many ingredients to prepare the Creamy Jalapeno Salsa from scratch. These are the must-have ingredients:
Jalapeno Peppers. Make sure you have at least four or five jalapeno peppers to use. Choose jalapeños that are firm and look fresh. If you want your salsa to be less spicy remove the seeds and veins from the jalapeños after you roast them. And if you want it to be more spicy ad a combination of serrano peppers and jalapeños. You could even throw a habanero pepper in there.
Garlic Cloves. You'll need to have garlic cloves with the skin on them to roast them properly and not burn them.
Avocado Oil. The avocado oil blends with these ingredients, but you can use a different oil with a neutral taste to it if you'd like.
Salt. Just a bit of salt is all you'll need to bring out all the flavors of the garlic and roasted jalapeños. You can use Himalayan pink salt, kosher salt or sea salt.
It's truly that simple. You don't need a bunch of ingredients to make a fresh and authentic Mexican salsa from home. These ingredients are also incredibly easy to find at the grocery store.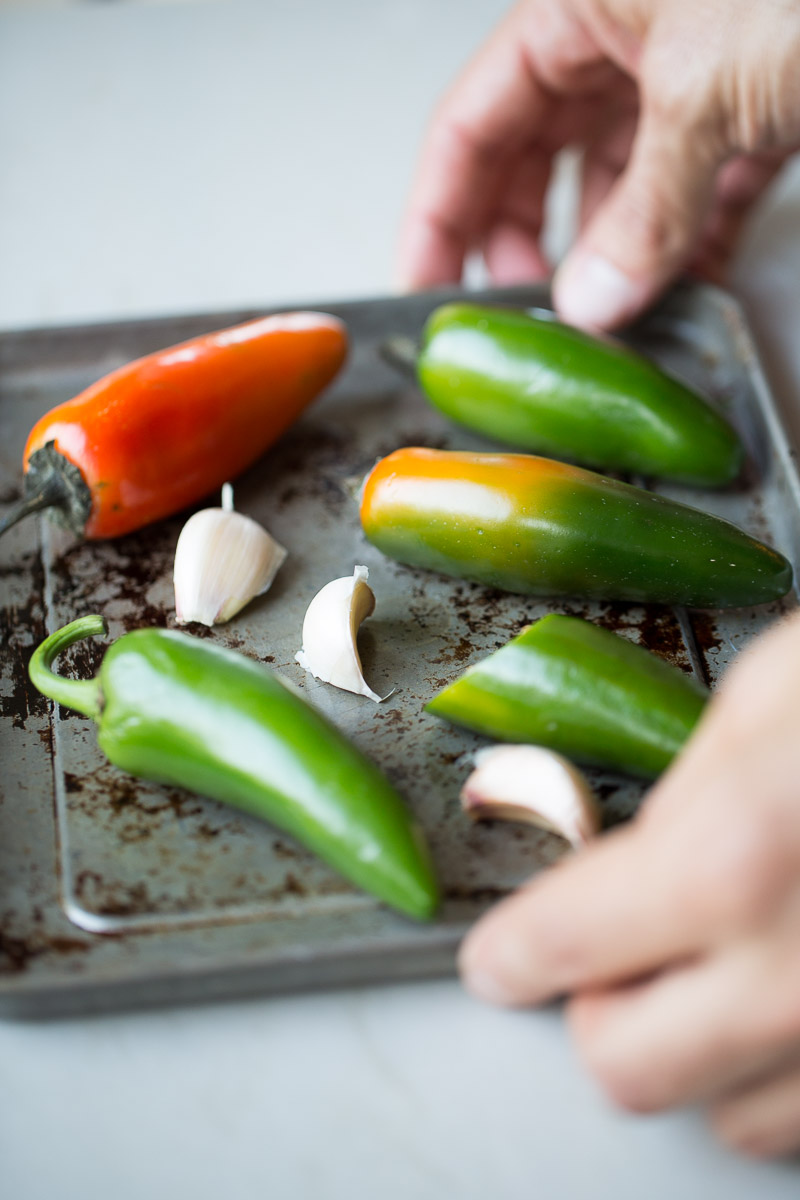 Does It Take Long to Prepare the Creamy Jalapeno Salsa?
It doesn't take very long to make the Creamy Jalapeno Salsa. You'll need 5 minutes to prep your ingredients and an additional 10 minutes to cook your ingredients. Overall, it takes less than 30 minutes to prepare this salsa from scratch using simple, fresh ingredients.
How Many Servings Will the Recipe Make?
The recipe makes two cups of Creamy Jalapeno Salsa. Even if you don't need that much salsa for whatever you're preparing, you can always store any leftover salsa and save it for another day. It tastes just as good refrigerated as it does when it's made fresh. At home, we have a squeezable bottle in the fridge at all times.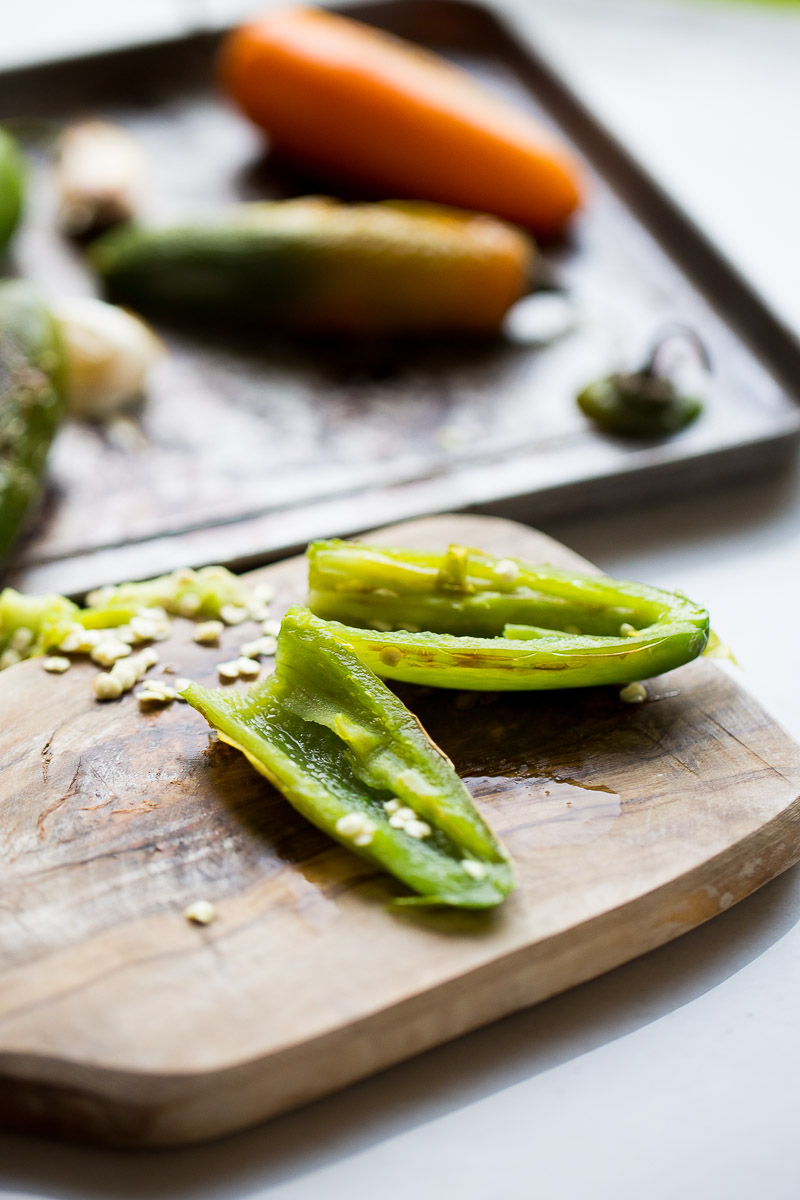 How Do I Store the Creamy Jalapeño Salsa?
Store your Creamy Jalapeno Salsa in a glass jar with a lid, such as a mason jar or plastic reusable container that you might already have at home. Make sure to keep it refrigerated to keep it fresh. Use your salsa within two to three weeks of putting it in the refrigerator to enjoy it when it tastes its best.
What Do I Eat with Homemade Salsa?
You can add this homemade Creamy Jalapeno Salsa to some of your favorite foods. It adds both flavor and a bit of a kick for those who enjoy spicy things. You can put it on homemade tortilla chips (affiliate link), add it to some of your favorite roasted vegetables, anything you grill, hamburgers, sandwiches, or even use it as a dressing when preparing a salad. If you're making vegan tacos, you might even want to use this as the sauce that goes on top.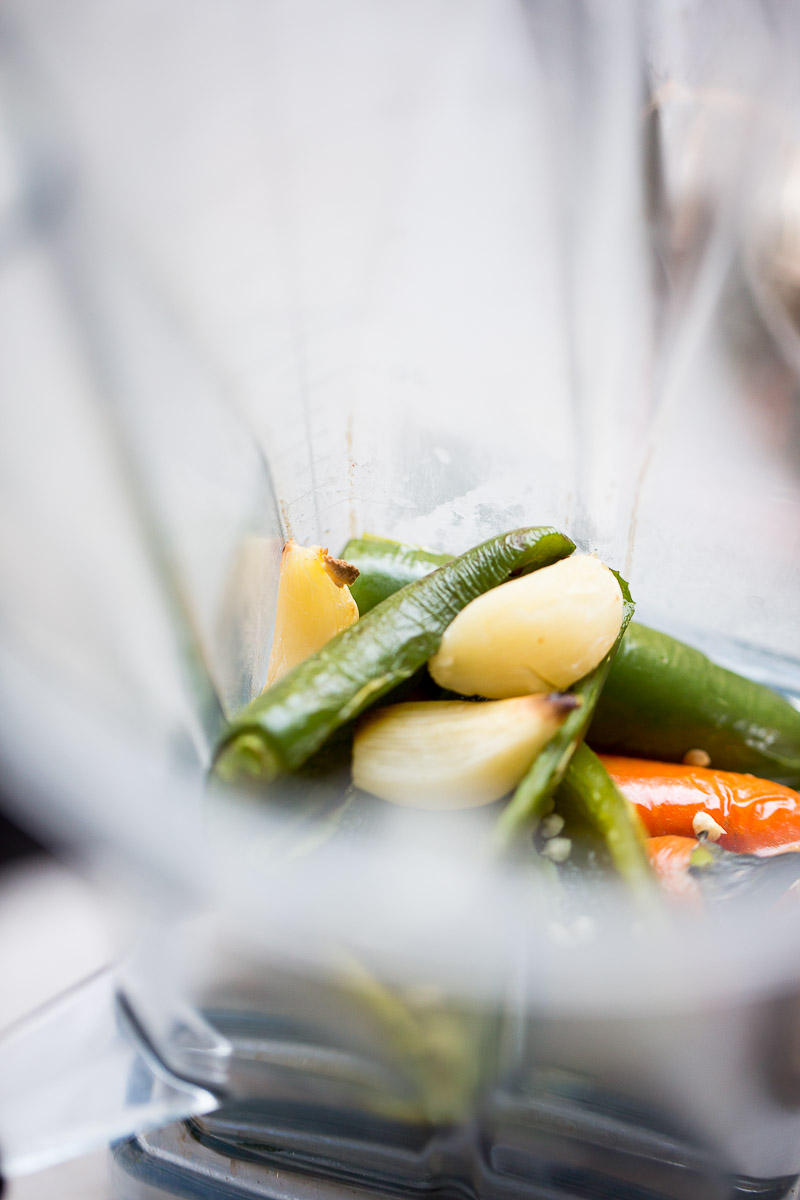 This creamy jalapeño salsa is made with garlic, jalapeño, and oil. I use avocado oil because I believe we should always try to make our food as nutritious as possible, and avocado oil is full of omegas that, as you know they are amazing for our bodies. You can even use avocado oil as a moisturizer to have beautifully hydrated skin.
Other receipes taht you may like: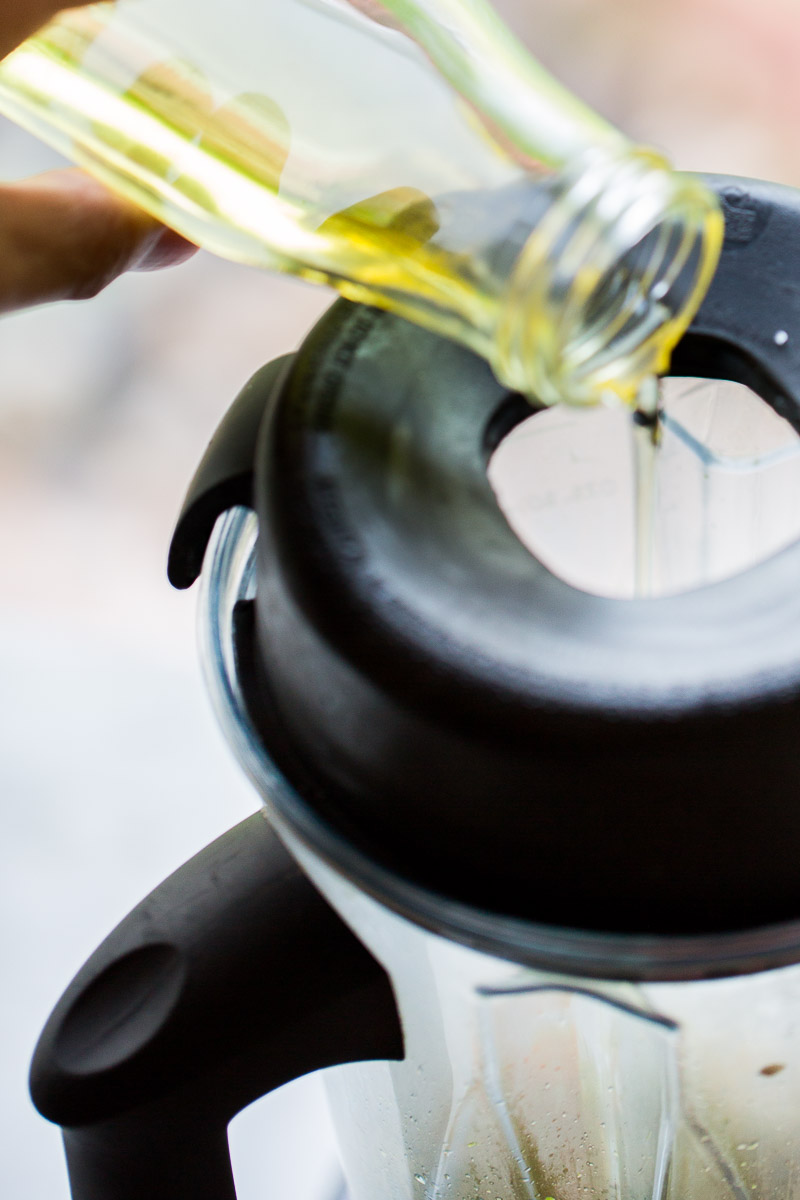 So finally here is the "secret recipe" for this creamy jalapeño salsa I hope you like it as much as we do. Please let me know how you like it so I can tell Sergio all about it. Post a picture of it on Instagram, FB or Pinterest. Also if you like it it would be awesome if you rated it with five stars!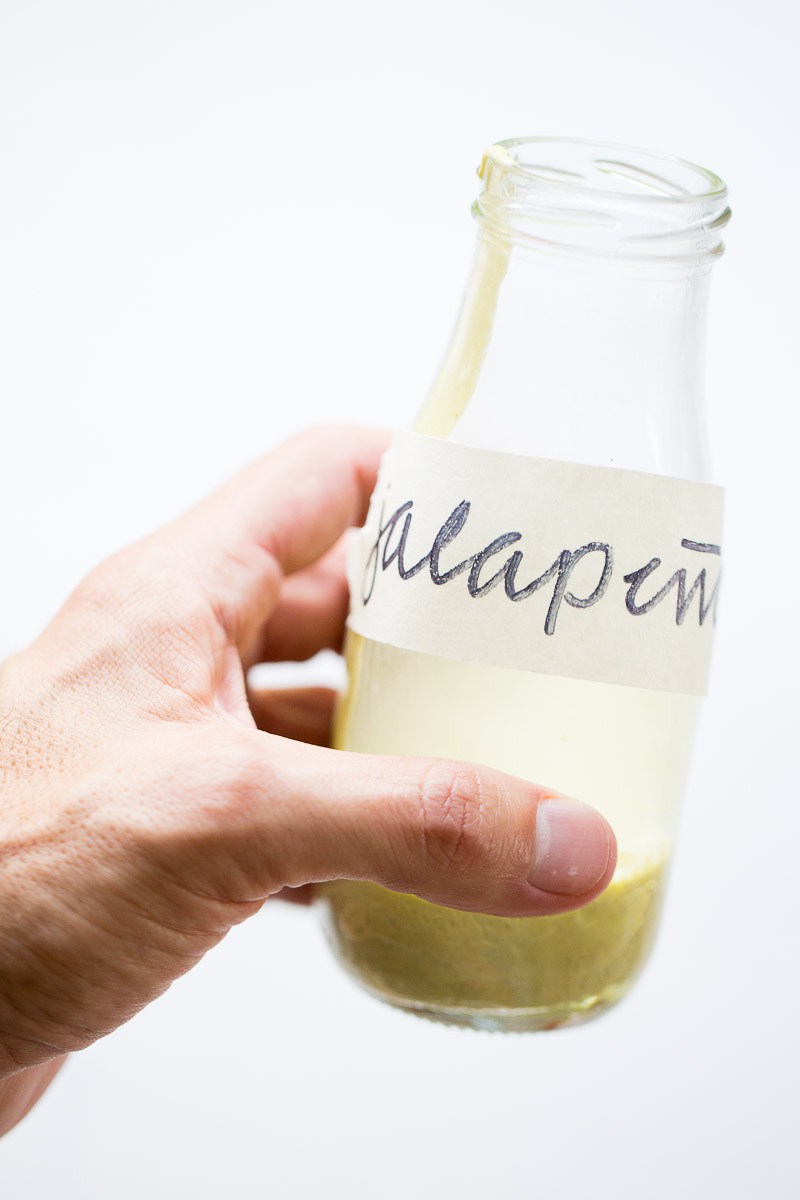 Creamy Jalapeño Salsa
Three nutritious ingredients to make this creamy jalapeño salsa in a flash and make everything you put it on-top delicious and spicy.
Ingredients
4-5

jalapeño peppers

3-4

cloves

of garlic with skin

1/4

cup

of neutral tasting oil

I use avocado

1/4

teaspoon

of salt
Instructions
In a frying pan or toaster oven roast the peppers and garlic(make sure you don't remove the skin).

When they are well-roasted remove from heat and let them cool.

Peel the garlic and put them in the blender. Cut the peppers lengthwise and remove the seeds and the veins and place them in the blender with the garlic.

Add the salt and start the blender.

While the blender is running add the oil little by little.

Taste and adjust seasoning if needed.
Nutrition
Calories:
262
kcal
Carbohydrates:
3
g
Protein:
1
g
Fat:
28
g
Saturated Fat:
2
g
Trans Fat:
1
g
Sodium:
292
mg
Potassium:
88
mg
Fiber:
1
g
Sugar:
1
g
Vitamin A:
302
IU
Vitamin C:
35
mg
Calcium:
12
mg
Iron:
1
mg
information
Nutritional information of this recipe is only an estimate, the accuracy for any recipe on this site is not guaranteed.

Latest posts by Alejandra Graf
(see all)