A true culinary adventure. The rich aromas, intense flavors, and contrasting textures of Thai are all present in a serving of this Thai green curry.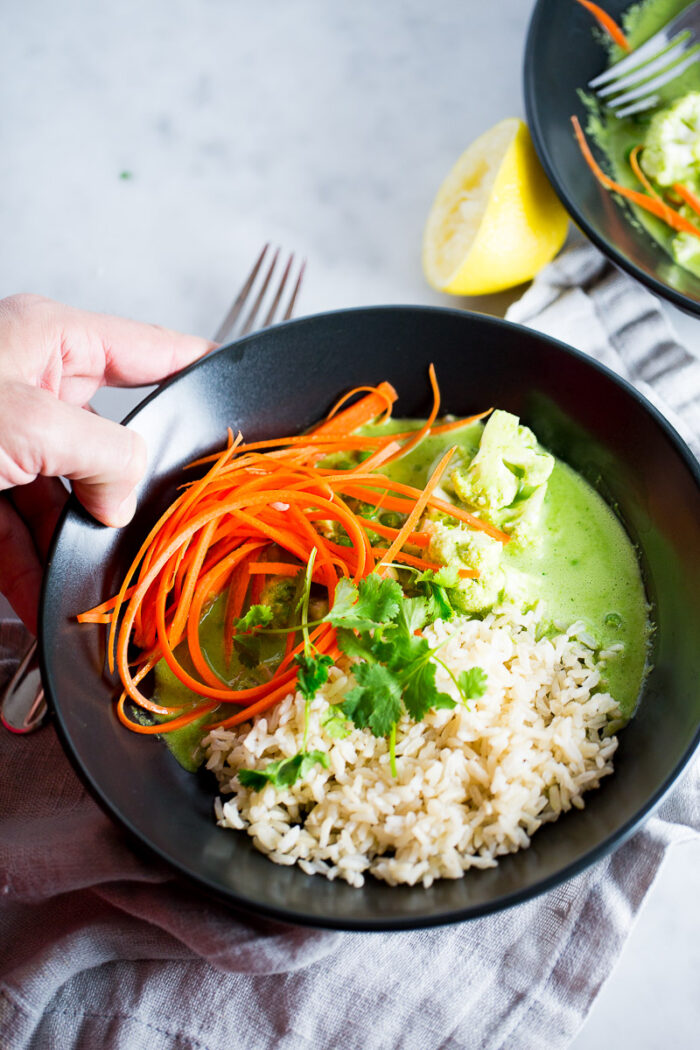 While this recipe may not claim complete authenticity, it's a version that I deeply love and prepare with immense respect and admiration for the rich culinary heritage of Thailand.
About this recipe
If you are ready to go the extra mile and prepare your own Thai green curry, this is the place to be. But if you are in a rush and need to make this dish fast, I've got you: buy this curry paste (affiliate link), which is delicious.
This green curry has green chilies, which are hot and spicy, and other yummy herbs like lemongrass and galangal (ginger if you can't find it), all mixed in a creamy sauce made with coconut milk. When you cook it, the smell of Thai food will fill your kitchen.
Thai Green Curry is spicy, sweet, sour, salty, and rich all at the same time. So, whether you eat Thai food often or are trying it for the first time, this dish will be a delicious adventure.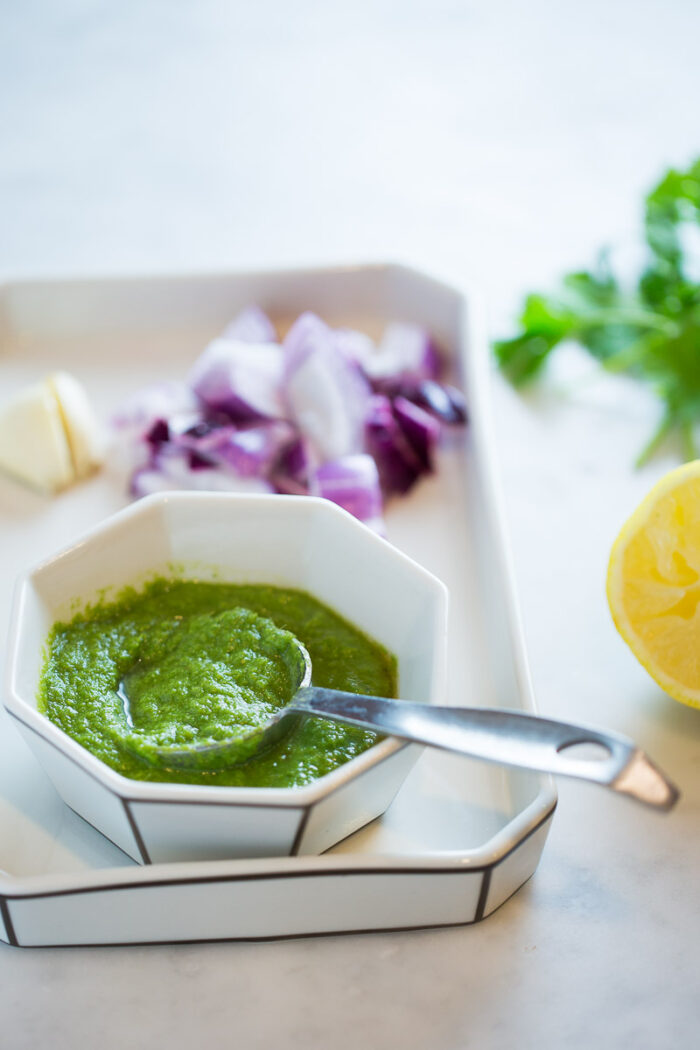 Why make homemade Thai green Curry Paste
When it comes to making Thai green curry, the key to unlocking its delicious flavor is the curry paste (affiliate link). This is a blend of aromatic spices, herbs, and chiles- the combination of which varies depending on the chef.
Generally, the paste includes ingredients such as garlic, lemongrass, galangal, cilantro root, red chilies, kaffir lime leaves, and shrimp paste.
Making a homemade curry paste is relatively easy and gives you the freedom to experiment with flavors. If you'd like a spicier curry, you can add extra chilies to the mix, or if you'd like a more subtle flavor, you can adjust the amount of herbs and spices used.
No matter what recipe you choose, the key to creating a delicious and fragrant Thai green curry is in the paste. So take your time and make sure you get it just right!
Ingredients for Thai Green Curry Paste
Lime or lemon juice
Thai or serrano pepper
Red onion or shallot and garlic
Ginger or galangal
Cilantro, Thai basil or regular basil, and lemongrass
Brown sugar, salt, ground cumin
Water or coconut milk to blend (1 or 2 tablespoons)
Soy sauce (I use soy sauce instead of dried shrimp or fish sauce)
How to make the curry paste
Blend all the ingredients in a high-speed blender like the Vitamix (affiliate link), or use a food processor (affiliate link) to make the paste. Scrape the sides halfway and process until you have a smooth paste.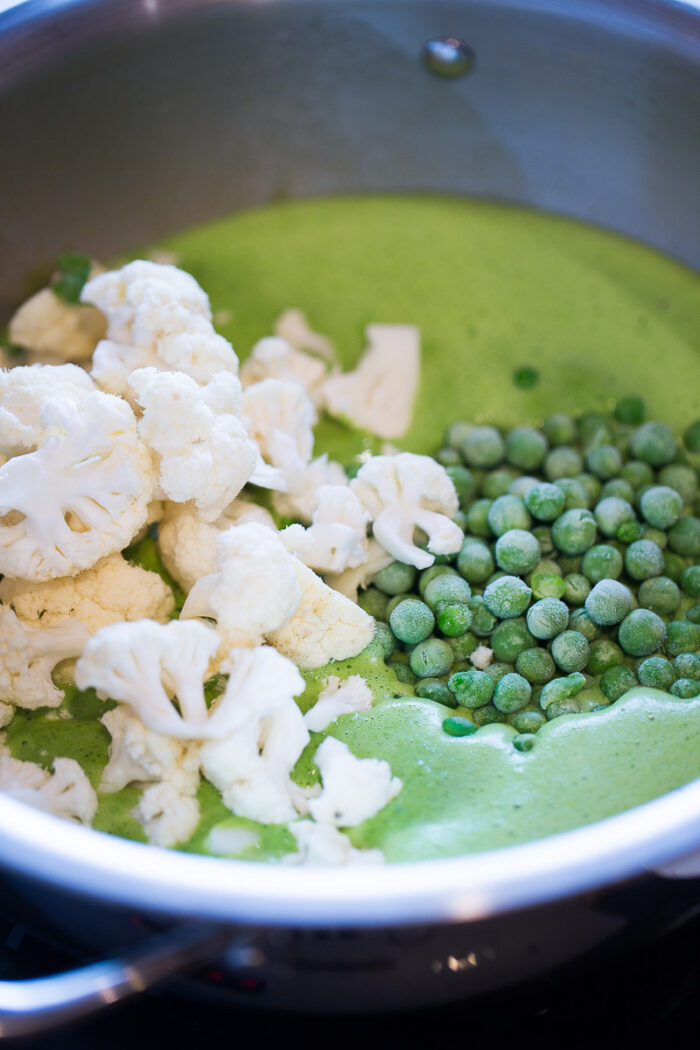 About Thai green curry dish
When it comes to selecting the curry paste, you can use storebought if you are not making your own. Coconut milk should be unsweetened and full-fat; you can use any protein you prefer.
As for the vegetables, choose whatever you like best- some popular options include carrots, potatoes, bell peppers, and bamboo shoots.
When it comes to ingredients, quality is key. Make sure to buy the freshest and highest quality ingredients you can find, as this will make all the difference in your finished dish.
With a little practice and patience, you will soon be able to make your own delicious Thai green curry at home. So gather your ingredients, unlock the secrets to a delicious Thai green curry, and get ready to enjoy a delicious and authentic meal!
Cooking the Green Curry
Now that you have created the curry paste, it's time to move on to the next step of cooking the curry. Start by heating oil in a large pot and add the curry paste.
Fry the paste until it is fragrant, then add in your choice of protein, such as faux chicken, beef, or tofu (affiliate link). Continue cooking until the protein is cooked through, then add in full-fat coconut milk and your chosen vegetables. Stir.
Simmer the curry for 10-15 minutes or until the vegetables are tender and the flavors have blended together. Once your curry is cooked through, taste it and adjust the seasoning if needed.
You can add more coconut milk if you'd like a milder flavor or more curry paste if you'd like a spicier dish. Once everything is combined and cooked to perfection, your Thai green curry is ready to be served!
Serving Suggestions
When it comes to serving Thai green curry, the possibilities are endless. Traditionally, it is served with steamed Jasmine rice, I serve it with brown rice, but it is also delicious with noodles or even on its own.
You can also get creative and serve your curry with a side of roasted vegetables, a salad, zucchini noodles, or even in a wrap. No matter how you decide to serve your Thai green curry, the key is to make sure all the flavors come together and create a great bite for taste and texture.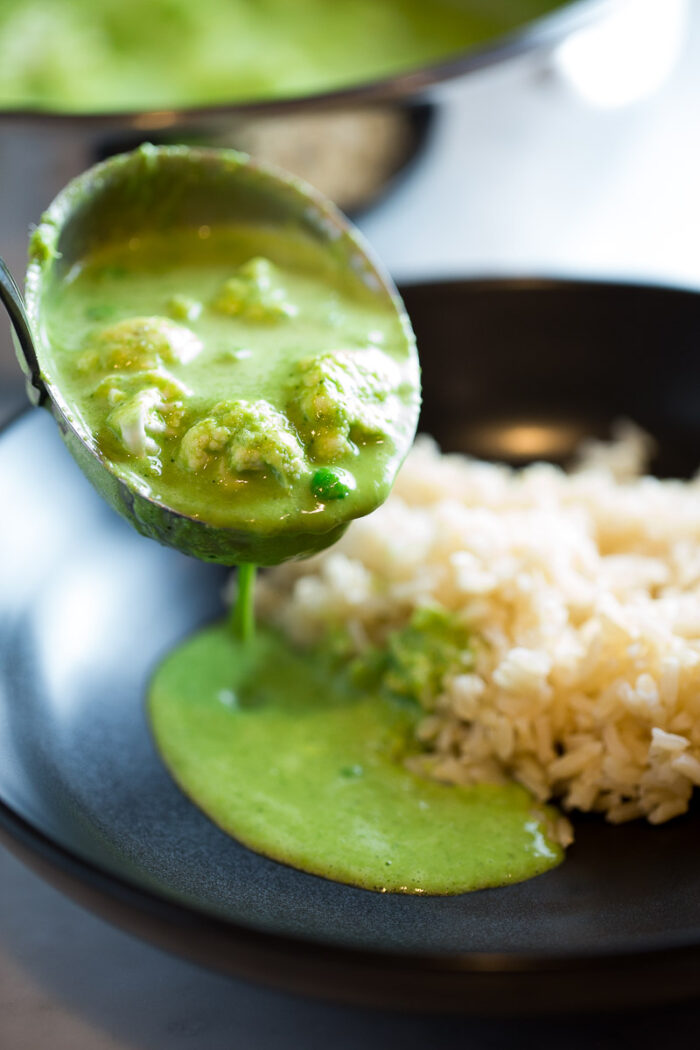 Tips and Tricks for Perfecting the Dish
Making a perfect Thai green curry requires practice, patience, and a few tricks of the trade.
Don't skimp on the curry paste, as it's the key to unlocking the flavor of the dish.
Add some extra coconut milk towards the end of cooking to mellow out the spice level if it turns out very spicy.
Adjust the seasoning to your own taste, as some prefer sweeter or spicier curries.
Use fresh ingredients for the best flavor, and always taste your curry before serving.
Ensure your vegetables are cooked through but still have a bit of crunch.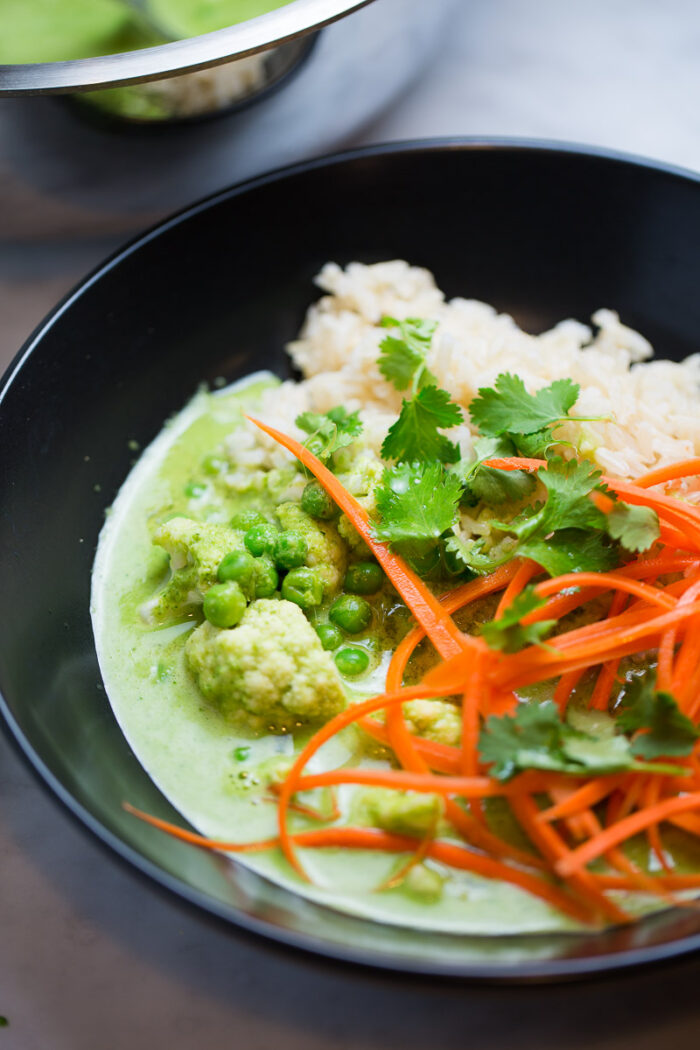 Frequently asked questions
Other recipes that you will love:
Made and loved this recipe? Give it a ⭐️⭐️⭐️⭐️⭐️ rating below. Let me know if you have questions about this recipe in the comment section or DM me on Instagram. Follow on Facebook and Pinterest to stay in touch, and don't forget to subscribe to my newsletter.

Thai Green Curry with vegetables
Discover the richness of Vegan Thai Green Curry, a deliciously spicy and creamy dish packed with aromatic herbs and nutritious vegetables. A plant-based twist on a Thai classic, this recipe balances heat, sweetness, and umami, offering a flavorful and wholesome meal. Perfect for anyone seeking to explore the diverse world of vegan cuisine
Ingredients
For the Green Thai Curry:
2

tablespoons

oil

1/4

cup

red onion

chopped

1

clove

garlic

sliced

3

tablespoons

green curry paste

homemade or store-bought

1

tablespoon

lemon juice

1/4

cup

cilantro

1/4

cup

spinach

1

cup

frozen peas

3

cups

cauliflower

in pieces

3

cups

carrots

grated or julienned

Fresh cilantro leaves for garnish

Jasmine or brown rice to serve
For the Homemade Green Thai Curry Paste (optional):
2

tablespoons

lemon juice

1

piece

lemongrass

1

Thai or serrano pepper

4

tablespoons

finely chopped red onion or shallot

5

cloves

garlic

1

inch

piece of ginger

1/2

cup

fresh coriander

1/2

cup

fresh basil

1

tablespoon

brown sugar

1/2

teaspoon

salt

1/2

teaspoon

ground cumin

1

tablespoon

soy sauce

1-2

tablespoons

water or coconut milk

for blending
Instructions
Instructions:
In a medium saucepan with a lid, add the oil, followed by the onion and garlic. Sauté for about three minutes.

Stir in the curry paste and sauté for another minute.

Add the coconut milk, mix well, and let it cook for one or two minutes.

Transfer the sauce to a blender, add the coriander, spinach, and lemon juice, then blend until smooth. (Alternatively, you can use a food processor directly in the pot.)

Return the sauce to the pot, then add the peas and cauliflower. Cover and cook until the cauliflower is al dente, about 5 minutes.

Taste the curry and adjust with more lemon juice and salt if necessary.

Serve the curry over rice, topped with julienned carrot and fresh cilantro sprigs or leaves.
For the Homemade Green Thai Curry Paste:
Combine all ingredients in a blender and blend until everything is perfectly smooth. Add more liquid if needed.
Notes
The homemade green Thai curry paste is optional. A store-bought paste can be used for convenience.
How to store?
Thai green curry paste can be stored in an airtight container in the refrigerator for up to 2 weeks. To extend its shelf life, you can freeze the paste.
To freeze, you can portion the paste into ice cube trays. Once frozen, transfer the cubes to a zip-top freezer bag or an airtight container. This way, you can easily take out the amount you need for each recipe. Frozen curry paste can last up to six months in the freezer.
Nutrition
Serving:
1
serving
Calories:
293
kcal
Carbohydrates:
23
g
Protein:
6
g
Fat:
22
g
Saturated Fat:
15
g
Polyunsaturated Fat:
2
g
Monounsaturated Fat:
4
g
Trans Fat:
0.02
g
Sodium:
437
mg
Potassium:
695
mg
Fiber:
7
g
Sugar:
11
g
Vitamin A:
12428
IU
Vitamin C:
47
mg
Calcium:
81
mg
Iron:
3
mg
information
Nutritional information of this recipe is only an estimate, the accuracy for any recipe on this site is not guaranteed.

Latest posts by Alejandra Graf
(see all)