For this recipe for spicy oven-roasted almonds (affiliate link), you need: Tajin (dried chili pepper), aquafaba, and almonds (affiliate link). These chili-roasted almonds are the best for snacking, and my kids love them.
About this recipe
Tajín Chili Oven Roasted Almonds are a delicious and nutritious snack that combines the health benefits of almonds with the bold, tangy flavors of Tajín seasoning. This simple yet flavorful snack is perfect for those who love a bit of spice in their lives, and it can be easily prepared at home.
As you know in Mexico we love spicy food. Mexican candy is known for its distinctive combination of sweet, sour, and spicy flavors. These unique treats are beloved by children and adults alike, reflecting the country's love for bold flavors and diverse ingredients.
Ingredients fr the tajin roasted almonds
This recipe for roasted almonds calls for three ingredients only, chili pepper I use Tajin, aquafaba, and almonds. Do not worry if you do not find the Tajin chili pepper, keep on reading because I have another option. But really, look for it or order it online, it is so good.
What is tajin seasoning?
Tajín seasoning is a popular Mexican condiment made from a blend of dried chili peppers, dehydrated lime, and salt. It is widely used to enhance the flavors of fruits, the rim of a margarita, vegetables, and snacks.
It tastes tangy, with salty, and spicy notes. Believe me that when paired with oven-roasted almonds, Tajín creates a satisfying and addictive snack that is both tasty and healthy.
how to make spicy roasted almonds?
Start by whisking the aquafaba until it foams. Aquafaba is the thick liquid that you get after cooking chickpeas or other beans.
Add the almonds and cover them thoughly with the foamy liquid.
With a slotted spoon take the almonds out and place them on a baking sheet. Add the chilli mix. Make sure all the almonds are well covered.
Bake at super low temperature for an hour.
When to eat these almonds
I love having these slow oven -roasted almonds around because when that little hunger monster hits around 3:00 pm and I start wondering in the kitchen and pantry. Having a healthy and delicious snack ready to eat keeps me away from the not so healthy food.
In Mexico, these spicy almonds are very popular. We gift them a lot. They make the perfect host, teacher, doctor, etc. gift. They are a perfect treat for a special person or day.
These spicy vegan almonds are also the best for the kids' lunchboxes or mixed with homemade popcorn while watching a movie, and you wanna give your children a little extra healthy and vegan protein.
Tips for the best recipe
Patience. Yes, for these slow-roasted almonds, patience is key because they take about an hour in the oven.
How to store them? Once you have them roasted in a tightly closed jar in your pantry, they will last for up two months.
Why is this recipe vegan? The traditional way of making roasted almonds is by using egg whites. By substituting the egg whites with aquafaba, you can make any flavored oven-roasted nut vegan.
Can I use other seasoning? You could add other chiles, spices, or any other flavor combination.
Double the recipe. This recipe is for one cup of almonds; you can double it or multiply it as much as you want.
Do roasted almonds work? Use raw almonds; remember that you will be roasting them.
Can I use other nuts? Yes, use peanuts with chili, cashews (affiliate link), nuts, and everything.
Here are other plant-based Mexican snacks that I'm pretty sure you are going to love:
Made and loved this recipe? Give it a ⭐️⭐️⭐️⭐️⭐️ rating below. Let me know if you have questions about this recipe in the comment section or DM me on Instagram. Follow me on Facebook and Pinterest to stay in touch, and don't forget to subscribe to my newsletter.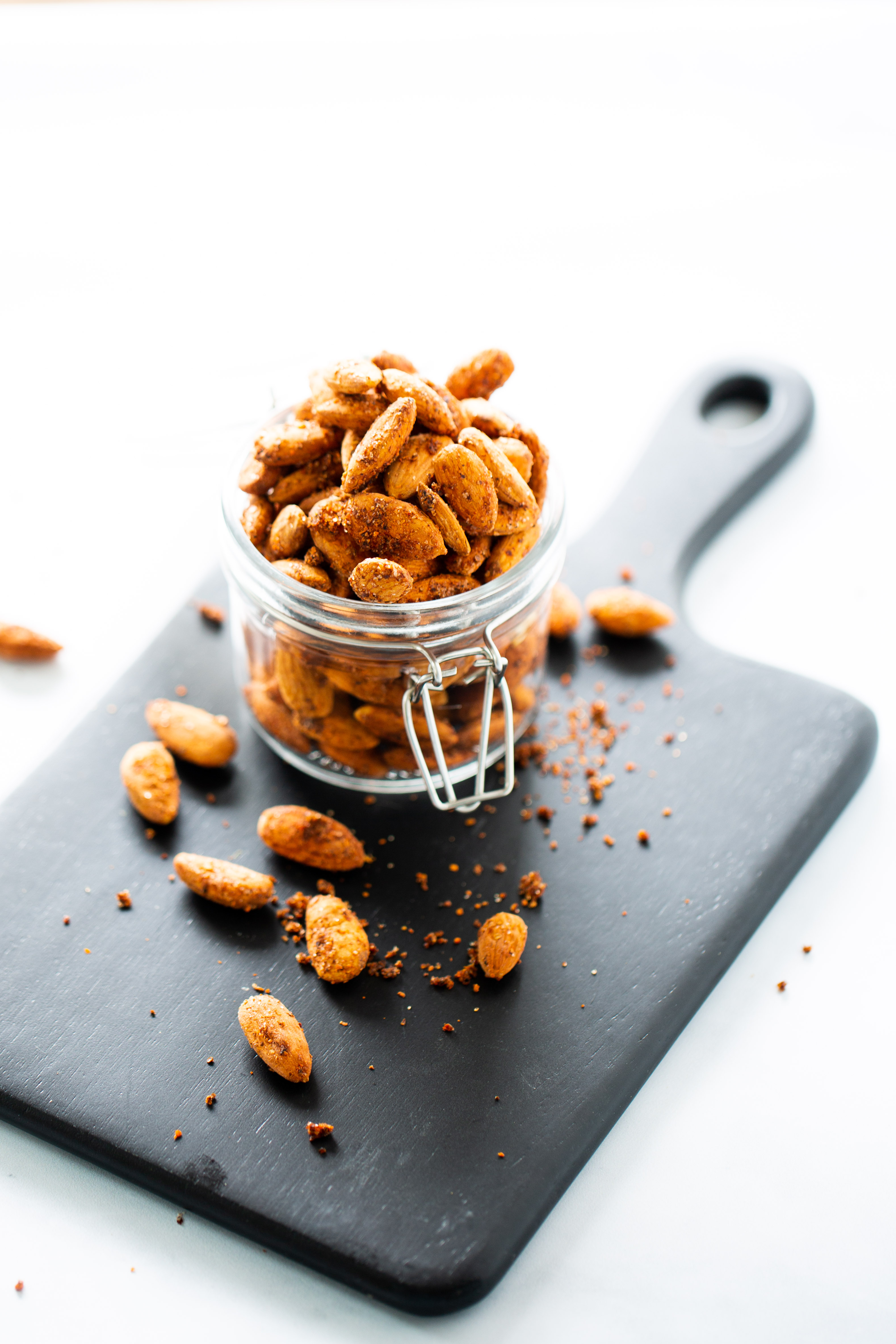 Vegan Spicy Roasted Almonds
This recipe for spicy vegan roasted almonds is one of my favorite Mexican snack recipes. Eat them as an afternoon treat, put them on a veggie board with hummus and other crudités or mix with homemade popcorn.
Instructions
Put the aquafaba in a large bowl and whisk until it foams and the aquafaba feels lighter.

Put the almonds and cover thoroughly. With a slotted spoon, remove the almonds from the aquafaba and place them on a baking sheet.

Sprinkle the chili powder on top, cover well. Make sure the almonds are spread out on the baking sheet.

Turn on the oven at the lowest temperature possible and put the almonds in for an hour.
Notes
Check and move the almonds after half an hour of the total time.
If you don't have Tajin chili powder at home or you can't find it, soak the almonds in lime juice instead of aquafaba and sprinkle with the chili powder you have at home.
Do not forget to try the chili powder that you are going to use instead of Tajin, make sure it is seasoned. If not, add salt.
Nutrition
Serving:
1
cup
Calories:
898
kcal
Carbohydrates:
40
g
Protein:
39
g
Fat:
73
g
Saturated Fat:
6
g
Sodium:
374
mg
Potassium:
1320
mg
Fiber:
23
g
Sugar:
7
g
Vitamin A:
5235
IU
Calcium:
430
mg
Iron:
9
mg
information
Nutritional information of this recipe is only an estimate, the accuracy for any recipe on this site is not guaranteed.

Latest posts by Alejandra Graf
(see all)