Prepare a refreshing guacamole to eat with some of your favorite foods. It works great as a flavorful topping on vegan-friendly tacos, burrito bowls, and more.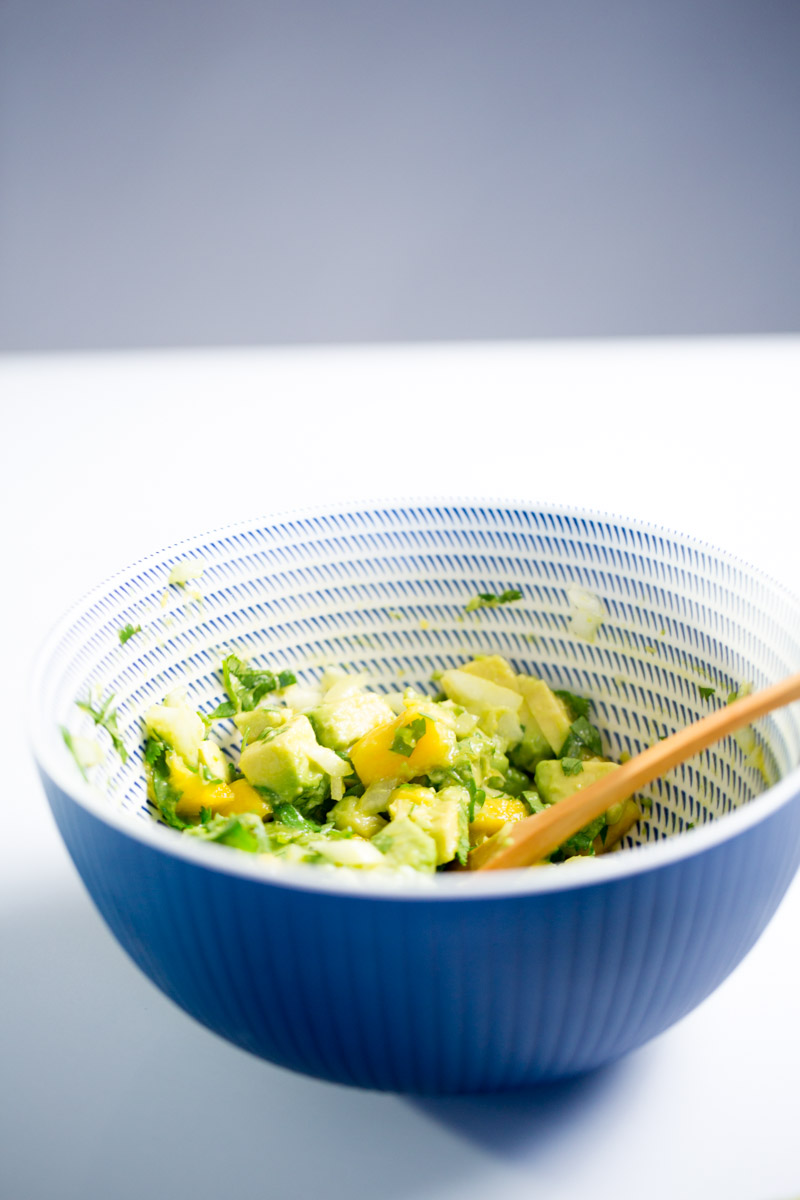 What Is Guacamole?
Guacamole is a popular dip made with avocado. While it traditionally does not include chunks of mango, this Mango Guacamole combines both sweet and savory flavors. It consists of fresh mango, avocado, onion, and other ingredients that will create a bold taste in your mouth.
Ingredients Needed to Make Mango Guacamole
When you would like to make this flavorful, refreshing Mango Guacamole, you will need to have these essential ingredients:
Mango. Slice into your mango and cut it into chunks. Be sure to remove the skin from the mango.
Onion. You can use red or white onion. You will need to chop the onion into small pieces.
Chile Serrano. Dice your chile serrano into small pieces that you can mix in with your mango.
Avocado. Chop a single avocado into chunks.
Lemon Juice. Use the juice of one lemon to add a citrus-like taste to your guacamole.
Cilantro. Adding cilantro is the perfect way to enhance the flavor, giving your guacamole a unique taste.
You can also sprinkle some sea salt into the bowl with these ingredients. When combined, these ingredients create a flavorful vegan-friendly side dish that you can eat with many of your favorite foods.
How Many Servings Does It Make?
Follow this recipe to make eight servings of the Mango Guacamole. A single serving only has 52 calories, making this ideal for those looking to consume healthy low-calorie foods!
How Long Does It Take to Make?
It will only take about 15 minutes for you to prepare the Mango Guacamole from scratch. You simply need to cut your fresh mango into chunks and then mix it in with the other ingredients before serving it.
Can I Store It?
It is best to eat the Mango Guacamole immediately after you prepare it. Unfortunately, it does not hold up well when stored and put in the fridge. However, you can make it quickly and serve it immediately when you want a snack or quick meal.
Do I Use Fresh Mango?
While it is always ideal to use fresh ingredients, you can use frozen mango chunks if you would like to. Some people prefer using frozen mango pieces for this guacamole to avoid going through the process of cutting the mango down into pieces. Be sure to remove the mango pieces from the freezer and allow them to sit out for at least 15-30 minutes before you begin putting the Mango Guacamole together.
What to Eat With the Mango Guacamole
Add your Mango Guacamole to various foods. You can use it as a dip for organic tortilla chips, use it as a topping on vegan tacos, or even add it to white rice to make a filling, healthy lunch that you can prepare with ease. It can add a touch of sweetness to any food.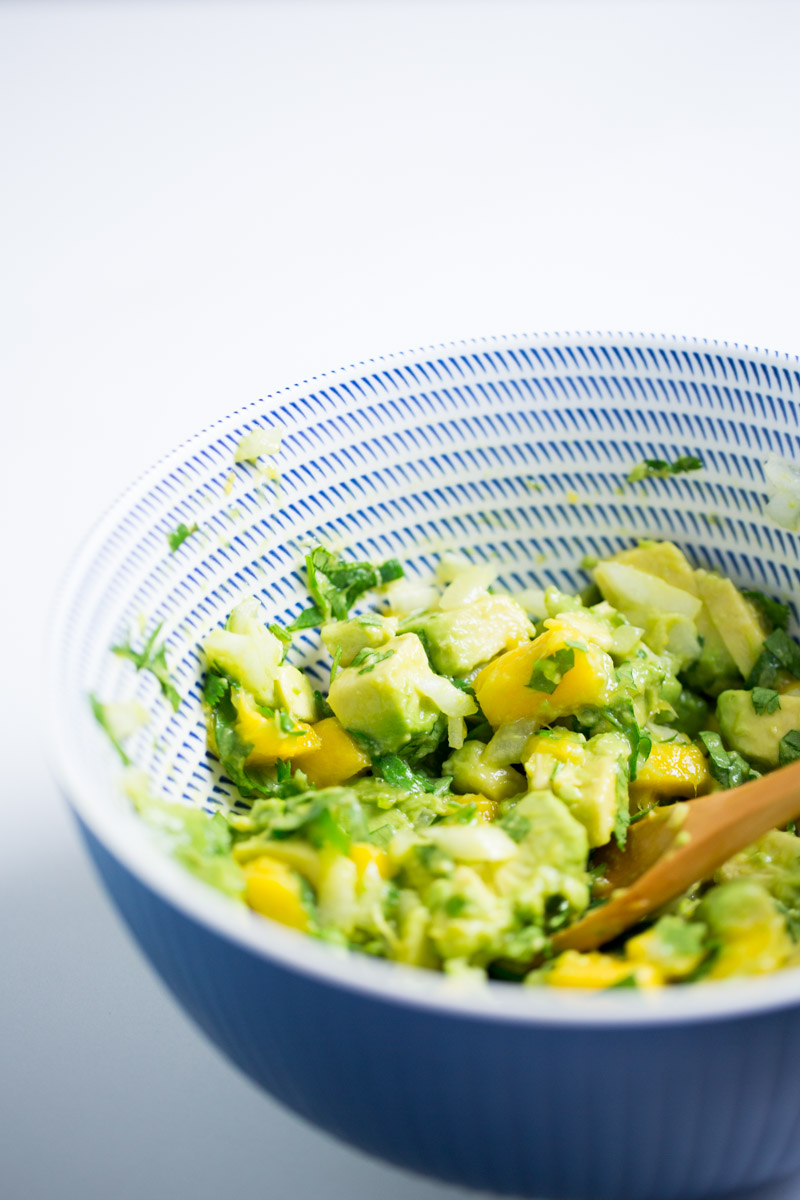 Tips, tricks & other recipes:
This recipe is best eaten immediately. It will not be good for school lunches, but it is amazing for after school snacking.
Guacamole, classic basic, healthy and vegan guac🥑it is a very good afterschool snack or party pleaser.
Hummus, a basic hummus recipe that is extremely delicious and it is also a hit at parties and this one is perfect for school lunches.
To make this recipe you can use frozen or fresh mangoes. It would be extremely delicious both ways.
If this recipe is for your kids, skip the serrano chile or added it in big chunks so you can remove it easily.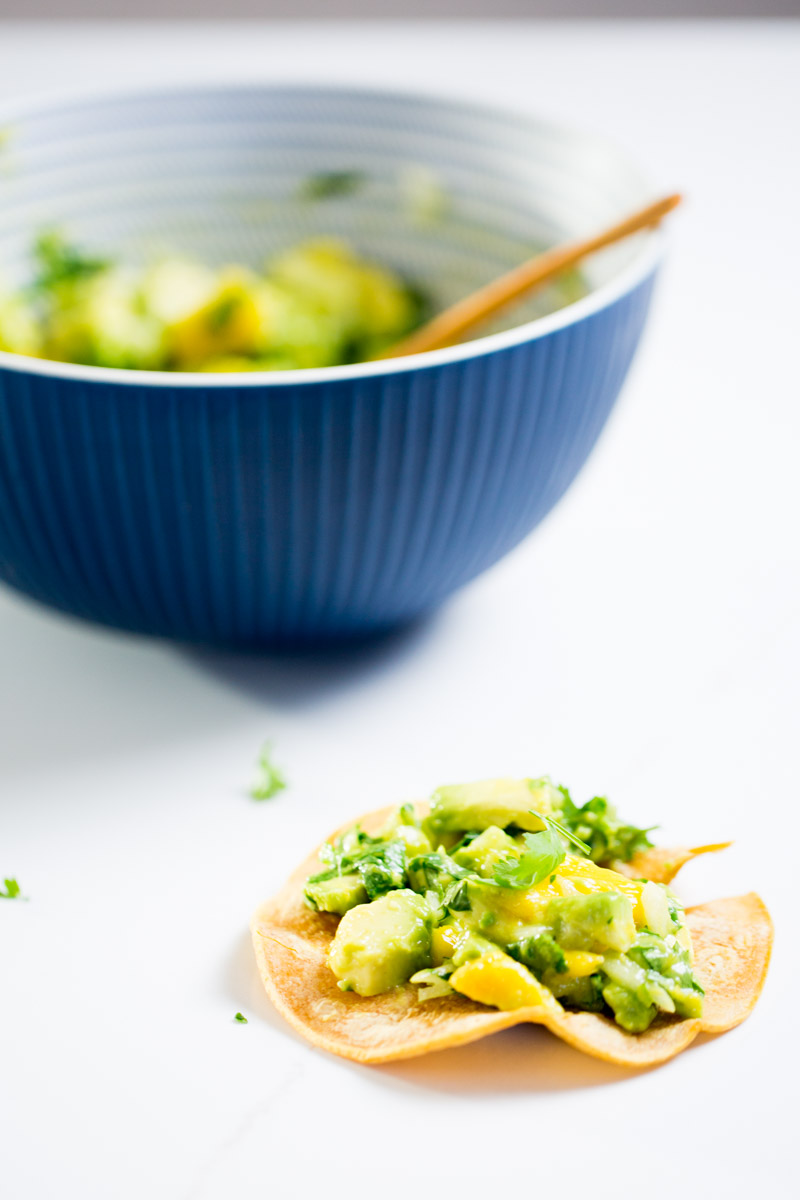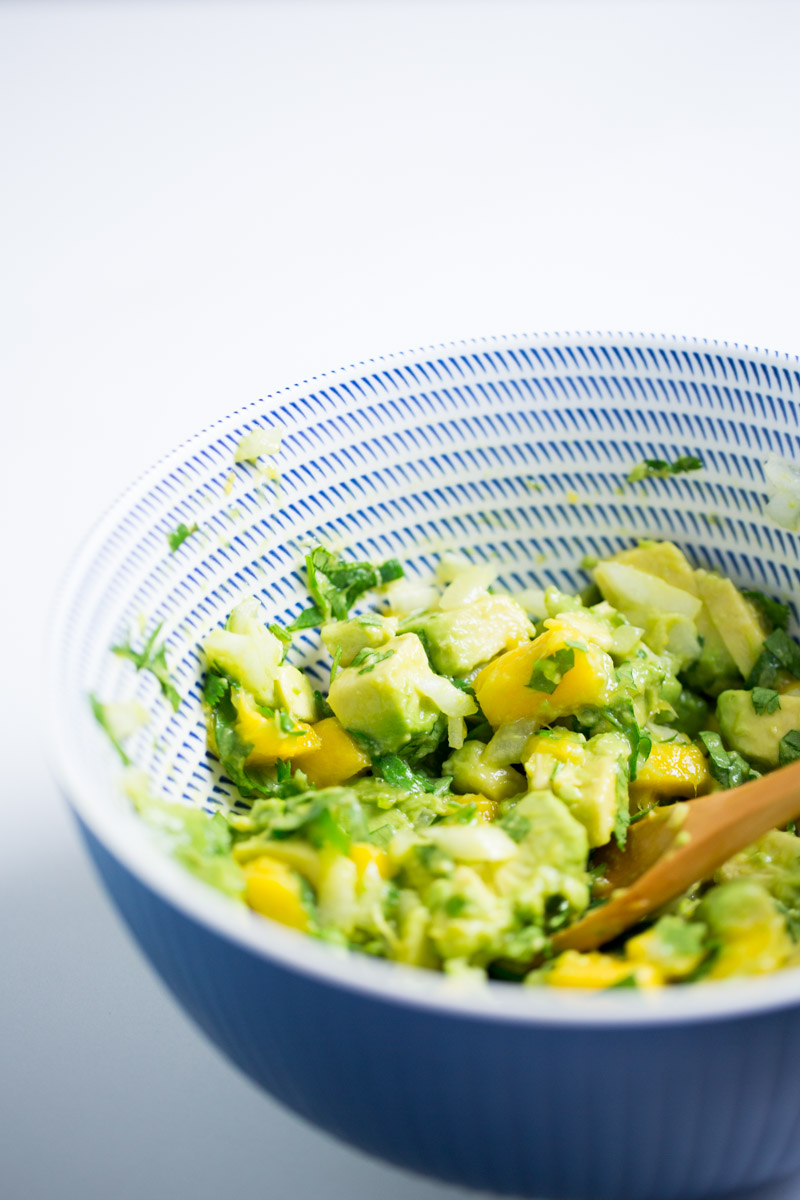 PICO DE GALLO OR GUACAMOLE WITH MANGO
This recipe for mango pico de gallo or guacamole is the best, and it becomes the star of the table as soon as you try it. It's easy, nutritious and perfect for a snack or as a side for dinner.
Ingredients
2

tablespoons

finely chopped white/red onion

1

or 2 juice of a lemon

depending on size

1

avocado in chunks

1/2

or 1 mango in chunks

depends on the size

1

chile serrano

chopped (if you remove the seeds and the veins it becomes less spicy)

a handful of chopped cilantro

sea salt
Instructions
Add to a bowl the chopped onion and lemon juice.

Then add the avocado, the mango, and the chopped serrano chile. Then add the cilantro.

Season with a big pinch of sea salt, taste and serve with tostadas, corn chips or as a salsa for tacos.
Nutrition
Calories:
52
kcal
Carbohydrates:
5
g
Protein:
1
g
Fat:
4
g
Saturated Fat:
1
g
Sodium:
2
mg
Potassium:
158
mg
Fiber:
2
g
Sugar:
2
g
Vitamin A:
155
IU
Vitamin C:
14
mg
Calcium:
7
mg
Iron:
1
mg
information
Nutritional information of this recipe is only an estimate, the accuracy for any recipe on this site is not guaranteed.

Latest posts by Alejandra Graf
(see all)