This roasted butternut squash soup couldn't get any easier… cut, roast, blend and you're done.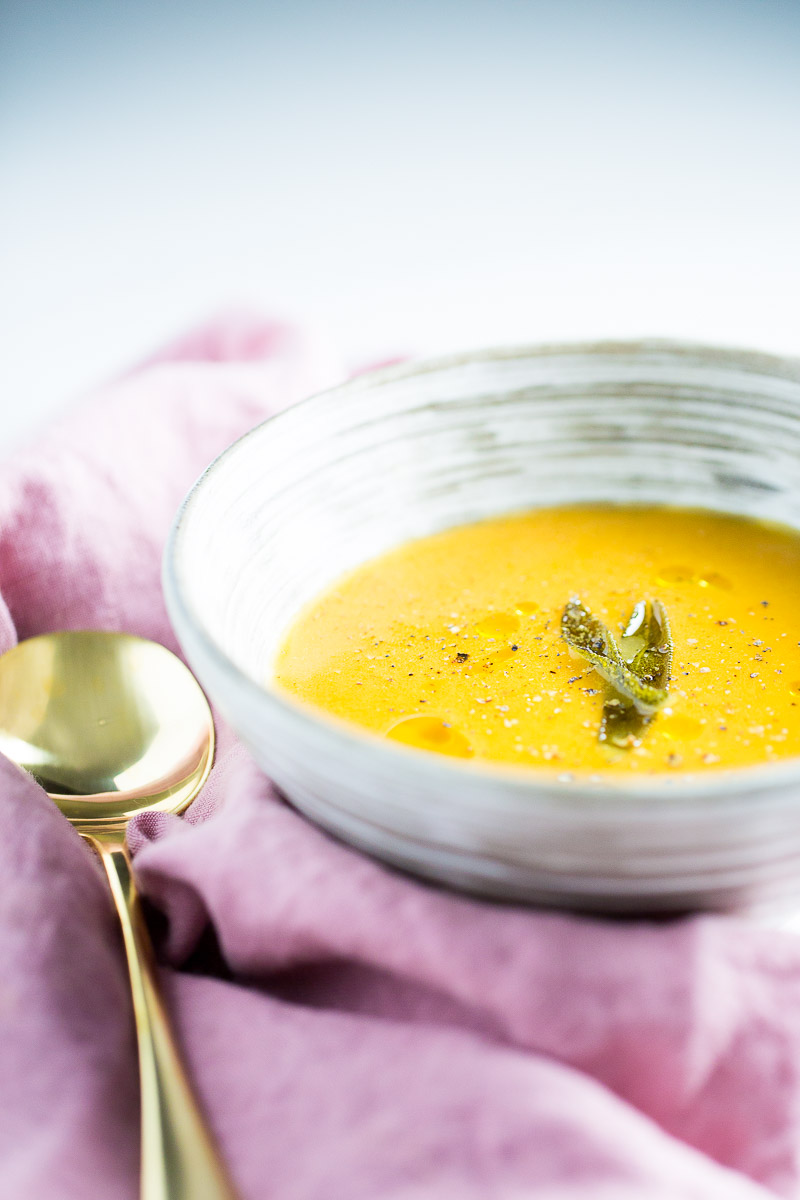 This week we are going to celebrate Thanksgiving here in the United States. I love this holiday and the reasons to celebrate it.
I cherish being together with a family giving thanks for all our blessings while eating a magnificent dinner. I love that this whole day is meant for eating delicious food and enjoying each other's company in harmony. It is amazing…but it is also a lot of work.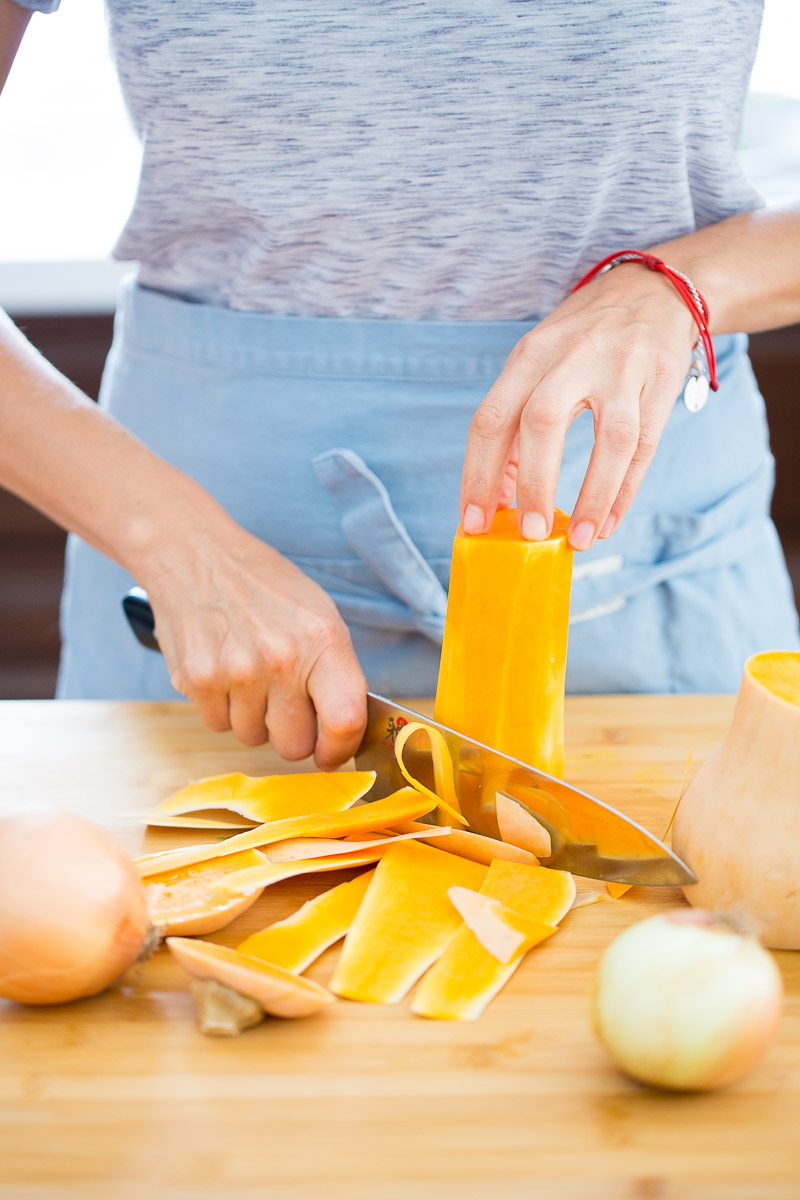 That's why I thought of this soup which is extremely tasty, easy and you can totally make it beforehand. The beauty of this soup is that it only takes two steps to make.
The picture below shows you how to cut the butternut squash. First, you need to peel it starting lengthwise and then you slice it and cube it. Everything is going into the blender so there is no need to worry about making it even or pretty.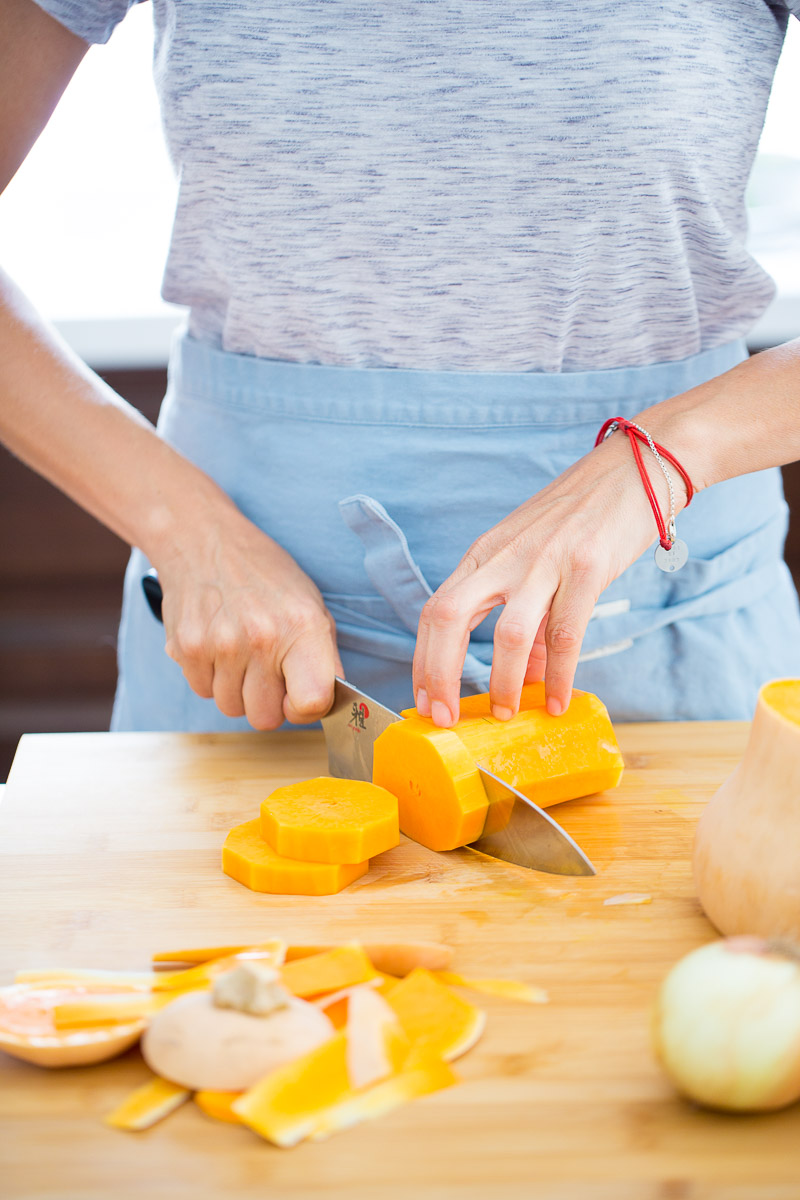 You can also use the precut butternut squash they sell at the store and then it takes absolutely no time to make.
I used the precut butternut squash the second time I made this soup and it came out absolutely perfect. Once your butternut squash is cubed you put it on a tray with an onion cut into 4 or 6 small pieces and a small garlic head. You put some oil, salt, and pepper and that's it. Marvelous, right???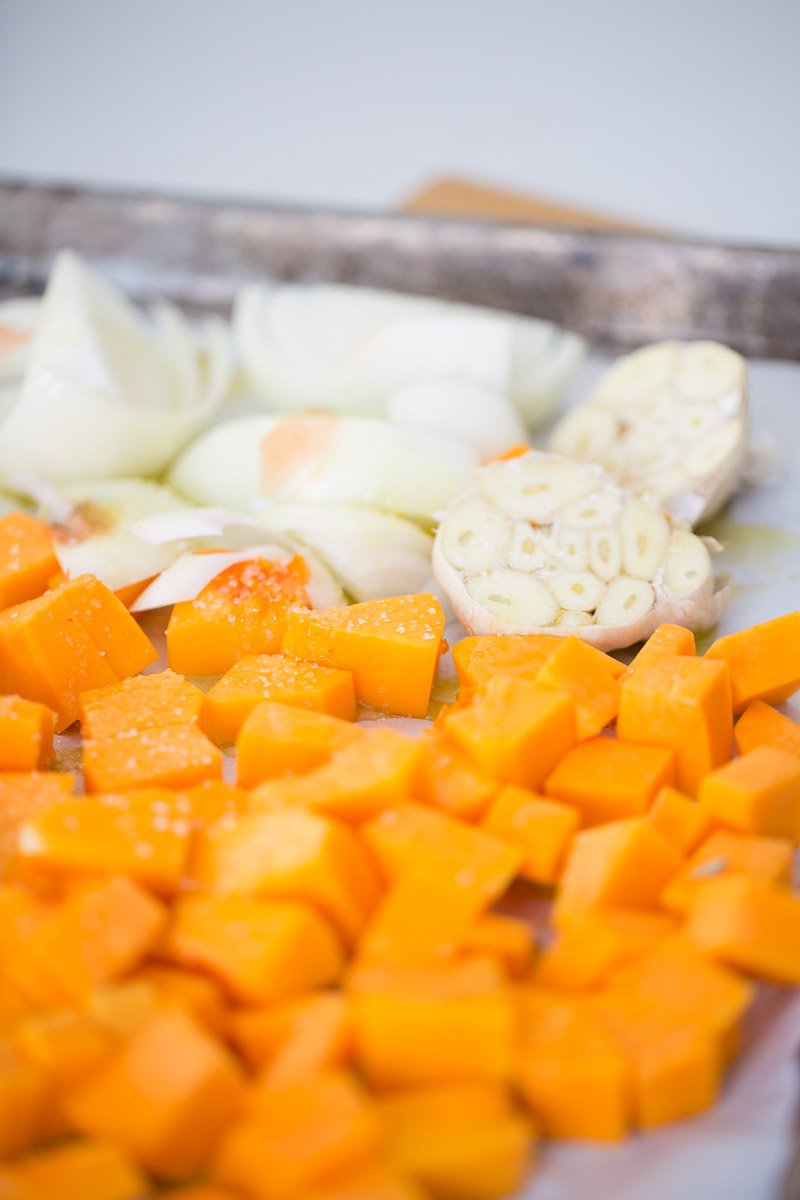 I'll share with you some of the dishes I'm planning on making for Thanksgiving. My menu is not set yet, but this is what the girls, and I brainstormed together.
Roasted butternut squash soup ( I have it ready in the fridge)
Dessert: Apple galette or pumpkin pie with granola
What about you?? Are you hosting?? Are you ready?? I hope these recipes help you out, and please let me know what you planning on the comment section.
Meanwhile, I'll leave you this roasted butternut squash soup that you can make in a pinch in two easy steps, and I hope you like it as much as I do. If so, please share my blog and the recipe.
Also, please let me know how it turns out and send me a picture or post it on Instagram and tag me (@piloncilloyvainilla) so I can see it.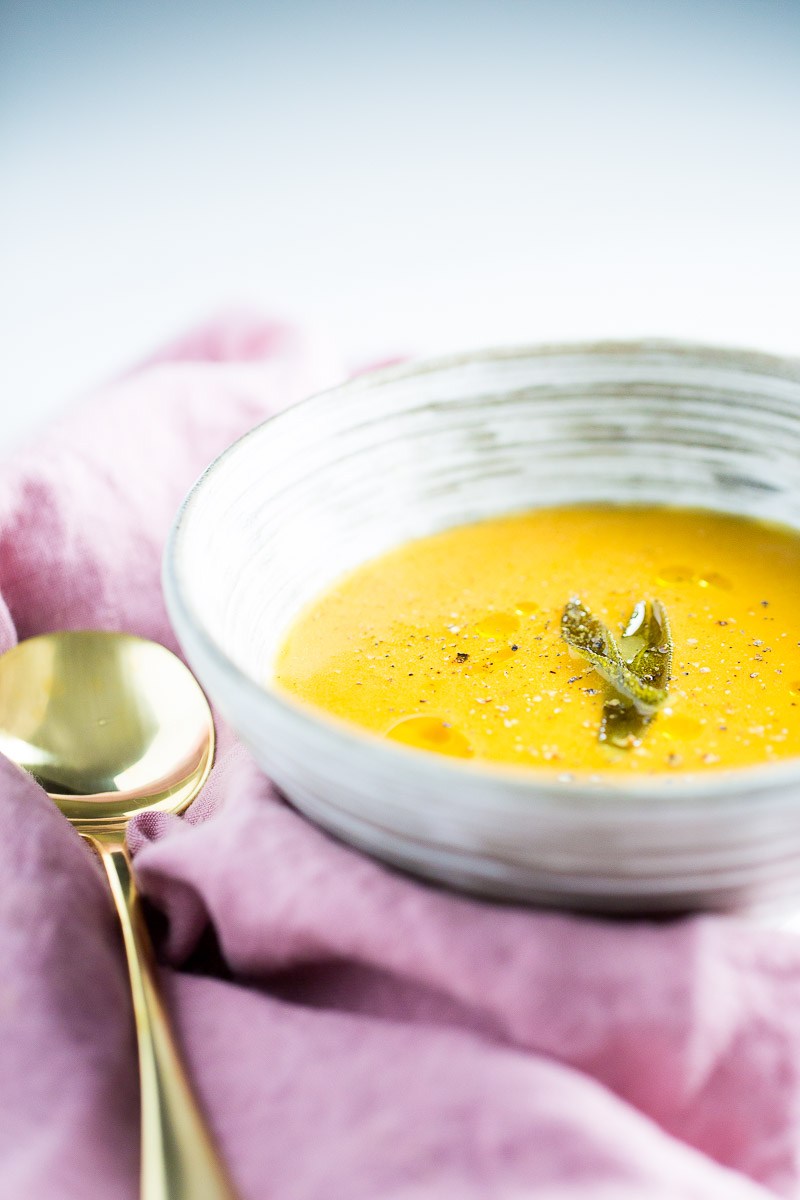 Roasted Butternut Squash Soup
Roasted butternut squash soup with garlic and onion. Very easy to prepare. Just put everything in the oven to roast and then blend and serve.
Ingredients
4

cups

butternut squash

diced

1

onion

medium sized, cut into large pieces

1

head of garlic cut in half

with peel

1

tablespoon

of olive oil

Salt and freshly ground black pepper to taste
Instructions
Preheat the oven to 450ºF.

In a baking tray prepared with parchment paper or a silicone mat put the butternut squash, onion in pieces and the head of garlic.

Drizzle the olive oil, salt, and pepper. Put in the oven until golden brown, about 20 minutes.

When done, put the butternut squash, the onion, and the peeled garlic cloves in the blender with three cups of water.

Blend until everything is creamy. Pour into a pot soup, heat, and try for seasoning. If the soup is thick, add more water and adjusts the seasoning.
information
Nutritional information of this recipe is only an estimate, the accuracy for any recipe on this site is not guaranteed.

Latest posts by Alejandra Graf
(see all)