If you're a fan of sweet and spicy flavors, then you've definitely heard of chamoy. This popular Mexican candy is known for its unique taste and texture and has gained a dedicated following all around the world.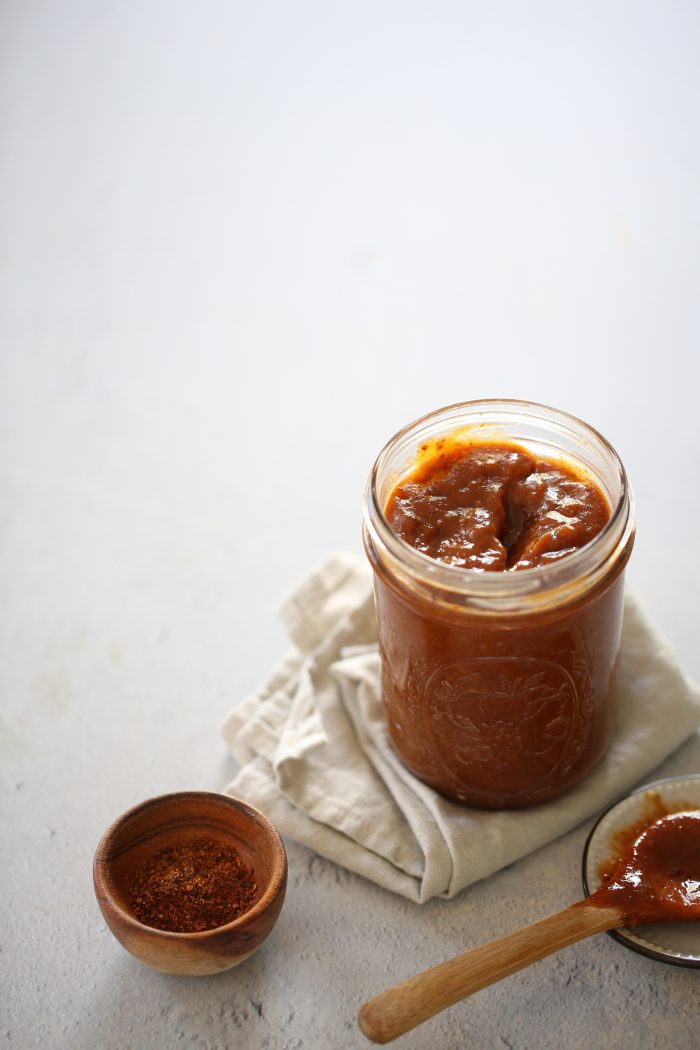 But what exactly is chamoy, and what sets it apart from other types of candy? In this blog post, we'll explore everything you need to know about this beloved treat, from its origins to its many different varieties. So whether you're a seasoned chamoy enthusiast or a curious newcomer, read on to discover the delicious world of Mexican candy!
What is chamoy sauce?
Chamoy is a thick sauce (condiment) made from dried fruit, chile, and acid. I like to use vinegar and lime juice for it. The sauce is everywhere in Mexico, from street snack carts to store shelves. There are a lot of variations for this recipe, but this homemade chamoy recipe hits the spot for me.
Why is it better to make Mexican chamoy at home?
It will always be best when made from scratch; you know the exact list of chamoy ingredients is not so healthy. This recipe for homemade sauce has no artificial colors, preservatives, and other ingredients like xanthan gum, high fructose corn syrup, or sodium benzoate.
homemade chamoy ingredients
Lime. It is better to use limes than lemons.
Ancho chili, use ground ancho chile powder. You can blend ancho chiles without seeds and stems into powder.
Dried apricots. When purchasing apricots for the sauce, choose unsweetened ones to preserve the acidic flavor. Alternatively, sour apricots, Turkish apricots, hibiscus flowers, ume plums, or tamarind can be used as substitutes.
Apple cider vinegar (affiliate link). I buy organic apple cider vinegar (affiliate link) because it has the most nutritional value. Substitute with rice vinegar if needed.
Sugar. Use cane sugar or coconut sugar, whichever you like best.
How to make chamoy sauce (chamoi)?
Boil approximately a cup of water in a saucepan, and soak the fruit until it becomes plump. Then drain the fruit and blend with the remaining ingredients: a couple of tablespoons of chili pepper, acid, and sugar. Taste it repeatedly until it reaches the perfect balance of sour, sweet, and spicy. Allow it to rest, chill, and taste it once again before enjoying it.
How to eat chamoy sauce?
Carrot, cucumber, and jícama sticks.
Mangoes. Make cuts around the mango and finish it with the chamoy sauce. Any fresh fruit tastes great with it.
Mangonadas. Chamoy is also the best in mangonadas (a mango slushie) or with lemon, mango, and strawberry paletas or chips.
Fruit with sliced ​​apples or fresh coconut, watermelon, pears, papaya (affiliate link), etc.
Micheladas or margaritas. You can use this chamoy sauce to prepare the rim of a glass for a margarita or michelada. Place an upside-down glass in a bowl of sauce, carefully turn it over, sprinkle with Tajin or your favorite chili powder, and serve.
How do Mexicans eat chamoy?
Mexican Fruit Cups. If you go through the streets of Mexico, you'll find snack carts or food trucks with "prepared" fruit. The "prepared" means fruit with chili, lemon, salt, and spicy sauce.
A Mexican snack is fruit cups mixes fruits and vegetables (pineapple + cucumber + carrots + jicama) with lime juice, chili powder, and chopped peanuts. And, of course, it all finished up with this chamoy sauce and a dash of Tajin.
Mexican fruit cups with chamoy are a delicious and popular treat. They feature a mix of fruits and vegetables topped with a tangy and spicy sauce made from chamoy, lime, salt, and chili powder. Making your own chamoy is easy and it can be used as a dip or condiment for both sweet and savory snacks.
In sushi. In Mexico City, a famous sushi place adds Chamoy to their steamed rice and uses it to finish some of their most renowned sushi rolls.
Is chamoy spicy?
Yes, it can be, but the beauty of making your chamoy recipe at home; you can control the spiciness. My kids are in love with it. You can make this sauce as spicy or as acidic as you want.
Other recipes that you may like: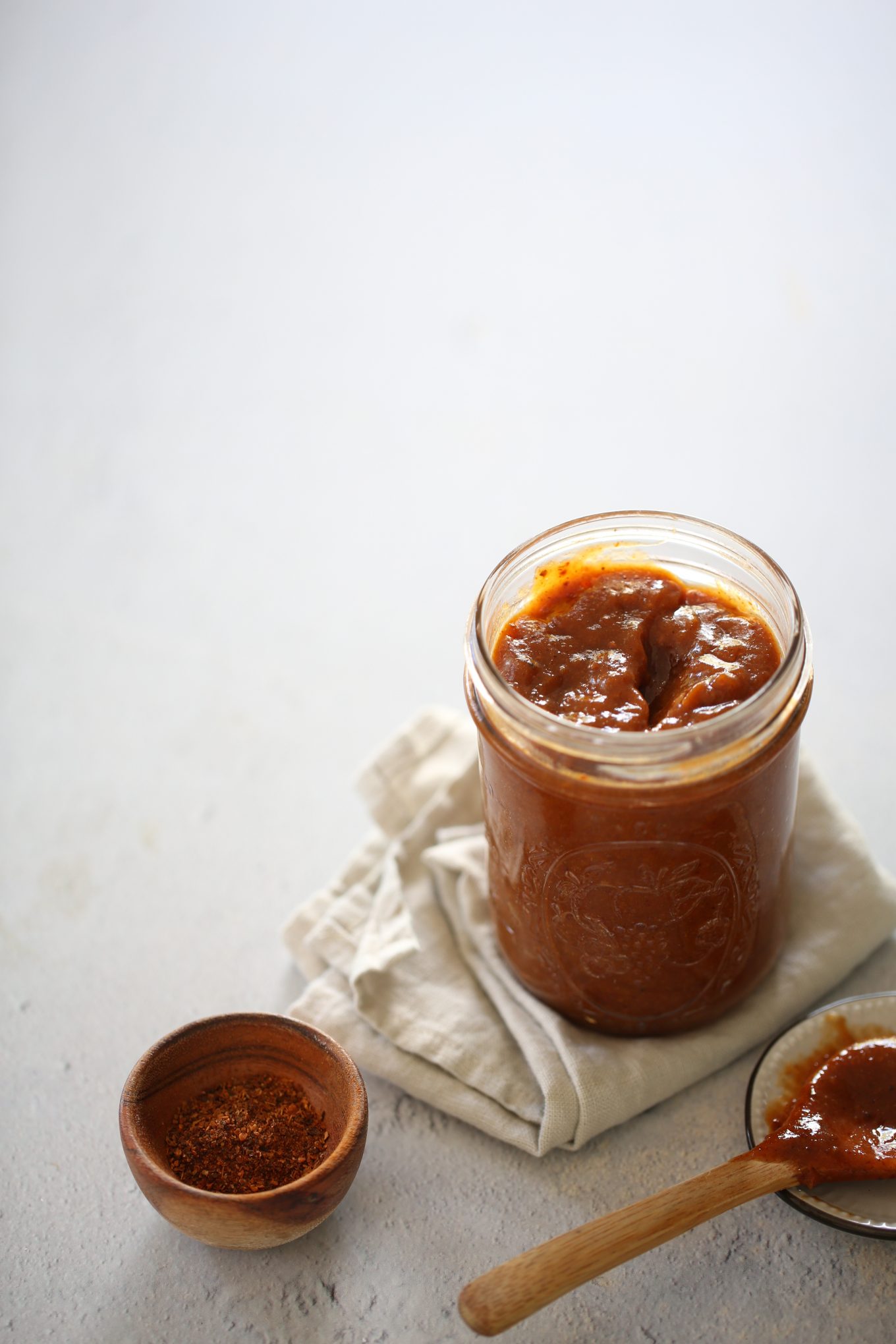 Made and loved this recipe? Give it a ⭐️⭐️⭐️⭐️⭐️ rating below. Let me know if you have questions about this recipe in the comment section or DM me on Instagram. Follow me on Facebook and Pinterest to stay in touch, and don't forget to subscribe to my newsletter.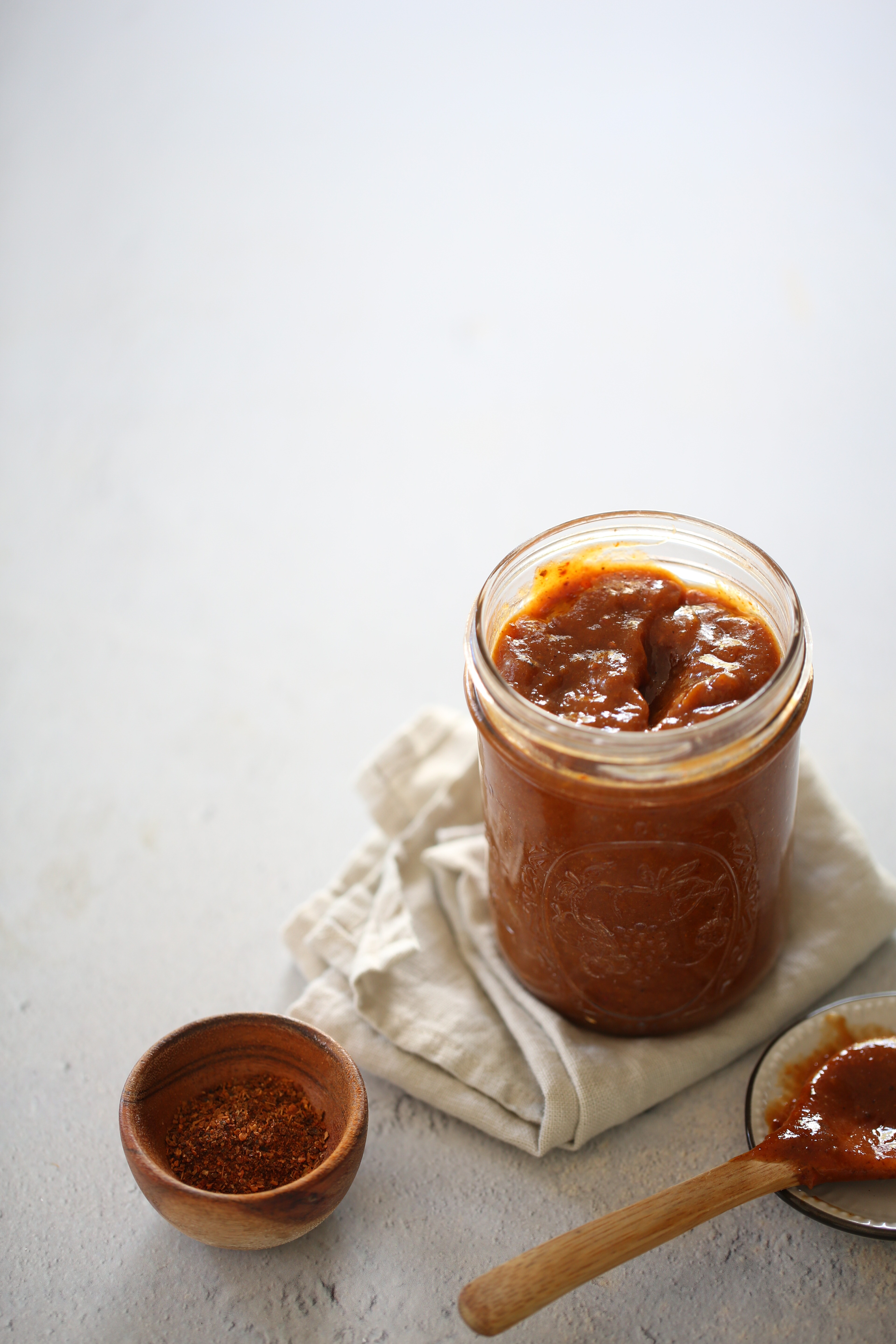 How to make chamoy at home?
This chamoy sauce is straightforward and very easy to make. You can eat it as a snack on fruits , vegetables and mangonadas.
Ingredients
¾

cup

dried apricots

1 ½

cup

boiling water

2

tablespoons

cane sugar

2

tablespoons

apple cider vinegar

4

tablespoons

lemon juice

1 ½

tablespoon

ancho chili powder or more if you like it very spicy

½

teaspoon

sea salt
Instructions
Soak the apricots in the boiling water until the water cools.

Add the dried apricots and soaking water to the blender with the rest of the ingredients.

Blend until everything is well integrated. If it is too thick, add a tablespoon of water at a time until you achieve the perfect texture.

Try and adjust the flavor.

Add more chili or more lemon depending on your taste.
Notes
It keeps up to two weeks in a closed jar in the fridge
Nutrition
Calories:
1066
kcal
Carbohydrates:
269
g
Protein:
4
g
Fat:
2
g
Saturated Fat:
1
g
Sodium:
712
mg
Potassium:
1361
mg
Fiber:
7
g
Sugar:
239
g
Vitamin A:
3565
IU
Vitamin C:
189
mg
Calcium:
98
mg
Iron:
3
mg
information
Nutritional information of this recipe is only an estimate, the accuracy for any recipe on this site is not guaranteed.
This recipe has affiliate links from Amazon.

Latest posts by Alejandra Graf
(see all)