Making Mexican Quinoa Salad is easy and takes just a few minutes. The salad is also full of flavor, making it a great choice for lunch or dinner. If you're looking for a healthy and delicious meal that's quick to make, try this Mexican Quinoa Salad. The combination of quinoa, black beans, corn, tomatoes, and red onion make this dish a winner.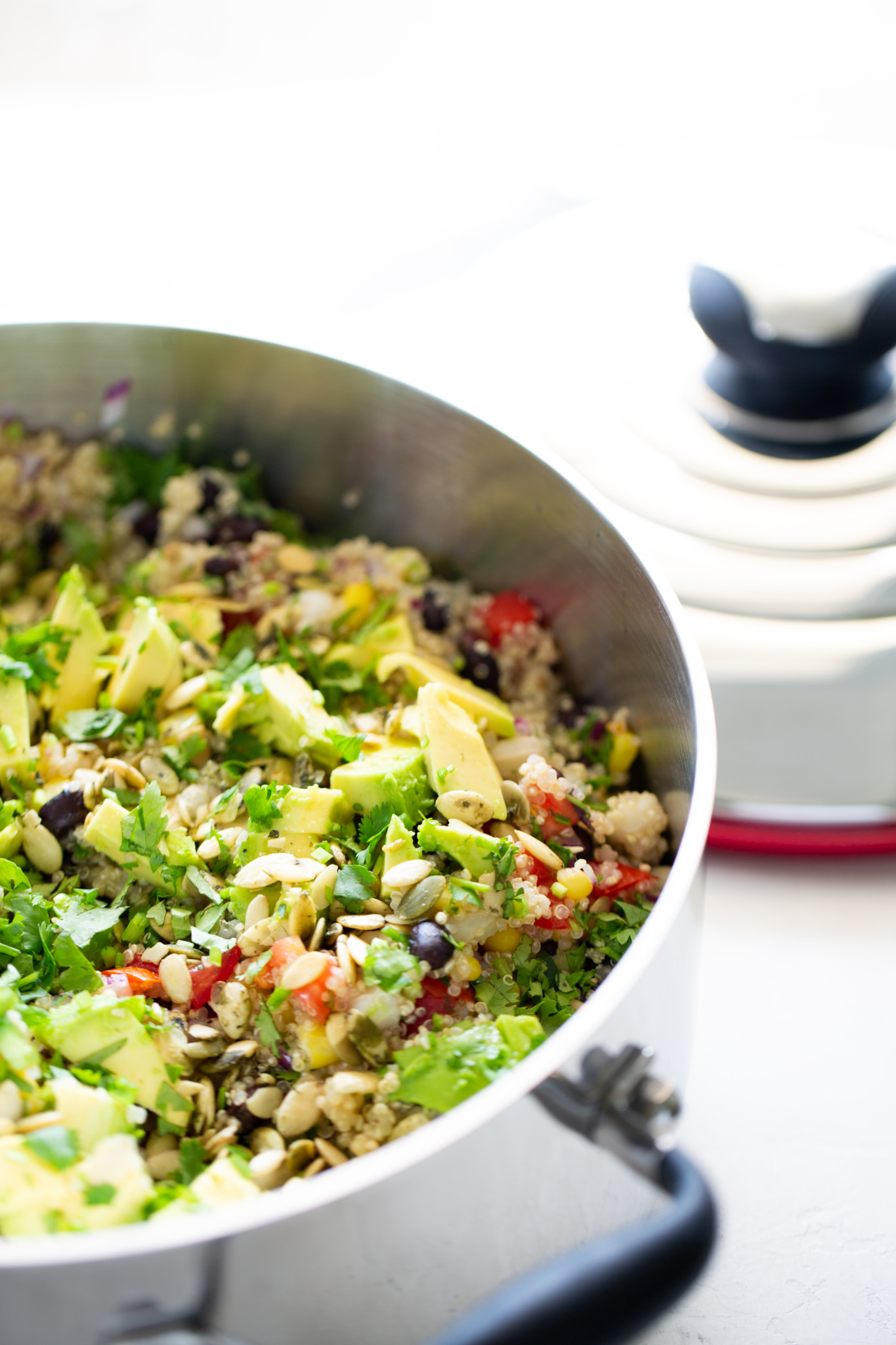 About this recipe
Mexican Quinoa Salad is made with quinoa, black beans, corn, tomatoes, and red onion. These ingredients are all fresh and healthy, making it a great dish to add to your regular meal rotation. The quinoa provides a light, fluffy texture, while the black beans, corn, tomatoes, and onion give the dish plenty of flavor and texture.
You can prepare everything in just one pot, but you must have a large pot where you can cook the quinoa quickly so that it does not whip and is fluffy and delicious. From there, it's just a matter of adding and adding delicious ingredients.
Ingredients
Quinoa, you could substitute with black rice or arroz primavera. Quinoa is an ancient grain high in protein and fiber, as well as vitamins and minerals. It's an excellent source of nutrition and takes on the flavor of whatever you're cooking.
PICO DE GALLO: Onions – Onions bring a sweet and savory layer of flavor to your Mexican quinoa salad. Choose red or white onions for the best flavor. Tomatoes – Tomatoes add a bright, acidic flavor that balances out the other ingredients. Roma, cherry, or grape tomatoes work best. Jalapeños or serrano – Jalapeños bring the heat and give your Mexican quinoa salad a spicy kick. Cilantro – Cilantro adds a freshness and herbal flavor that complements the other ingredients.
Lime Juice – Lime juice adds a tart and tangy flavor and helps to bring all the flavors together.
Avocado, Avocado adds a creamy texture and mild flavor to your Mexican quinoa salad that ties all of the flavors together.
Pepitas (pumpkin seeds) substitute with sunflower seeds if you don't have pumpkin seeds.
Creamy cilantro dressing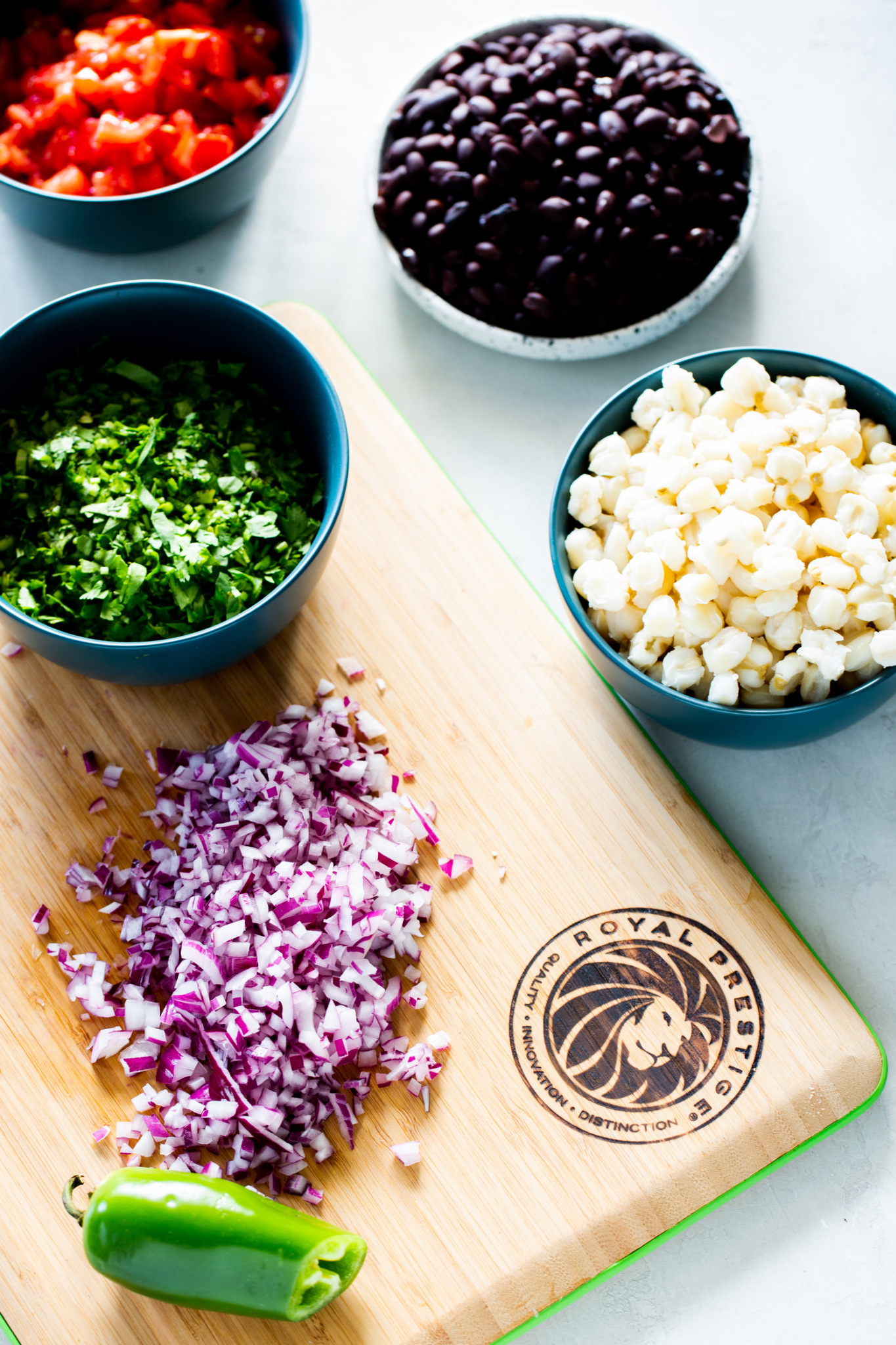 💡
  How to make quinoa?


You could also substitute brown rice or cauliflower rice for the quinoa.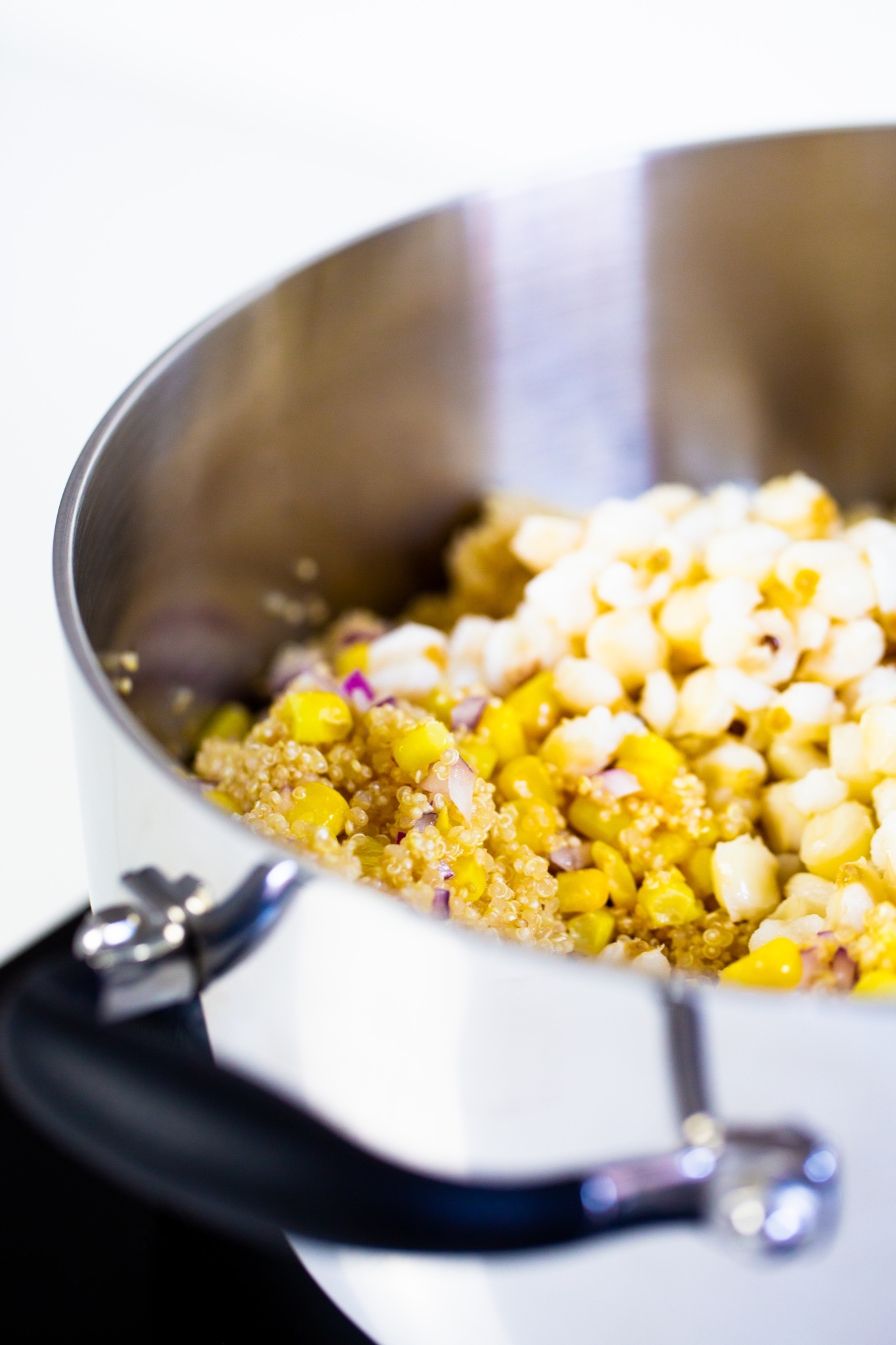 How to make Mexican quinoa salad?
What Makes Mexican Quinoa Salad So Good?
Mexican quinoa salad is a clear winner when it comes to flavor-packed, nutrient-dense meals. This delicious salad combines a number of powerful ingredients to provide an irresistible flavor that is both comforting and healthy.
Quinoa is the main ingredient in a Mexican quinoa salad, but many other nutritious ingredients make it so tasty. The quinoa is cooked until it is light and fluffy, then combined with black beans, corn, hominy, serrano chile, diced tomatoes, and onion to form the foundation of the salad. All dressed with a vegan creamy cilantro dressing to give the salad a unique Mexican flavor.
Benefits of eating quinoa salads
The combination of ingredients in Mexican quinoa salad makes it a nutritional powerhouse. Quinoa is a great source of protein and fiber, while black beans are a great source of iron. The combination of the two provides plenty of energy and nutrition to keep you going throughout the day. The corn, tomatoes, and onion add loads of flavor and texture, while the cilantro, lime juice, and chili give the dish a flavorful kick.
Tips for Making the Best Mexican Quinoa Salad
To start, use high-quality quinoa. Quinoa is a great base for many dishes, but it's best when it's of good quality. Organic quinoa is a great option, as it's often higher in nutrients and flavors. Make sure to rinse the quinoa before you cook it and add it to your Mexican quinoa salad.
Let the quinoa cool before adding the pico de gallo. A good tip is to add frozen corn kernels to cool it faster.
Eat immediately; it tastes so much better. If you want to use it for meal planning, add the pico de gallo, avocado, and dressing just before eating.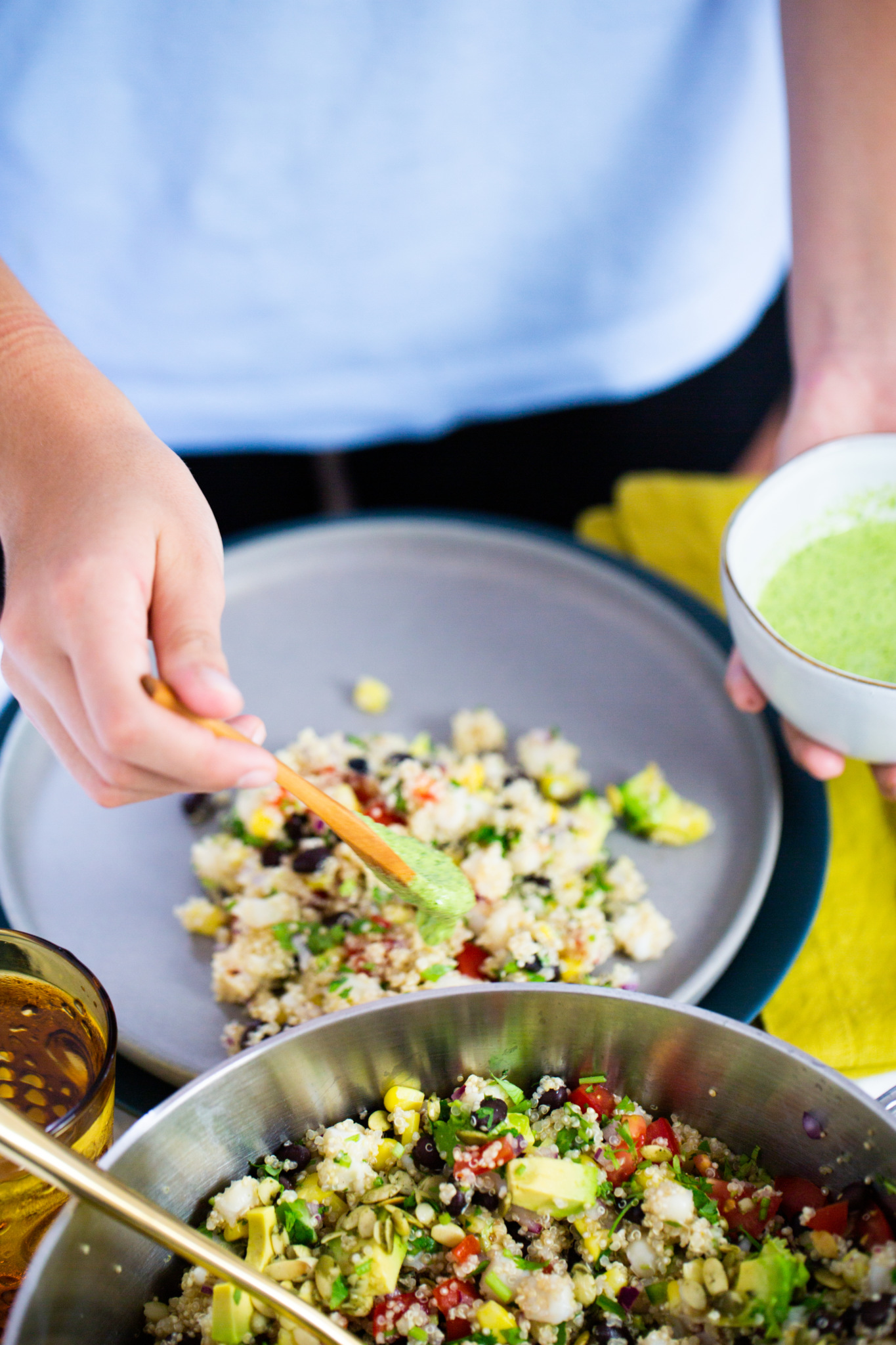 Variations You Can Try
For a refreshing twist, try adding some fresh, diced mango to your Mexican quinoa salad. The sweet, juicy flavor of mango adds a unique dimension to the dish, and it pairs wonderfully with the mixture of spices and flavors.
If you want something more savory, add diced bell peppers. The bell pepper provides a bit of sweetness and depth. You can substitute bell pepper for other vegetables like zucchini or carrots.
Finally, you can try adding different grains to your Mexican quinoa salad for a more filling meal. Brown rice, quinoa, bulgur, farro, and other grains are all excellent options. Mix and match different grains, or stick to one. The possibilities are endless, and the choice is yours.
Adding different ingredients can create delicious variations of Mexican quinoa salad that you and your family will love. Whether you're looking for a light and refreshing salad or something more filling, there's a Mexican quinoa salad recipe for everyone. Get creative and try new ingredients for a truly unique and tasty dish.
Other quinoa recipes you may like:
Made and loved this recipe? Give it a ⭐️⭐️⭐️⭐️⭐️ rating below. Let me know if you have questions about this recipe in the comment section or DM me on Instagram. Follow me on Facebook and Pinterest to stay in touch, and don't forget to subscribe to my newsletter.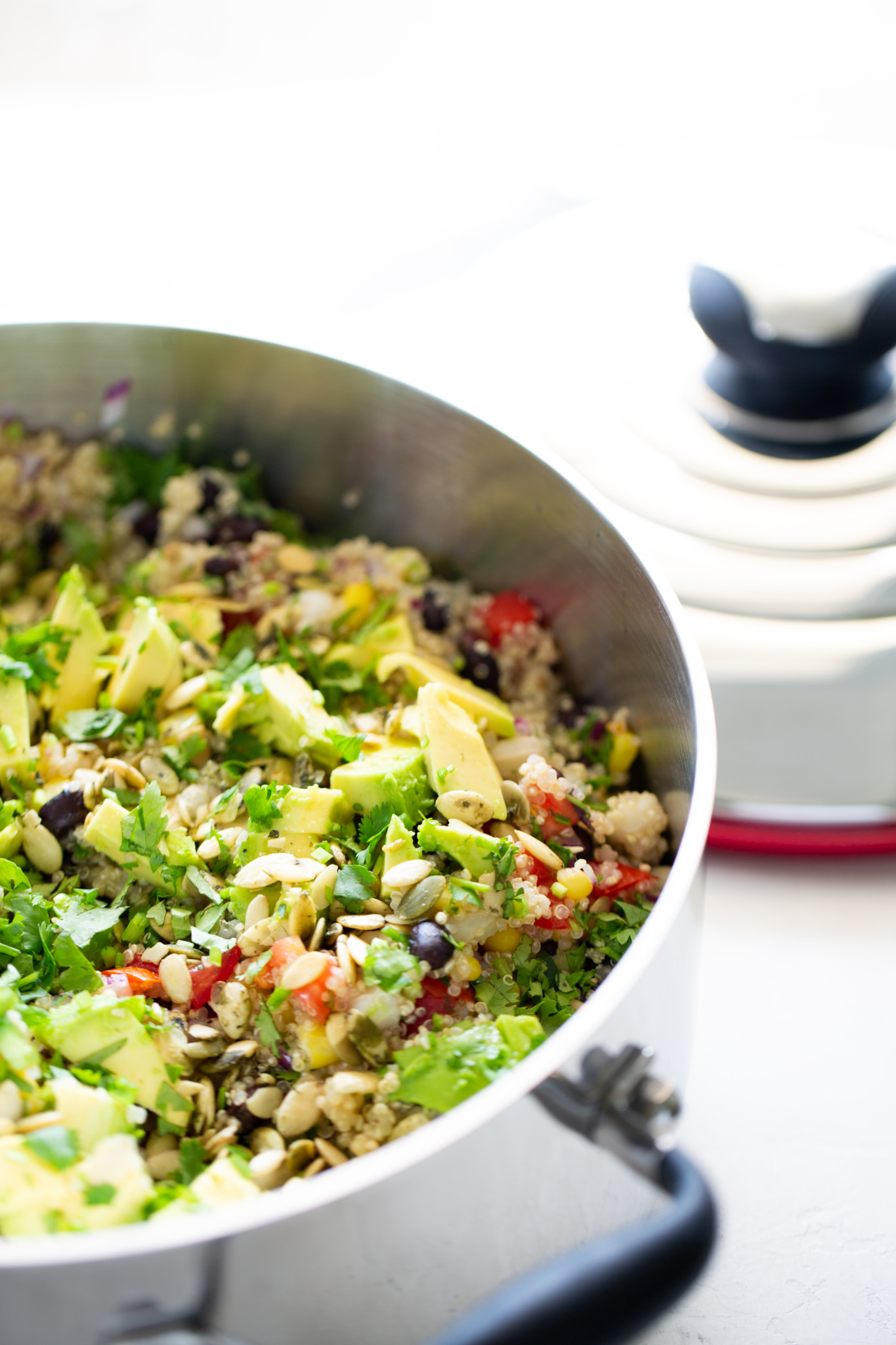 Mexican Quinoa Salad
This recipe for Mexican Quinoa Salad is very easy to prepare, it is fresh, healthy, delicious and comes together really fast.
Equipment
6-qt sauté pan with a lid
Ingredients
2

cups

quinoa

3

cups

water

1

teaspoon

salt

¼

cup

olive oil

1

cup

chopped red onion

2

cups

frozen corn kernels

1

can 454 gr /1 lb posole

1 ½

cups

of black beans or 1 can

without liquid

1

bunch chopped cilantro

1

jalapeno pepper

chopped

1

cup

of tomato

chopped

2

limes

juice

¼

cup

pumpkin seeds

1

diced avocado
Creamy cilantro dressing
1

bunch cilantro

¼

cup

pumpkin seeds

2

cloves

garlic

2

scallions

white and green part

½

jalapeno pepper

2

tablespoons

lemon juice

2

tablespoons

rice vinegar

¾

cup

olive oil

A good pinch of salt
Instructions
In a large pot add the quinoa and water, cover and let it cook for about 15-18 minutes.

When quinoa is done, fluff and let cool for about 5-10 minutes. Add the olive oil, red onion, frozen corn kernels, posole, black beans, jalapeño, lime juice and finally the chopped tomato.

Finish with diced avocado, chopped cilantro, and the pumpkin seeds.

Serve with the creamy cilantro sauce.
To make the creamy cilantro sauce:
Put all the ingredients in the blender. Blend until everything is well incorporated. Taste and adjust the seasoning if necessary.
Notes
This recipe does not stores well, it is best when eating the day you make it.
Nutrition
Serving:
1
cup
Calories:
549
kcal
Carbohydrates:
49
g
Protein:
12
g
Fat:
36
g
Saturated Fat:
5
g
Polyunsaturated Fat:
6
g
Monounsaturated Fat:
24
g
Trans Fat:
1
g
Sodium:
387
mg
Potassium:
677
mg
Fiber:
10
g
Sugar:
4
g
Vitamin A:
320
IU
Vitamin C:
18
mg
Calcium:
55
mg
Iron:
4
mg
information
Nutritional information of this recipe is only an estimate, the accuracy for any recipe on this site is not guaranteed.

Latest posts by Alejandra Graf
(see all)