For real, these vegan lettuce taco wraps with pico de gallo, roasted corn, black beans, and avocado crema will soon become your favorite summer food.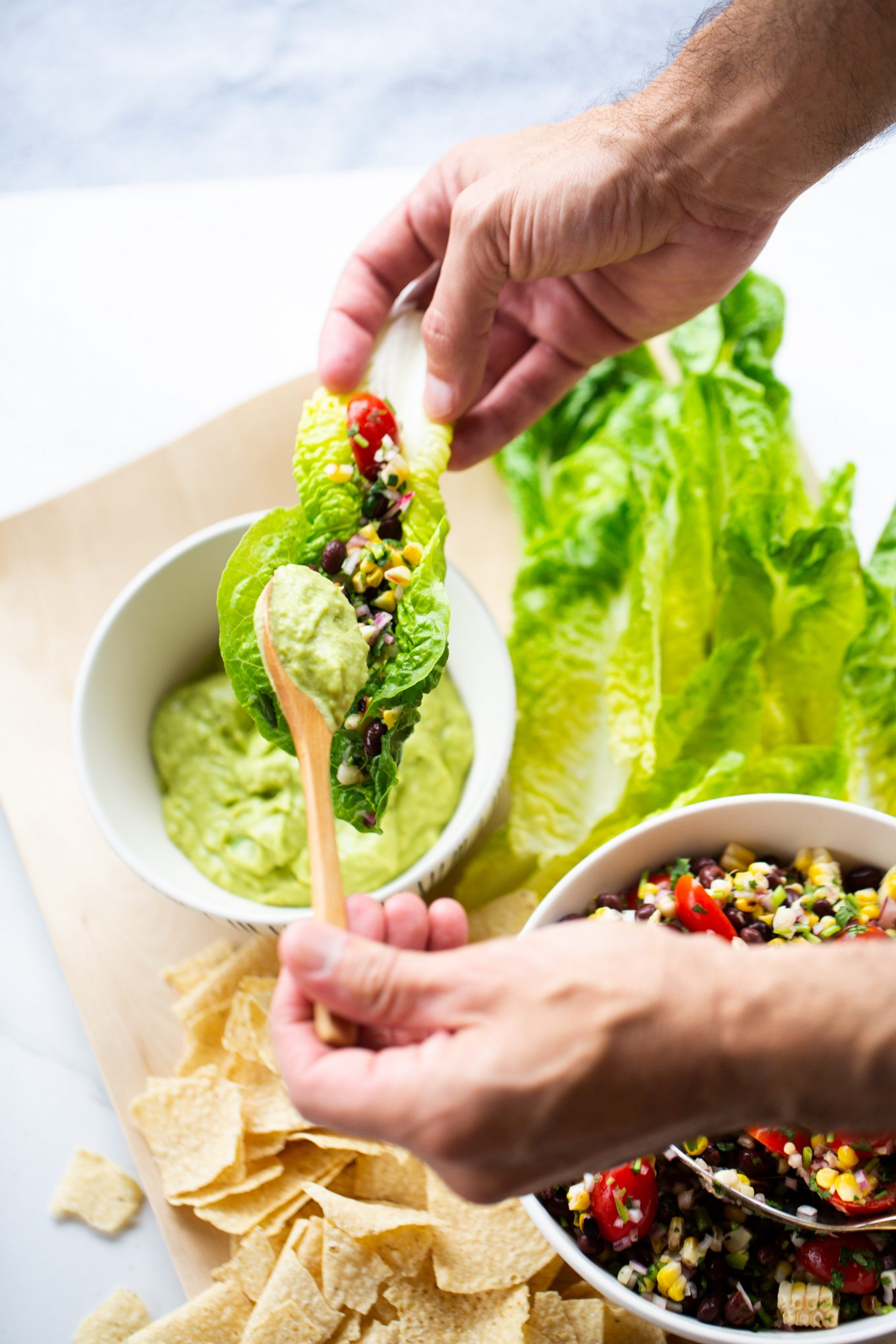 About this recipe
Tacos are a staple in many households, and for a good reason – they're full of flavor and often customizable to suit anyone's preferences. If you're looking for an exciting way to switch up taco night, these vegan lettuce tacos with pico de gallo, black beans, roasted corn and creamy avocado crema will become a family favorite.
These lettuce tacos are easy to prepare and even easier to enjoy. From start to finish, these lettuce tacos can be made in less than 20 minutes, which makes them ideal for a weeknight meal or even an impromptu get-together with friends.
What is an Authentic pico de gallo?
The traditional pico de gallo is made with white onion, serrano pepper, tomatoes, and cilantro. In Mexico, this salsa is used for everything. You will find this type of salsa in every taquería or restaurant..
My favorite way to eat it is with sopes, corn tortilla chips (affiliate link), molletes or to finish my vegan fish tacos.
Loaded pico de gallo
And if you add an ingredient or two to the traditional pico de Gallo, magic happens. This pico de Gallo gets to another level of deliciousness and nutrition by adding black beans and roasted corn. Perfect for our vegan lettuce tacos.
Ingredients for the lettuce wrap filling
Pico de gallo: The traditional ingredients of pico de gallo include tomatoes, onions, cilantro, and lime juice. I add a splash of olive oil, also.
Frozen corn kernels. You could use frozen corn kernels. Just be sure you thaw them and remove any extra liquid before adding them to the salsa.
Black beans. You could use canned beans or home-cooked black beans for the black beans. I use both.
Romaine lettuce. The romaine lettuce leaves are the best for these wraps. Substitute with butter lettuce or cabbage leaves.
✨Find the complete measurements and recipe below!
When to serve the lettuce wraps?
To tell you the truth, this pico de gallo with black beans is almost a very healthy salad. But I say it to no one because everyone who tastes it thinks they are just eating a healthy tacos. Serve as a side dish to any grilled protein, party food, or as an entree.
You could also eat just the pico de gallo with baked, fried, or homemade corn tortilla chips. This loaded pico de Gallo can also be eaten like a taco salad if you place a layer of greens on a serving dish. Add several spoonfuls of the pico, top with corn tortilla chips and finish with the avocado crema.
If you don't like the strong bite of raw onion you can soak it in very cold water for a couple of minutes or squeeze a lime on top.

These tips will remove the strong bite but will leave the crunchiness and freshness of the raw onion.
how to make avocado crema?
Avocado crema is a delicious and creamy topping for pico de gallo. Preparing it is easy and takes only 10 minutes.
It is one of the easiest things to make in the kitchen. It is as simple as adding avocado, garlic, lime juice, and salt in the food processor (affiliate link) or blender ( I use a Vitamix (affiliate link)). It is easy and incredibly delicious.
Once you have achieved the desired crema, cover the bowl with plastic wrap and refrigerate it while you prepare the other components of the pico de gallo. Serve the crema cold on top of the other ingredients. Enjoy!
Assembling the lettuce Taco wraps
Assembling tacos with pico de gallo with beans and, corn topped with avocado crema is super easy.
Place a generous scoop of the bean, corn, and pico de gallo mixture into each romaine leave. Finish with a dollop of the avocado crema and some tortilla chip crumbles.
Tips for Variations and Serving Suggestions
Whether you are making pico de gallo with beans, corn, and avocado crema as an appetizer, side dish, or topping, there's no denying that it is a delicious combo. But why not take the flavor of this meal up a notch with some variation ideas?
Here are some tips and creative serving suggestions to help make your pico de gallo with beans, corn, and avocado crema stand out.
First and foremost, feel free to mix in other vegetables. Consider adding chopped bell peppers to add a crunchy texture or diced red onion as a contrast to the sweetness of the corn and avocado crema. After all, the best dishes are those made from scratch, so go ahead and experiment until you find a combination that is uniquely yours.
If you are looking for a different type of sauce to drizzle on top, consider using a simple vinaigrette. The acidity of the vinegar-based dressing will contrast nicely with the sweetness of the corn, while still complementing the earthy flavor of the beans.
Another option is to use a cilantro magic sauce or the creamy jalapeño dressing as a topping. Not only will it add a vibrant green hue, but it will also give the dish a zesty kick of flavor.
When it comes to serving your pico de gallo with beans, corn, and avocado crema, don't limit yourself to tortilla corn chips try using brown rice as the base for your meal. The carbs in the rice will absorb all the flavors of the dish, giving your guests an extra layer of flavor. You can even serve it in tacos or over quesadillas for an added twist.
Other recipes that you may like
Made and loved this recipe? Give it a ⭐️⭐️⭐️⭐️⭐️ rating below. Let me know if you have questions about this recipe in the comment section or DM me on Instagram. Follow me on Facebook and Pinterest to stay in touch, and don't forget to subscribe to my newsletter.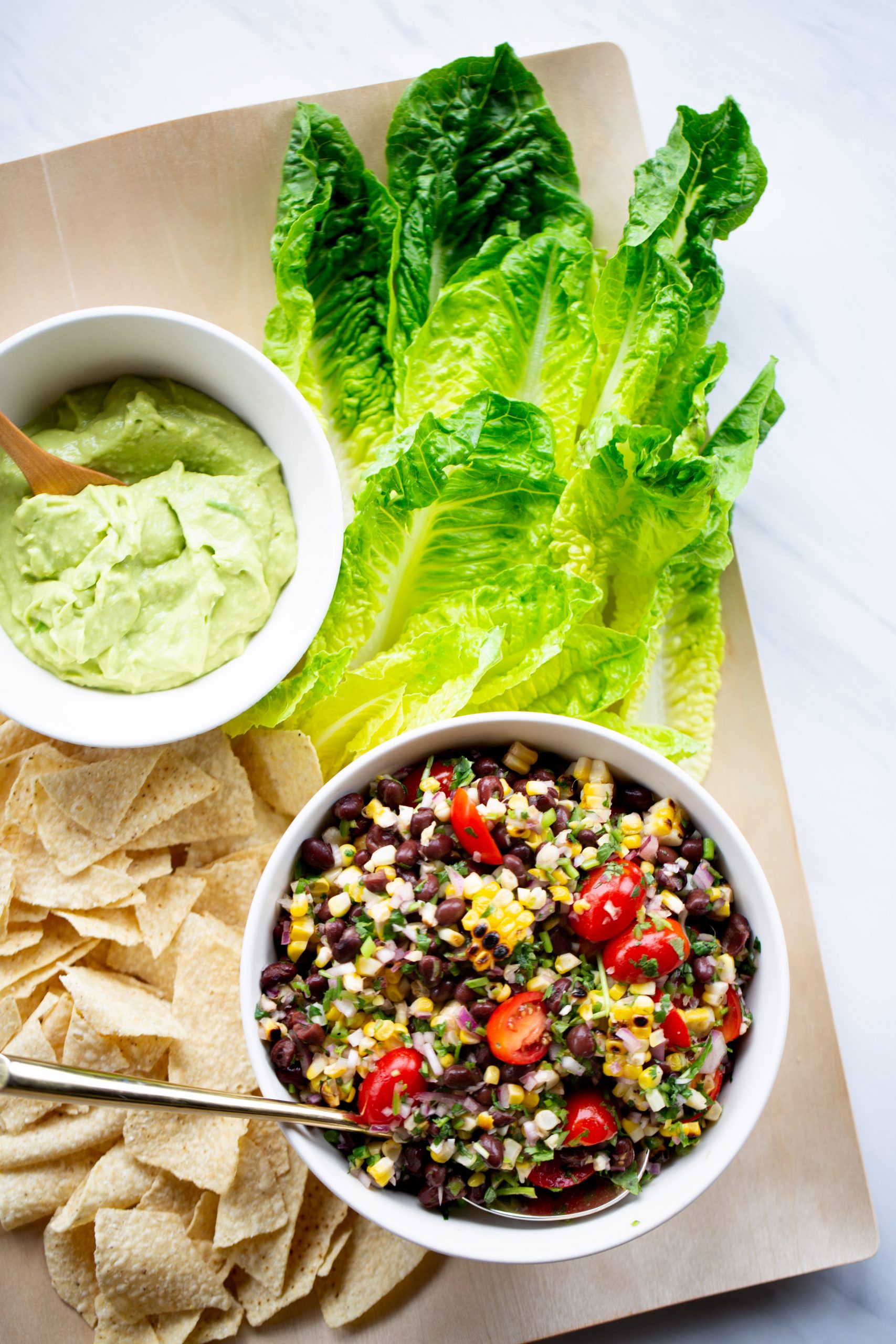 Mouthwatering vegan lettuce taco wraps with avocado crema
This recipe for pico de gallo with roasted corn and black beans is perfect for nachos, lettuce taquitos, or other Mexican dishes you want to elevate.
Ingredients
1/2

cup

red onion

finely diced

2

tablespoons

lime juice

juice of 1 lime

1½

cups

tomato

diced

1

cup

of roasted corn kernels

1½

black beans

1

cup

chopped cilantro

1

serrano pepper

chopped as small as possible

1/2

teaspoon

of sea salt
Avocado crema
1

avocado

1

garlic clove

2-3

tablespoons

of lime juice

sea ​​salt
For serving
romaine lettuce leaves washed and pat dried

baked corn chips
Instructions
In a large bowl, put the onion and lime juice for about 5 min.

Add the tomato, corn, beans, cilantro, diced chile and salt. Mix, taste, and adjust if necessary.

Set it aside.

To make the avocado crema, put the avocado, garlic, lemon juice, and salt in a blender container. Add 2 or 3 tablespoons of water so that it blends smoothly. Blend for 3-5 minutes until creamy.

If making romaine lettuce tacos. Simply put a tablespoon of pico de gallo on each lettuce leaf, a teaspoon of avocado cream, and a slice of chili serrano if you want an extra layer of spice.

If serving with chips, just put everything in serving bowls and dip the corn chips.
Notes
You can add the serrano pepper along with the other ingredients or put it on the side if not everybody likes the spice.
You can also make avocado cream in a bowl by hand and without needing an electrical device. Crush the avocado with the back of a fork until it is entirely mushed and creamy. Add the minced garlic, lime juice, and salt.
Nutrition
Serving:
1
serving
Calories:
114
kcal
Carbohydrates:
15
g
Protein:
3
g
Fat:
6
g
Saturated Fat:
1
g
Sodium:
240
mg
Potassium:
408
mg
Fiber:
4
g
Sugar:
4
g
Vitamin A:
739
IU
Vitamin C:
18
mg
Calcium:
15
mg
Iron:
1
mg
information
Nutritional information of this recipe is only an estimate, the accuracy for any recipe on this site is not guaranteed.

Latest posts by Alejandra Graf
(see all)