When it comes to making delicious baked goods, scones are an underappreciated category of food, but with these step-by-step instructions, you'll learn how to make some of the best chocolate chip scones ever made!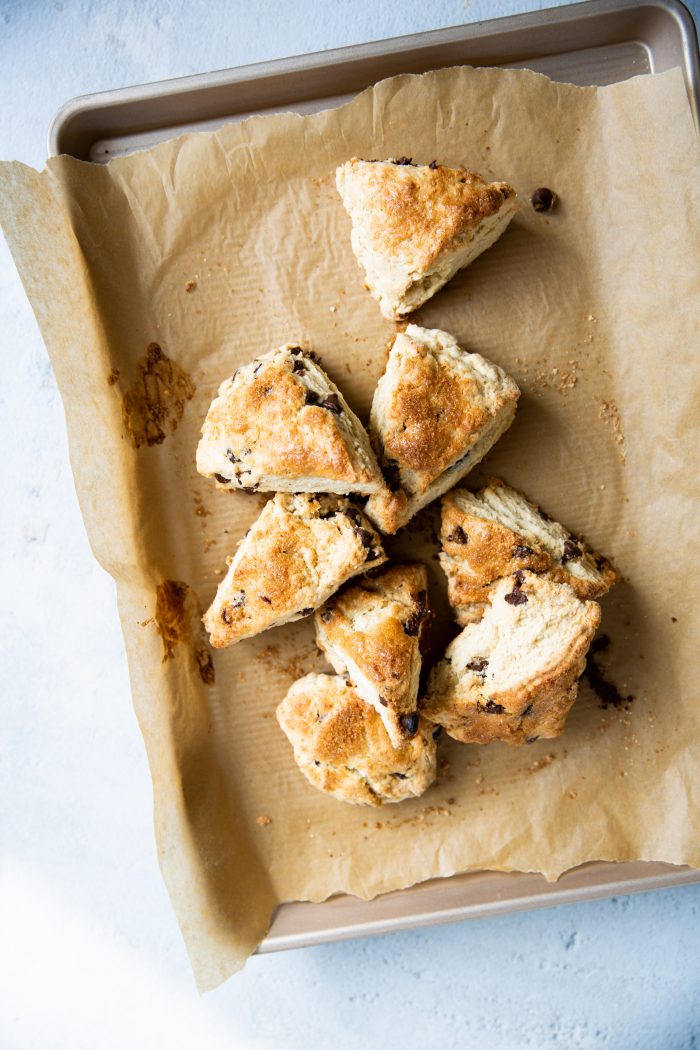 These vegan chocolate chip scones are moist, chocolaty, and entirely free of animal products, so even your vegetarian friends will be impressed with the results. The recipe couldn't be simpler and you don't need any unusual ingredients or complicated processes to make this dish that everyone will love!
What are scones?
A scone is a small, baked quick bread that is somewhat similar in texture and consistency to an American biscuit. A typical scone recipe will call for fat (butter or oil), flour, liquid, leavening agents (typically baking powder), and other ingredients such as sugar or spices.
Scone dough contains less liquid than pastry dough. The most common method of preparation involves cutting butter into dry ingredients then adding milk or cream and eggs if desired.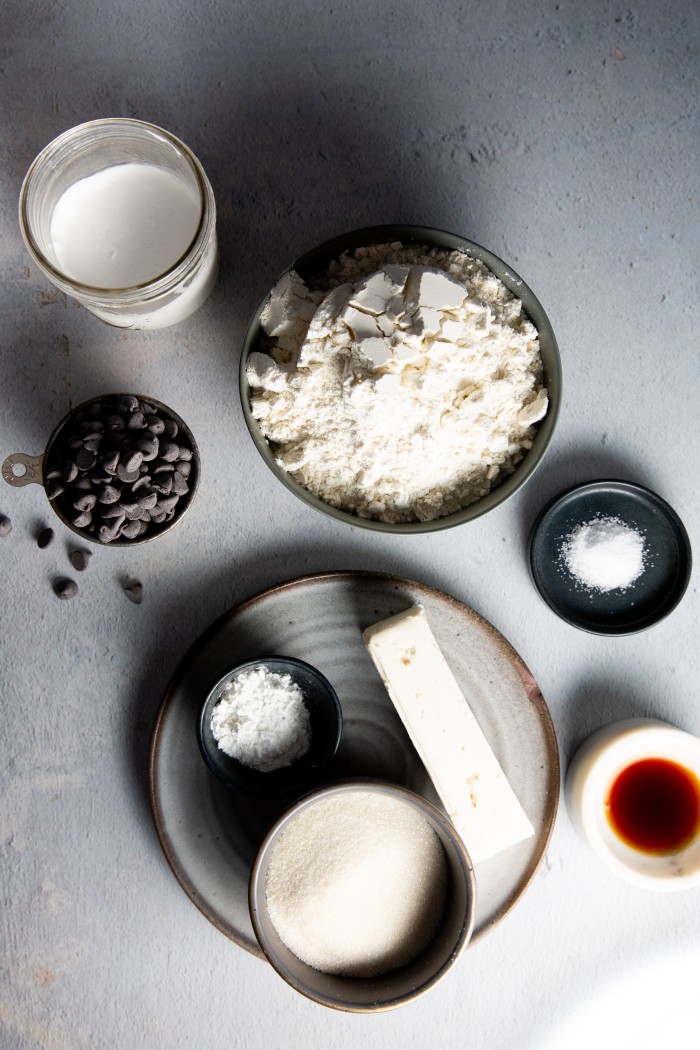 The Best Vegan Scones
How to Make Them VEGAN? You can still make the best vegan scones ever with a little help from plant-based ingredients. I use vegan butter and coconut cream instead of heavy cream or other fat. If you can't find vegan butter you can definitely sub it with coconut oil.
These are the brands I usually use to make my vegan scones Native Forest or Whole Foods.
💡SUPER GOOD KITCHEN TIP💡

If for some reason you can't find coconut cream, you can put a can of coconut milk upside down in the refrigerator for several hours. 

The cream will go to the top and all the liquid will stay at the bottom.

Open the can carefully and with a spoon scoop out the coconut cream. Do not throw away the liquid that remains at the bottom, you can use it to make coconut rice or a smoothie.

A step-by-step guide to making vegan chocolate chip scones
First. you have to mix the dry ingredients in a large bowl, check that there are no lumps of flour. The next step is to put the butter or whatever fat you are going to use, it can be vegan butter or coconut oil.
2. Second. Mix well with your hands, being careful not to overheat the dough We want little pieces of fat, vegan butter, or coconut oil to remain so that the vegan bread is flakey and delicious. You could also use a pastry cutter or a fork for this step.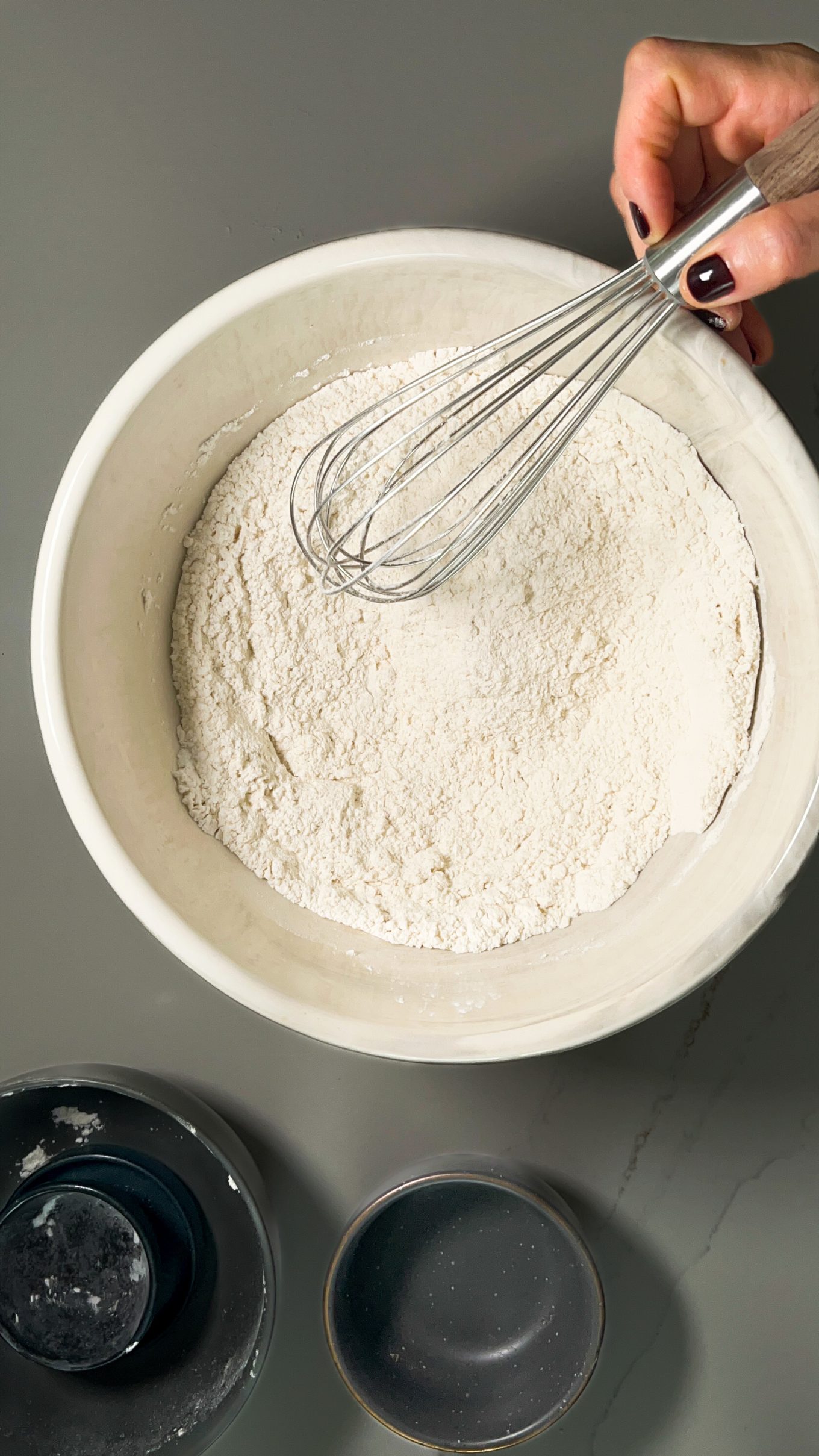 3. Three. Add the rest of the ingredients and when everything is more or less well integrated, put it on a baking sheet layered with a piece of parchment paper, and with your hands, form a disc. Cut into 8 pieces.
4. Four. Brush the scone pieces with coconut cream and sprinkle turbinado sugar on top.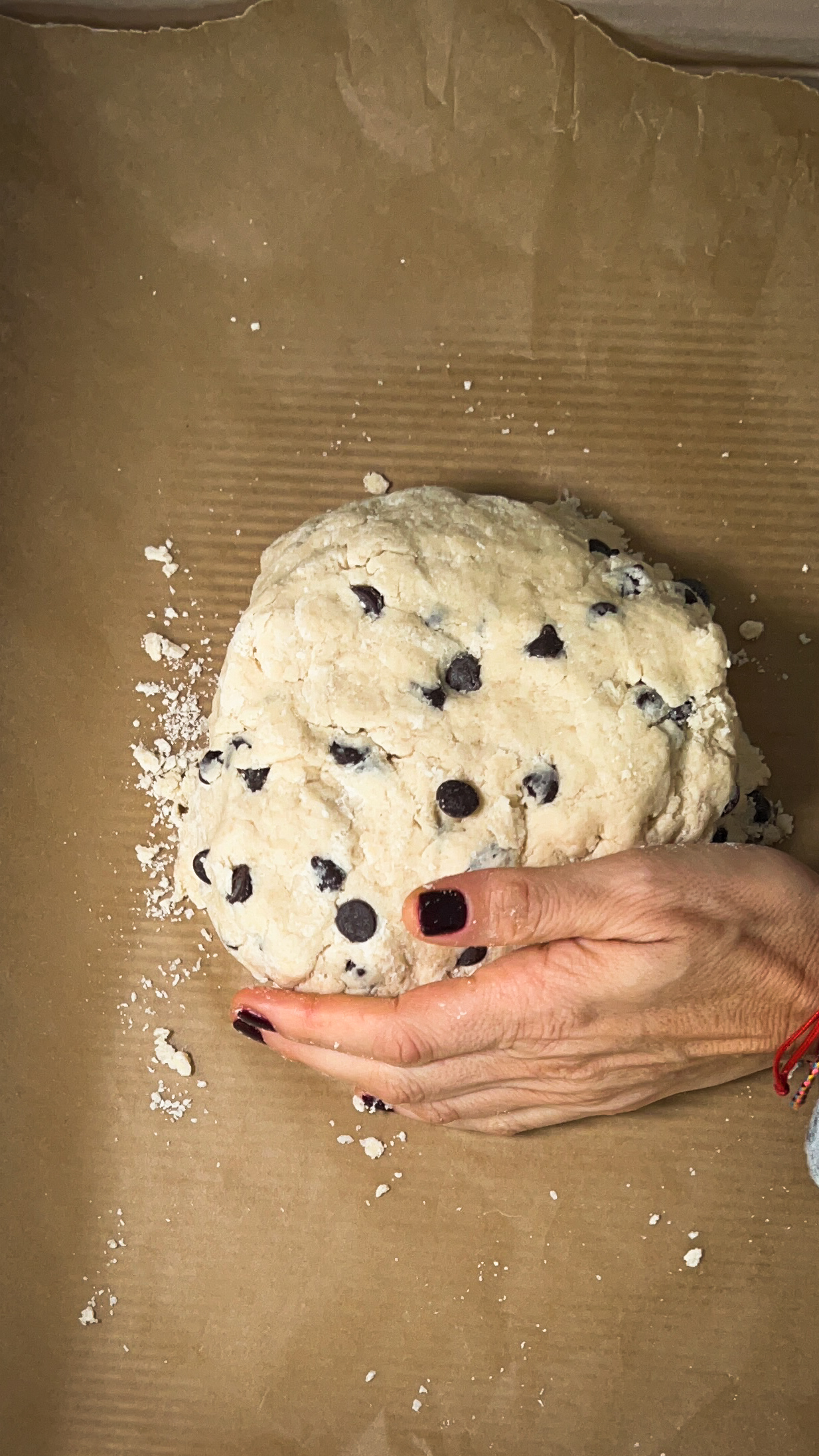 💡HOW TO GRATE BUTTER💡

In the video above you can see how I grate the butter. 

The trick to grating it and making it look good is to grate it when it's super cold, almost frozen. 

I use vegan butter, if you can't find it or you don't use it, you can also use coconut oil in its solid state.

When and with what scones are best?
The truth is that you can serve them with whatever and whenever you want, at all hours, and have them with coffee, tea, or another drink. I love them in the afternoon with a hot chocolate or a coffee with milk.
But if I drink them at night or if I serve them at a gathering of friends in the afternoon or after dinner, I love them with spiced wine.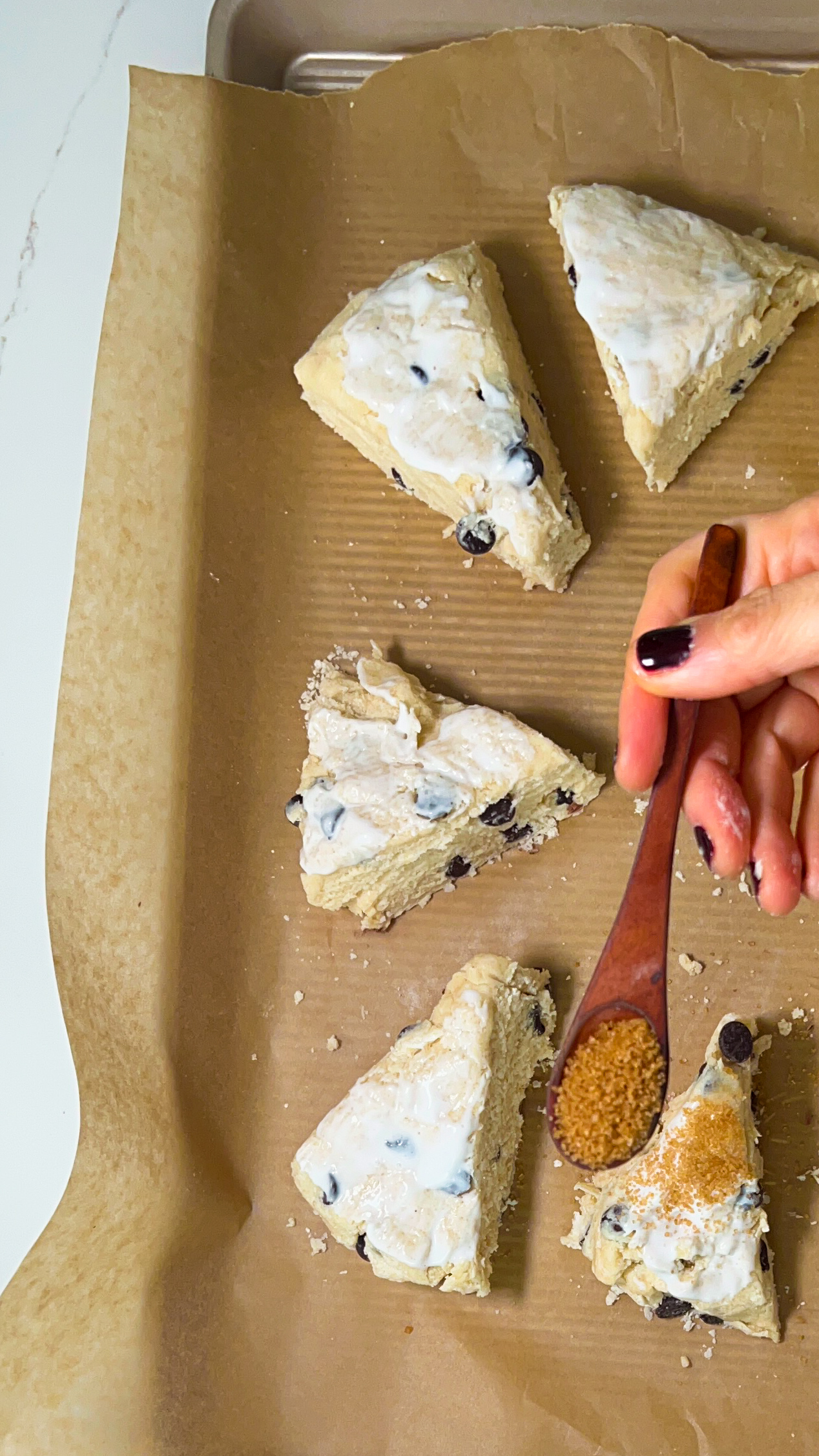 Frequently asked questions
What can use instead of egg in scones? With this recipe, you do not need to worry about substitutions, all the ingredients are measured and perfectly thought of so you can completely forget about the eggs in these vegan chocolate chips scones.
What can I use instead of cream in scones? Coconut cream is a perfect substitution for heavy cream in scones. The amount of fat it has makes perfect scones.
Are eggs necessary in scones? No, they are not.
How to store and freeze scones? You can freeze them before baking them or after baked. If you choose to freeze them raw, shape them into triangles and put them on a baking sheet. Place the baking sheet in the freezer and when frozen transfer to bag. That way you can bake them individually.
To bake, let them sit on the countertop for 10 minutes and then bake from 10-12 at 300ºF.
Other recipes that you may like: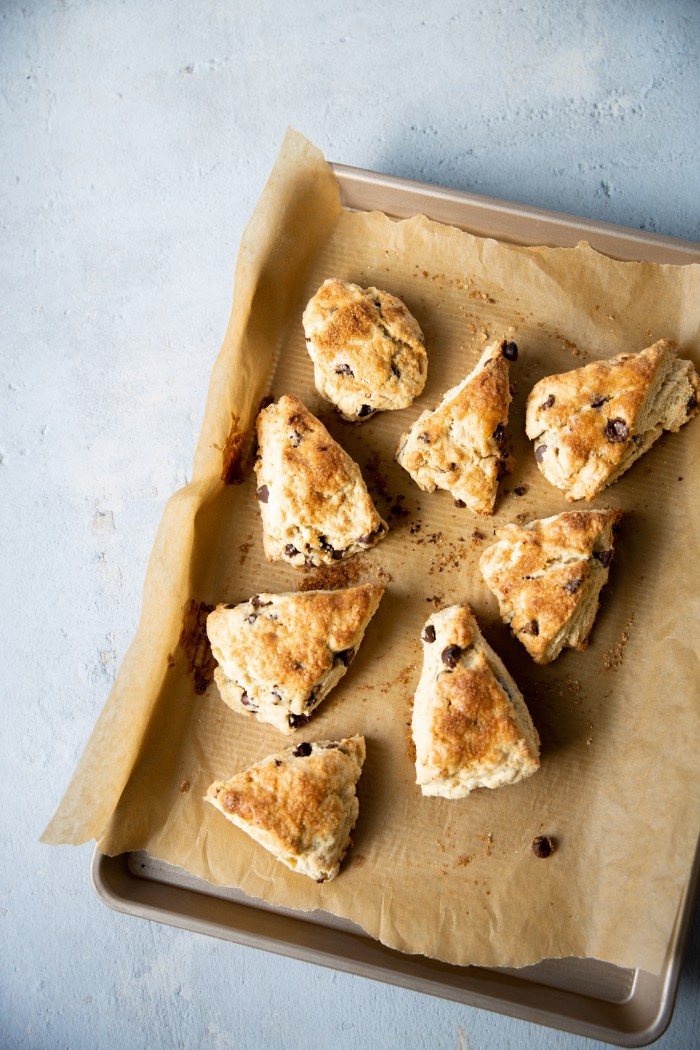 I'll leave you the recipe and if you like it please take a photo of your scones and put it on Instagram or Facebook so we can all see them. If you are going to do it later, save it on Pinterest. I would love to hear your questions, comments, or ideas in the section below.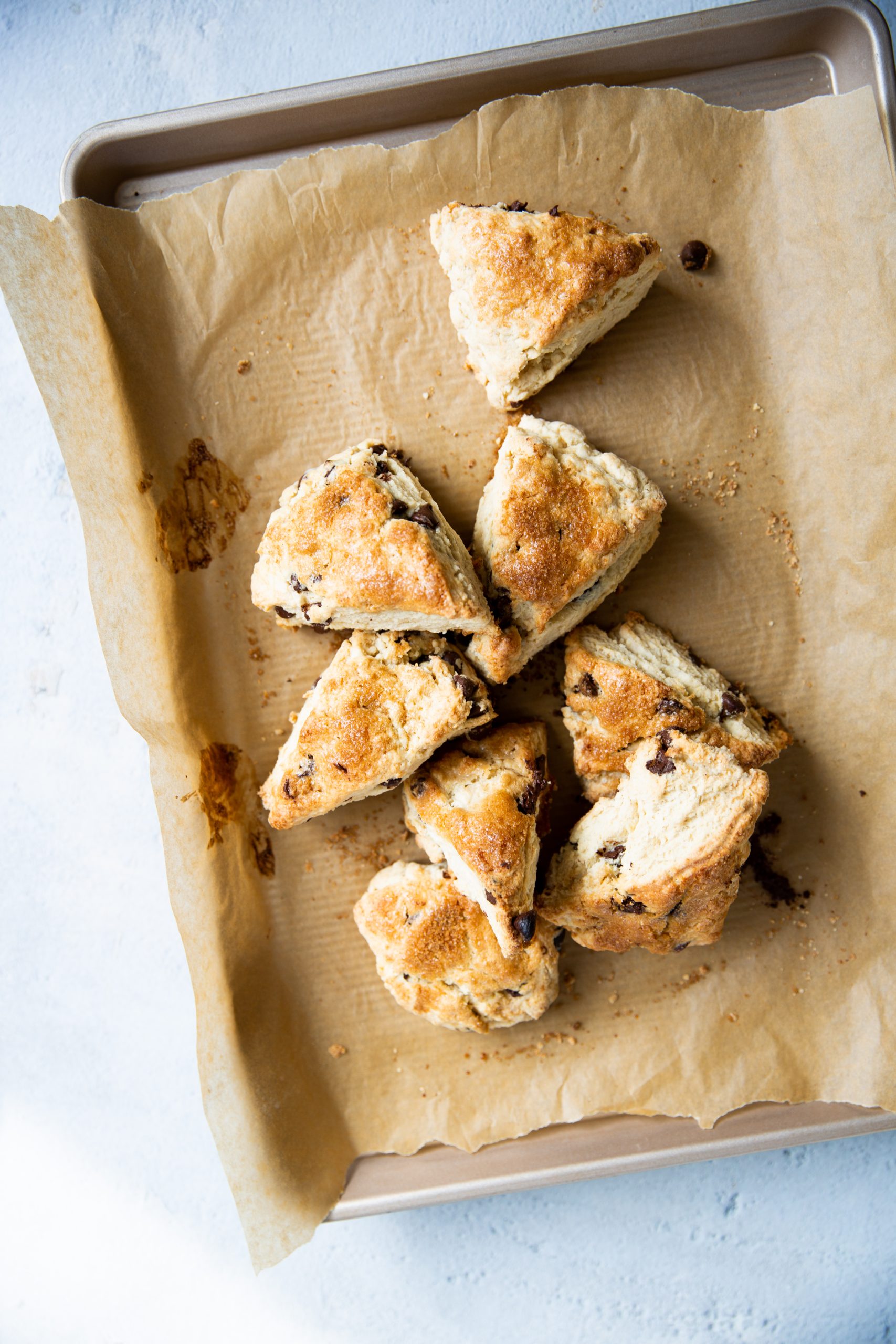 Vegan chocolate chip scones
These vegan chocolate chip scones are moist, chocolaty, and entirely free of animal products, so even your vegetarian friends will be impressed with the results. The recipe couldn't be simpler and you don't need any unusual ingredients or complicated processes to make this dish that everyone will love!
Ingredients
3

cups

all purpose flour

1

tablespoon

baking powder look for one without aluminum

1/4

teaspoon

salt

1/2

cup

vegan butter

cold or coconut oil

1/2

cup

sugar

3/4

cup

coconut cream

1

teaspoon

vanilla extract

1/2

cup

chocolate chips
To finish
1

tablespoon

turbinado sugar

coconut cream
Instructions
Mix the flour, baking powder, sugar and salt until everything is well integrated.

Cut the butter into small pieces or grate it with a vegetable grater. Add it to the powders and with your hands integrate it little by little. It should be the consistency of wet sand.

Add the coconut cream and vanilla and integrate all the ingredients very carefully not to over mix. Add the chocolate chips and mix.

On a tray lined with baking paper, empty the mixture and form a large disk, about 8 inches in size. Varnish with coconut milk and sprinkle the sugar on top. Cut into several pieces separate them so that they are in the form of triangles.

Bake for about 20-25 min. in a 300ºF oven. Until a toothpick comes out clean and the sugar on top begins to brown.
Notes
Use good chocolate. I use dark chocolate with more than 50% cocoa, it really makes a difference.
Nutrition
Serving:
1
g
Calories:
440
kcal
Carbohydrates:
59
g
Protein:
6
g
Fat:
20
g
Saturated Fat:
11
g
Polyunsaturated Fat:
3
g
Monounsaturated Fat:
4
g
Trans Fat:
1
g
Cholesterol:
2
mg
Sodium:
333
mg
Potassium:
129
mg
Fiber:
2
g
Sugar:
21
g
Vitamin A:
565
IU
Vitamin C:
1
mg
Calcium:
111
mg
Iron:
3
mg
information
Nutritional information of this recipe is only an estimate, the accuracy for any recipe on this site is not guaranteed.

Latest posts by Alejandra Graf
(see all)