Mexican cocadas are a type of traditional dessert that is very popular throughout the country, especially in coastal areas where coconut is abundant.
This coconut-based sweet may vary a little in its recipe depending on the region, but it is generally characterized by its softness and sweetness.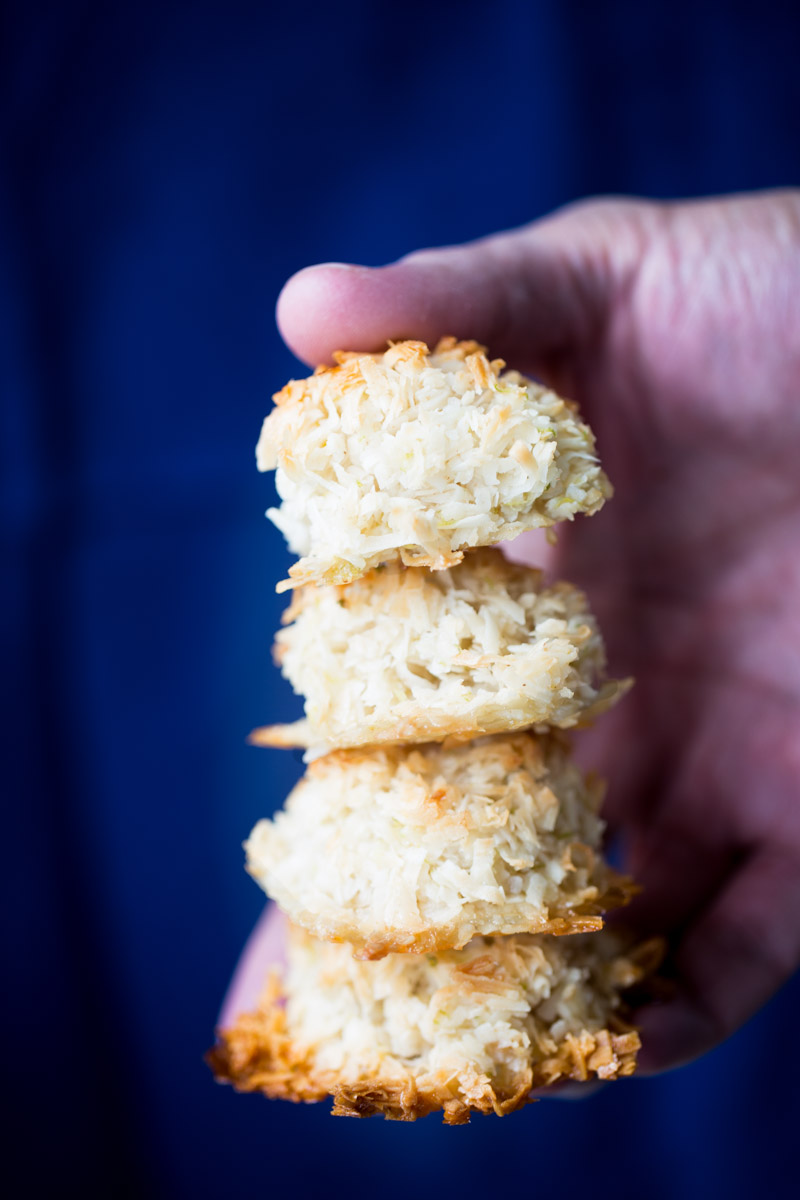 About this recipe
The basic recipe for Mexican cocadas involves mixing grated coconut pulp with sugar and sometimes with milk or condensed milk, which adds a rich creaminess to the dessert. Some versions may also include ingredients such as vanilla or cinnamon for an extra touch of flavor.
Once the coconut, sugar and milk mixture has been simmered to a sticky texture, it is allowed to cool and then formed into small mounds or balls that are baked until golden brown. The result is a delicious and satisfying sweet that is perfect to enjoy after a meal or as a mid-afternoon snack.
Mexican cocadas are a true delicacy that highlights the richness and diversity of Mexican gastronomy. Their unique flavor and attractive presentation make them a popular choice for events and celebrations, as well as for holiday gifts. This is the vegan recipe for cocadas and you are going to love it.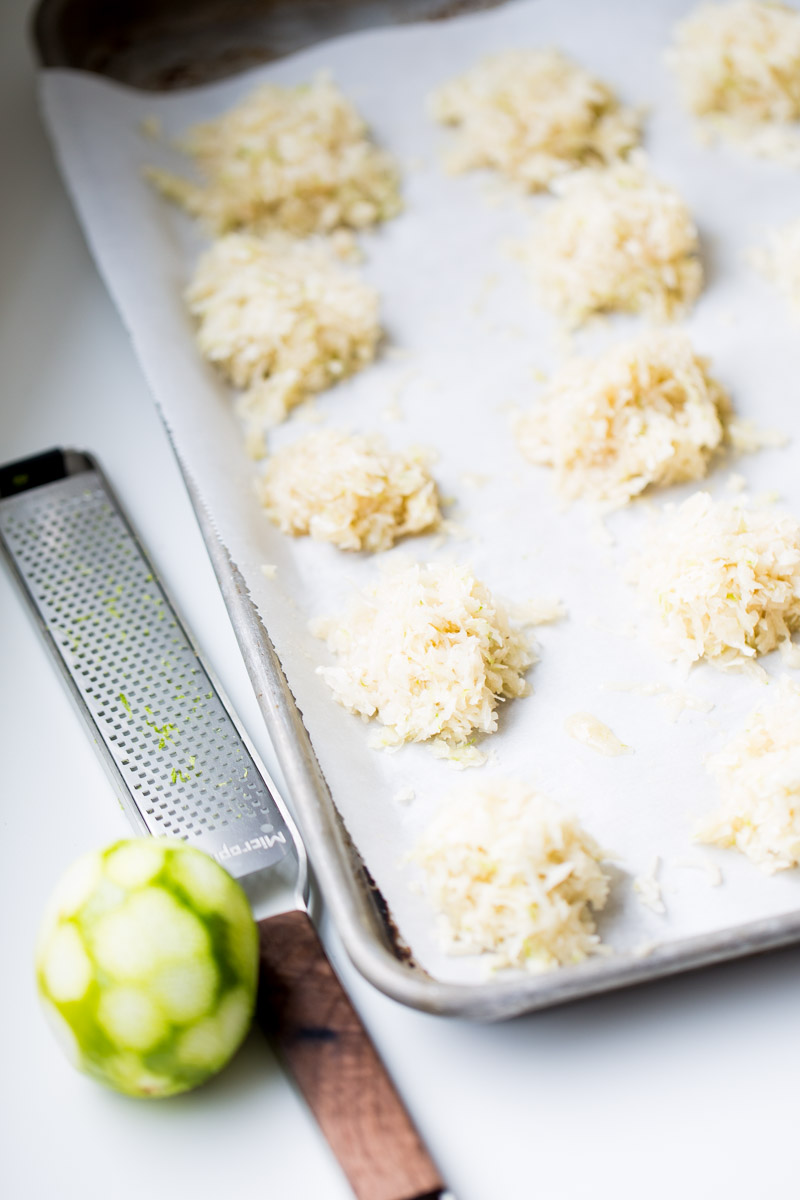 Ingredients for making cocadas
Aquafaba, the liquid in which canned chickpeas come in.
Sugar
Vainilla
Salt
Coconut oil
Finely grated coconut, make sure the coconut is unsweetened coconut flakes, desiccated, and not toasted
Zest of 1 large lime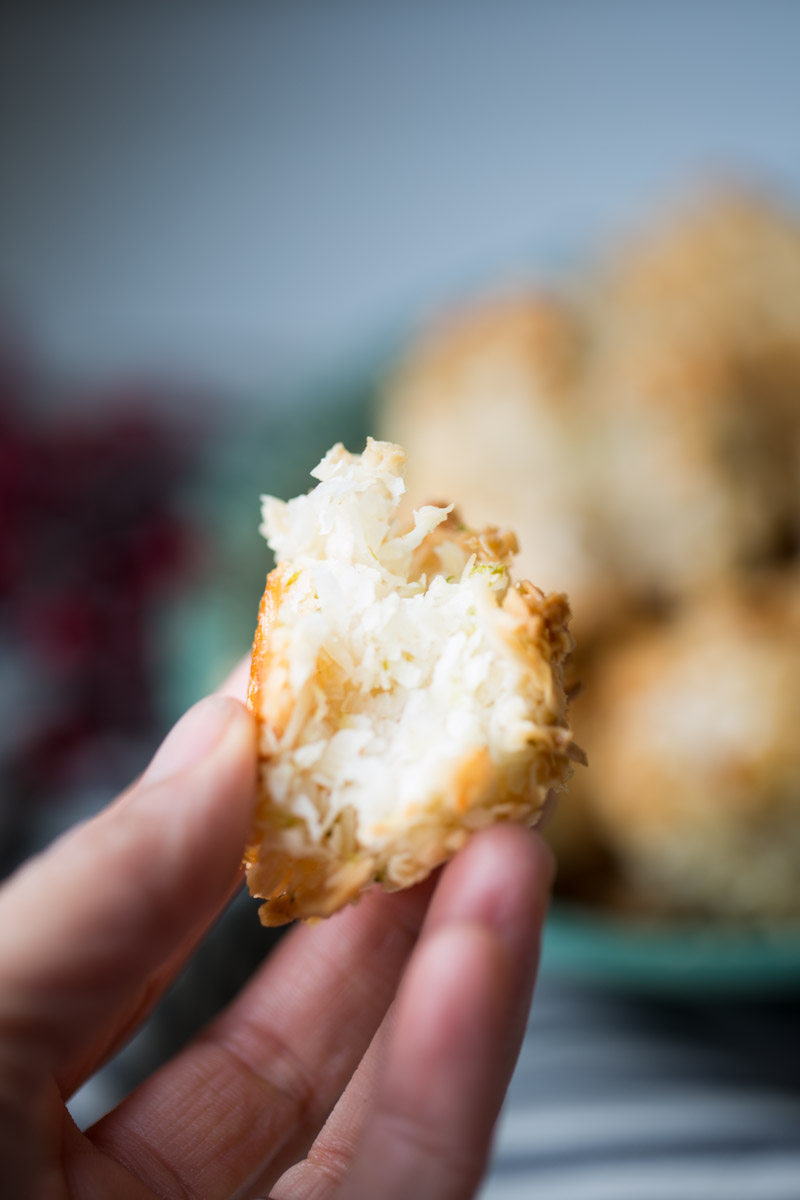 How to make vegan cocadas
In a large pot put the aquafaba, the cup of sugar, the vanilla, the teaspoon of salt and the coconut oil. Turn on medium heat and mix until the sugar is completely dissolved.
Remove from the heat and add the coconut and lime zest and mix until the coconut absorbs all the liquid. When no more liquid is at the bottom of the pan, start forming the balls with a spoon to serve ice cream or snow.
Place the balls on a baking sheet prepared with baking paper or a silicone mat. Bake in the oven for 25 minutes or until golden brown on top. Remove and let cool for at least half an hour.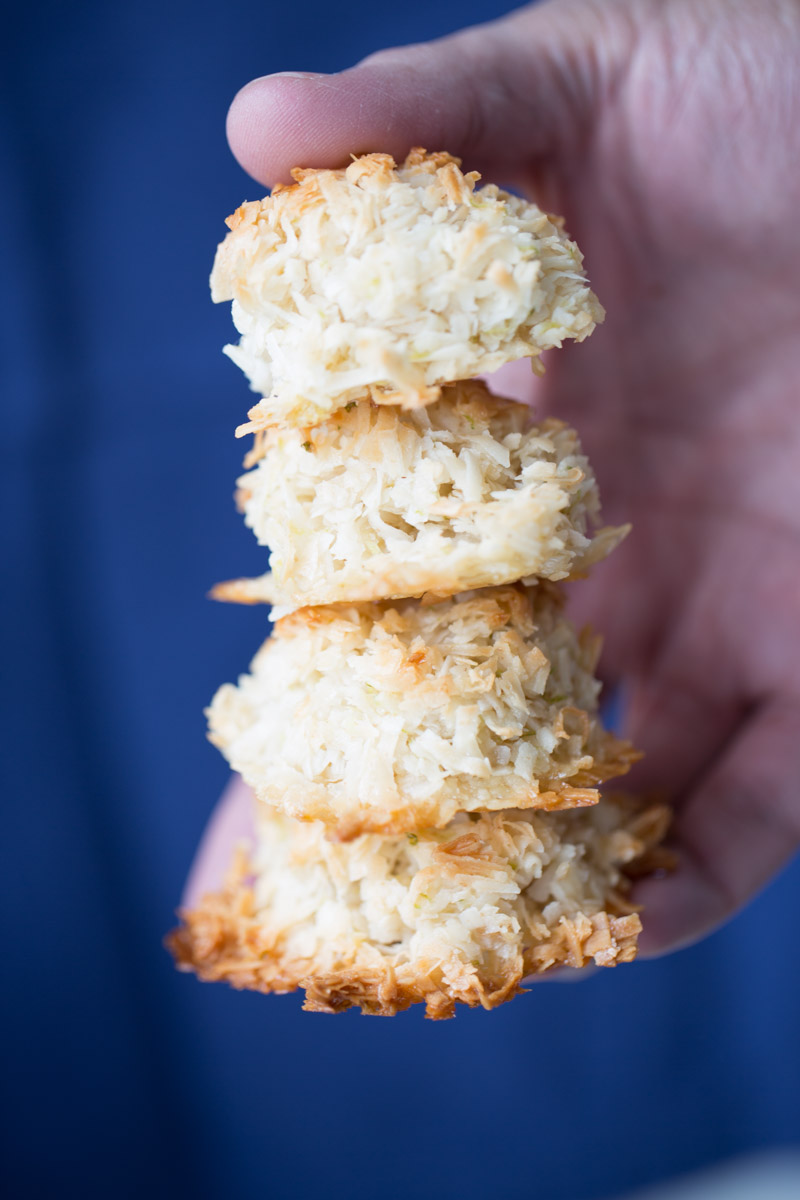 Benefits of coconut
High in fiber: Coconut is an excellent source of dietary fiber, which can help maintain digestive health, prevent constipation and aid in weight loss by providing a feeling of fullness.
Rich in healthy fats: Coconut contains medium-chain saturated fats, known as medium-chain triglycerides (MCT). These MCTs are absorbed and metabolized differently than other fats, and have been shown to have several health benefits, including promoting weight loss.
Tips for making the best vegan cocadas
Make sure your sugar is vegan: Some brands of refined sugar are bleached with carbonized animal bone, which is not vegan. Look for organic or unrefined sugar or alternative sugars such as maple syrup or coconut sugar.
Use good coconut: Make sure the shredded coconut you buy has no added sugar.
Experiment with flavors: Feel free to try additional flavors to make your vegan cocadas more interesting. Vanilla, cocoa powder (affiliate link), grated ginger, or orange zest.
Slow and even baking: When baking your cocadas, turn the oven to low temperature and bake longer. This will help prevent them from burning on the outside while remaining raw on the inside.
Proper storage: Vegan cocadas should be stored in an airtight container at room temperature. They remain fresh for approximately one week. Humid weather affects.
other recipes with coconut
Made and loved this recipe? Give it a ⭐️⭐️⭐️⭐️⭐️ rating below. Let me know if you have questions about this recipe in the comment section or DM me on Instagram. Follow on Facebook and Pinterest to stay in touch, and don't forget to subscribe to my newsletter.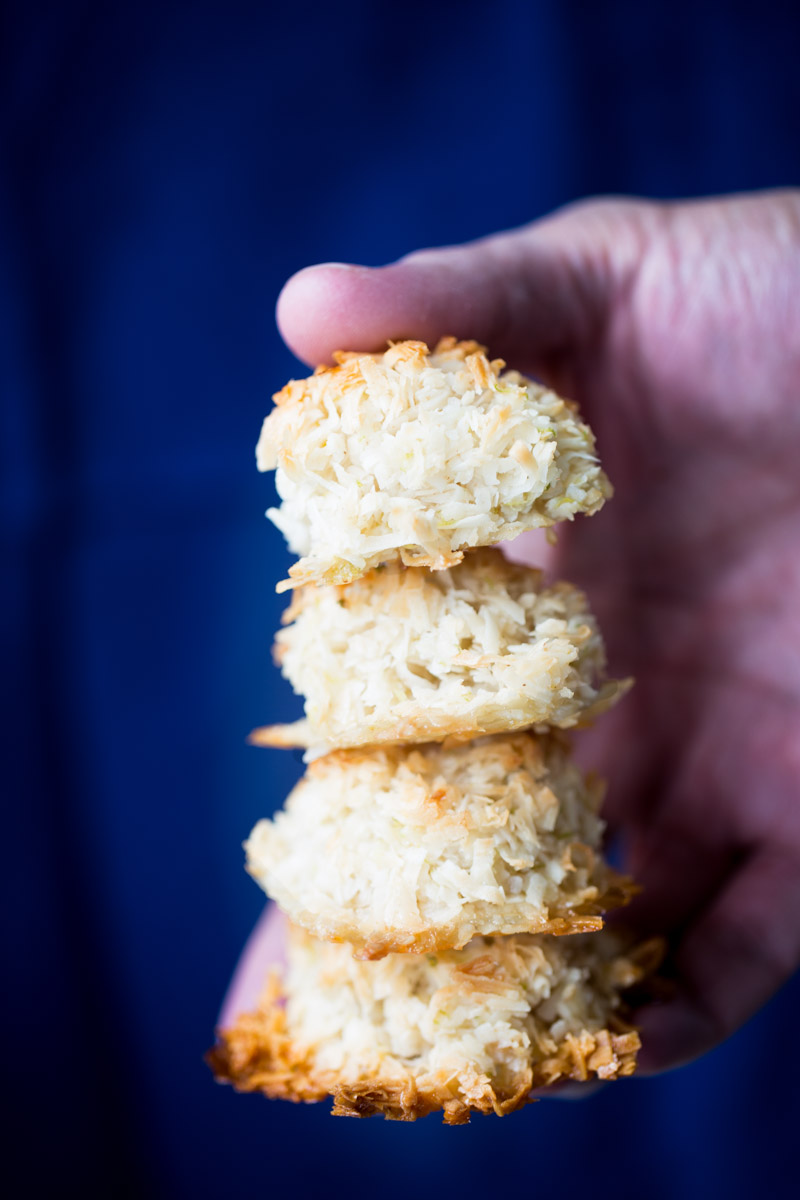 Vegan lime cocadas, Mexican macaroons
These macaroons are simply amazing, delicious, and incredibly easy to prepare. The taste is reminiscent of a Mexican cocada.
Ingredients
½

cup

aquafaba

the liquid inside a can of chickpeas

1

cup

sugar

white sugar, look for vegan

1

teaspoon

vanilla extract

1

teaspoon

salt

1

tablespoons

coconut oil

4

cups

unsweetened shredded coconut

desiccated not toasted

zest of 1 large lime
Instructions
Preheat oven to 350ºF.

In a large pot, add the aquafaba, the sugar, the vanilla extract, the salt, and the coconut oil. Turn on medium heat and mix until the sugar completely dissolves.

Remove from the heat and add the shredded coconut and the lemon zest. Mix until the coconut absorbs all the liquid and a thick batter forms. Let it cool and begin to form small balls of batter with a spoon or an ice cream scoop.

Put the uncooked macaroons on a baking sheet prepared with parchment paper (affiliate link) or a silicone mat.

Put in the oven for 25 minutes or until fully golden brown on top.

Remove and allow them to cool for at least half hour.
Notes
You can also use home cooked garbanzo liquid.
Nutrition
Serving:
1
serving
Calories:
285
kcal
Carbohydrates:
24
g
Protein:
3
g
Fat:
21
g
Saturated Fat:
19
g
Polyunsaturated Fat:
0.2
g
Monounsaturated Fat:
1
g
Sodium:
224
mg
Potassium:
169
mg
Fiber:
5
g
Sugar:
19
g
Vitamin A:
82
IU
Vitamin C:
0.5
mg
Calcium:
8
mg
Iron:
1
mg
information
Nutritional information of this recipe is only an estimate, the accuracy for any recipe on this site is not guaranteed.

Latest posts by Alejandra Graf
(see all)