This healthy homemade granola recipe is easy and quick to make, and best of all, you can adapt it to your liking. This granola is perfect for eating as a snack or breakfast on top of the fruit of your choice, like blueberries, yogurt, or milk as cereal.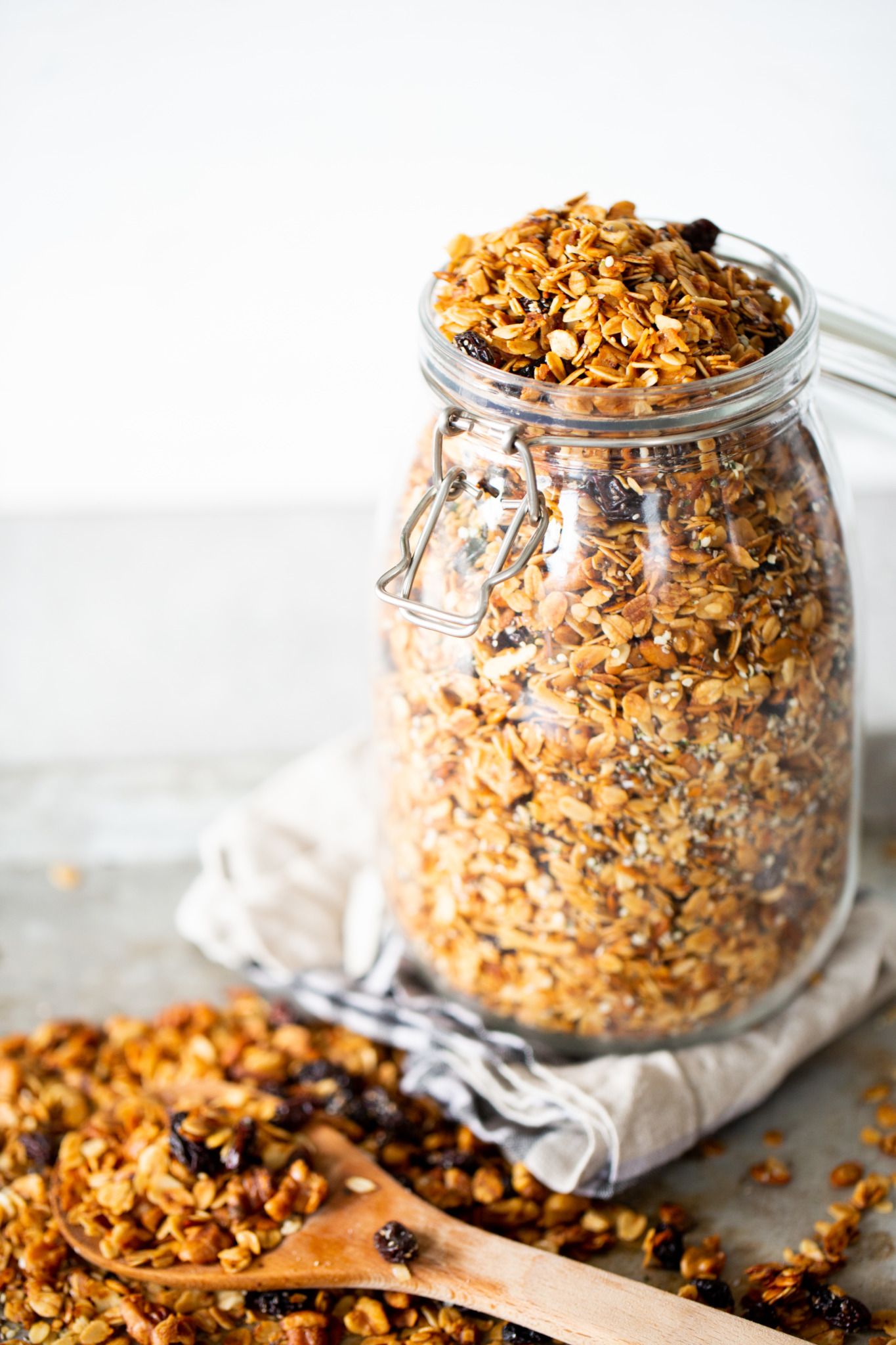 What exactly is granola?
Granola is a mix between rolled oats, dried fruit, nuts, and/or seeds. This mixture is sweetened with brown sugar, maple syrup, or honey (not vegan). You can add flavor, like vanilla, spices, or fruit or vegetable purees.
Granola is usually baked. Less common but just as delicious is savory granola. Which tastes delicious on top of salads, rice, soups, or roasted vegetables.
granola base ingredients
Oats, use whole oat flakes. Instant oatmeal is not the best for making granola. I love to use sprouted oats to elevate the nutritional value of this granola recipe. Old-fashioned oats are also a great option.
Vegetable oil. You can use olive oil, coconut oil, or avocado oil. Look for vegetable oil that is a single ingredient and not a blend.
Maple or agave syrup, or you can use healthier sweeteners like monk fruit or coconut sugar. Adjust the sweetness to your liking.
Coconut flakes. Grated and unsweetened coconut. Check the label of the coconut and of all the nuts that you are going to use; use ingredients that are NOT sweetened.
---

If you want to make a gluten-free granola, always double-check that the oats you are using are gluten-free certified.
Granola ad ins
Walnuts, you can substitute for cashews (affiliate link), pecans, almonds (affiliate link), etc. Use your favorite nuts.
Pepitas, pumpkin seeds. You can substitute without problem for sesame or sunflower seeds. Look for seeds that are not roasted.
Raisins can be dried cranberries, dried cherries, yellow raisins, etc. But like nuts and seeds, look for unsweetened ones.
Dried apricots * optional
Hemp seeds * optional
Chia seeds * optional
Vanilla extract * optional
Pinch sea salt because salt makes everything better.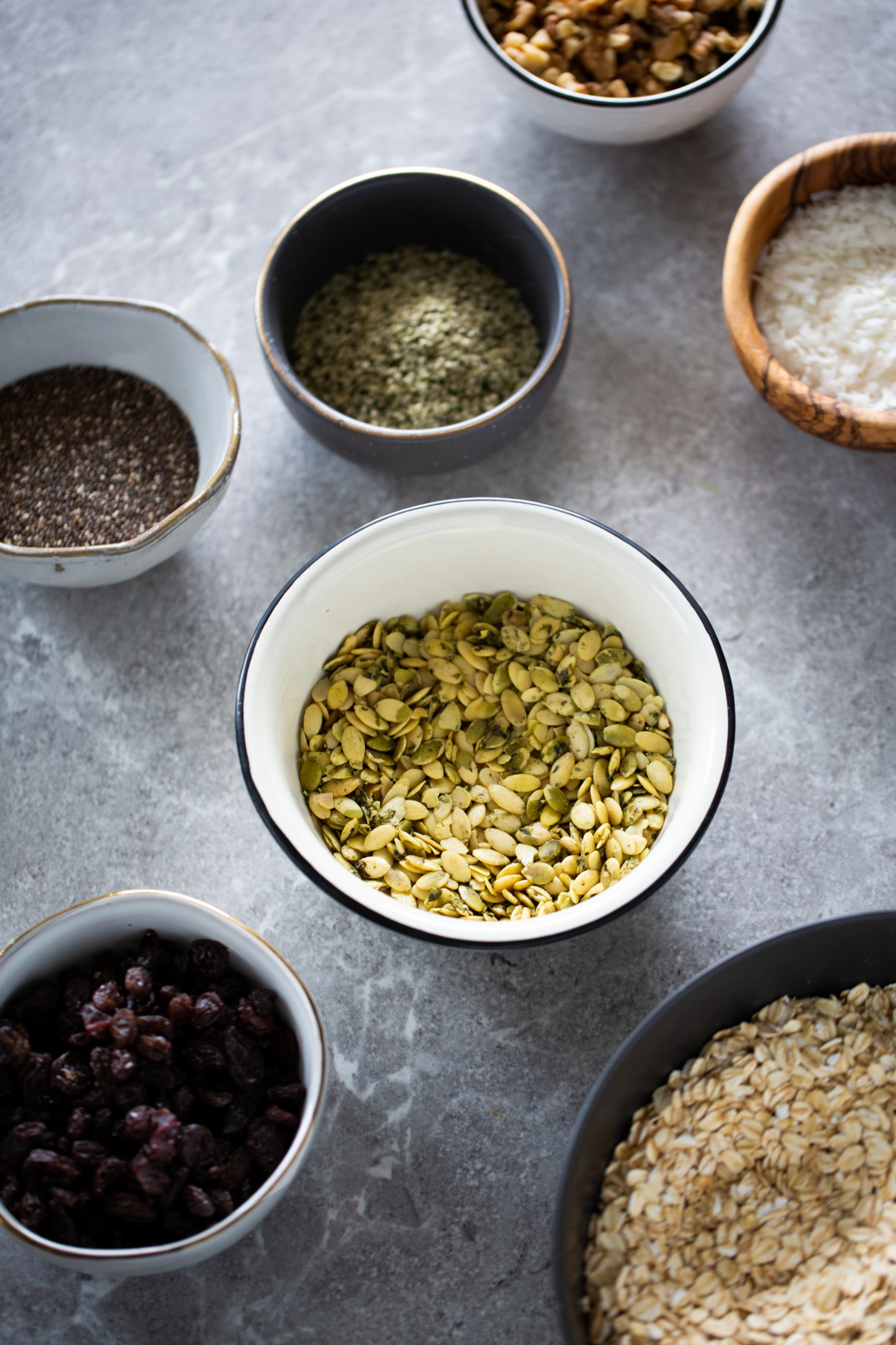 BENEFITS OF MAKING HOMEMADE GRANOLA
Even though I'm 100% a morning person, sometimes I can't think of what to serve for breakfast. There are days I am blocked and can't think of what to make, and the kids are just looking at me running around the kitchen.
Even though I try hard to think of something delicious and nutritious, I can't think of anything. That is why I love homemade granola so much. It is effortless to make; it is healthy and extremely delicious. Also:
Your house is going to smell delicious. The smell of spices, walnuts, and toasted oat flakes can drive me crazy.
Making granola at home is cheaper than buying granola.
You can control the quantity and quality of the sweetener or make it a low-sugar granola recipe.
You can choose the type of nuts and dried fruits and the quality of both.
By making granola at home, you will be sure that it will be 100% healthy and not full of ingredients you do not need.
Oats are high in fiber, and nuts are healthy fats. But, like everything in life, you have to have a balance. By balance, I mean not putting only dried fruit, very little oatmeal, or a lot of sweetener or fat.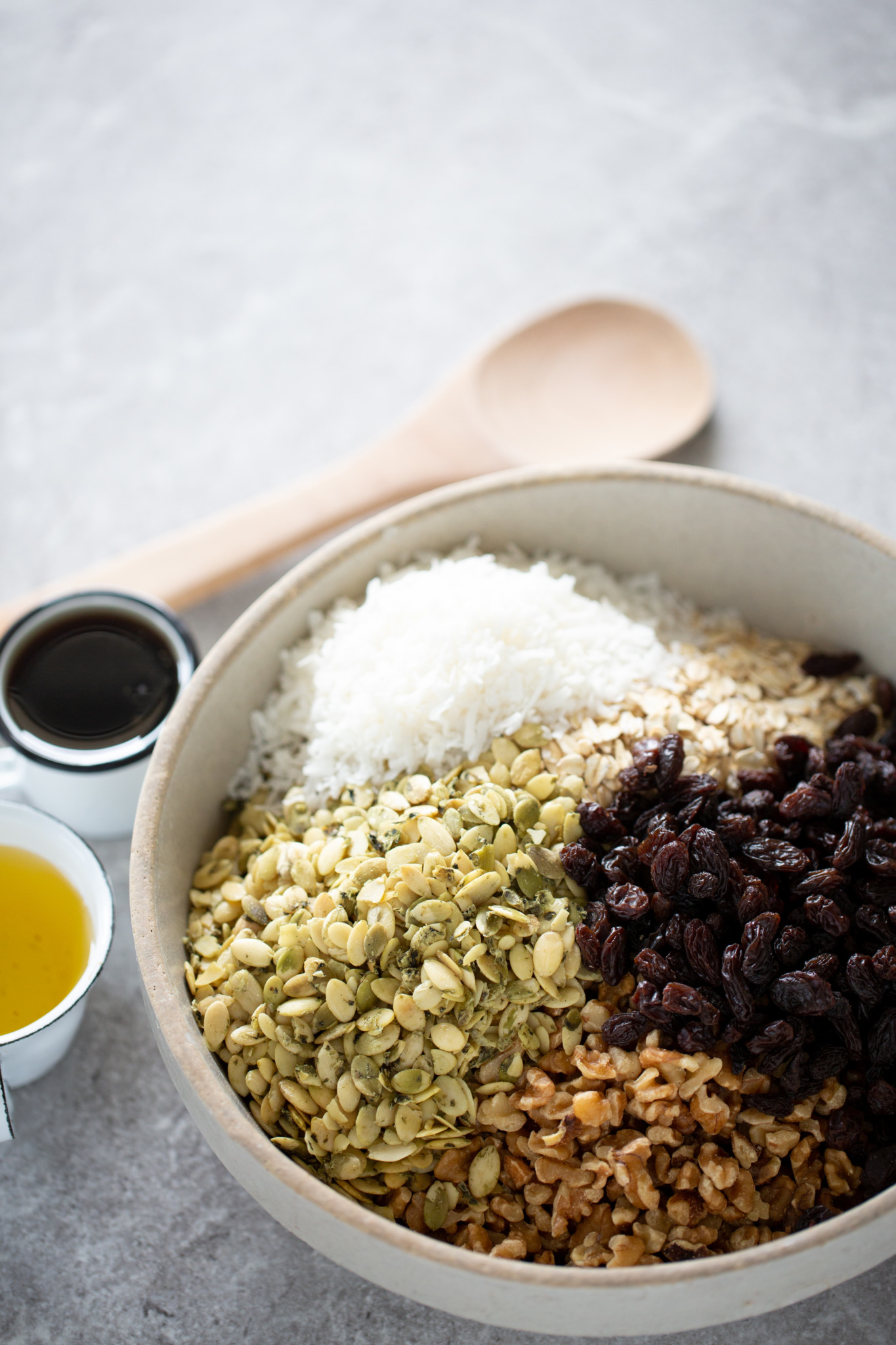 HOW DO YOU EAT HOMEMADE GRANOLA?
It can be eaten in a bowl with almond milk and yogurt, in a smoothie bowl, or sprinkled on top of the fruit. I love having homemade granola in the cupboard because it is a morning lifesaver.
You can also use granola to finish a dessert, like a chocolate mousse; you can make granola bars, cookies, and many more. This granola recipe is also great for adding texture to any dish.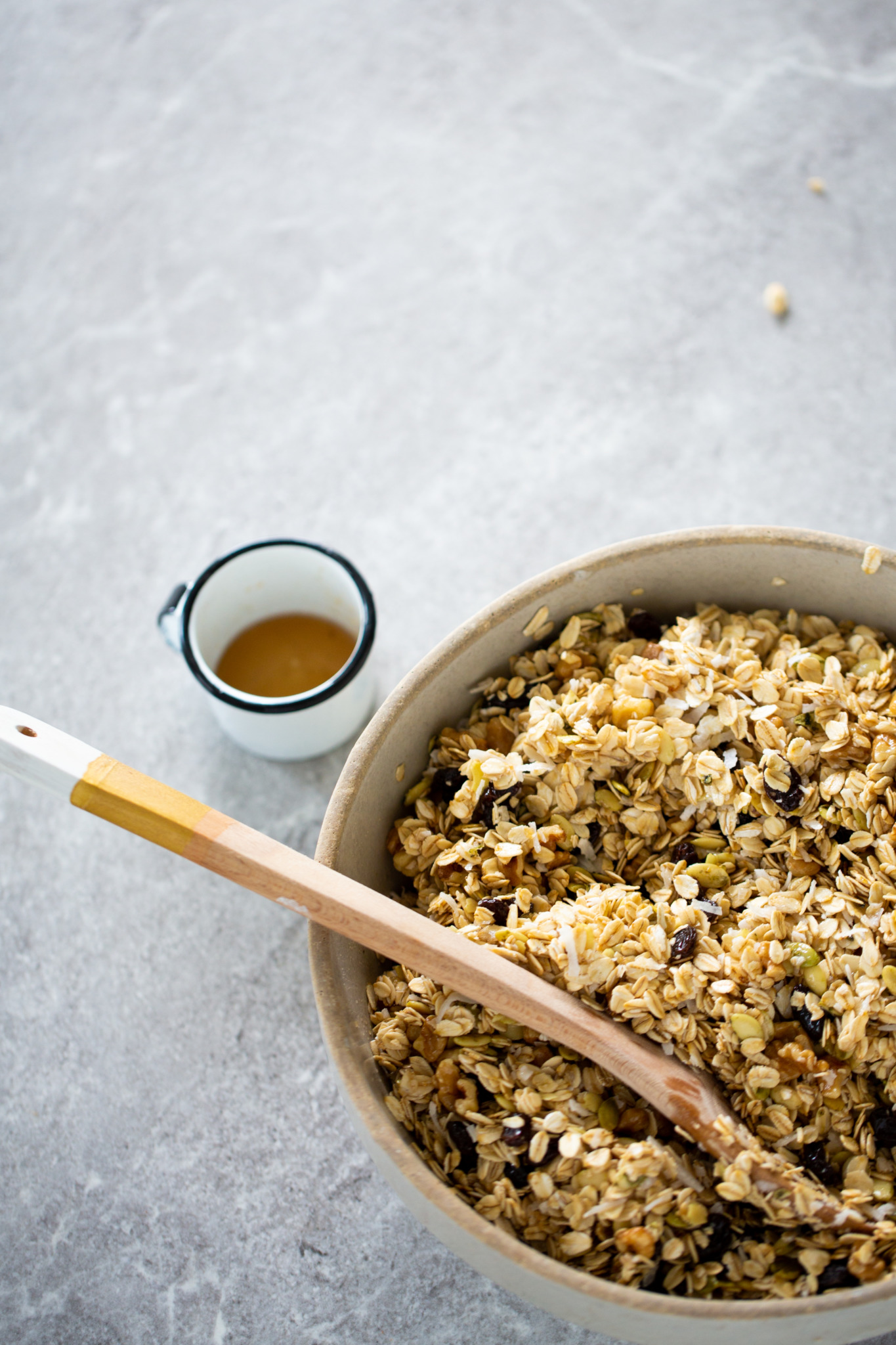 ✎TIP
If your children do not eat much for breakfast, you can make frozen smoothies bowls or yogurt paletas and put some granola in them. This is a nutritious breakfast, easy to eat, take on the go, and you have tons of fun.
Always use a large bowl to mix all the ingredients.
Baking Tips
I like to use a sheet pan with a baking sheet. If you don't have any, you can use parchment paper instead.
Make sure to bake the granola mix until nice and golden brown
The granola will be very hot when it comes out of the oven. Make sure to let the granola cool before you store it
Storing your granola
To store this recipe, use an airtight container, like a mason jar, and leave it in your pantry at room temperature.
Best way to eat granola
I love having homemade granola at home because when I have run out of ideas for breakfast, it always saves the day. The best ways to eat it are: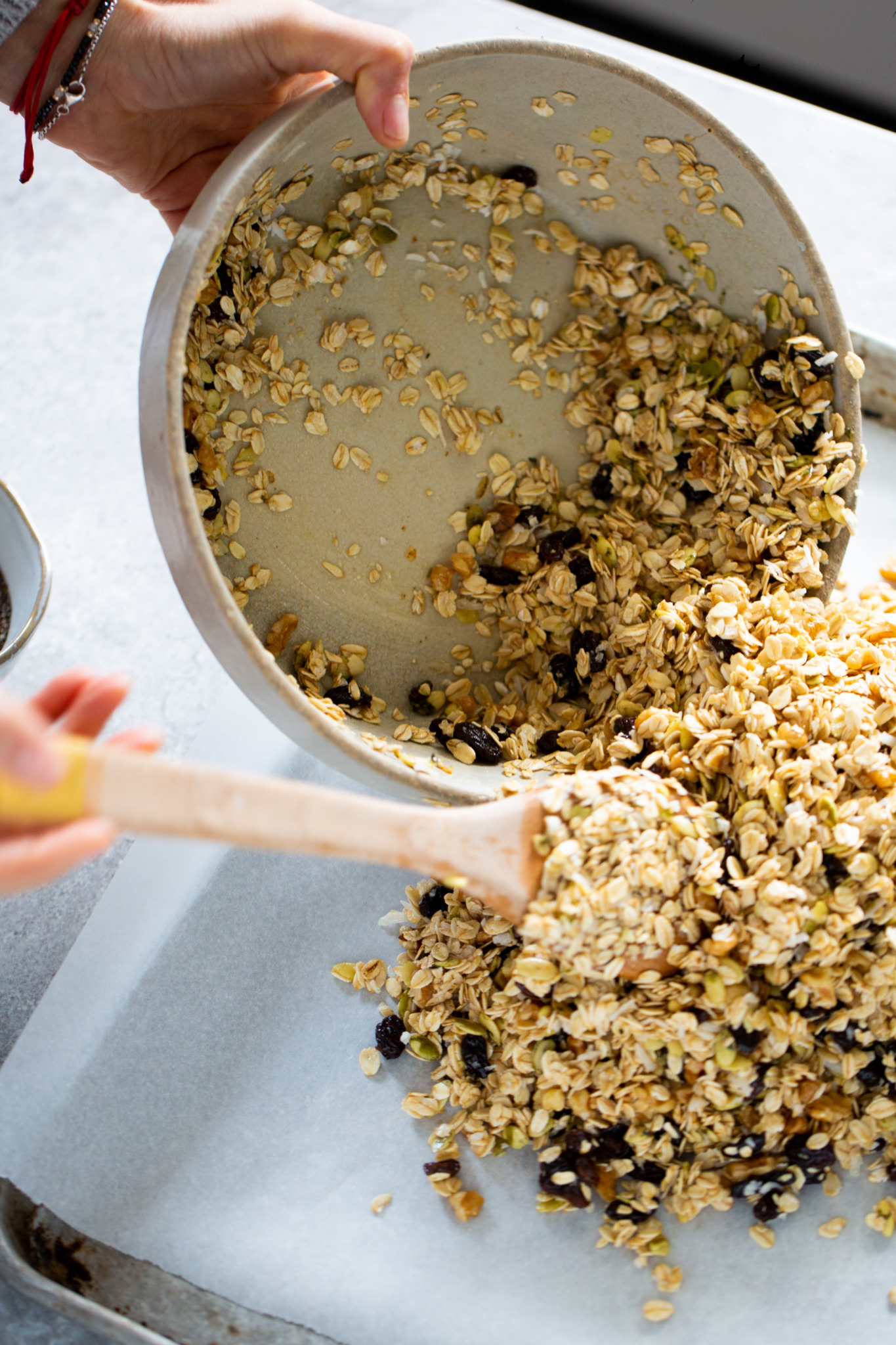 🔥GIVE IT A TWIST
And since this granola recipe can have many variations, you can put whatever you want CINNAMON, vanilla, pecan, cashews (affiliate link), really what you have at home.
You can also put other grains such as buckwheat, quinoa, seeds, etc.
Sweeten the deal by using some chocolate chips
Here I have other granola recipes that I think you may like and serve as inspiration for you to make the best version at home: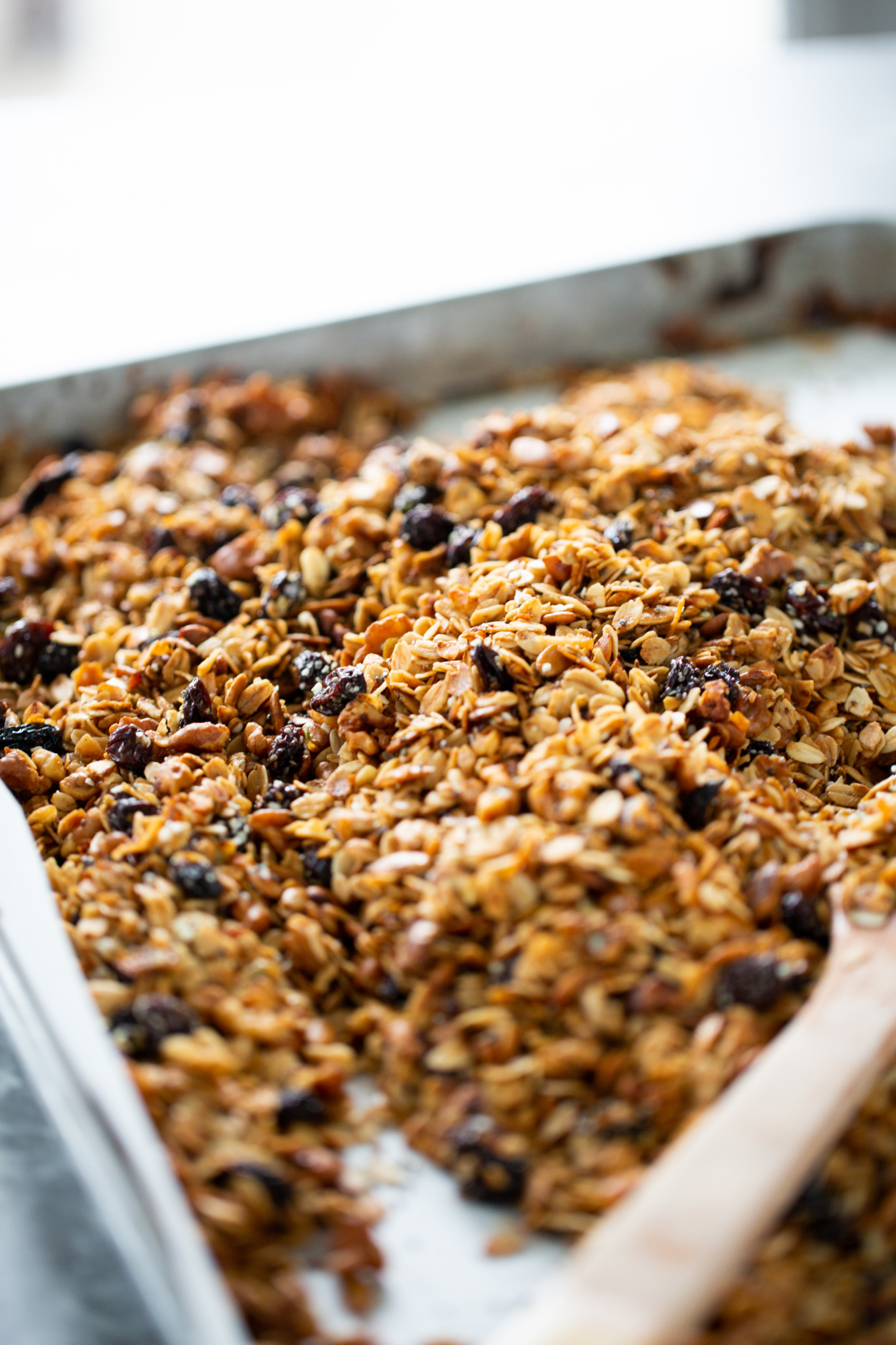 This is truly one of our household favorites because it is always different. Every time I make it, I change it up a little. I love mixing nuts, dried fruits, or spices to twist them differently.
Sometimes I like to serve it with almond milk (like cereal), and sometimes coconut yogurt on top of the fruit, but it tastes wonderful.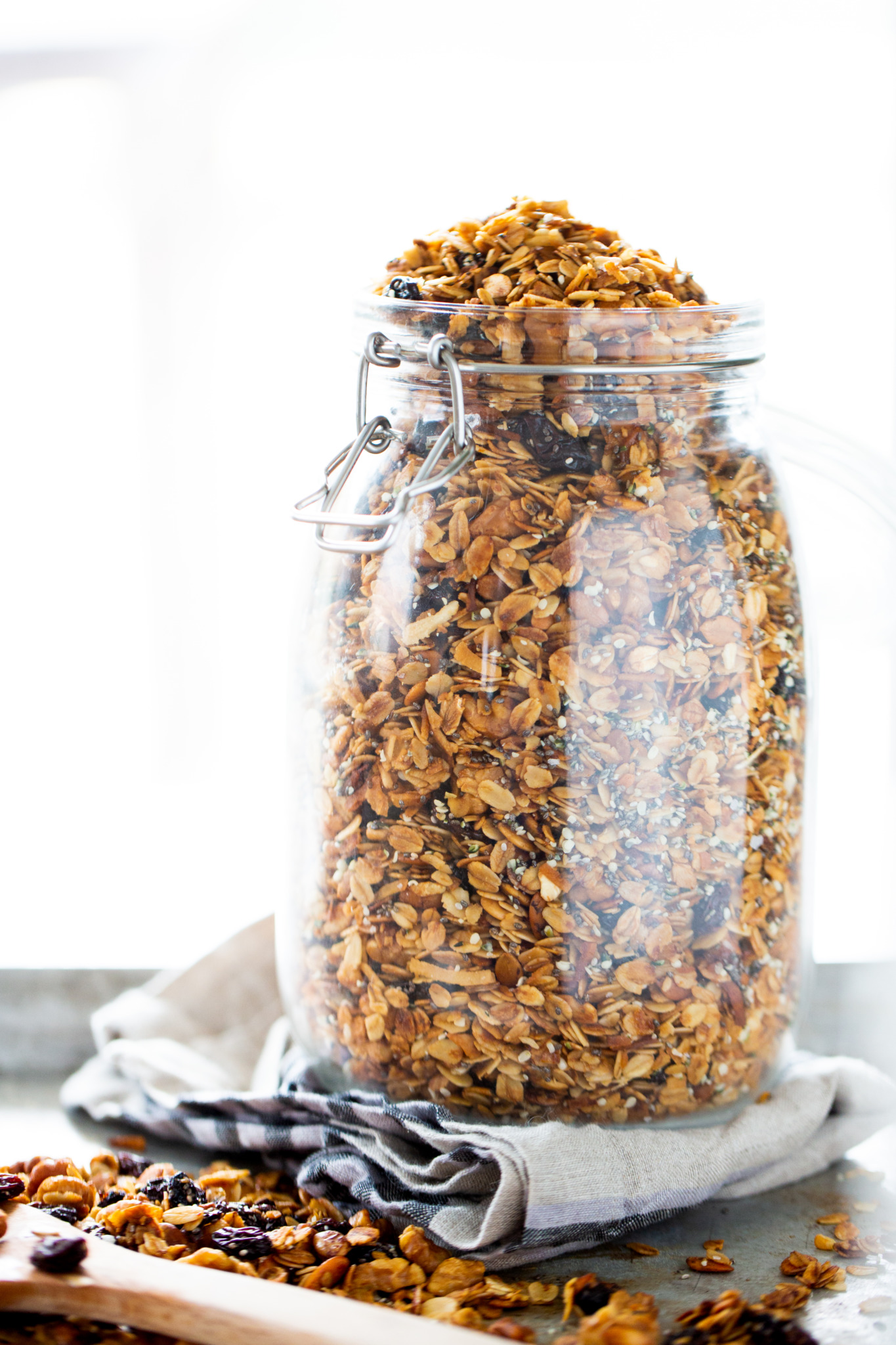 Other breakfast recipes that you may like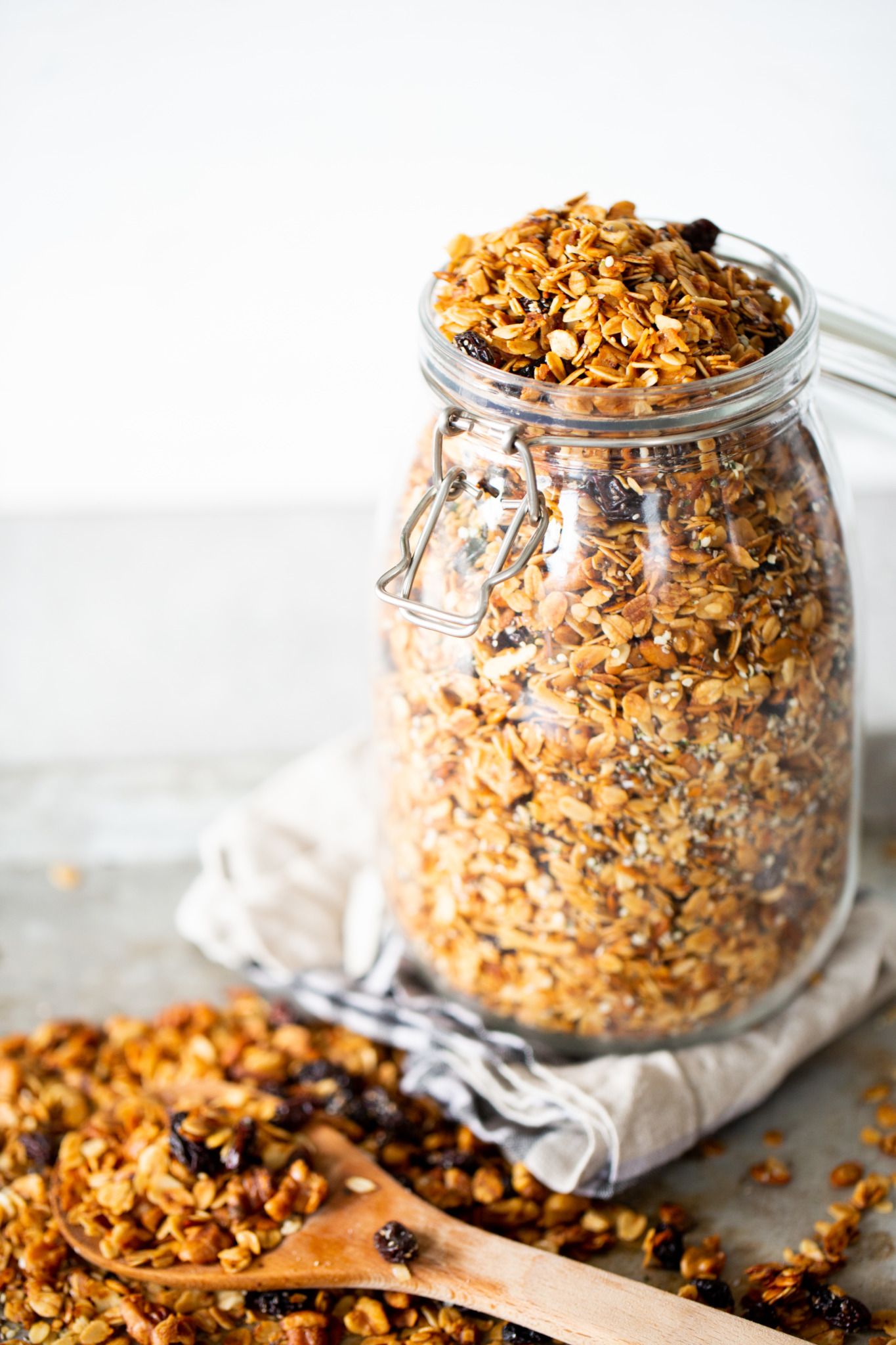 Homemade Granola
This homemade granola is easy to make, incredibly delicious, and totally flexible.
Ingredients
4

cups

oats

1/2

cup

vegetable oil

1/2

cup

maple syrup or agave

1/2

cup

coconut,

grated and sugar-free

1

cup

of walnuts or pecans

1

cup

of pumpkin seeds

3/4

cup

raisins

1

cup

of dried apricots *optional

1/4

cup

hemp seeds *optional

1/4

cup

chia seeds *optional

one pinch of sea salt
Instructions
Turn oven to 350 degrees Fahrenheit.

In a bowl, mix oats, nuts, coconut, raisins, seeds, honey, and oil. When everything is well mixed, put it on a tray for the oven and cover it with baking paper

Leave it in for about 25-30 minutes. The trick is to be aware of the perfect cooking point for the granola. You know it's done when you can stir the grains on the tray, and they feel loose and not damp and sticky.

When the grains are loose take it out of the oven and let it cool down. Stir in the rest of the ingredients and store it in a jar in the cupboard.
Notes
The nuts and fruits you use are entirely up to you. Change them around and make this recipe your own, make it how you like it.
Nutrition
Serving:
30
grs
Calories:
416
kcal
Carbohydrates:
45
g
Protein:
9
g
Fat:
24
g
Saturated Fat:
10
g
Sodium:
8
mg
Potassium:
441
mg
Fiber:
6
g
Sugar:
14
g
Vitamin A:
410
IU
Vitamin C:
0.9
mg
Calcium:
77
mg
Iron:
3.4
mg
information
Nutritional information of this recipe is only an estimate, the accuracy for any recipe on this site is not guaranteed.

Latest posts by Alejandra Graf
(see all)