This recipe for mulled wine is so full of flavor and festive vibes. It is delicious and effortless to prepare. During wintertime, I love to drink mulled wine; I even crave it! The warm, sweet wine filled with spices and the orange's fresh citrus notes with every sip; it is a dream.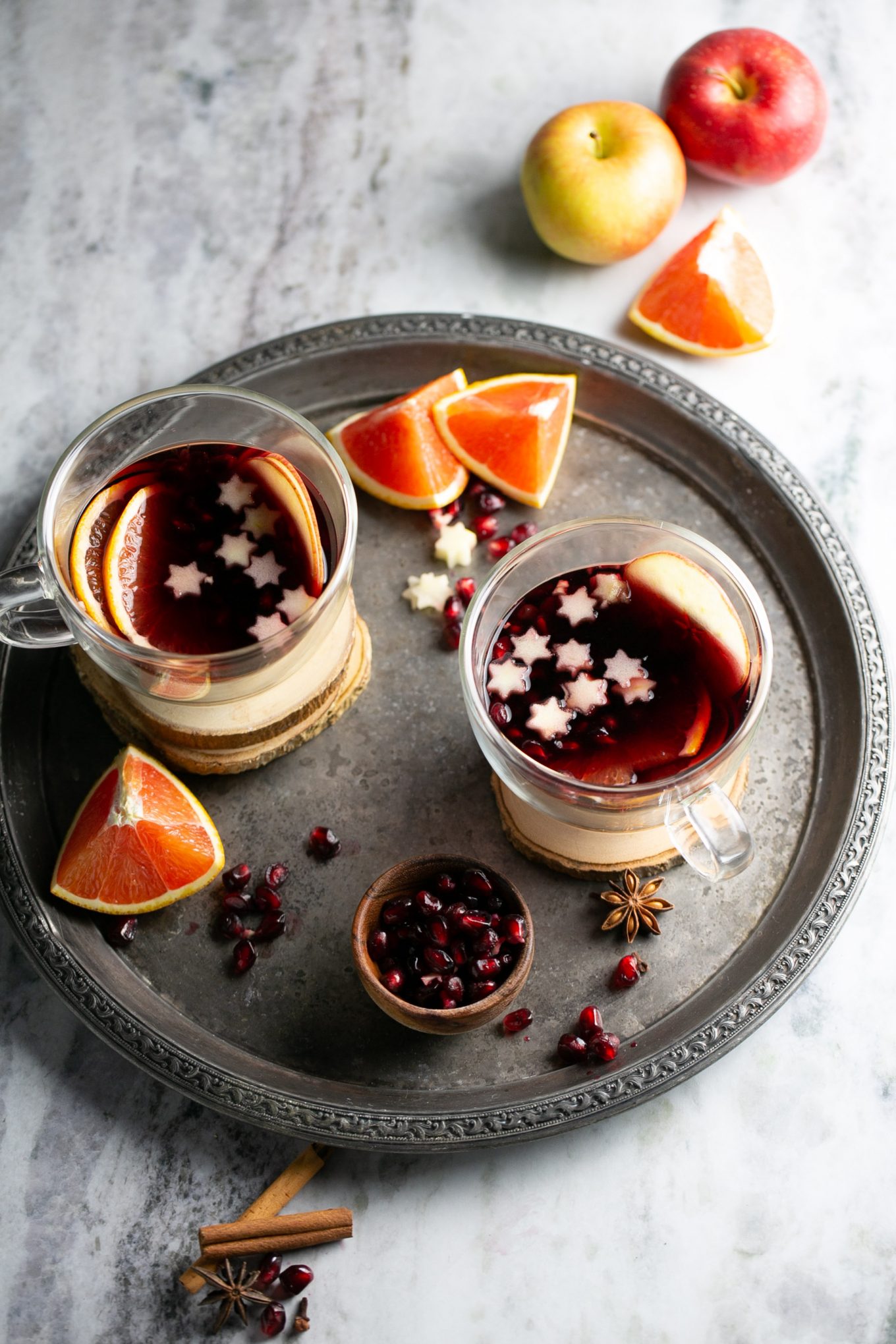 This spiced wine is super rich and perfect for a winter afternoon in front of the fireplace or a campfire.
INGREDIENTS TO MAKE mulled WINE
Wine. When making this recipe, any type of red wine can be used, such as Cabernet Sauvignon, Merlot or Zinfandel. If you have a wine that you don't particularly enjoy or one that you use for cooking, it can be used as well. The wine should be robust enough to hold up to the mulling spices. Organic wines are typically what I use, and lately I have been enjoying those from Avaline's.
Apple juice. When searching for apple juice, it is recommended to look for a brand that contains no added sugar or is as natural as possible. You should opt for a juice that is made purely from apples and not just artificially flavored water. This mulled wine recipe is typically prepared with apple cider; however, I prefer to use apple juice instead.
Orange zest. Be careful not to put the white part of the orange zest, it can turn bitter. If you have leftover mulled wine, do not store it with the orange peel. Fresh oranges not only provide citrusy sweetness but also add a beautiful aroma. Use the zest and the juice to get the most out of the fruit. Organic oranges are preferable as they're less likely to have pesticide residues on their skins.
Spices and sugar. The spices give an incredible flavor to the wine, use whole spices. This recipe calls for cinnamon sticks, cloves, and star anise. Like all my recipes, if there is something you don't like, don't use it; adapt the recipe to make it delicious for you.
💡Spices, how fresh are yours?

It is important that you check your spices often. For this warm wine to be extra delicious, you have to use freshspices. Although, spices in theory, cannot be spoiled, they do lose flavor. 

The easiest way to check them is by the smell,  when you open the jar or bag it has to smell delicious and fill the space with their aroma.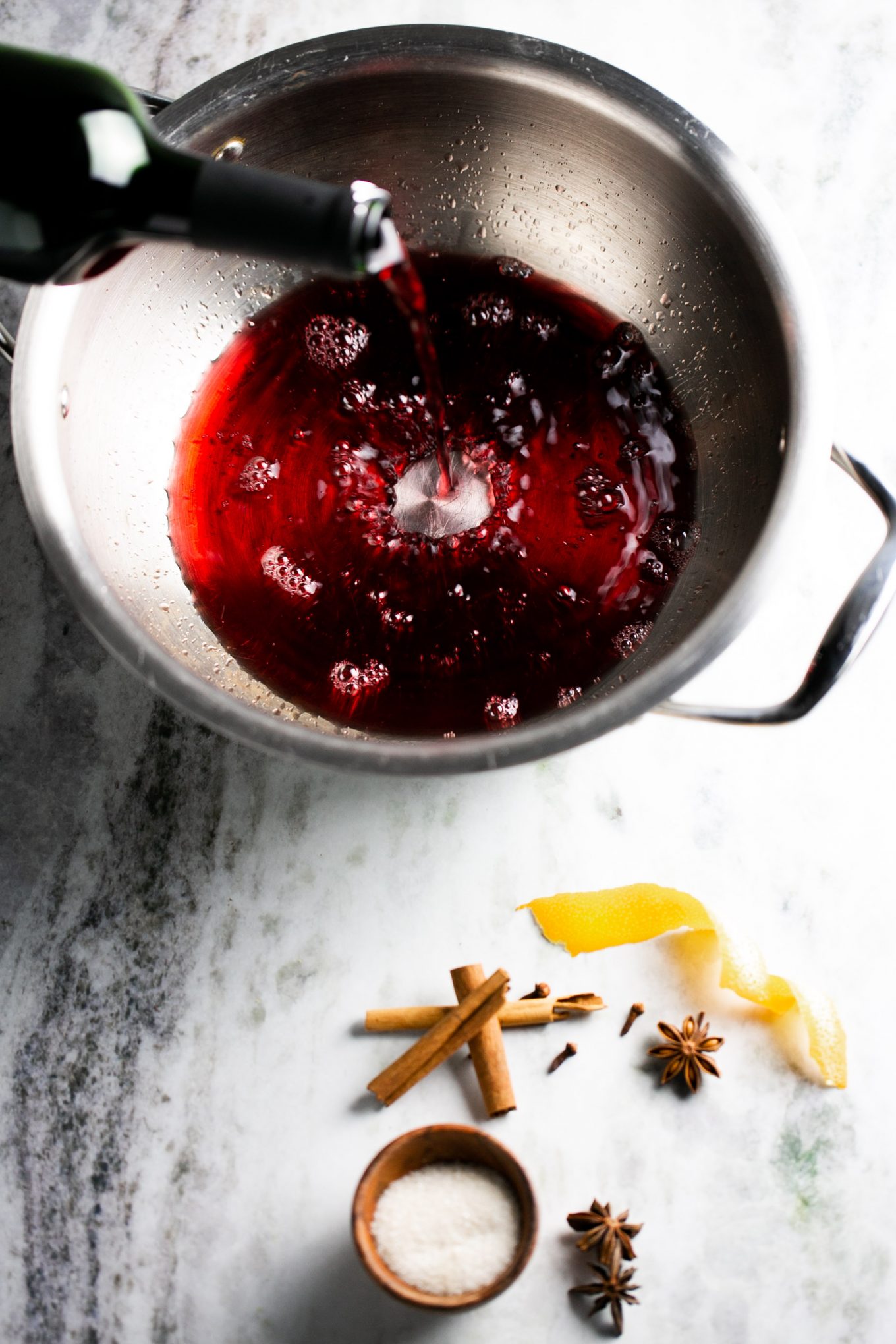 HOW TO MAKE mulled wine?
This mulled wine recipe is both easy to make and rich in flavor. If you enjoy sangria or spiked fruit punch, this recipe is perfect for you. While the traditional recipe calls for apple cider, I prefer to use apple juice for a slightly different taste. The addition of spices makes it a perfect drink for cozy evenings or holiday gatherings.
To make spiced red wine, combine apple juice, spices, orange zest, and red wine in a pot and heat it over low heat. Keep stirring the mixture until all the flavors are well blended and the sugar is dissolved. Taste the mixture to ensure that it is delicious. Once it is ready, serve it hot and enjoy!
HOW TO SERVE mulled WINE?
Always strain your mulled wine before serving to remove the whole spices and any citrus pieces. This will ensure a smooth drinking experience.
To make your dish extra special, you can serve it with apple slices, orange zest or orange slices as garnishes, and pomegranate seeds. If you're making it for Christmas Eve, consider using mini cookie cutters to create festive shapes with apples.
If you don't have apples, you can use pears or substitute the pomegranate seeds with fresh cranberries or blueberries.
To serve it, I prefer to use small glasses or glass mugs than regular wine glasses or even mugs. It looks prettier and yummier.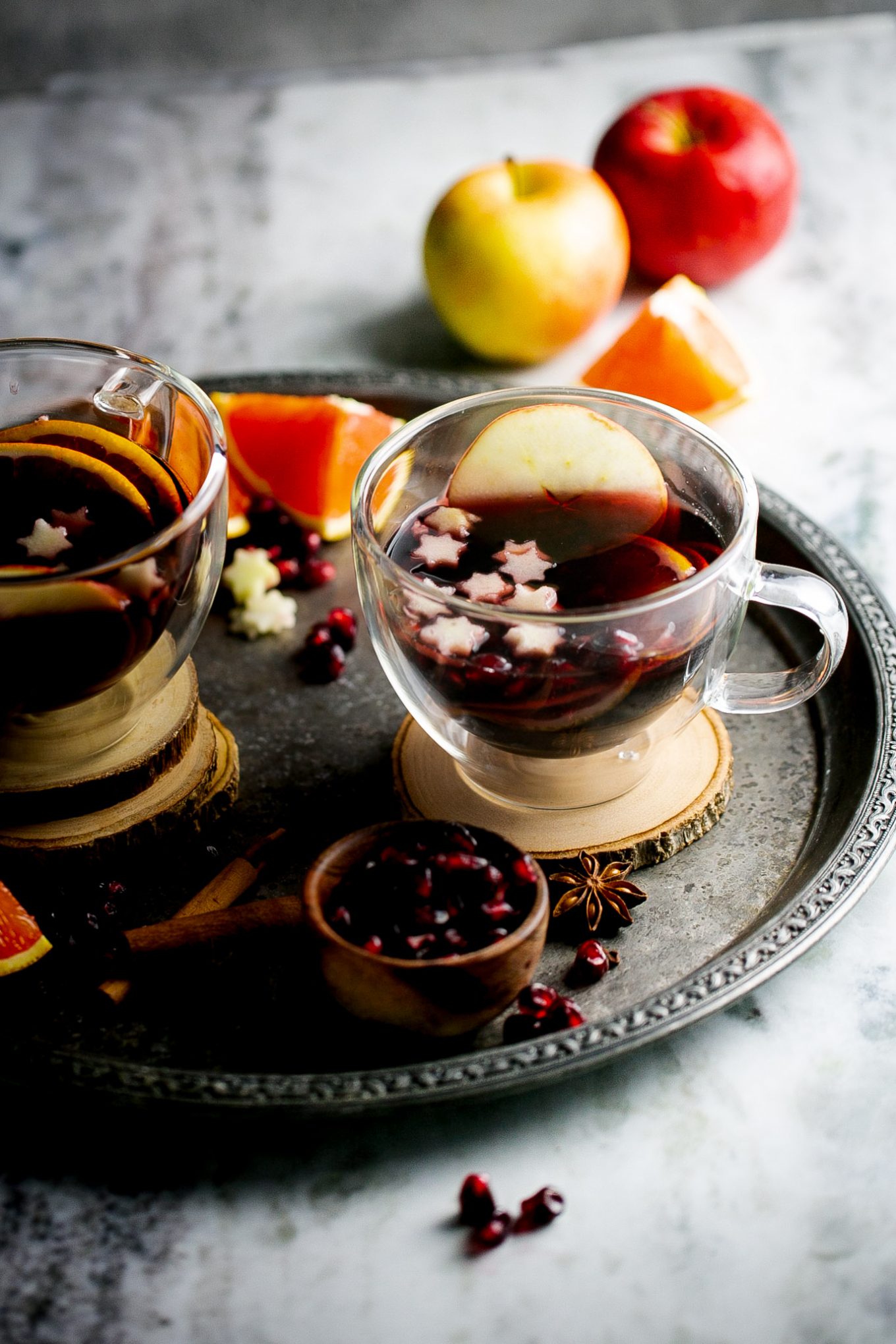 Tips for making the best-mulled wine
Sweeten Wisely: Traditional recipes call for sugar, but consider alternatives like honey, maple syrup, or brown sugar for a deeper flavor profile. Start with less sweetener than you think you need, as you can always add more to taste once the spices have infused.
Low and Slow: Mull your wine on low heat to avoid boiling. Boiling can cook off the alcohol and can make the spices bitter. A gentle simmer allows the flavors to meld together without reducing the potency of the wine.
Infuse with Patience: Give your spices plenty of time to infuse the wine; a good 20-30 minutes of gentle simmering should do the trick. However, if you have time, you can let the spices sit in the wine on a very low heat for a few hours, just be sure the heat is low enough to prevent boiling.
Experiment with Add-Ins: While there are traditional spices associated with mulled wine, don't be afraid to experiment. Vanilla pods, cardamom pods, or a splash of brandy or rum can add a unique twist to your concoction.
Serve in the Right Glass: Use heatproof glasses to serve your mulled wine. The classic choice is a clear mug that allows the rich color of the mulled wine to shine through and is sturdy enough to handle the warmth.
Other cocktail recipes that you may like:
Made and loved this recipe? Give it a ⭐️⭐️⭐️⭐️⭐️ rating below. Let me know if you have questions about this recipe in the comment section or DM me on Instagram. Follow on Facebook and Pinterest to stay in touch, and don't forget to subscribe to my newsletter.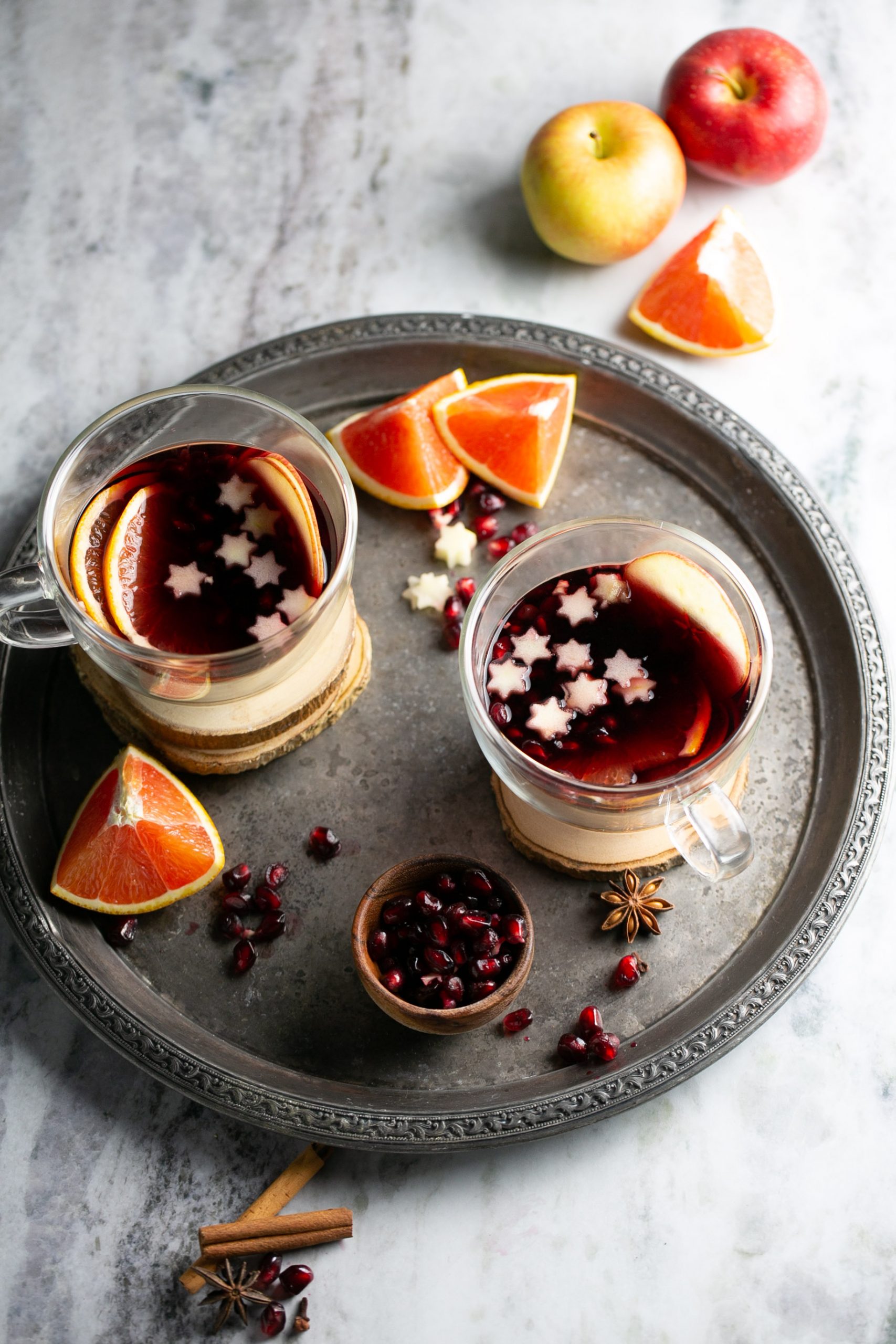 Mulled wine
I absolutely love this recipe for mulled wine! It's bursting with flavor and is the perfect drink to enjoy during the wintertime. The warm, sweet wine is infused with spices and has a refreshing hint of citrus from the orange. Plus, it's so easy to make!
Ingredients
4

cups

apple juice

750

ml

red wine

1 bottle

2

tablespoons

of sugar

2

pieces

of cinnamon

2

large pieces of orange zest

3

pieces

of whole cloves

1

piece

anise star
For serving
1

pomegranate

peeled and seeded

1

apple sliced as thinly as possible

1

Orange sliced
Instructions
In a large pot, combine the apple juice, red wine, cinnamon, cloves, sugar, and star anise. Simmer on low heat.

When the sugar dissolves, and the species begin to release their aroma, turn off the heat and serve.

I like to serve it in glasses with pomegranate seeds, apple slices, and orange zest.
Notes
How to store mulled wine
Cool Completely: Allow your mulled wine to cool to room temperature before storing. Hot liquids can create condensation, which may lead to spoilage.
Strain the Spices Out: Remove all the spices and fruit pieces. This is crucial because leaving them in can cause the flavors to become overpowering and potentially bitter over time.
Airtight Container: Transfer the mulled wine into an airtight container or a wine bottle with a screw top or cork. Minimizing the exposure to air keeps the wine from oxidizing and losing its character.
Refrigeration: Once in an airtight container, place your mulled wine in the refrigerator. This slows down the degradation process and helps preserve the flavors.
Consume Quickly: Mulled wine is best enjoyed within a couple of days after it's made, even when stored properly. It doesn't have the same shelf life as unmulled wine due to the addition of fruits and spices.
Reheat Gently: When you're ready to enjoy your stored mulled wine, reheat it gently on the stove over low heat to prevent the alcohol from burning off. Avoid microwaving as it can unevenly heat the wine and affect its flavor.
Freezing: Although not traditional, if you want to keep mulled wine for an extended period, you can freeze it. Pour the wine into a freezer-safe container, leaving some space for expansion. To serve, let it thaw in the refrigerator overnight and then gently reheat it.
Nutrition
Serving:
1
cup
Calories:
269
kcal
Carbohydrates:
43
g
Protein:
1
g
Fat:
1
g
Saturated Fat:
1
g
Sodium:
15
mg
Potassium:
517
mg
Fiber:
4
g
Sugar:
32
g
Vitamin A:
82
IU
Vitamin C:
25
mg
Calcium:
51
mg
Iron:
1
mg
information
Nutritional information of this recipe is only an estimate, the accuracy for any recipe on this site is not guaranteed.

Latest posts by Alejandra Graf
(see all)