This vibrant Kale and Brussels Sprouts Salad is not just perfect; it's a celebration in a bowl! Bursting with festive colors and flavors. Each bite is a delightful mix of crunchy greens, sweet apples, and ruby-red pomegranate seeds, creating a dish that's as delicious as it is visually stunning. It's the ideal addition to any meal, promising to win over everyone at the table.
About this recipe
Kale and Brussels's sprouts are in my top ten favorite greens list. I love how they taste, how easy it is to cook with them, and madly in love with all the benefits they give us.
This recipe brings together two bunches of crisp kale and a generous helping of thinly sliced Brussels sprouts, creating a hearty green base. Add to this the sweet crunch of a medium-sized apple and the tart pop of 3/4 cup of pomegranate seeds for a delightful contrast.
The dressing is a melody of tangy and sweet notes, made with 1/4 cup of fresh lemon juice, a teaspoon of apple cider vinegar (affiliate link), and the rich taste of minced garlic. The addition of a teaspoon of Dijon mustard and two teaspoons of agave honey balances the flavors, while 3/4 cup of olive oil gives it a smooth, velvety texture. A pinch of salt and freshly ground pepper rounds off this delectable dressing.
Ingredient notes
Kale: Rich in nutrients and antioxidants, kale adds a hearty texture and a slightly earthy flavor to the salad. It's also incredibly versatile and easy to prepare – just wash, pat dry, and tear into pieces.
Brussels Sprouts: These add a wonderful crunch and a slight bitterness that balances the sweetness of the other ingredients. Thinly slicing them helps them blend seamlessly with the kale.
Apple: The apple slices contribute a delightful sweetness and crisp texture, which contrasts beautifully with the leafy greens. They add a fresh and juicy element to every bite.
Pomegranate Seeds: These little jewels offer bursts of tart and sweet flavors, adding a vibrant pop of color and texture. They make the salad visually appealing and enhance its flavor profile.
Dressing Ingredients (Lemon Juice, Apple Cider Vinegar (affiliate link), Garlic, Dijon Mustard, Agave Honey, Olive Oil, Salt, Pepper): The dressing is a simple yet flavorful combination that complements the salad perfectly. It's easy to whisk together and can be adjusted according to taste. The lemon juice and apple cider vinegar add brightness, the garlic and mustard give depth, the agave honey provides sweetness, and the olive oil brings it all together with a smooth finish.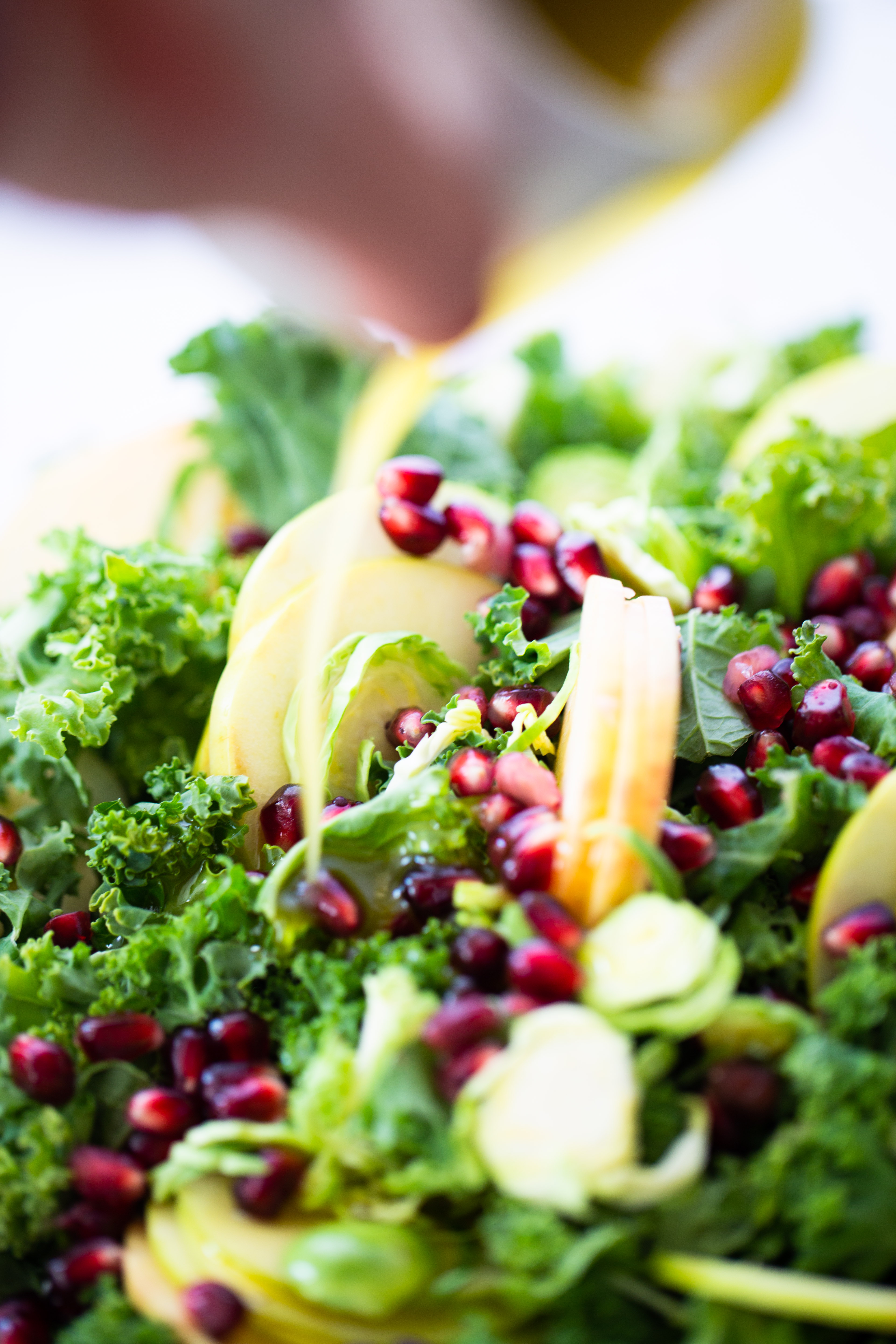 Kale and Brussel sprout benefits.
Kale and Brussels sprouts, two powerhouses of nutrition, hail from the cruciferous vegetable family, renowned for their abundant health benefits. Kale, in particular, stands out as one of the most nutrient-dense greens you can find. It's a real nutritional superstar, packed with vitamins, minerals, and antioxidants. Its high nutrient content includes vitamins A, K, C, and B6, manganese, calcium, copper, potassium, and magnesium, making it an excellent choice for those looking to boost their health through diet.
Brussels sprouts are no less impressive. They are loaded with vitamin C, an essential nutrient for immune health, as well as vitamin K, which is crucial for good health. Additionally, both kale and Brussels sprouts contain high levels of fiber, which is beneficial for digestive health.
But the benefits of these cruciferous vegetables extend beyond just vitamins and minerals. They are also rich in antioxidants and phytonutrients, which help fight oxidative stress and may reduce the risk of developing certain types of cancer. The presence of compounds like sulforaphane in kale and glucosinolates in Brussels sprouts is especially noteworthy for their potential anti-cancer properties.
I personally love incorporating a lot of kale into my diet, and I encourage you to do the same. Its versatility means it can be enjoyed in a variety of dishes, from salads to smoothies, and even baked as chips. Eating a diet rich in cruciferous vegetables like kale and Brussels sprouts can be a delicious and easy way to support your overall health. So, next time you're thinking of what to include in your meal, remember the incredible benefits these leafy greens offer!
---

This is a perfect salad to eat more greens
And if you prepare this kale and Brussels sprouts salad, it will be super easy to consume cruciferous often. The crunchiness and sweetness of the apples, combined with the burst of the tartness of the pomegranate, make every single bite of this salad a dream.
And it is so E-A-S-Y to prepare… It is one of the best kale and Brussels sprouts salads ever.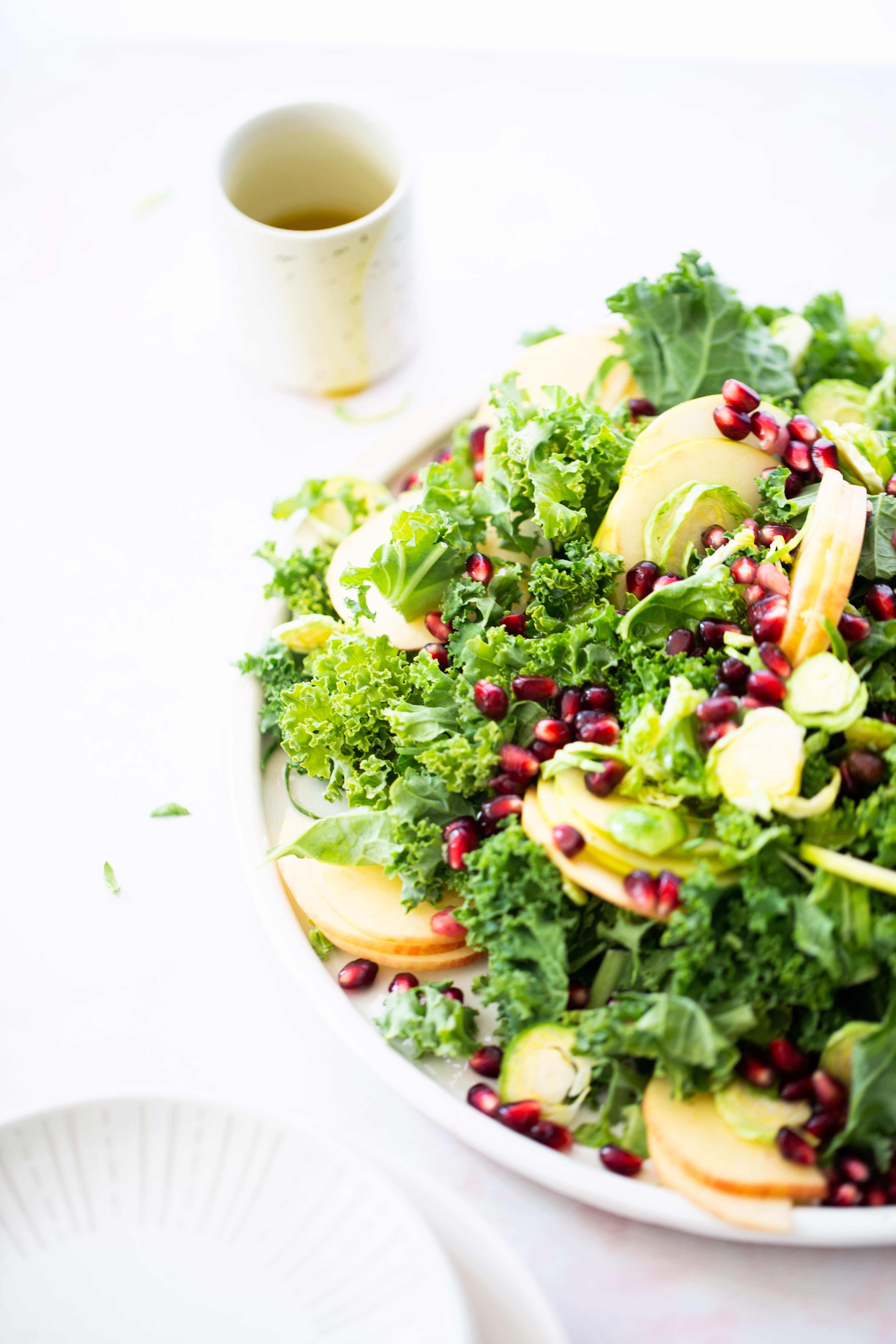 tips for making the best recipe
Preparing Kale for Salad: The technique for preparing kale is simple: hold the stem with one hand and use the other hand to strip the leaves away. This method efficiently separates the leaves from the tougher stem.
Utilizing Kale Stems:Don't waste the stems! They can be chopped and added to the salad for extra crunch. Kale stems are also great in soups, adding both flavor and nutrition. For a health boost, include them in juices or smoothies.
A pet-friendly tip: give them to your dog as a healthy treat. Miko, loves them.
Handling Kale's Texture: Kale is fibrous and can be a bit tough, so chopping it into small pieces is recommended for a more enjoyable texture. To soften the leaves, massage them with the dressing. This technique also helps in infusing the flavors.
Other recipe salads that you will love
Made and loved this recipe? Give it a ⭐️⭐️⭐️⭐️⭐️ rating below. Let me know if you have questions about this recipe in the comment section or DM me on Instagram. Follow on Facebook and Pinterest to stay in touch, and don't forget to subscribe to my newsletter.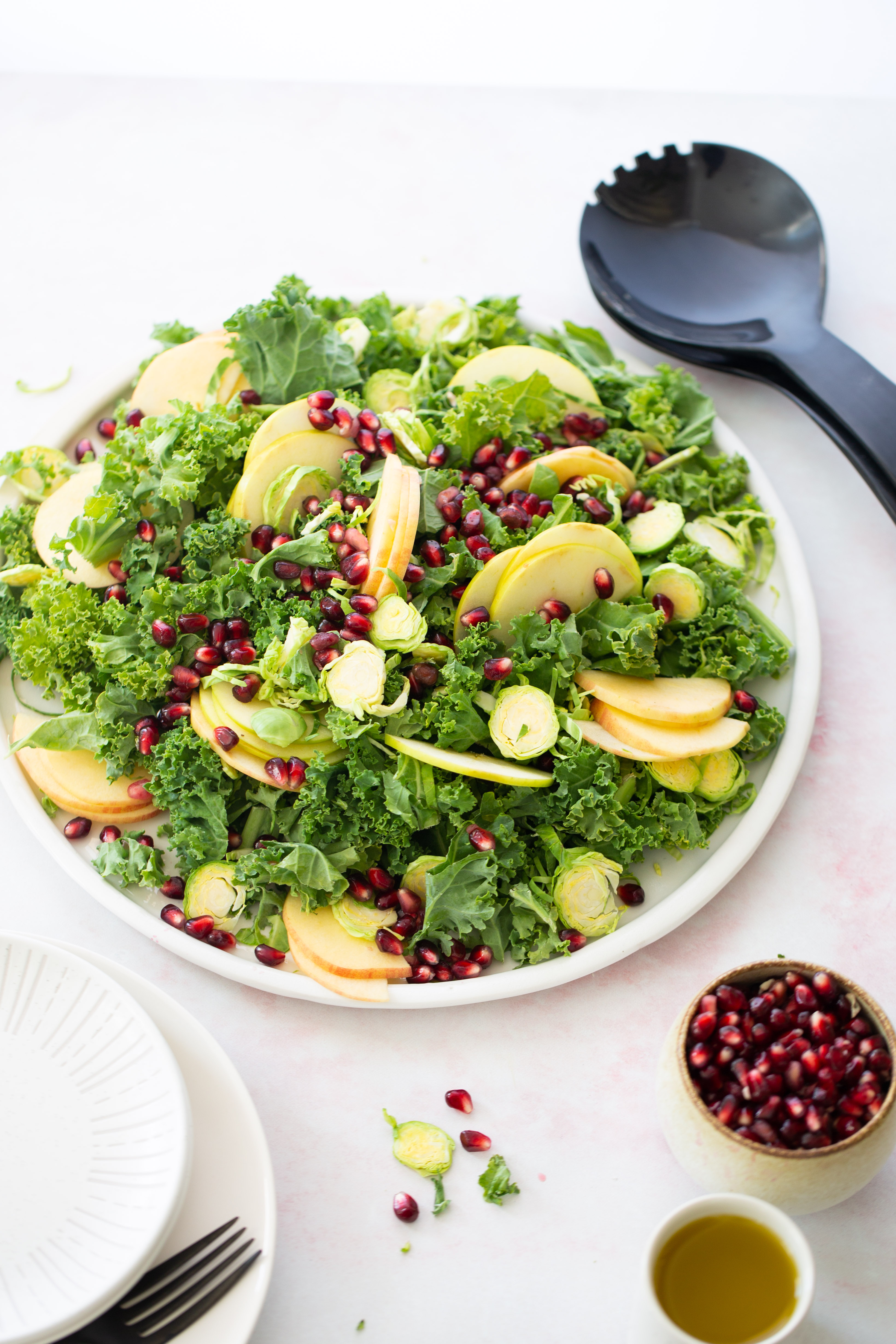 Autumn Harvest Kale and Brussels Sprout Salad with Apple and Pomegranate
Embrace the flavors of fall with this vibrant Autumn Harvest Kale and Brussels Sprout Salad. This delightful dish combines the earthy tones of fresh kale with the subtle bitterness of Brussels sprouts, creating a perfect green base. The salad is then uplifted with the sweet crispness of sliced apples and the tangy burst of pomegranate seeds, offering a symphony of flavors in every bite.
Ingredients
2

bunches of kale

15-20

Brussels sprouts

1

medium apple

sliced

3/4

cup

pomegranate seeds
For the Dressing:
1/4

cup

lemon juice

1

teaspoon

apple cider vinegar

1

clove

garlic

minced or pressed

1

teaspoon

Dijon mustard

2

teaspoons

agave honey

3/4

cup

olive oil

Pinch

of salt

Freshly ground pepper
Instructions
Prepare the Kale:
Wash the kale leaves thoroughly and pat them dry.

Remove the leaves from the stems and tear them into medium-sized pieces by hand. Set aside in a large salad bowl.

Slice the Brussels Sprouts:

Wash the Brussels sprouts and slice them thinly, either by hand or with a mandolin for uniform thickness.

Add the sliced Brussels sprouts to the bowl with the kale.
Make the Dressing:
In a small bowl or jar with a lid, combine lemon juice, apple cider vinegar, minced garlic, Dijon mustard, agave honey, olive oil, a pinch of salt, and a grind of fresh pepper.

Whisk or shake well to emulsify. Taste and adjust seasoning if necessary.
Dress the Salad:
Drizzle the dressing over the kale and Brussels sprouts.

Using your hands, gently massage the leaves with the dressing until they begin to soften.
Add Fruits:
Add the sliced apple and pomegranate seeds to the salad.
Final Toss:
Toss everything together gently to combine.

Serve immediately or let it sit for a few minutes to allow flavors to meld.
Notes
The amounts of the vegetables are approximate, adjust them to your liking.
The dressing tastes good with any salad.
Nutrition
Calories:
78
kcal
Carbohydrates:
17
g
Protein:
3
g
Fat:
1
g
Saturated Fat:
1
g
Sodium:
30
mg
Potassium:
369
mg
Fiber:
3
g
Sugar:
10
g
Vitamin A:
2273
IU
Vitamin C:
71
mg
Calcium:
52
mg
Iron:
1
mg
information
Nutritional information of this recipe is only an estimate, the accuracy for any recipe on this site is not guaranteed.

Latest posts by Alejandra Graf
(see all)