Get ready to indulge in a delightful summer salad recipe that's not only easy to make but also incredibly delicious. This dish boasts a medley of greens, stone fruit, corn, and bread, generously coated in my personal favorite Basil-Avocado Dressing. You're in for a treat!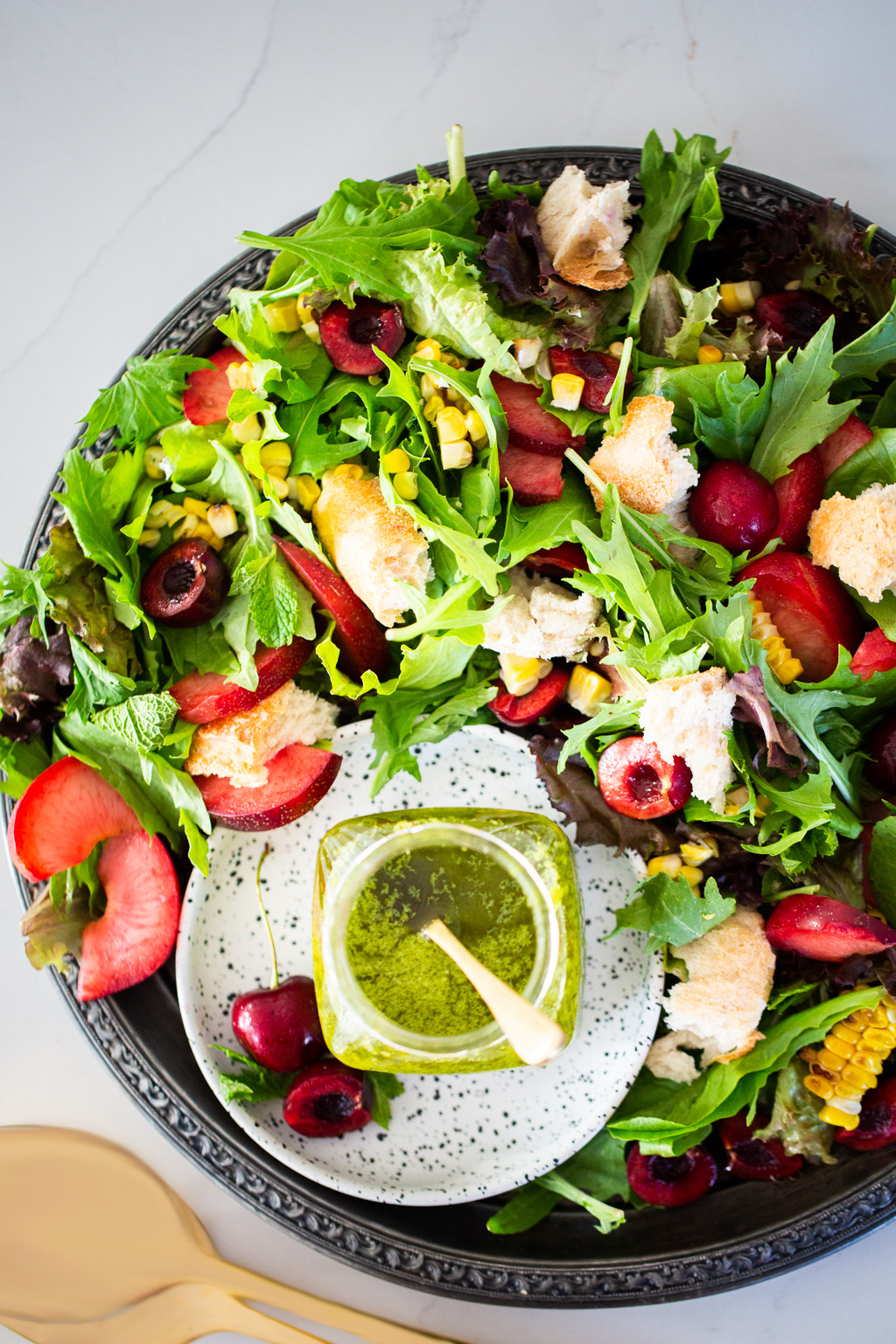 WHAT IS a summer salad?
Imagine a vibrant summer salad that is the epitome of seasonal freshness. A plateful of crisp arugula, baby spinach, and a mix of lettuces, with pitted cherries, thinly sliced plums, each slice carrying the distinct sweetness of stone fruit kissed by the sun.
Scattered amid the fruit are kernels of sweet corn, their sunny, mellow yellow providing a delightful textural contrast to the fruit's succulence.
And to bring it all together, a luscious avocado basil dressing lends a creamy richness that envelopes each ingredient.
The dressing, with its subtle hints of freshness from the basil and a creamy, velvety texture from the avocado, effortlessly ties in the diverse elements of the salad, making every bite a harmonious blend of summer flavors. It's a visual feast as well, with the various colors creating a vibrant mosaic that's as pleasing to the eye as it is to the palate.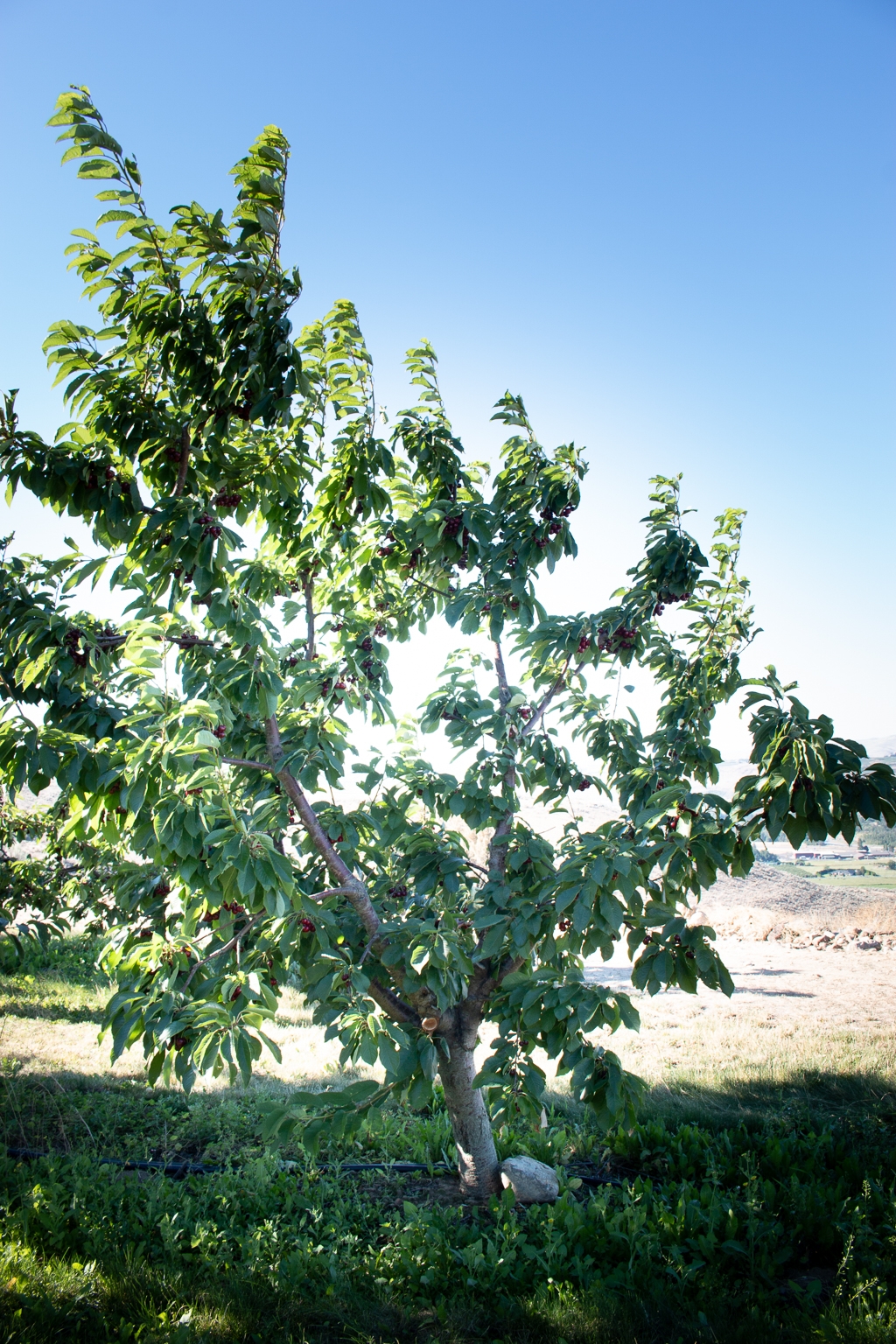 Ingredients for the summer salad
Cherries have always been one of my favorite fruits ever; they are perfect in savory and sweet dishes. You can also cook, bake, eat fresh; they are the best.
Plums. I really enjoy plums. When selecting plums, it's best to choose ones that feel firm and heavy. Once you have them, simply cut them in half, remove the pit, and slice them thinly.
Greens. I made the summer salad with a variety of greens, but you can substitute with whichever greens you have available. Spinach, arugula, and kale all work well.
Corn. I love to add corn to everything. Not only gives color, but it also provides texture and makes everything summery.
Bread. I used a baguette but you can use homemade bread or croutons.
How to make the salad
Salad. To make the salad put all the ingredients on an extended platter in layers. First, the greens, the fruit, the corn, and the bread.
Dressing. Put all the ingredients in a blender container for the sauce and blend until creamy and smooth. Could you check for seasoning and adjust if necessary?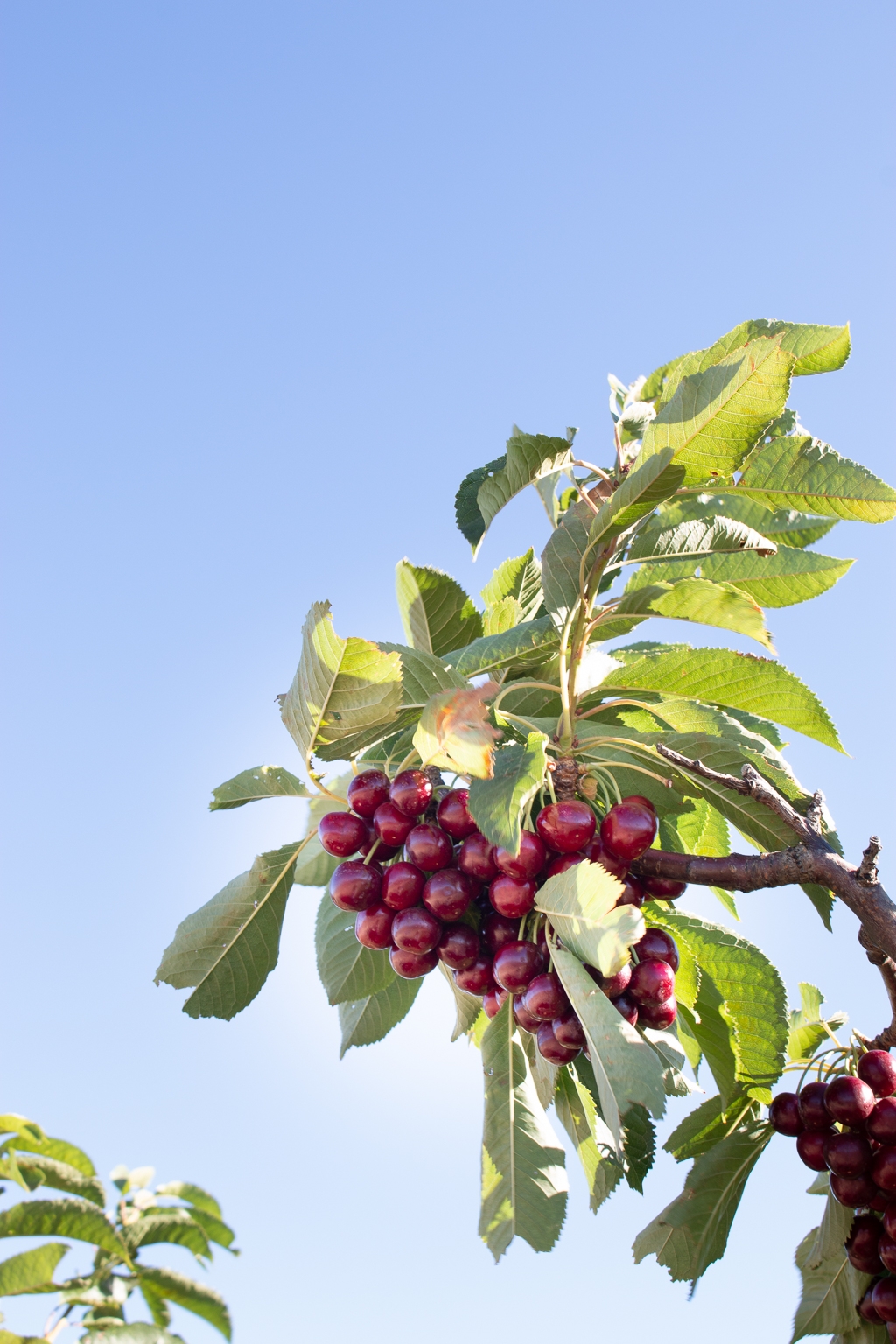 Basil-avocado dressing
I could go on and on about how delicious this dressing is. It's perfect for adding to pizzas, rice, Buddha bowls, or even using in pasta salad.
The basil-avocado dressing not only tastes great, but it's also full of healthy fats from avocados and olive oil, as well as the beneficial properties of basil.
BAsil benefits
Did you know that incorporating basil into our diet can bring several benefits? Not only does it aid in digestion, but it also promotes healthy skin and offers other advantages.
In addition to aiding digestion and promoting healthy skin, basil has been shown to have anti-inflammatory properties and may help reduce stress and anxiety levels.
It also contains antioxidants that can help protect cells from damage caused by free radicals. Some studies suggest that basil may have antibacterial and antiviral properties, making it a great addition to any immune-boosting regimen. Finally, basil is a good source of vitamins A, K, and C, as well as minerals like calcium, iron, and magnesium.
Acocado benefits
Rich in Healthy Fats: Avocados are high in monounsaturated fats, which are heart-healthy fats. They help lower bad cholesterol levels and increase good cholesterol.
High in Fiber: Avocados are a good source of dietary fiber, which aids in digestion, helps regulate blood sugar levels, and contributes to feelings of fullness, which can help with weight management.
Packed with Vitamins and Minerals: Avocados contain over 20 different vitamins and minerals, including vitamin K, vitamin E, vitamin C, B-vitamins, potassium, and folate, among others.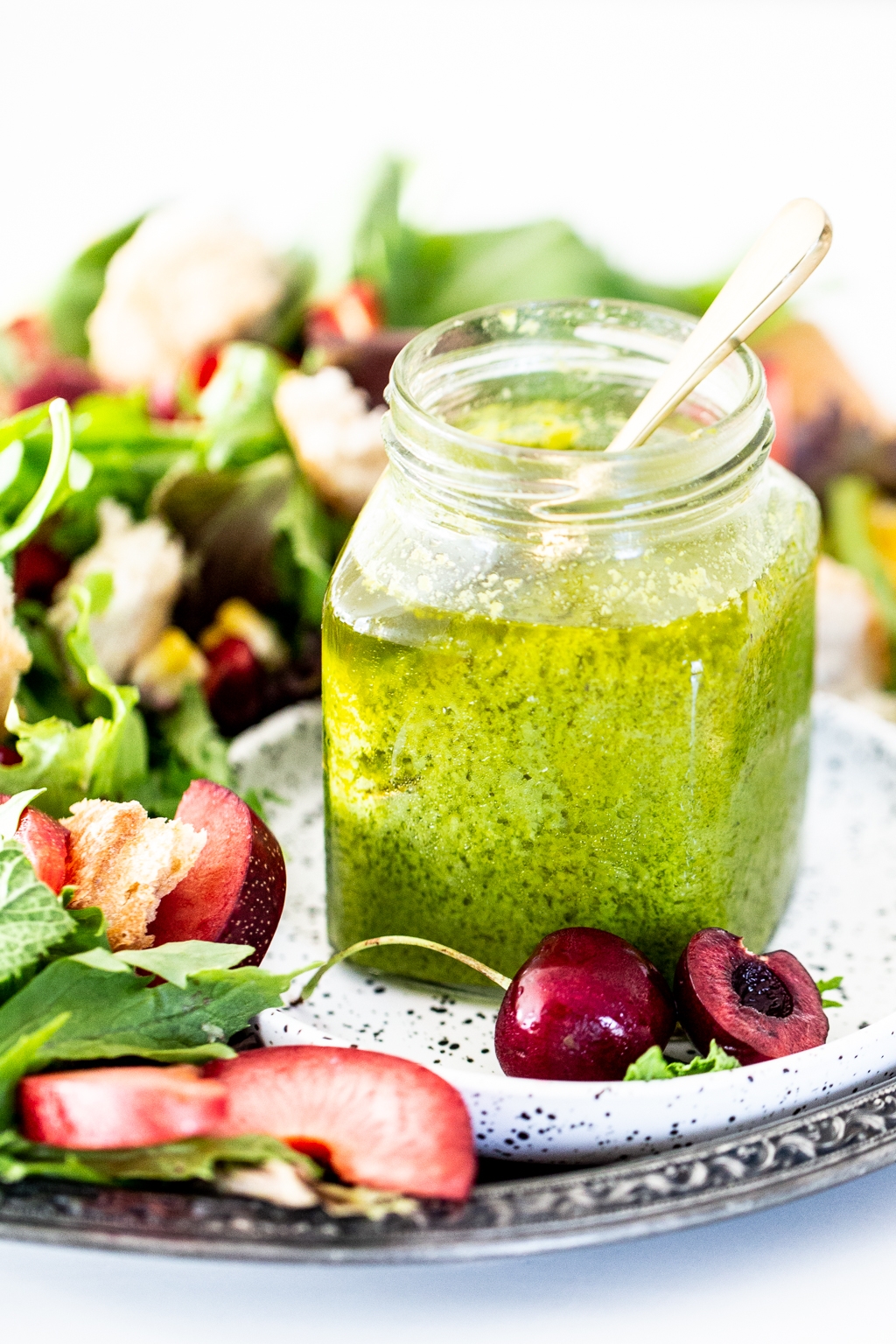 Other salad recipes:
Made and loved this recipe? Give it a ⭐️⭐️⭐️⭐️⭐️ rating below. Let me know if you have questions about this recipe in the comment section or DM me on Instagram. Follow me on Facebook and Pinterest to stay in touch, and don't forget to subscribe to my newsletter.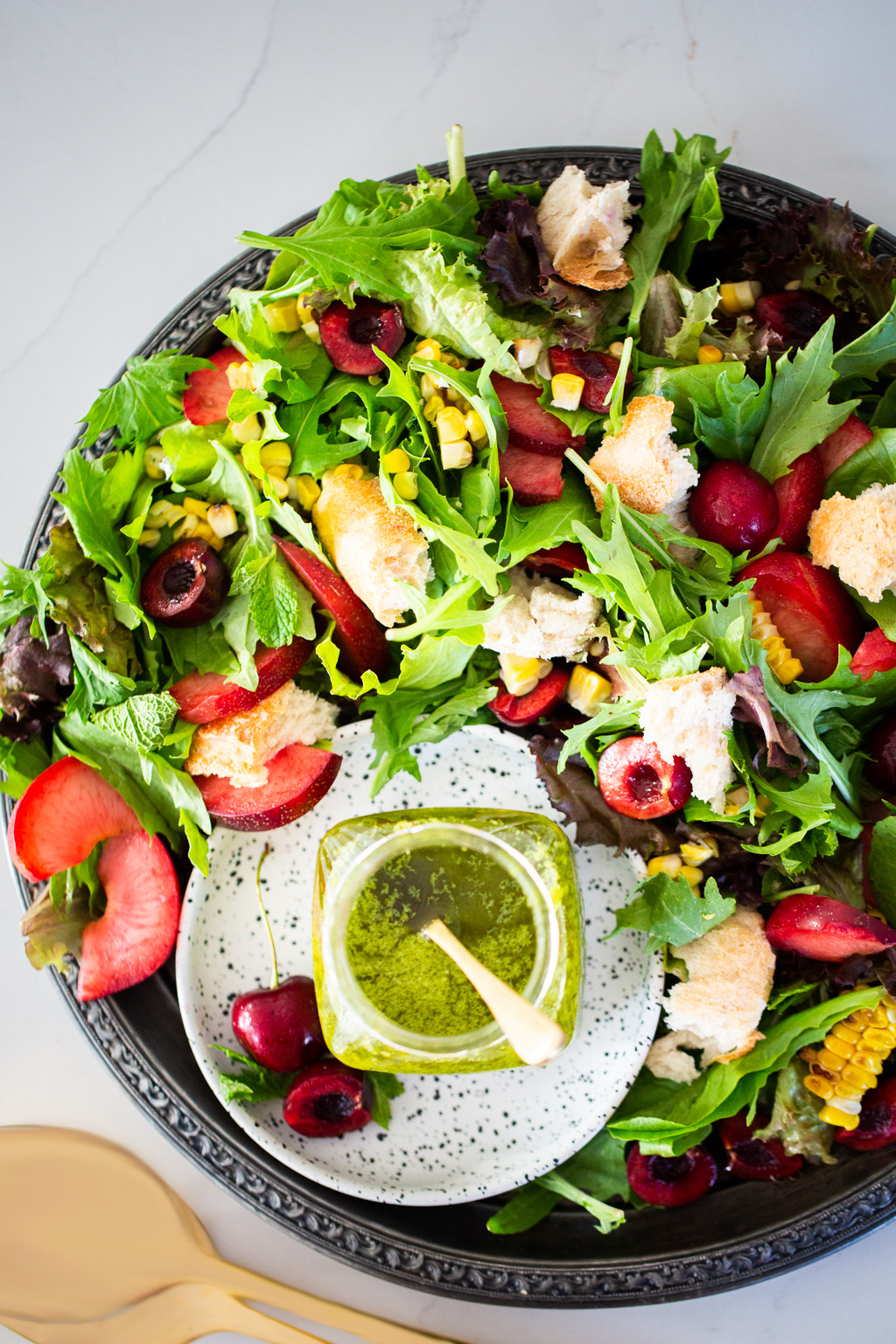 Summer salad with basil-avocado dressing
Enjoy the taste of summer with this fresh, colorful salad. It's a perfect blend of juicy stone fruits, sweet corn, and greens, all topped with a smooth avocado basil dressing. Perfect for a light lunch or healthy snack during the warm season.
Ingredients
Salad
4

large handfuls of greens

1

corn cob

roasted and shaved

1

plum

thinly sliced

1

cup

cherries halved and pitted

10-15

Mint leaves

torn

Torn pieces of a baguette

about 2 cups
Dressing
¾

cup

basil leaves

½

avocado

4

tablespoons

white wine vinegar or other soft vinegar

1

garlic clove

peeled and roughly chopped

½

cup

of olive oil

A good pinch of salt
Instructions
To make the salad put all the ingredients on an extended platter in layers. First the greens, then the fruit, the corn, and the bread.

Put all the ingredients in a blender container for the dressing and blend until creamy and smooth. Check for seasoning and adjust if necessary.
For serving
To complete the salad, gently pour some dressing over it and top it off with fresh mint leaves.
Notes
For optimal taste, it is recommended to consume this dish immediately after it has been prepared.
Nutrition
Serving:
1
g
Calories:
223
kcal
Carbohydrates:
10
g
Protein:
1
g
Fat:
21
g
Saturated Fat:
3
g
Sodium:
5
mg
Potassium:
208
mg
Fiber:
2
g
Sugar:
5
g
Vitamin A:
334
IU
Vitamin C:
7
mg
Calcium:
14
mg
Iron:
1
mg
information
Nutritional information of this recipe is only an estimate, the accuracy for any recipe on this site is not guaranteed.

Latest posts by Alejandra Graf
(see all)