In this post, we'll guide you step by step through creating these tasty treats. From ingredient selection to cooking tips, we have everything you need to make your S'more Banana Boats a resounding success. This is one of my favorite summer treats, let me tell you why.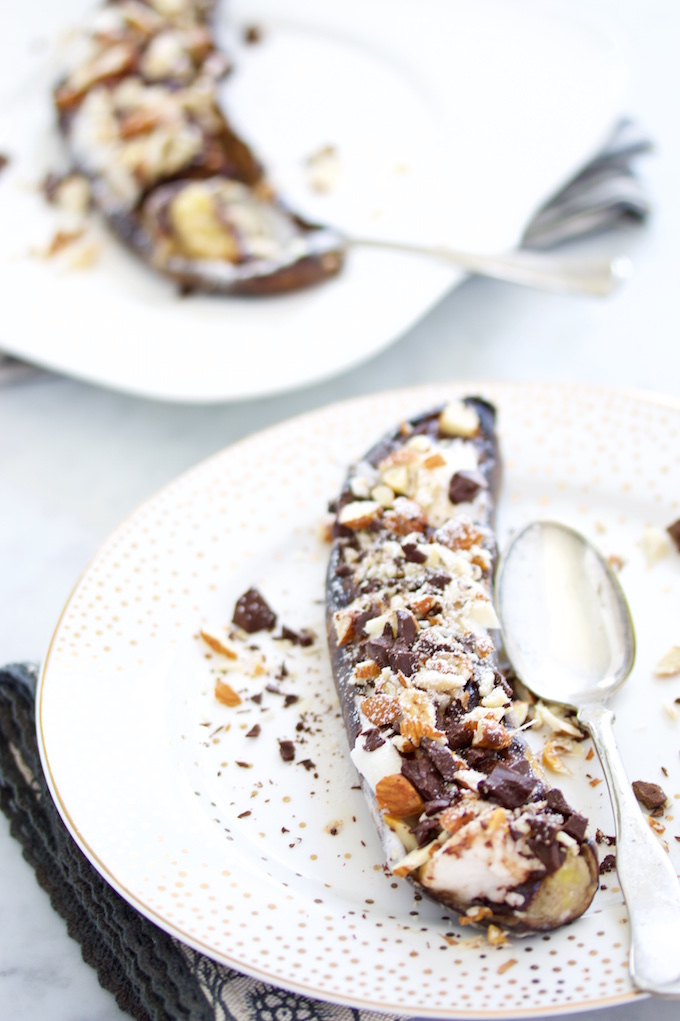 About this recipe
Imagine a night sky full of twinkling stars, with a warm campfire creating a cozy atmosphere and the delightful aroma of roasting marshmallows filling the air.
It's a perfect night for s'mores, but not just your traditional graham cracker, chocolate, and marshmallow combination. We're elevating this classic campfire treat to a new level with S'more Banana Boats tonight.
The sweet, natural flavor of the banana perfectly complements the melted marshmallows and rich chocolate, all bundled together in a convenient, edible package. This delicious twist on the traditional s'more brings a fun, fresh dimension to the campfire dessert experience.
Whether on a full-scale camping adventure or just enjoying a summer evening in the backyard, S'more Banana Boats will surely be a hit.
I use Dandies marshmallows because they are gluten-free and vegan, unlike other brands that contain chemicals and high fructose corn syrup. They make a delicious s'more that is heaven for me!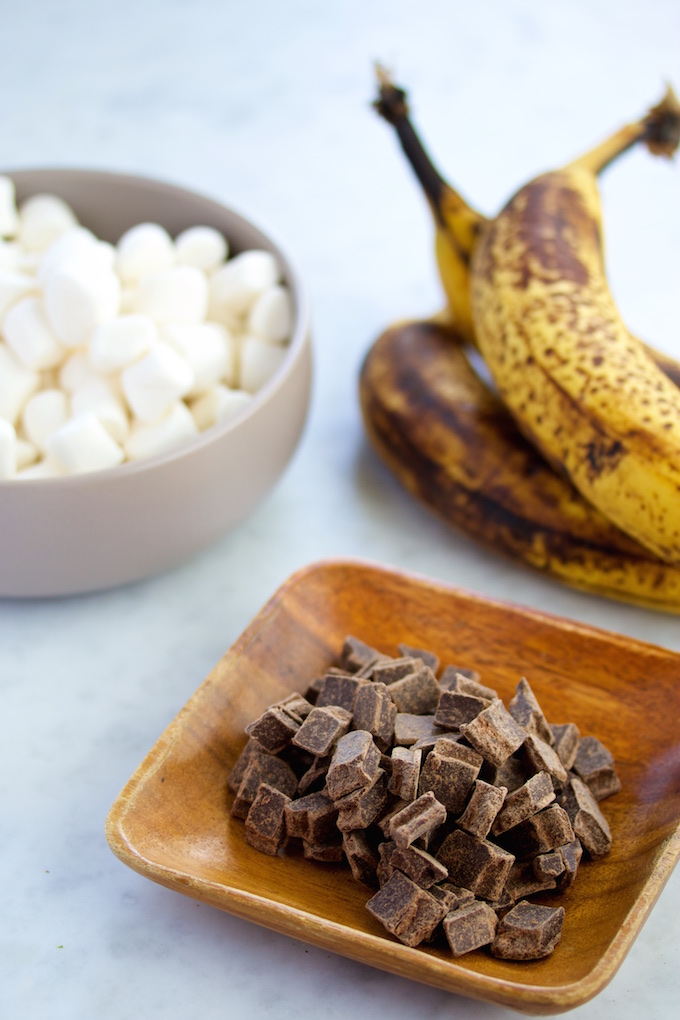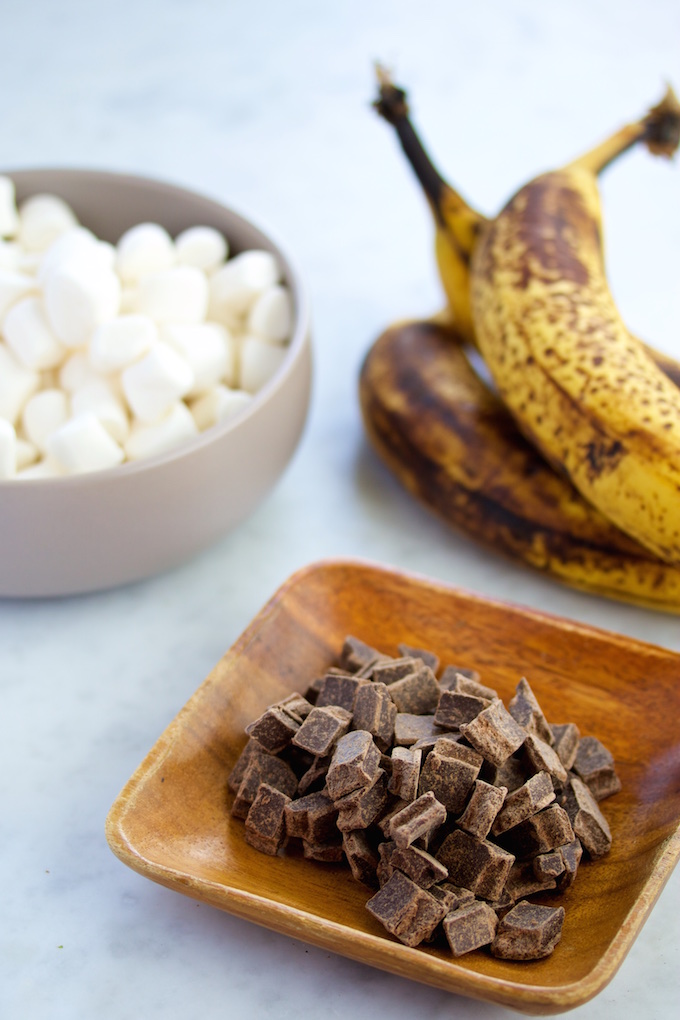 ingredients for the banana boats
Bananas, They should be yellow and firm. Overripe bananas may become too mushy when cooked.
Dark chocolate pieces
Small marshmallows, These will provide the classic s'more gooeyness we all love.
Chopped almonds (affiliate link) or graham crackers: They add a nice crunch to contrast with the soft banana and melted marshmallows
Optional Toppings
Peanut Butter or chocolate peanut butter: A dollop of these spreads adds a creamy and nutty flavor that pairs well with the chocolate and banana. You could use almond butter as well for a healthier option.
Chopped Nuts: Almonds (affiliate link), pecans, or walnuts provide the perfect crunch and a boost of healthy fats. Be sure to chop them finely to ensure they stick to the melted marshmallows and chocolate.
Toasted Coconut: If you love the tropical flavor, sprinkling your banana boat with some toasted coconut flakes can add a unique twist.
Caramel Sauce: Drizzle a little caramel sauce over your S'more Banana Boat just before serving for an extra sweet treat.
Crushed Oreos or Chocolate Chip Cookies: Adding these gives an extra dose of sweetness and a different texture. Yes, Oreos are vegan.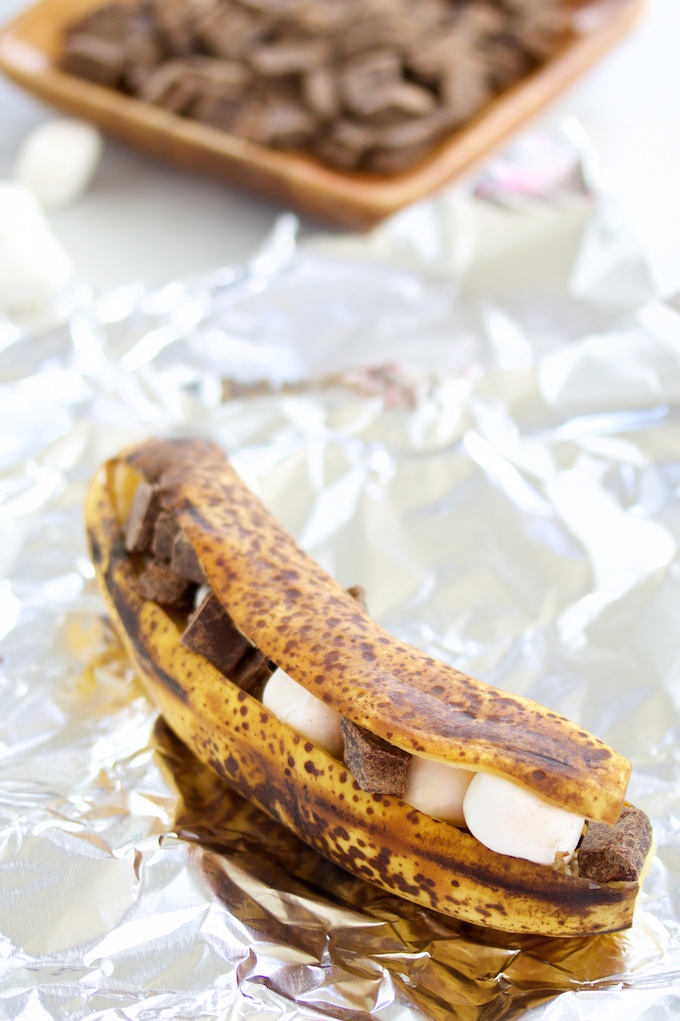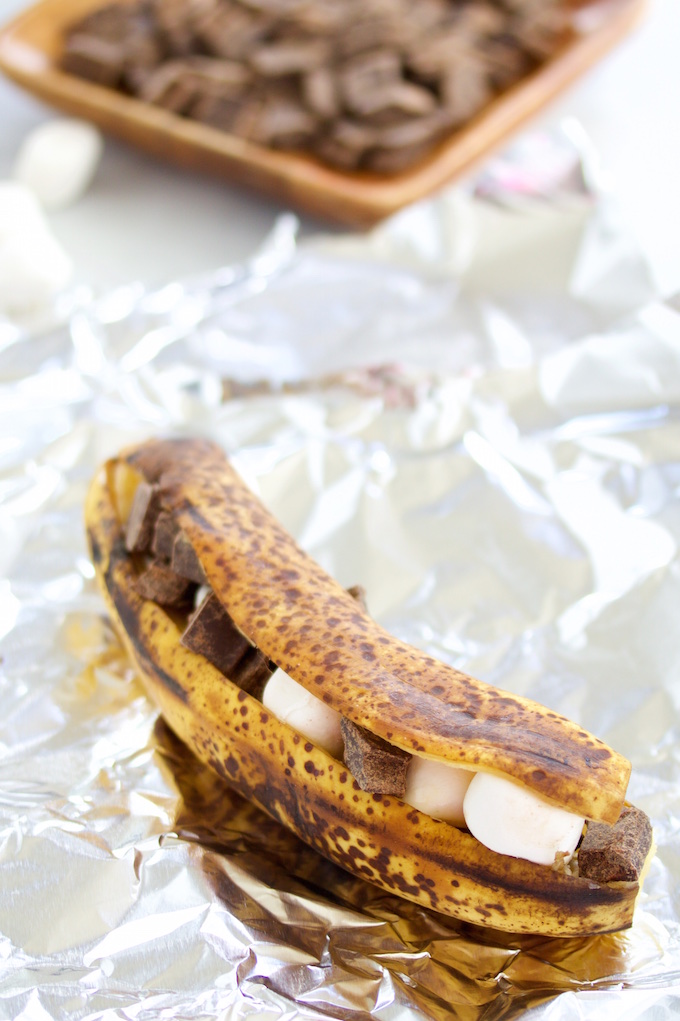 how to make banana boats
Prep the Bananas. Start by taking each banana and making a deep lengthwise cut along the inside curve of the banana, be careful not to cut all the way through. The main idea is to create a pocket.
Stuff the Bananas. Add the small chocolate pieces and arrange them along the cut you made in the bananas. Take your marshmallows and stuff them next to the chocolate. You want to evenly distribute the marshmallows and chocolate along the banana's length.
Wrap and Cook. Wrap each banana in a piece of aluminum foil. Make sure the foil is tight enough to keep the ingredients in.
If you're using an oven, preheat it to 375°F (190°C) and place your wrapped bananas on a baking sheet. Cook them for 10-15 minutes or until the marshmallows and chocolate are melted.
If you're using a grill or a campfire, place the wrapped bananas near the fire's coals or on the grill, and cook them for the same time.
Serve. Carefully remove the bananas from the oven or fire; remember, they will be very hot. Let them cool for a few minutes. Unwrap the foil, being careful to avoid any steam.
The bananas should be soft, the marshmallows melty, and the chocolate perfectly gooey. Serve on a plate with a spoon, and enjoy your deliciously sweet and warm S'more Banana Boat right from the peel.
Add Toppings. Add any additional toppings you like once your bananas are cooked and a bit cooled. This could include a drizzle of peanut butter, a sprinkle of chopped nuts or toasted coconut, a squeeze of caramel sauce, or a scattering of crushed cookies.
Other recipes that you will love:
Made and loved this recipe? Give it a ⭐️⭐️⭐️⭐️⭐️ rating below. Let me know if you have questions about this recipe in the comment section or DM me on Instagram. Follow me on Facebook and Pinterest to stay in touch, and don't forget to subscribe to my newsletter.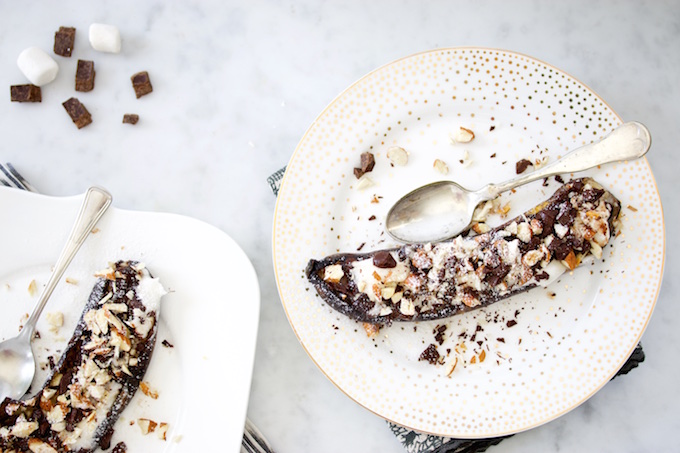 S'MORES Banana boats
S'mores Banana Boats combine the traditional gooey delight of s'mores with the natural sweetness of bananas in a vegan way. This fun and delicious campfire dessert that's perfect for your next outdoor adventure or backyard gathering. A perfect blend of crunchy graham crackers, melted chocolate, fluffy marshmallows, and ripe bananas, these treats will bring joy to any occasion.
Ingredients
4

ripe bananas

1/4

cup

dark chocolate pieces

1/4

cup

small marshmallows

8

graham crackers

3

tablespoons

chopped almonds
Instructions
Preheat your oven to 375°F (190°C), or prepare your grill/fire pit.

Cut a long, deep slit down the length of each banana, being careful not to cut through the banana.

Stuff the banana with the chocolate with a marshmallow.

Wrap each banana securely in a piece of aluminum foil. Make sure the foil is tight enough to keep the ingredients in.

Place the wrapped bananas on a baking sheet if you're using an oven, or directly onto the grill or near the campfire coals. Cook them for about 10-15 minutes, or until the marshmallows and chocolate are melted.

Meanwhile,break the graham crackers. Carefully remove the bananas from the oven or fire. Allow them to cool for a few minutes, as the insides can be very hot.

Finish with the crushed grahams and chipped almonds.
Notes
Use the oven, toaster oven or grill.
Oven should be pre-heated around 350ºF.
Nutrition
Serving:
1
serving
Calories:
347
kcal
Carbohydrates:
59
g
Protein:
6
g
Fat:
12
g
Saturated Fat:
4
g
Polyunsaturated Fat:
1
g
Monounsaturated Fat:
5
g
Trans Fat:
0.01
g
Cholesterol:
0.3
mg
Sodium:
192
mg
Potassium:
605
mg
Fiber:
6
g
Sugar:
26
g
Vitamin A:
80
IU
Vitamin C:
10
mg
Calcium:
56
mg
Iron:
3
mg
information
Nutritional information of this recipe is only an estimate, the accuracy for any recipe on this site is not guaranteed.

Latest posts by Alejandra Graf
(see all)