If I close my eyes and imagine what would be my perfect combination of flavors, these muffins with dark chocolate, chopped almond, and flakey salt are on the list. Each bite of these muffins is perfect, between the crunch of the almonds (affiliate link), the lightly sweetened chocolate, and the perfect touch of salt, yum. They really are the best.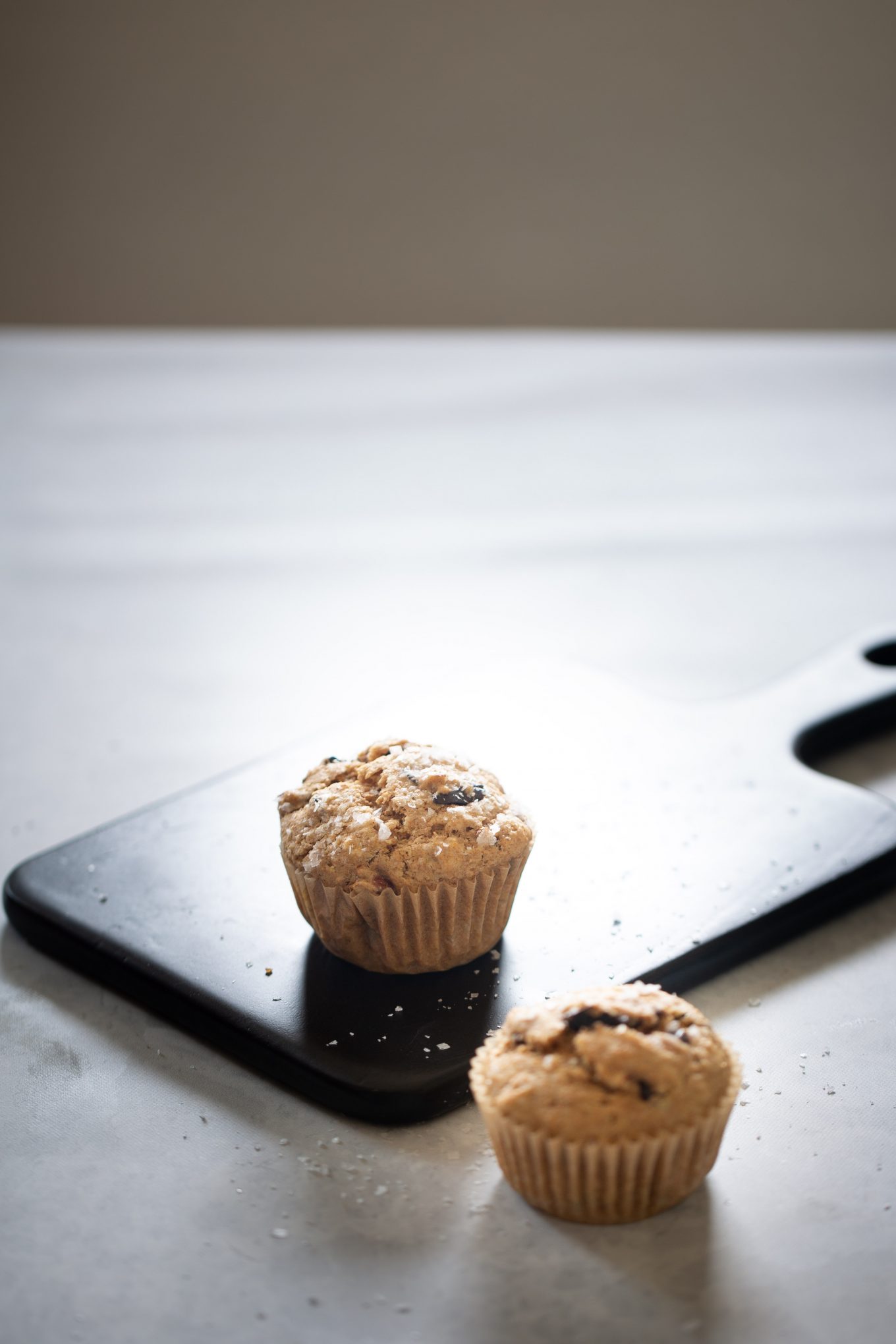 These muffins with dark chocolate are 100% vegan and super quick to make. It is the type of baked good that I like to have in my kitchen over the countertop. I love that my kids can go into the kitchen and have a homemade treat.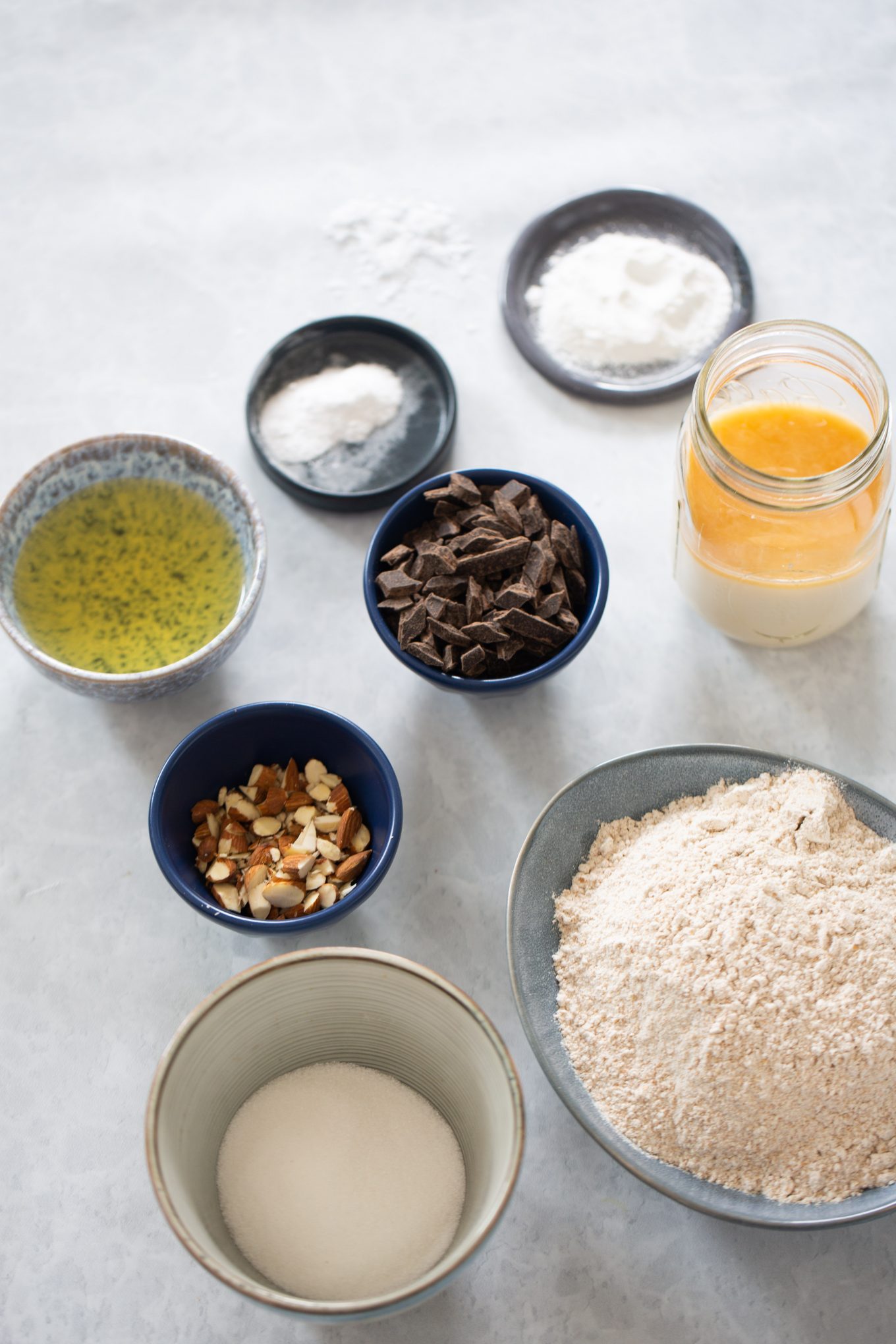 Ingredients for these vegan muffins
Flour. I use whole wheat flour, I like to use it because it always adds a little more nutritional value than white flour.
Sugar. You know I only add half a cup of sugar to the whole recipe. Half a cup equals 8-9 tablespoons and this recipe makes 12 muffins. So each muffin has less than 1 tablespoon of sugar, a good thing if we compare the grams of sugar there is in storebought muffins and cupcakes.
Almonds (affiliate link). These muffins are NOT made with almond flour, they have the chopped almonds so each bite is crunchy and delicious.
Dark chocolate. I use dark chocolate because, in addition to being vegan, it has the least amount of sugar. You can use chocolate chips or chunks as I did. Experiment with different types of chocolate and even flavored dark chocolate. I love dark chocolate with orange or berries.
Salt flakes. I use Maldon salt, but you can use whatever you like best. These muffins have only a pinch of flakey salt at the top, but believe me, it revolutionizes the flavor.
These almond muffins also have almond milk, vanilla, apple cider vinegar (affiliate link), oil, baking powder, and baking soda.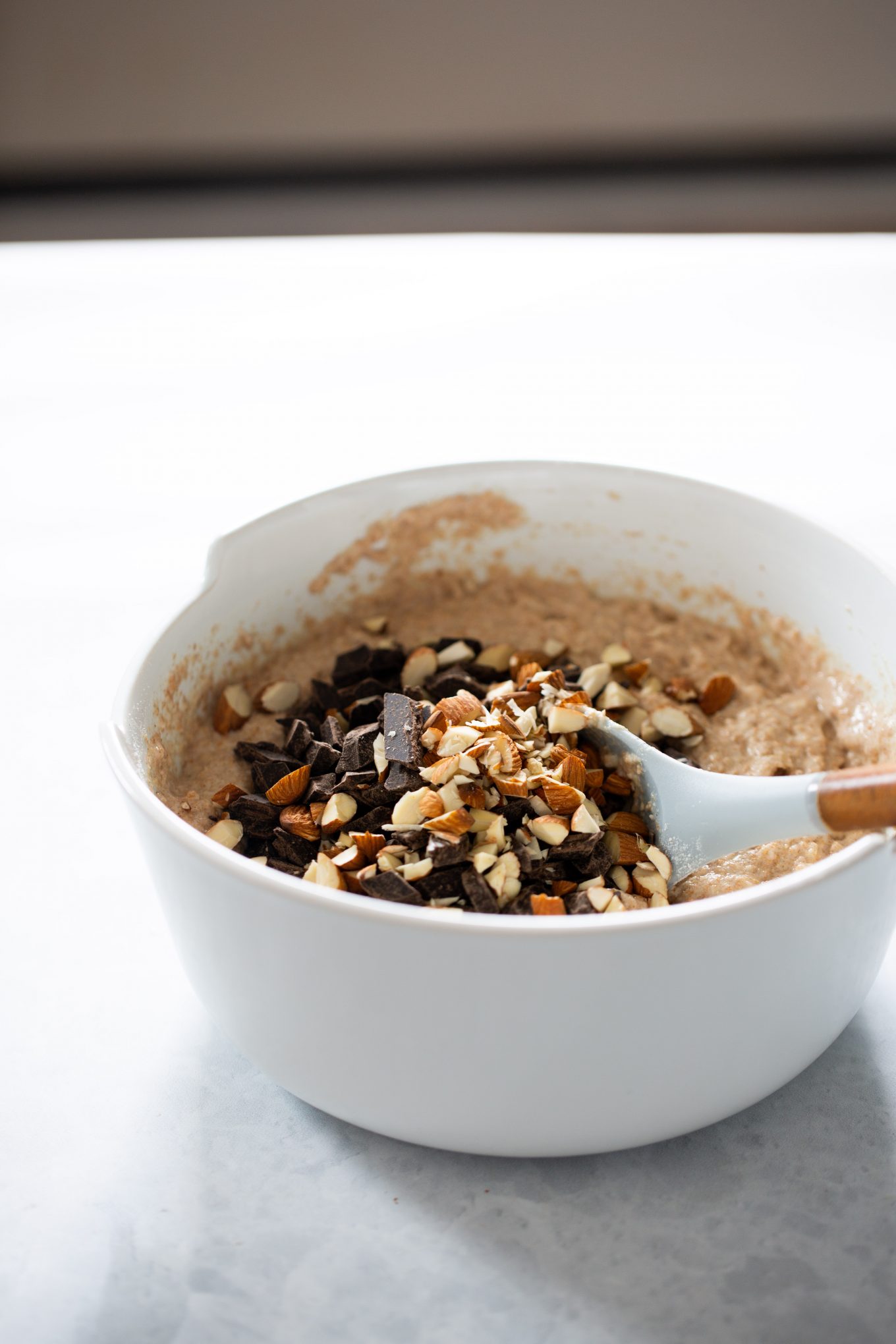 What is flakey salt -Maldon salt?
There are many types of salt on the market, the most common are: table salt, sea salt, Kosher salt, Himalayan salt, fleur de sel, Celtic salt and Maldon salt (salt flakes ).
Maldon salt is a salt that is used to finish dishes. This salt is sea salt but processed in an artisanal way so that it has a flaky texture.
If you don't have Maldon salt or salt flakes put a little sea salt on top or any other finishing salt you have on hand.
How to make these muffins with dark chocolate, almonds and a touch of salt?
You put the almond milk or another vegetable milk in a glass with the apple cider vinegar (affiliate link) and set aside.
Mix the rest of the ingredients, add the milk and you're done. You pour the batter in the prepared muffin tin and finish them with a pinch of salt. You put them in the oven and that's it.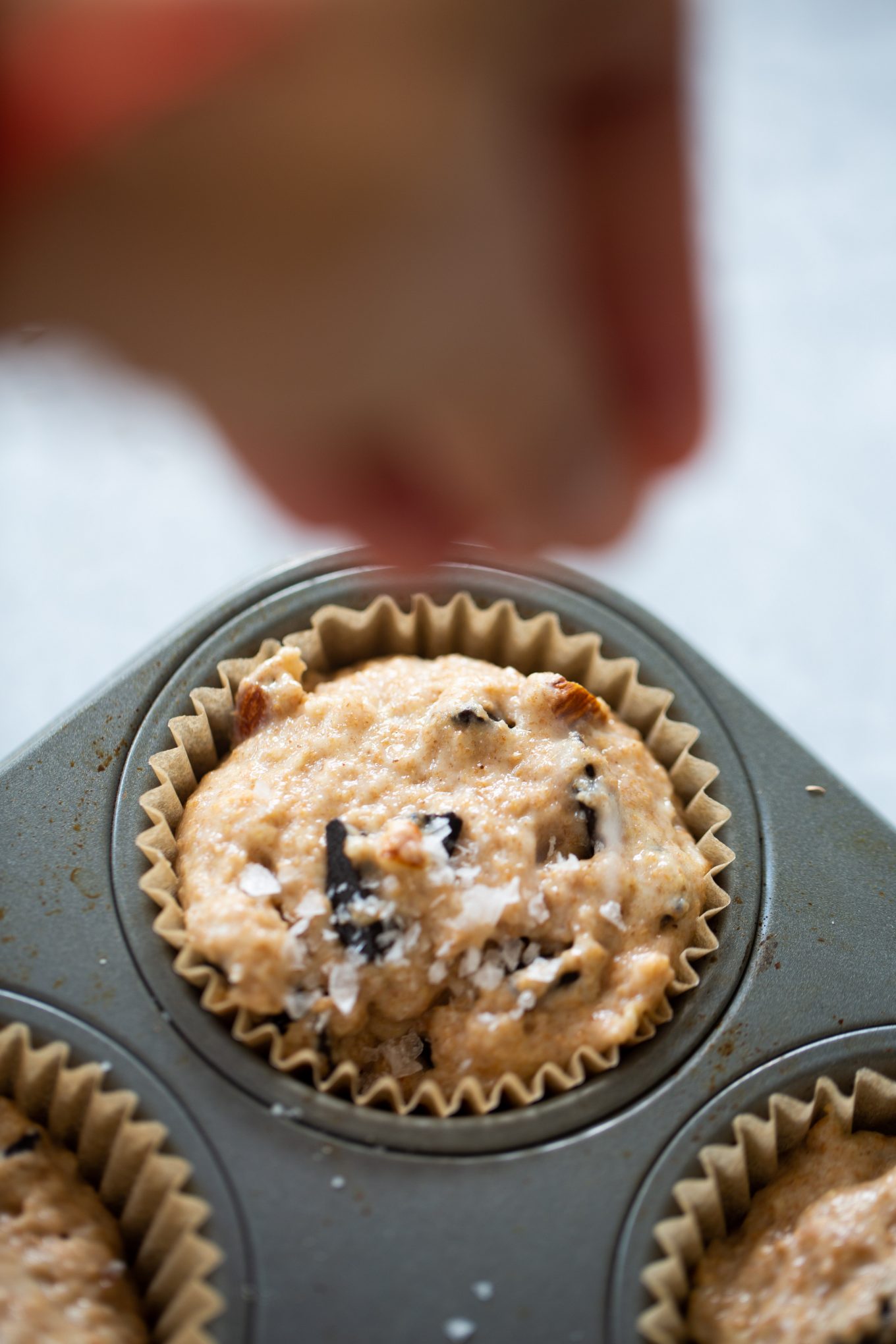 ✨What is the # 1 TIP these muffins EXTRA delicious? ✨

USE SUPER GOOD INGREDIENTS.

If you start with good ingredients, you'll end with something good. 

These almond muffins have so few ingredients that it is better if they are very good.

For example, use chocolate with a high percentage of cocoa and that does not have extra fats or oils.
Other recipes that you may like: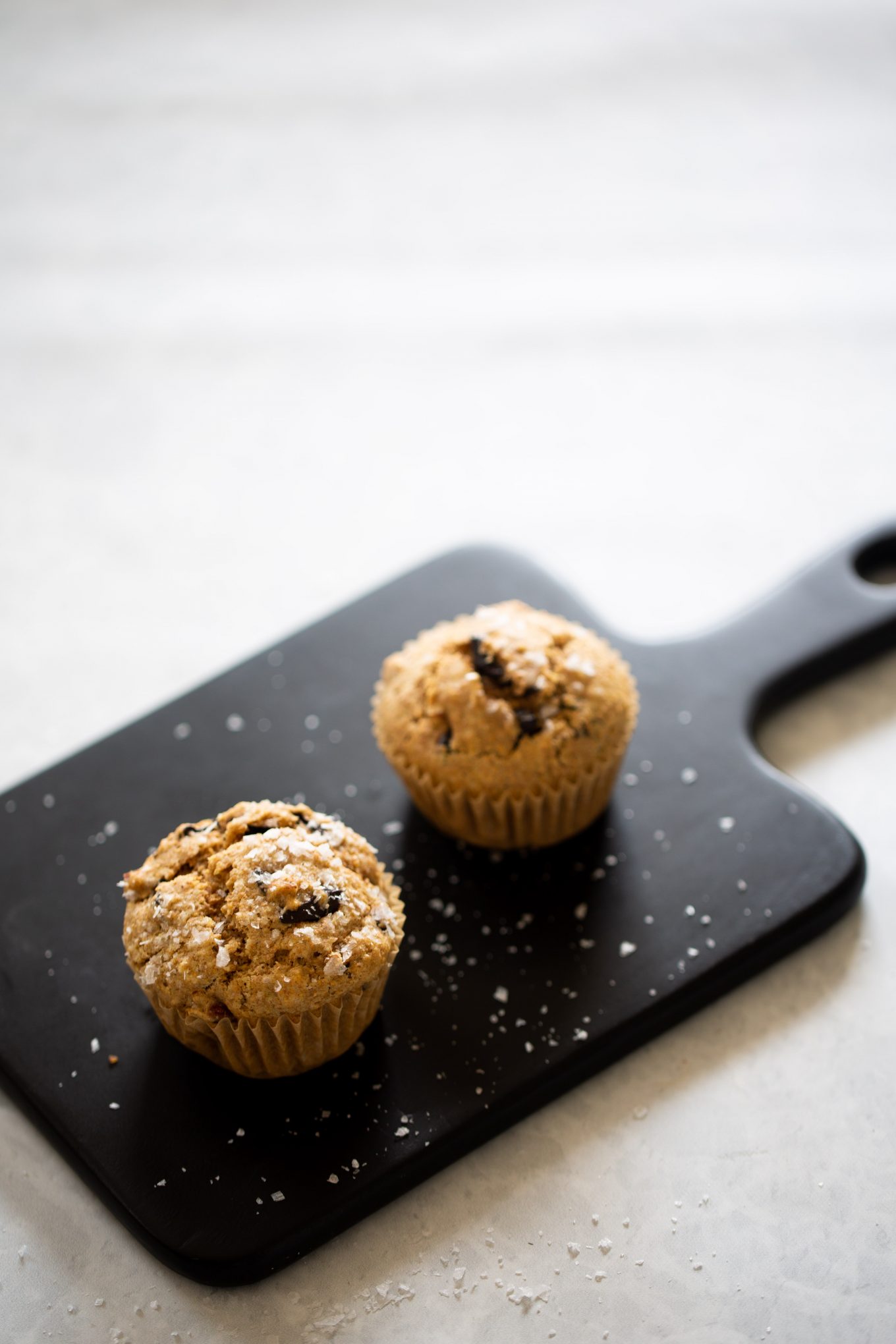 So here is the recipe, for these muffins with dark chocolate, chopped almond, and flakey salt and I hope you like them as much as we do. Take a picture of them when you prepare them and share it on Instagram, or FB. You could also save them on Pinterest and make them later.
It would also be fantastic and super helpful if you leave a comment and/or rating of this recipe in the comment section. Please feel free to write suggestions, ideas, or how it went when you made the recipe.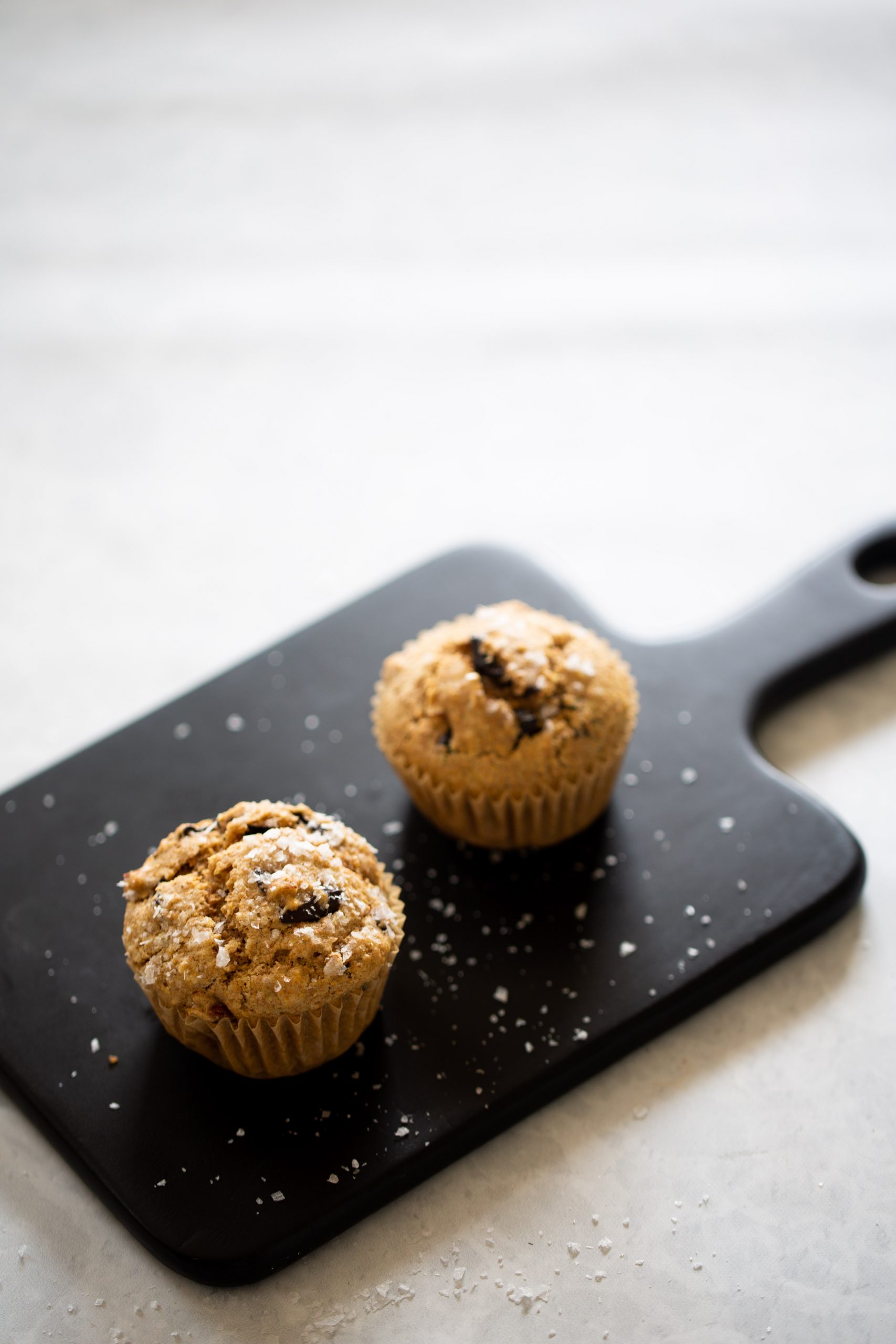 Dark chocolate, almonds and Maldon salt muffins
Super easy and fast to prepare muffins, filled with dark chocolate, almond pieces and sprinkled with Maldon salt.
Ingredients
1

cup

almond milk

1

tablespoon

apple cider vinegar

2

cups

whole wheat flour

1

tablespoon

baking powder

1

teaspoon

baking soda

1/2

cup

sugar

1/4

teaspoon

salt

1

tablespoon

vanilla

1/2

cup

coconut oil or neutral tasting oil

1/4

cup

almonds, chopped

1/2

cup

dark chocolate

1

teaspoon

salt or other Maldon salt flakes
Instructions
Pre-heat the oven to 350 degrees.

Measure a cup of milk and add a tablespoon of vinegar. Set aside until ready to use.

In a large bowl place the flour, baking powder, baking soda, sugar and salt. Mix all the powder and add oil, vanilla and milk with vinegar.

Add almonds and chocolate and mix gently.

Prepare a baking muffin tray with paper liners and divide the mixture between them. Sprinkle each muffin with a mini pinch of Maldon salt.

Put in the oven for about 20 minutes or until a toothpick enter and exit clean. Let cool before trying.
Nutrition
Calories:
251
kcal
Carbohydrates:
27
g
Protein:
4
g
Fat:
15
g
Saturated Fat:
3
g
Cholesterol:
1
mg
Sodium:
364
mg
Potassium:
247
mg
Fiber:
3
g
Sugar:
10
g
Calcium:
88
mg
Iron:
2
mg
information
Nutritional information of this recipe is only an estimate, the accuracy for any recipe on this site is not guaranteed.

Latest posts by Alejandra Graf
(see all)