Homemade almond butter is delicious, once you try it is so hard to go back to the store-bought one. This recipe is easy and totally customizable, you can add all your favorite flavors or /and sweeteners.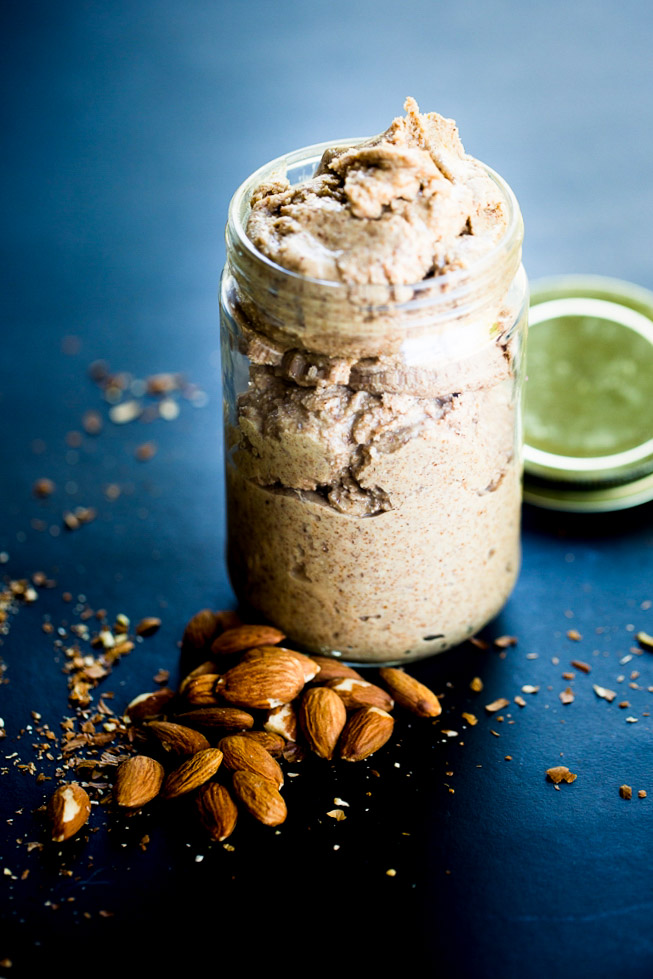 In the recipe card you will find the classic most basic way to make almond butter, this recipe calls for only one ingredient: almonds (affiliate link). But as I told you before you can use any other spice, flavoring or sweetner.
Making our nut and seed butter at home has tons of benefits. First of all, we know 100% of what we are eating. Most of the store-bought nut jars of butter have added oils, and some of them are hydrogenated oils. These types of fats are not right for us. Also, most of these nut kinds of butter have tons of sugar and other processed ingredients.
how does homemade almond butter tastes?
It tastes amaizing. Believe me, once you try it is so hard to go back to the one you used to buy. Homemmade nute butters taste som much better, they are creamy, perfect delicious and on top of that. They are so good for us.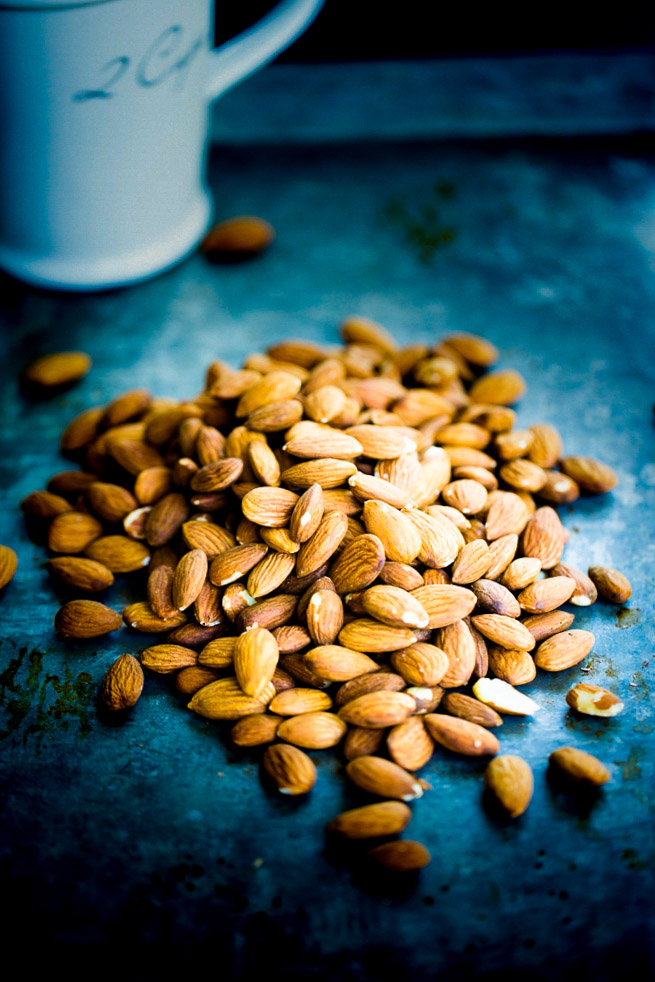 How to make almond butter at home?
First, roast the almonds (affiliate link) at a very low-temperature 300ºF for 10-20 minutes. You will notice when they are ready because they start to smell delicious.
Take them out of the oven and let them cool.
Put roasted almonds in the container of a high-speed blender like Vitamix (affiliate link) or in the container of a food processor (affiliate link). You can add a pinch of salt. Turn on your device and at first, you will notice the almonds become kind of almond meal. But then magic happens and slowly they turn into creamy and delicious nut butter.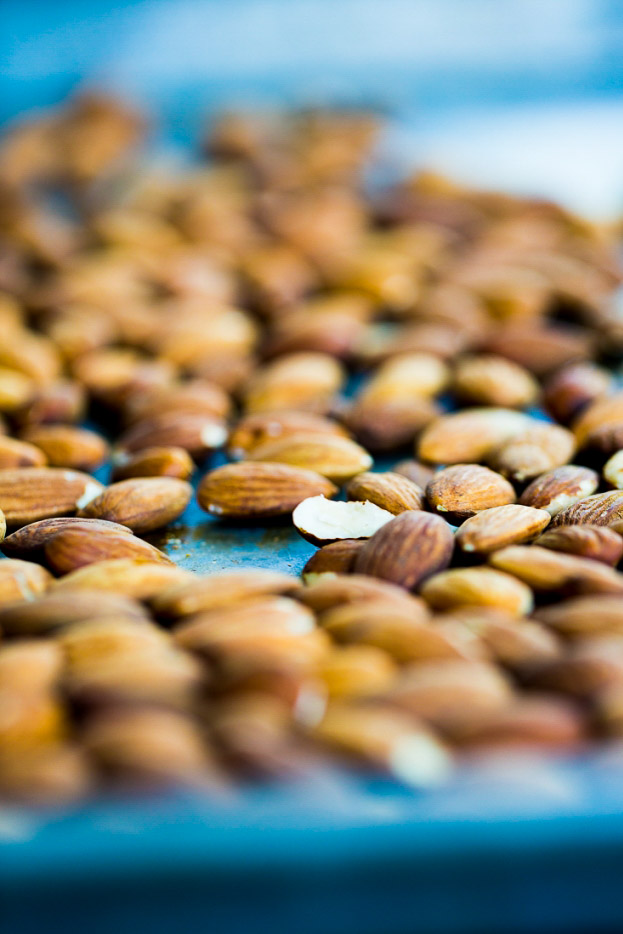 I normally make my almond butter plain. Whith no flavor or sweetners at all. This works for me better because that way I can use it to prepare noodles or savory sauces and dressings.
Also if I feel like eating a sweet almond butter toast, I can add a bit of maple syrup, or cinnammon directly to the toast.
Or I can make my own flavored nut butter in smaller containers. Like chocolate flavored one. Mix a bit of almond butter with cocoa powder (affiliate link), agave or maple syrup, and a bit of water. This chocolate dip is perfect for a toast or drizzled on top of fruit.
tips, tricks & other recipes
When you buy the almonds, buy unroasted ones. When we roast our nuts at home, we take care of the temperature and do not over-roast them, so all the nutrients remain intact or enhanced.
It is important to roast the nuts a bit so that we can digest them better. It can also be done without toasting them, but for me, the difference in flavor is enormous. It tastes much better with roasted almonds.
This is the method for making any nut or seed butter or a mixture of both. For example, you can put a part of walnuts, a part of sunflower seeds, and a part of another type of nut. Just toast a bit and then blend.
Depending on the machine you use to make this almond cream, it can take from 10 to 15-20 minutes.
This almond butter lasts a long time in the fridge if you keep it in a tightly covered glass jar.
How to eat almond butter?

It is the best in freshly baked bread
You can use it as a base for noodle sauce.
Or with fruit, with a few slices of apple, pear, and banana. Even with carrots, it tastes delicious.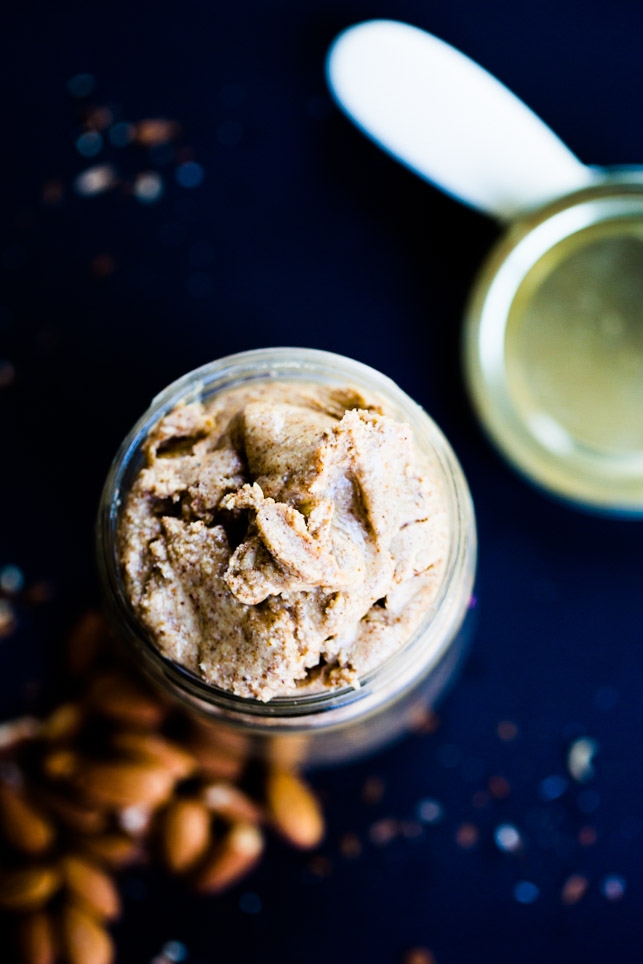 Here is the recipe for
homemade almond butter
delicious, easy to make and full of healthy benefits for us. If you like this recipe please share the blog and a picture of your creation on Instagram or FB. Or you could save it for later on Pinterest.
Leave me a question, suggestion, or comment or/and rating in the comment section below. I love to learn more about you.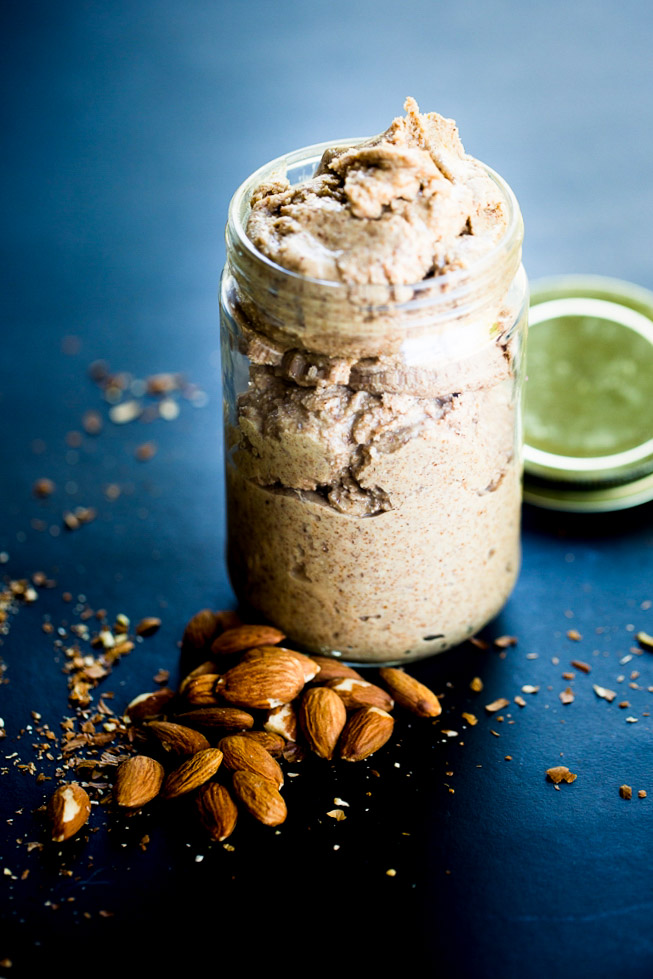 Homemade almond butter
This recipe for homemade almond butter is easy, delicious and you can adapt it to your taste. You can add sweeteners, spices or even chocolate.
Ingredients
2

cups

unroasted almonds

pinch

of salt * optional
Instructions
Preheat oven to 300ºF.

Put the two cups of almond on a baking sheet, put them in the oven and leave them for at least 10 minutes.

Check them after 10 minutes, if they smell delicious and the center of an almond begins to look more golden and creamy, they are ready. If not leave them 5 more minutes. When ready, take them out of the oven.

Let them cool a little, until you can touch them without burning yourself. Put them in the food processor bowl prepared with the s-blade attachment.

Turn on and let it run until the almond butter is formed. Occasionally stop the processor scrape down the sides of the container.

Put in a jar and store in a dark and cold place or in the refrigerator.
Notes
When in the food processor:
First, you will see that the almonds become like powder.
Then it will form like a ball of almond butter inside the bowl, let it run.
Just after the previous step it breaks and the almond butter comes through.
TROUBLESHOOTING
If your food processor is not so powerful or the almond butter is not coming together, add a teaspoon of vegetable oil, if it does not MAKE much of a difference add more and so. Do not add more than 3 teaspoons.
Nutrition
Serving:
2
tablespoons
Calories:
103
kcal
Carbohydrates:
4
g
Protein:
4
g
Fat:
9
g
Saturated Fat:
1
g
Sodium:
1
mg
Potassium:
126
mg
Fiber:
2
g
Sugar:
1
g
Calcium:
47
mg
Iron:
1
mg
information
Nutritional information of this recipe is only an estimate, the accuracy for any recipe on this site is not guaranteed.
Nutritional information of this recipe is only an estimate, the accuracy for any recipe on this site is not guaranteed.

Latest posts by Alejandra Graf
(see all)