This vegan broccoli soup may seem ordinary, but it isn't. It is a broccoli soup with homemade shiitake mushroom crisps, and it is delicious; it's out of this world. Best of all, it is easy and impressive.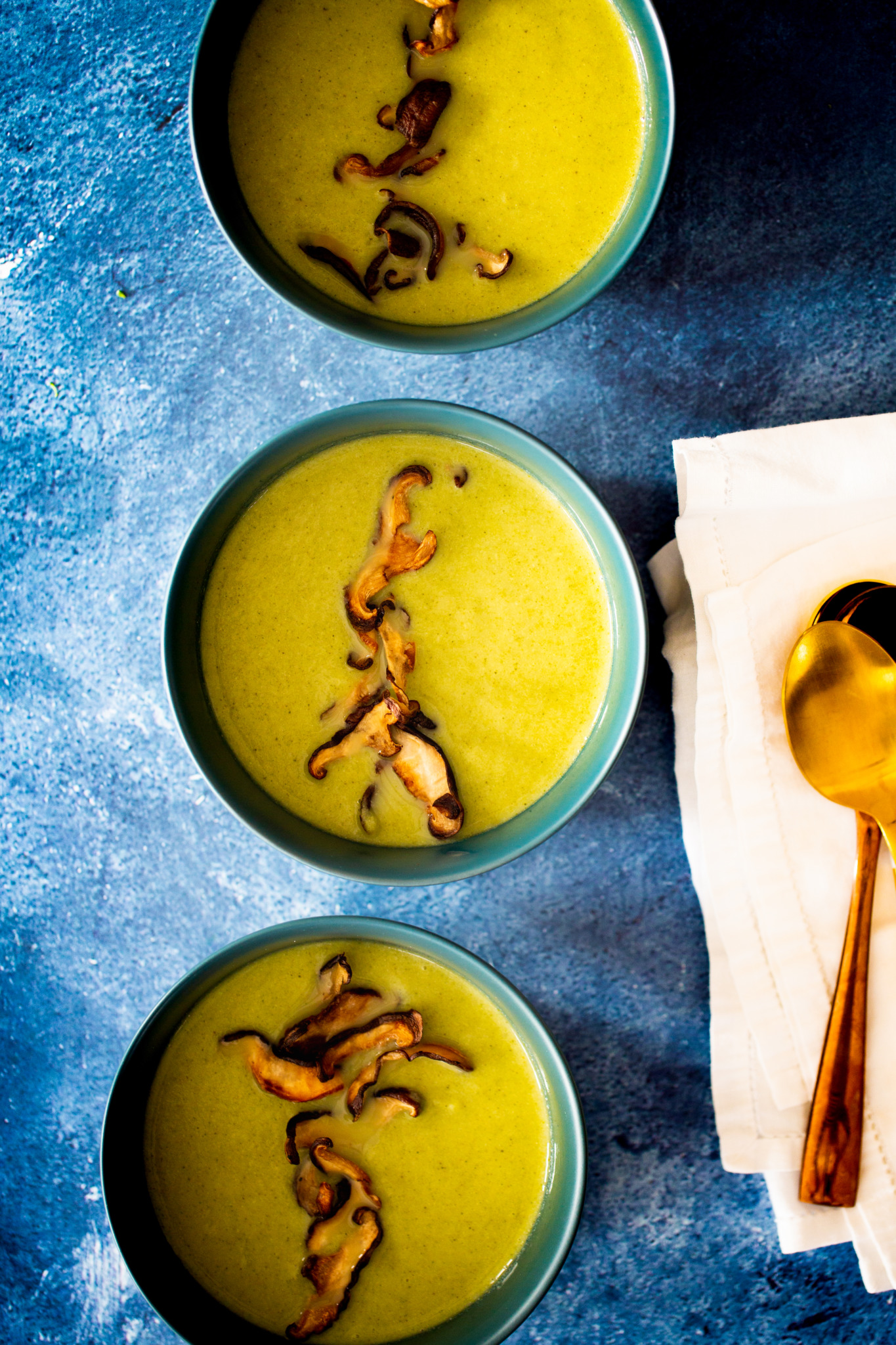 About the broccoli soup
This is a vegan broccoli soup or cream of broccoli without dairy, although delicious. It is a simple recipe and very easy to create. And this recipe is also straightforward to make, and even more, it's super easy, but it has two or three different things to the traditional soup.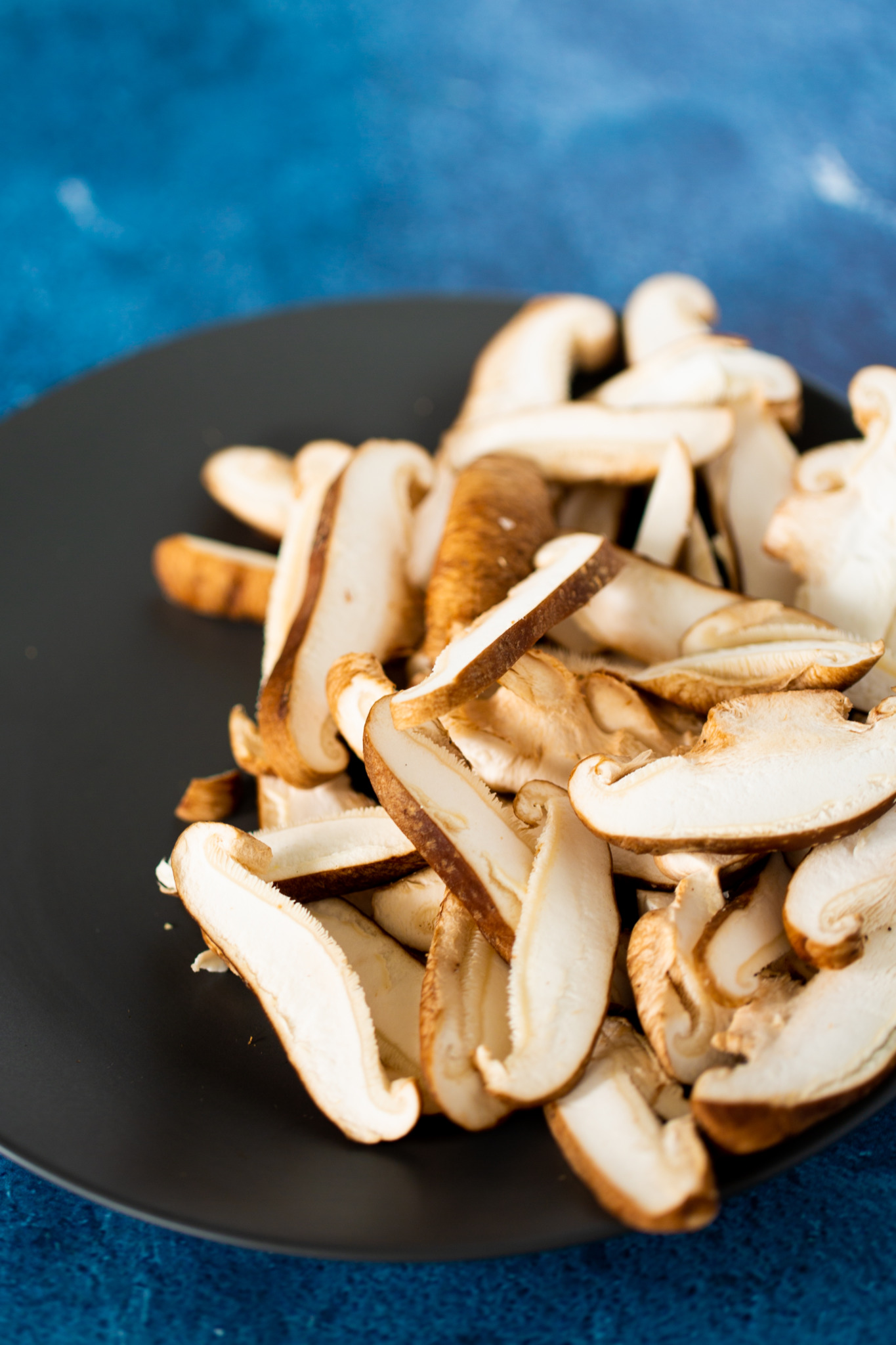 Tips & tricks
This is my version of a broccoli soup that is delicious and fancy enough for a formal dinner or a special occasion.
This broccoli soup has shitake mushrooms crisps, garlic, garlic, and shallots. Yum! But not because it's elegant and "fancy" means that it will stop being good for us.
I think we don't give all the credit that mushrooms deserve, and the truth is that they are an essential source of minerals and an excellent source of vitamin B. So we should eat them pretty often because they are delicious.
Don't throw away the broccoli stems, you can use them to make broccoli salad.
Tips for making the best shiitake crisps
These chips can be in the oven, air fryer (affiliate link), or pan.
Either way, they are delicious but are easier to make in the oven.
They may seem like you have many mushrooms cooking, but they turn out to be a small amount once cooked – think about it beforehand!
You can save the stems of the mushrooms to add them to the soup or make vegetable broth (affiliate link) afterward.
They taste delicious in sandwiches and salads if you make plenty of them.

About shiitakes
Shiitakes are known in Asia for their properties to give us tons of good stuff. And now, if we combine them with the properties of broccoli, we have a super dish. Two super-powered ingredients unite in one recipe.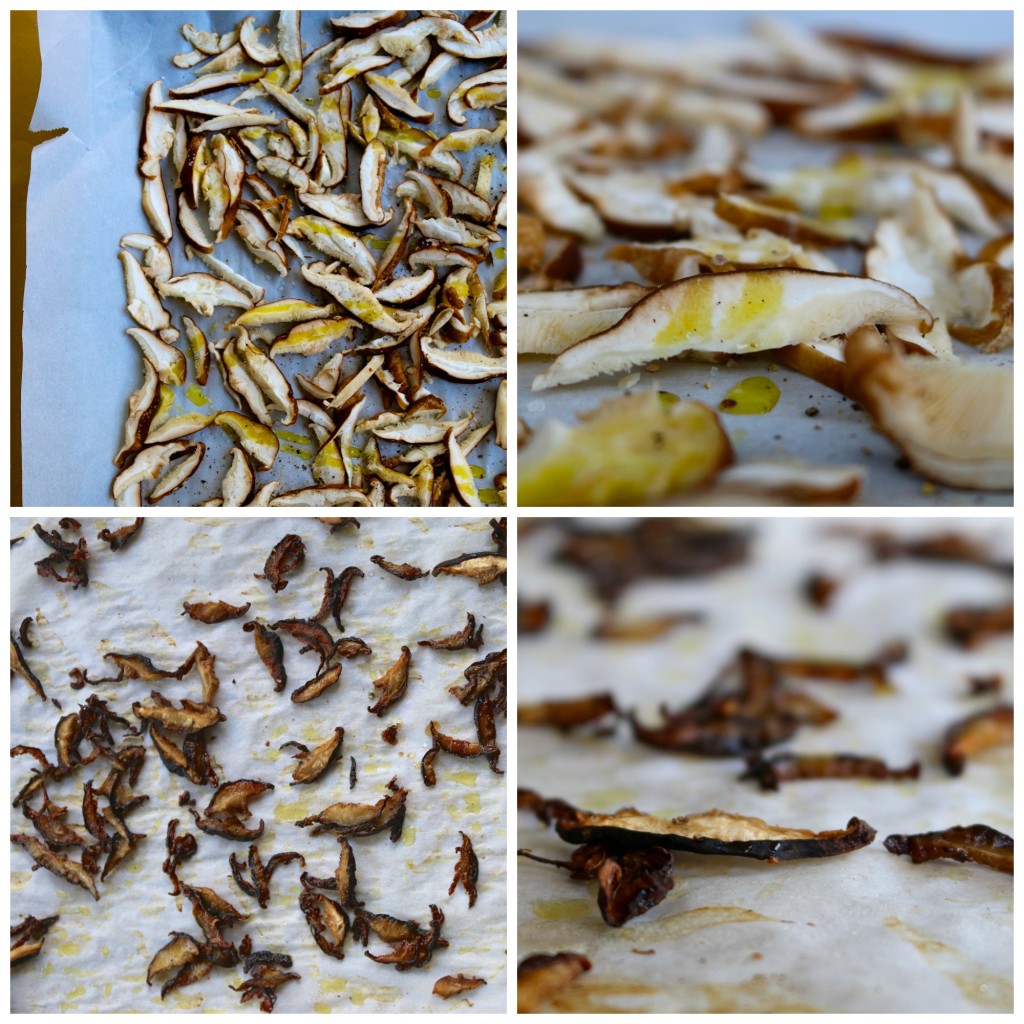 💡TIP

There's only one thing I should warn you about, and it is that when you roast the shiitakes, they are so good, they are hard to stop eating.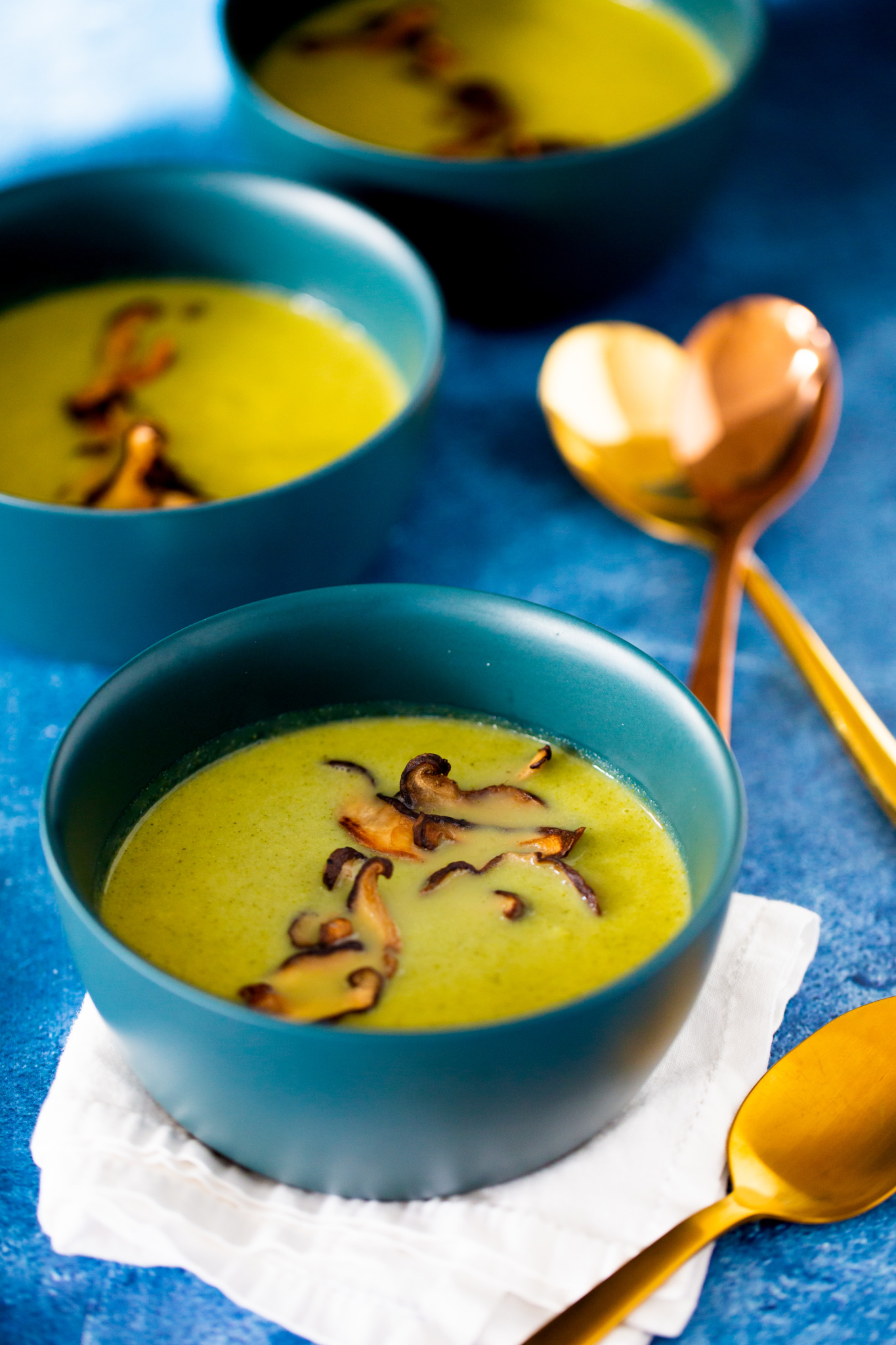 Once you try them in the soup, wow! Everyone loves them.
I'll give you the recipe for making this broccoli soup with homemade shiitake crisps, and if you like it, please share it with me! Don't forget to add a photo on Instagram or FB; if you want, you can save it for later on Pinterest.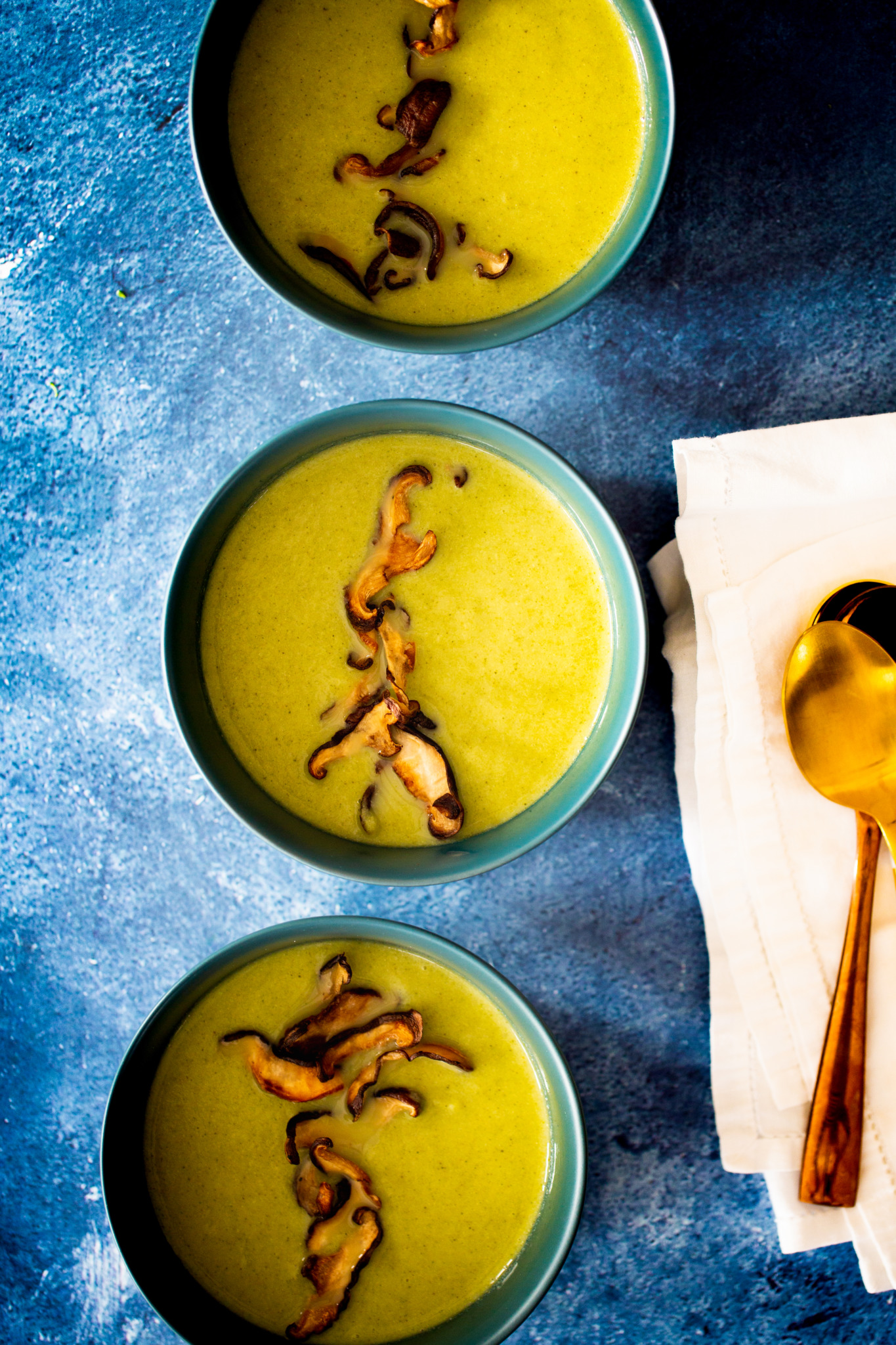 Broccoli soup with shiitake crisps
This recipe for broccoli soup with shiitake crisps is one of my favorite soups ever. The shiitake crisps are so addictive I always have to double the recipe. They taste great on top of soups, salads, and sandwiches. 30 min
Ingredients
3

garlic cloves

1

large shallot

2

tablespoons

of olive oil

1/2

teaspoon

thyme

1

tablespoon

mirin

Japanese sweet wine for cooking *optional

6

cups

water

1

head of broccoli cut into in pieces

a good pinch of sea salt
For shiitake mushroom crisps
15-20

shiitake mushrooms stems and tops apart

1 ½

tablespoon

olive oil

salt and pepper
Instructions
Preheat oven to 400ºF.

Separate the stem from the top of the shiitake mushrooms. Thinly slice about 15 shiitake tops, set them aside.

In a baking tray lined with parchement paper put the sliced shiitake tops, a tablespoon of olive oil, a pinch of salt and pepper.Arrange the slices in one layer..

Put them in the oven for about 10 min. Check them and turn the tray, leave for another 5 minutes until completly crispy.

Cut the garlic and shallots into large pieces.

In a large soup potadd the 2 tablespoons of olive oil, the garlic and the shallot pieces, be careful not to burn the garlic, leave them for 3 to 5 min.

The stems of the shiitake mushrooms can be added with the garlic and shallots. Add half a teaspoon of thyme.

When the pieces of vegetables begin to stick to the bottom of the pot add the tablespoon of mirin, if you are using, if not, a tablespoon of water. Remove the pieces of vegetables from the pot and let evaporate the mirin or water.

Add the broccoli pieces and 6 cups of water. Add a good pinch of salt and pepper. Cover and lower the heat. Let it cook until the stems of the broccoli are completely soft.

When the broccoli stems are completely soft, blend the vegetables until all is smooth.

Check for seasoning and adjust if necessary.

Serve the soup and top with the shiitake crisps
Notes
The shitake chips should be crispy, it is better to use them later then, it is not a good idea to keep them, since the crispy will be removed over time.
Nutrition
Calories:
792
kcal
Carbohydrates:
74
g
Protein:
25
g
Fat:
53
g
Saturated Fat:
7
g
Sodium:
436
mg
Potassium:
2892
mg
Fiber:
24
g
Sugar:
23
g
Vitamin A:
3788
IU
Vitamin C:
549
mg
Calcium:
347
mg
Iron:
6
mg
information
Nutritional information of this recipe is only an estimate, the accuracy for any recipe on this site is not guaranteed.

Latest posts by Alejandra Graf
(see all)