Raw broccoli is wonderful, both in taste and nutrition. Today is your lucky day if you have never tried this vegan apple broccoli salad with raisins, celery, and a perfect Dijon vinaigrette.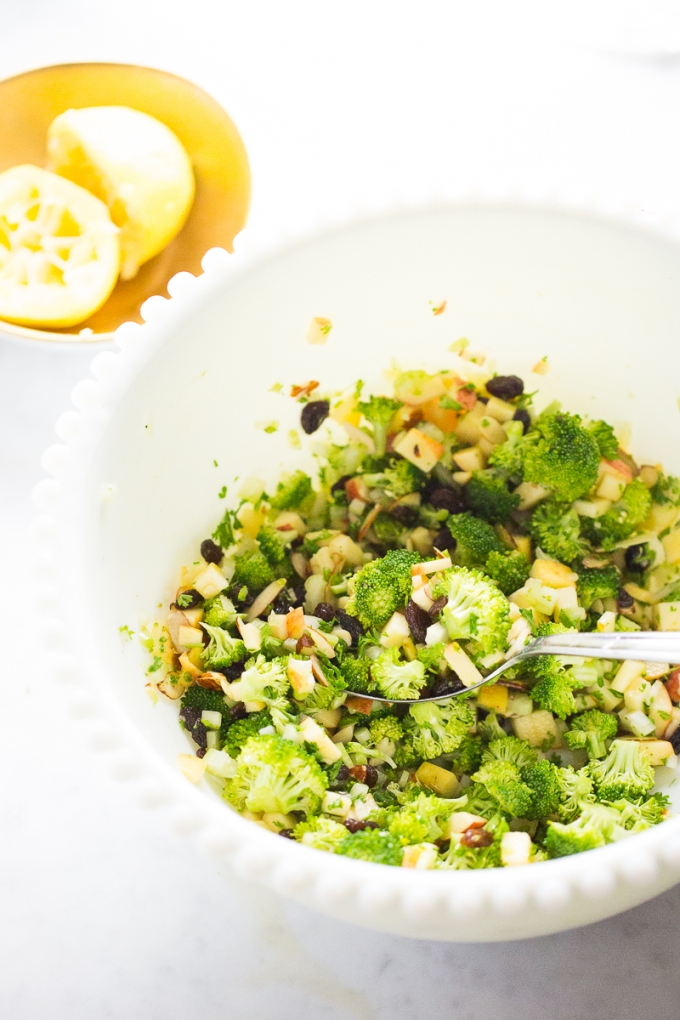 About this recipe
I know that broccoli is not everyone's favorite vegetable. And that many run every time they see it. I genuinely love broccoli (we call it brocoli in Spanish). We easily eat three broccoli heads a week; I know it is a little crazy.
But according to Dr. Michael Greger's book, every day, we should eat a vegetable from the cruciferous family: broccoli, kale, cauliflower, cabbage, etc.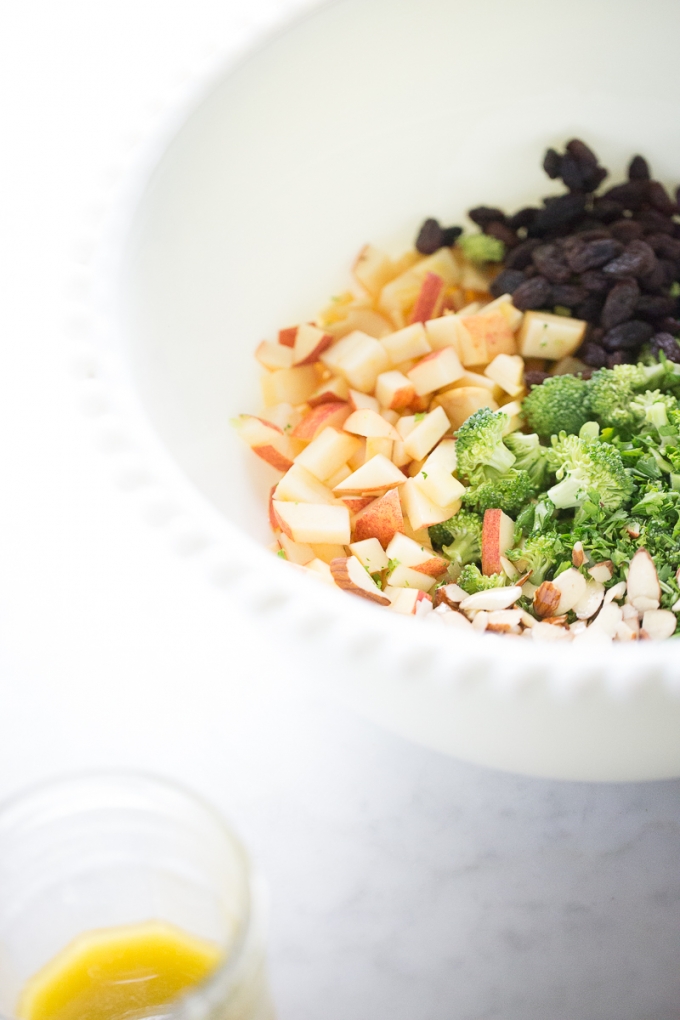 Benefits of broccoli
These vegetables from the cruciferous family have superpowers and help us with a "million" things. Broccoli is one of those vegetables that gives us the most and has the most benefits.
Broccoli is a nutrient-dense vegetable high in vitamins C and K, as well as folate and potassium. It is also a good source of fiber and contains antioxidants that may help protect against certain types of cancer.
Additionally, broccoli is also a good source of sulforaphane, which has been shown to have anti-inflammatory and anti-cancer properties. Eating broccoli regularly as part of a healthy diet may help lower cholesterol levels and protect against heart disease.
Broccoli salad ingredients
This vegan broccoli salad is made with raw broccoli, diced apple, celery, almonds (affiliate link), and raisins. All mixed with an easy dijon vinaigrette.
✎TIP 

You can prepare this broccoli salad with crispy steamed broccoli or roasted broccoli.

Which ever method you choose please, please do not give your children and family overcooked broccoli. I LOVE boroccoli and not even me will eat it mushy and overcooked.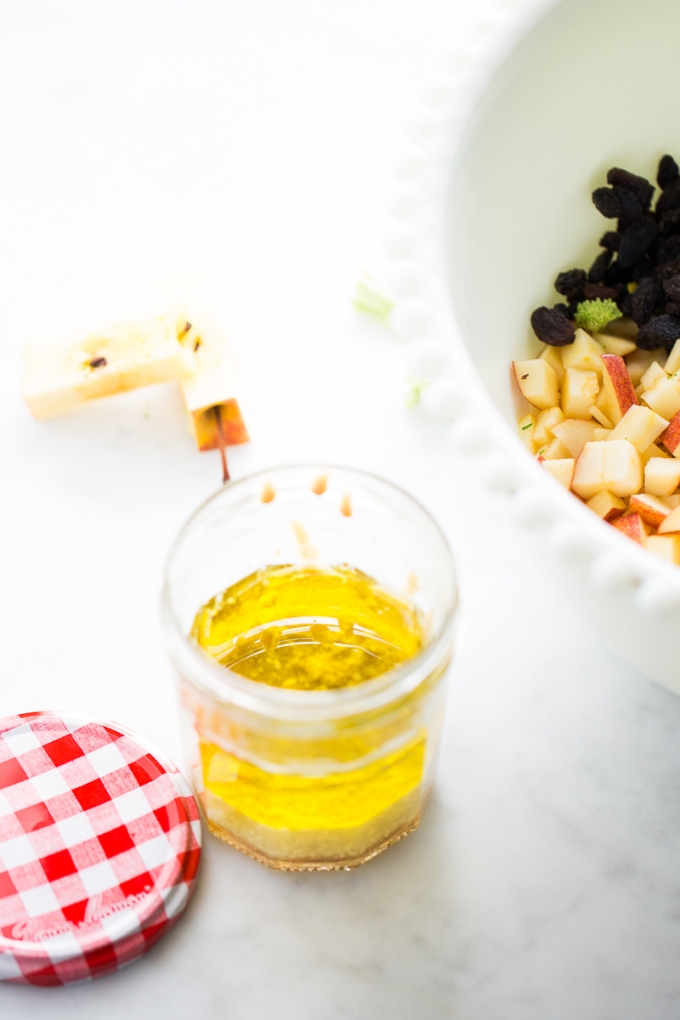 How to make the best broccoli salad?
The first step is to make the vinaigrette in a jar. You can also make it in a bowl or the salad bowl (affiliate link) you will use.
The second step is to chop the vegetables and the apple into small pieces.
The third step is to mix everything perfectly well.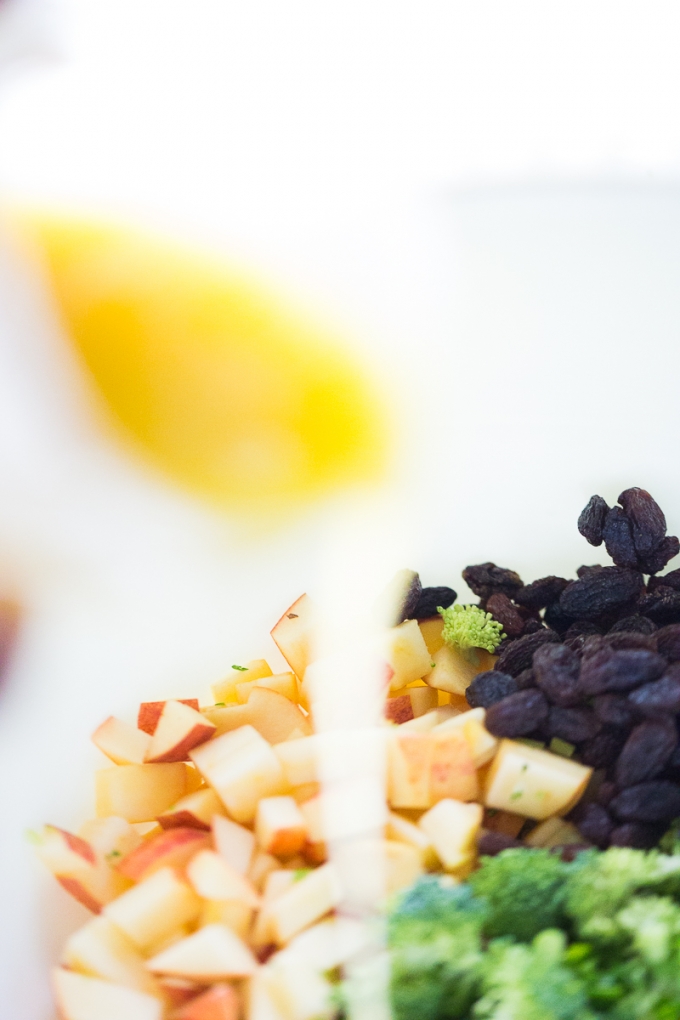 THE BEST WAY TO CUT the VEGETABLES FOR the SALAD
Broccoli. Put the head of the broccoli facing down on a cutting board and cut it in half. Cut the thick stem and set aside, and from then on, slowly cut the florets to the same size. Save the thick stalks and what you don't use to make a creamy broccoli soup later.
Apple. Cut it in half, remove the core, and slice it. Then cut those slices into strips, layer them, and cut again to dice them.
Celery, with the stem facing down, makes several cuts lengthwise (cut from stem to tip), then cut horizontally to dice it.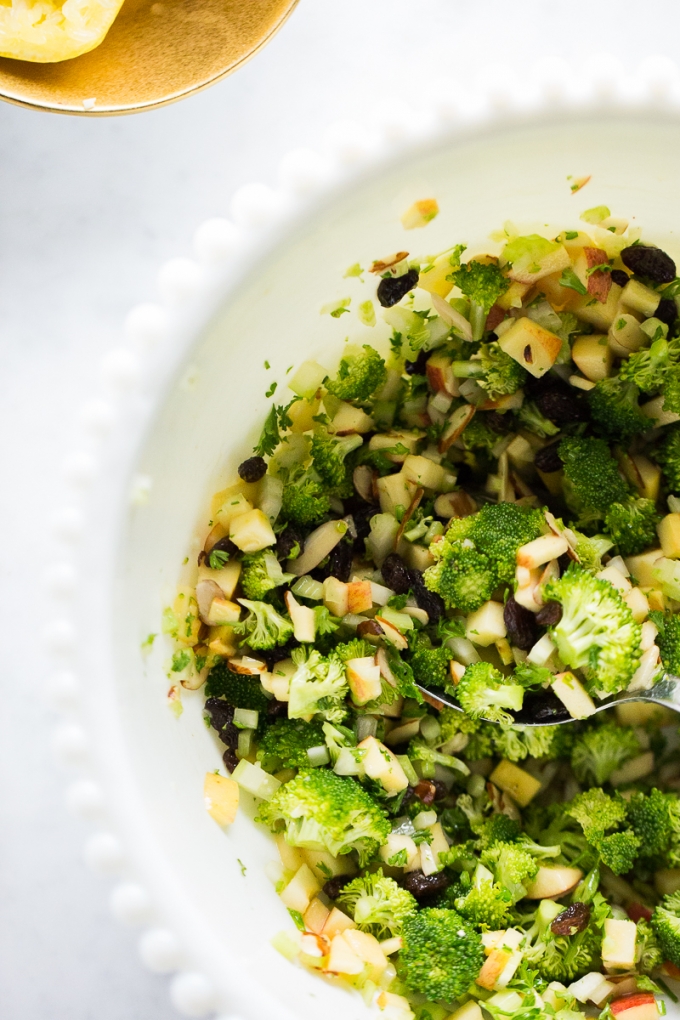 What to serve this salad with
Frequently asked questions
Made and loved this recipe? Give it a ⭐️⭐️⭐️⭐️⭐️ rating below. Let me know if you have questions about this recipe in the comment section or DM me on Instagram. Follow me on Facebook and Pinterest to stay in touch, and don't forget to subscribe to my newsletter.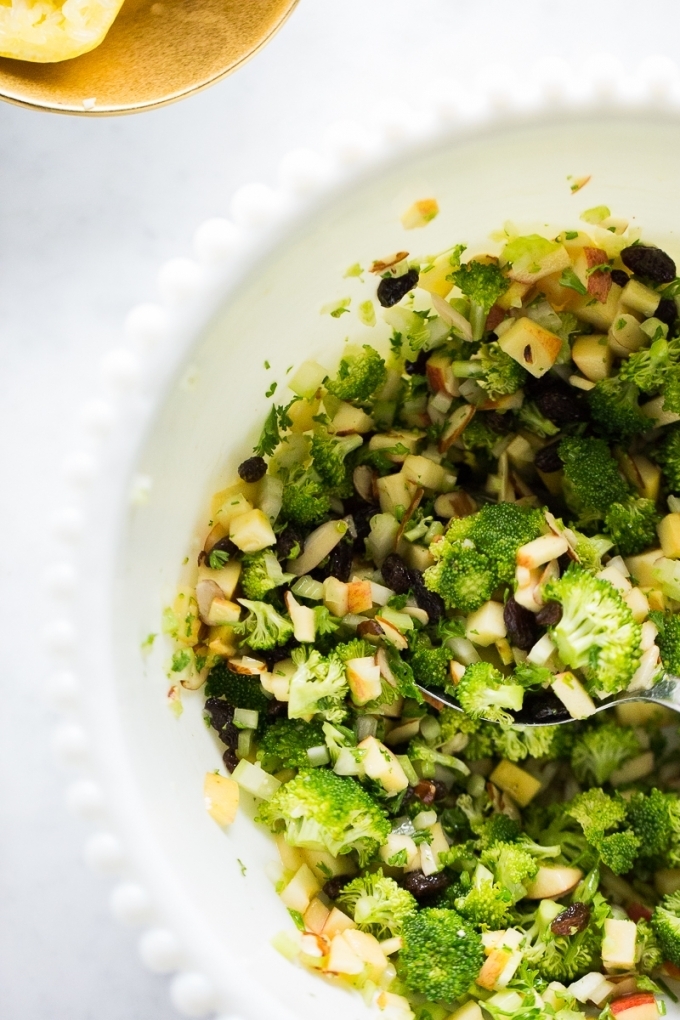 Best vegan broccoli salad
This vegan salad is made with raw broccoli, diced apple, celery and raisins. It is sweet and savory and delicious. Serve it as a side dish for a sandwich or pasta.
Equipment
Knife, cutting board

Salad bowl
Ingredients
2

cups

of broccoli cut in small pieces

1/2

cup

apple

diced

1/4

cup

celery

diced

1/4

of cup of sliced ​​almonds

1/4

of cup of raisins
Vinaigrette
1

clove

of garlic squeezed or minced

1

tablespoon

dijon mustard

2

tablespoons

champagne or white wine vinegar or lemon juice

1

tablespoon

of agave syrup

1/2

cup

of olive oil

pinch

of salt

freshly ground black pepper
Instructions
Put all the dressing ingredients in a jar and mix well. Season, taste, and adjust if necessary.

In a salad bowl, put all the salad ingredients and mix carefully. Add the dressing little by little until all is well coated.
Notes
You can make this salad with raw or cooked broccoli. Save the broccoli stalks for soup later. If you have leftover dressing, use with any other salad, it goes with everything.
Nutrition
Calories:
285
kcal
Carbohydrates:
10
g
Protein:
2
g
Fat:
27
g
Saturated Fat:
4
g
Sodium:
64
mg
Potassium:
177
mg
Fiber:
2
g
Sugar:
6
g
Vitamin A:
312
IU
Vitamin C:
42
mg
Calcium:
24
mg
Iron:
1
mg
information
Nutritional information of this recipe is only an estimate, the accuracy for any recipe on this site is not guaranteed.

Latest posts by Alejandra Graf
(see all)