This is a vegan chocolate pudding with cinnamon and chile, so good!
Get ready for a fun and tasty journey as we combine the smooth, rich goodness of vegan chocolate pudding with the inviting warmth of cinnamon and the nice chile kick.
This delightful dessert is all about enjoying the best of both worlds – mouthwatering chocolate and a unique blend of flavors, that will remind you of Mexican Hot Chocolate and will make your taste buds dance with joy.
Perfect for anyone who loves plant-based treats or wants to try something new, this vegan chocolate pudding is a must-try.
Ingredients for making the vegan chocolate pudding
Cashews (affiliate link). Please be sure to look for raw cashews (affiliate link); they are cheaper if you buy them in pieces. For a creamier texture, leaving the cashews soaking for at least three hours is essential. If you are in a hurry, soak them for 20 minutes in hot water.
Maple syrup, substitute with any liquid sweetener if you don't use maple syrup.
Cocoa powder (affiliate link), cinnamon powder, sea salt
Ground chile ancho (affiliate link) for the smokiness and spice. Feel free to skip it.
Coconut whipped cream to finish.
how to make cashew vegan chocolate pudding?
Soak cashews for three hours overnight and rinse with clean water for a creamier chocolate mousse.
Put the ingredients in the blender; it's better if you have a high-powered blender like the Vitamix (affiliate link).
Blend until creamy and has a perfect consistency; taste in the blender and adjust the flavor.
---

All about soaking cashews
Soaking cashews is a simple process that softens them and makes them easier to blend into creamy mixtures for various recipes like vegan cheese, sauces, or desserts.
Here's a step-by-step guide on how to soak cashews:
Choose your cashews: Opt for raw, unsalted cashews for the best results. You can usually find them in the bulk section or pre-packaged at grocery stores.
Measure the cashews: Measure the amount of cashews you need for your recipe.
Rinse the cashews: Place them in a fine mesh strainer or colander and rinse them thoroughly under cold running water to remove any dust or debris.
Place cashews in a bowl: Transfer the rinsed cashews to a bowl large enough to accommodate them, and the water they will be soaked in.
Add water: Pour enough cold water into the bowl to cover the cashews by about 1-2 inches (2.5-5 cm). This will ensure that they have enough room to expand as they soak.
Choose your soaking time:
Quick soak method If you're in a hurry, you can soak the cashews in hot water for 15-30 minutes. Boil water and pour it over the cashews, allowing them to soak until they're softened.
Regular soak method: For a regular soak, let the cashews sit in cold water for 4-6 hours or overnight. This is the preferred method, as it helps maintain the nutritional value of the cashews.
Drain and rinse: Once the cashews have soaked for the desired time, drain the water using a colander or fine mesh strainer. Rinse the cashews again under cold running water to remove any remaining debris.
Use or store: You can now use the soaked cashews in your recipe. If you don't plan to use them immediately, store them in an airtight container in the refrigerator for up to 3 days.
Perfect chocolate cashew pudding
And look how the vegan chocolate mousse turns out; the consistency is perfect, creamy, and delicious. He is other recipes that I think you may like:
Please tell me that you are dying to put the spoon in the photo. The good thing is that it is creamy, delicious, and the super super-rich. This mousse is:
It's also packed with vitamins and minerals; cashews are great for strengthening our bones and muscles, and cinnamon is full of antioxidants.
Ideas for serving vegan chocolate pudding with ground cinnamon and chile ancho
Serving cashew vegan chocolate pudding can be as creative and fun as you like! Here are some fantastic ideas to serve this vegan dessert beautifully:
Fruit garnish: Top the pudding with fresh fruit like raspberries, strawberries, banana slices, or even a mix of seasonal berries.
Whipped coconut cream: Add a dollop of whipped coconut cream on top of the pudding for a dairy-free, creamy contrast. You can even sprinkle some cocoa powder (affiliate link) or cinnamon on the cream for added visual appeal.
Chopped nuts: Sprinkle chopped nuts like almonds (affiliate link), hazelnuts, or pecans on top of the pudding for added crunch and texture.
Shaved chocolate: Use a vegetable peeler or a grater to create delicate chocolate shavings, and scatter them over the pudding for an extra touch of chocolatey goodness.
Mint leaves: Place a sprig of fresh mint on top of the pudding for a pop of color and a refreshing contrast to the rich chocolate flavor.
Edible flowers: Garnish the pudding with edible flowers like pansies, nasturtiums, or lavender for a touch of elegance and a hint of floral flavor.
Caramel or chocolate drizzle: Drizzle some vegan caramel or melted chocolate over the pudding for an extra layer of indulgence.
Toasted coconut: Sprinkle toasted coconut flakes or shreds on top of the pudding for a tropical twist and a delightful crunch.
Serve in individual cups: Divide the pudding into small glass jars, dessert cups, or ramekins for an attractive and easy-to-serve presentation.
Layer it up: Create a parfait by layering the cashew vegan chocolate pudding with whipped coconut cream and strawberries or banana slices or granola in a tall glass or dessert cup.
Other recipes that you may like:
Made and loved this recipe? Give it a ⭐️⭐️⭐️⭐️⭐️ rating below. Let me know if you have questions about this recipe in the comment section or DM me on Instagram. Follow me on Facebook and Pinterest to stay in touch, and don't forget to subscribe to my newsletter.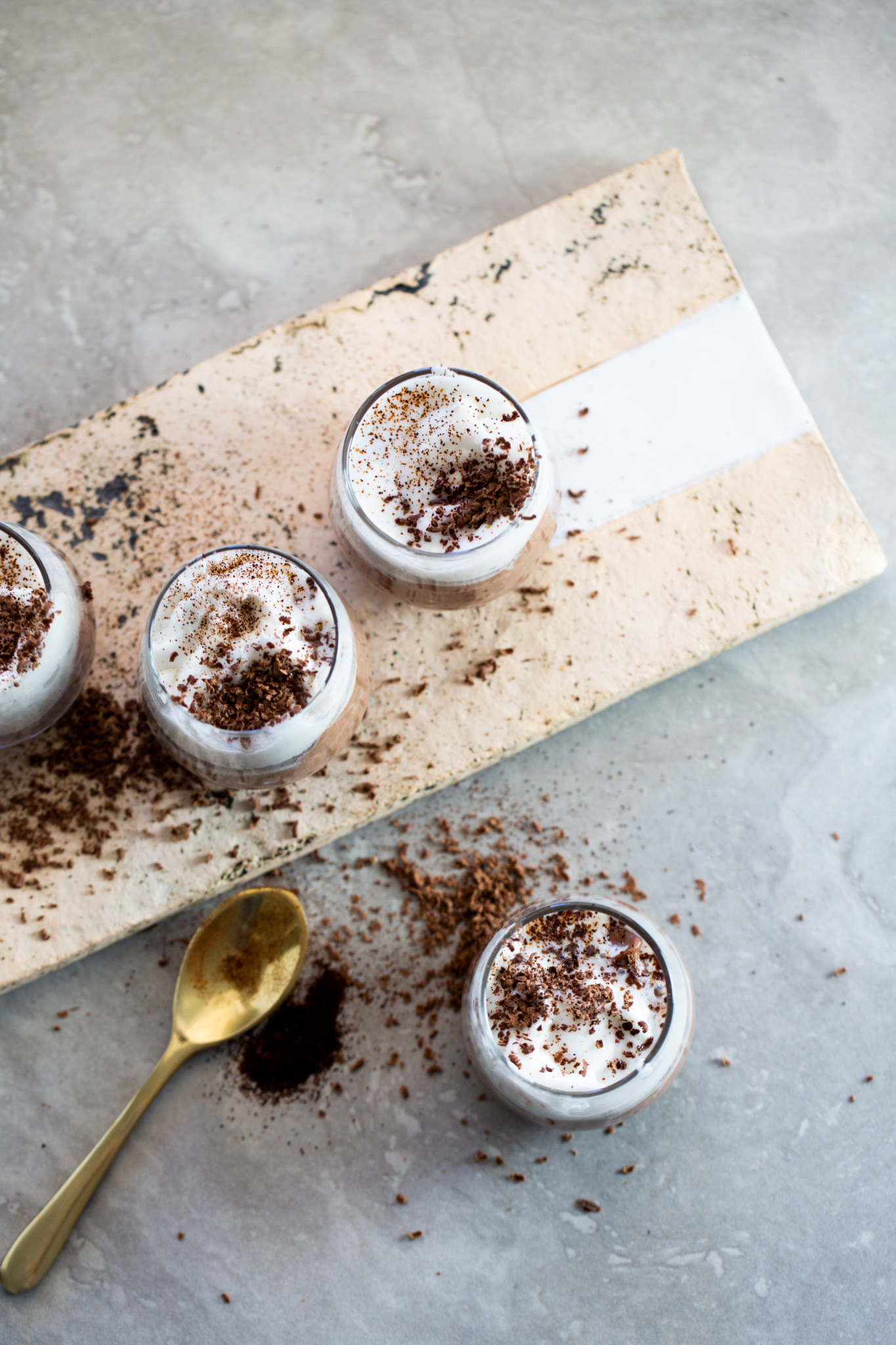 Vegan Chocolate Pudding
This Mexican vegan chocolate pudding recipe is vegan, easy to make, creamy and delicious. You can do it with or without the spices.
Ingredients
2

cups

cashew

raw

1/2

cup

Maple syrup

1/4

cup

cocoa powder

1

teaspoon

ground cinnamon

1/4

teaspoon

sea salt

1/4

teaspoon

chili powder

I used ancho chili
Instructions
Soak the walnuts overnight. The next day throw the water in which they were soaked and rinse with fresh water.

Put them in the glass of the blender and with half a cup of fresh water and the rest of the ingredients.

Blend until creamy.

Serve in individual glasses and finish with coconut whipped cream.

To decorate you can sprinkle a little grated chocolate or chili powder.
Nutrition
Serving:
125
grs
Calories:
319
kcal
Carbohydrates:
33
g
Protein:
9
g
Fat:
19
g
Saturated Fat:
4
g
Sodium:
107
mg
Potassium:
402
mg
Fiber:
3
g
Sugar:
19
g
Vitamin A:
26
IU
Vitamin C:
1
mg
Calcium:
53
mg
Iron:
3
mg
information
Nutritional information of this recipe is only an estimate, the accuracy for any recipe on this site is not guaranteed.

Latest posts by Alejandra Graf
(see all)