Embrace the warmth and heartiness of traditional Mexican cuisine with a delightful bowl of Sopa de Fideo with Beans. This comforting dish combines the delicate textures of thin noodles with the rich, savory depth of beans, creating a meal that's as satisfying as it is nutritious.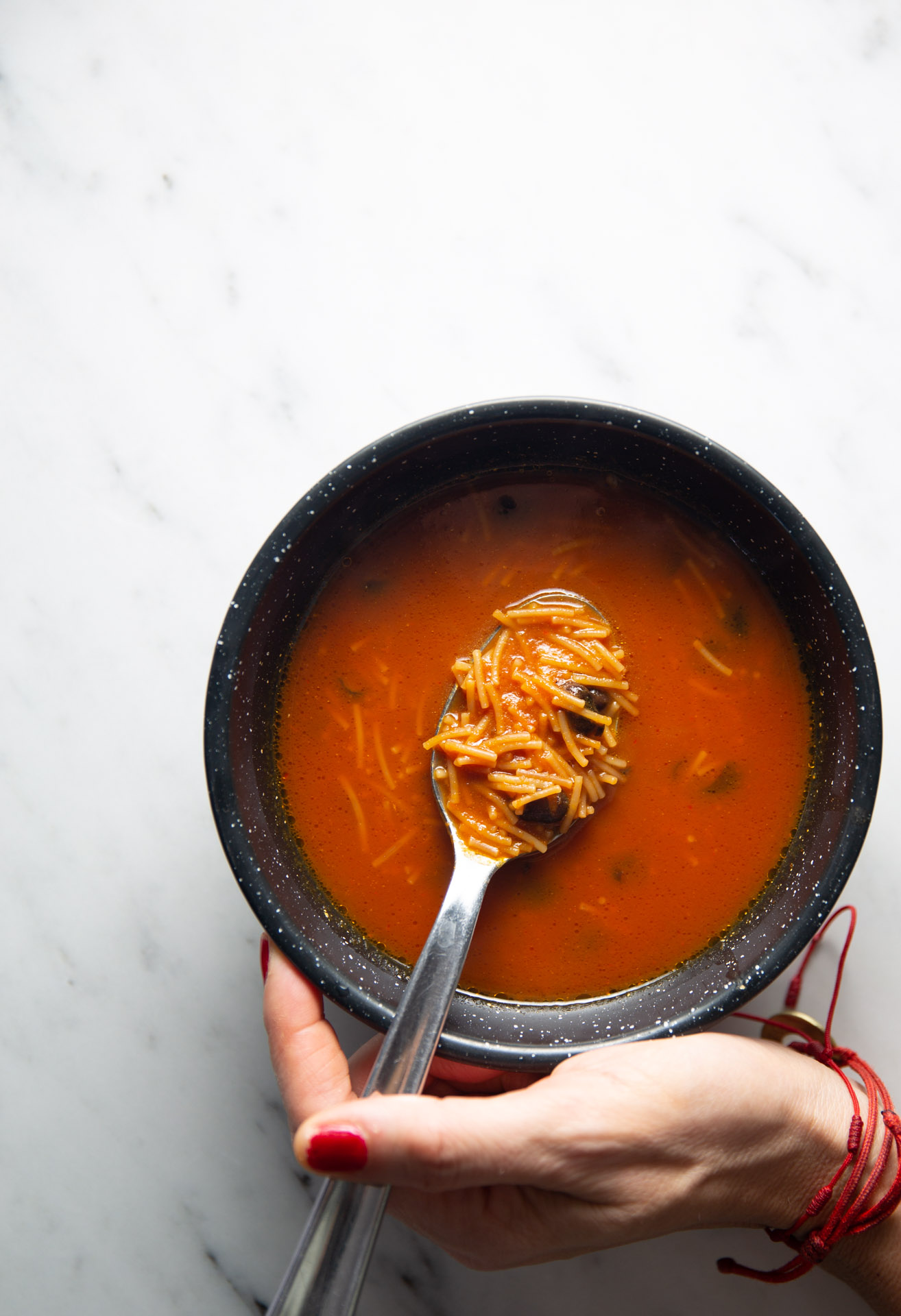 Whether you're a culinary expert or a beginner in the kitchen, this recipe promises to bring simplicity and flavor to your dining table.
About this recipe
Sopa de Fideo is a traditional Mexican soup that has been passed down through generations, and it's considered a staple in many Mexican households. This noodle soup is made with a tomato-based broth and is loved for its simplicity and versatility.
By adding beans to the soup, we pay tribute to another important element of Mexican cuisine, known for its protein-rich goodness and cultural significance.
Why Sopa de Fideo with Beans is a Must-Try
The combination of fideo noodles and beans is not just about making a hearty meal but also about understanding the perfect balance of flavors and textures that make Mexican cuisine so famous.
The creaminess of the beans complements the slight bite of the al dente noodles. The result is nothing short of magical when simmered in a robust tomato broth infused with a perfect blend of guajillo chiles and vegetables.
Nutritional Benefits
This dish isn't just about tantalizing your taste buds. It's a fiber-rich meal that offers a variety of health benefits, including improved digestion and sustained energy. The beans provide a substantial amount of protein, making this soup an excellent choice for vegetarians and health-conscious individuals.
Ingredients
Vegetable Oil: I love avocado oil or grapeseed oil. Use your favorite and make sure it has a neutral taste.
Fideo or Vermicelli Noodles or Fideo: If you can't find either, use angel hair or spaghetti broken into small pieces.
Fresh Tomatoes, Onions, and Garlic for the Broth: Blend until smooth for a consistent broth. Roasting beforehand can deepen the flavors.
Chile Guajillo: Offers mild to moderate heat with a slightly fruity undertone. Remove seeds for less spice.
Vegetable, Water, or Faux Chicken Stock: Vegetable stock keeps it vegan; chicken stock for non-vegan options. Homemade stock adds more depth.
Your Choice of Beans (Black, Pinto, or Kidney Beans): Rinse canned beans to reduce sodium. Each type offers a different texture and flavor profile.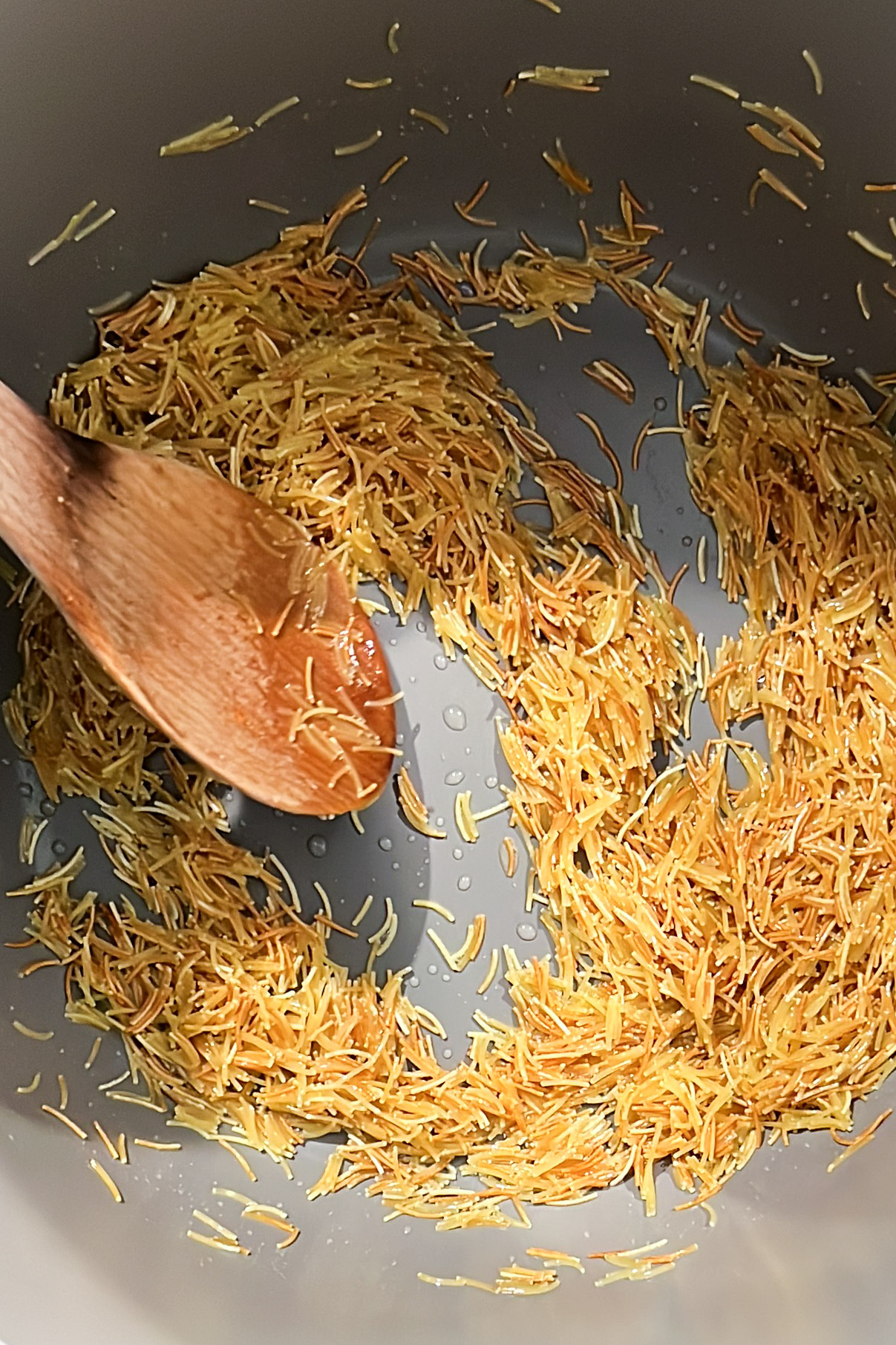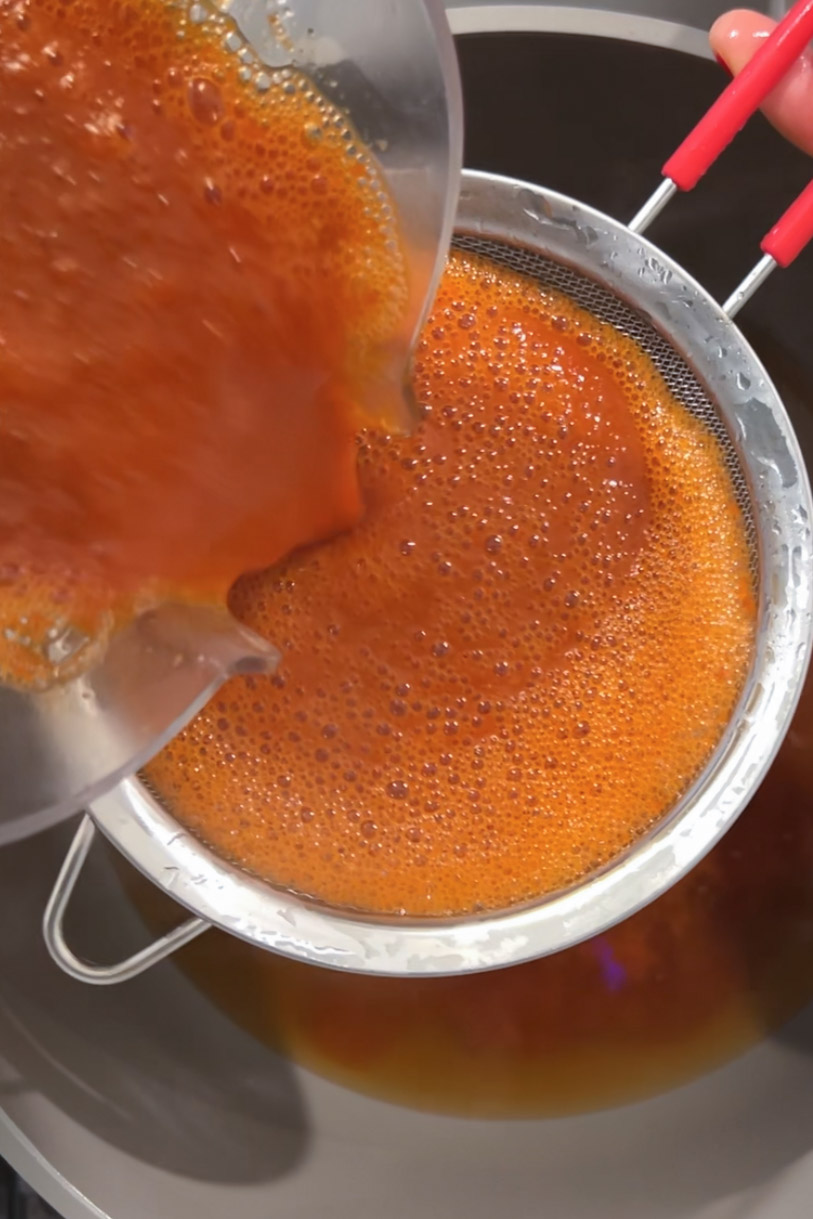 How to make fideo Mexican soup with beans step by step
Sautéing the Noodles: Begin by heating a drizzle of oil in a large pot over medium heat. Add the vermicelli noodles or fideo, stirring frequently, until they turn a golden brown. This should take about 2-3 minutes. Once golden, remove the noodles from the pot and set them on a plate.
Preparing the Vegetable Mixture: In the same pot, combine the fresh tomatoes, chile guajillo, onion, and garlic. Add a generous pinch of salt for flavor enhancement. Cover these ingredients with water, making sure they are fully submerged. Bring the mixture to a boil, reduce the heat and let it simmer. Cook until the vegetables are tender and the chile guajillo is hydrated and pliable, which should take approximately 10-15 minutes.
Blending the Broth: Transfer the vegetables and chile to a blender once they are soft. Be careful, as the mixture will be hot. Blend until smooth to create a rich, flavorful broth. For safety, you might want the mixture to cool slightly before blending.
Straining the Broth: Place a medium sieve over the same pot and pour the blended mixture through it. This step will ensure a smooth broth by removing any solid bits.
Combining the Ingredients: Return the pot with the strained broth to the stove. Add liquid (vegetable, water, or faux chicken stock) to the broth. Then, reintroduce the sautéed noodles and your choice of beans (black, pinto, or kidney) into the pot. Stir to combine all the ingredients evenly.
Simmering the Soup: Bring the soup to a gentle simmer over medium heat. Allow it to cook, stirring occasionally, until the noodles are tender and the flavors have melded together. Depending on your desired consistency and noodle texture, this should take 10-20 minutes.
Final Touches: Taste and adjust the seasoning, adding more salt or spices if needed. It will be served once the soup reaches your preferred flavor and consistency.
Serving Suggestions and Variations
To enjoy your Sopa de Fideo with Beans, ensure it is served piping hot. For an authentic experience, you can garnish it with chopped cilantro, a squeeze of lime, and a sprinkle of crumbled queso fresco. If you want to add a touch of richness to the dish, feel free to add a dollop of crema or sliced avocado.
Sopa de Fideo with Beans is not just a meal; it's a celebration of culture, it is a hug to the soul, and the joy of home cooking. This dish offers endless possibilities for experimentation, so don't hesitate to add your favorite vegetables or proteins to make it your own. Take a deep dive into this comforting bowl of goodness, and let the flavors transport you to the heart of Mexico.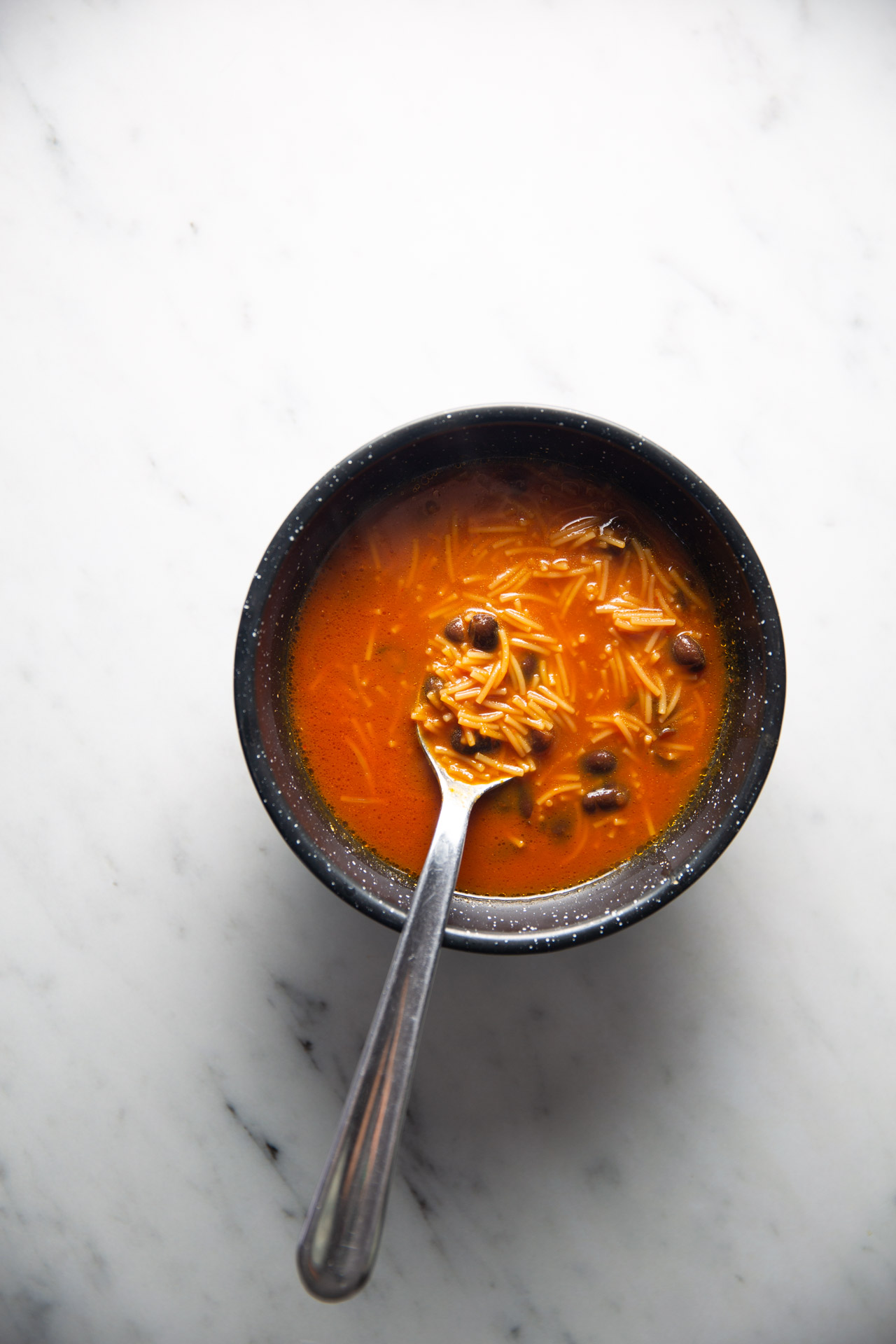 Other Mexican Soups you will love
Made and loved this recipe? Give it a ⭐️⭐️⭐️⭐️⭐️ rating below. Let me know if you have questions about this recipe in the comment section or DM me on Instagram. Follow on Facebook and Pinterest to stay in touch, and don't forget to subscribe to my newsletter.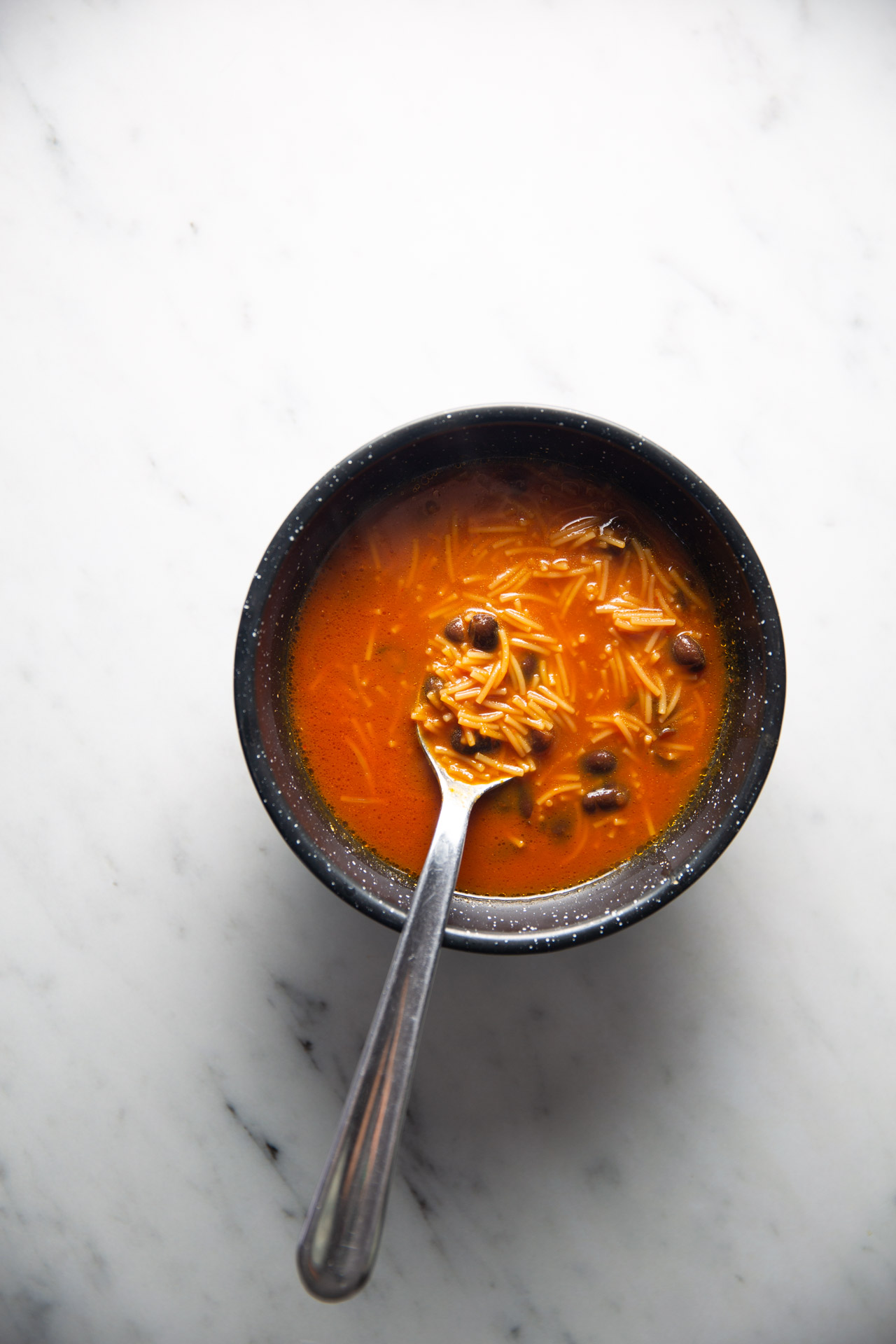 Sopa de Fideo with Beans
Sopa de Fideo with Beans is a traditional Mexican dish that combines thin noodles with savory beans, creating a warm and hearty meal. The noodles are cooked in a tomato-based broth with onions, garlic, and seasonings. Then beans are added, providing a rich source of protein. The end result is a delicious and nutritious bowl of warm and hearty flavors.
Ingredients
2

tablespoons

Vegetable Oil

1

cup

Vermicelli Noodles or Fideo

4

medium-sized Fresh Tomatoes

roughly chopped

1

large Onion

chopped

3-4

cloves

Garlic

minced

2-3

whole Chile Guajillo

4

cups

Vegetable

Water, or Chicken Stock

1

can

about 15 ounces Beans (Black, Pinto, or Kidney Beans), drained and rinsed
Instructions
Sauté Noodles: Heat vegetable oil over medium heat in a large pot. Add noodles and stir frequently until golden brown. Remove and set aside.

Cook Vegetables: In the same pot, add tomatoes, onion, garlic, chile guajillo, and a pinch of salt. Cover with water and simmer until soft.

Blend and Strain: Blend the vegetable mixture until smooth. Strain back into the pot for a smooth broth.

Combine Ingredients: Add stock, sautéed noodles, and beans to the pot. Stir well.

Simmer: Bring to a gentle simmer and cook until noodles are tender and flavors meld, about 10-20 minutes.

Season and Serve: Adjust seasoning to taste and serve hot.
Nutrition
Serving:
1
serving
Calories:
257
kcal
Carbohydrates:
54
g
Protein:
11
g
Fat:
2
g
Saturated Fat:
0.4
g
Polyunsaturated Fat:
1
g
Monounsaturated Fat:
0.1
g
Sodium:
96
mg
Potassium:
818
mg
Fiber:
11
g
Sugar:
6
g
Vitamin A:
10731
IU
Vitamin C:
39
mg
Calcium:
74
mg
Iron:
3
mg
information
Nutritional information of this recipe is only an estimate, the accuracy for any recipe on this site is not guaranteed.

Latest posts by Alejandra Graf
(see all)