When you are craving for a good Mexican soup, with vegetables, with a soup that feeds the soul, but also lifts our spirits, this caldo tlalpeño without chicken is for you.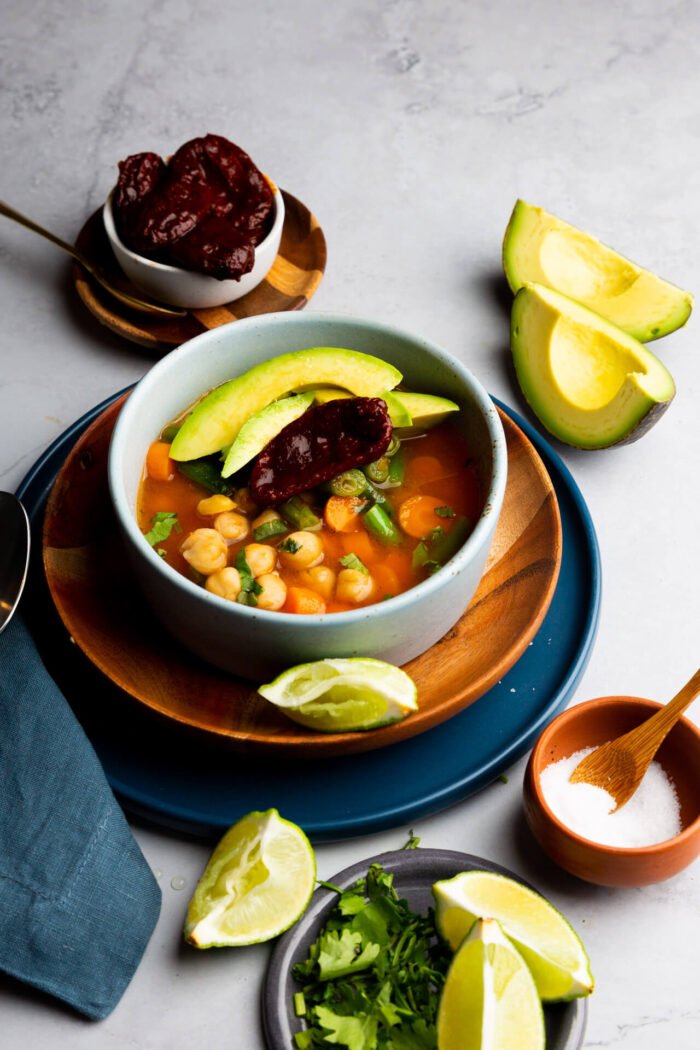 About this recipe
This broth, which is a symphony of flavors and textures, is usually made with chicken. However, this recipe for this classic Mexican soup uses the vegetables and ingredients that preserve the essence and soul of the original dish but without the chicken.
This soup is served with a whole chipotle chile or a spoonful of chipotle if you make chipotle paste in adobo. Avocado, lime juice, fresh cilantro are also added and some people finish it with crema Mexicana and queso fresco.
Get ready to immerse yourself in a culinary journey that will take you straight to the heart of Mexican culture, all from the comfort of your kitchen, and discover how this Caldo Tlalpeño without chicken can be just as delicious and satisfying as the traditional one.
Origin of Tlalpeño broth
Caldo Tlalpeño is named after the colony in Mexico City where this dish originated. It is a very important part of Mexican gastronomy and has a unique flavor and texture.
The preparation of the authentic Tlalpeño broth begins by making chicken broth and then adding the vegetables, herbs and chickpeas.
Chipotle chiles and epazote (affiliate link) are what make caldo Tlalpeño special. Chipotle is a jalapeño bell pepper that is dried and smoked, which gives it a spicy and smoky flavor. Epazote (affiliate link) is an herb that has a unique aroma and flavor that cannot be replicated with any other herb.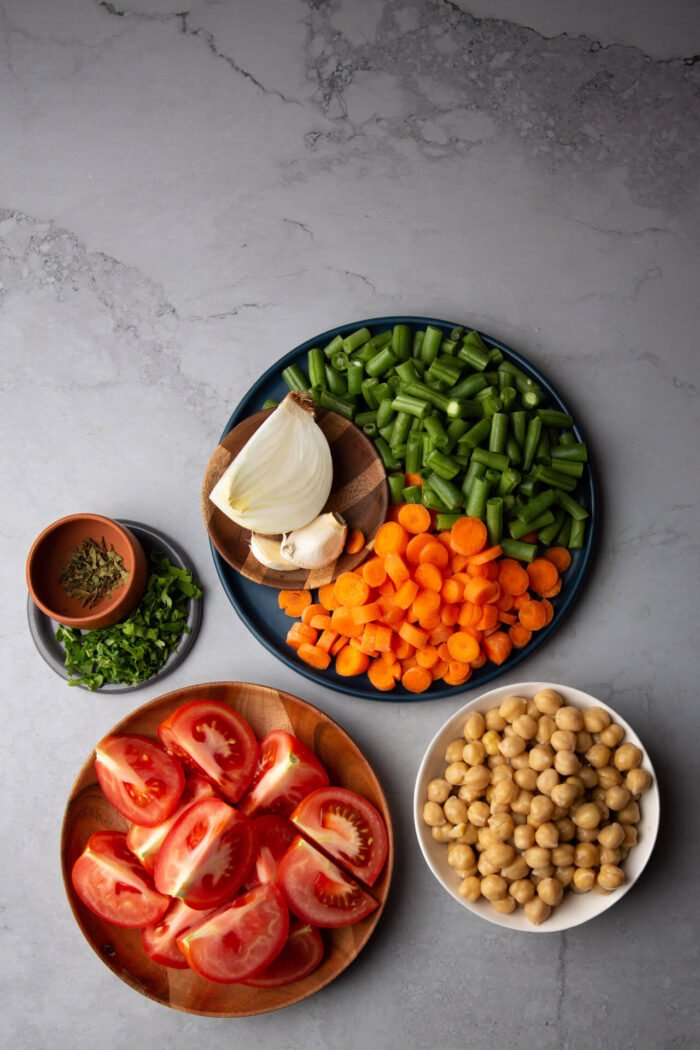 Ingredients to make the broth
Tomatoes, onion, garlic
Chickpeas, you can use home-cooked chickpeas or canned chickpeas.
Carrots, green beans
Cilantro, epazote. Epazote can be fresh or dried. If you use fresh herbs, double the amount you would use with dried herbs.
To serve: chipotle in adobo, lime juice, cilantro. You can also use vegan queso fresco or crema mexicana.
✨Find the complete measurements and recipe below!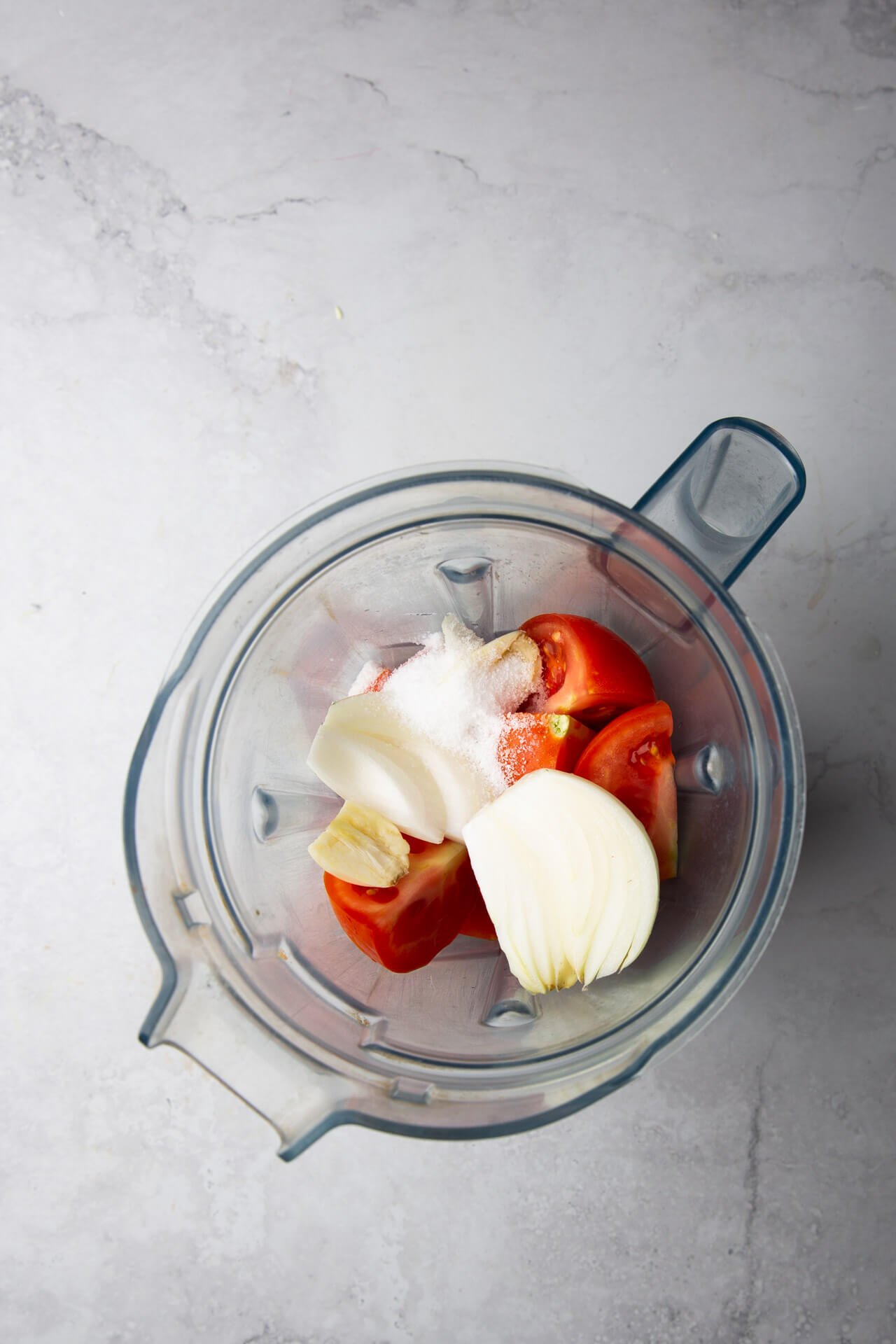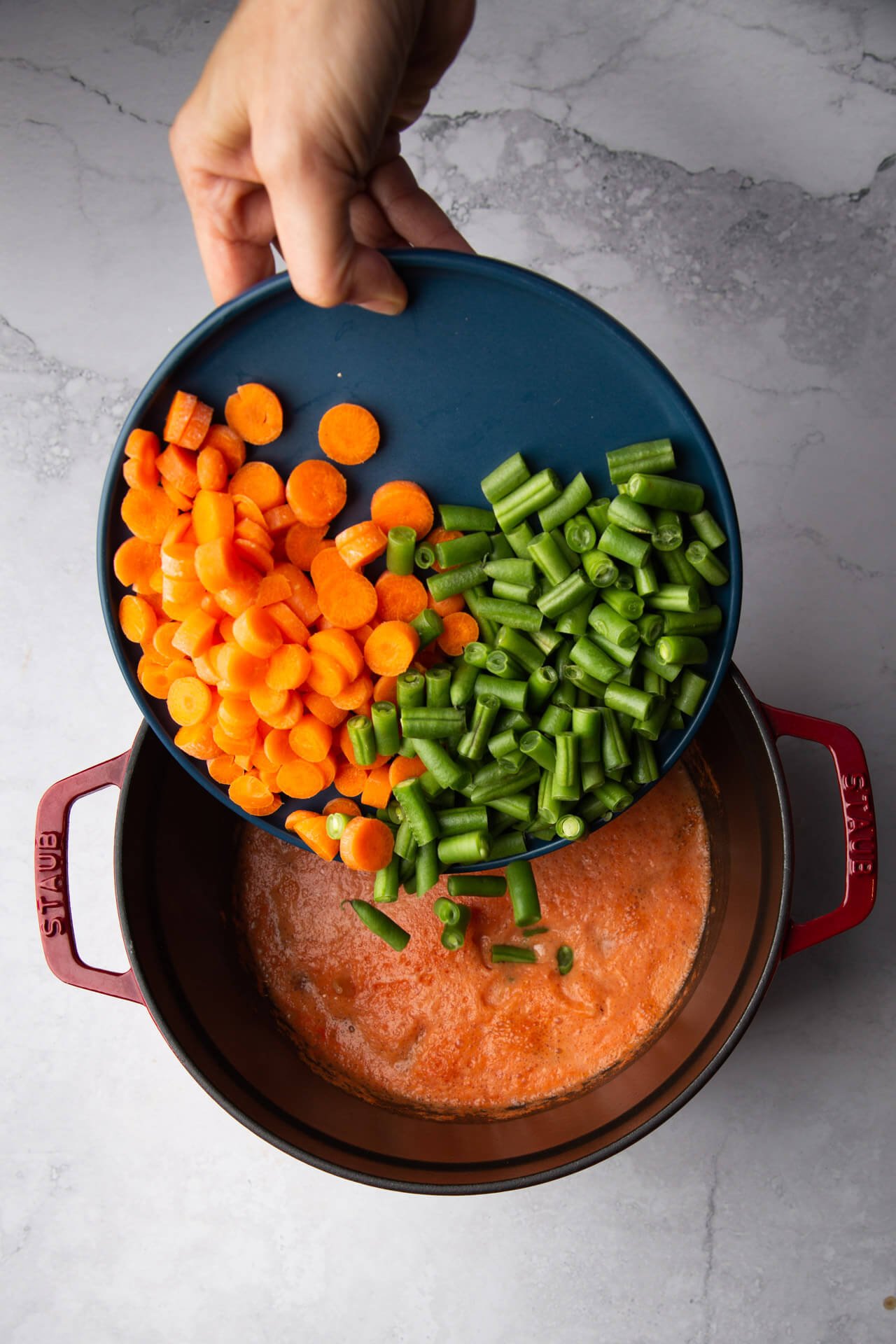 How to make caldo tlalpeño?
First, a typical Mexican caldillo is made with tomato, onion and garlic. Then add the vegetables, boil and serve with chipotle, avocado and a little lemon juice.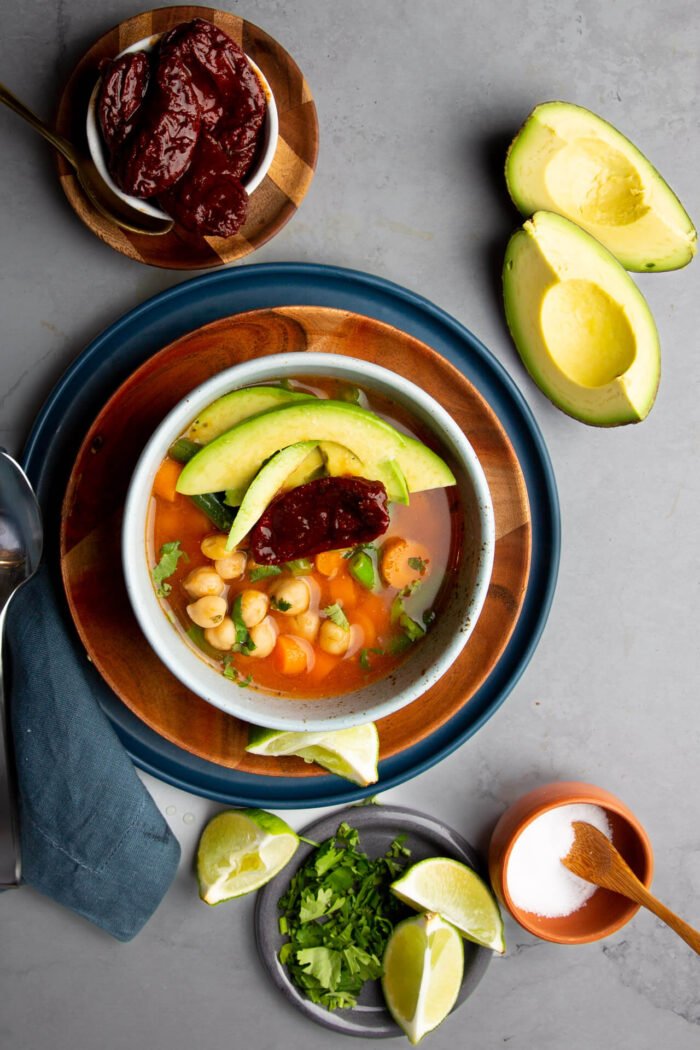 Tips to make the best broth
It is important that the vegetables are crisp and rich, not overcooked. This makes the soup a delight in taste and texture.
If you want the soup to be extra spicy, blend chipotle chile into the broth as well.
This soup can be frozen very well and if you have leftovers, store in the refrigerator in a tightly closed container. It lasts up to three days.
Other recipes you may like:
Made and loved this recipe? Give it a ⭐️⭐️⭐️⭐️⭐️ rating below. Let me know if you have questions about this recipe in the comment section or DM me on Instagram. Follow on Facebook and Pinterest to stay in touch, and don't forget to subscribe to my newsletter.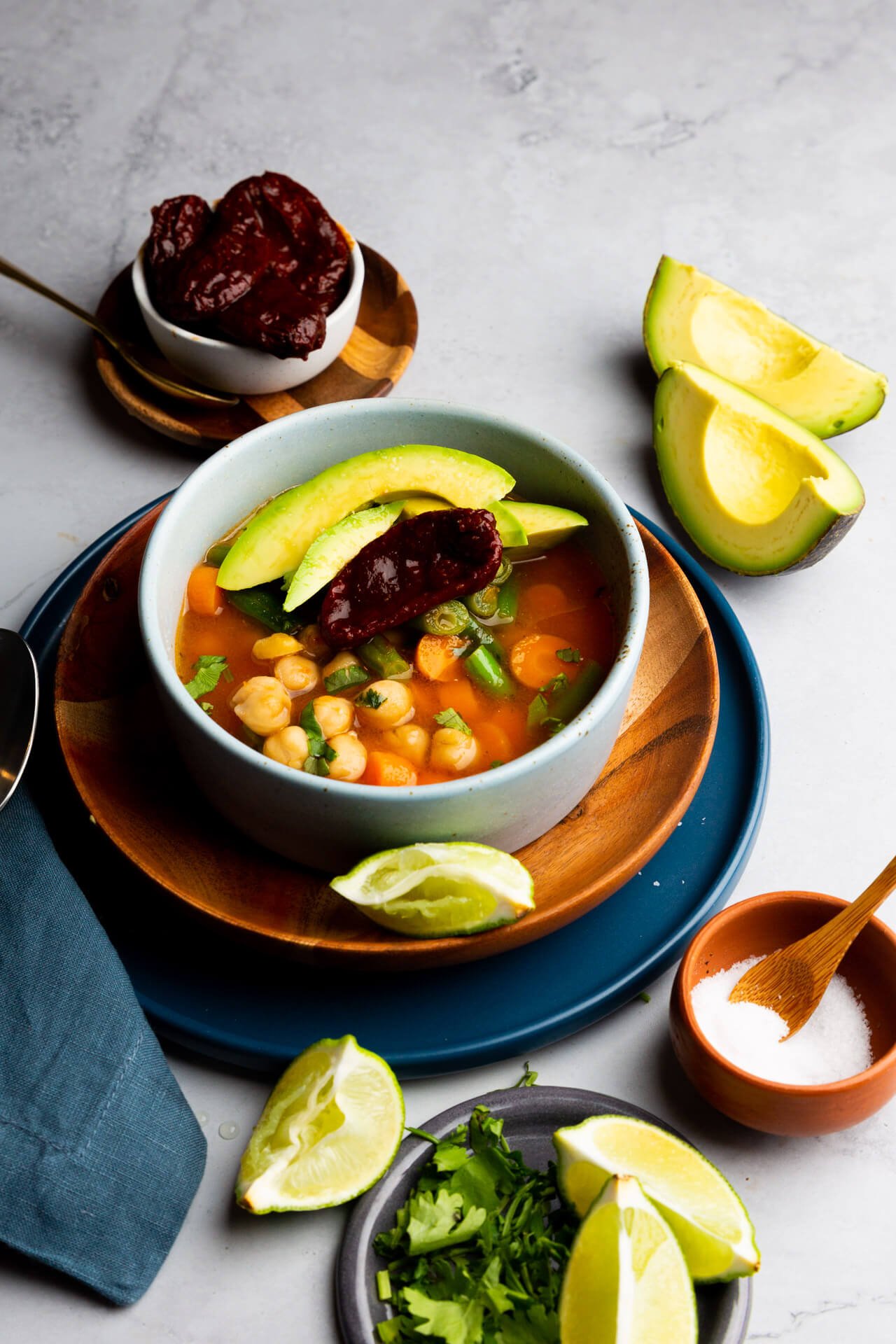 Caldo Tlalpeño Spicy Mexican Soup
Perfect Mexican soup for when you need a broth that feels like a hug, a soup that cures everything or even a remedy to relieve the cruda (hangover). I'm sure this Tlalpeño broth is for you.
Ingredients
1

tablespoon

vegetable oil

5

cups

of water

1/2

large white onion

2

cloves

garlic

3

large tomatoes or 6 small tomatoes

2

medium carrots, cut in slices

2

cups

green beans

cut into pieces

1 1/2

cup

of cooked chickpeas or a can of them

1

sprig of epazote o teaspoon dried epazote

if you can't find it, you can omit it

5

sprigs of fresh cialntro

2

teaspoons

kosher salt

if you use another type of salt, use only one teaspoon
Serving
1

avocado

2

lemons

Chopped cilantro

6

whole chipotle chiles in adobo sauce or chipotle paste in adobo sauce
Instructions
Blend the tomato, salt, onion and garlic with three cups of water.

In a pot add the oil and pour the mixture, when the broth changes color to a dark redadd the sliced carrots and green beans.

Cook over medium heat until the carrots are tender and the green beans are cooked but crisp.

Add the chickpeas, cilantro sprigs, epazote and add the rest of the liquid.

Taste and adjust the flavor.

Simmer for about 10 minutes to allow all the flavors to blend.

Taste and adjust seasoning.

Serves

Serve the hot broth in bowls and garnish with avocado slices, a squeeze of lime, a whole chipotle chile in adobo sauce and chopped cilantro.
information
Nutritional information of this recipe is only an estimate, the accuracy for any recipe on this site is not guaranteed.

Latest posts by Alejandra Graf
(see all)