After years and years of juicing vegetables, I have learned two or three tricks to take advantage of the pulp. Yes, crackers with juice pulp are cookies containing seeds and vegetable juice pulp. In this case, carrot juice pulp.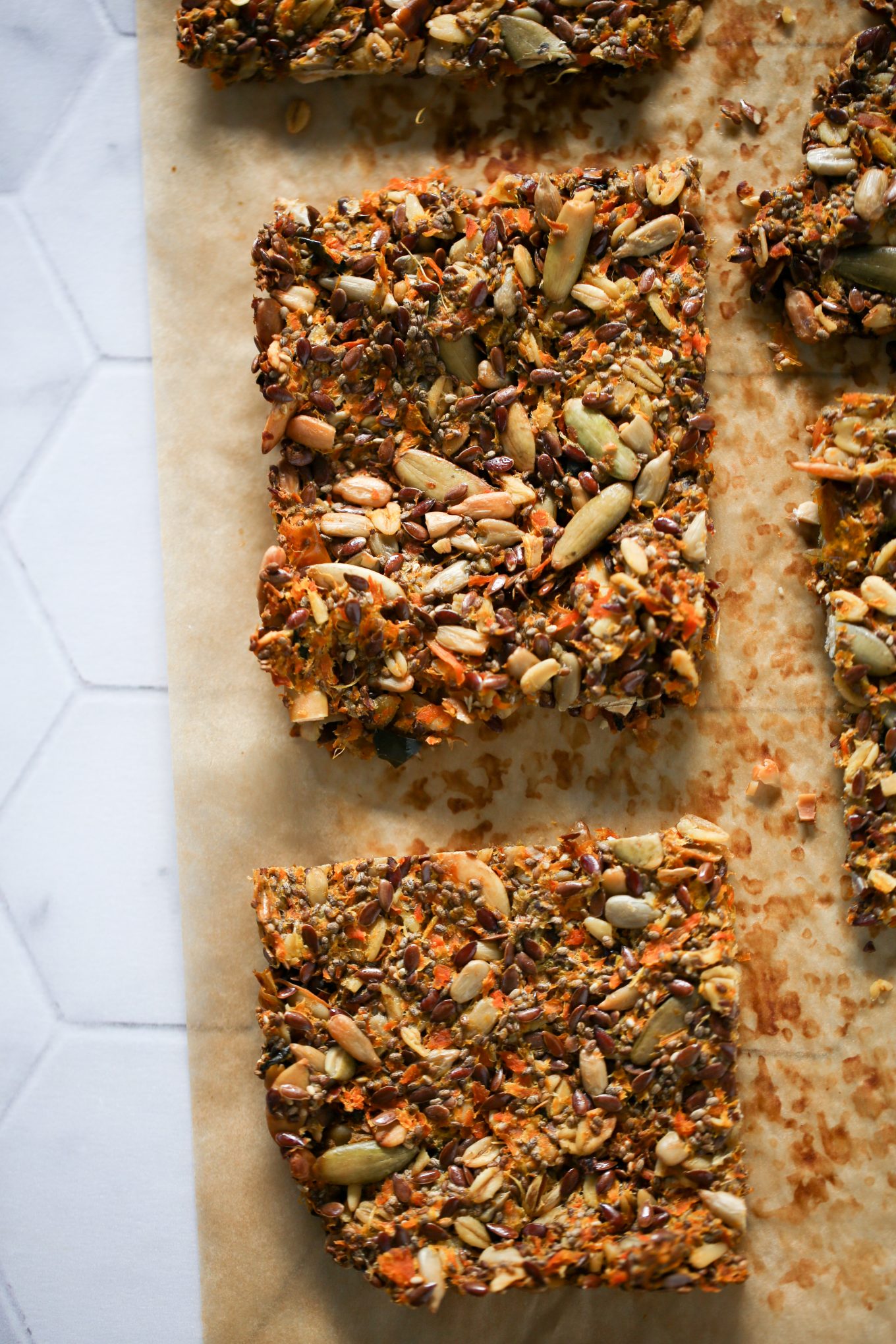 These crackers are perfect for a snack, breakfast, or when you crave something delicious in the middle of the afternoon.
Ingredients to make juice pulp crackers
Pumpkin Seeds. Use pumpkin seeds without roasting or frying them, and if you get seeds that are sprouted, better. When the grains and seeds are germinated, their nutritional value increases significantly.
Sunflower Seeds. Like pumpkin seeds, look for the most natural seeds you can find.
Oat Flakes. It is best if you use whole oat flakes, as they contain more fiber and more flavor. However, oatmeal flakes CANNOT be substituted for instant oatmeal; it is not the same.
Flaxseeds. I like to use whole flax seeds, but you can substitute them for ground or powdered flaxseeds if you don't like them.
Chia Seeds. Chia is a superfood that provides us with omegas and other nutrients. The best part is that if you don't like the texture of chia pudding, you can enjoy its benefits with these crackers.
Olive oil and salt.
Juice Pulp. You can use green juice pulp, celery juice, beet juice, or carrot juice pulp.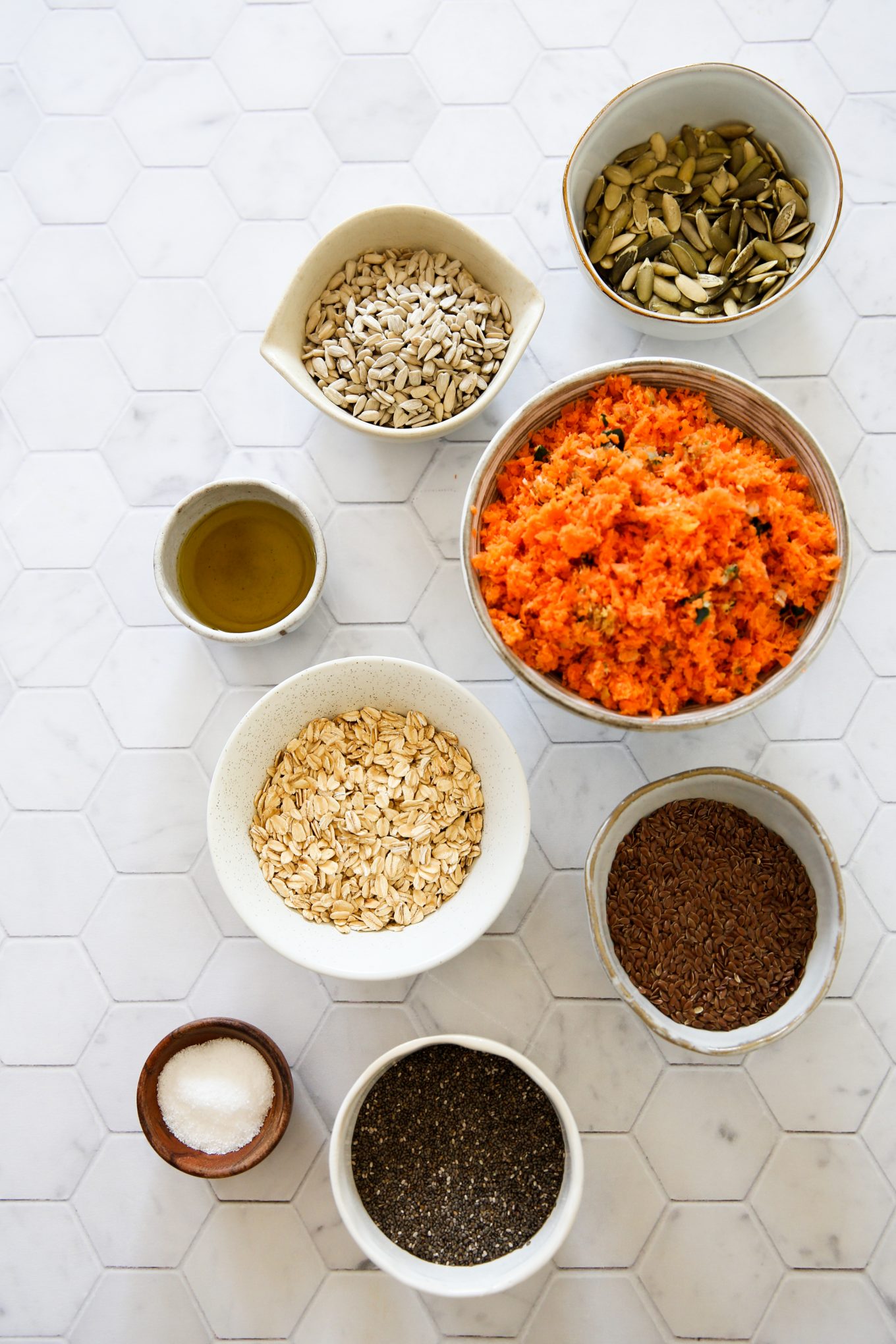 TIPS TO REMOVE THE PULP FROM THE JUICE
The first step to making juice is to arrange your ingredients from those with the least water content to the ones with the most juice.
To make a juice, it's best to add ingredients with less liquid to the juicer (affiliate link) first. For example, add carrots and celry, save the pulp, then add the remaining ingredients. I don't add the pulp of cucumber, lemon, or other ingredients with more juice to the mix.
And finally, if you don't have enough pulp to make the juice pulp crackers, you can prepare half a recipe or save the pulp until you have enough. Just store it in a tightly covered container in the refrigerator.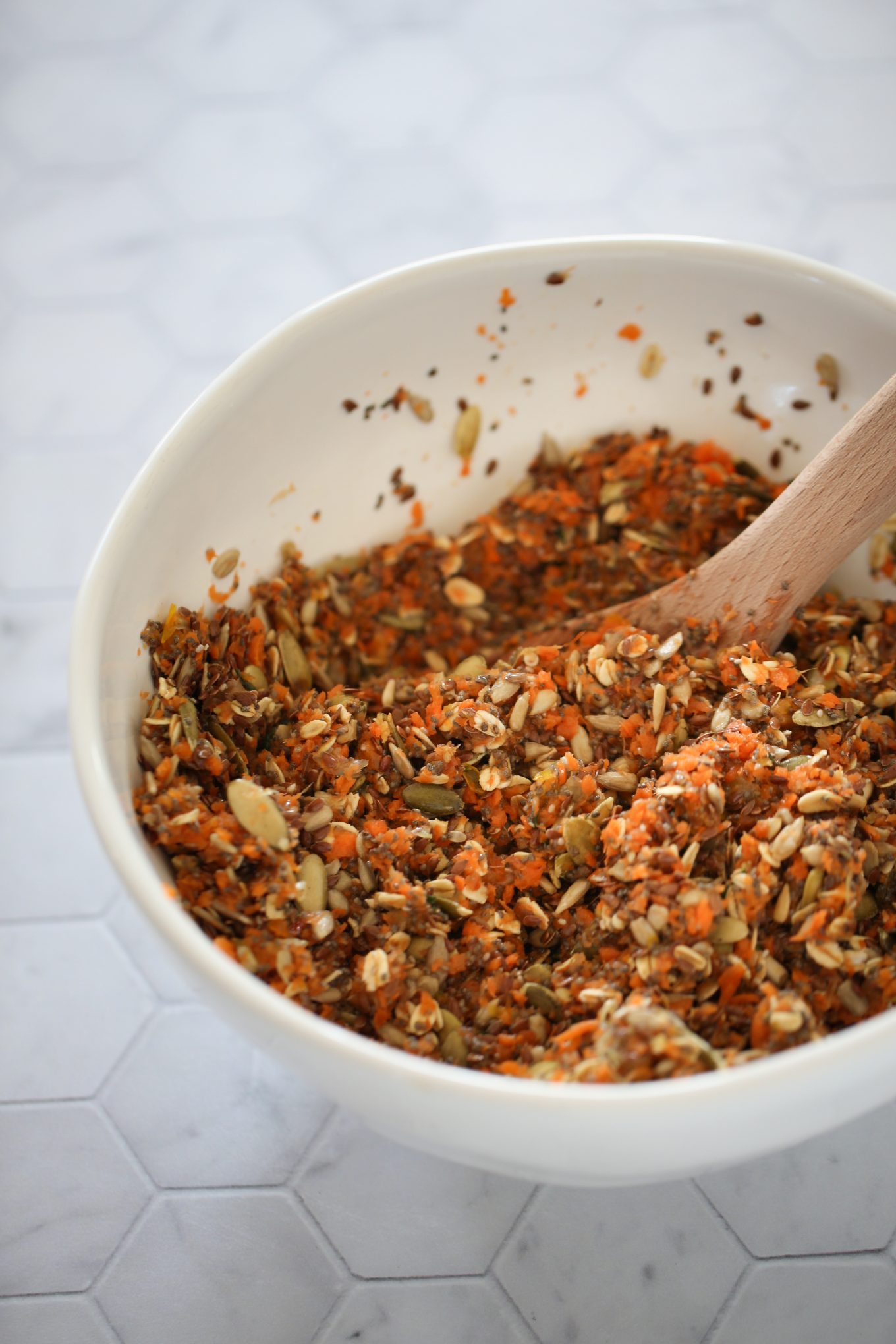 How to make the pulp crackers
Mix all the ingredients in a bowl with water and let it rest for a few minutes. This step aims to let the seeds absorb the water, hydrating them.
It is done when you squeeze the batter between your hands, and it stays together. Place it between two pieces of parchment paper (affiliate link) and, with a roller, spread it evenly. Place it on a baking sheet.
Remove the top piece of parchment paper (affiliate link) and put it in the oven. Bake until golden brown, let them cool, and break them into pieces for easier storage.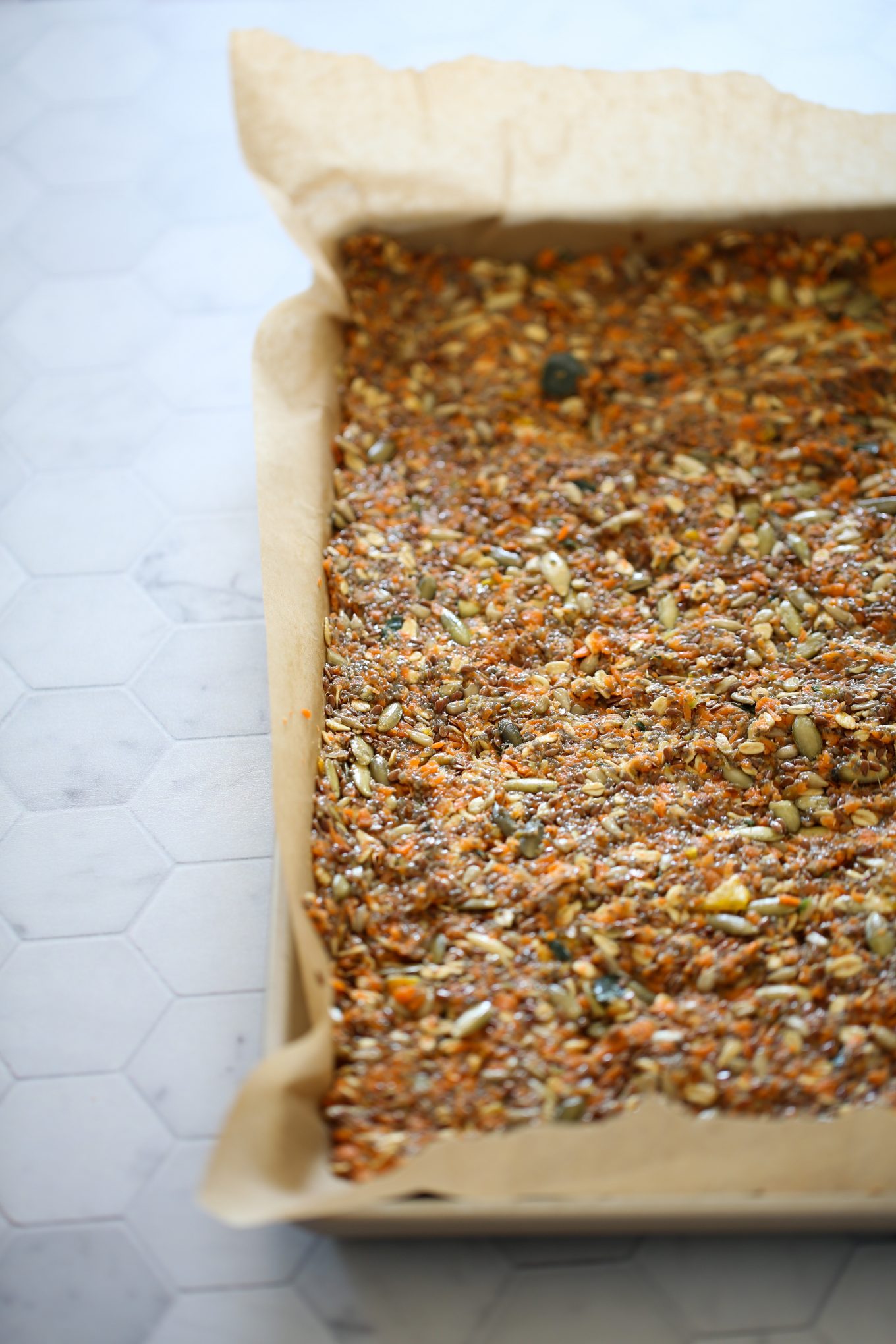 💡IMportant tips
Chia and flaxseed act as binders in this recipe, so it is essential that you let the batter rest for at least 10-20 minutes until it has a more like a dough consistency.
When rolling the batter on the parchment paper, if the edges separate, lift the top layer of paper and, with your hands, put it together and continue rolling.
You must try to make the crackers as thin and even as possible. Since they are primarily seeds, we want them to roast evenly.
When baking, check them every 10 minutes, there is no need to flip them but it is important to turn the baking sheet at least once to prevent it from burning.
When ready, let them cool before cutting (use a serrated knife) or breaking them into pieces. Store them in a tightly closed container, where they can last up to three weeks.`
If they lose their crunchy and delicious texture, just put them in a toaster oven or a skillet for a few minutes.
If you prefer a less seedy batter, you could also pulse it a couple of times in the food processor (affiliate link).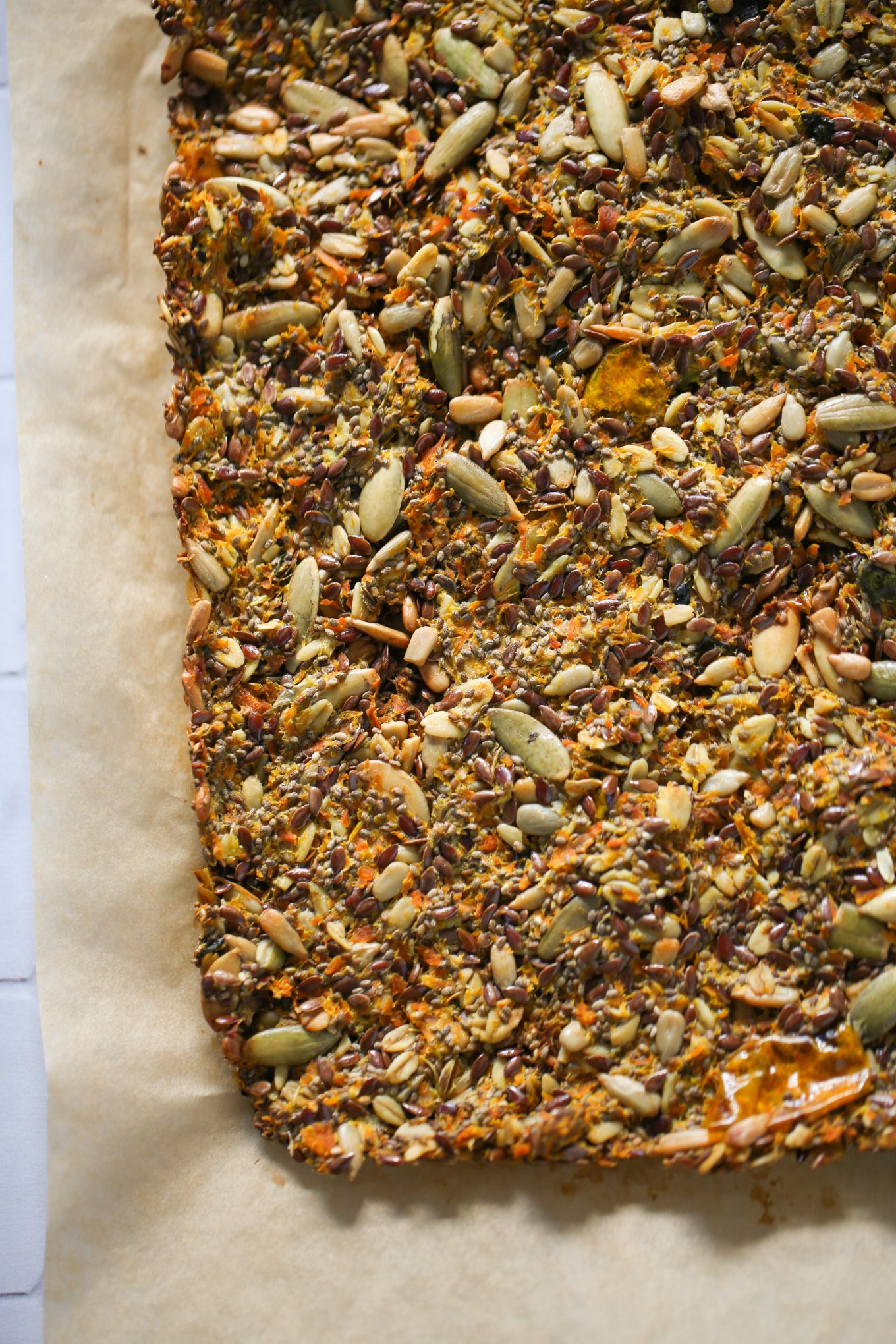 flavor add ons
For a cheesy flavor, add nutritional yeast to the blend, if you want a more umami bite season lightly with tamari or coconut aminos.
The flavor combinations are endless; add garlic powder, ginger, sea salt, onion powder, turmeric, and fresh herbs like parsley, dill, or cilantro.
Black pepper will give these a perfect bite, etc. For real, make this juice pulp cracker dough yours, and adapt it to your liking.
These juice pulp crackers are amazing
Made and loved this recipe? Give it a ⭐️⭐️⭐️⭐️⭐️ rating below. Let me know if you have questions about this recipe in the comment section or DM me on Instagram. Follow on Facebook and Pinterest to stay in touch, and don't forget to subscribe to my newsletter.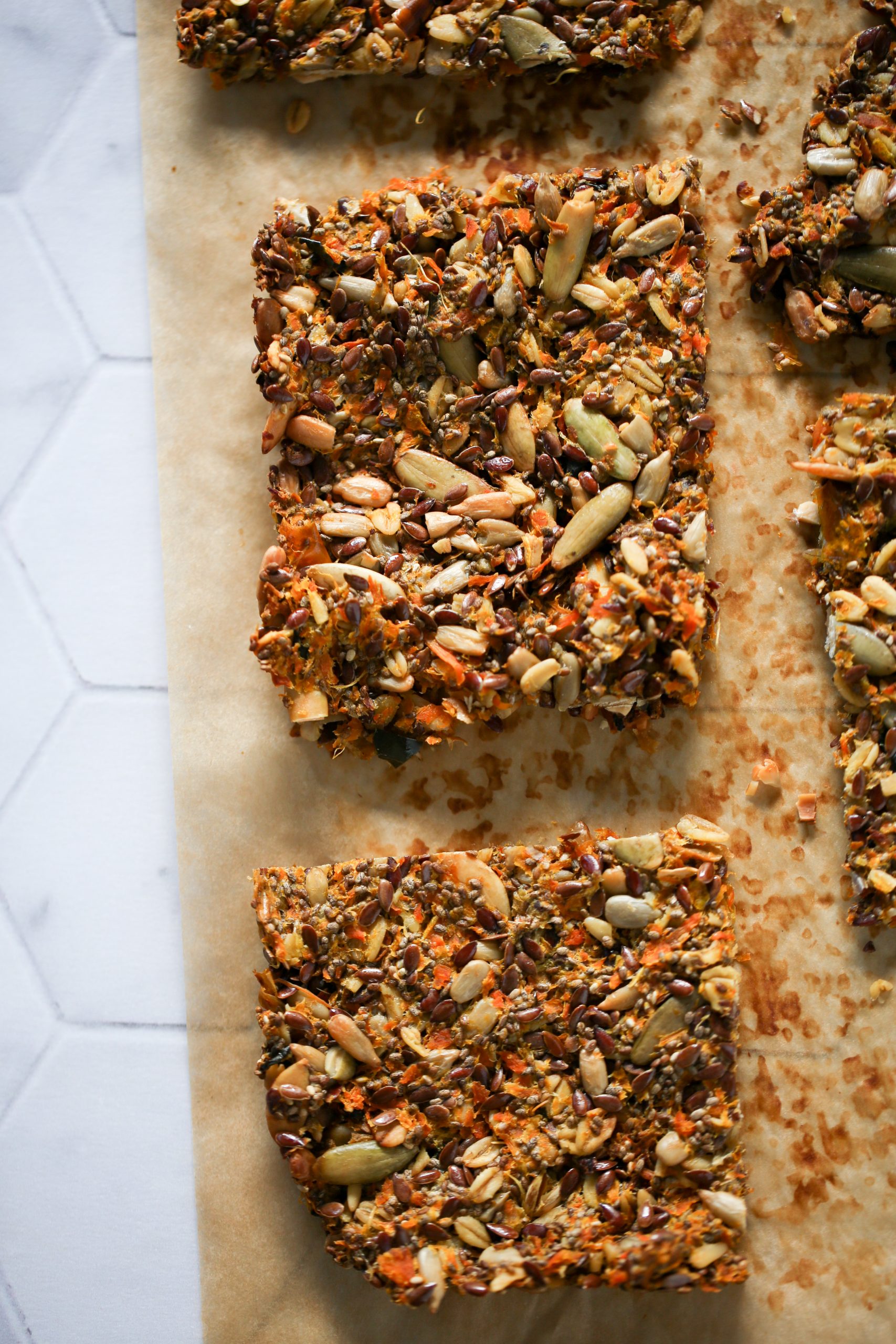 Juice Pulp Crackers
Making juice pulp crackers is an excellent way to use up the leftover pulp from juicing. Not only do these crackers provide a healthy dose of fiber from the vegetables, but they also contain the beneficial seeds. They make a great snack on their own, complement a salad nicely, or can be paired with soup for a satisfying meal.
Ingredients
1/2

cup

chia seeds

½

cup

sunflower seeds

½

cup

pumpkin seeds

½

cup

flaxseeds

½

cup

oat flakes

2

cups

juice pulp

2

teaspoons

salt

1½

cups

water

4

tablespoons

olive oil
Instructions
Pre heat the oven to 350ºF.

Mix all the ingredients in a bowl and wait 10-20 minutes for all the liquid to be absorbed.

To prepare, place the mixture between two sheets of paper and use a rolling pin to flatten it. Remove the top layer of paper and bake in the oven for 10 minutes. Flip the mixture over and bake for an additional 10 minutes until the edges are golden brown. Once they are finished, remove from the oven and allow to cool.

Remove them from the oven and let cool. Store in a tightly closed container in the cupboard. Heat in a skillet or toaster oven if they lose their crispiness.
Notes
Short-Term Storage:
Cool Completely: Before storing, make sure the crackers are completely cooled. This helps prevent moisture from getting trapped in the container, which can make the crackers soggy.
Airtight Container: Use an airtight container to store the crackers. This will protect them from humidity and keep them crisp.
Room Temperature: Store the container at room temperature. A pantry or a kitchen cupboard is usually ideal.
Consume Within a Week: Homemade crackers don't contain preservatives, so they're best consumed within a week.
Nutrition
Serving:
30
g
Calories:
92
kcal
Carbohydrates:
6
g
Protein:
3
g
Fat:
7
g
Saturated Fat:
1
g
Polyunsaturated Fat:
3
g
Monounsaturated Fat:
3
g
Trans Fat:
1
g
Sodium:
204
mg
Potassium:
111
mg
Fiber:
3
g
Sugar:
1
g
Vitamin A:
1785
IU
Vitamin C:
1
mg
Calcium:
39
mg
Iron:
1
mg
information
Nutritional information of this recipe is only an estimate, the accuracy for any recipe on this site is not guaranteed.

Latest posts by Alejandra Graf
(see all)