Don't you love good dressing? A dressing that makes you eat and eat salads all day long. But a good and super tasty vinaigrette that makes even the simplest salad AMAZING? Yes, me too. This basil salad dressing is all that and more.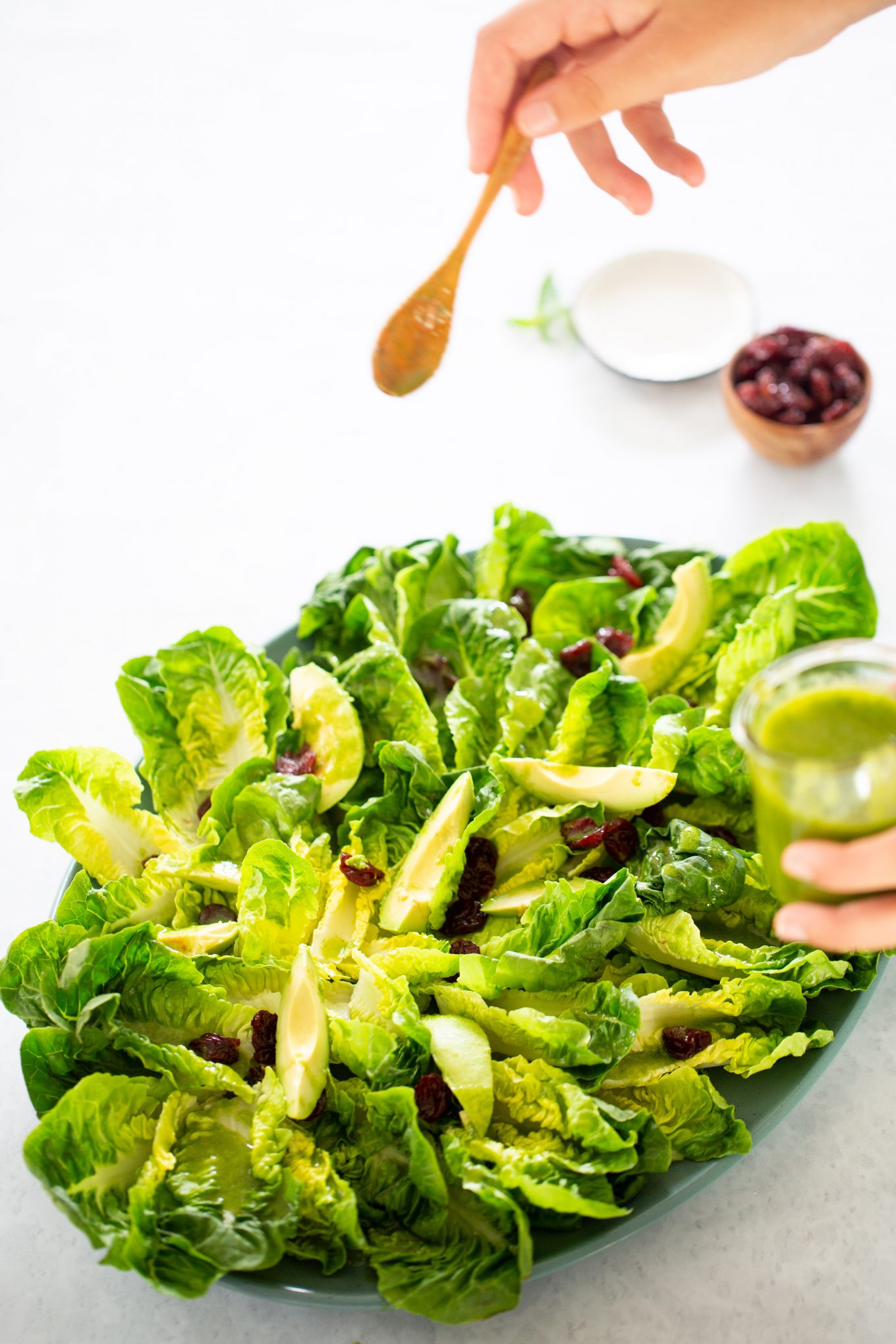 About this recipe
With just a few simple ingredients, you can prepare your own delicious basil dressing and give your salads a fantastic new flavor and freshness! Basil is a fragrant herb that adds a unique and distinctive flavor to any dish.
Its mild yet aromatic taste works perfectly as a salad dressing. Not only does it complement the flavors of the vegetables, but it also brings out the best in them.
Making your own basil dressing is surprisingly easy and only takes a few minutes of prep time and a handful of ingredients. Whether you're an experienced cook or a beginner in the kitchen, you'll be able to easily whip up a batch of homemade basil dressing.
Ingredients for the basil vinaigrette
This dressing has only 5 ingredients; I promise they are so good together. This dressing is also easy to make; just blend all the ingredients in the blender. Yes, it's that easy. The ingredients for this dressing are:
Basil, always use fresh basil with bright green leaves.
Vinegar, a mild-tasting vinegar, is the best for this recipe. Rice, champagne, or white wine vinegar are best here.
Olive oil pure olive oil is always better. Look for olive oil that comes in a dark bottle.
Garlic
Salt, I use Kosher salt; adjust the seasoning to the salt you have at home
Healthy benefits of the basil dressing
These ingredients are not only good in flavor, but they are total rockstars nutrition-wise. Garlic and basil have tons of properties and are good for many things. Both have antibacterial properties; they are so good at helping us fight inflammation and stress, among many other health benefits.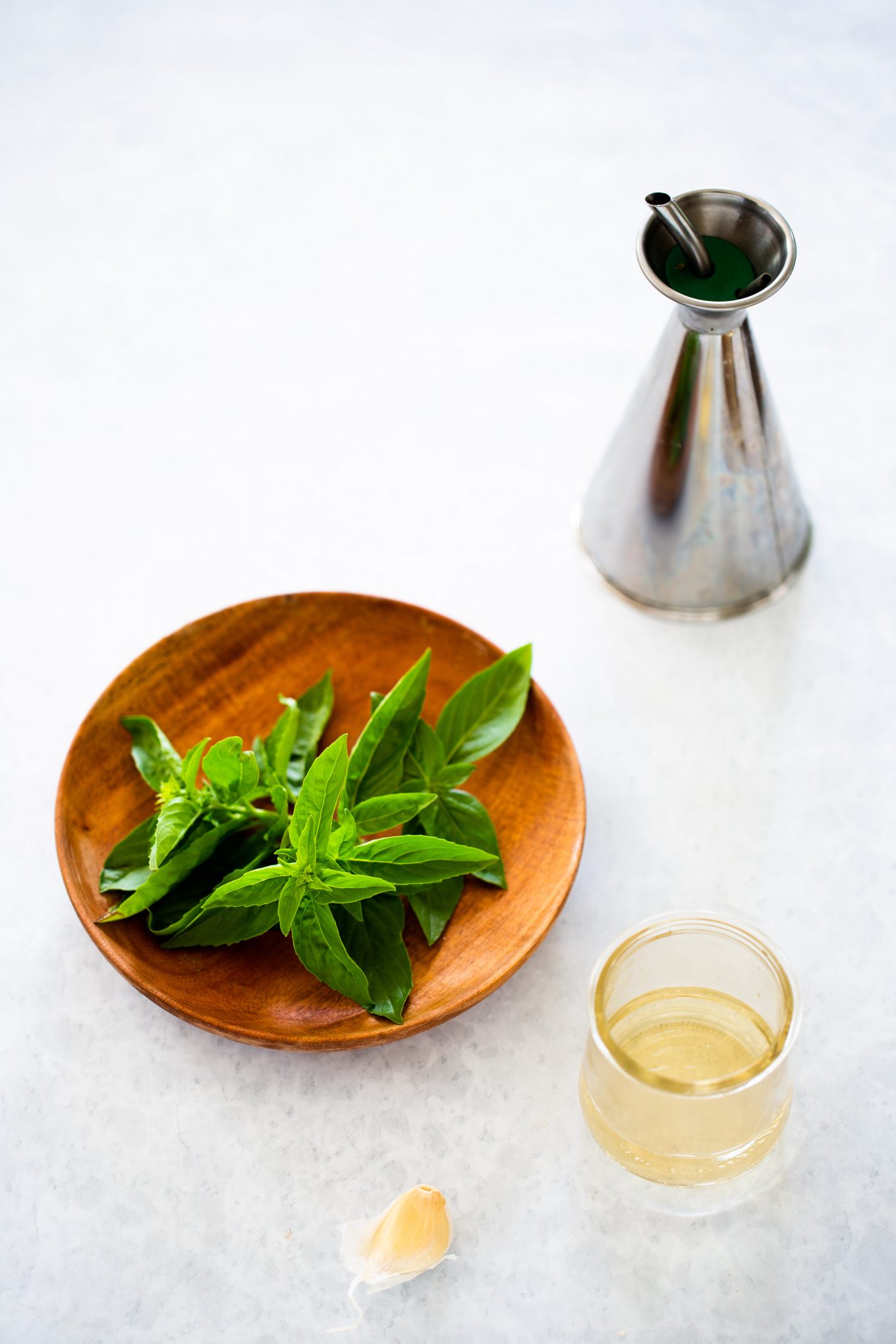 Frequently asked questions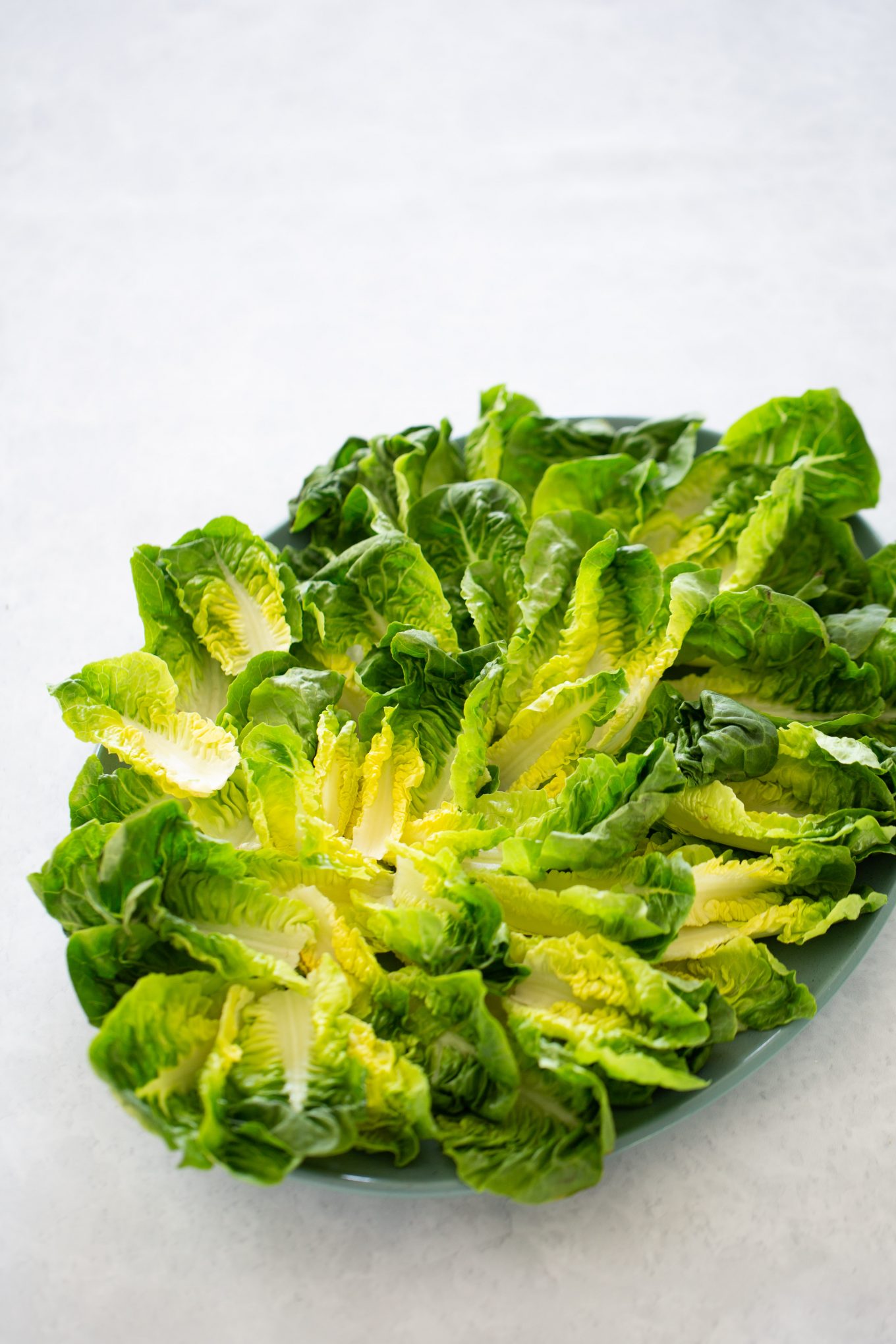 How to use the basil vinaigrette?
I prepared this salad with a little gem salad, avocado, and dried cherries. But you can use it:
---

How to store fresh herbs?
Storing fresh herbs properly can help extend their shelf life and preserve their flavor. Here are some tips on how to keep fresh herbs:
Water Method: Trim the ends of the stems and place the herbs in a jar or vase with an inch or two of water at the bottom. Cover the herbs with a plastic bag and place them in the fridge. Change the water every few days to keep it fresh.
Paper Towel Method: Wrap the herbs loosely in a damp paper towel and place them in a plastic bag. Seal the bag and store it in the fridge. The paper towel will keep the herbs hydrated, and the plastic bag will help prevent moisture loss.
Freezing Method: Wash and dry the herbs, chop them up, and pack them into ice cube trays. Fill the trays with water or olive oil and freeze. Once frozen, transfer the herb cubes to a freezer bag and store them in the freezer.
Oil Method: Wash and dry the herbs, pack them into a jar, and cover them with olive oil. Seal the jar and store it in the fridge. The oil will help preserve the herbs and infuse them with flavor.
It's important to note that some herbs, such as basil and cilantro, are more delicate and have a shorter shelf life than others. It's best to use them as soon as possible.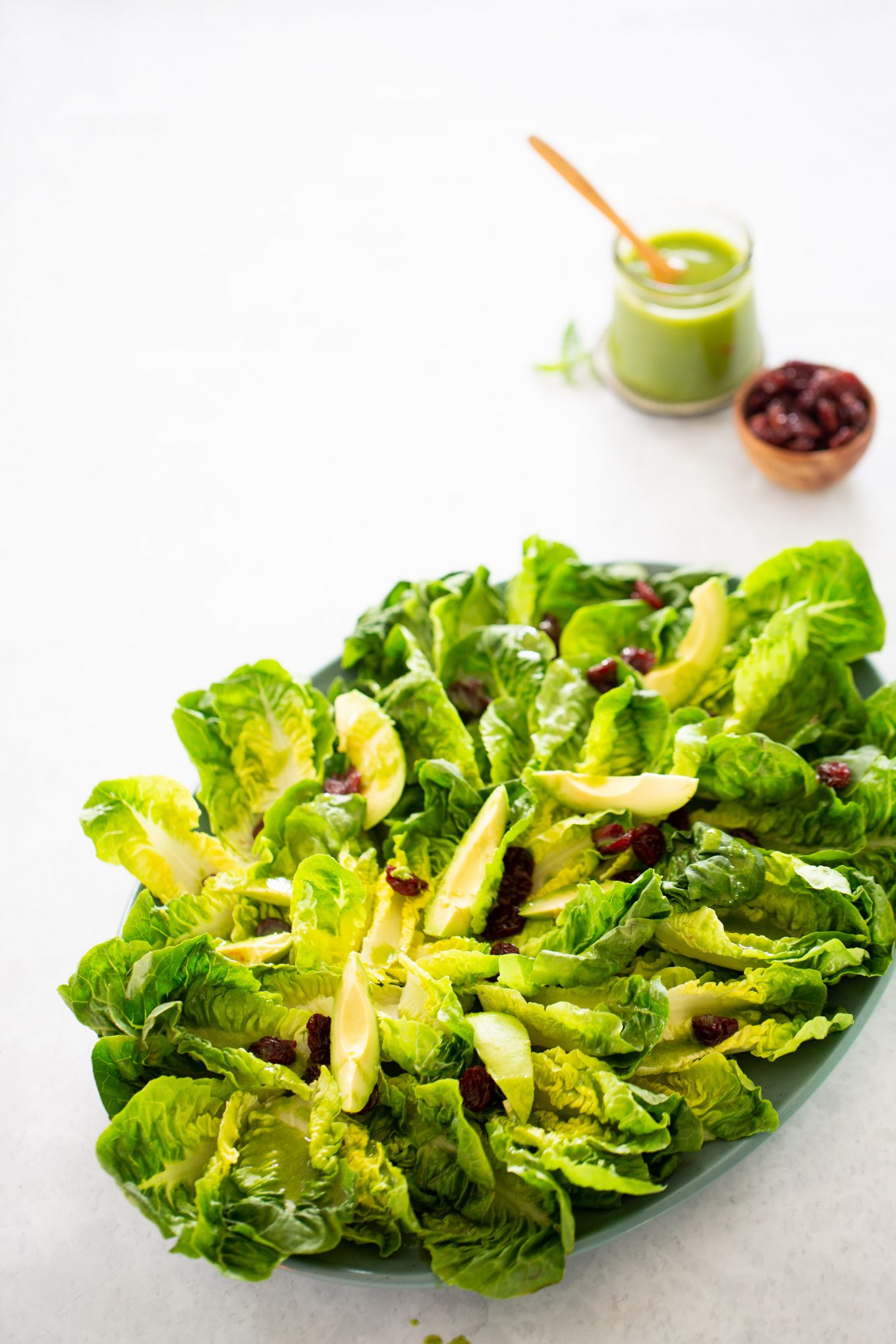 about the salad
I love to combine all kinds of flavors and textures in salads, no matter what type of salad it is, whether it is lettuce, spinach, or kale. Nuts, seeds, microgreens, and a good dressing, make a huge difference in a salad.
If you don't have dehydrated cherries, add whatever you have at home: nuts, seeds, or dried fruits; this dressing goes well with many different things, so feel free to add what you like.
other dressings and vinaigrettes
Made and loved this recipe? Give it a ⭐️⭐️⭐️⭐️⭐️ rating below. Let me know if you have questions about this recipe in the comment section or DM me on Instagram. Follow me on Facebook and Pinterest to stay in touch, and don't forget to subscribe to my newsletter.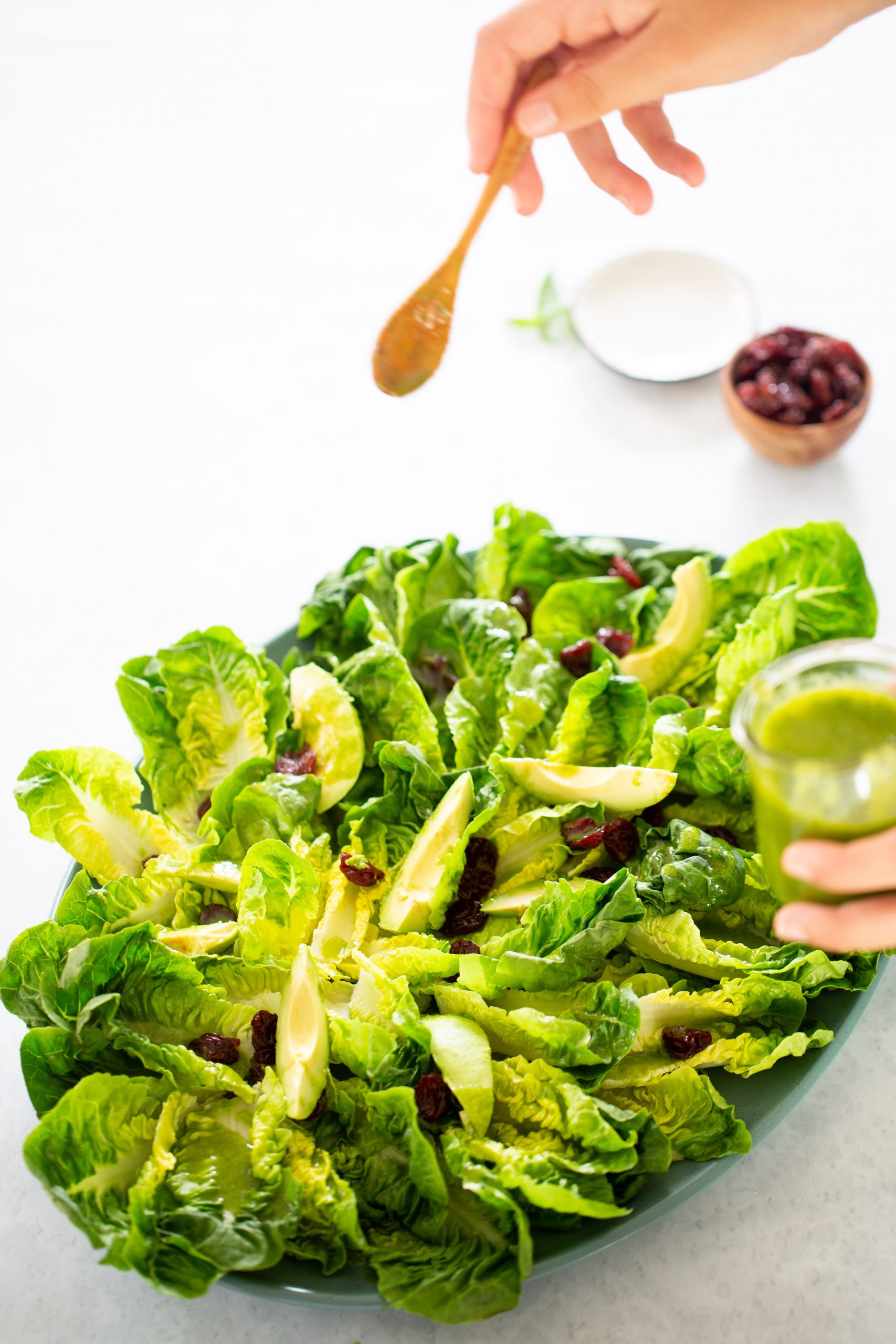 Basil dressing
A dressing that will tansform your saladas in a delicious and nutricious way. This dressing is so easy to prepare and so flavorful it will soon become one of your favorites.
Ingredients
Bsil dressing
1

cup

basil

1/4

cup

champagne vinegar

¾

cup

Olive oil

1

clove

garlic

1/4

teaspoon

salt

pepper
Salad
mixed greens

avocado

dried cherries
Instructions
To make the dressing, blend the dressing ingredients until creamy.

In a bowl put lettuce and a tablespoon or two of the basil dressing. Mix well, top with the diced avocado, and mixed fruit.
Notes
To store basil vinaigrette, follow these steps:
Transfer the vinaigrette to a glass jar with a tight-fitting lid.
Add a sprig or fresh basil to the jar for extra flavor.
Seal the jar tightly and store it in the refrigerator.
How long will it last?
The vinaigrette should last for up to a week in the refrigerator. Give it a good shake or stir before using it to ensure the ingredients are well mixed.
It's important to note that basil vinaigrette, like any other homemade dressing, may separate or solidify when stored in the fridge. If this happens, let the vinaigrette sit at room temperature for a few minutes and then give it a good shake or stir to re-emulsify the ingredients.
Can I freeze it?
Yes. If you're making a large batch of basil vinaigrette, you can freeze it in an ice cube tray and transfer the cubes to a freezer bag for long-term storage. Just be sure to label the bag with the date and contents, and use the vinaigrette within a few months for the best quality.
Nutrition
Serving:
1
serving
Calories:
242
kcal
Carbohydrates:
1
g
Protein:
1
g
Fat:
27
g
Saturated Fat:
4
g
Sodium:
98
mg
Potassium:
12
mg
Fiber:
1
g
Sugar:
1
g
Vitamin A:
211
IU
Vitamin C:
1
mg
Calcium:
7
mg
Iron:
1
mg
information
Nutritional information of this recipe is only an estimate, the accuracy for any recipe on this site is not guaranteed.

Latest posts by Alejandra Graf
(see all)