Hibiscus Sangria is a fruity, delicious drink that's great for parties. I made a hibiscus sangria bar with tons of options to cater to my guests' different tastes. Learn how to create this tasty drink without an exact sangria recipe here.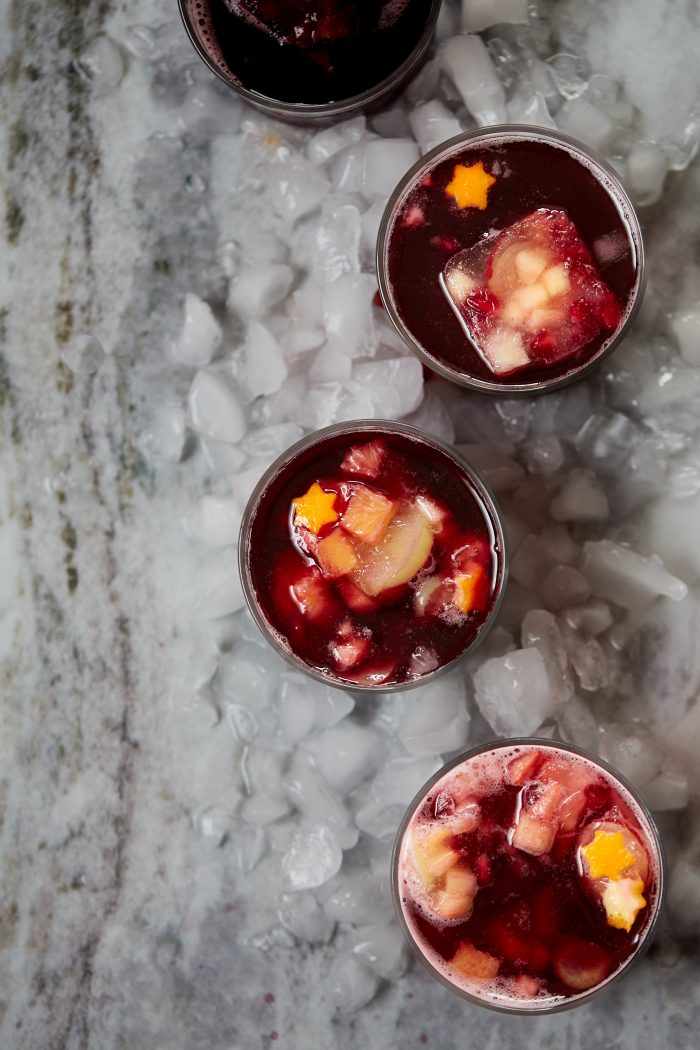 What is sangria?
Sangria is a mix of Spanish red wine and fruit. It is a fresh, fruity, and easy drink liked by most people. Technically, there is no exact way to make a sangria; it is just a fruit punch made with seasonal fruit.
The most common sangria that you will find in Spain has wine, brandy, fresh chopped fruit, sweetener, cinnamon stick, and sometimes soda.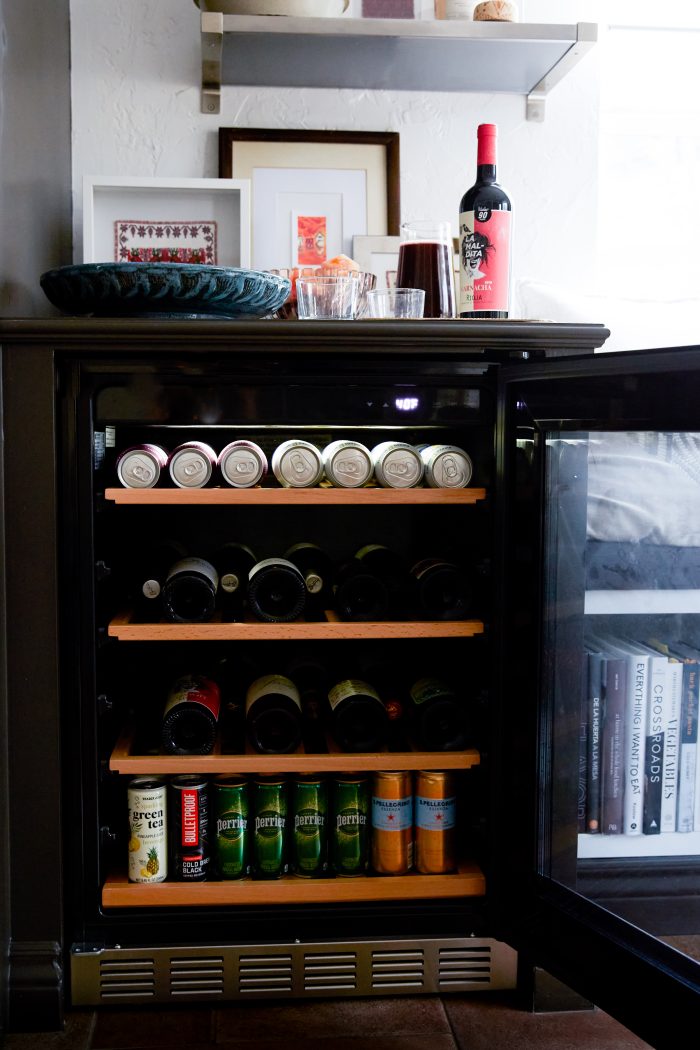 Why a hibiscus sangria bar (a hibiscus cocktail)?
Because you can prepare all your ingredients ahead of time. Making sangria from scratch is a bit time-consuming; it involves chopping a lot of fruit.
Because I can spoil all of my guests by letting them customize their own drinks. They can decide if they want sparkling water, still water, more wine, soda, ginger ale, more hibiscus tea, etc. I set up the cocktail station over my GE Profile Series Beverage Center, which I fill with all kinds of beverages and let my guests decide.
Because all the sangria fruit chopped and frozen in ice cubes adds a huge wow factor to the cocktail.
And in a pinch, they can make a white sangria if they don't love red wine.
✎ The GE Profile Series Beverage Center is so perfect for entertaining and for everyday life.

 ✎ I love that you can customize it by flipping the reversible flex shelves to accommodate your favorite beverages.

✎You can store all kids' drinks, or adult drinks, or a combination of both.
I mean, you can store up to 155 cans or 52 bottles of beverage.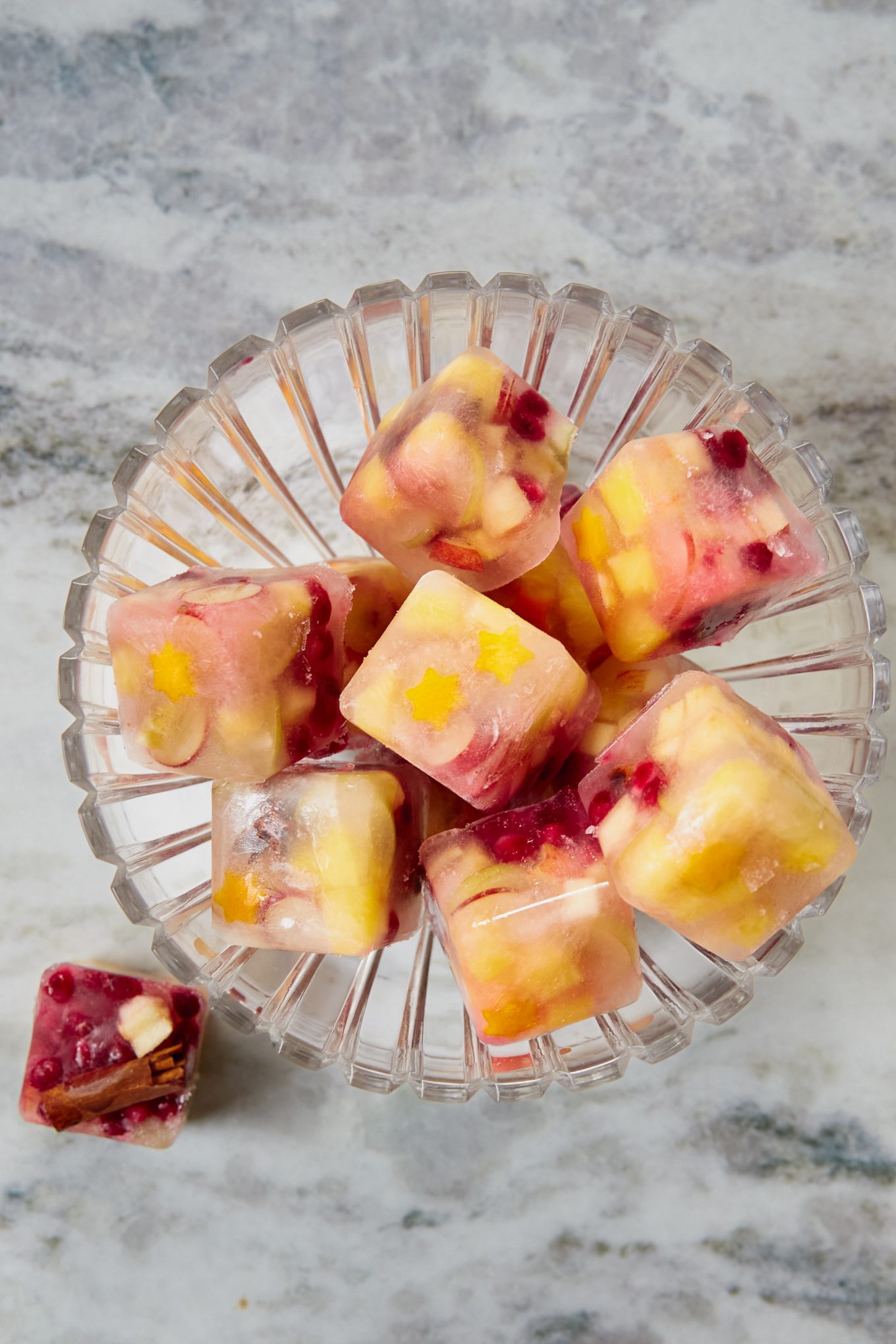 What kind of fruit should I use for the sangria?
Usually, they add apples and oranges in Spain, but you can use any fruit you have on hand. All types of fruit pair well with hibiscus, so for my hibiscus sangria bar, I used:
Apples, I love color and contrast so I used 1 green apple and one red apple.
Grapes, same here, red and green grapes for that extra pop of color.
Oranges, I like Caracara oranges or navel oranges. There is no need to peel them completely, as the peel adds tons of flavor to the drink.
Pomegranate seeds are totally optional, but they add color and texture, and make everything more festive.
Other fruit, you could also use pears, strawberries, cranberries, hibiscus petals, etc.
Spices, I use star anise and cinnamon. Feel free to add cardamom, and/or whole cloves.
Best red wine for sangria
Any Spanish wine will work here, and the best part is that it doesn't even have to be expensive. Typically, sangria is made with Rioja wine, but I opted for a wine made with Garnacha grapes for this hibiscus sangria.
Another difference from the traditional sangria is that I do not add any other liquor like rum, triple sec, brandy, pisco, etc. I like it very simple and fresh.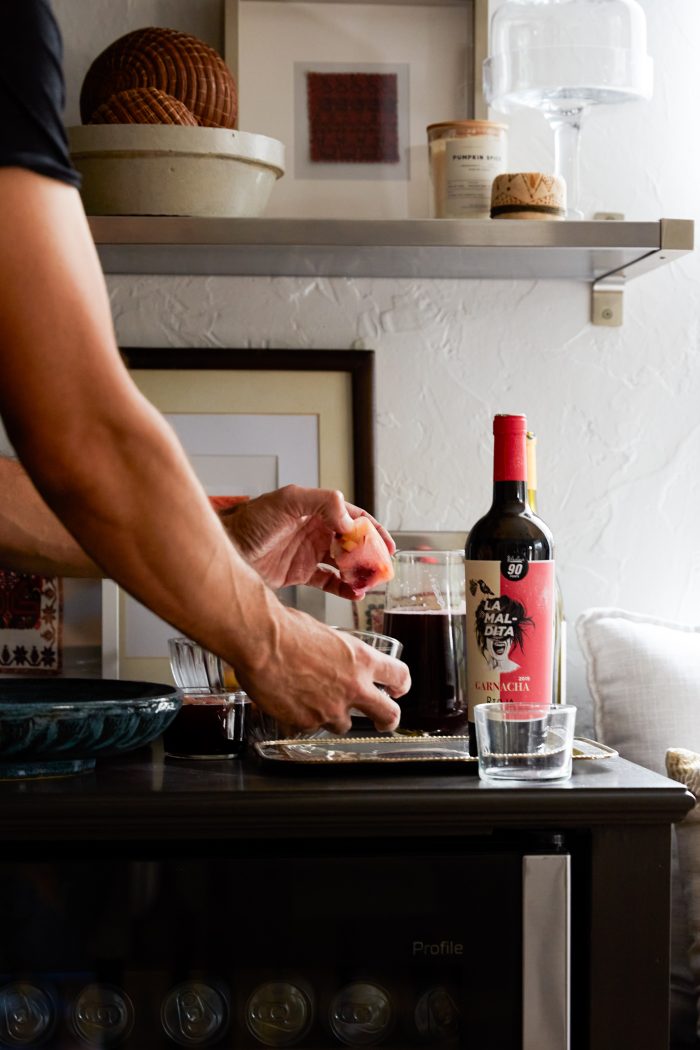 How to make Hibiscus Tea Sangria, the best sangria
The first step is to make the sangria fruit ice cubes. I chop oranges and apples really small (both red and green apples, because I like the color contrast), I slice red and green grapes, and peel a pomegranate. Then I divide all the sliced fruit into large ice cube trays and add the spices. I cover the ice tray and place it in the freezer until frozen.
The second step is to make the hibiscus tea concentrate. In a small saucepan, boil one loosely fitted cup of dried hibiscus flowers in three cups of water. Then I strain the tea and add 3/4 to a cup of sugar. The flavor of hibiscus is tart, so start by slowly adding your sweetener until you have the perfect taste. Remember it is a concentrate, so it must be sweet and very rich in flavor.

At this point, the tea will be warm, so pour it into a large pitcher or tightly closed glass bottle and place it in your fridge or in the GE Profile Series Beverage Center to cool down. Do not worry about space – it will fit. The beverage center has a very large capacity and adjustable shelving so you can put in the pitcher or bottle without a problem.
If you can't find hibiscus flowers in your area, you can definitely substitute them with hibiscus tea bags.

The third step is to open a bottle of wine and put it all together. In a wine glass, add one or two fruity sangria ice cubes, and hibiscus tea concentrate, and finish by pouring in the wine. Stir.

Alternatively, serve in a pitcher or punch bowl by combining the hibiscus tea concentrate, the red wine, and the fruity sangria ice cubes. Divide into wine glasses.
💡FUN FACT💡

Did you know that in Mexico, we call hibiscus jamaica?

In the Caribbean, they call it sorrel.

In Nigeria, it is called zobo.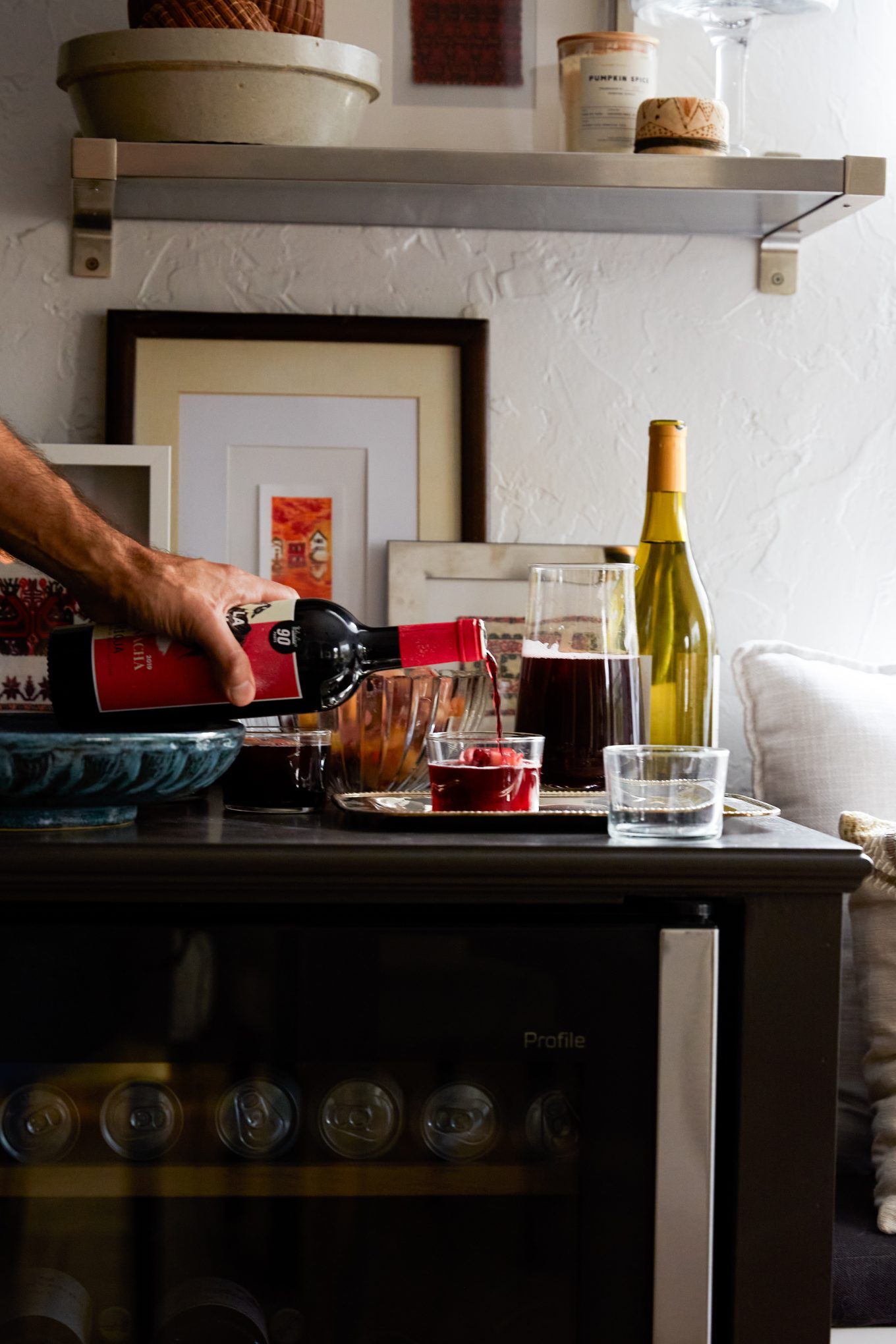 Tips & tricks
What if the fruity ice melts? Do not worry if the fruity ice cubes start to melt, just serve the fruit with a spoon in your wine glass.
How to adapt the recipe for kids? Having a sangria bar is a perfect idea for entertaining families with young kids. Instead of sangria, you can serve the kids a fruit punch. Mix the hibiscus concentrate, one or two cubes of fruity ice, orange juice, grapefruit juice, or lemonade. Omit the tea if they don't like the hibiscus flavor.
Storing juices or other kid-friendly beverages in the GE Profile Series Beverage Center is perfect because it has an easy-to-hear door alarm that makes sure you know when the door has been left open.
It also has recessed LED interior lighting that helps you or your guests find items quickly and easily.
If you have extra hibiscus concentrate, add more water and turn it into agua fresca.
Other recipes that you may like: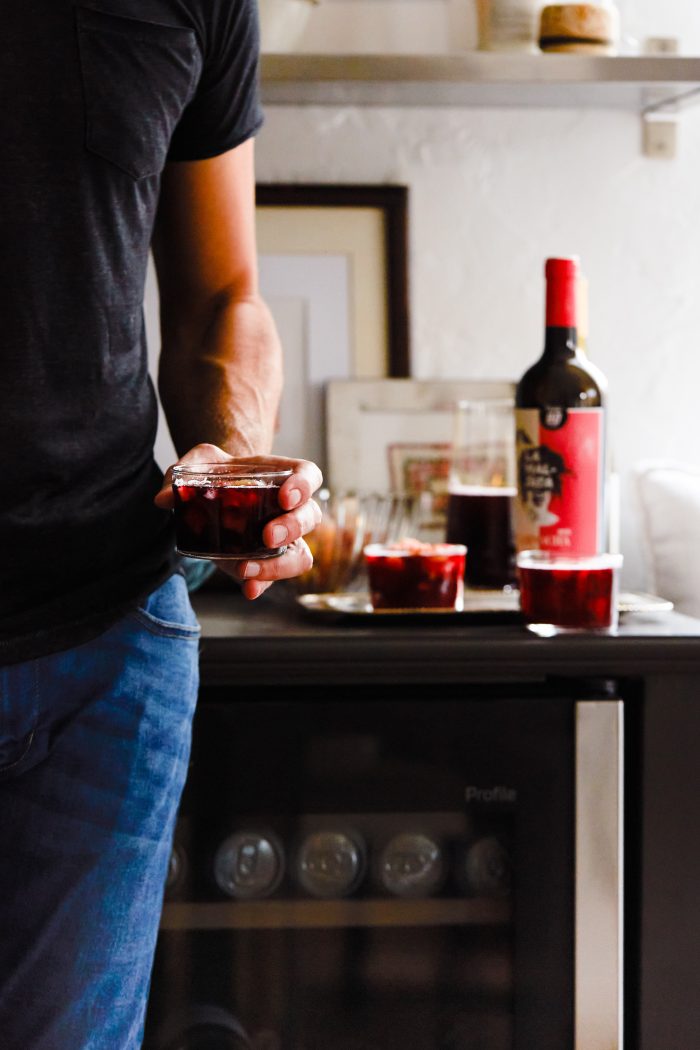 So here is the recipe for the perfect hibiscus sangria bar. I hope you like it and enjoy it as much as I did. Take a picture of your sangria bar or sangria drink and share it on Instagram or Facebook. If you want to make this later, don't forget to save it on Pinterest. It would also be fantastic if you rated this recipe with 5 stars and left me your questions, ideas, or suggestions in the comment section below.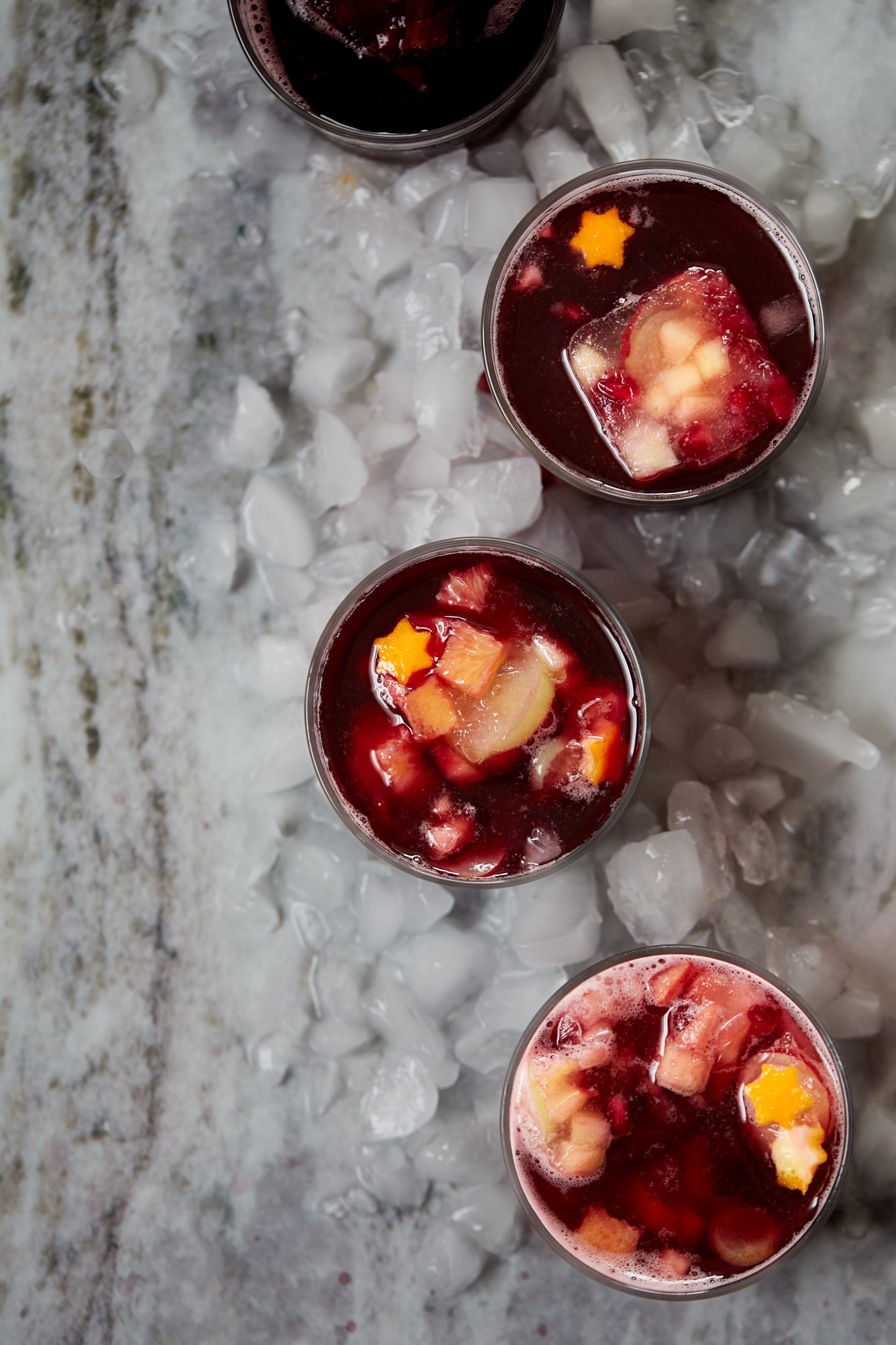 SANGRIA WITH HIBISCUS
Hibiscus Sangria is a fruity, delicious drink that's great for parties. I made a hibiscus sangria bar with tons of options to cater tomy guests' different tastes. Learn how to create this tasty drink here.
Ingredients
1

bottle of red wine of your choice

1

cup

concentrated hibiscus tea

* see notes below

sparkling water, juice, or soda of your choice
Fruity ice cubes
1

red apple, cored and diced

1

green apple, cored and diced

1

orange , peeled and diced

2

cups

seedless red and green grapes, sliced

2

cinnamon stick, cut in half

4

star anise
Instructions
Fruity ice cubes
Prepare your fruit by dicing or slicing it. Divide it into large ice cube trays, place a piece of cinnamon or a piece of star anise.

Fill the icecube trays with water and freeze until firm.
Sangria bar
Place the fruity ice cubes in a bowl next to a pitcher with the hibiscus concentrate and several soda options.
Serving the sangria
Place a large fruity ice cube in a wine glass or a low glass, pour the red wine, hibiscus concentrate, and soda of your choice over the ice cube. Mix and let the ice start melting, so the fruit and spices infuse the beverage.
Notes
How to make hibiscus concentrate
In a 5qt- saucepan boil, 1 cup dried hibiscus flowers with three cups of water for 10 to 15 minutes.
Strain the mixture in a large pitcher and add 1 cup of sugar. Reserve the hydrated flowers for tacos or salsa.
This will be strong and sweet. If you want to make agua fresca, mix one part of hibiscus concentrate with three parts of water.
Nutrition
Serving:
1
cup
Calories:
152
kcal
Carbohydrates:
21
g
Protein:
1
g
Fat:
1
g
Saturated Fat:
1
g
Polyunsaturated Fat:
1
g
Monounsaturated Fat:
1
g
Sodium:
6
mg
Potassium:
283
mg
Fiber:
2
g
Sugar:
14
g
Vitamin A:
180
IU
Vitamin C:
18
mg
Calcium:
33
mg
Iron:
3
mg
information
Nutritional information of this recipe is only an estimate, the accuracy for any recipe on this site is not guaranteed.

Latest posts by Alejandra Graf
(see all)