Vegetable skewers are a delicious and healthy way to enjoy fresh produce. Whether you're grilling, roasting, or baking, these skewers make a perfect side dish or main course for any meal.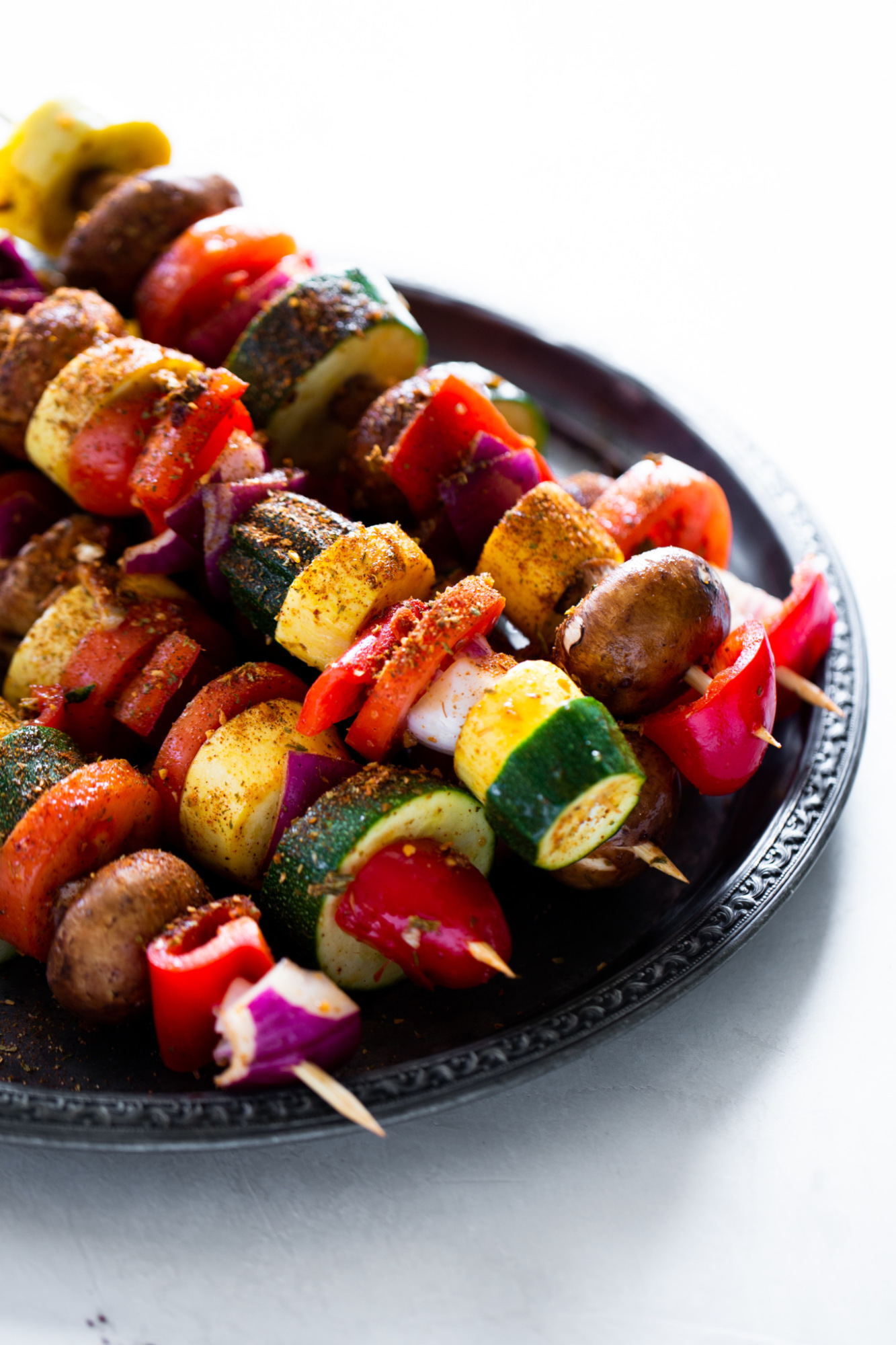 about this recipe
And I know that everybody loves to eat super healthy and delicious, right? But we also love recipes that come together fast without making a huge mess in the kitchen.
This vegetable skewer recipe is also a great way to finish your week's produce. You know, when you have that ONE zucchini at the end of the veggie drawer. Or that overripe red bell pepper… well, this is your recipe.
Not only are they visually appealing, but they're also easy to make and customizable to your taste preferences. In this blog post, we'll go over some tips and tricks for making easy vegetable skewers that will impress your guests and satisfy your taste buds.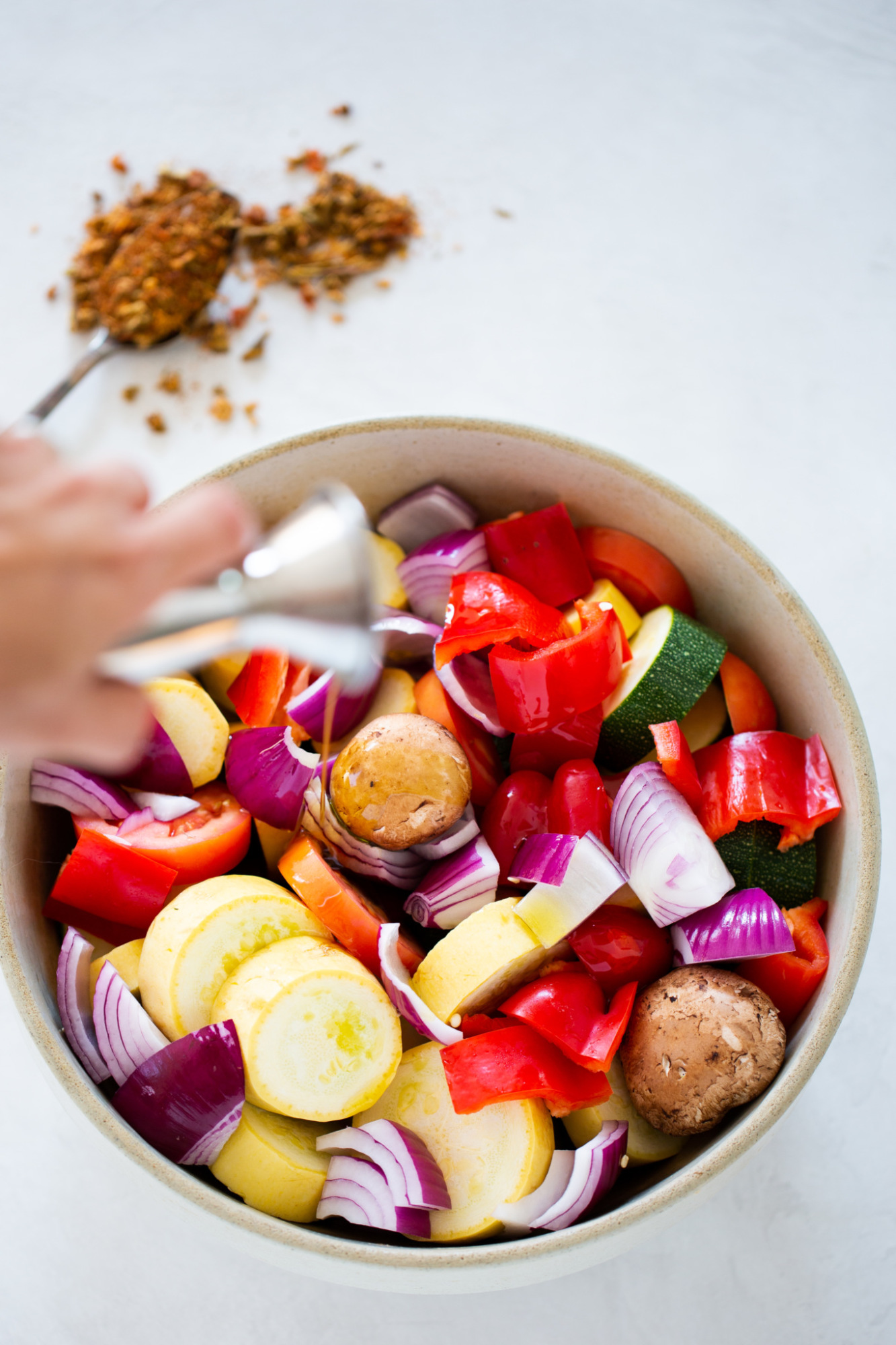 Choose Your Vegetables
When making vegetable skewers, it's essential to choose suitable vegetables. You want to select vegetables that are sturdy enough to hold up on the skewer and won't fall apart during cooking. Some great options include bell peppers, mushrooms, zucchini, yellow squash, onions, cherry tomatoes, and eggplant.
Cut The veggies to the Right Size
Once you've chosen your vegetables, it's essential to cut them to the right size. You want them to be uniform in size so they cook evenly. For example, cut bell peppers into 1-inch pieces, zucchini, yellow squash, 1/2-inch slices, and onions into 1-inch chunks.
Cherry tomatoes can be left whole, and mushrooms can be halved or quartered depending on size.
Season, season, season
Season with salt, pepper, and olive oil. To add some extra flavor to your vegetable skewers, consider seasoning them before cooking. Let the vegetables sit with the seasoning of choice for about 10 minutes before skewering and cooking. You can use a store-bought seasoning or make your own with a mix of spices.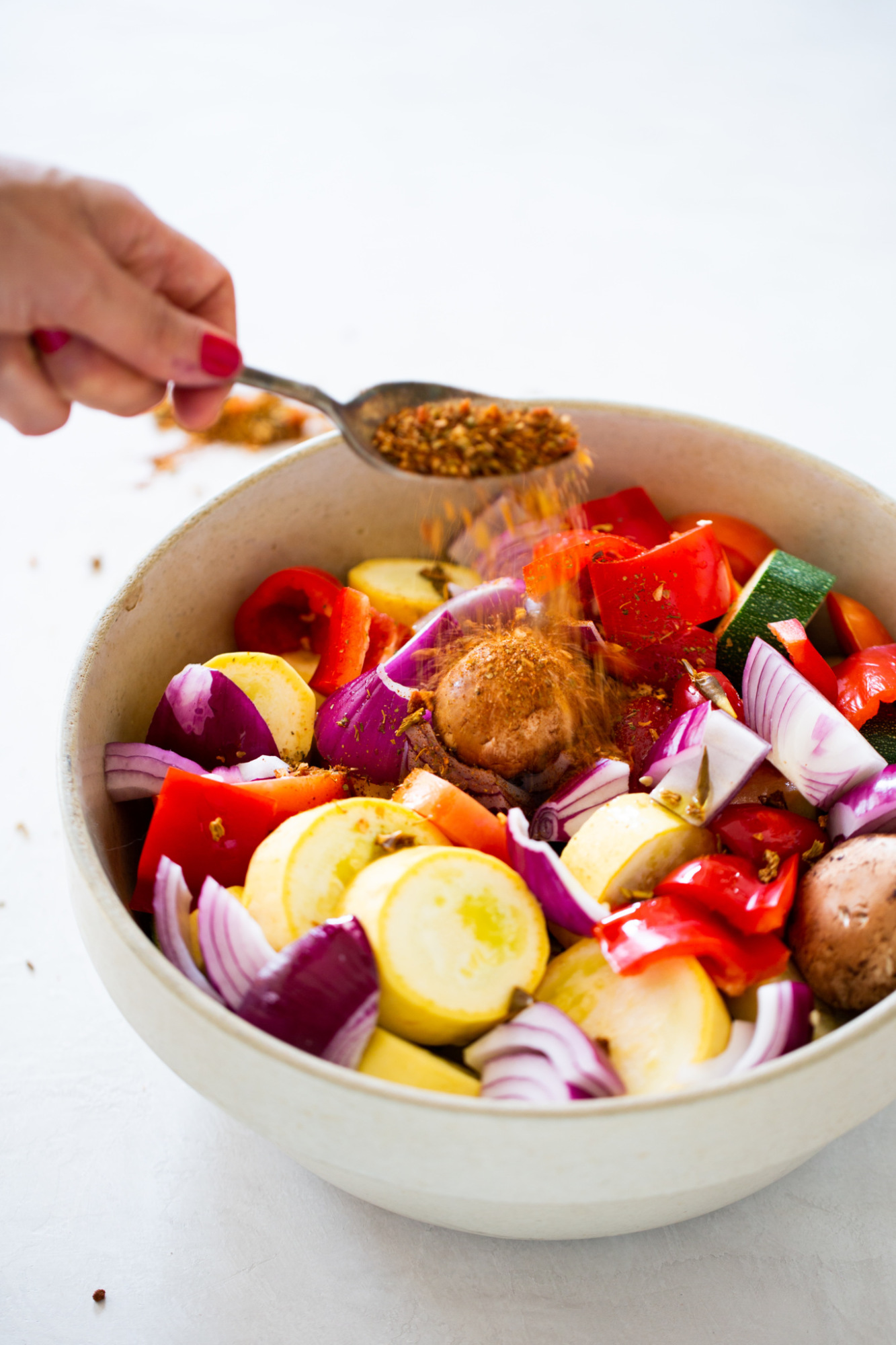 Skewer Them Up
When it comes time to skewer your vegetables, you can get creative with the order you put them—alternate colors and textures for a visually appealing skewer.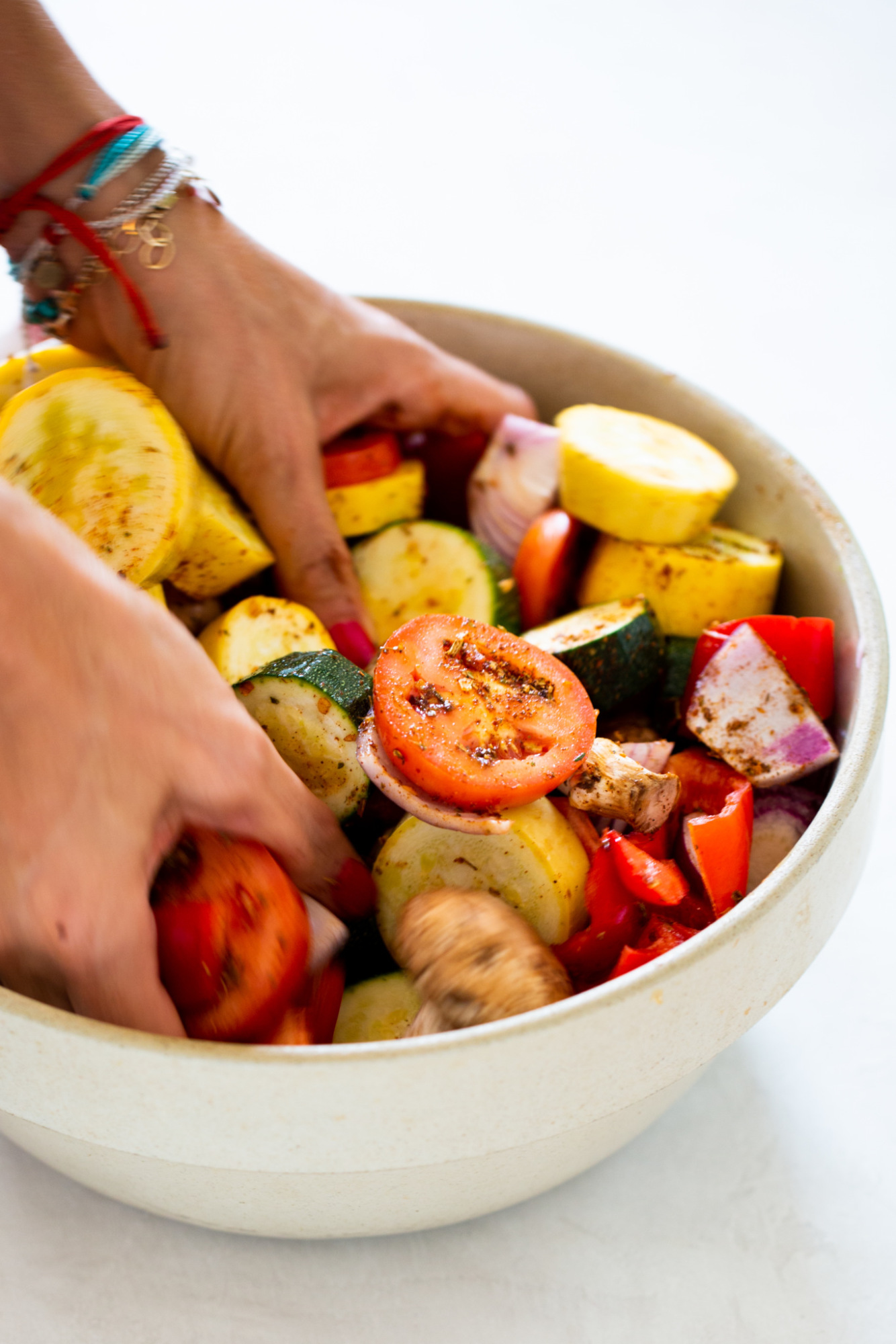 Cook Them to Perfection
Once your skewers are assembled, it's time to cook them to perfection. You can grill them over medium-high heat for 8-10 minutes, occasionally turning, until they're charred and tender.
You can even bake them on a sheet pan at 400 °F for 20–25 minutes, turning once, until they're crispy and delicious.
Serve and Enjoy
Once your skewers are cooked to perfection, it's time to serve and enjoy. These vegetable skewers make a perfect side dish for any meal, or you can make them the main course by adding some protein, like tofu (affiliate link) or grilled chicken. Serve them hot off the grill or oven, and enjoy the delicious flavors and textures.
Tips for the best vegetable skewers
Any Vegetable. Really, use any vegetable you have. They all taste super delicious, roasted. Roasted broccoli is the best, roasted cauliflower also the best, any pumpkin, onion, mushrooms … EVERYTHING.
Spice mix. Make your mix of spices like this recipe roasted chickpeas with chipotle and other spices or Cayenne pepper, oregano, etc.
Serve. Served them over brown rice, quinoa, farro, pasta, or a mix of greens and drizzle lightly with a simple vinaigrette.
Finish with a sauce. Serve with romesco sauce, avocado pesto, sun-dried tomato pesto, homemade ranch, or magic cilantro dressing.
Do you have leftovers? If you have leftovers, save them and prepare pasta dishes, sandwiches, tacos, or quesadillas.
Made and loved this recipe? Give it a ⭐️⭐️⭐️⭐️⭐️ rating below. Let me know if you have questions about this recipe in the comment section or DM me on Instagram. Follow me on Facebook and Pinterest to stay in touch, and don't forget to subscribe to my newsletter.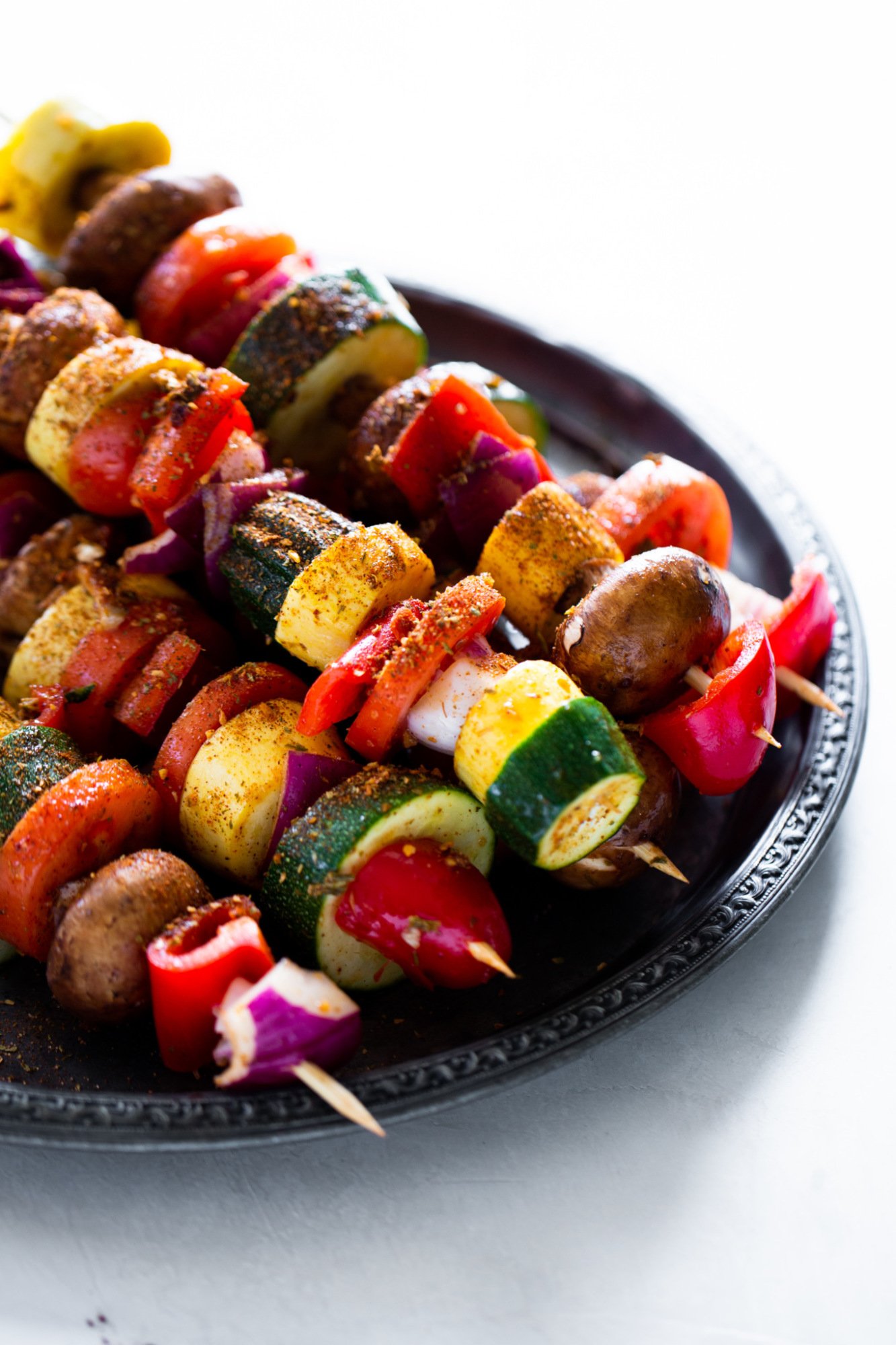 Easy vegetable skewers
These vegetable skewers are super easy to prepare and taste amazing. You can choose to make them with any vegetable.
Equipment
wooden or stainless steal skewers
Ingredients
Skewers
1

red onion cut into pieces

3

roma tomatoes cut into thick slices

8

oz

of mushrooms

2

yellow squash cut into thick slices

2

zucchini cut into thick slices

2

peppers cut into large pieces

1

tablespoon

of spices mix or seasoning of your choice

1

good pinch of salt

¼

cup

of olive oil

Wooden or stainless steel sticks to make skewers.
Romesco sauce
2

roasted red peppers

can be of a jar

1/2

cup

of sliced ​​almonds

2

teaspoons

of sherry vinegar or red wine

2

garlic cloves

small

4

tablespoons

of extra virgin olive oil

1

teaspoon

of sea salt

freshly ground black pepper to taste
Instructions
In a bowl put all the vegetables, put the seasoning, salt and olive oil. Mix with your hands until every piece is well covered with oil and spices.

Make the skewers and put them on the grill until done, about 10 minutes in each side.
To make the romesco sauce:
Put all the ingredients in the blender, blend until everything is perfectly well integrated.

Taste and adjust seasoning if necessary.
Nutrition
Calories:
437
kcal
Carbohydrates:
22
g
Protein:
9
g
Fat:
37
g
Saturated Fat:
5
g
Cholesterol:
3
mg
Sodium:
1254
mg
Potassium:
992
mg
Fiber:
7
g
Sugar:
10
g
Vitamin A:
2738
IU
Vitamin C:
128
mg
Calcium:
102
mg
Iron:
3
mg
information
Nutritional information of this recipe is only an estimate, the accuracy for any recipe on this site is not guaranteed.

Latest posts by Alejandra Graf
(see all)