Indulge in the exquisite flavors of our delectable vegan sandwich, generously stuffed with savory mushrooms and caramelized onions. Whether you're seeking a quick lunch or a satisfying dinner option, this sandwich is your ultimate go-to choice.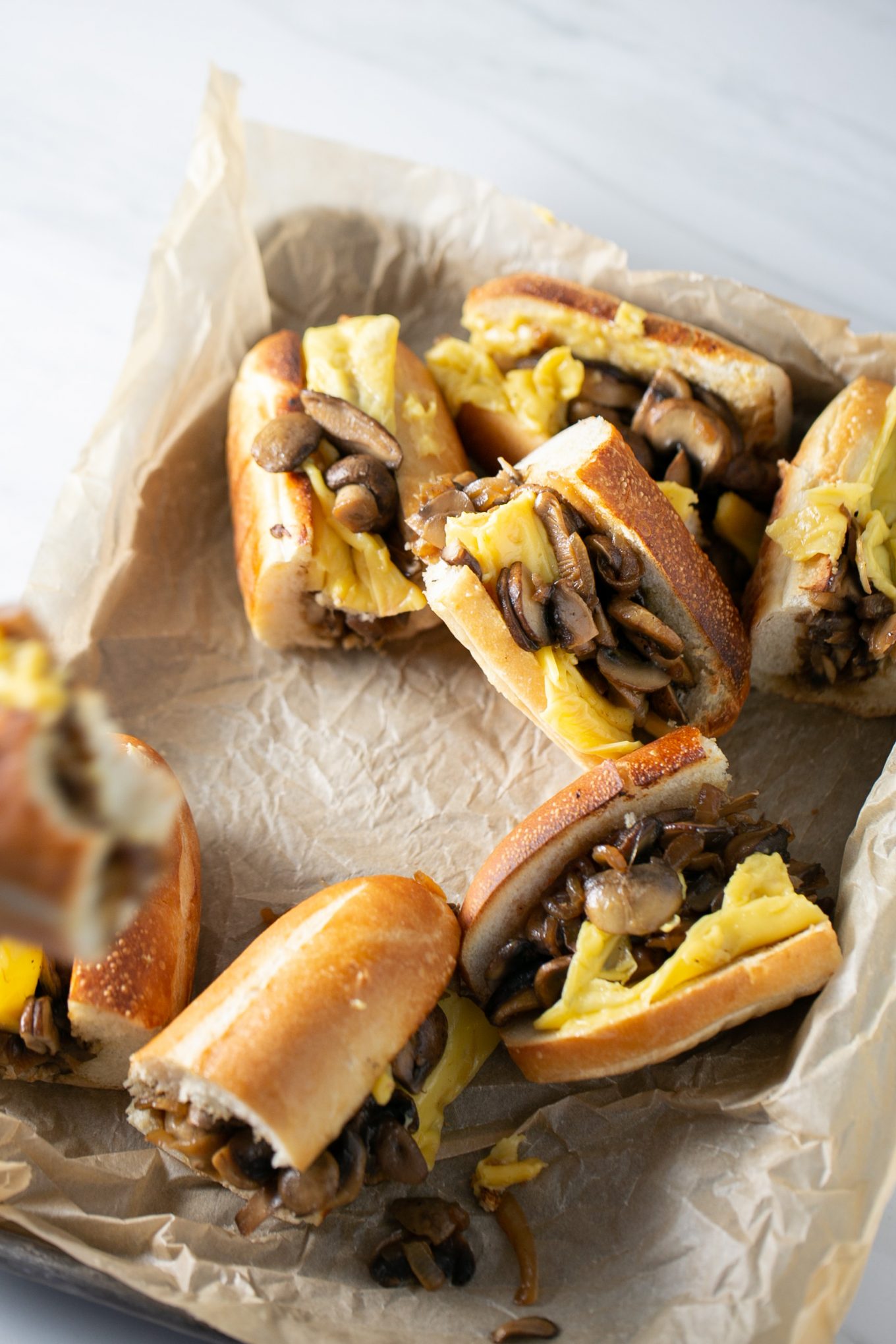 Once you master the recipe, it will become an unforgettable culinary masterpiece that will consistently exceed your expectations. Treat yourself to this incredible dish and unlock a world of gastronomic delight!
About the mushroom sandwich
If you're a fan of the French Dip sandwich but prefer a vegan version without the broth, you can easily make one by omitting the broth. Personally, I don't enjoy the texture of wet bread, so I skip the broth. However, if you don't mind it, you can make a simple version with vegetable broth (affiliate link) and soy sauce. Alternatively, you can enjoy it with an onion soup-style broth.
This vegan mushroom sandwich recipe packs a ton of flavor, making any extra sides unnecessary. Pair it with a tasty salad and enjoy a scrumptious lunch or dinner.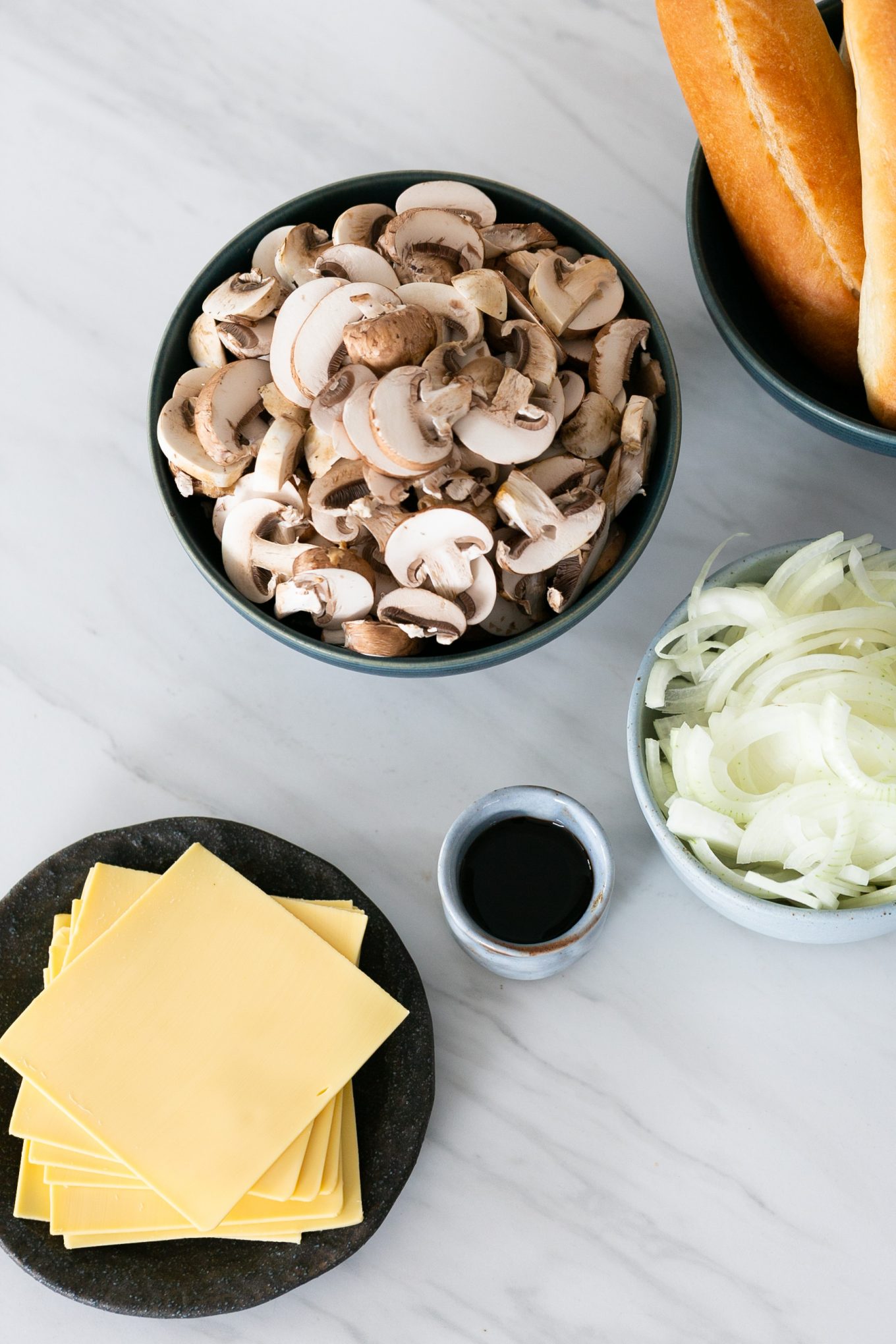 Ingredients to make a vegan mushroom sandwich
Which Mushroom is best for this sandwich? I like this sandwich best by using a mix of several mushrooms; cremini, whites, and shiitake. You can use Portobello mushrooms, cremini, or white mushrooms. You can even use oyster mushrooms or make your mushroom mix.
Onion. Slice the onion thinly and evenly. This will help all onions caramelize evenly, and each bite tastes delicious.
Soy sauce, olive oil, and sliced garlic. If you don't have garlic, you can use garlic powder.
French bread or baguette. It is also delicious if you make it with homemade bread.
Vegan smoked cheese. This is optional, but I feel it complements the sandwich pretty well. Use whatever vegan cheese you like the most. I used gouda from the Whole Foods brand. Make this nacho cheese recipe if you can't get a good vegan cheese.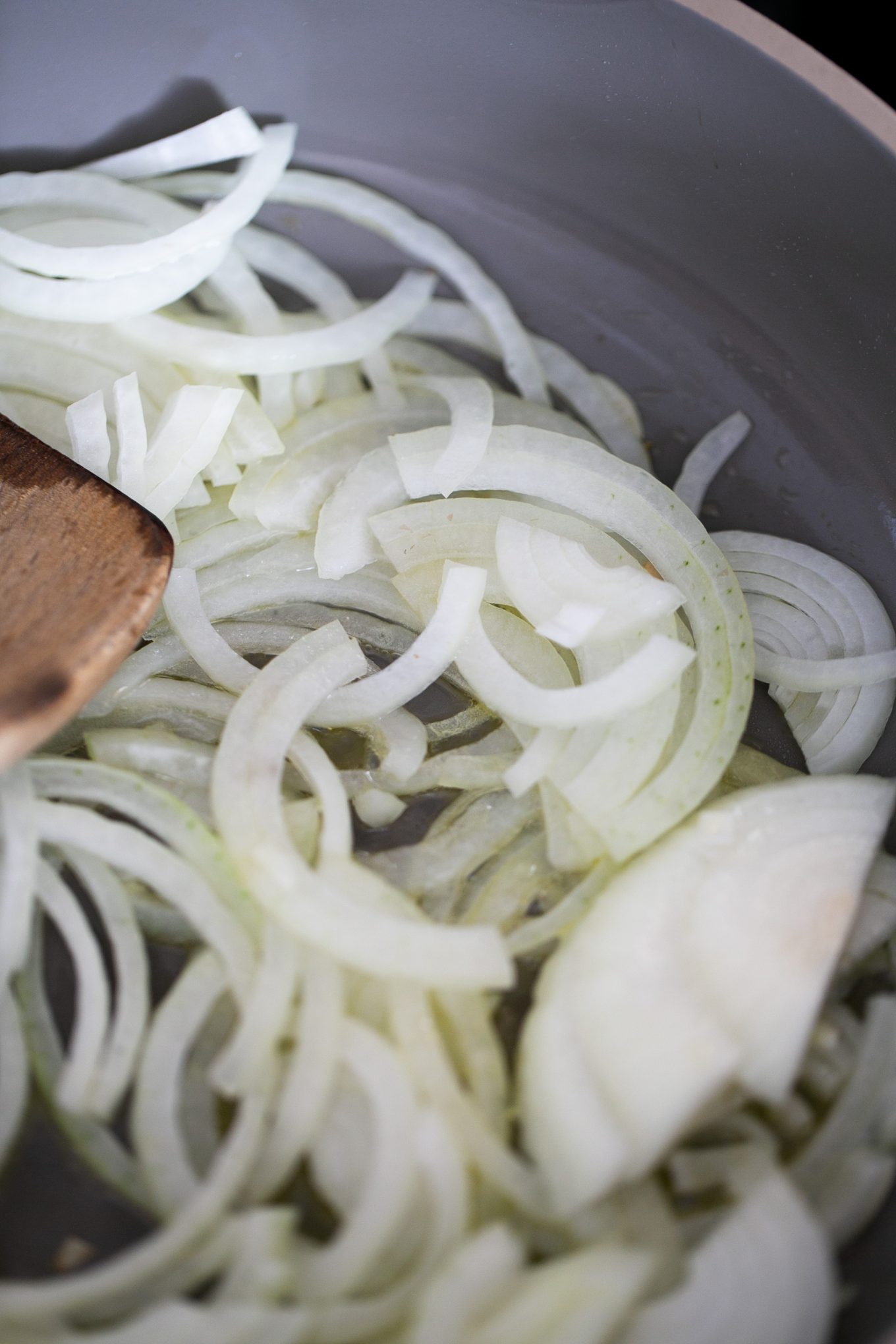 How to make a vegan mushroom sandwich?
It takes two simple steps:
In a frying pan, add the olive oil, onions, and mushrooms with the garlic to caramelize until they become deliciously golden brown. Add the soy sauce to it.
Put the mixture on a piece of French bread, put the cheese on top, and put it in the oven to melt. You can also grill the sandwich instead.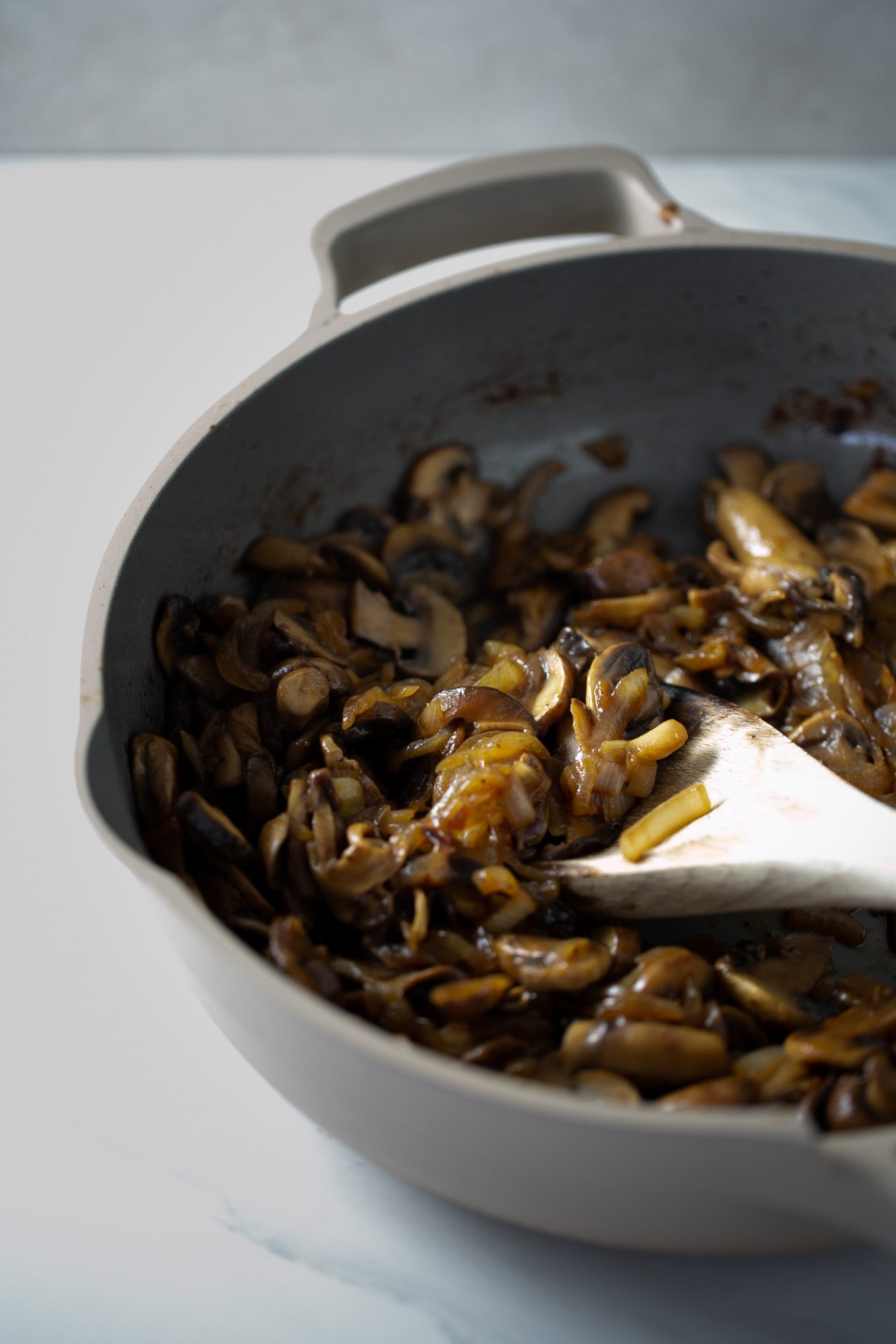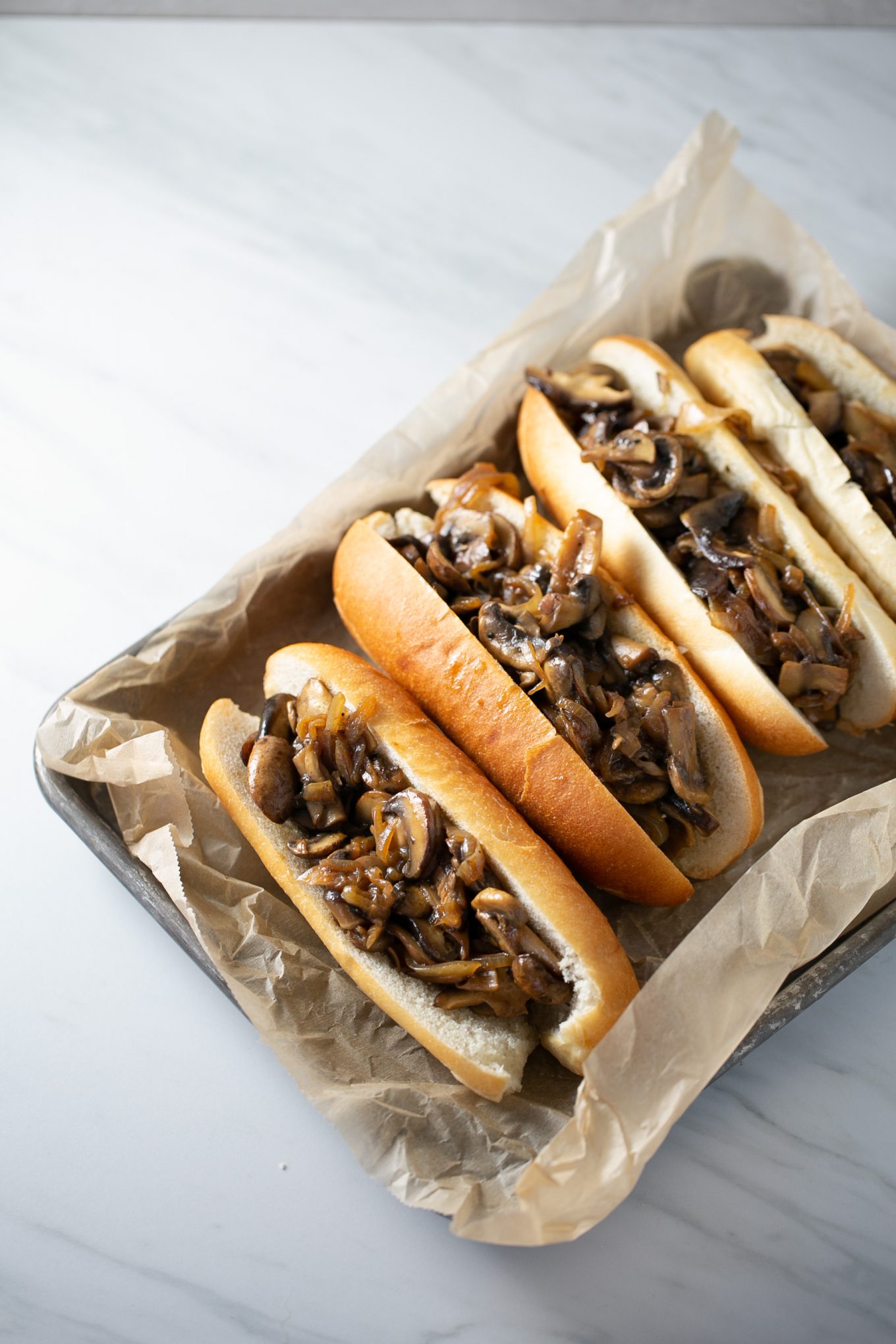 Tips & tricks to make the best sandwich
Please eat the sandwiches immediately; if you leave them for a long time, the filling can make the bread soggy.
You can also add mustard, vegan mayo, pickles, jalapeños, avocado, lettuce, tomatoes, etc.
To melt the cheese and heat them, you can put them in the oven in the broiler function or put them in the toaster oven. I also love grilling the sandwiches.
If you will make them with loaf bread or slices of homemade bread, heat them on a griddle (affiliate link) or frying pan with a bit of oil or vegan butter.
Serve with a simple vinaigrette salad or the raw broccoli apple salad.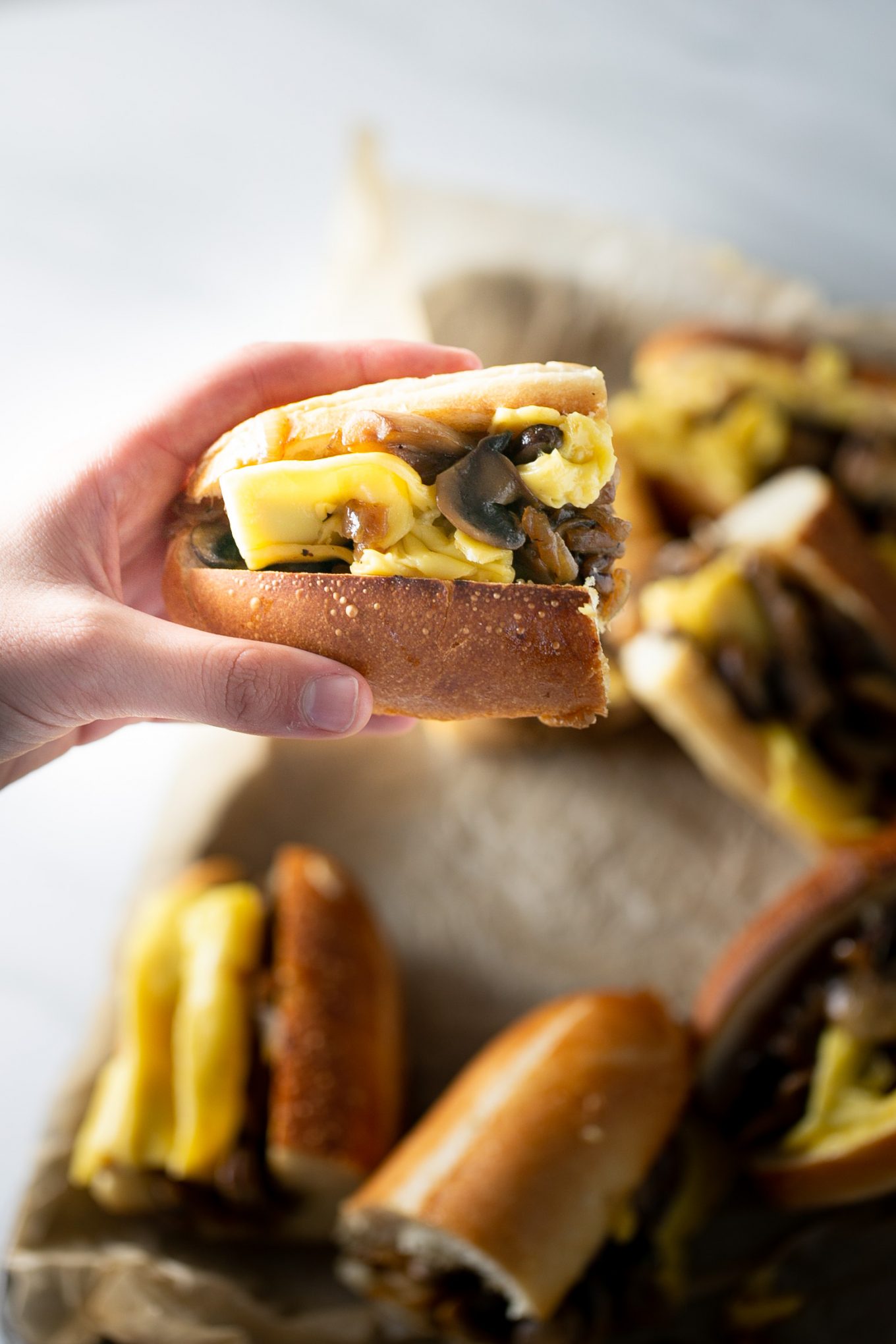 Made and loved this recipe? Give it a ⭐️⭐️⭐️⭐️⭐️ rating below. Let me know if you have questions about this recipe in the comment section or DM me on Instagram. Follow me on Facebook and Pinterest to stay in touch, and don't forget to subscribe to my newsletter.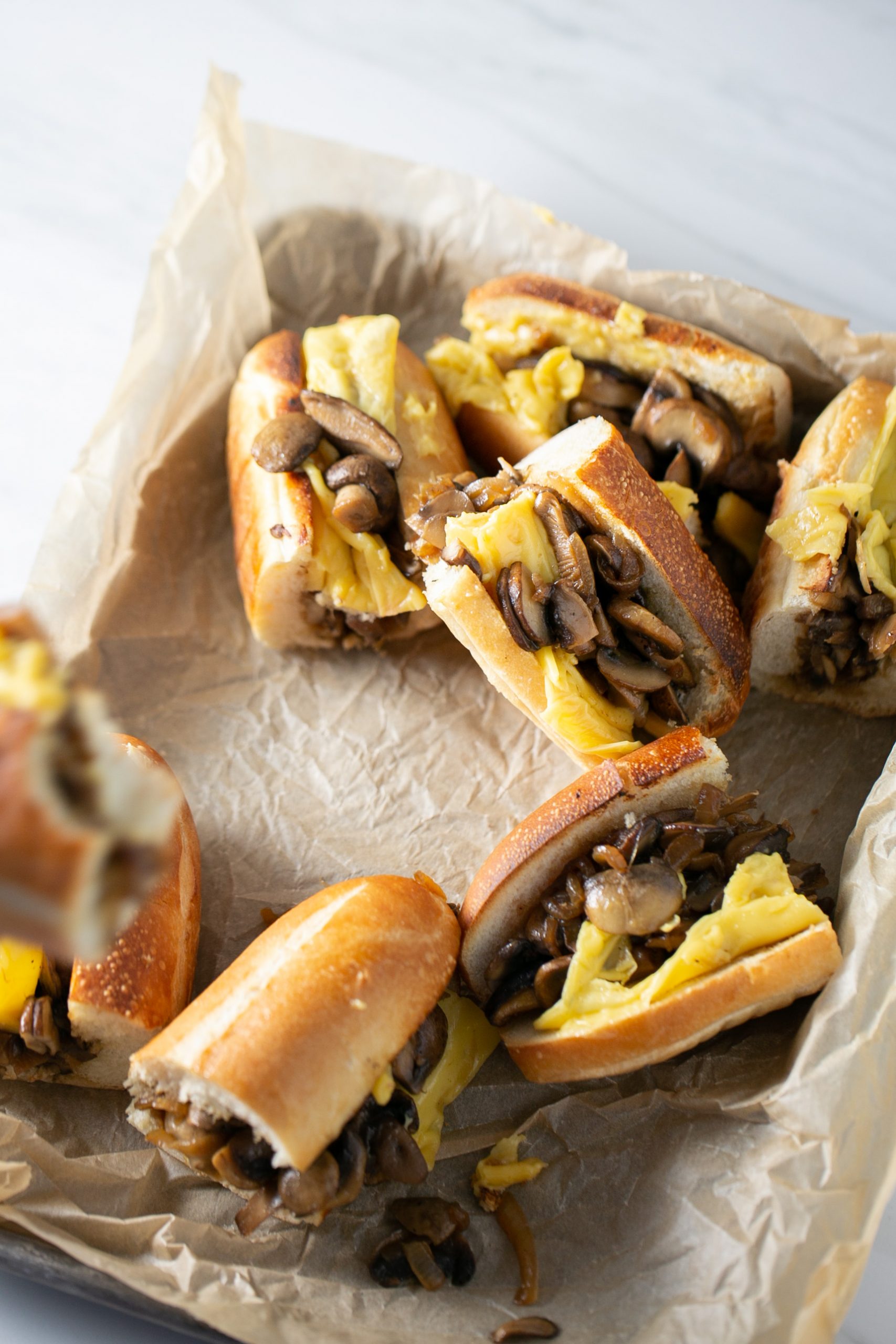 Vegan mushroom and onion sandwich
This mushroom and onion sandwich is super easy to make and is delicious. It is one of the recipes that you learn by heart and it always turns out delicious on days you are in a hurry or don't know what to eat for dinner or lunch.
Ingredients
3

tablespoons

olive oil

32

oz

mushrooms

cremini, Portobello, or a mix

1

large onion

sliced

2

cloves

garlic

sliced

2

tablespoons

soy sauce

pinch

salt

freshly ground black pepper
FOR THE SANDWICH
4

pieces

French bread

4

slices

vegan cheese
Instructions
In a frying pan put the olive oil and turn on the heat over medium heat, leave for a minute. Put the sliced ​​mushrooms, onion, and garlic and sauté for 5-7 minutes or until the onion is transparent and the mushrooms are well cooked.

Add the soy sauce, a pinch of salt, and black pepper to taste. Leave until all the liquid has been absorbed.

To prepare the sandwiches, cut the bread in the center without reaching the other side, fill it with the mushroom and onion mixture. Put a slice of cheese on top and put it in the oven or toaster oven to melt the cheese.
Nutrition
Calories:
228
kcal
Carbohydrates:
17
g
Protein:
9
g
Fat:
16
g
Saturated Fat:
3
g
Sodium:
721
mg
Potassium:
788
mg
Fiber:
4
g
Sugar:
6
g
Vitamin A:
1
IU
Vitamin C:
7
mg
Calcium:
32
mg
Iron:
2
mg
information
Nutritional information of this recipe is only an estimate, the accuracy for any recipe on this site is not guaranteed.

Latest posts by Alejandra Graf
(see all)