Do you believe in magic? Well, get ready to be enchanted because today, we're diving into the irresistible world of homemade peach cobbler. This heavenly dessert delight is a true testament to the power of simplicity and the wonders that can be created in your kitchen.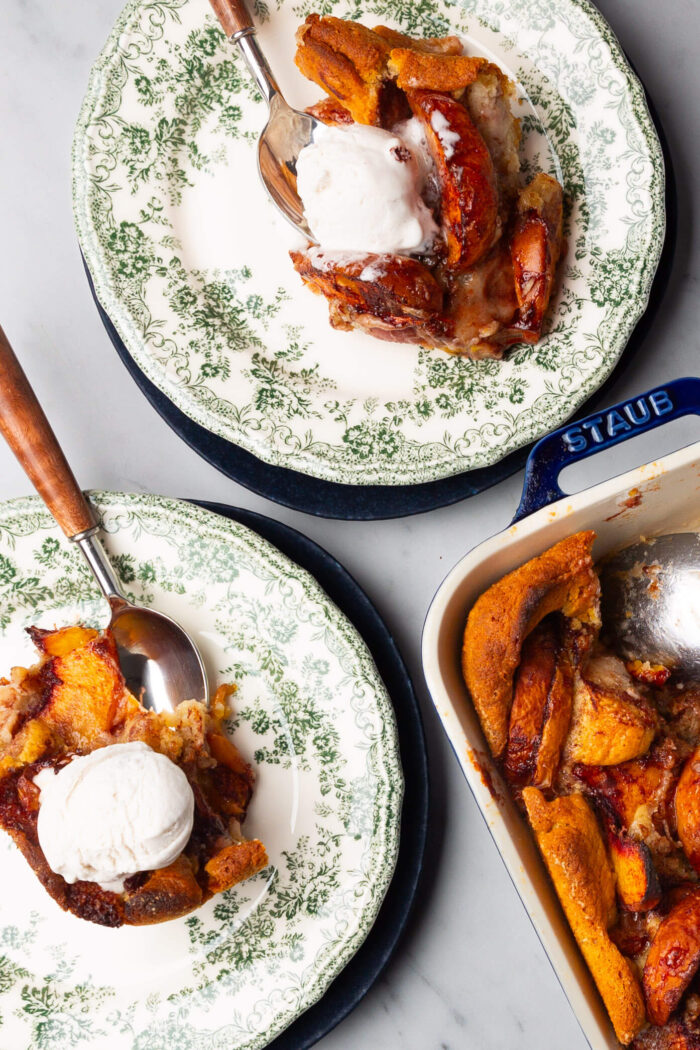 About this recipe
Imagine enjoying a delightful peach cobbler without any animal products. It's a beautiful vegan twist on a beloved classic. Juicy peaches, a buttery crust, and all the traditional flavors you love, but with a cruelty-free touch.
You can make a delicious vegan peach cobbler without dairy or eggs. It's a magical dessert that will leave you amazed! The juicy peaches, a touch of sugar, and a hint of tartness create a burst of flavors that will make your taste buds dance.
Achieving the Perfect Balance of Flavors
The key to a truly exceptional peach cobbler lies in achieving the perfect balance of flavors. To achieve this balance, it's important to use peaches that are perfectly ripe – not too firm or too soft. The sweetness of the peaches should shine through without overpowering the other flavors.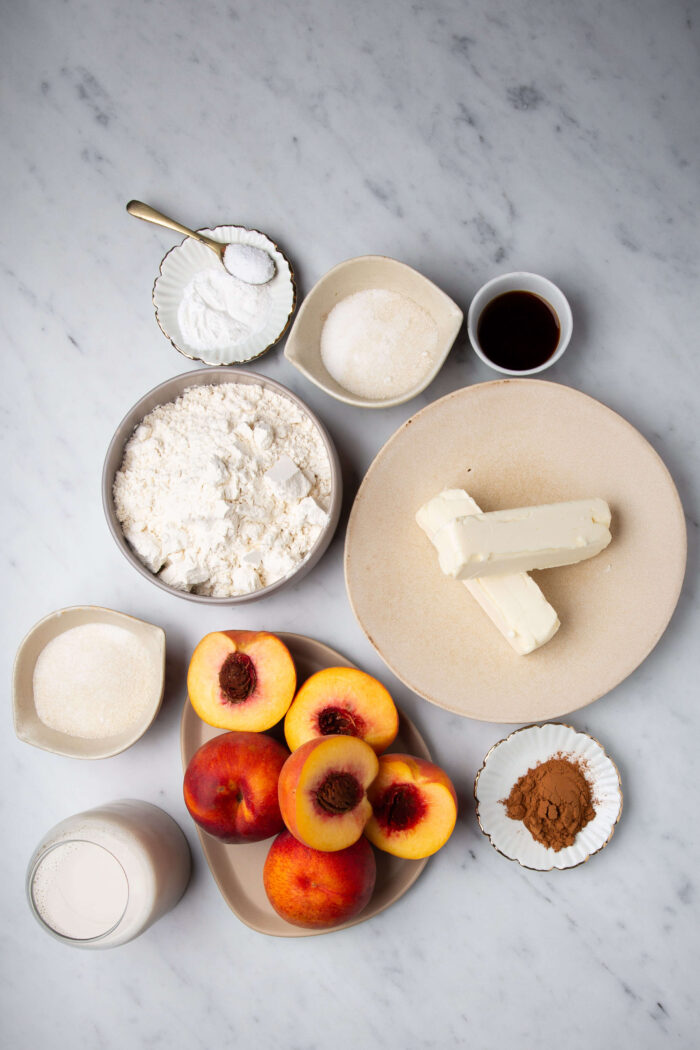 Ingredients
Peaches. To choose the best peaches, look for ones that are firm but not hard, with a slight give when gently squeezed. The skin should be smooth and free of bruises, blemishes or wrinkles. A sweet fragrance is a good sign that the peach is ripe and ready to eat. The color of the peach can vary depending on the variety, so don't be too concerned with color.
All-pourpose flour, baking powder and salt.
Granulated sugar, cane sugar.
Cinammon. Ground cinamoon, you can experiment by adding different warm spices.
Plant-based milk. I used oat milk for this cobbler, but any milk will work great. Use almond milk, cashwe milk or rice milk.
Vanilla, vanilla extract or vanilla paste work great here.
Butter. I used vegan butter. I like Miyokos or Crock Country.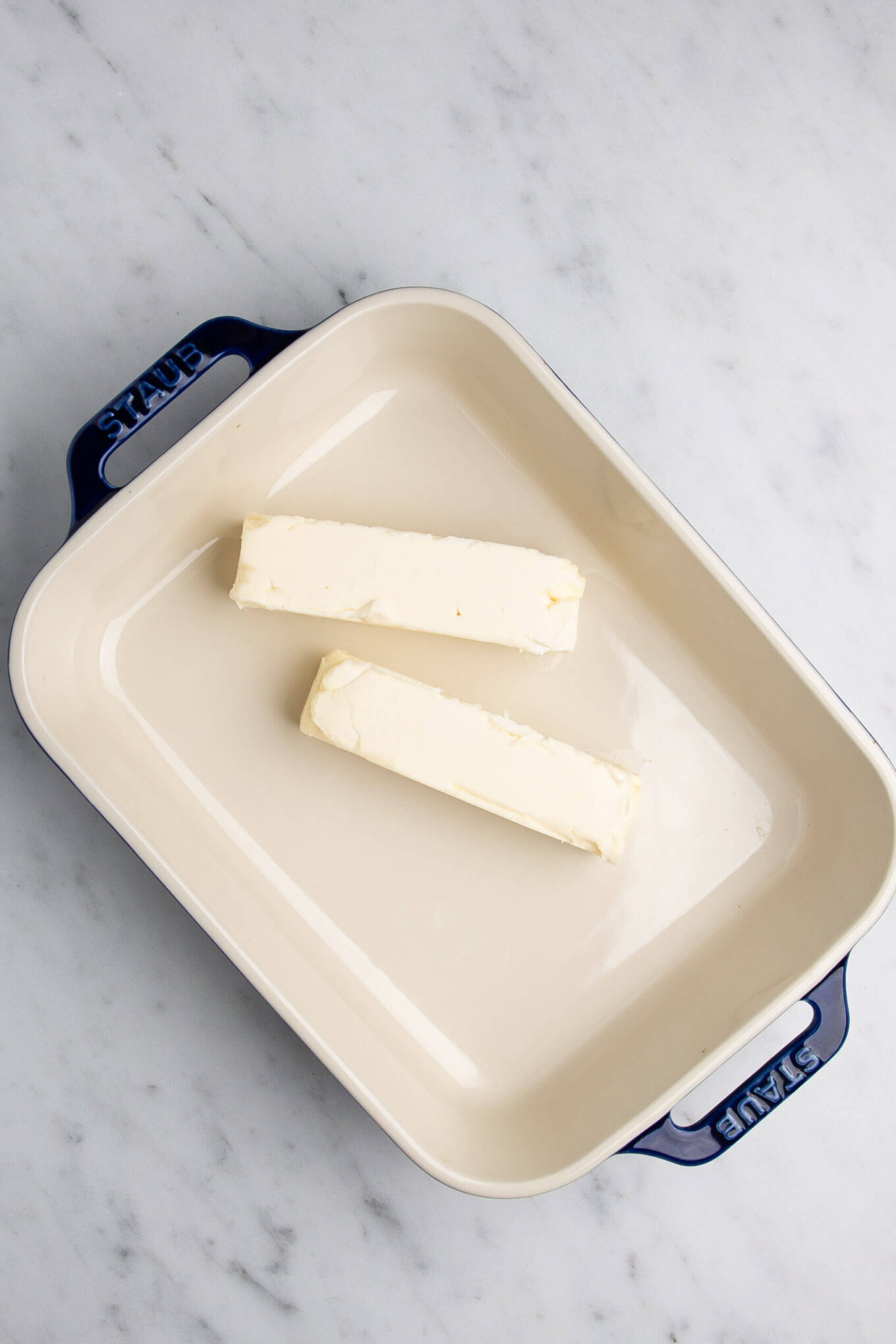 Three Steps for How to Make Peach Cobbler
Making peach cobbler may seem daunting at first, but it's actually quite simple once you break it down into three easy steps: preparing the peaches, making the filling, and baking.
To prepare your peaches, start by slicing them in half, remove the pit and slice each half. I do not peel my peaches, but you could if you wanted to. This can be done easily by blanching them in boiling water for about 30 seconds and then transferring them into an ice bath. The skins should slide off effortlessly after this process.
Next, place the butter in your baking dish (affiliate link) and put itn the oven or microwave to melt it. The next step is to make your filling by combining your sliced peaches with sugar and cinammon. Set aside.
Make the batter by combining the res of the ingredients. Pout the batter over the melted butter and top with the peaches. Place the baking dish (affiliate link) on a bakinsheet and bake at 350º for an hour.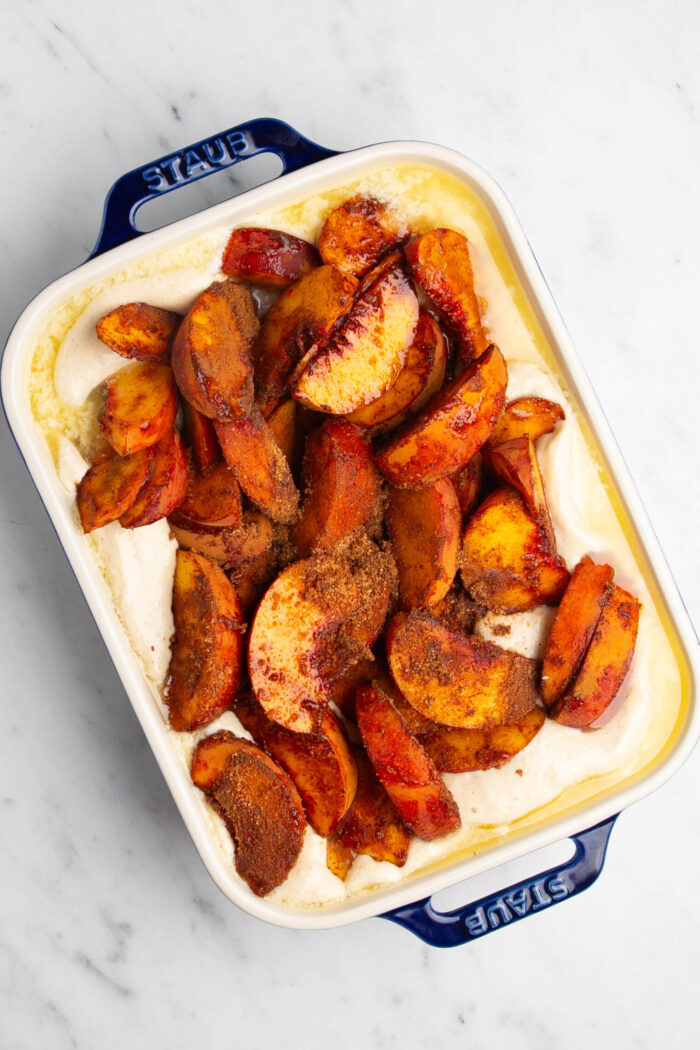 Cobbler Vs. Crisp: What's The Difference?
When it comes to fruit-based desserts, terms like "cobbler" and "crisp" are often used interchangeably. However, there are some subtle differences between these two delicious treats.
A traditional cobbler consists of fruit filling topped with a biscuit-like dough that bakes up fluffy and golden brown. On the other hand, a crisp typically features a fruit filling topped with a crumbly mixture of butter, sugar, flour, and sometimes oats or nuts.
The topping becomes crispy and golden as it bakes, hence the name "crisp." Both desserts are equally delicious and can be made with a variety of fruits, including peaches. The choice between cobbler and crisp ultimately comes down to personal preference.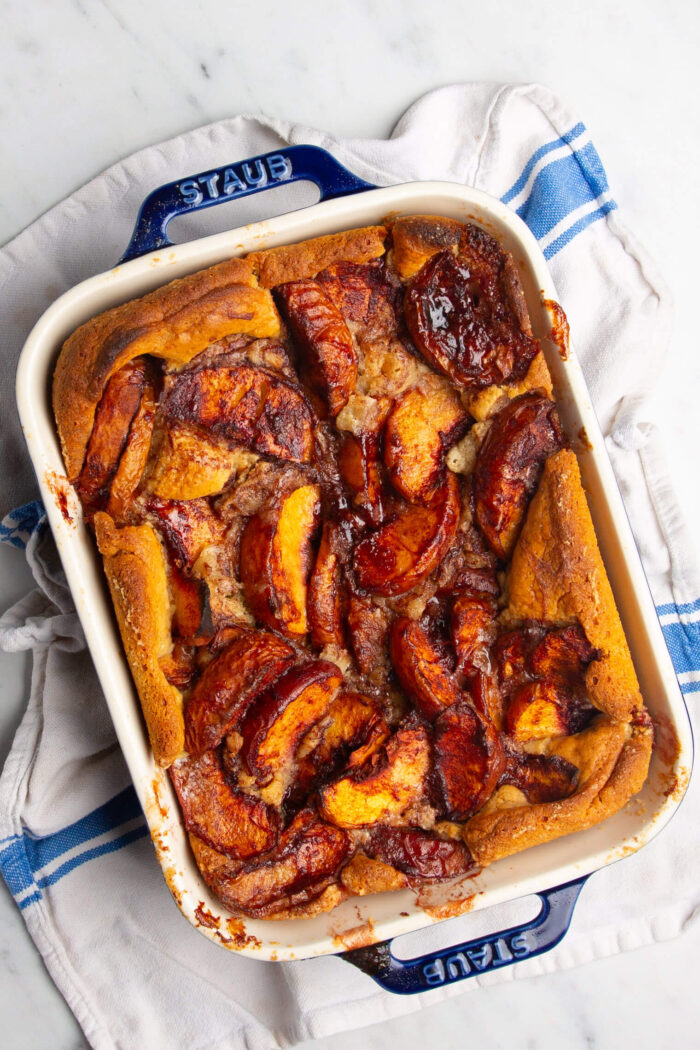 Peach Cobbler: Frequently Asked Questions
Storage Tips
If you have any leftovers (which is unlikely!), you can store your peach cobbler in an airtight container in the refrigerator for up to three days. To reheat, place it in a preheated oven at 350°F (175°C) for about 10-15 minutes or until warmed through.
If you need to store it for a longer time, wrap your peach cobbler tightly in plastic wrap or aluminum foil and freeze it for up to three months to prevent freezer burn.
Other fruit desserts that you will love
Made and loved this recipe? Give it a ⭐️⭐️⭐️⭐️⭐️ rating below. Let me know if you have questions about this recipe in the comment section or DM me on Instagram. Follow me on Facebook and Pinterest to stay in touch, and don't forget to subscribe to my newsletter.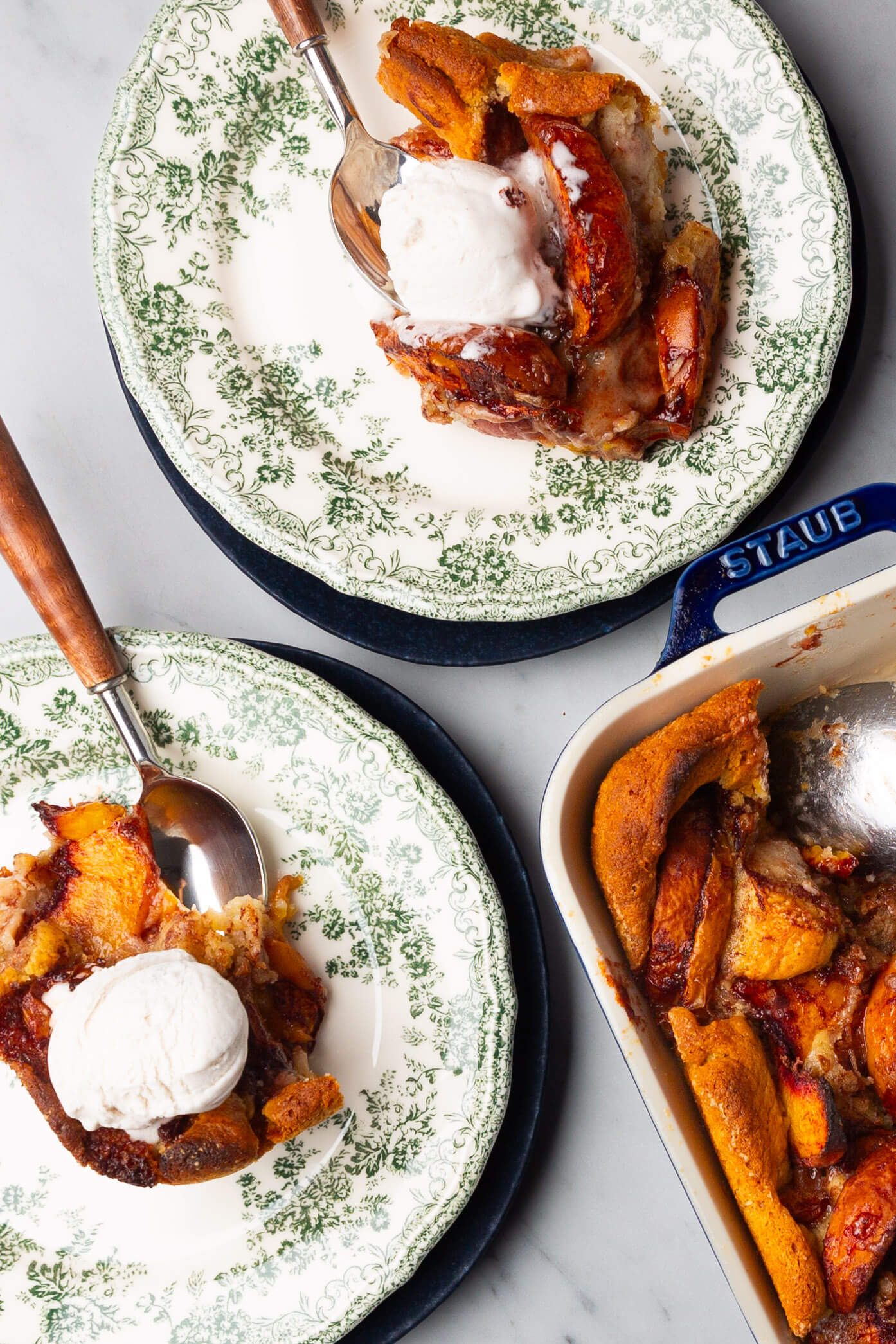 Homemade peach cobbler
Peach cobbler: a classic dessert with juicy peaches and a sweet biscuit-like topping. Seasoned with cinnamon and sugar, served warm with ice cream. Perfect for any occasion!
Ingredients
2

sticks

butter

5-6

large peaches

2 ¼

cups

granulated sugar, divided

1

tbsp

ground cinammon

2

cups

all-purpose flour

1

tbsp

baking powder

1

teaspoon

Kosher salt

2

cups

plant-based milk

1

tbsp

vanilla
Instructions
Preheat your oven to 375°F (190°C). Place the two butter sticks in the baking dish and melt in the oven or microwave.

Slice your ripe peaches and place in a mixing bowl; combine your sliced peaches with ¼ cup sugar and cinnamon. Set aside.

Prepare your vegan cake mix by combining flour, 2 cups sugar, baking powder, and salt in a separate bowl. Add the milk and mix carefully.

Pour the mix over the melted butter.

Pour the fruit into the cake mix and bake it for precisely one hour.

It will be ready when the cake edges are golden and the filling is bubbling. Let it rest for 10-15 minutes before serving.
Notes
I like placing the baking dish over a baking sheet to prevent spillage on my oven.

The dish is ready to be served when the filling is boiling, and the edges turn dark golden. The bubbling filling indicates that the dish is perfectly cooked and ready to be savored.

Be EXTRA careful when taking it out of the oven; it will be scorching hot.
This recipe is adapted from this Brown Butter Peach Cobbler from Bon appetite.
Nutrition
Serving:
1
serving
Calories:
410
kcal
Carbohydrates:
97
g
Protein:
5
g
Fat:
1
g
Saturated Fat:
0.1
g
Polyunsaturated Fat:
0.2
g
Monounsaturated Fat:
0.1
g
Cholesterol:
0.03
mg
Sodium:
334
mg
Potassium:
337
mg
Fiber:
3
g
Sugar:
69
g
Vitamin A:
432
IU
Vitamin C:
4
mg
Calcium:
171
mg
Iron:
2
mg
information
Nutritional information of this recipe is only an estimate, the accuracy for any recipe on this site is not guaranteed.

Latest posts by Alejandra Graf
(see all)