Aguachile is a cold Mexican seafood or fish dish. It's fresh, with bright flavors, and perfect for hot summer days. I don't know if you have tried aguachile, but if not, you have to try it.
And, if you've eaten this type of Mexican ceviche, do you already know the vegan version of aguachile?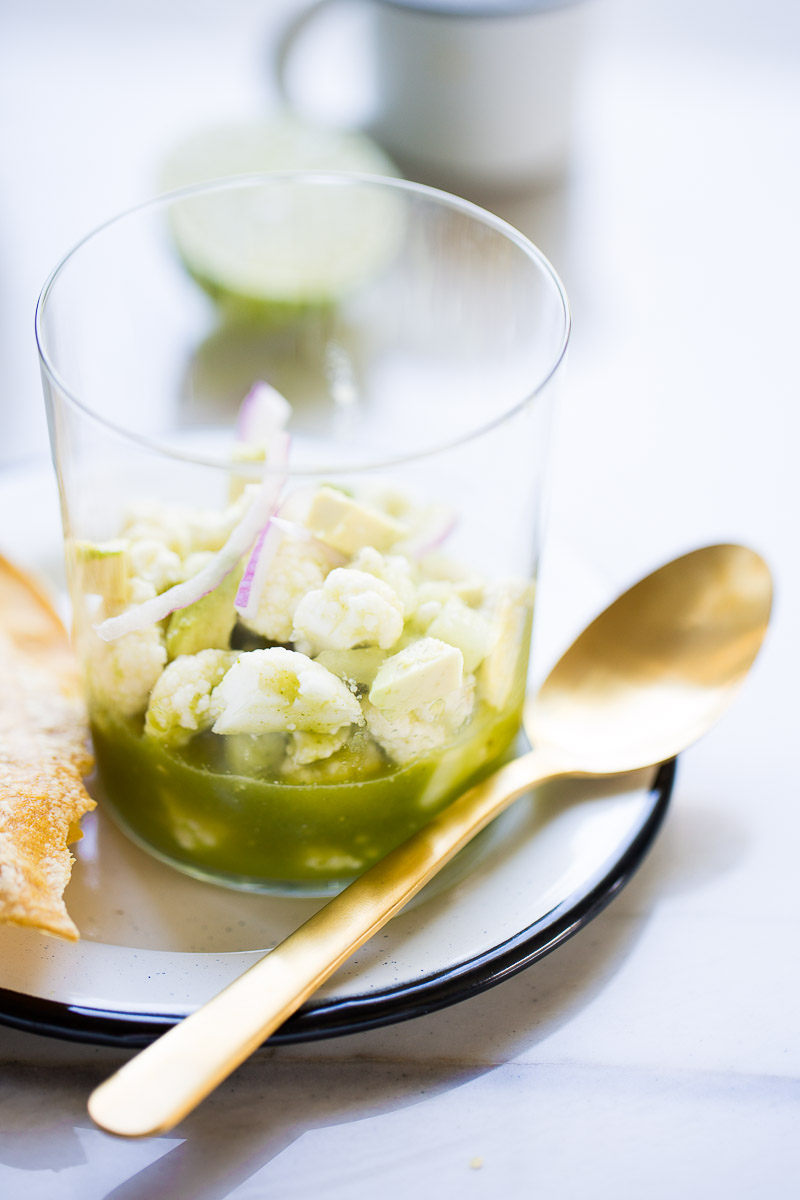 What is aguachile?
It is an amazing Mexican dish. Think of it as a type of saucy ceviche. It is normally made with raw fish or shrimp, but unlike ceviche, the protein is not left in the lime sauce to "cook" for 15 minutes. Aguachile is meant to be served immediately after preparing it.
The sauce is super fresh and made with lime juice, chile, cilantro, and cucumbers. It is bright, easy, and full of vitamins and minerals, the kind of food that makes you feel full of energy and even makes you want to dance a bit, total happiness in every bite.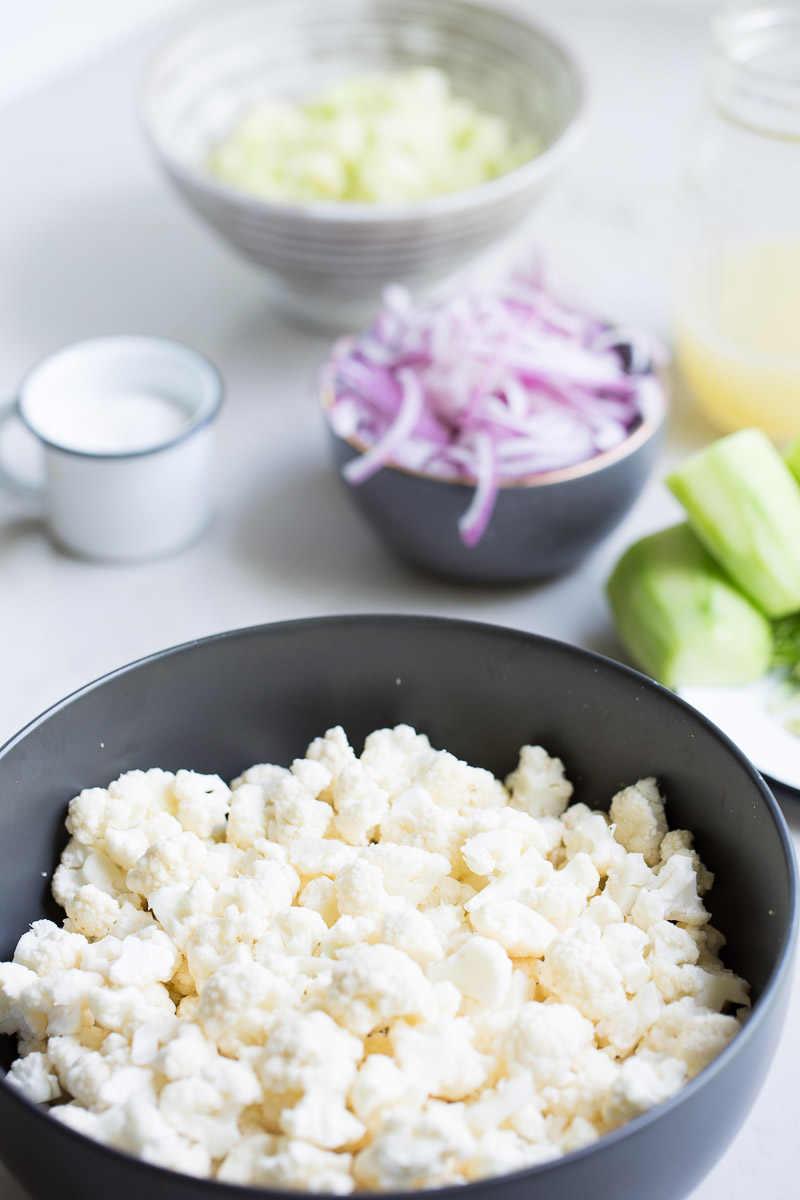 Why I love vegan aguachile
It can be eaten as a starter, as a snack, or as you like. It is also perfect for making when you have guests since the longer it is in the refrigerator, the richer it tastes. So you can prepare it in advance.
My version has the same vibrant ingredients in a sauce as the traditional Mexican dish. But my version is vegan, and its main ingredient is cauliflower, absolutely delicious.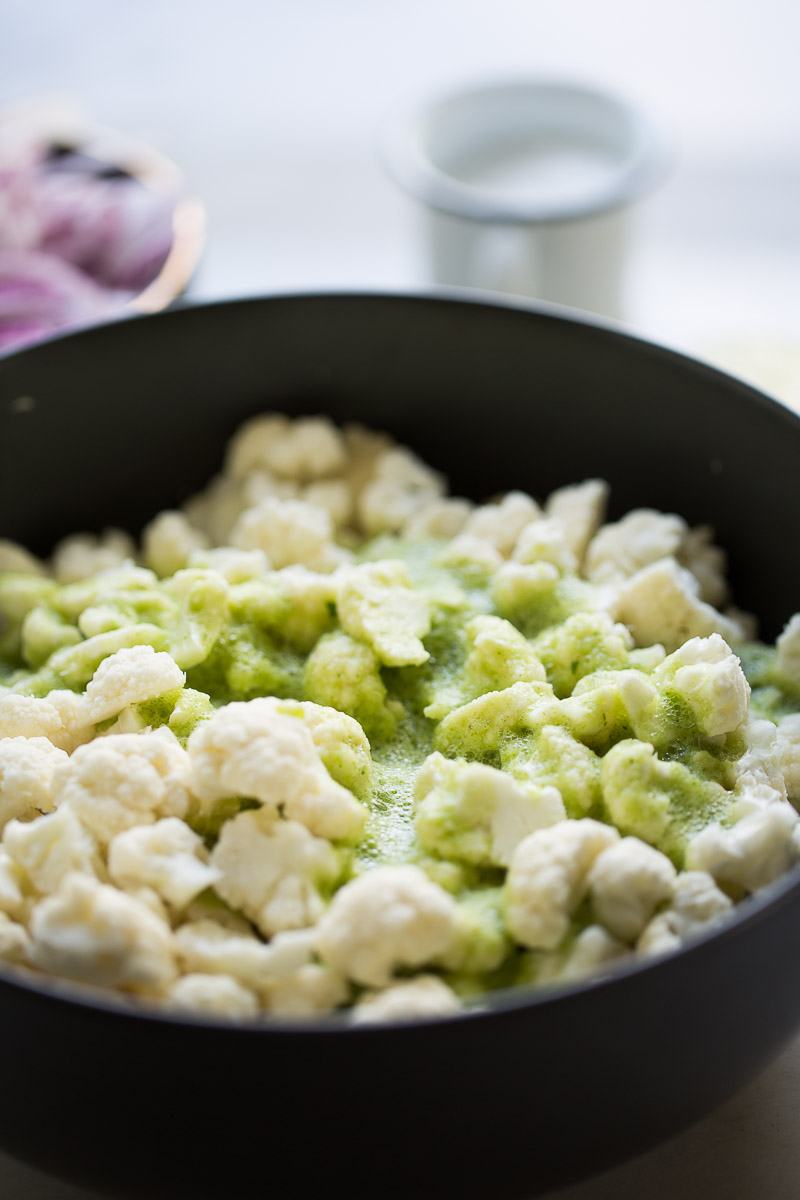 Just imagine tiny raw cauliflower florets with an amazingly fresh and spicy lime sauce with crunchy cucumber and red onion slices. Sounds good, right?
An all served over tostadas (hard corn tortillas) with diced avocado and a very cold drink on the side. It is like the perfect lunch or appetizer for a hot sunny day.
"In this post, you'll learn how to make vegan aguachile, a classic Mexican dish veganized."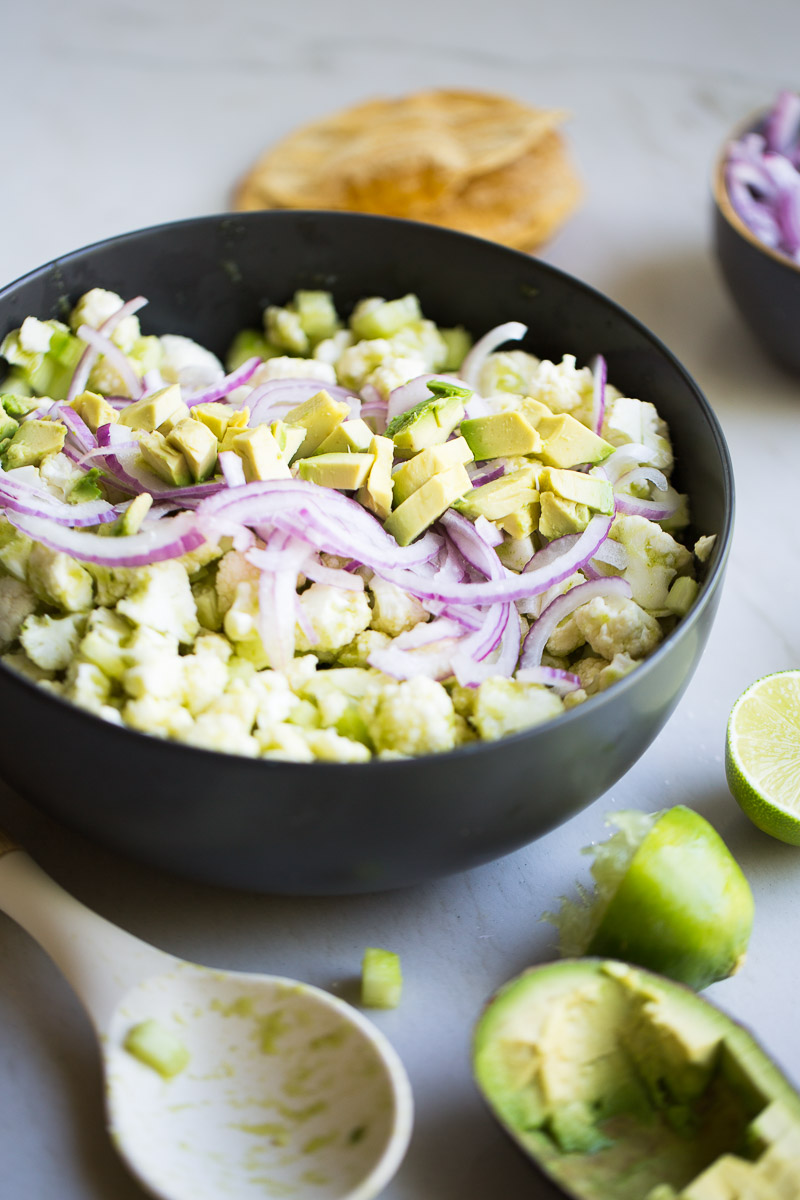 INgredients to make cauliflower aguachile
Coliflower, the stem of the cauliflower and all the other bits you can save them to make soup or put them in a rice. For this recipe you only need the florets.
Cucumber divided in two (peeled if not organic), in this recipe I like to use English cucumber or Turkish cucumber, as they have less seeds.
Cilantro, fresh and you can use the stems without problem, they give a lot of flavor.
Lime Juice
Chile serrano. The sauce has serrano peppers, but if you are looking for a less spicy dish, use jalapeño peppers. If you want it super spicy, add habanero peppers. If you only want the flavor of the chilies but not so hot, before putting the chili in the blender remove the seeds and the veins.
HOW TO MAKE VEGAN AGUACHILE
For everything you cook to taste delicious, it is important that you start with the best ingredients. It is important that the ingredients are as fresh as possible, especially in this type of raw recipe.
The second step is to cut the cauliflower into large florets to separate them from the thick stem. From there, go cutting each foil into smaller foils.
The third step is to make the sauce, and the last step is to put everything on a plate.


Remember that the heat of the chili stays in your hands, when you work with it, do not touch your face, eyes or anything.

Wear disposable gloves or wash your hands super well.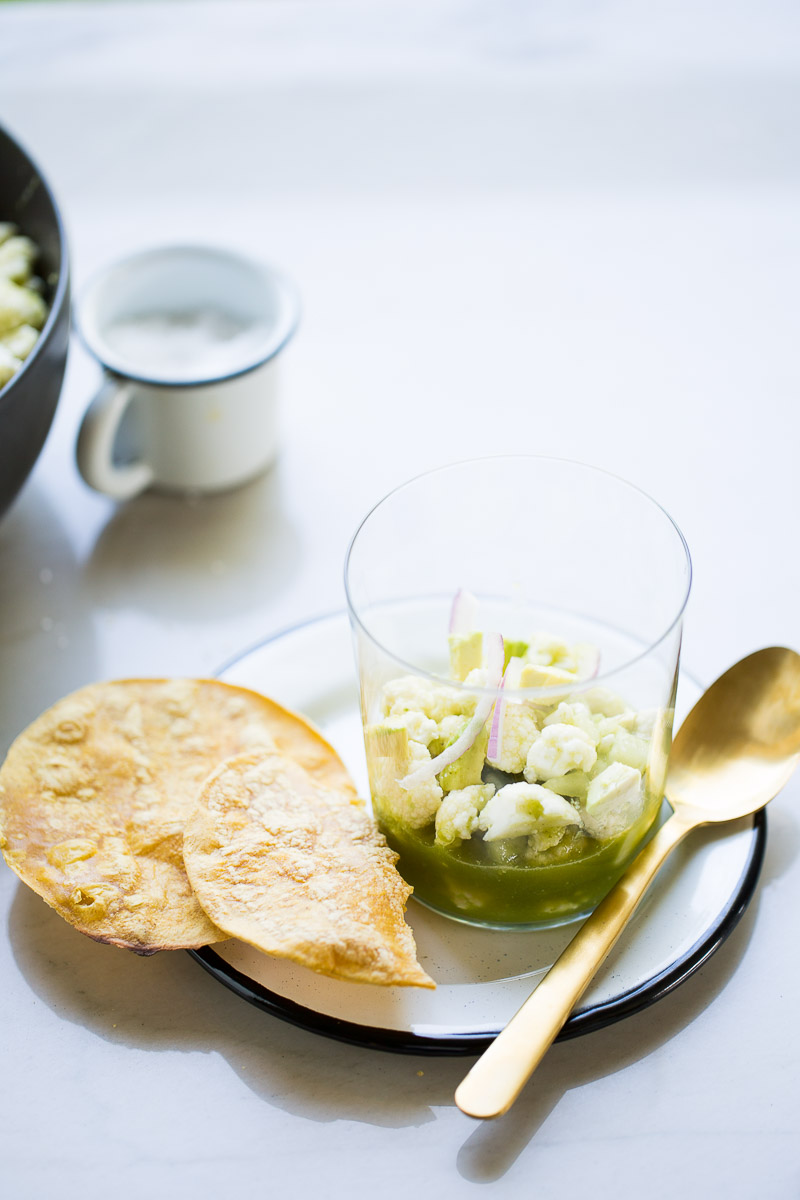 TIPS & TRICKS
In this list, you will find some tricks on how to make the best vegan aguachile without fish or shrimp. Also, you will find some ideas on how to serve it, with what and when.
To get the best flavors for this vegan Mexican dish, start with the freshest ingredients you can find. This is a raw dish so it is important to get the BEST ingredients.
Start by cutting the cauliflower into florets. This dish comes together really fast after cutting the cauliflower and you want to eat it almost immediately.
Ths sauce calls for serrano chili pepper but please feel free to substitute with jalapeños or even habanero peppers.
If you do not want it very spicy you can remove the seeds from the chile. It is better if you use plastic gloves to do this. If you do not use plastic gloves to remove the seeds DO NOT TOUCH your face, wash your hands immediately.
How to serve vegan aguachile
I love to eat this vegan Mexican dish with tostadas. To make them just heat corn tortillas a little longer over on the stove directly over a gas burner, o place them in the oven at a very low temperature until crispy.
You could also serve it with storebought corn tortilla chips.
Other vegan Mexican recipes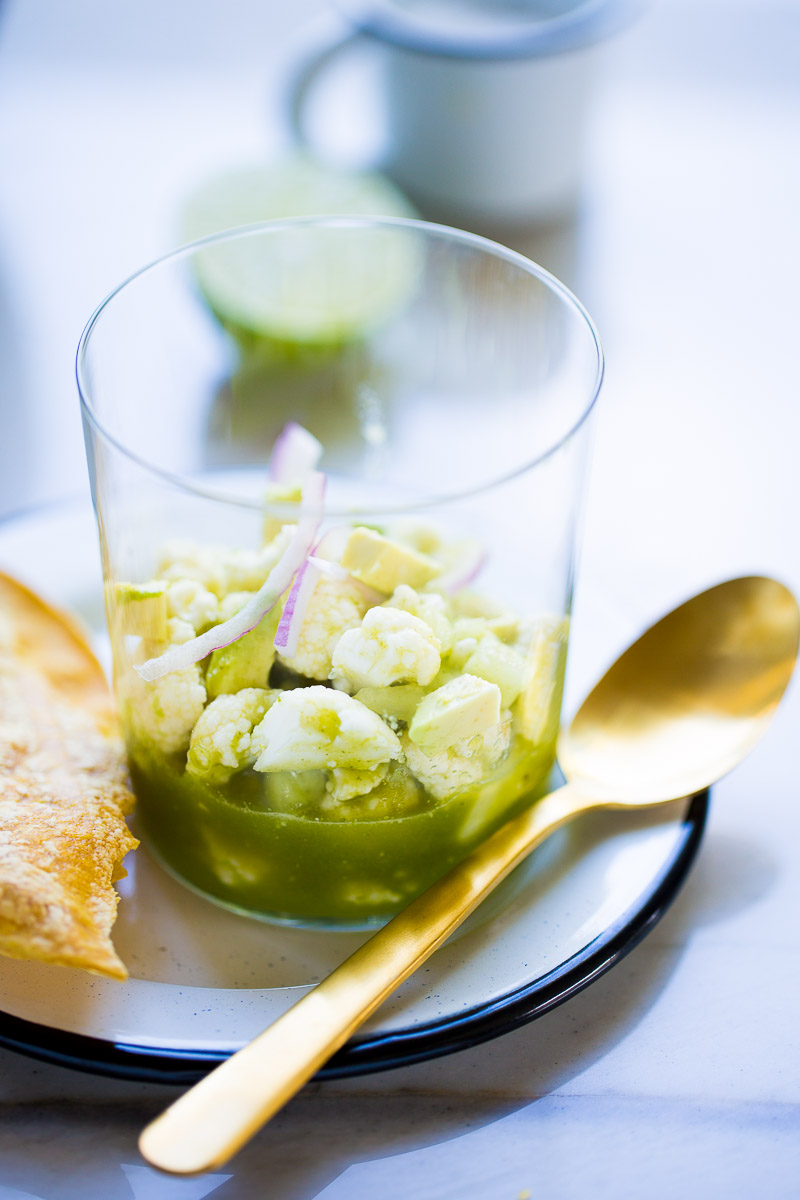 Cauliflower vegan aguachile
The traditional aguachile recipe calls for raw shrimp or raw fish. I use cauliflower instead of seafood.
Ingredients
1

cauliflower cut in florets

1

cucumber divided in two

(peeled if not organic)

1/2

cup

cilantro

1/2

cup

lemon or lime juice

1

chile serrano

1

clove

garlic

1/2

teaspoon

salt

1/2

red onion thinly sliced

1

avocado

diced
Instructions
Cut the cauliflower head into very small pieces and put them in a large bowl, set aside.

In the blender container put the lemon juice, salt, half cucumber, cilantro garlic clove and serrano chile. Blend for three minutes and pour over the cauliflower florets. Try and adjust for seasoning if necessary.

Cube the other half of the cucumber into small pieces and put them with the cauliflower. Stir well and finish with the red onion slices and the avocado pieces.

Serve with corn tortillas, tostadas or corn chips.
Notes
You could add more or less serrano pepper depending on the level of spiciness you want.
Nutrition
Calories:
93
kcal
Carbohydrates:
11
g
Protein:
3
g
Fat:
5
g
Saturated Fat:
1
g
Sodium:
227
mg
Potassium:
558
mg
Fiber:
5
g
Sugar:
4
g
Vitamin A:
184
IU
Vitamin C:
61
mg
Calcium:
34
mg
Iron:
1
mg
information
Nutritional information of this recipe is only an estimate, the accuracy for any recipe on this site is not guaranteed.

Latest posts by Alejandra Graf
(see all)