This banana pineapple smoothie is an excellent choice for a quick and nutritious breakfast or a healthy snack. The combination of pineapple and banana creates a sweet, tropical flavor that will truly transport you to an island paradise.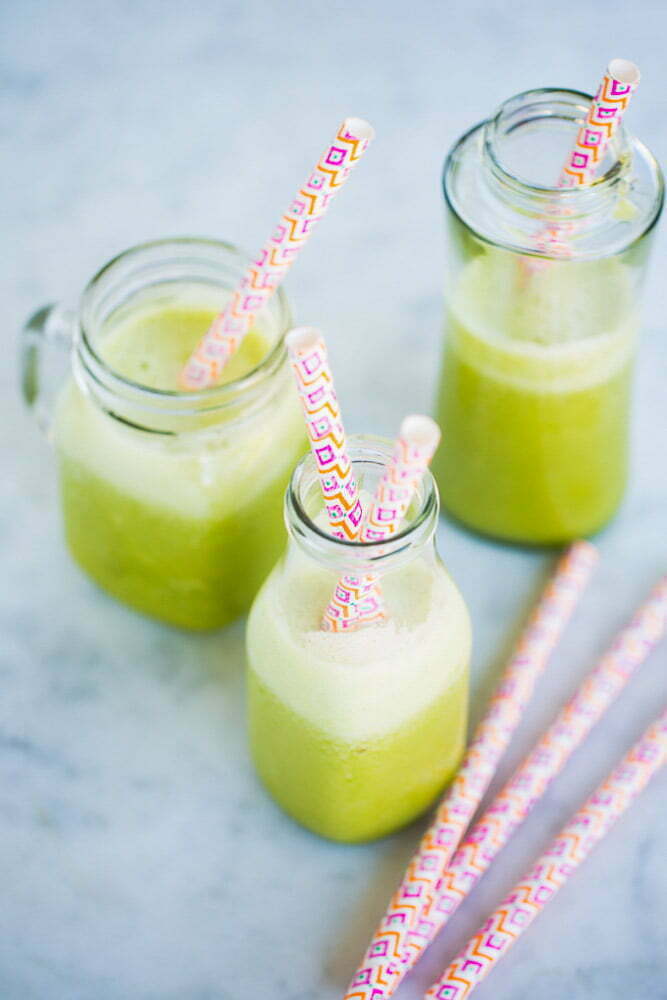 about this recipe
This drink is rich in vitamins and nutrients that will help you stay hydrated and energized throughout the day. It is easy and very quick to make, and the best part is that you can make it with frozen pineapple and canned coconut milk or coconut water.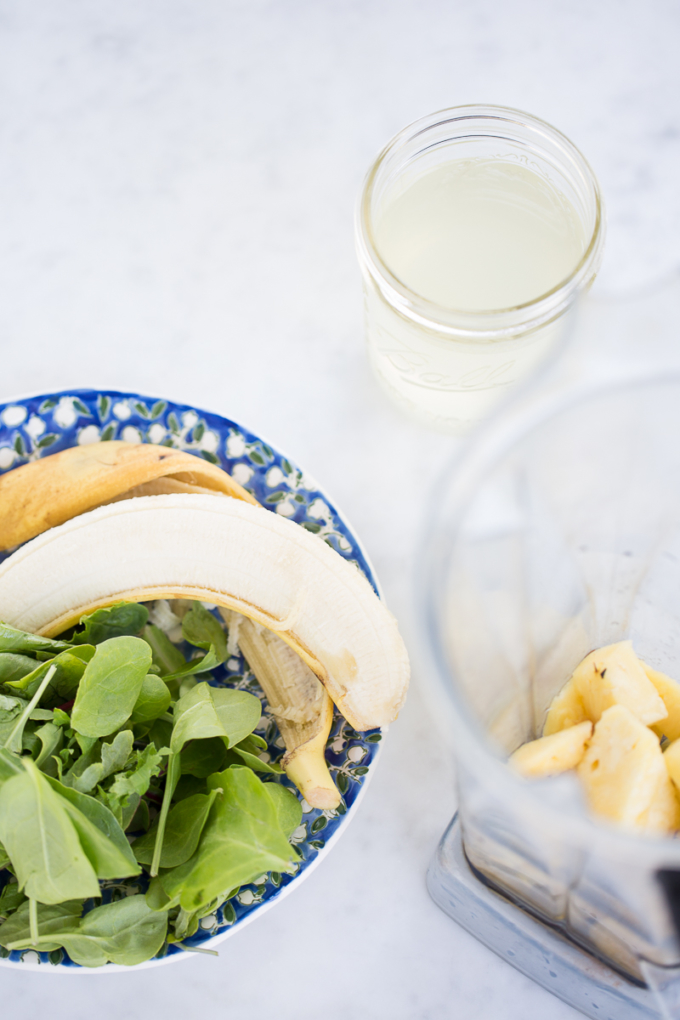 Pineapple smoothie ingredients
Pineapple. Use fresh pineapple or frozen pineapple. When there is fresh pineapple in the house, I like to store some in the refrigerator and freeze the rest. This way, I am always prepared to make a smoothie or juice. You can also use already-cut frozen pineapple.
Banana.
Coconut water. Use coconut water, coconut milk, or coconut cream. If you use coconut cream, add one cup of water.
Greens. Add a handful of spinach, avocado, or kale. The idea is to have more and more nutrients. Leafy greens are always best.
---

Tips for buying the best coconut water
Read the label: As with any food product, it is important to read the label on the bottle of coconut water for ingredients and nutritional information. Make sure it does not contain added sugars or other artificial additives.
Look for 100% natural coconut water: The best option is to buy 100% natural coconut water, which does not contain additives or preservatives. These options often come in glass containers (affiliate link) and can be more expensive, but they are worth it for their quality.
Check the expiration date: Be sure to check the expiration date on the bottle before purchasing. Natural coconut water has a limited shelf life and can spoil quickly if stored incorrectly.
Choose organic coconut water: If possible, choose organic coconut water. This means that sustainable farming practices have been used, and no toxic pesticides or herbicides have been used.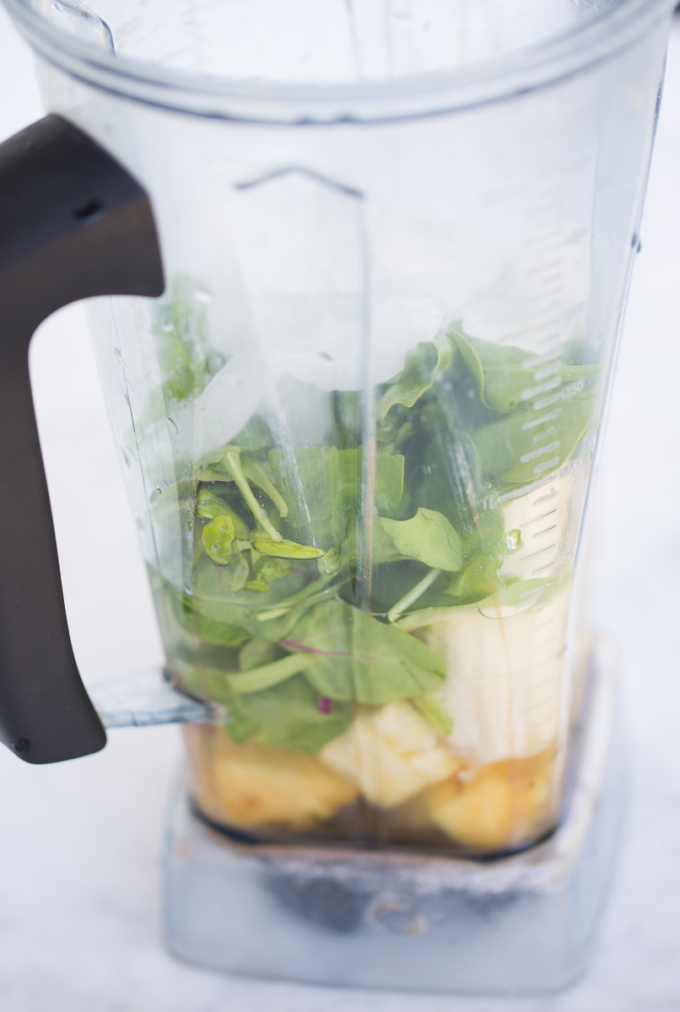 How to make the best smoothie
Put all the ingredients in the blender and let it run until everything is smooth. It is best to start by adding the liquid and then the rest of the ingredients.
Using a high-speed blender (such as a Vitamix (affiliate link)) for this pineapple smoothie is best. If you don't have one, strain the smoothie before serving it with a medium strainer.
Add vegan protein
Add vegetable protein powder to this vanilla-flavored smoothie.
You can also add hemp or walnut seeds.
Add vegan Greek yogurt; look for vegan coconut or almond yogurt.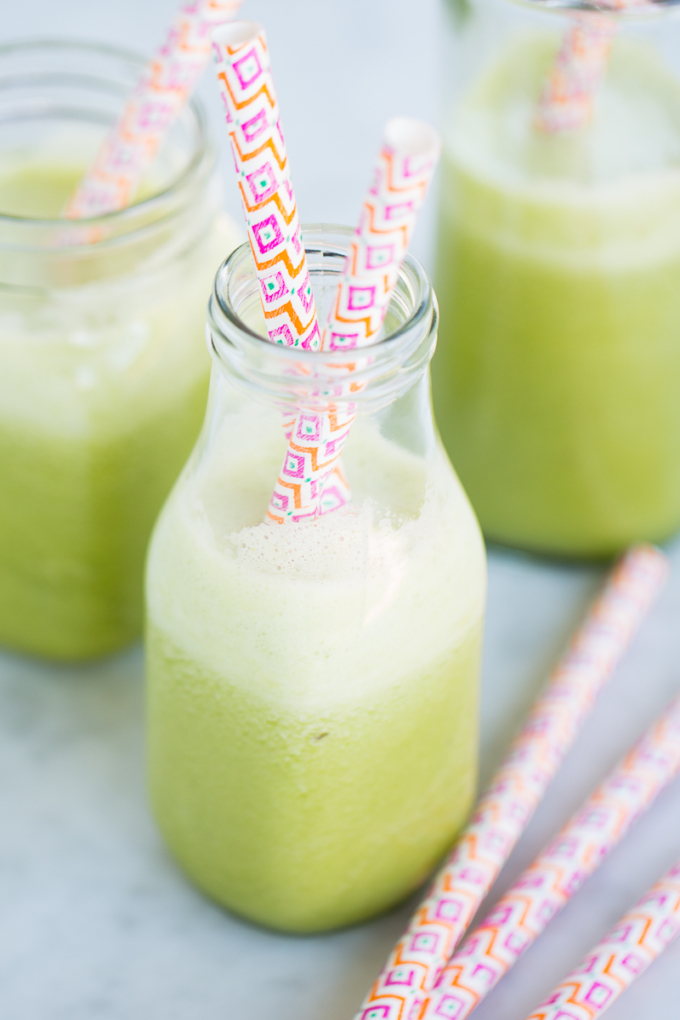 Benefits of pineapple smoothie
Pineapple, banana and coconut smoothie is a delicious and nutritious drink that can provide many health benefits.
Hydration: Pineapple, banana, and coconut are fruits rich in water and electrolytes, making this smoothie an excellent choice for staying hydrated.
Rich in vitamins and minerals: Pineapple is rich in vitamin C, banana is a good source of potassium, and coconut milk contains calcium and magnesium.
Source of fiber: Bananas and pineapple are rich in fiber, which can help regulate the digestive system and prevent constipation.
Powerful antioxidant: Pineapple contains digestive enzymes and antioxidants, such as bromelain, which can help reduce inflammation and prevent cell damage.
Helps muscle recovery: Bananas are a good source of carbohydrates and potassium, which can help replenish energy levels and reduce muscle fatigue after exercise.
Improves mood: Bananas are a good source of tryptophan, an amino acid converted into serotonin, the feel-good hormone. This can help improve mood and reduce stress and anxiety levels.
Other recipes you may like
¿Hiciste esta receta y te encantó? ¡Dale ⭐️⭐️⭐️⭐️⭐️! Déjame saber si tienes preguntas sobre esta receta en la sección de comentarios o envíame un mensaje privado en Instagram. Síguenos en Facebook y Pinterest para seguir en contacto, y no se te olvide suscribirte a mi boletín.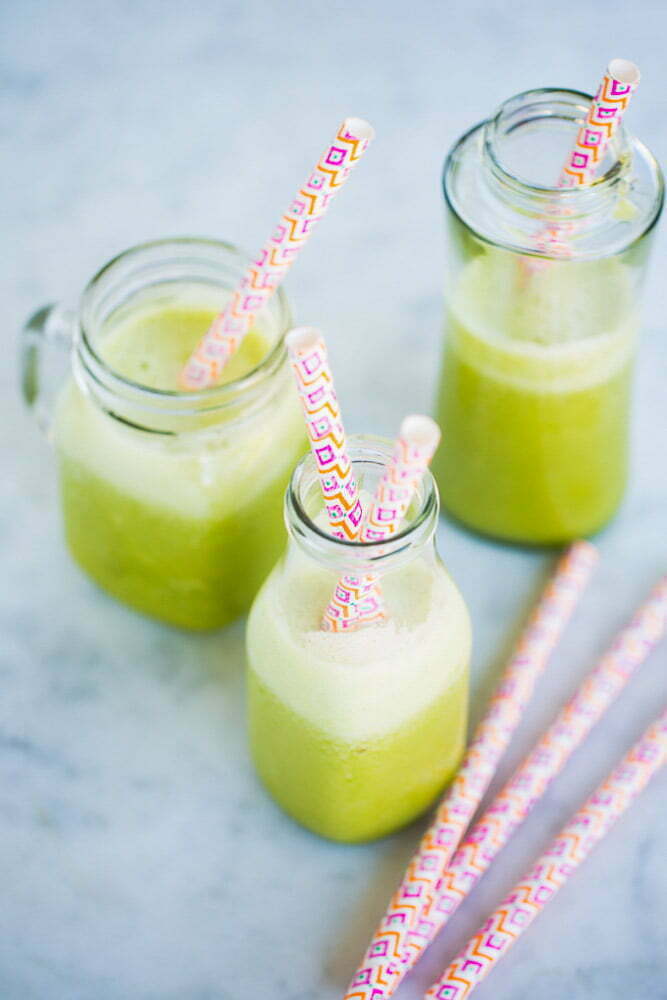 PINEAPPLE, BANANA AND COCONUT SMOOTHIE
This smoothie is an excellent option for a quick and nutritious breakfast or as a healthy snack. The combination of pineapple and banana creates a tropical and sweet flavor that will transport you to an island paradise. In addition, this drink is rich in vitamins and nutrients that will help you stay hydrated and energized throughout the day.
Ingredients
1

banana

1

cup

of diced pineapple

1½

cup

coconut water

1

huge handful of green leaves
Instructions
Blend everything until creamy and delicious.
Notes
If the pineapple or banana is not frozen, add ice to the blender or serve it over ice.
Like all smoothies, it is best served immediately. If you are going to save it, store it in a covered container in the refrigerator.
Nutrition
Serving:
2
serving
Calories:
132
kcal
Carbohydrates:
32
g
Protein:
3
g
Fat:
1
g
Saturated Fat:
0.4
g
Polyunsaturated Fat:
0.1
g
Monounsaturated Fat:
0.05
g
Sodium:
233
mg
Potassium:
896
mg
Fiber:
5
g
Sugar:
20
g
Vitamin A:
1288
IU
Vitamin C:
55
mg
Calcium:
79
mg
Iron:
1
mg
information
Nutritional information of this recipe is only an estimate, the accuracy for any recipe on this site is not guaranteed.

Latest posts by Alejandra Graf
(see all)