Discover the magic of blending spices to make golden milk: an ancient drink with incredible health benefits. This spice blend is perfect for golden milk, golden coffee, or golden milkshake.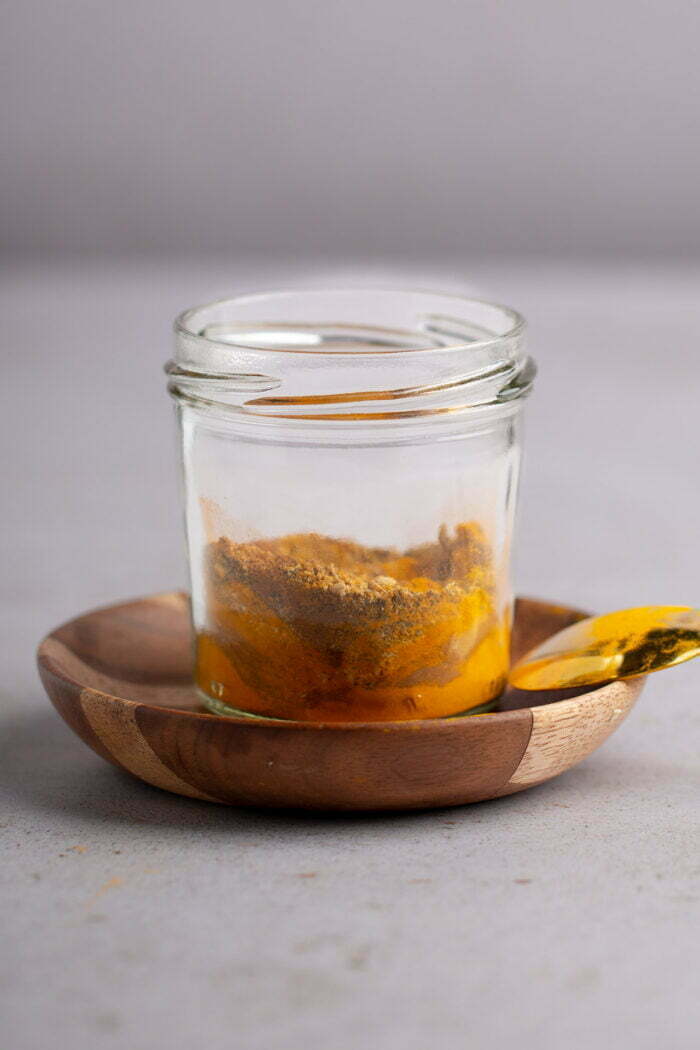 What is golden milk?
Golden milk is a traditional drink that has been used for centuries in Ayurvedic medicine for its numerous healing properties.
This delicious drink combines milk with a unique blend of spices, mainly turmeric, which gives it its characteristic golden color and powerful health benefits.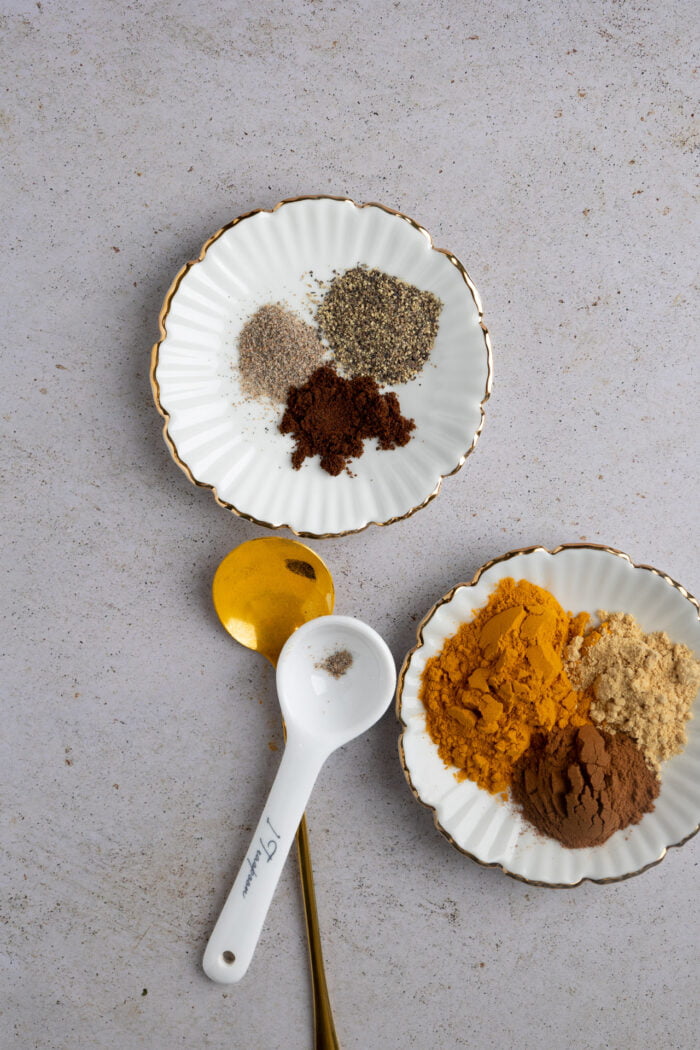 Ingredients to make the golden spice mix
Turmeric. Turmeric is a spice grown in South Asia, which is widely used in gastronomy and traditional medicine. Its active ingredient, curcumin, is an antioxidant and anti-inflammatory that helps prevent and treat chronic diseases.
Turmeric is the main and most important ingredient in golden milk, as it gives it its golden color and provides most of its health benefits.
Black pepper. Curcumin is very important for the body, but it is not well absorbed in the body. Black pepper helps our body to take full advantage of the curcumin in turmeric. Piperine can increase the effect of curcumin by up to 2000%.
Ginger. Ginger helps regulate bloating, gas, and stomach upset. It also has anti-inflammatory properties, which can help reduce inflammation, complementing the effects of turmeric in golden milk.
Ginger adds a spicy and refreshing touch to the golden milk, which enhances the flavor of the beverage and creates a complex and delicious flavor profile. Ginger, turmeric, black pepper, and other ingredients create a harmony of flavors that make golden milk a unique and comforting drink.
Cinnamon, cloves, and cardamom powder. Like the other spices, they also have many properties, and they also have sweet flavor notes.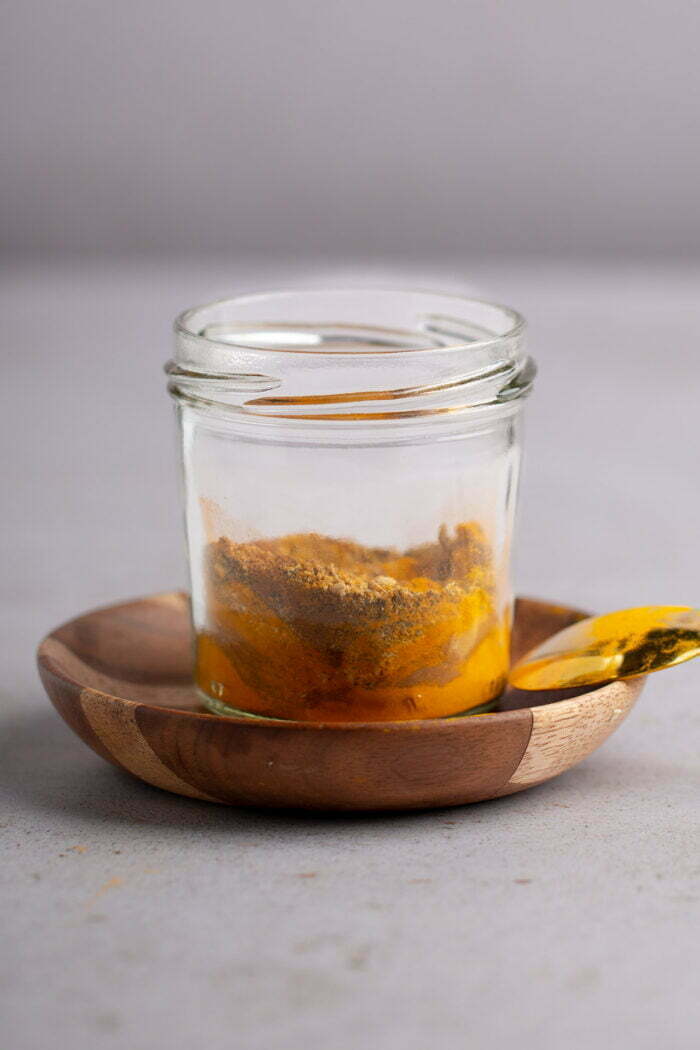 How to use the golden spice mix?
The golden spice blend, known for its health properties and rich flavor, is very versatile and easy to use.
Classic golden milk: to a glass of almond milk or the vegetable milk of your choice, add a teaspoon of golden spice mix and stir well. If you want to add maple syrup, mix and enjoy.
Shakes and smoothies: Add a teaspoon or two of golden spice mix to your favorite smoothies. The mixture goes well with fruits such as banana, mango and pineapple, as well as spinach and other green leafy vegetables.
Oatmeal: Add 1/2 to 1 teaspoon of golden spice to your hot oatmeal or porridge.
Salad dressing: Add 1/2 teaspoon of golden spice mix to your salad dressings, such as olive oil and lemon vinaigrette, to add an exotic and healthy touch to your dishes.
Rice and grains: Add a teaspoon of golden spice mix to the cooking water of rice, quinoa, couscous, or other grains to give them a unique flavor and golden color.
Made and loved this recipe? Give it a ⭐️⭐️⭐️⭐️⭐️ rating below. Let me know if you have questions about this recipe in the comment section or DM me on Instagram. Follow me on Facebook and Pinterest to stay in touch, and don't forget to subscribe to my newsletter.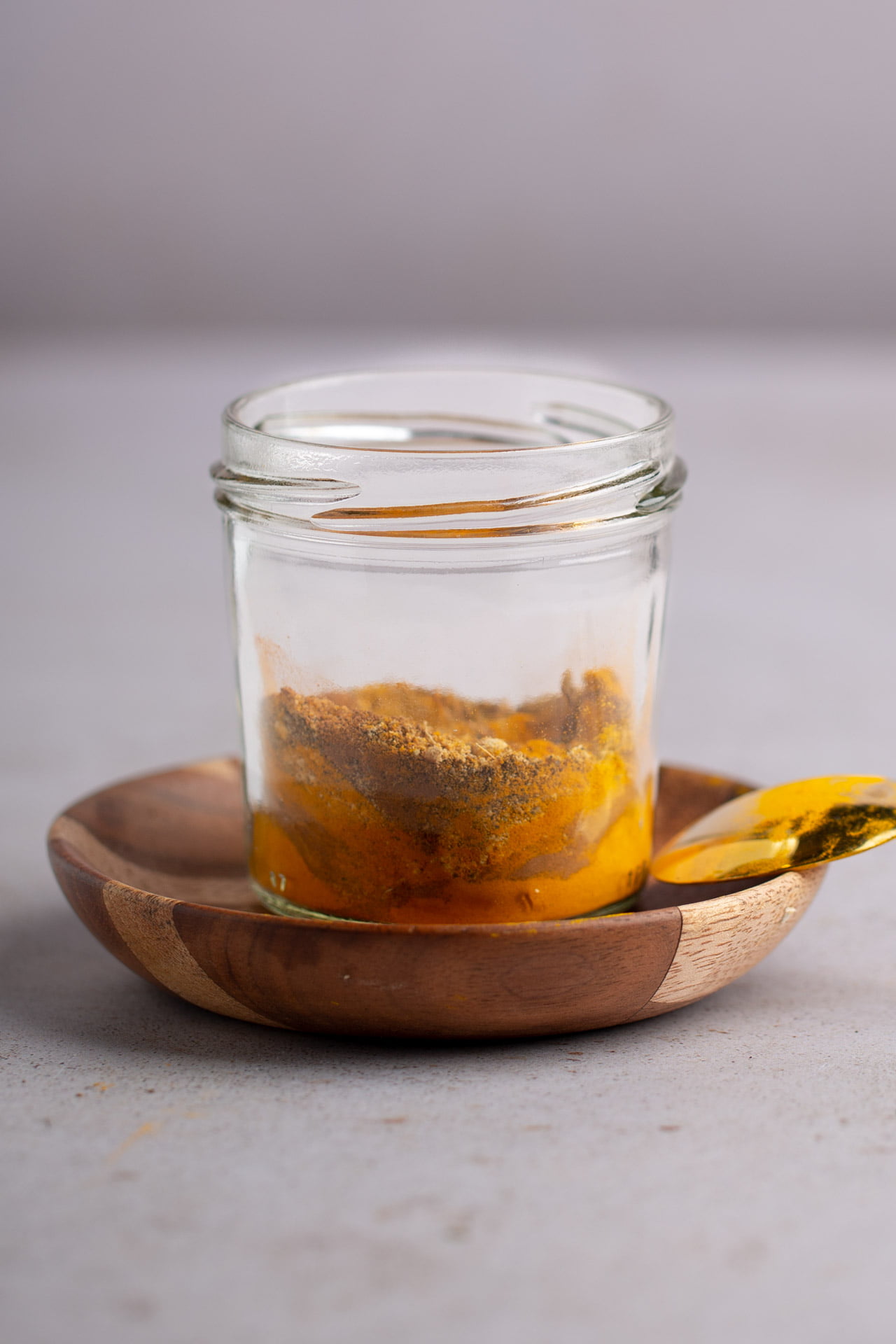 Golden milk spice mix
This golden spice mix is the base of the delicious and comforting golden milk.It is a unique blend of spices, mainly turmeric, which gives it its characteristic golden color and potent health benefits.
Ingredients
2

teaspoon

turmeric powder turmeric powder

1

teaspoon

ginger

1

teaspoon

cinnamon

½

teaspoon

black pepper

1/4

teaspoon

clove powder

1/4

teaspoon

cardamom
Instructions
Put everything in a jar, mix and store.
Notes
You can double or triple the recipe as many times as you want
information
Nutritional information of this recipe is only an estimate, the accuracy for any recipe on this site is not guaranteed.

Latest posts by Alejandra Graf
(see all)