I enjoy using pumpkin in my cooking for its unique flavor and nutritional benefits. This post provides an easy recipe to make homemade pumpkin puree.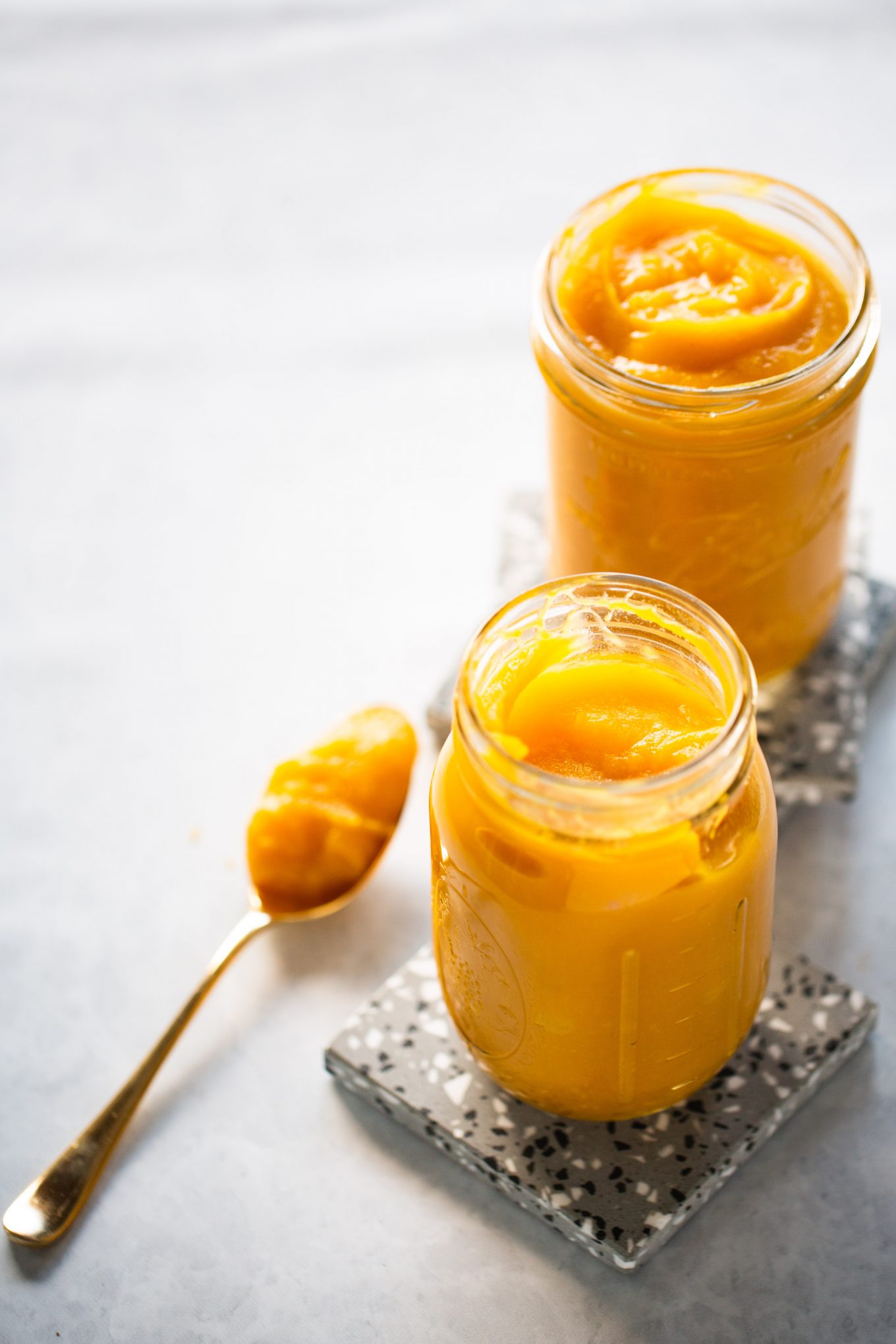 Why make homemade pumpkin puree?
I confess this is my first time making pumpkin puree at home. It was surprisingly easy and I can't believe I never thought to make it before. Here are more reasons why you should make it too.
Freshness and Flavor: Choosing a fresh pumpkin for homemade puree results in a deeper, more authentic flavor that enhances recipes with a brighter, genuine pumpkin taste.
Nutritional Value: Fresh pumpkins are a great source of nutrients as they contain vitamins (especially vitamin A), minerals, fiber, and antioxidants. Making your puree is more beneficial as it retains more nutrients than commercially processed versions, which may lose nutrients during production and preservation.
Avoid Additives: Some store-bought pumpkin purees may contain added sugars, preservatives, or other unwanted ingredients. When you make your own, you completely control what goes in, ensuring a pure, natural end product.
Versatility: While store-bought puree is typically consistent in texture, homemade allows for customization. Whether you prefer a chunkier consistency for specific dishes or a silkier puree for soups and desserts, you can easily adjust to your preference.
Environmentally Friendly: When you make your pumpkin puree, you can reduce packaging and transportation waste. Additionally, you can roast the seeds for a snack and compost the shell to minimize waste.
A Fun Experience: The process of selecting, cutting, roasting, and pureeing a pumpkin can be a delightful seasonal activity. It's an excellent way for families to bond and for individuals to engage in a therapeutic culinary experience.
What is the best pumpkin for puree?
I believe that the best pumpkin for puree is the sugar pumpkin. This variety has a sweeter flavor and smoother texture than other pumpkins.
It's easier to puree pumpkin with less fibrous flesh. If sugar pumpkins are unavailable, choose kabocha or butternut squash with denser flesh for a smoother puree.
✎TIP

The pumpkins commonly used for Halloween Jack-o'-lantern are not ideal for purees due to their fibrous and tasteless pulp, though they are edible.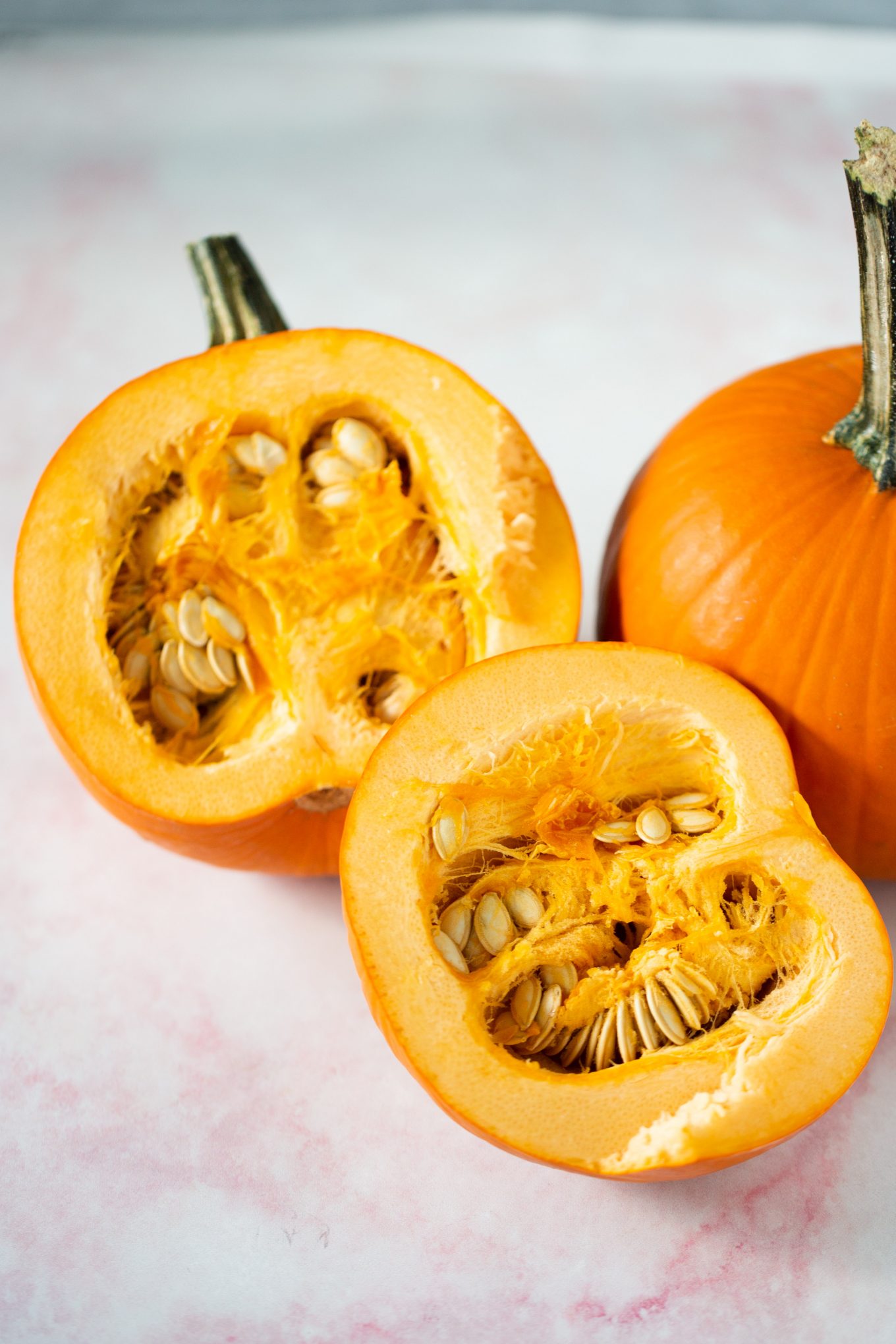 How to make easy homemade pumpkin puree?
Wash the pumpkin with soap and water, then slice it in half. Use a sharp knife to cut into the middle carefully.
Remove all the pumpkin seeds with a spoon and save them in a bowl for roasting later. Choose your preferred cooking method.
Bake. Line a baking sheet with parchment paper (affiliate link) or a silicone mat. Place the pumpkin on the sheet face down and bake at 350ºF for 40 minutes or until the skin turns soft and changes color. The pumpkin will become soft and lose its shape.
Steam. To steam a pumpkin for puree, cut it into manageable pieces. Next, place the pumpkin pieces in a steamer basket over a pot of boiling water. Cover the pot with a lid and allow the pumpkin to steam for 15-20 minutes or until it is soft enough to mash with a fork easily.
Boil. To make homemade pumpkin puree, cut the pumpkin into small pieces and remove the skin. Next, place the pumpkin pieces in a pot of water and bring to a boil. Boil until the pumpkin is soft, and then remove from heat. Drain any excess water.
Allow the pumpkin to cool after baking, steaming, or boiling. Then, scoop the flesh out and blend it, or use a food processor (affiliate link).
I think the best way to make pumpkin puree is by roasting the pumpkin in the oven. This method is convenient because it requires minimal attention – simply put the pumpkin in the oven and let it roast to perfection.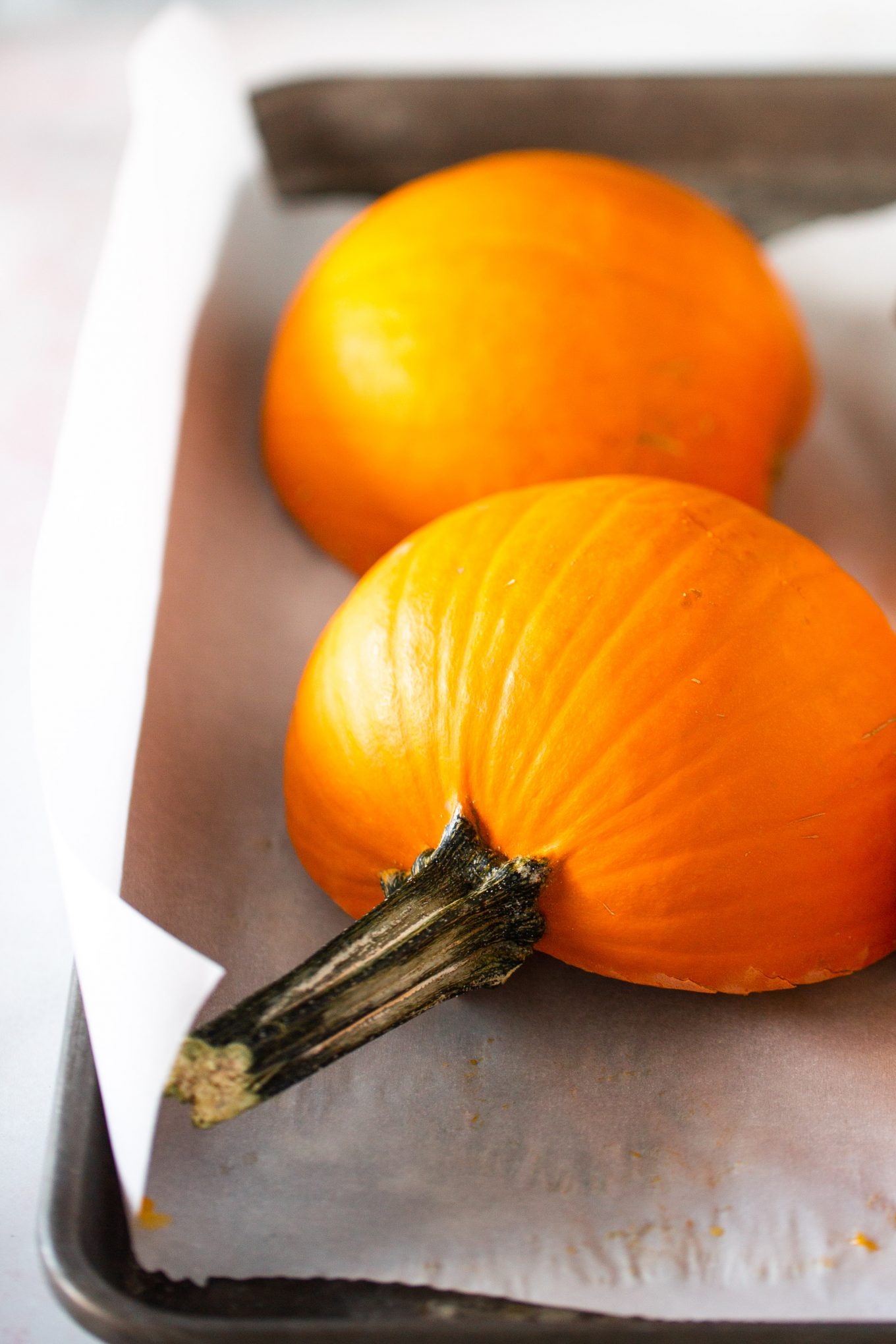 What does homemade pumpkin puree taste like?
Fresher Taste: When you make pumpkin puree from scratch, you capture the essence of a fresh pumpkin, devoid of additives or preservatives. This results in a cleaner, more robust pumpkin flavor, which can elevate the taste of dishes it's added to.
Thicker Texture: Commercially produced purees often undergo processing that can affect their consistency, making them more watery. Homemade versions, on the other hand, can be tailored to your preferred texture. Generally, they tend to be thicker, providing a heartier base for soups, pies, and other dishes.
Lower Sugar Content: Store-bought pumpkin purees, especially those labeled as "pumpkin pie filling," can have added sugars to enhance their sweetness. By making your own, you control the ingredients, ensuring no added sugars unless you want them. This especially benefits those monitoring their sugar intake or seeking a healthier alternative.
RECIPES YOU CAN MAKE WITH PUMPKIN PUREE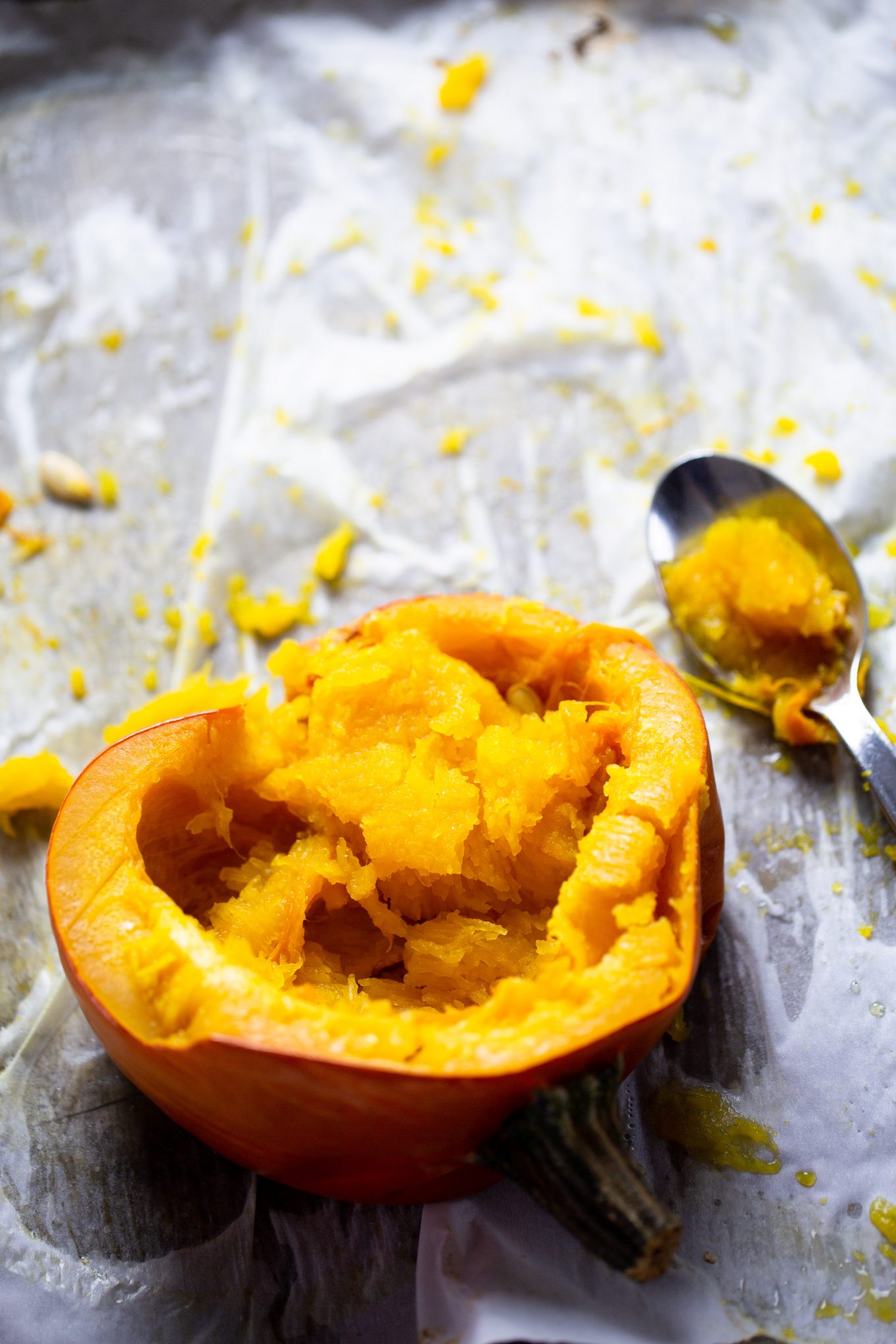 How to store it
Refrigerator: Store homemade pumpkin puree in an airtight container or tightly closed jar in the fridge for up to 5 days.
Freezer: Store homemade pumpkin puree in an airtight container, large freezing cubes, or freezer bag for up to 3 months. When freezing, leave at least 1/2 inch of headspace in the container to allow for expansion.
Made and loved this recipe? Give it a ⭐️⭐️⭐️⭐️⭐️ rating below. Let me know if you have questions about this recipe in the comment section or DM me on Instagram. Follow me on Facebook and Pinterest to stay in touch, and don't forget to subscribe to my newsletter.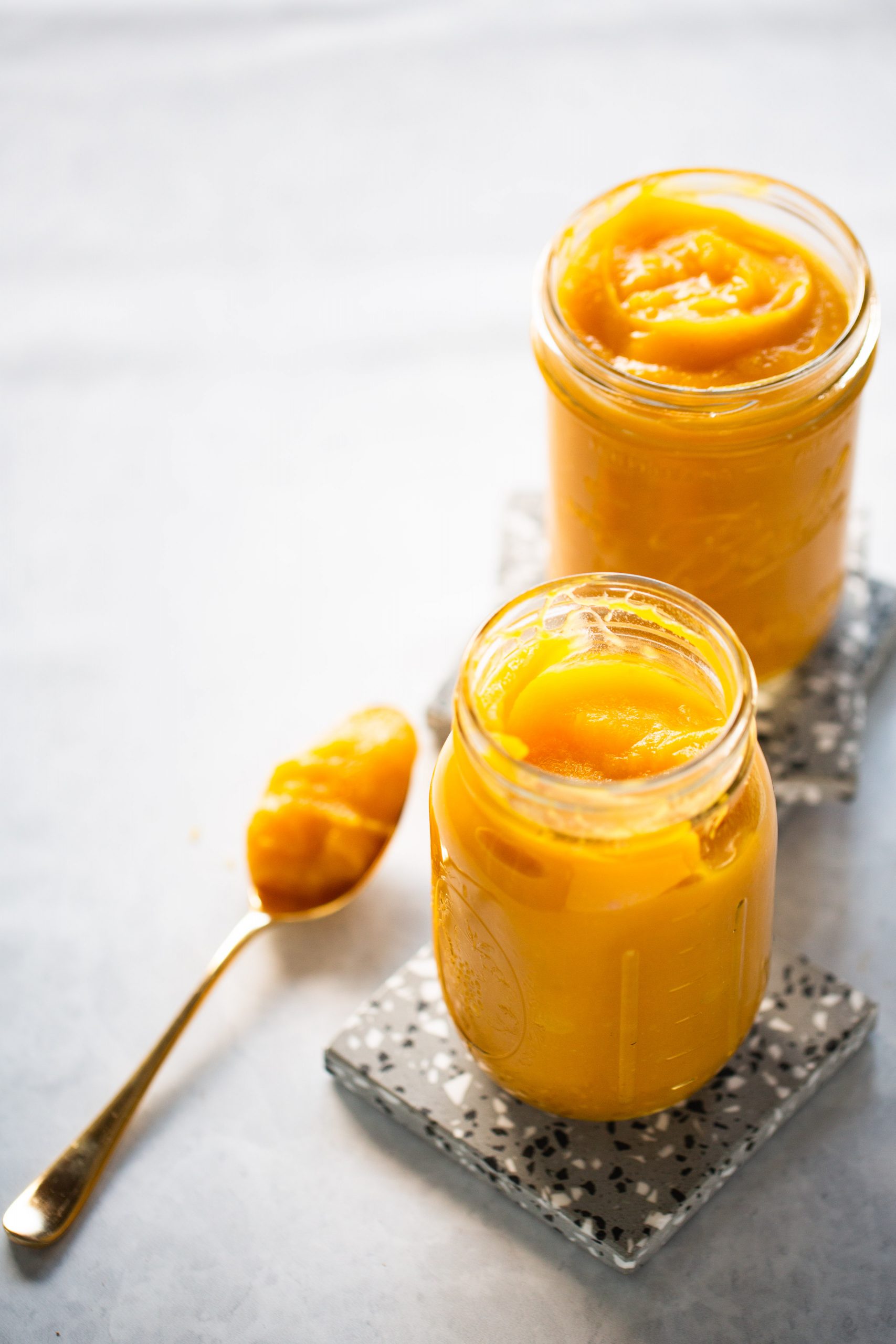 Easy Homemade Pumpkin Puree
If you're looking for an exceptional ingredient to elevate your cooking and dessert-making, homemade pumpkin puree is an excellent choice. Its rich flavor and smooth texture can enhance any recipe.
Equipment
Blender or food processor

Baking sheets
Ingredients
1

pumpkin for pie or sweet pumpkin
Instructions
Wash the pumpkin with soap and water.

Using a sharp knife, cut it in half firmly and with force.

With a spoon, remove all the seeds.

Place the pumpkin facing down on a baking sheet lined with parchment paper or a silicone mat.

Bake at 350ºF until the peel changes color and looks soft, that has lost its shape.

Separate the pulp from the skin with a spoon and blend.

Store in glass jars in the refrigerator or freezer safe containers if you want to freeze.
Notes
Tips
If you don't have a food processor or blender, you can mash the pumpkin flesh by hand with a potato masher.
Line the pumpkin with parchment paper to prevent sticking to the baking sheet.
If you want a smoother puree, strain it through a fine-mesh sieve.
Storage
Homemade pumpkin puree can be stored in the refrigerator for up to 5 days or in the freezer for up to 3 months.
When freezing, thaw the pumpkin puree overnight in the refrigerator before using.
Variations
You can add other spices to the pumpkin puree, such as cinnamon, nutmeg, or ginger.
You can also use other types of winter squash, such as butternut or acorn squash, to make pumpkin puree.
Nutrition
Serving:
1
cup
Calories:
83
kcal
Carbohydrates:
20
g
Protein:
3
g
Fat:
1
g
Saturated Fat:
0.4
g
Polyunsaturated Fat:
0.04
g
Monounsaturated Fat:
0.1
g
Sodium:
12
mg
Potassium:
505
mg
Fiber:
7
g
Sugar:
8
g
Vitamin A:
38129
IU
Vitamin C:
10
mg
Calcium:
64
mg
Iron:
3
mg
information
Nutritional information of this recipe is only an estimate, the accuracy for any recipe on this site is not guaranteed.

Latest posts by Alejandra Graf
(see all)