Every bite of these vegan birria tacos is a total dream. The corn tortilla, stuffed with the meaty oyster mushrooms, is cooked in a chili broth with spices and is topped with cilantro, onion, and lime juice. Wow! Mexican flavors at their best.
These vegetarian tacos are served with a delicious broth (consommé) on the side so you can dip your taco before each bite.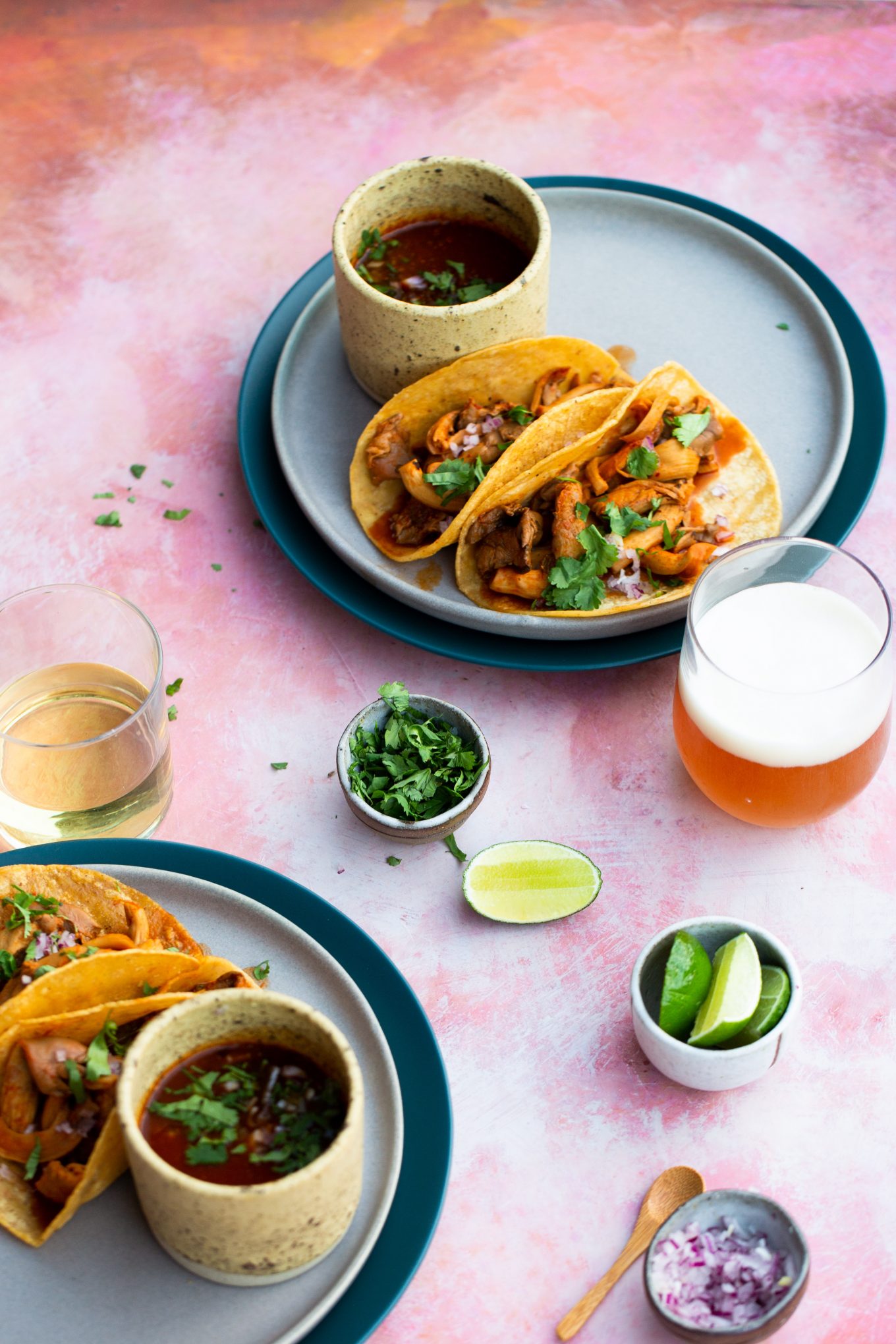 Where does birria come from?
Tacos de birria come from the state of Jalisco in Mexico and is usually made with goat meat, lamb meat, or a mixture of beef and lamb. Jalisco is a Western Mexican state and it is mostly known for its Mariachi music and Tequila. It is one of the most economically and culturally states of Mexico.
What is authentic Mexican birria?
The meat is marinated in chili paste and then cooked in a broth with spices. It is served with the consommé in which it is cooked.
This version is vegan, perfect in flavor and texture, and perfect for our bodies. Despite having all the original dish's tastes, it is not greasy or heavy for our tummies.
When is birria served? In Mexico, birria is done on special occasions: Christmas, Baptisms, New Year's, etc. For me, every day is unique; we celebrate the little things, and that's why this is a dish that we often eat at home.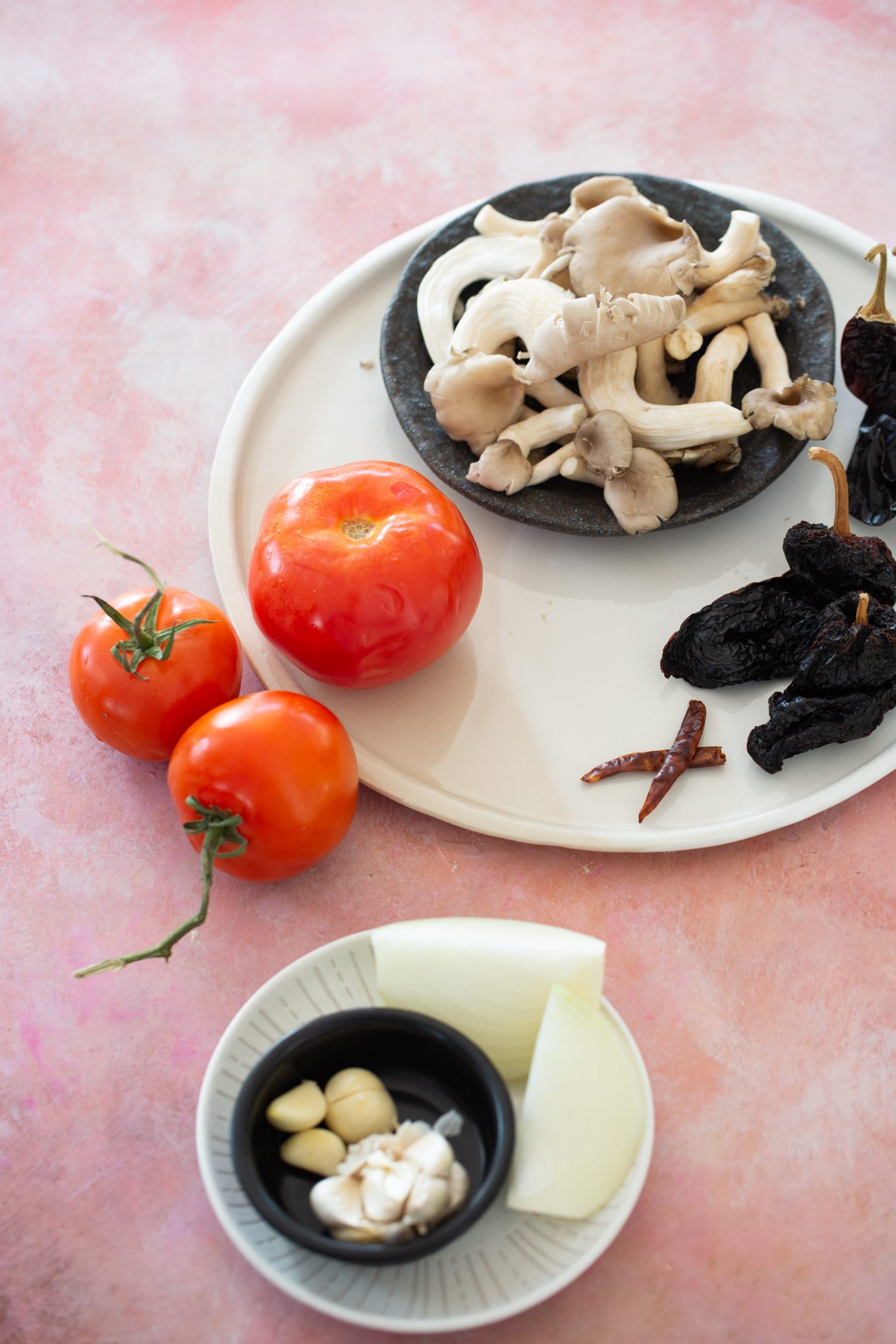 INGREDIENTS for vegan birria (vegetarian birria tacos)
Oyster mushrooms. It is effortless to work with them: they can be shredded without a problem, and when it is time to put them in the broth, they absorb all the delicious flavors from the chilies and spices. In a pinch, you can use jackfruit or a mixture of both).
Garlic, onion, and tomato for the broth (or sauce).
Chiles: ancho chili, guajillo chiles, and arbol chili.
Spices: bay leaf, ground cumin, cinnamon, ground cloves, a pinch of allspice, Mexican oregano, cinnamon, and salt.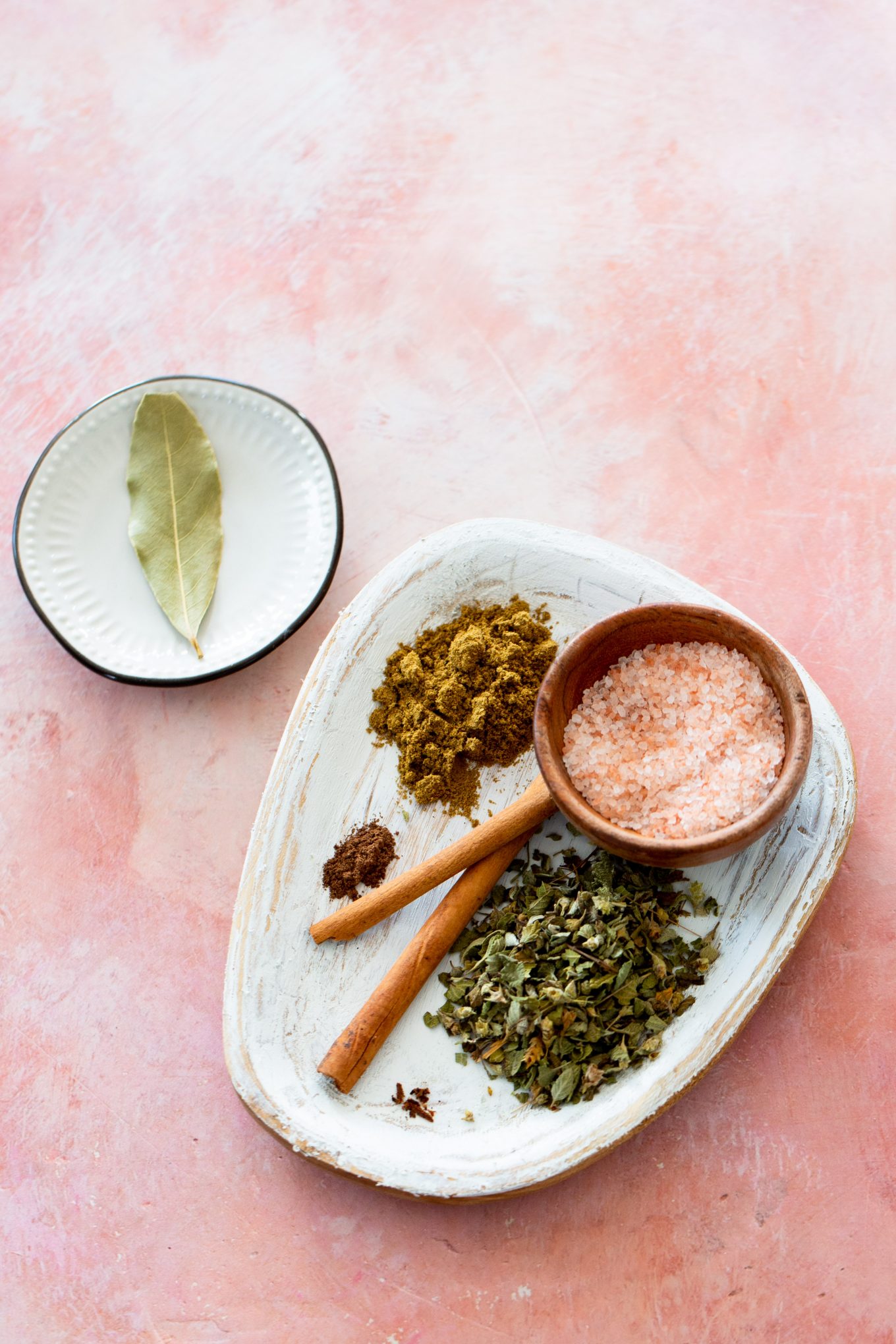 How to make vegan birria at home?
First step
The first thing to do to make tacos de birria is prepare the ingredients:
The chiles. Soak the dried chiles in boiling water in a saucepan; if you want more flavor, you can toast them first on a comal (affiliate link) or skillet first over high heat.
The mushrooms. Shred the oyster mushrooms. This is done very easily with your hands; I recommend that you shred them very well to have a perfect taco bite each time. In the video for the vegan pozole, I show you how to shred them.
Second step
The birria sauce or consomme. Then you have to roast the tomato, garlic, and onion to make the birria sauce. Roast them on a large skillet, a comal (affiliate link), on a pan, and broil them in the oven or directly on the soup pot you are going to use. I like to use a dutch oven for this recipe.
Time to blend. When they are almost burned, blend them with the chiles and the liquid you soaked them to make the cooking broth. Pour this caldillo into a pot, and add the spices and the oyster mushrooms.
Cooking the birria. Cook over medium-high heat until it reaches a boil, then lower the heat and let it simmer for 30 minutes or until the oyster mushrooms are cooked.
Third step
Make the tacos. When ready, heat the corn tortillas, and fill them with the vegan birria. Finish each taco with onion and chopped cilantro, and squeeze half a lime on it.
Serve. Serve with a bowl or cup of broth on one side also prepared with onion, cilantro, and lime. Before each bite, soak the taco in the broth.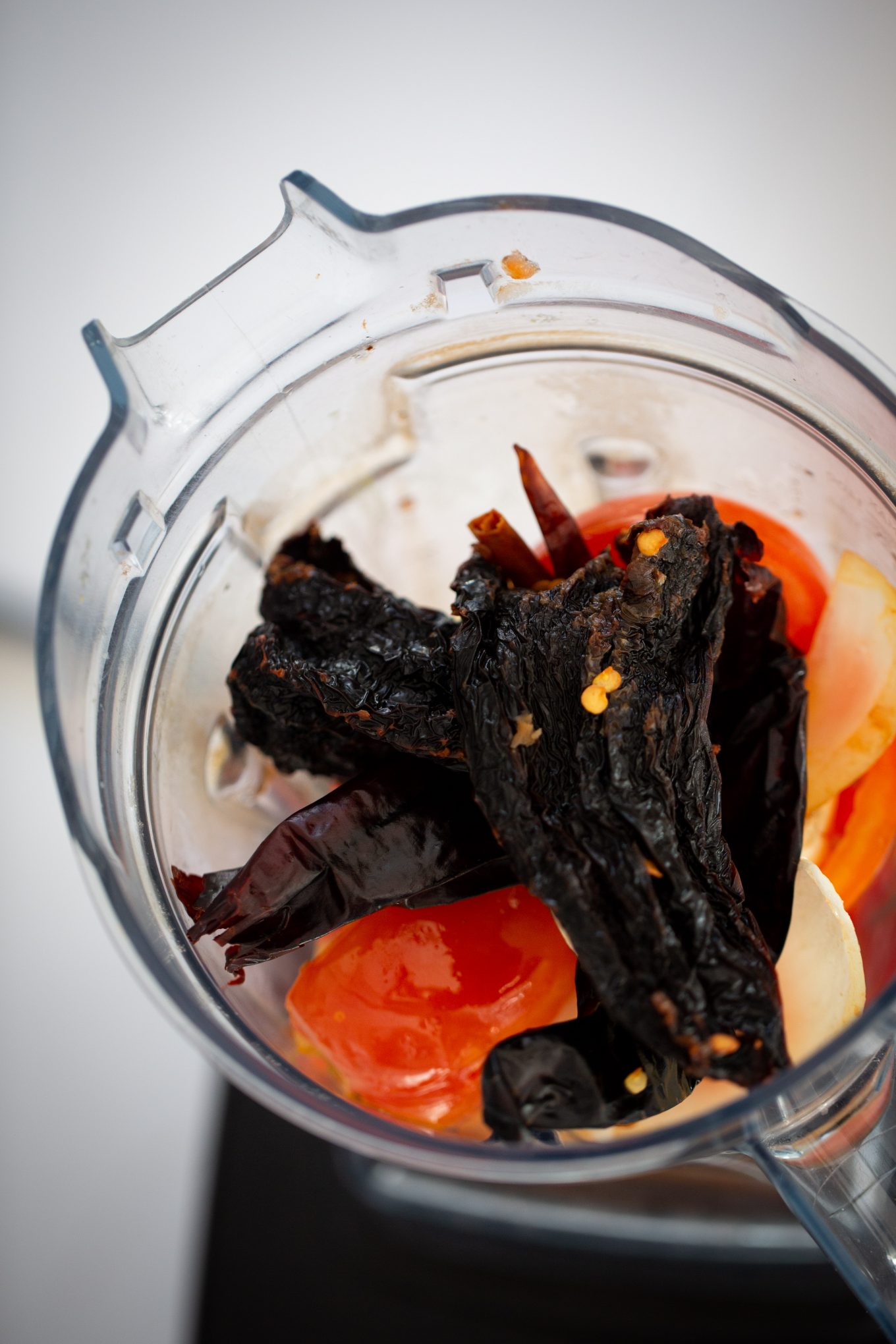 TIPS & TRICKS

✎Before heating the corn tortillas, you can dip each tortilla in the birria broth. 

✎Or you could also add a spoonfull of birria sauce to one side of the tortilla and then flip.

✎Look for tortillas that are good, made of good corn, and that are not very thin so they do not break but hold each bite until the last one.

✎This vegan oyster mushroom birria makes the best quesabirrias. To make them heat a corn tortilla with the birria sauce, add oyster mushrooms stew and vegan cheese. Fold the tortilla in half and cook over medium heat until the cheese begins to melt. Flip with a spatula and cook on the other side.

✎Sub the oyster mushrooms with jackfruit if you prefer.

Other recipes that you may like: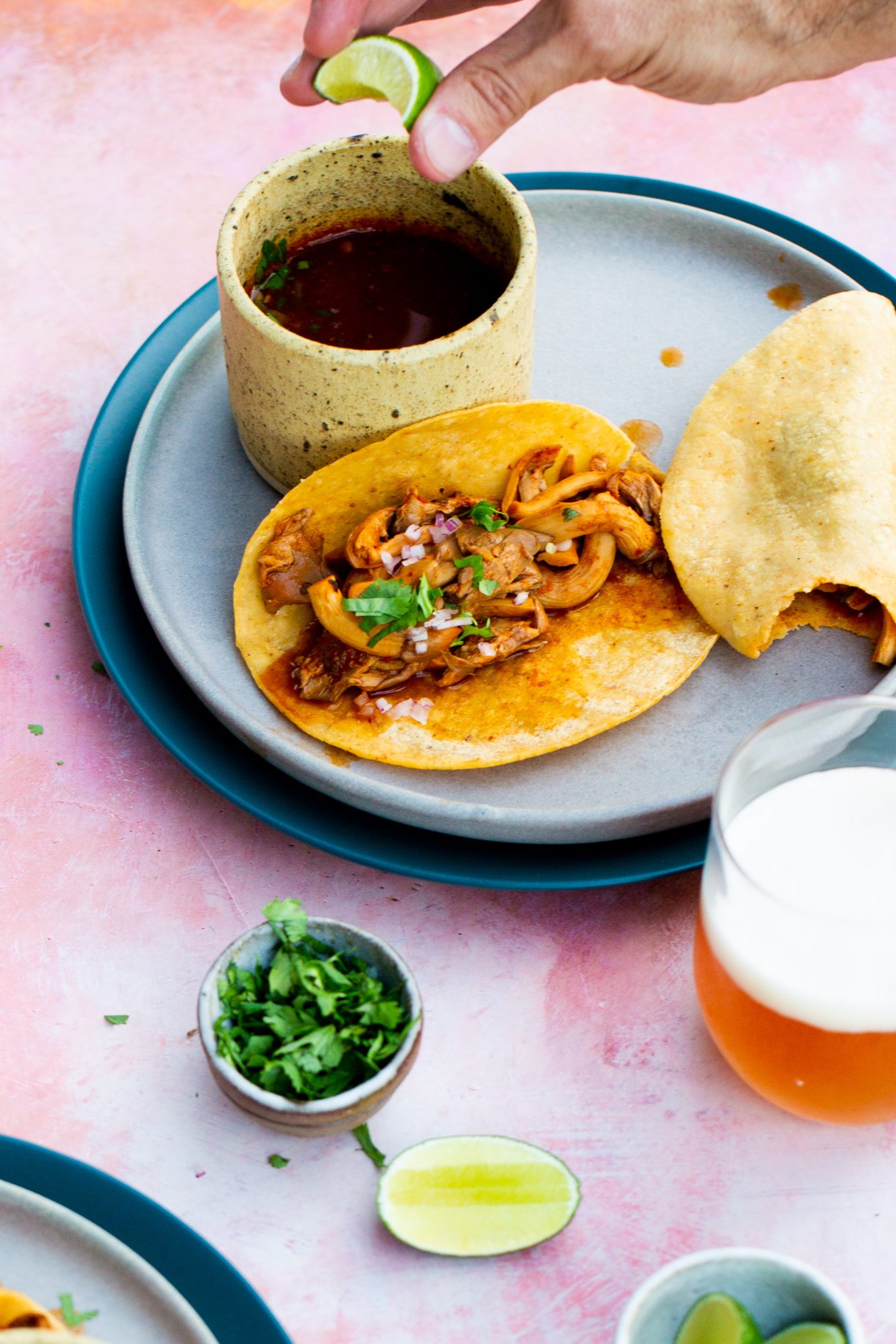 So here is the recipe for these vegan birria tacos, and I hope you like them as much as I do. When you do, please take a picture of it and put it on Instagram or Facebook to see it. If you are going to prepare this later, then save it on Pinterest.
It would also be incredible to give it five stars and/or tell me how it went in the comments section; if you have questions or ideas, write them there.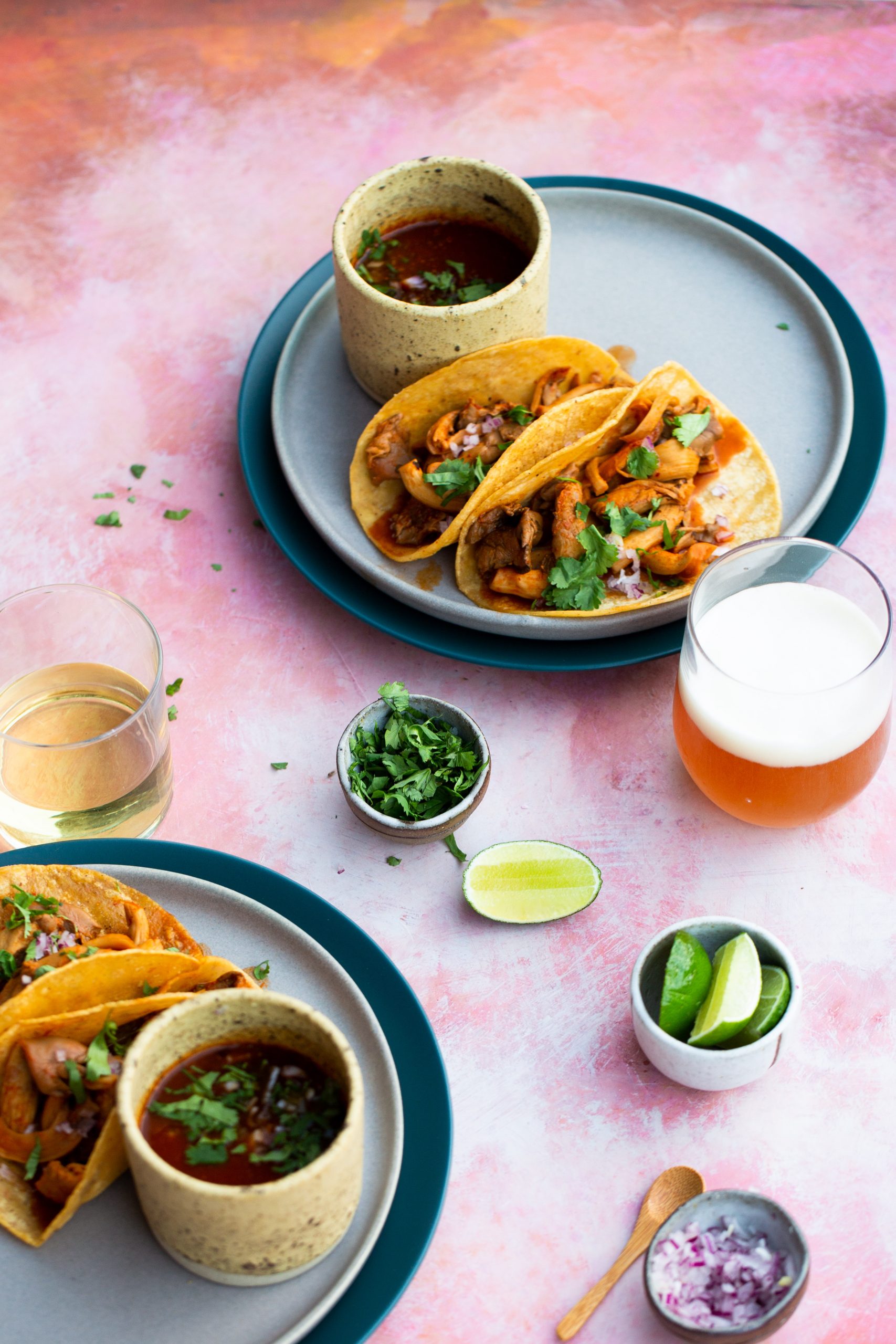 Vegan birria tacos
Every bite of this vegan birria is a total dream. The hot corn tortilla, stuffed with mushrooms cooked in a chilli and spice broth, topped with cilantro, onion and lemon.
Ingredients
2

pounds

oyster mushrooms

2

guajillo chilies

2

ancho chili peppers

2

dried red chili

1/2

large white onion

6

garlic cloves

unpeeled

3-4

medium-large tomatoes

1

tablespoon

oil

1

cinnamon stick

1/2

teaspoon

ground cumin

1

teaspoon

oregano

1/8

teaspoon

ground cloves

1

bay leaf

1

pinch

all-spice

1

teaspoon

Salt
For the tacos
12

corn tortillas

1

cup

onion

minced in small squares

1/2

cup

cilantro chopped

limes
Instructions
In a cup of boiling water soak the chilies until they are soft and pliable.

In a hot comal or skillet, roast the onion, garlic with skin and tomato until well burned on both sides.

Remove the chiles from the hot water, open them and remove the seeds and stem.

Put the onion, tomato, peeled garlic cloves, chilies and the water in which you soaked the chiles in the blender glass. Add the salt and blend until everything is perfectly integrated.

In a large pot add a tablespoon of oil; when it is hot, empty the mixture of chilies and aromatics. Let it cook for 5 minutes or until the color turns dark red. Add 4 cups of water and the spices.

When it comes to a gentle boil, add the oyster mushrooms, taste for salt, adjust if necessary. Leave 15-20 until the mushrooms are soft and the flavors of the broth are concentrated.

Remove the mushrooms from the broth and place them on a platter.

If you are going to reheat them, put them in a skillet with a teaspoon of oil.

Heat corn tortillas with a little oil or chili broth, fill with the cooked mushrooms, finish each taco with chopped onion, chopped cilantro, and lime juice.

Serve with a small bowl with broth on the side. Finish the broth with onion, cilantro, and lime juice.
Notes
Check your spices that are fresh, the fresher the more flavor the dish will have.
Nutrition
Serving:
2
pieces
Calories:
256
kcal
Carbohydrates:
48
g
Protein:
10
g
Fat:
5
g
Saturated Fat:
1
g
Trans Fat:
1
g
Sodium:
456
mg
Potassium:
1183
mg
Fiber:
12
g
Sugar:
10
g
Vitamin A:
3833
IU
Vitamin C:
16
mg
Calcium:
87
mg
Iron:
4
mg
information
Nutritional information of this recipe is only an estimate, the accuracy for any recipe on this site is not guaranteed.

Latest posts by Alejandra Graf
(see all)