I love making galettes at home, and this vegan apple galette is definitely my favorite. This time of year when apples are just right, crisp, and delicious. This apple galette is one of the desserts that disappears from my table every time I prepare it.
It tastes good at room temperature or when it's just out of the oven. It tastes delicious with a dollop of whipped cream coconut or cashew) or a scoop of vanilla ice cream.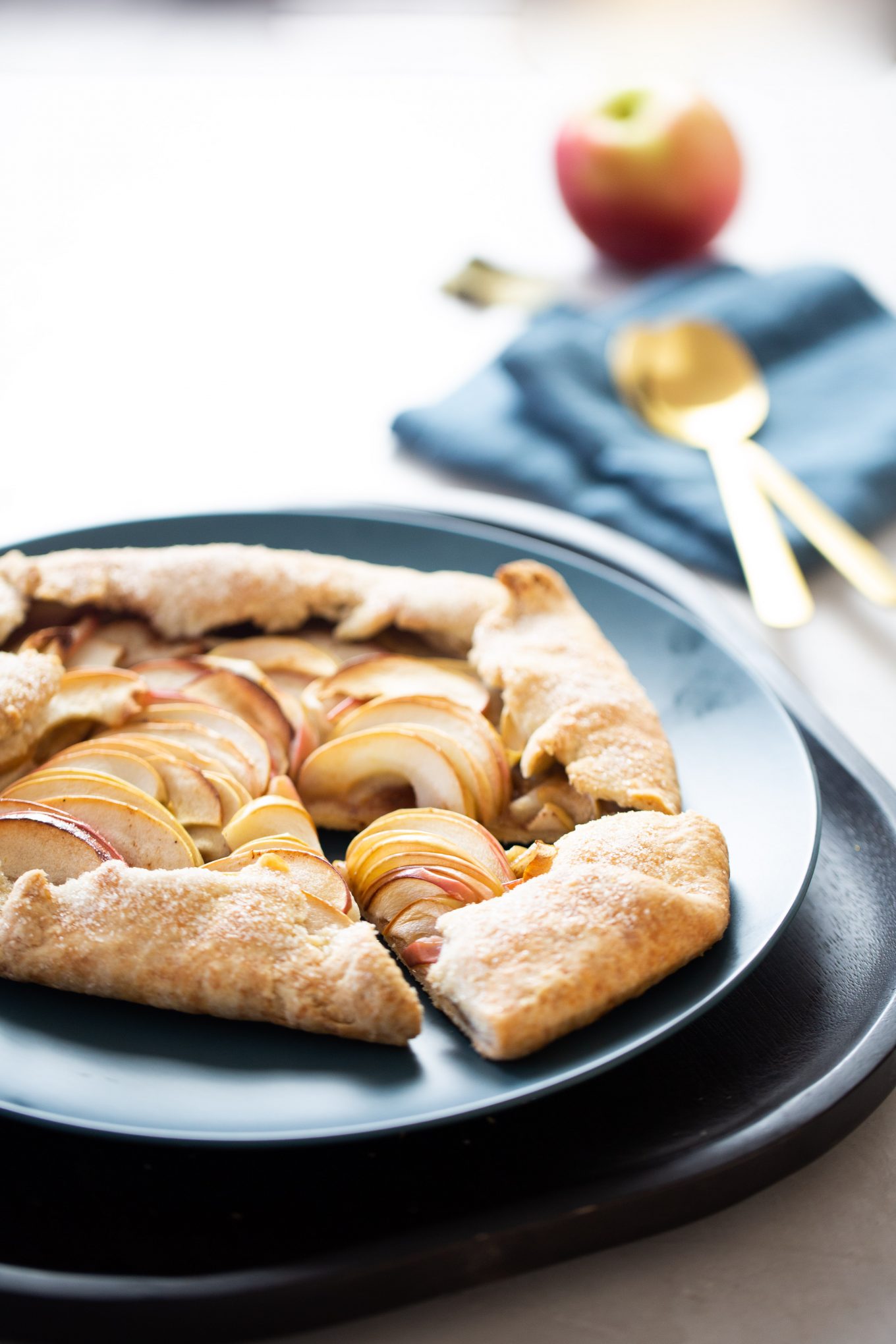 WHAT IS A GALETTE?
A galette is a term that the French use to say to this type of pie. It is not a pie; it is spread pastry dough that wraps any filling, sweet or savory.
The beauty of galettes is that they will always be good and beautiful no matter their shape or appearance. The rustic form and shape are part of what makes this French dessert a favorite around the world.
✨ I love making galettes, they make me feel like the best home-cook ever. The always turn out beautiful, delicious and with a flaky perfect crust.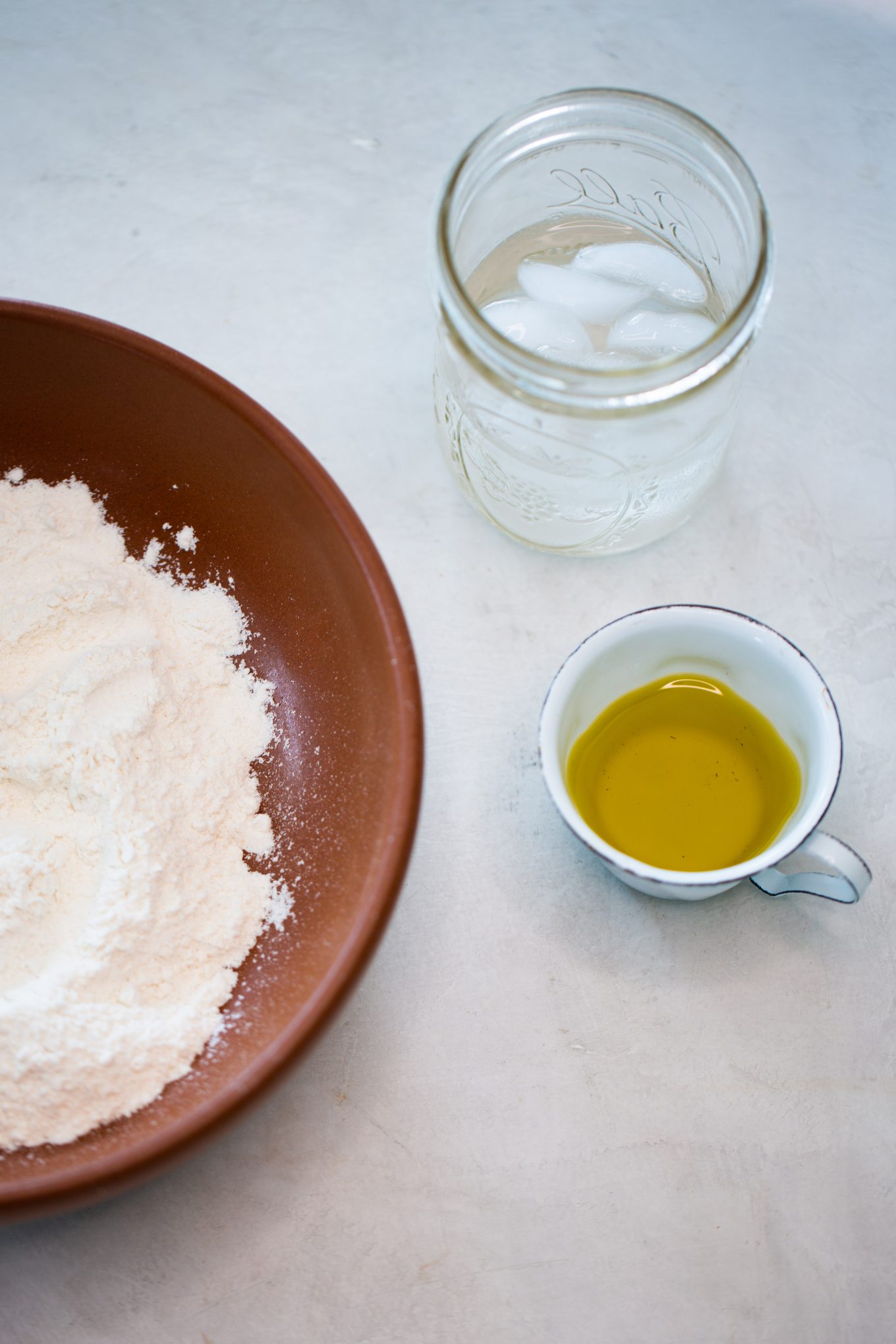 HOW TO MAKE THE galette DOUGH?
The dough is super easy to make, and you can make it by hand or in the food processor (affiliate link). The photo above is the first step. You gather all the powders, mix them very well with your hand, add the oil, and begin to integrate everything.
The idea is to mix it and break up the balls formed from the flour and oil so that it looks like sand. Then add the iced water, transforming it into a soft, easy-to-handle dough.
When everything is integrated, it forms a ball and is put into the fridge for about 10-15 minutes, during which you prepare the apples.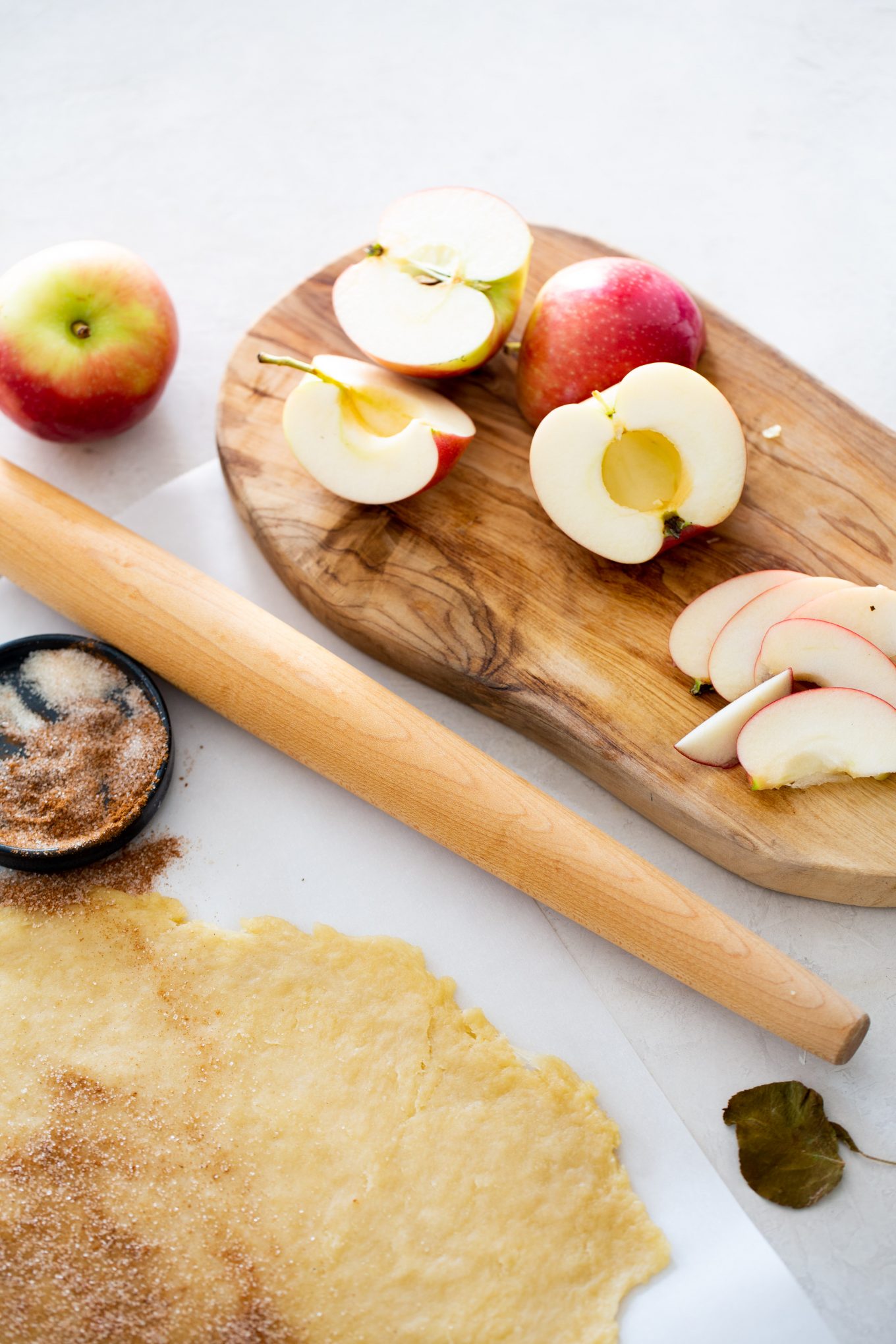 THE FILLING OF THE GALETTES
The galettes can be filled with anything from blackberries, strawberries, vegetables, peaches, etc. This apple galette is one of my favorites because, apart from being super easy, I always have apples at home.
This apple galette also has cinnamon and other spices, making your whole house smell delicious when you put it in the oven. Apple and cinnamon are scents that always bring me feelings of peace and family moments.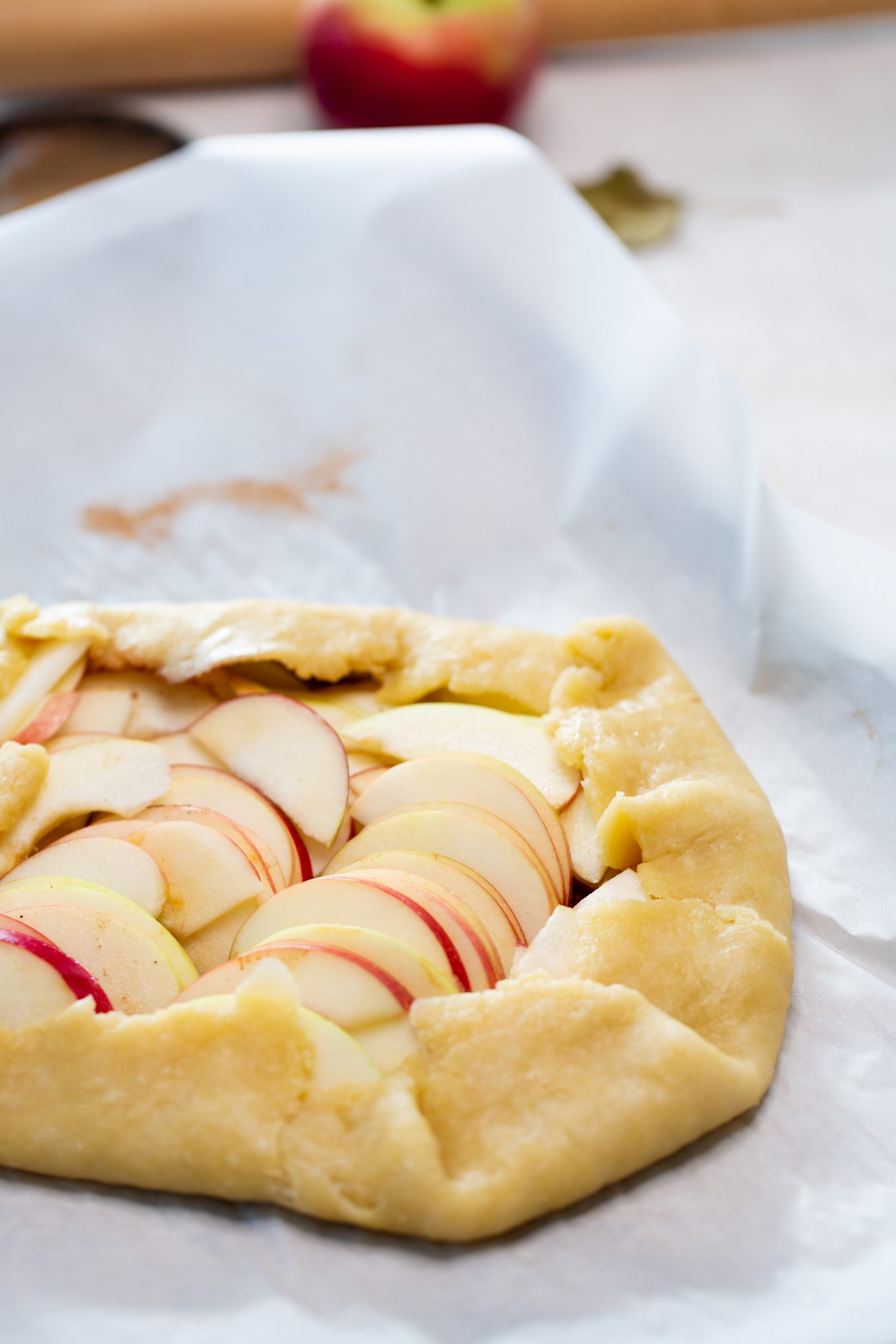 HOW TO PREPARE THE APPLE FOR THE GALETTE?
Cut the apple into fourths, and then each quarter, slice it as thin as you can. I slice it either with a super sharp knife, mandolin (affiliate link), or sometimes I put it in the food processor (affiliate link).
If you slice it with the food processor, use the cutting disc and try different thicknesses. The apples should be thin, but they should keep their shape.
Here are other recipes that you may like: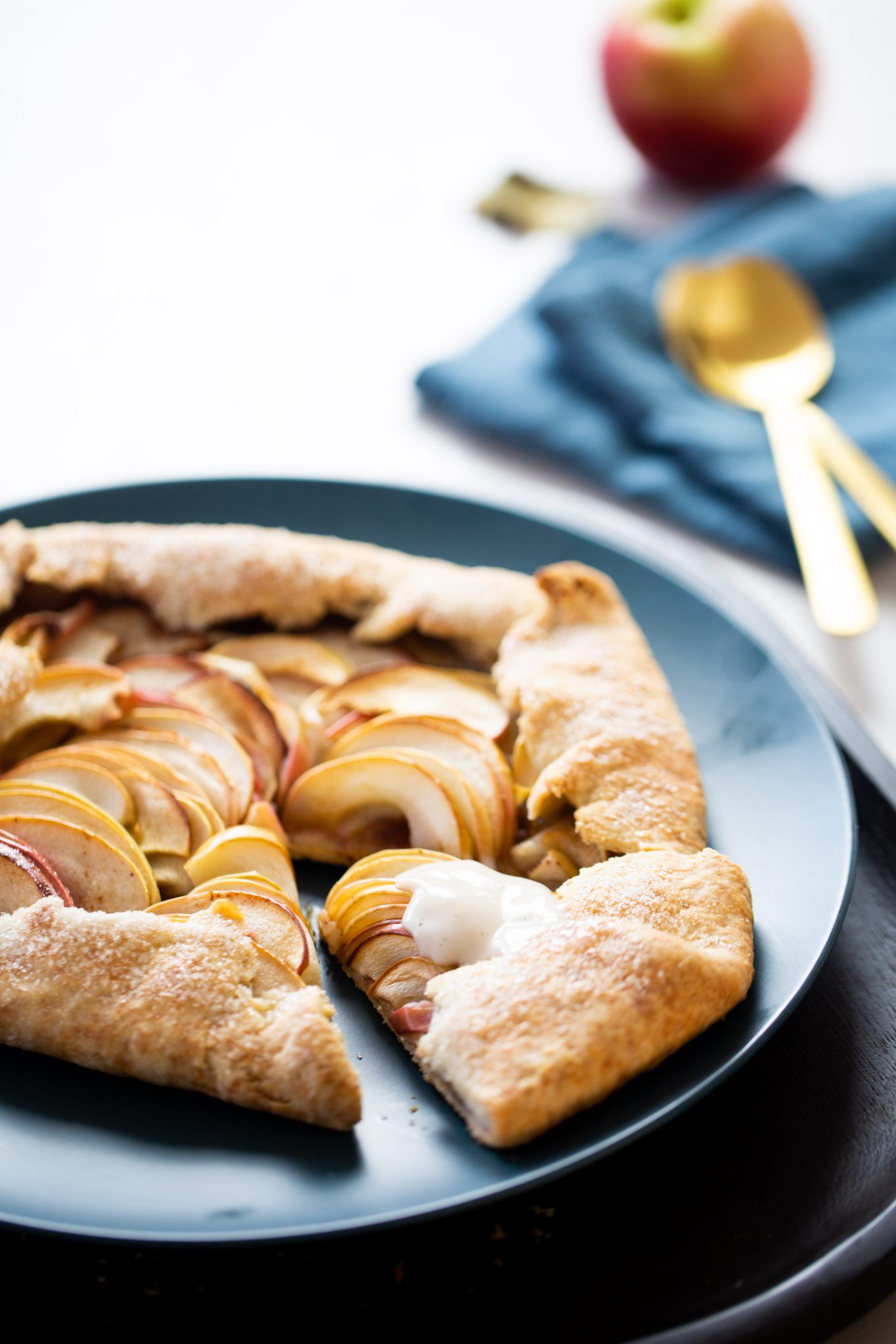 HOW TO MAKE THE GALETTE?
You roll the dough into a circle or rectangle about 1/8 in thick, and put a tablespoon of sugar, ground cinnamon, and ground cloves. Put the apple on top of the spices and sugar, fold the dough's edges, and put it in the oven. This dessert is really delicious and very easy to make.
Serve with vanilla ice cream, with a tablespoon of coconut or cashew cream, or on its own. Anyway, it tastes good.
Here is the recipe for this vegan apple galette, and if you like the idea of making such an easy dessert when you make it, please take a picture of it and post it on Instagram or FB so that we can all see how it turned out. Save it on Pinterest if you want to save it for later.
It would also be amazing if you left me your comments, ideas, or suggestions in the comments section. And if you give it a 5 stars rating, it would be incredible.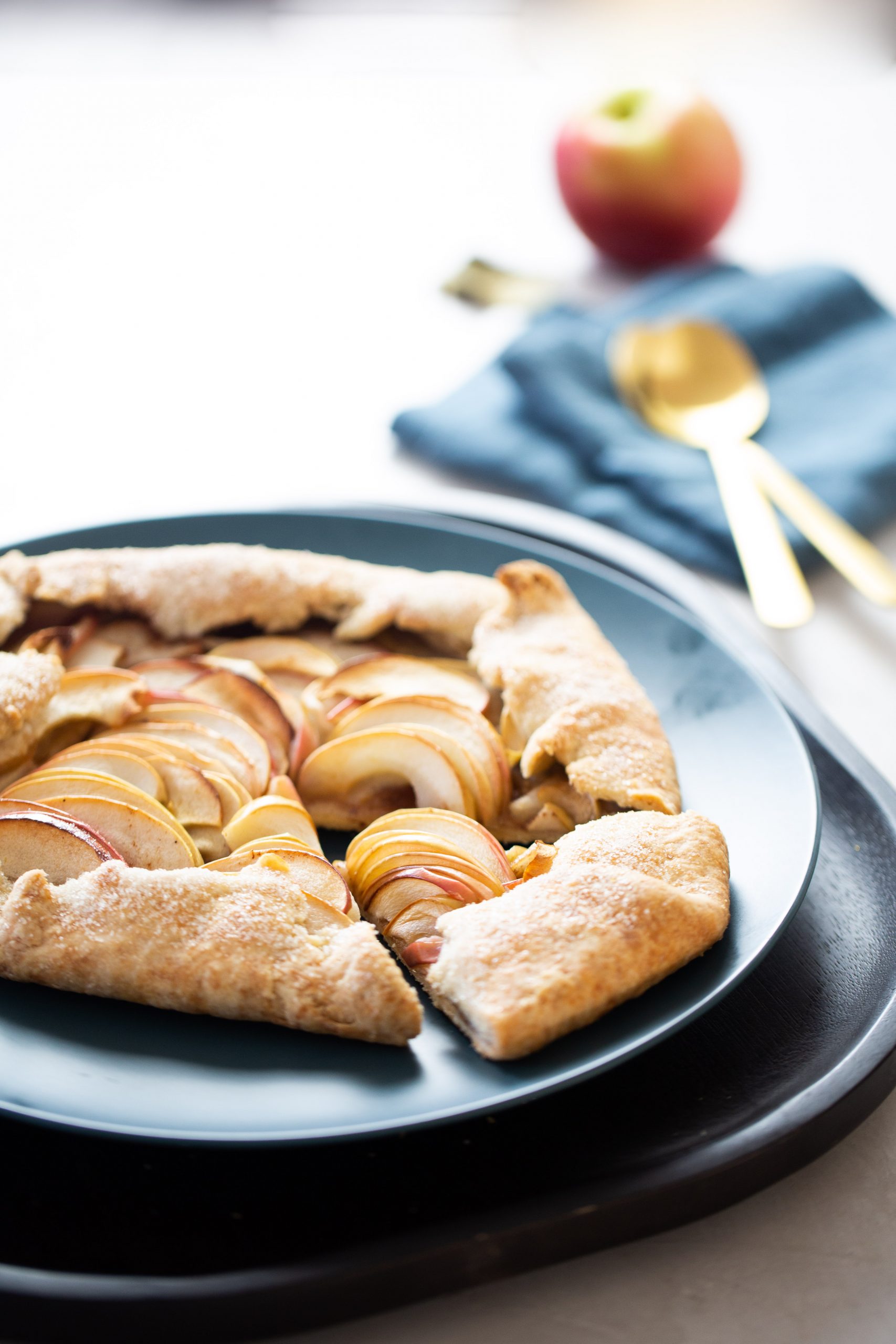 Vegan Apple galette
This vegan apple galette recipe is delicious and so easy to make. It's an easy dessert and it always looks good
Ingredients
Dough
1¼

cup

of flour

1

tablespoon

sugar

1/4

teaspoon

salt

4

tablespoons

olive oil or coconut oil

5

tablespoons

iced water
Filling
1

teaspoon

ground cinnamon

1

tablespoon

sugar

1/4

teaspoon

ground clove

2

large apples

sliced ​​as thin as possible

Extra sugar to sprinkle on the edges
Instructions
Fill a small glass or pitcher with water and ice. Iced water is needed.

In a bowl mix the flour, sugar and salt. With your hands, add the oil and mix until everything is perfectly well integrated. Make it look like sand, there should be no big pieces.

Add the water and start mixing until a smooth dough forms. Form a ball and put it in the fridge for about 10-15 min.

Slice the apple as thinly as possible.

Roll out the dough until it is about 1/8 inch thick.

Sprinkle the cinnamon, 1 tablespoon of sugar, and the cloves on top of the dough. Arrange the apple. Fold the edges of the dough so they cover about 2 inches of the apples.

Sprinkle one tablespoon of sugar on the edges.

Put it in the oven and leave it there until the edges are golden brown, about 20-25 minutes.
Notes
You can serve it with vanilla ice cream (we like the Nada Moo brand, when I don't make it at home) or with whipped coconut cream.
Nutrition
Serving:
1
serving
Calories:
225
kcal
Carbohydrates:
33
g
Protein:
3
g
Fat:
10
g
Saturated Fat:
1
g
Sodium:
99
mg
Potassium:
93
mg
Fiber:
2
g
Sugar:
10
g
Vitamin A:
33
IU
Vitamin C:
3
mg
Calcium:
11
mg
Iron:
1
mg
information
Nutritional information of this recipe is only an estimate, the accuracy for any recipe on this site is not guaranteed.

Latest posts by Alejandra Graf
(see all)